Elsa Goes to Canada
And Drags Hubby Along
September 14th to the 29th, 2018


We put two tours of Eastern Canada together so we
wouldn't need to go back to California and start over to see both


City Tour One starts here
Toronto, Ottawa, Quebec City and Montreal


Province Tour Two follows
Nova Scotia, New Brunswick, Prince Edward Island, Cape Bretton Island


Day 1
Friday Sept 14th

Leaving from LAX at 7:45 AM is a really bad idea when you live an hour
away and need to be there three hours before the International flight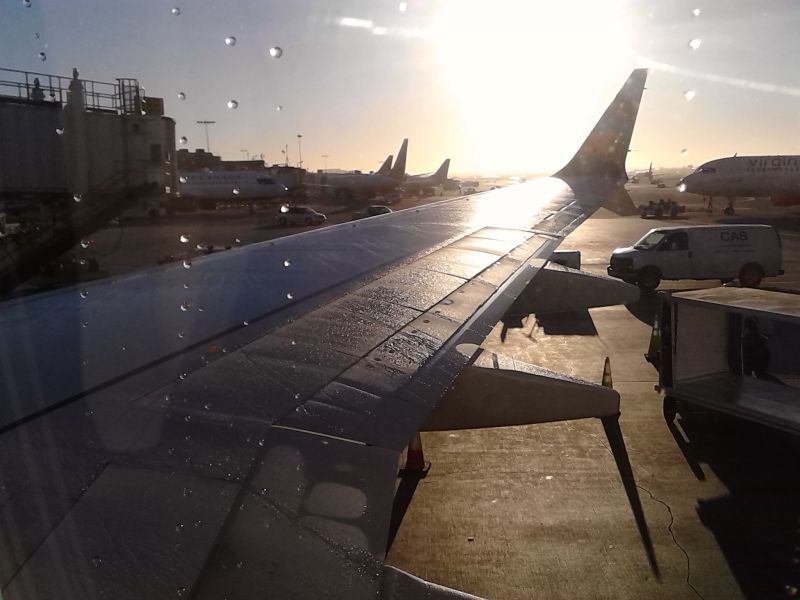 One misty, moisty, morning,
When clear was the weather...

This was our best view of Toronto
It was merely a base for the Niagara Falls boat ride

Driving in to Toronto City


Day 2
Saturday, September 15th
Niagara Falls - Hornblower Cruise
Lunch at Niagara on the Lake
Inniskillin Ice Winery
Welcome Dinner - Quinn's Steakhouse

Leaving Toronto, heading for Niagara Falls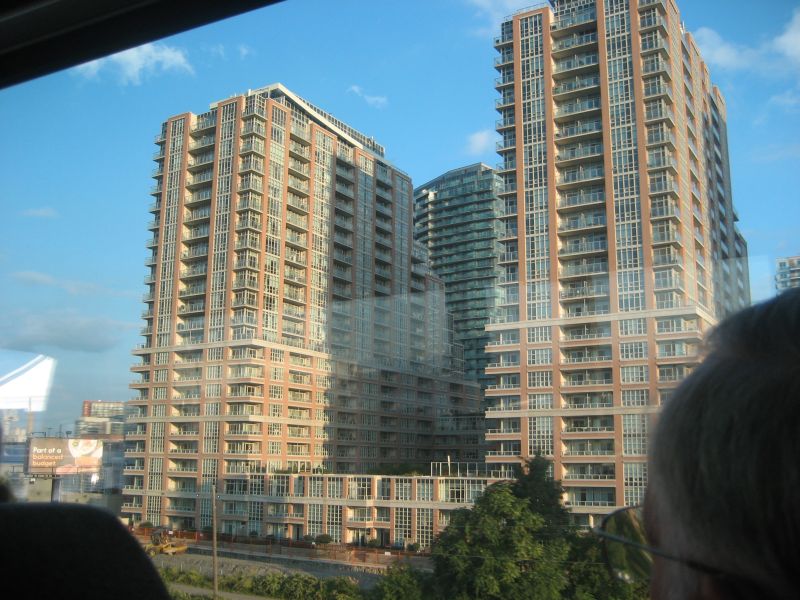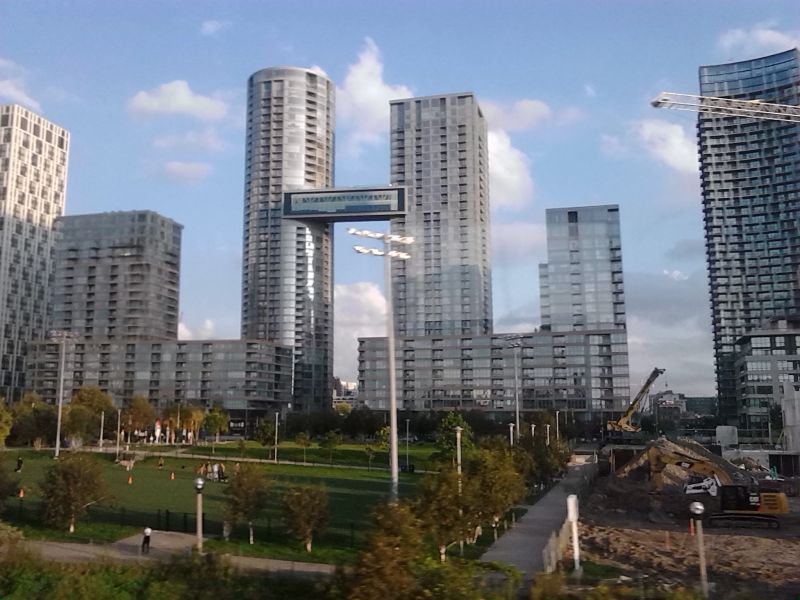 The Welland Canal connects Lake Ontario and Lake Erie, forming a key section of the St. Lawrence
Seaway. It enables ships to ascend and descend the Niagara Escarpment and bypass Niagara Falls.

The canal carries about 3,000 ships which carry about 40,000,000 tons of cargo a year. It allows goods
from Great Lakes ports such as Cleveland, Detroit, and Chicago to be shipped to the port of Montreal
or to Quebec City, where they can be reloaded onto ocean-going vessels for international shipping.

We approached the falls from the Canadian side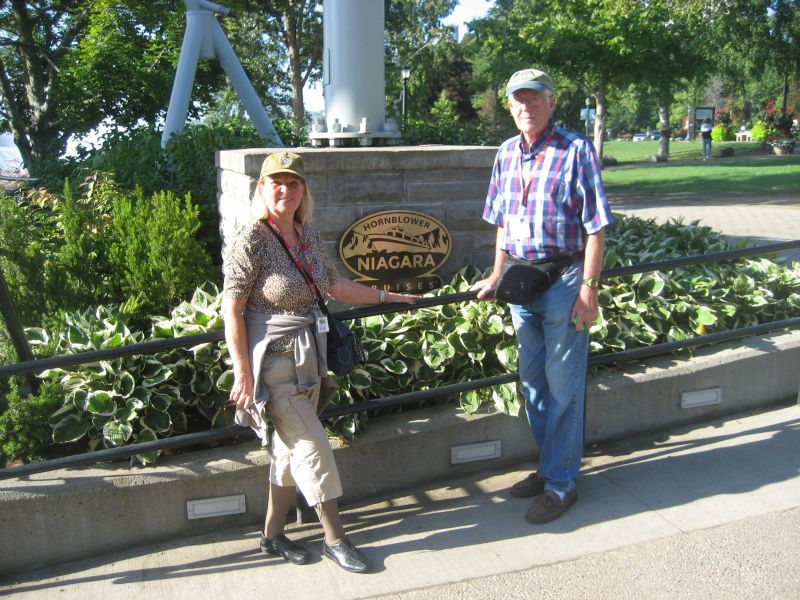 Elsa drove here from California with her parents 45 years ago.
Peter last visited about 60 years ago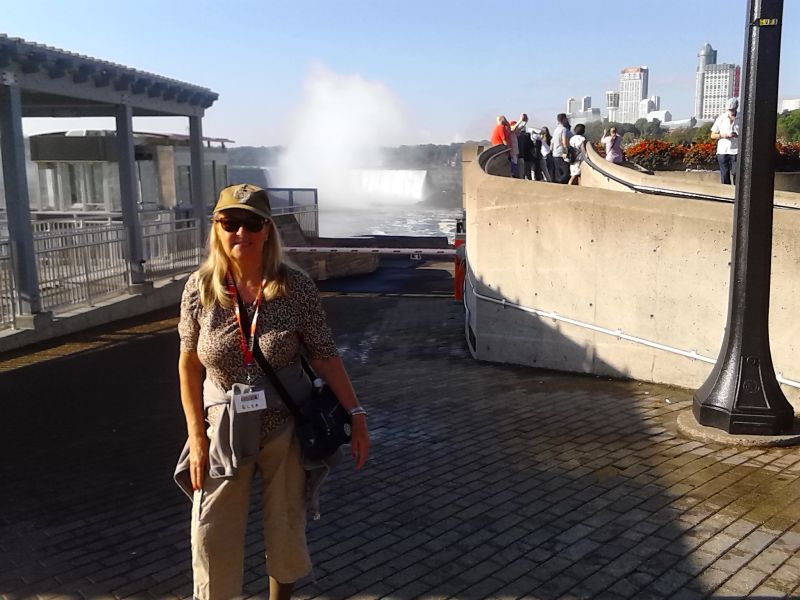 Comrade Elsa

They keep the falls running all night, wasting lots of water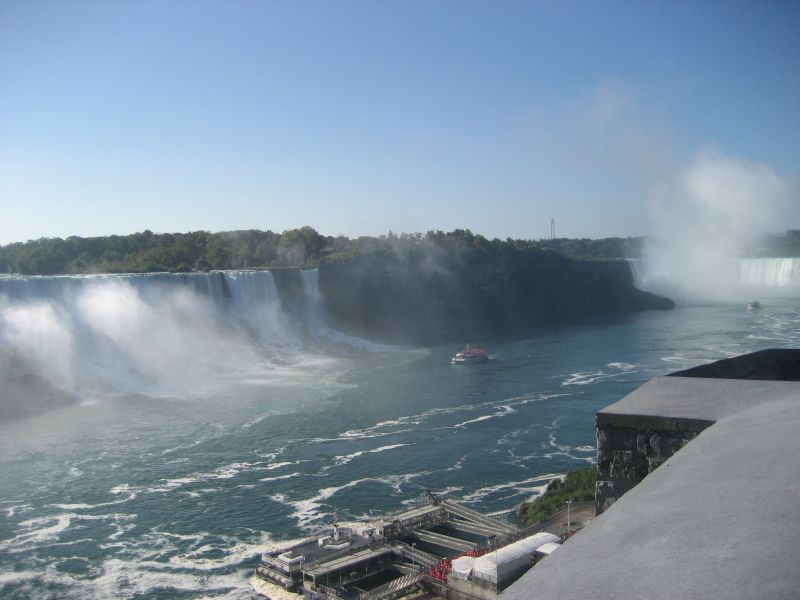 There's no place like this place anywhere near this place
so this must be the place...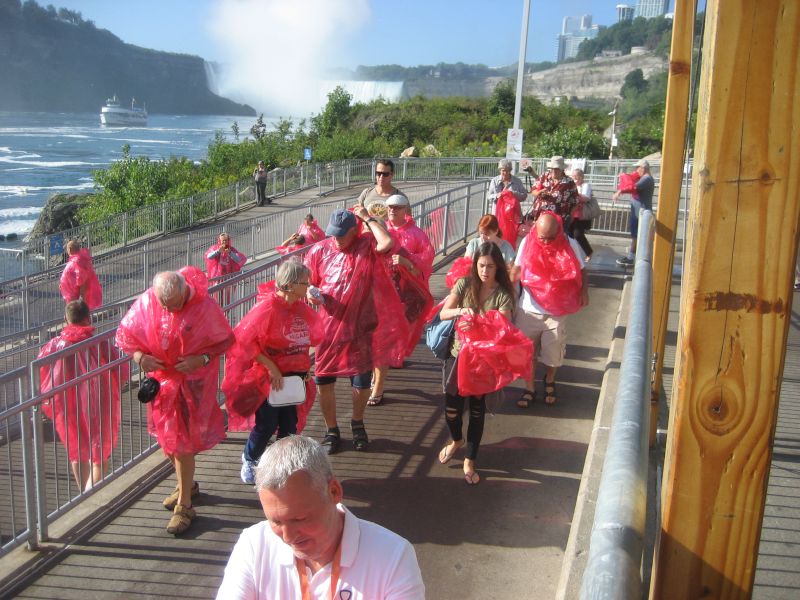 What this poncho means is that you are going to get wet

Getting ready to board our boat on the Canadian side of the Niagara River
The Maid of the Mists, operating from the American side, is passing the American Falls

The Maid of the Mist is packed like a sardine can.

We Shared our Boat with 200 of Our Closest Friends

Are We Having Fun Yet?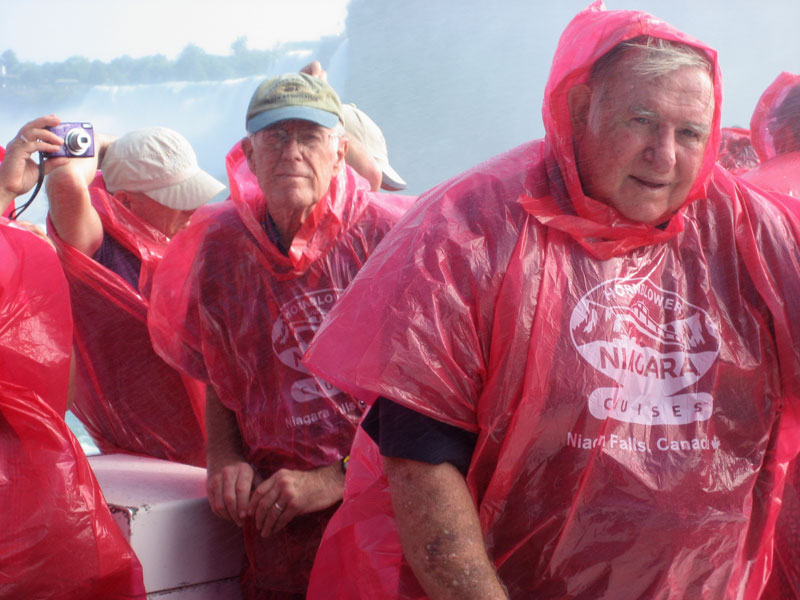 Nice Day for Ducks !!

The American Falls are on the left and smaller Bridal Veil Falls are on the right
The little people are standing on Luna Island.

Leaving the two smaller falls for the largest, Horseshoe Falls

This is the largest of the three, Horseshoe Falls

We should have kept our rain gear for the foul weather to follow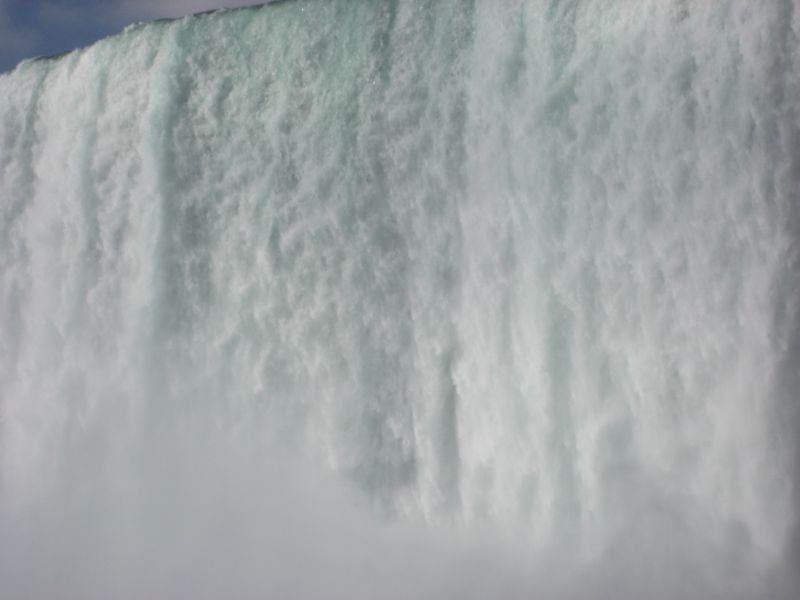 We call this Heavy Rain where I come from.

Need to get my Windshield Wipers Checked

Horseshoe Falls, Top View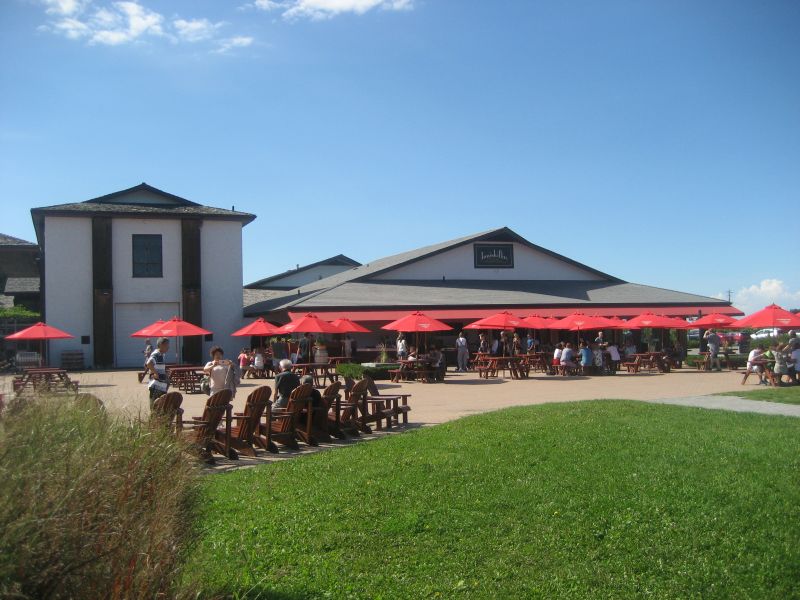 The Inniskillen Winery makes Ice Wine, supposedly introduced in Germany
Elsa had not heard of the technique which uses juice from frozen grapes

The vineyard doesn't look unusual

The grapes are the same, too, but they aren't frozen until winter weather arrives
It takes a about four times as many grapes to make ice wine, so it is more expensive


Day 3
Sunday, September 16th
Ottawa via Kingston
Lunch at Lone Star Texas Grill
Cruise Thousand Islands
Arrive Courtyard Marriott
Dinner at leisure

Sampling Apple Cider at the Big Apple tourist stop with our new friends from Chicago

Elsa puts the "I" in Kingston

Engine 1095 is a reminder that Confederation Park was once an active train yard and that Kingston was
once home to the Canadian Locomotive Company for over 100 years. The company built more than 3,000
steam, electric and diesel engines for the Canadian Pacific Railway, including 'The Spirit of Sir John A.'
Engine 1095 made its debut in 1913 and was fully restored in 2013, 100 years after it was first built.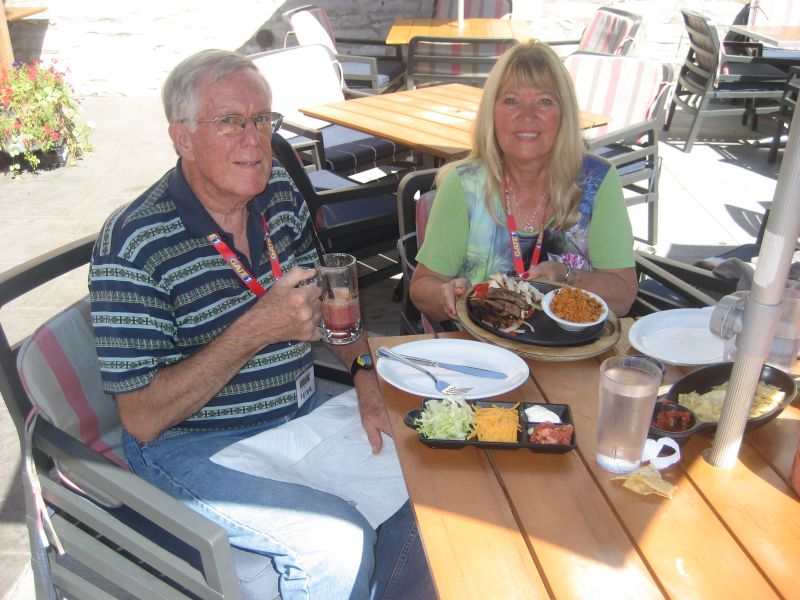 The "Lone Star Texas Grill' is really a Mexican restaurant

Minnie the Moose was the bus mascot. Everybody was encouraged to photograph
Minnie for judging and a prize. The winner gets to keep the Moose

Starting our Thousand Island cruise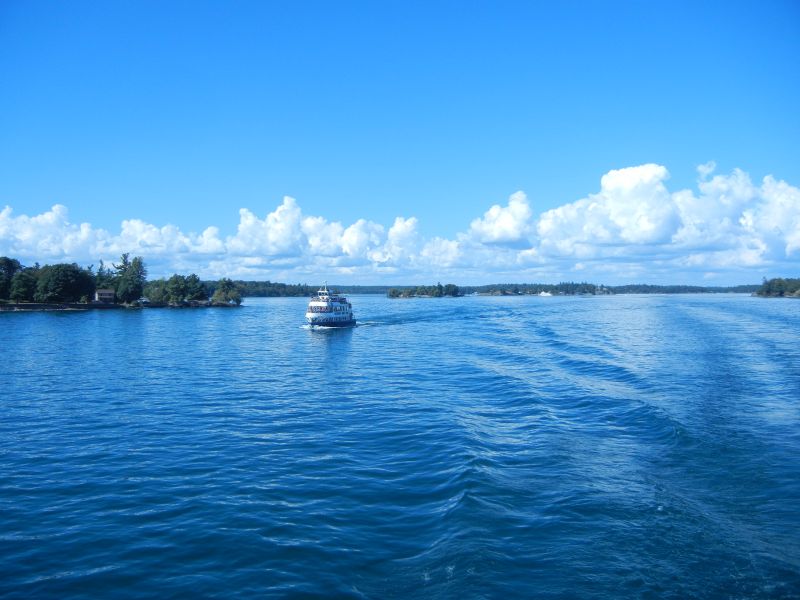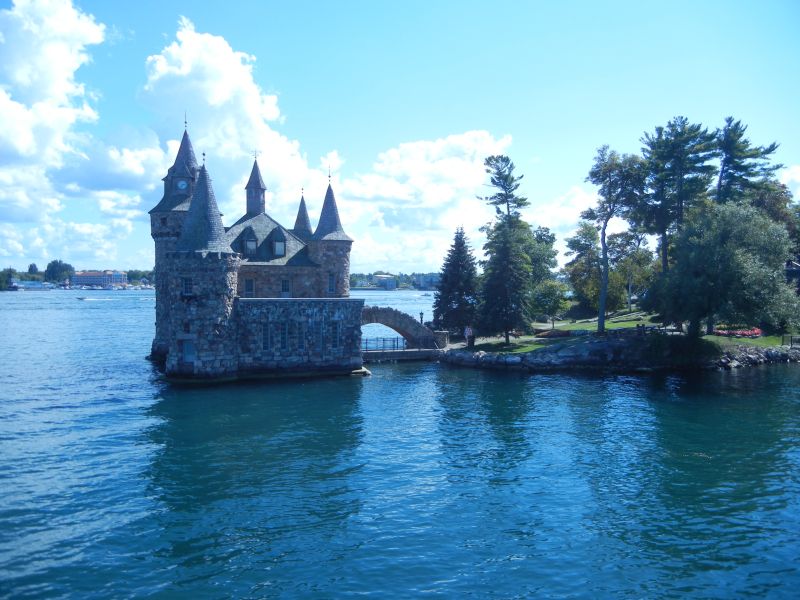 Boldt Castle

There is a U.S. Customs and Border Protection office, a wood structure manned by single customs officer.
Visitors coming from Canada require appropriate identification, as visiting the island is considered entering the United States.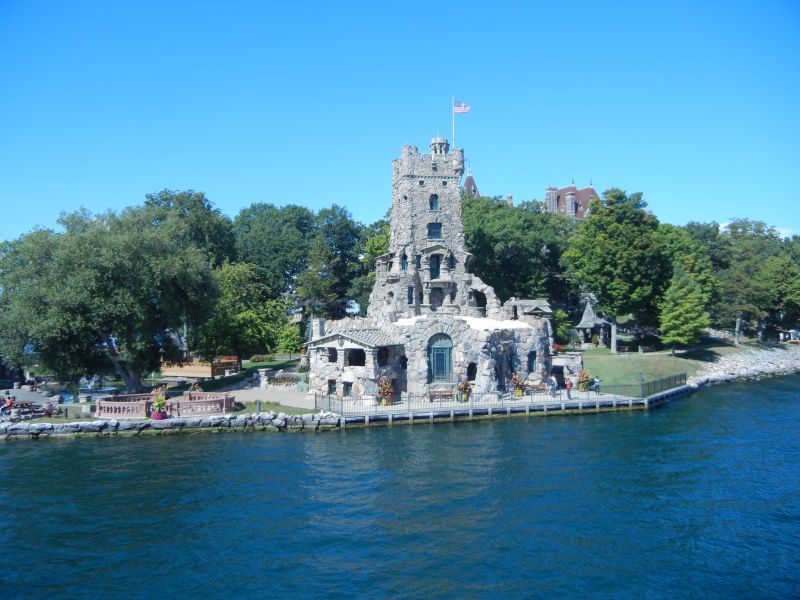 We turned back after circling the island

Tour Director, Scott, chats with a few of his 40 new friends

Returning to the starting point

Mr. Grump goes to Canada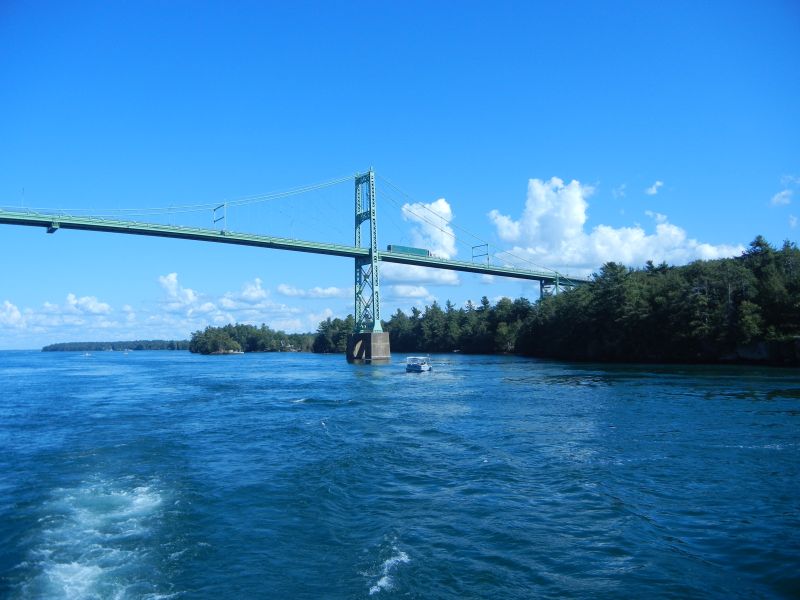 Day 4
Monday, September 17th
Ottawa City Tour
lunch at leisure
evening at leisure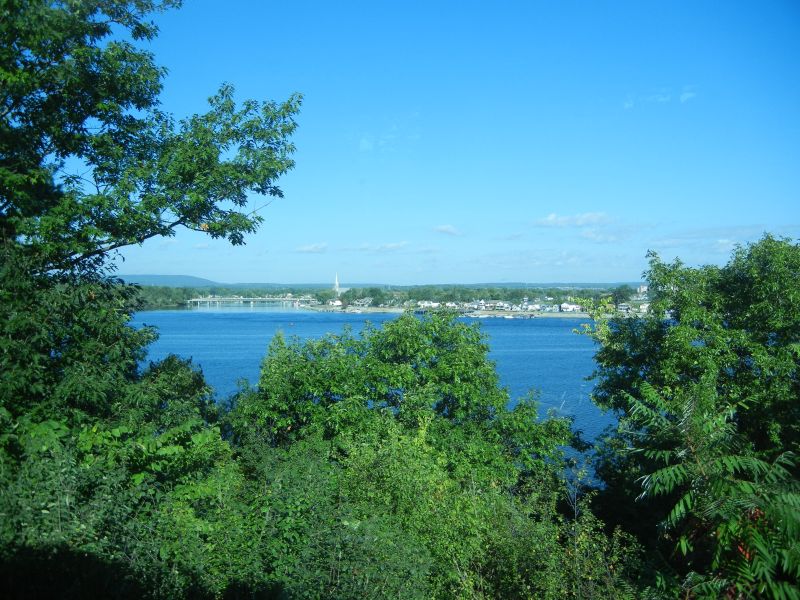 Looking across the Ottawa River to Gatineau

Ottawa is Canada's capital, in the east of southern Ontario, near the city of Montréal and the U.S. border.
Sitting on the Ottawa River, it has at its centre Parliament Hill,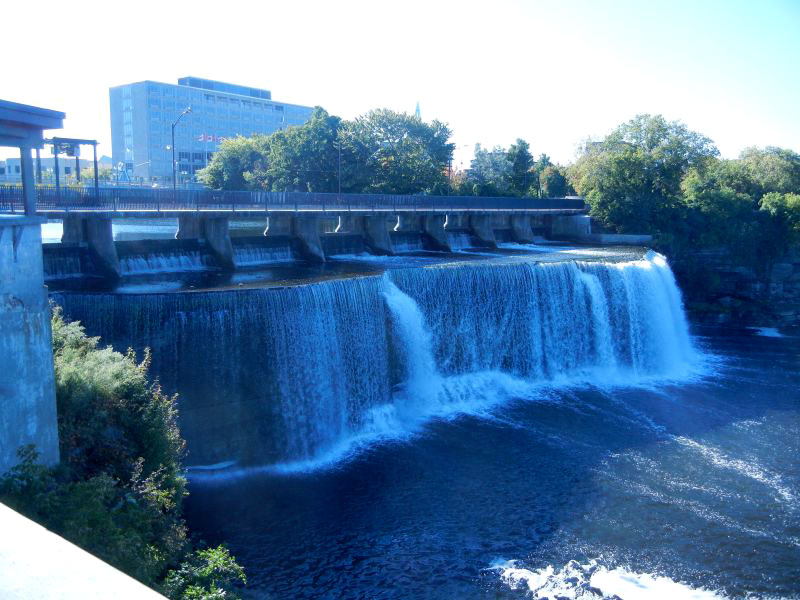 The Rideau River ends here at the Rideau Falls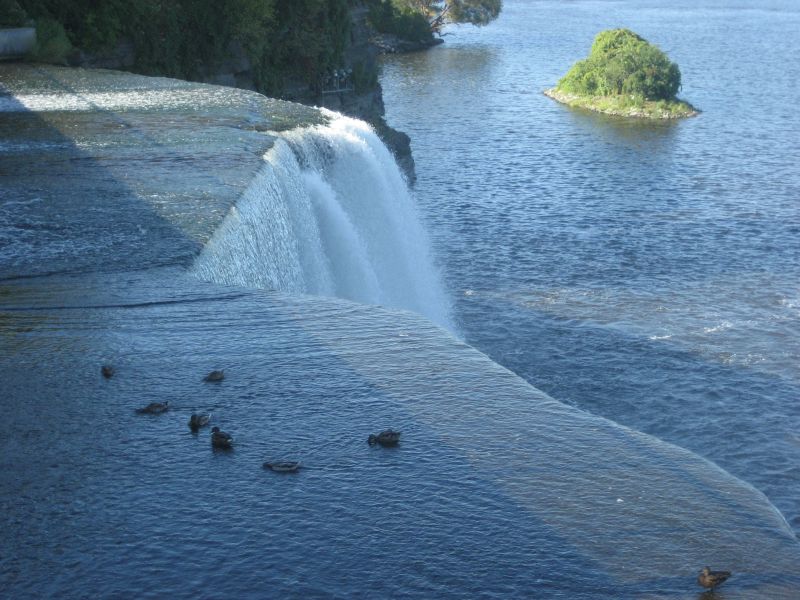 Another nice day for ducks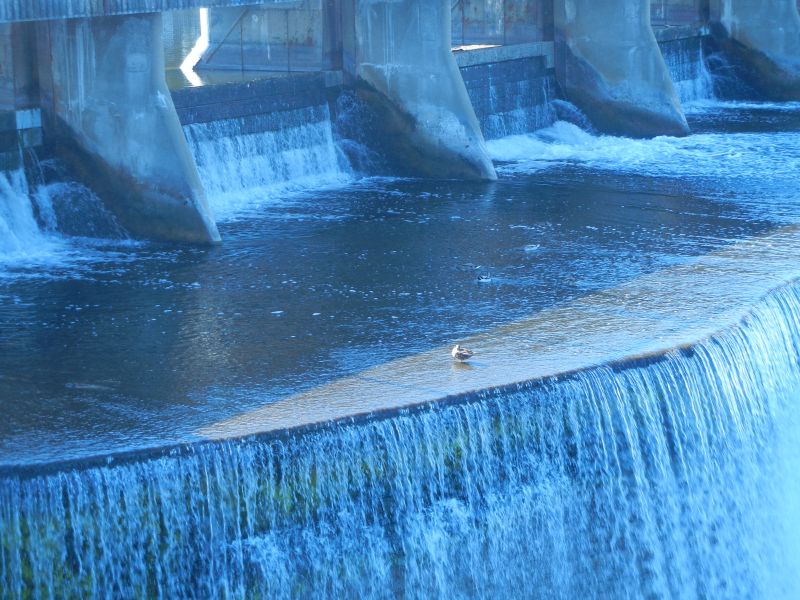 Hope Springs Eternal
Waiting for a Salmon to swim upstream

Taking in the view at the Tavern on the Falls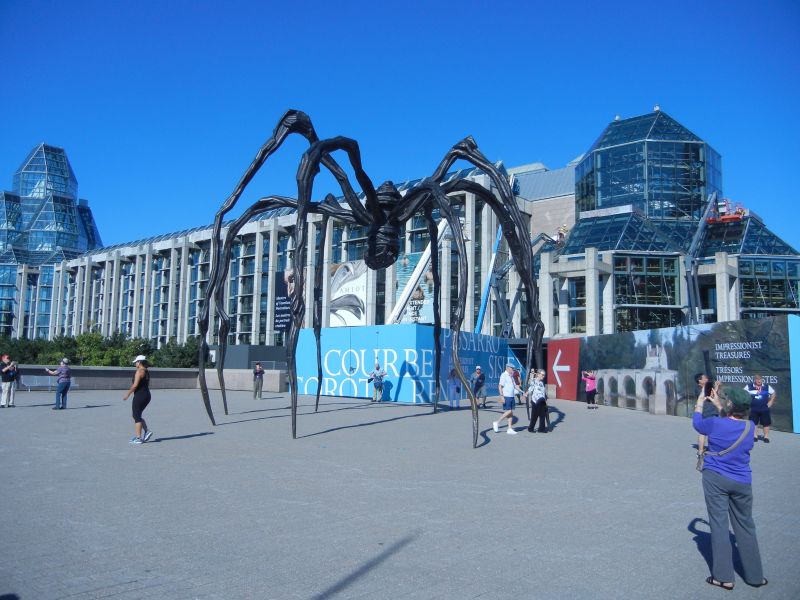 The Maman Statue at the National Gallery of Canada is a bronze, stainless steel, and marble
sculpture by the artist Louise Bourgeois. The sculpture, which depicts a spider, is among the
world's largest, measuring over 30 ft high and over 33 ft wide.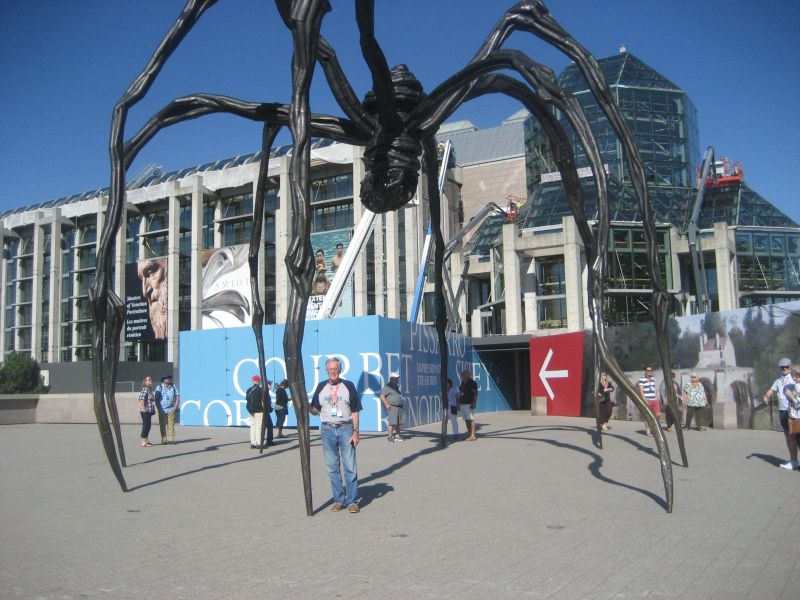 You can have your own Pregnant Spider for only $2 million.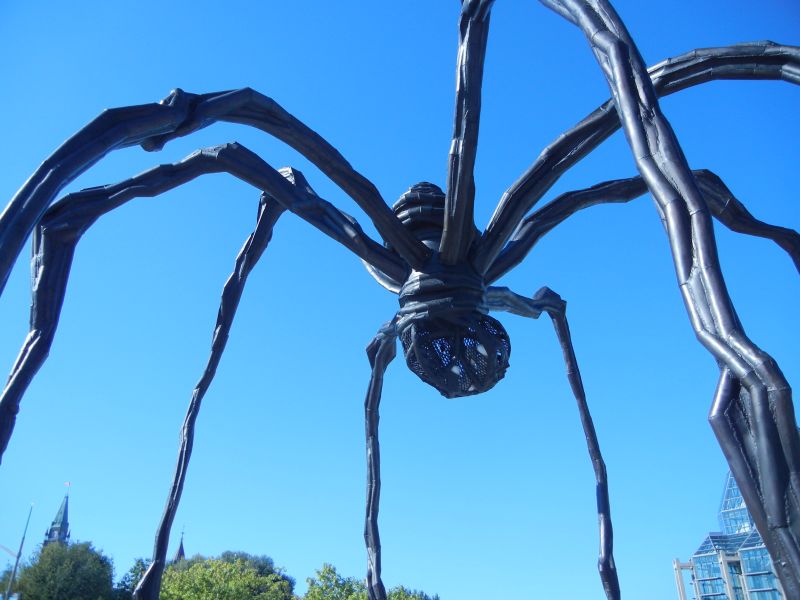 The egg sac contains 32 marble eggs.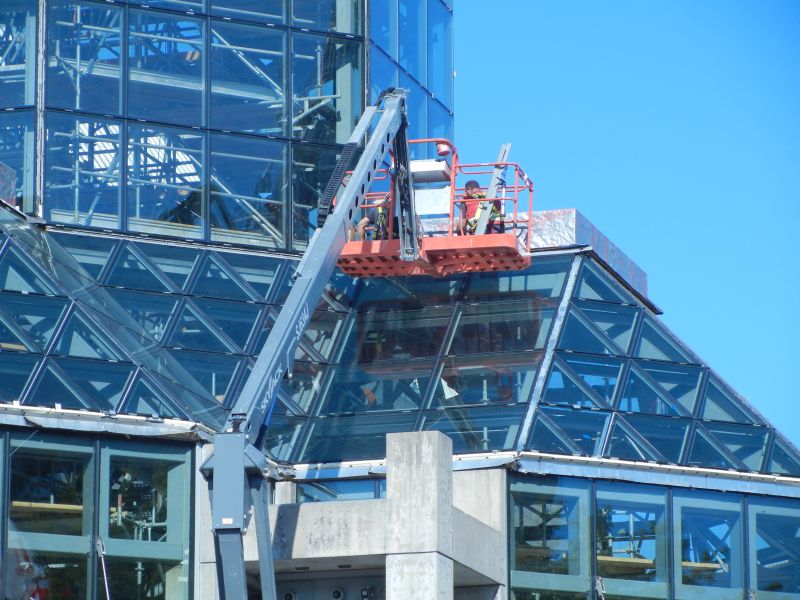 Special Windows require Special Washers

There is no shortage of Notre Dame Cathedrals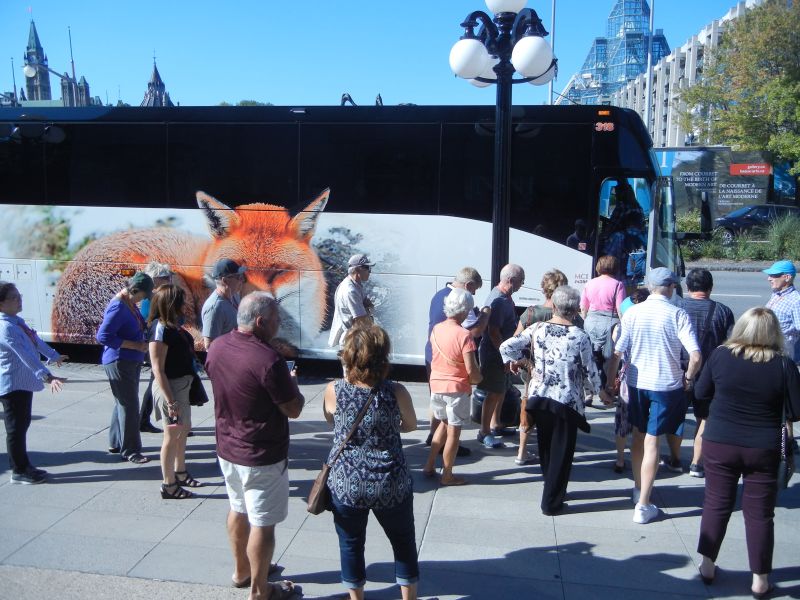 Whoopee yi yo, git along little dogies
It's your misfortune and none of my own
Whoopee yi yo, git along little dogies
You know that Wyoming will be your new home

As sung by urban cowboys, herding cattle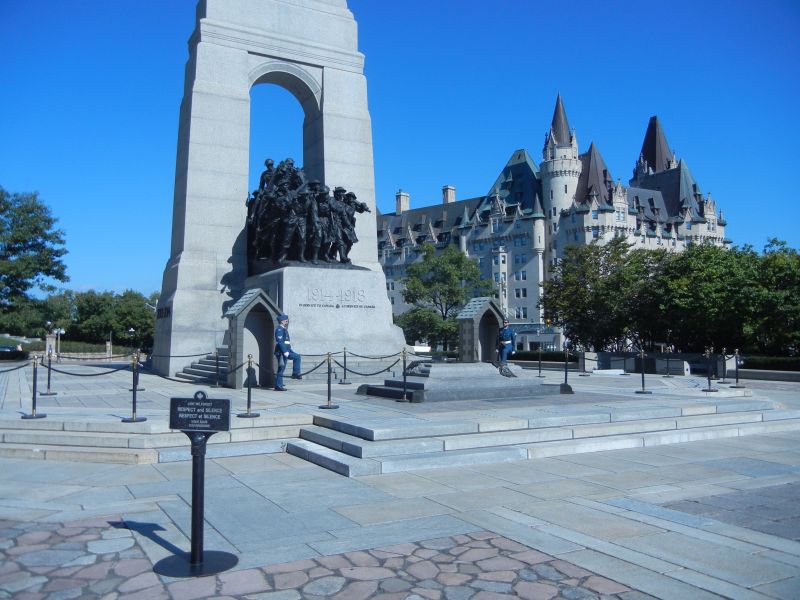 Changing of the Guard at the National War Memorial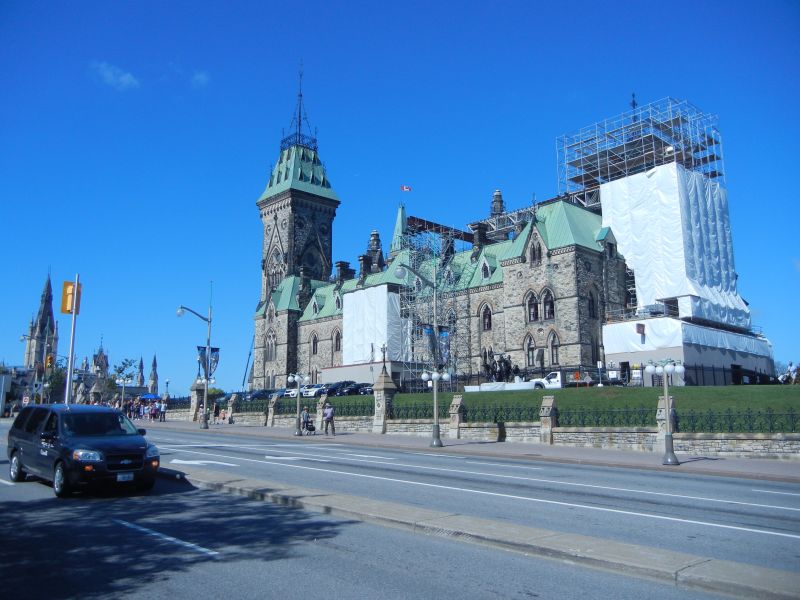 Approaching Parliament Hill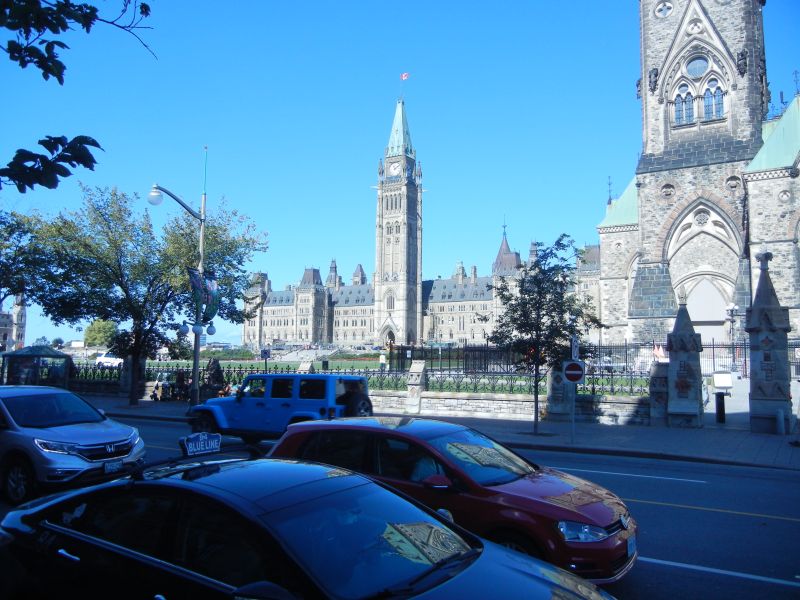 Across the street, in front of the Parliament buildings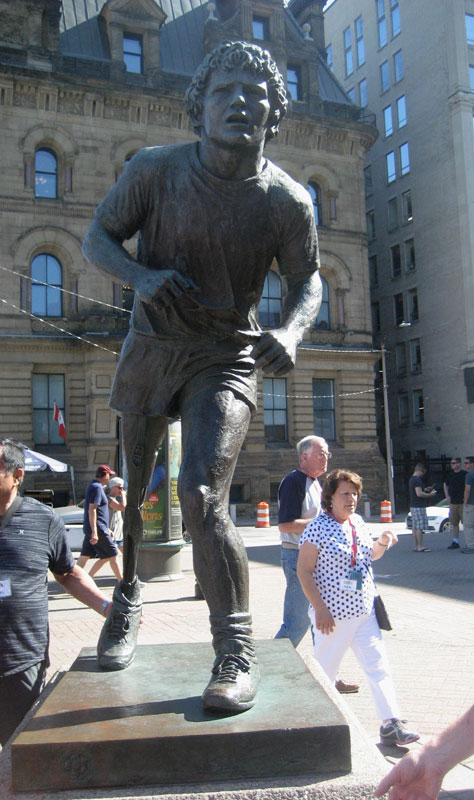 Having lost one leg due to cancer, Terry Fox, a Canadian athlete, embarked on an
east to west cross-Canada run in 1980 to raise money and awareness for cancer research
He began with little fanfare from St. John's, Newfoundland, in April and ran the equivalent
of a full marathon every day. Fox had become a national star by the time he reached Ontario

Although the spread of his cancer eventually forced him to end his quest after 143 days and 5,373
kilometres (3,339 mi), and ultimately cost him his life, his efforts resulted in a lasting worldwide legacy.

The annual Terry Fox Run, first held in 1981, has grown to involve millions of participants in
over 60 countries and is now the world's largest one-day fundraiser for cancer research.
Over C$ 750 million has been raised in his name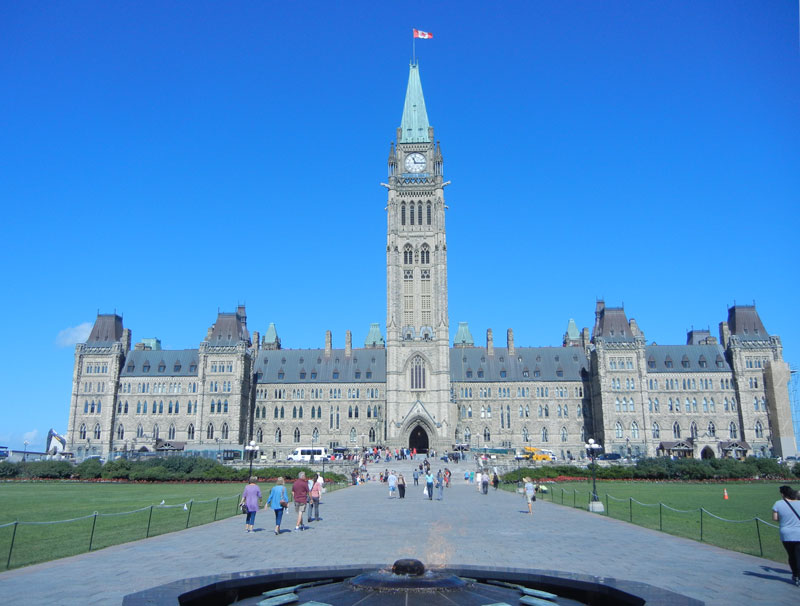 Parliament Hill is the political and cultural heart of the city of Ottawa.
The Gothic-style Parliament Buildings sit atop the Hill overlooking the Ottawa River
as the politicians within debate who they can tax next

The gang's all here
Except for the ten who are missing

We have our own Private Canada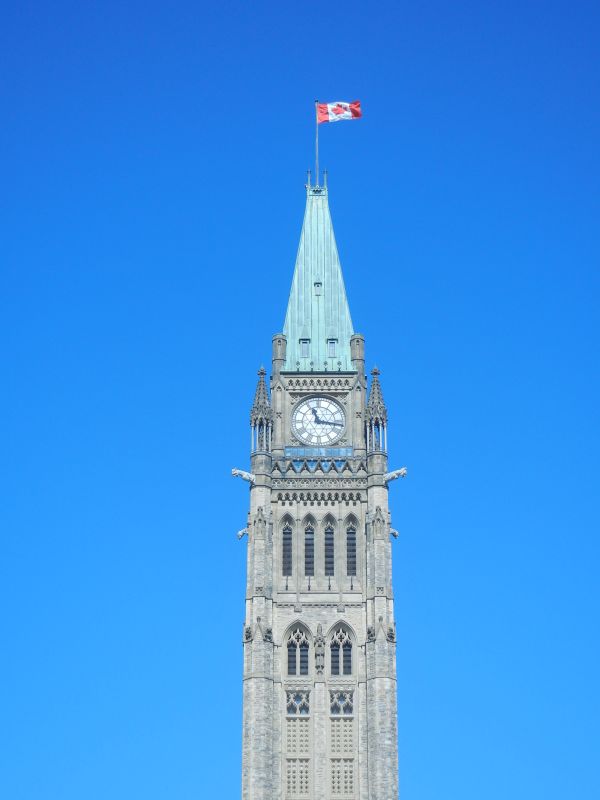 There are hundreds of individual gargoyles, grotesques, reliefs and bosses carved into the
stonework of the buildings, including four looking out from high on each corner of the Peace Tower.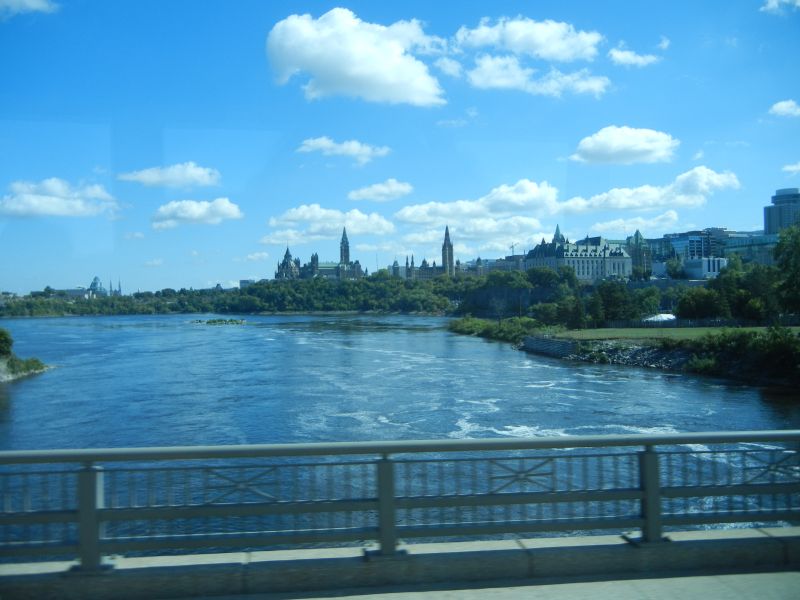 Crossing the Ottawa River, going from the Province of Ontario to the Province of Quebec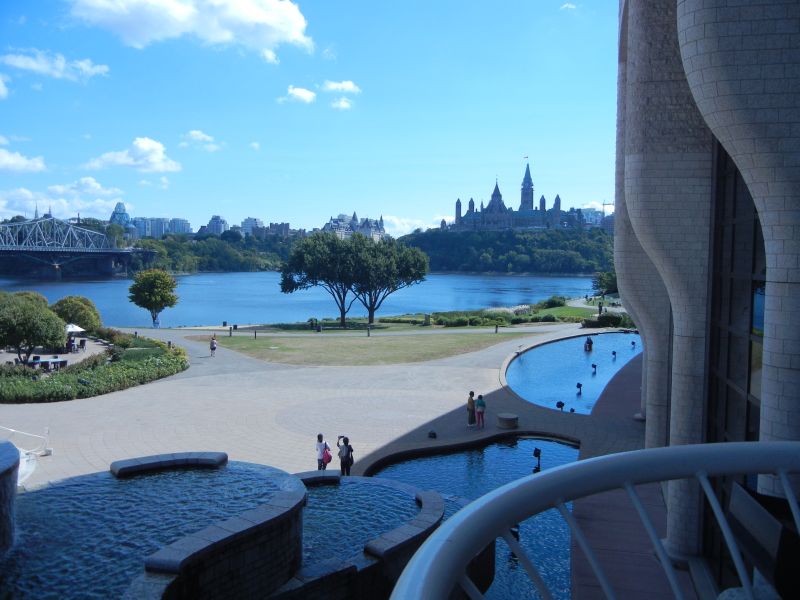 Parliment Hill, from the other side

Looking from the grounds of the National Gallery of Canada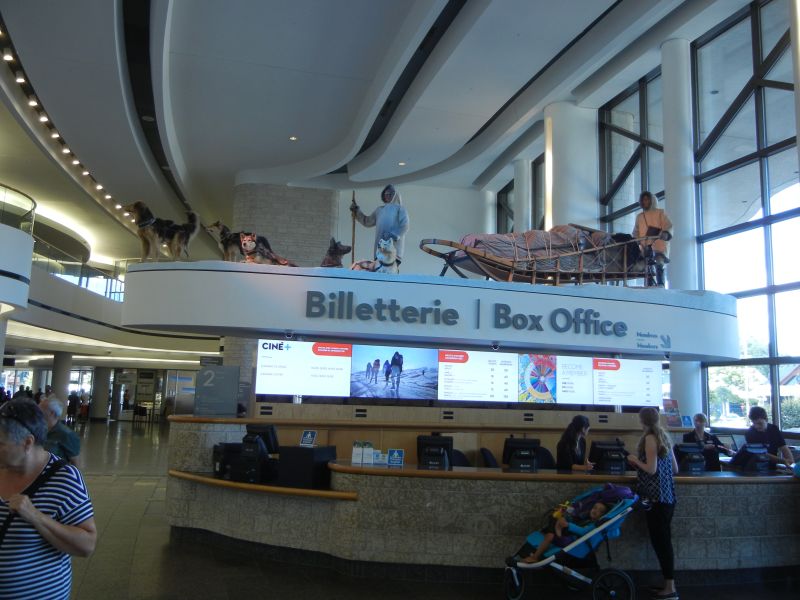 The National Gallery of Canada, with noted collections of indigenous and other Canadian art.

Totem Poles, for example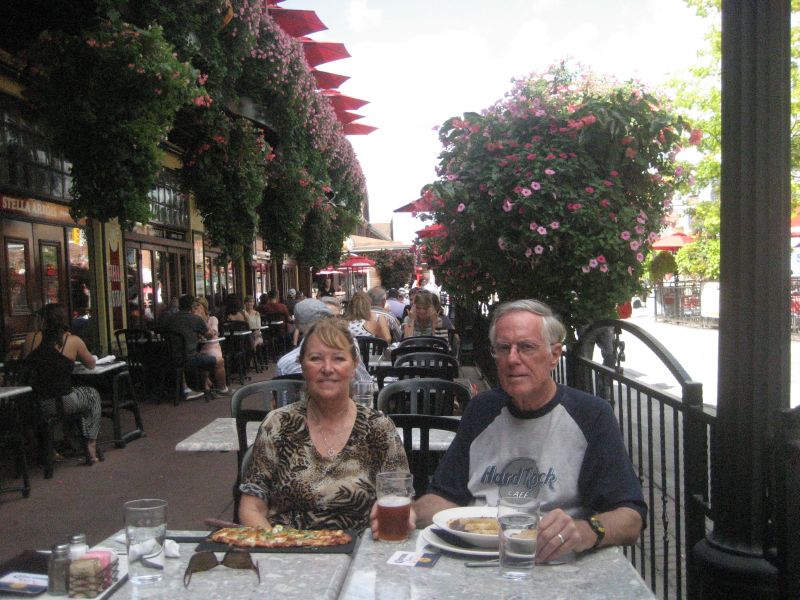 Lunch on our Own
Pizza for Elsita, Beef Stew for Pedro

Dinner on our Own
Miso Soup and Sushi as we dine in an empty restaurant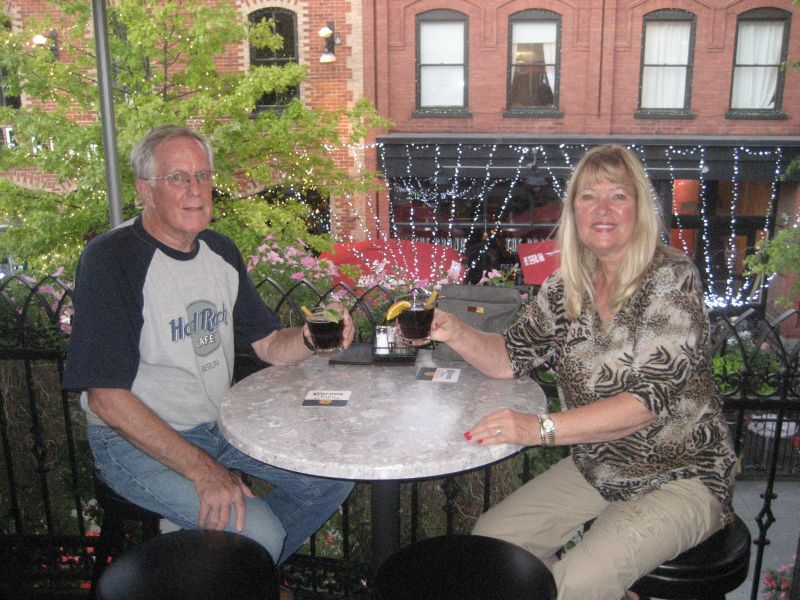 A Rum and Coke, always a favorite for the Tired Tourists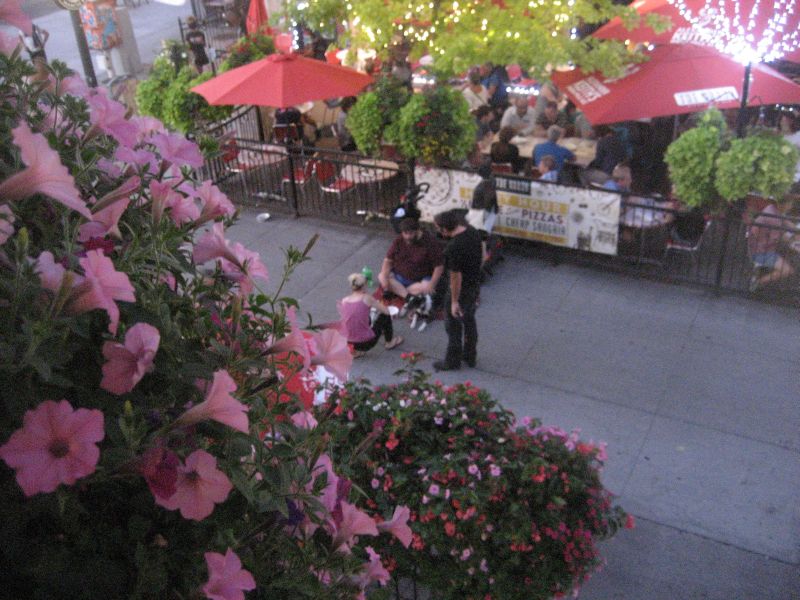 A man and his dog set up shop below our balcony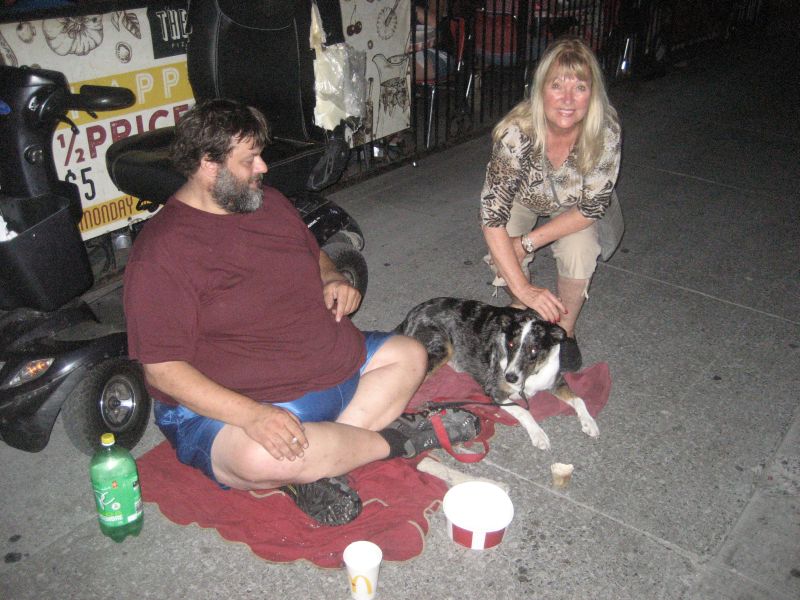 Our contribution to his cup was appreciated by man and beast

Bye-Bye Ottawa
View from the roof-top bar of the hotel across the street from ours


Day 5
Tuesday, September 18th
Depart for Quebec
Lunch at Sugar Shack
Delta Hotel
Drop-off Hotel Frontenac
Dinner at leisure

Tour-Director Scott about to pour a sample of Cabot Trail Maple Cream
An authentic cream beverage that marries the richness of pure Canadian maple syrup with fresh cream.
Cocoa, cinnamon and amaretto merge with the maple, creating a powerful synergy of flavours.
You can't make up prose like this on your own...

Minnie the Moose got carried away on Maple Cream and Canadian Whiskey with Maple Syrup
This was my entry in the Minnie-the-Moose Photo Contest
It got two votes, one from Elsa and one from me, for a shared third-place Honorable Mention
It didn't bring home the moose...
Lunch at the Sugar Shack

Making Maple Popsicles by pouring Maple Syrup on the Snow.

Mooses (meese?) don't eat maple leaves

Were at the Corner of Highway 55 and 40


Day 6
Wednesday, September 19th
Quebec City Tour
Farmers Market
Funicular - Lower to Upper Town
Lunch at Le Moulin Saint-Laurent
Albert Gilles - Copper Art
Basilica Sainte-Anne-de-Beaopre
Montmorency Falls

Our day started with cold, rainy weather

Our Local Guide, Bernard, reviews Canadian history that all of us have forgotten

Our bus couldn't go through this city-wall gate due to contruction
On to the Plains of Abraham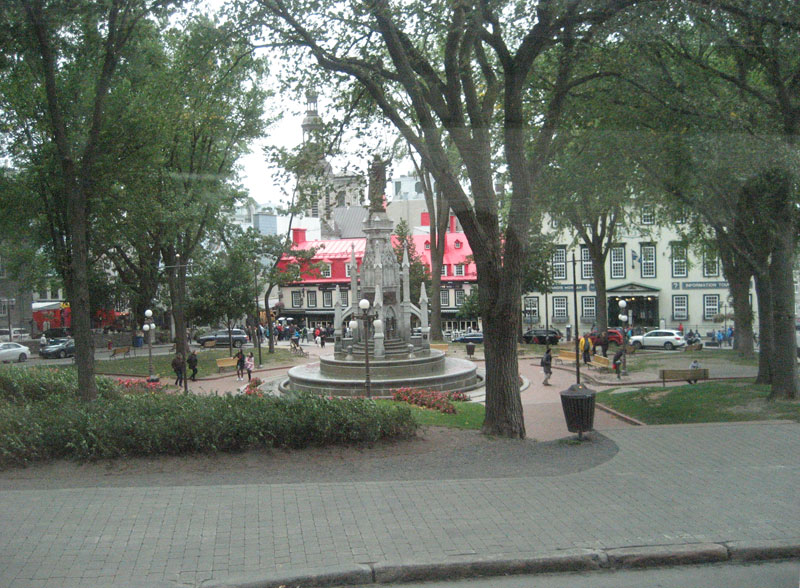 Place d'Armes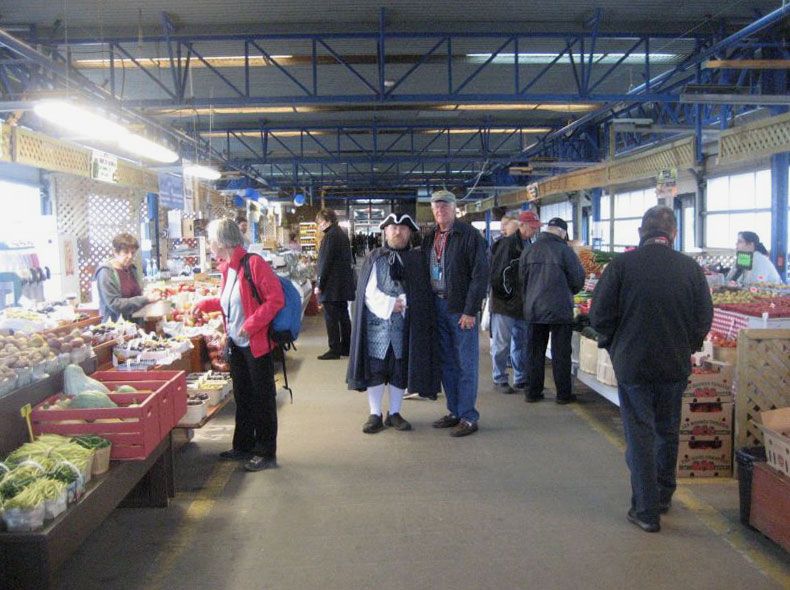 Our Local Guide, Bernard
Farmer's Market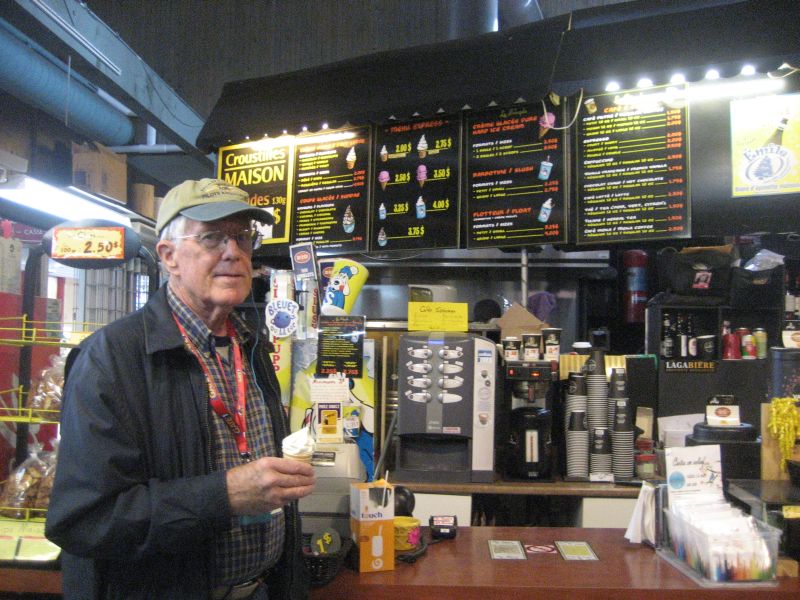 Ten O'Clock in the morning is NOT too early for Ice Cream

The Old Lower Town, Quebec City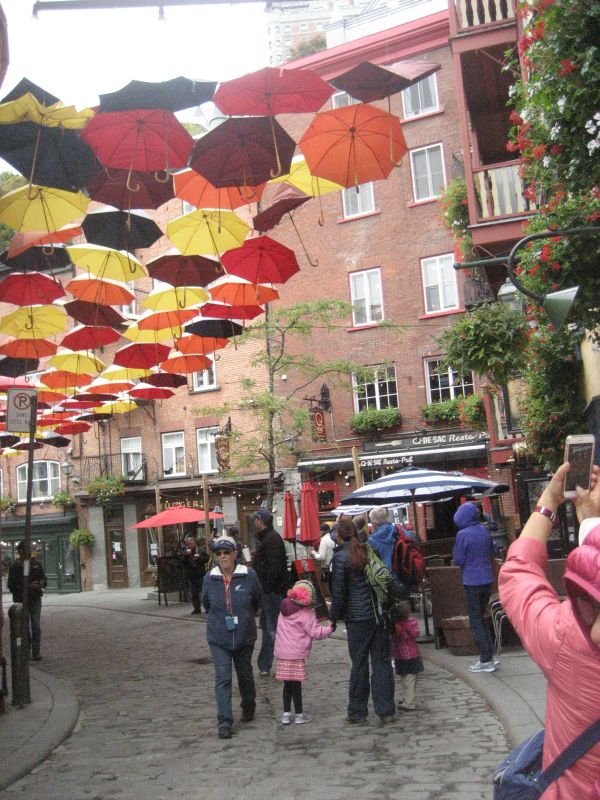 Umbrella Alley

Hotel Frontenac in the Upper City

Notre-Dame-des-Victoires is a small Roman Catholic stone church on Place Royale in the
lower town of Old Quebec City. Construction was started in 1687 and completed in 1723.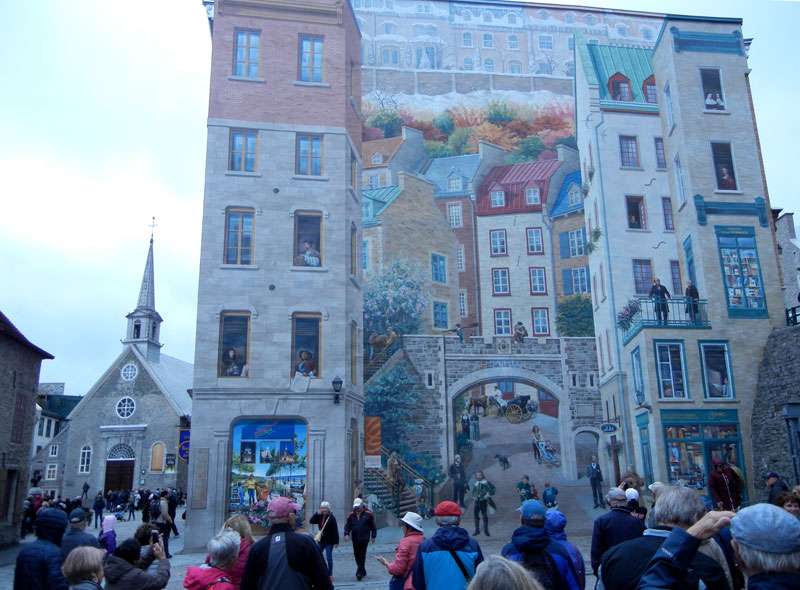 The Quebec City Mural, painted on the side of a building

Map of the Mural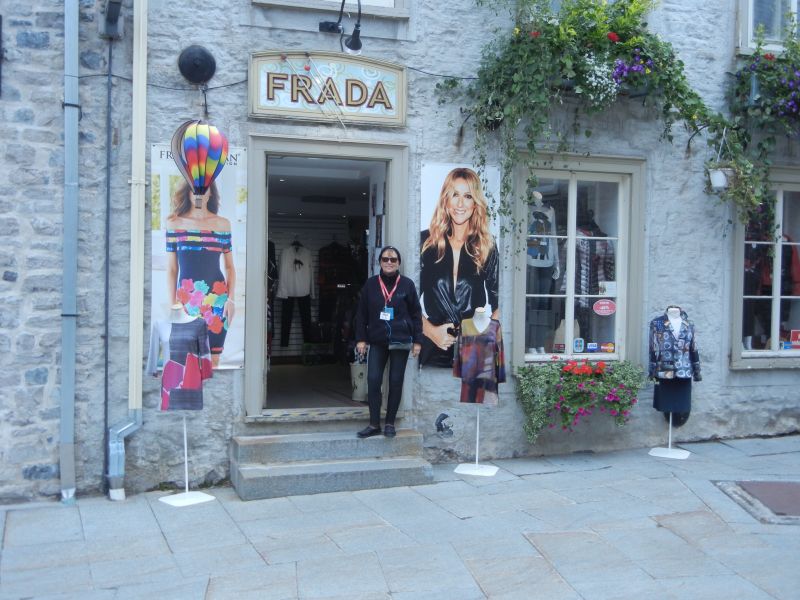 Elsa and her friend, Celine Dion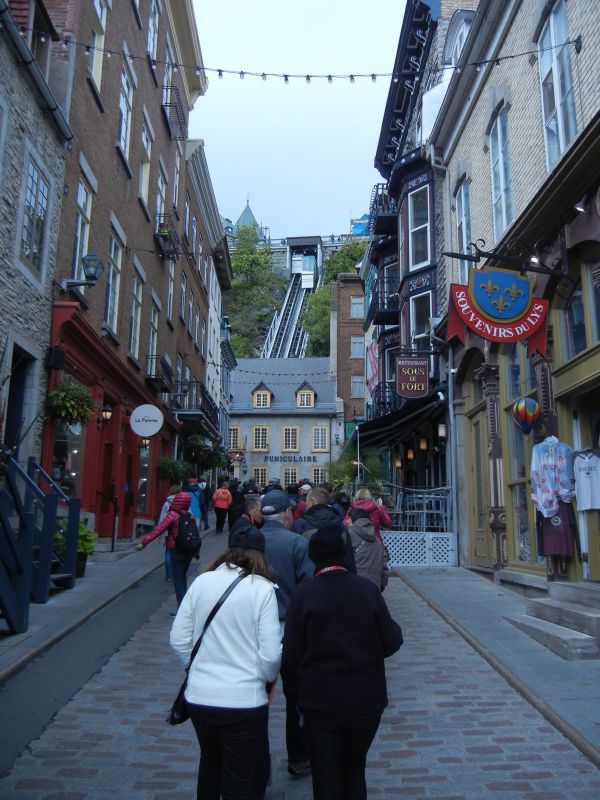 The Funicular we will soon ride

Rue du Petit-Champlain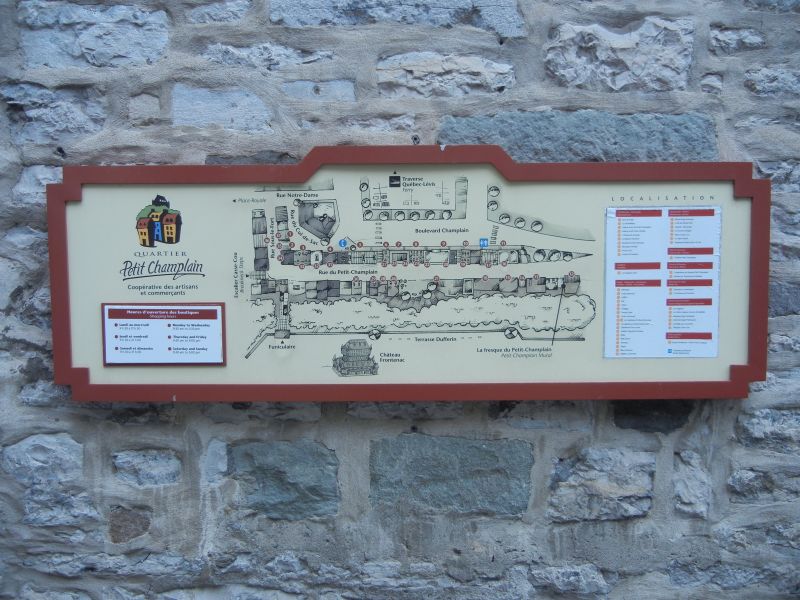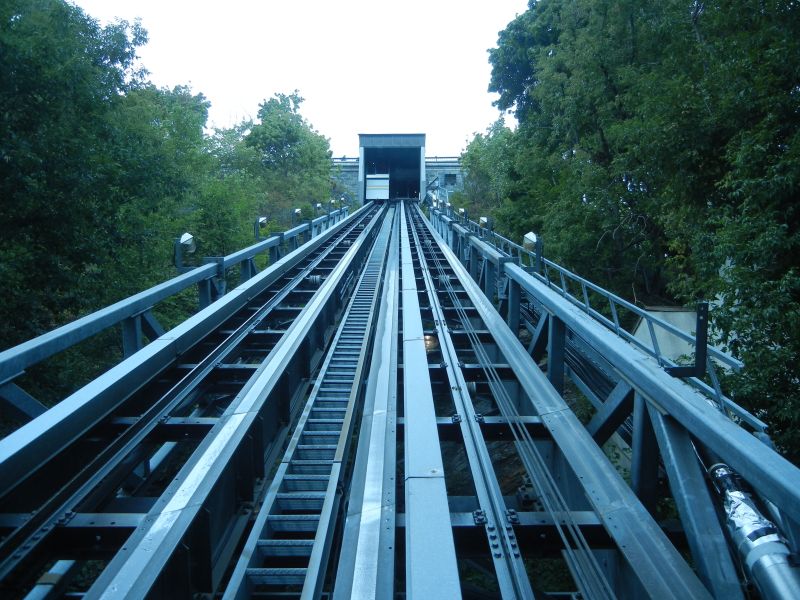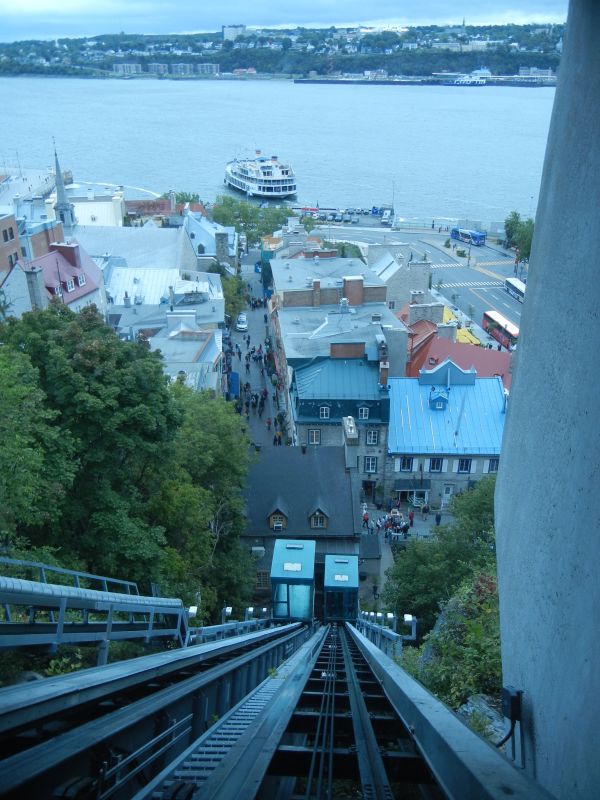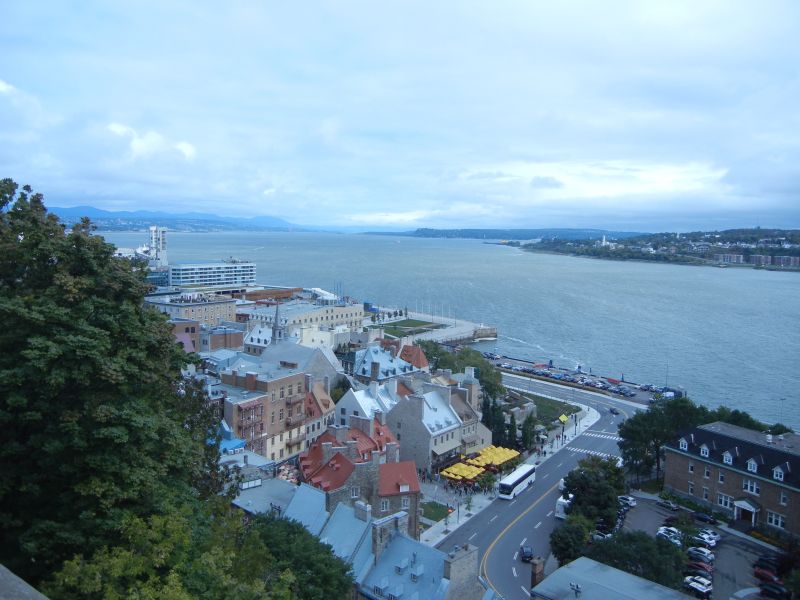 Le Chateau Frontenac
The most photographed hotel in the world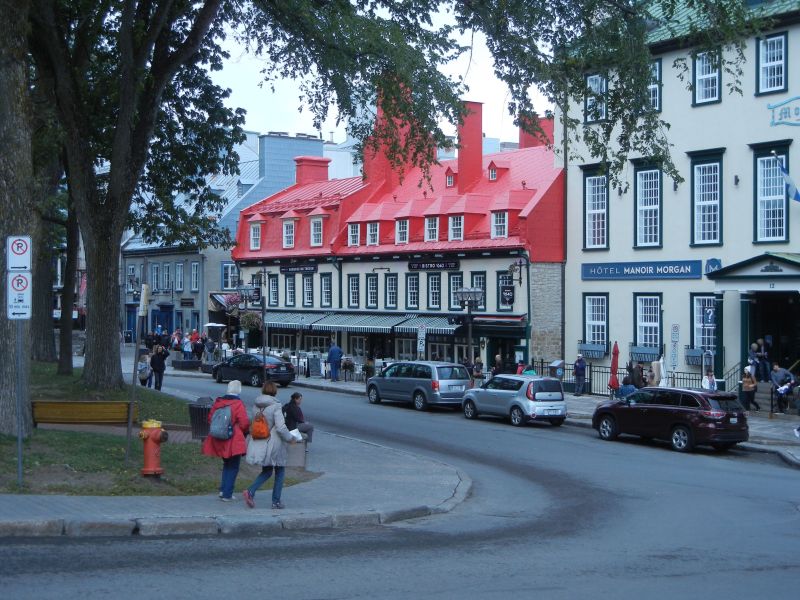 Au Relais De La Place D'Armes on Rue Saint-Anne in Old Quebec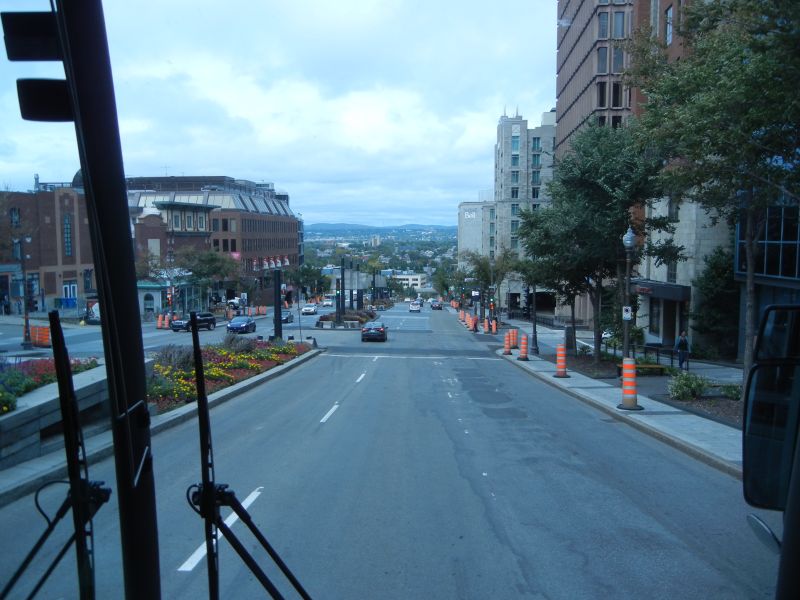 Leaving the city for Île d'Orléans

Were're turning off now, but will return to continue straight to Ste-Anne-de-Beaupre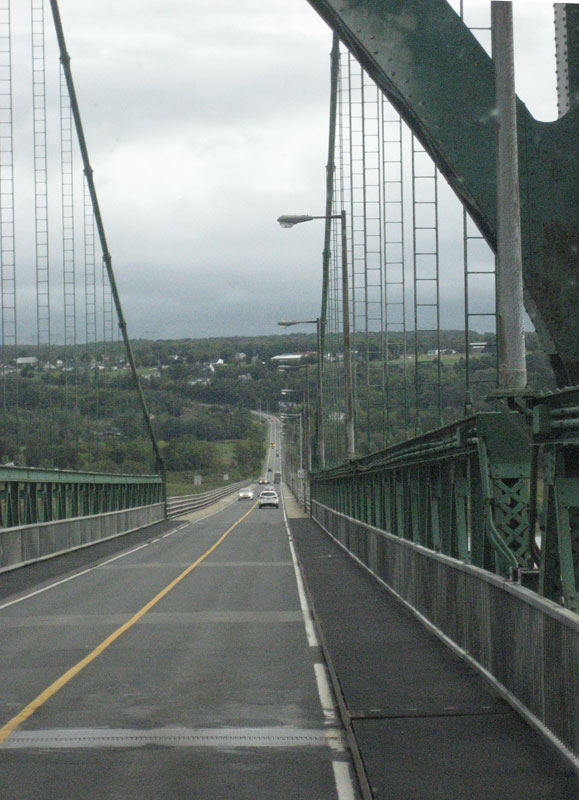 Crossing the St. Lawrence River to visit the Île d'Orléans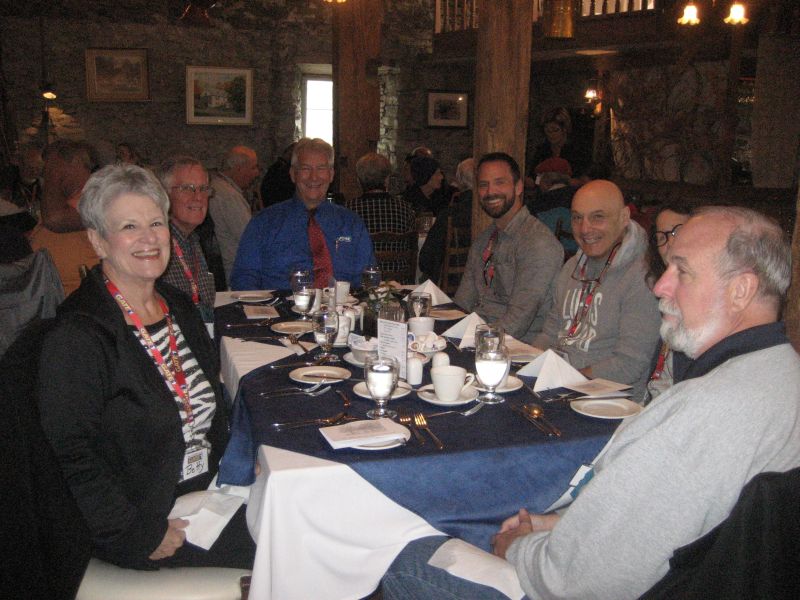 Lunch Le Moulin Saint-Laurent
with guide, Scott, the youngest of the group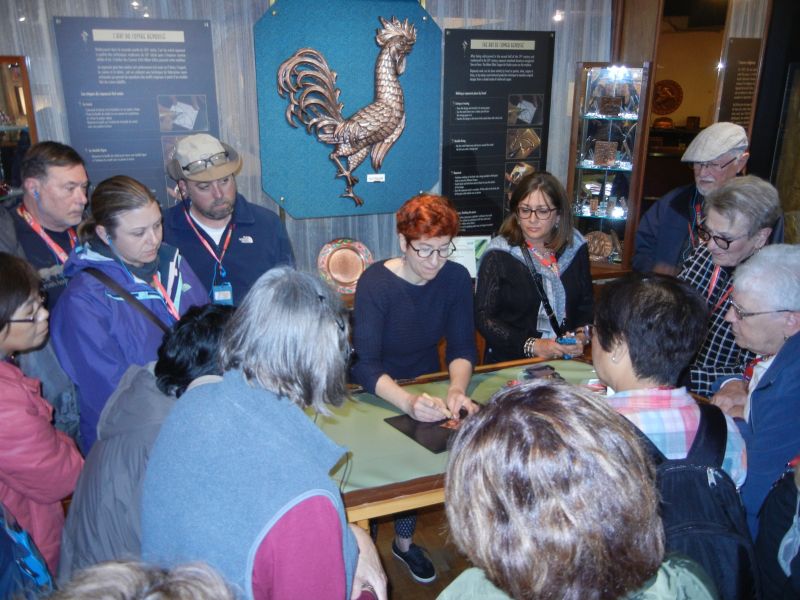 Introduction to Copper Art -101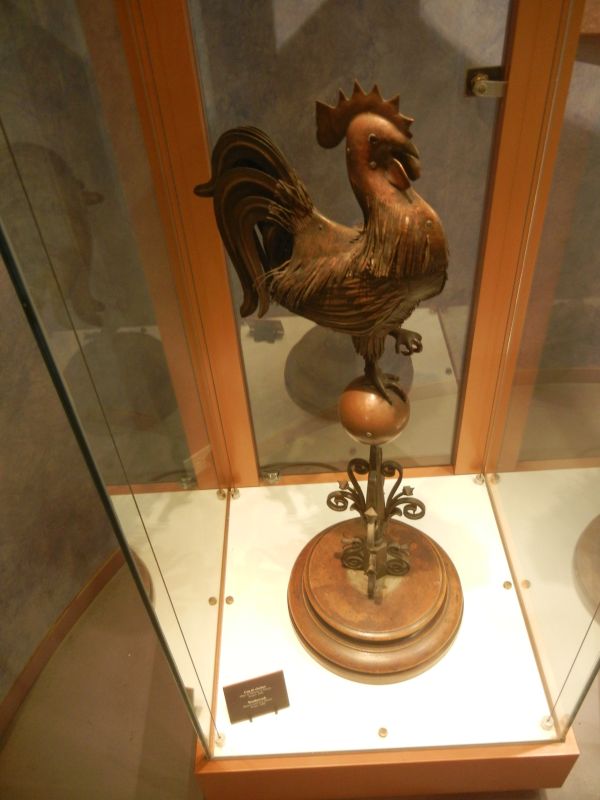 Copper Art at the Albert Gilles Studio

Making my Contribution to the Canadian Art World

This would sell for Millions if I put it on the Market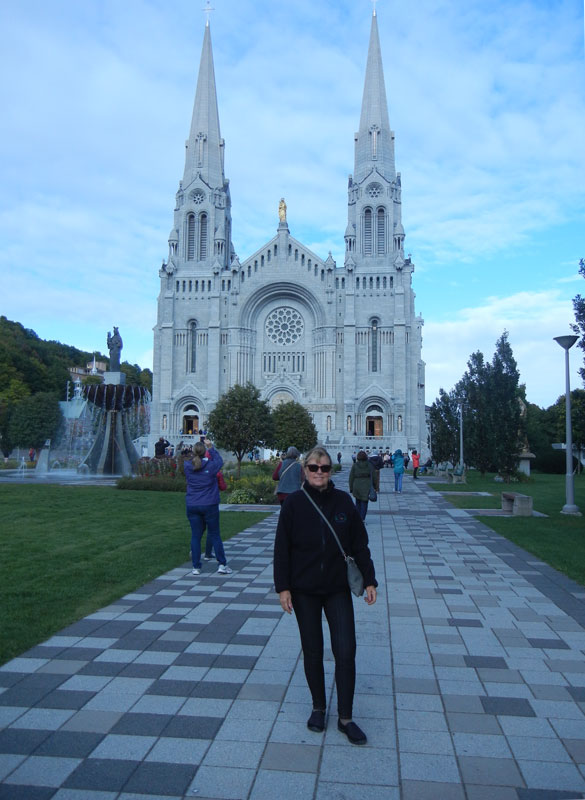 Elsa visits the Sainte-Anne-de-Beaupre Basilica
Hoping to leave some of her shoulder pain there

Columns inside were decorated with many sets of crutches given up by those who were healed
There was even one pair of skis mixed in with the crutches
Elsa's pain was finally relieved two months later by stopping a nightly Ambien sleeping pill

Note the Copper Art Doors made by Albert Gilles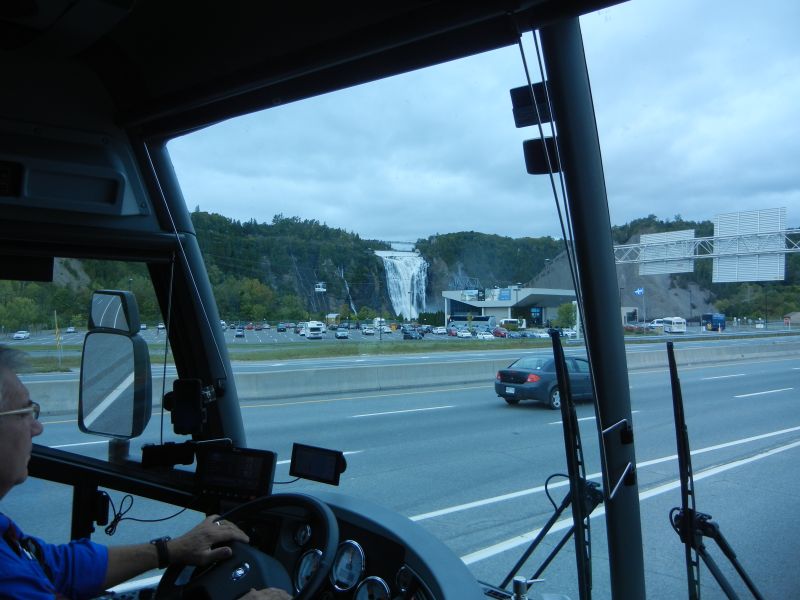 It's not Niagara Falls...

but it's trying

Looks like Fun

Montmorency Falls


Day 7
Thursday, September 20th
Depart for Montreal
Stop at Rose Drummond
Poutine for Lunch
Sheraton Hotel

The word "Chaudière" (boiler) comes from the spray at the foot of the falls that looks
like steam coming out of a boiler. 17th century explorer maps mentioned the falls
by the name of "Sault de la Chaudière" (The Boiler's Falls).

Straight ahead for Montreal

Only 215 km to Montreal

It's Mid-September. Are we ready for Halloween?

We can finally see Montreal
Mount Royal, on the horizon to the left of the highway, gives the city it's name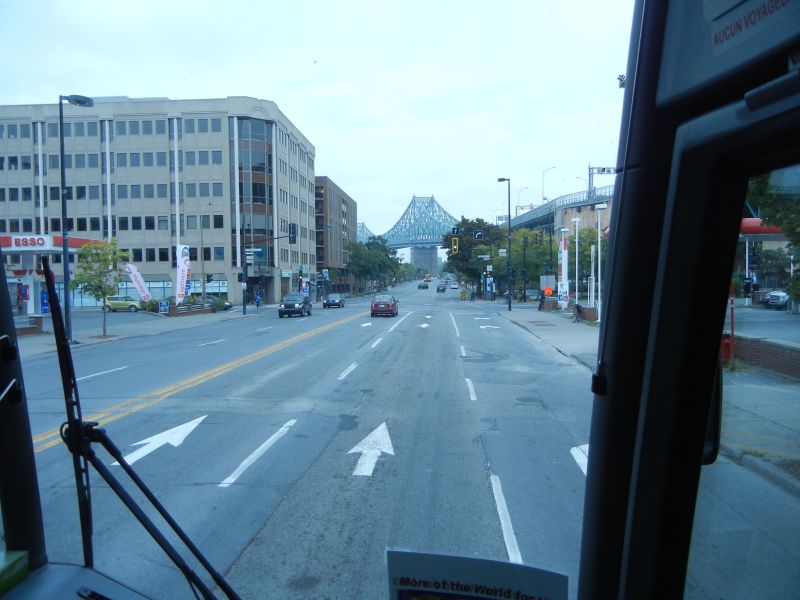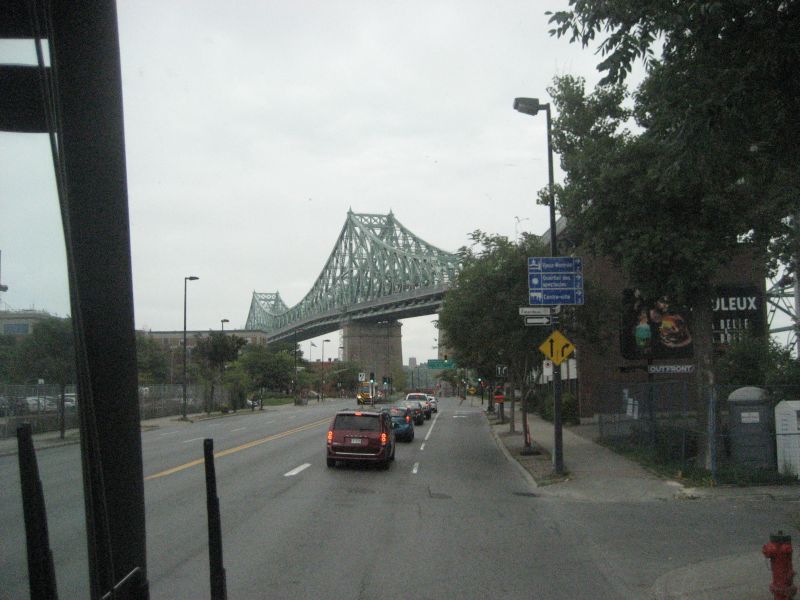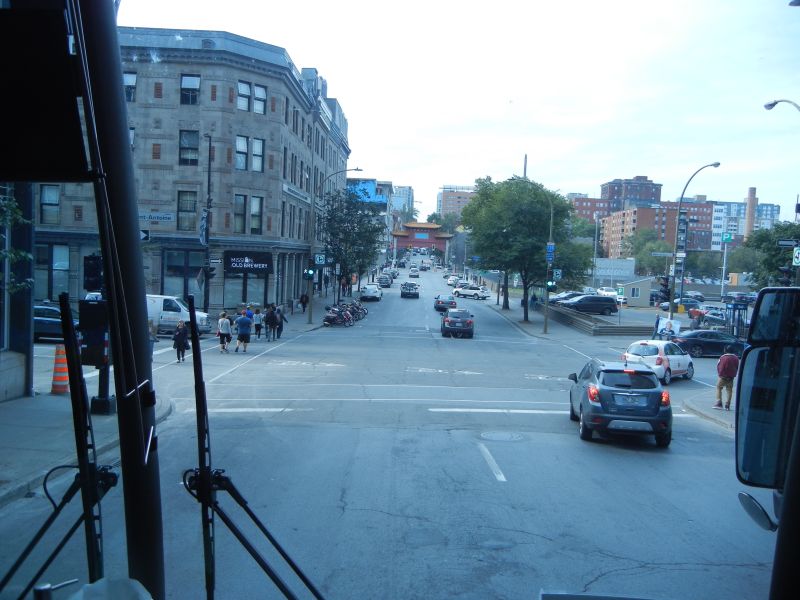 Looks like Chinatown ahead

Aren't They Sweet? Just Married !

Montreal Poutine, where we ate...

Poutine, which is a dish of French fries and cheese curds topped with a brown gravy.

Downtown Montreal. The Sheraton is ahead on the right.


Day 8
Friday, September 21st
Montreal City Tour
Notre Dame Bascilica
Westmount and Mount Royal
Ile Sainte-Helene
Le Plateau
Farewell Dinner - Vieux-Port Steakhouse

Our first stop of the day, the statue in front of the Notre Dame, was drenched with heavy rain
The Maisonneuve Monument in the Place d'Armes in front of Notre Dame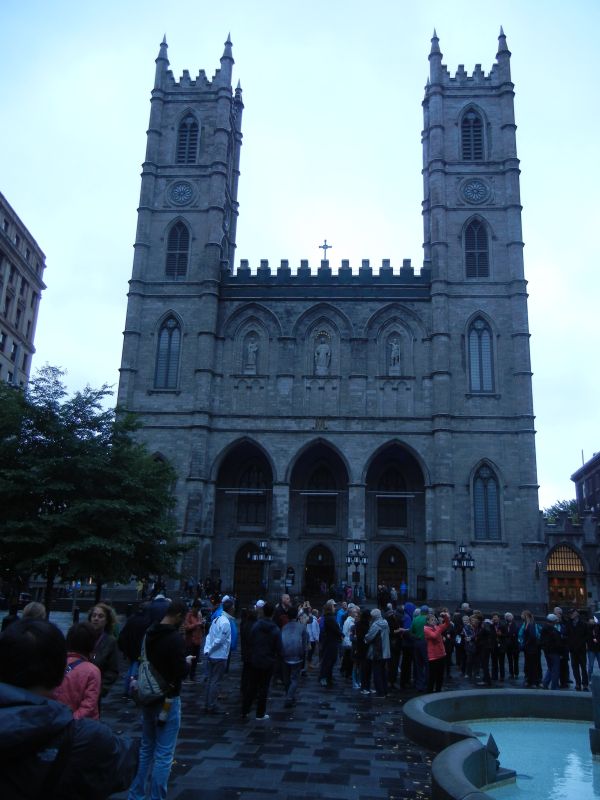 The Notre Dame Bascilica. No extra charge for wind and rain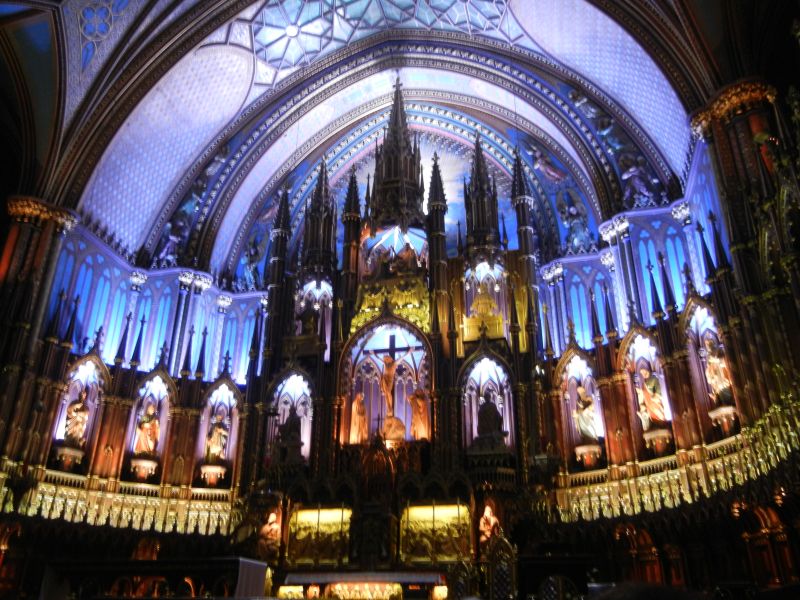 Montreal's oldest Catholic church, built in 1656, is known for its intricately designed
interior, which includes stained glass chronicling the history of the city, not religious events.

Place d'Armes in Old Montreal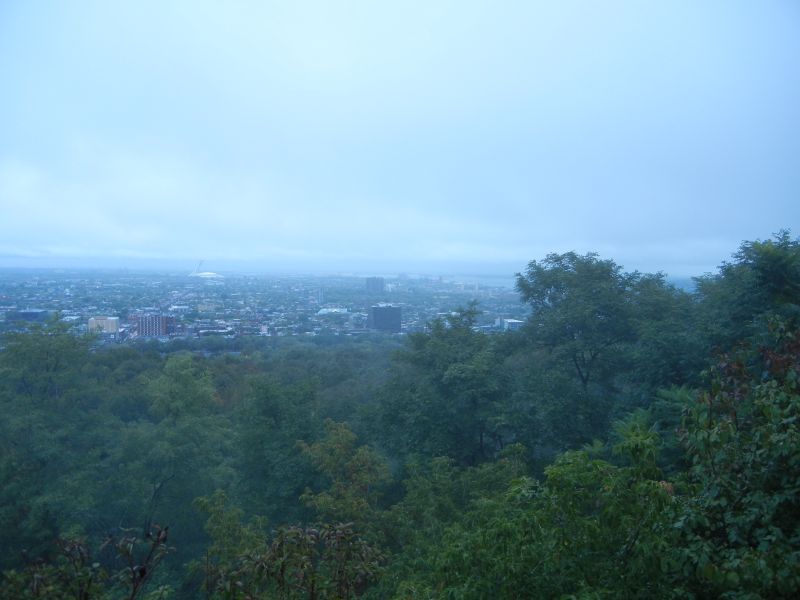 Dodging rain drops on Mount Royal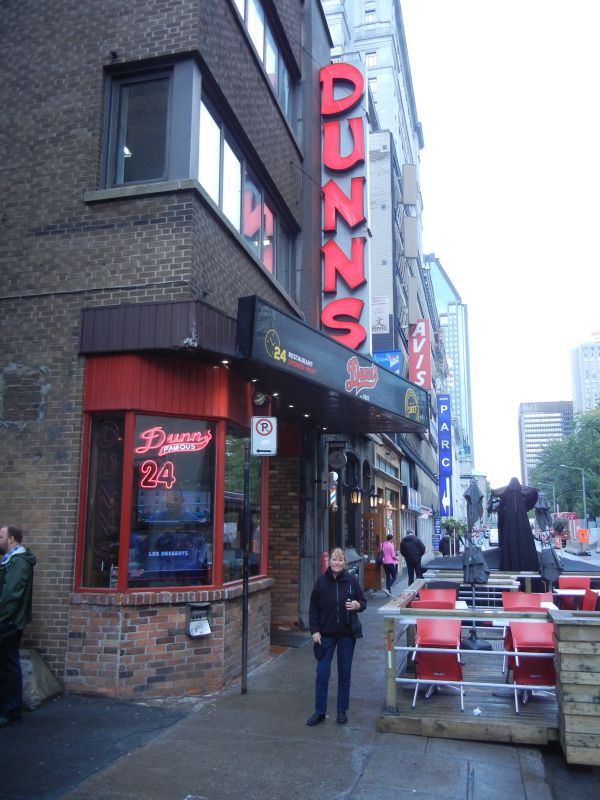 Dunn's was recommended

Norse knows how to do Lunch !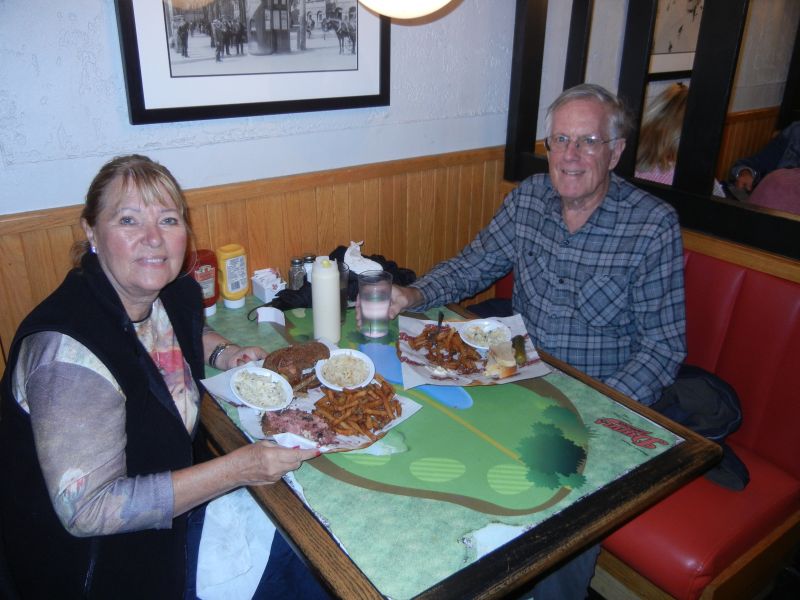 A delicious Lunch, Pastrami and Chips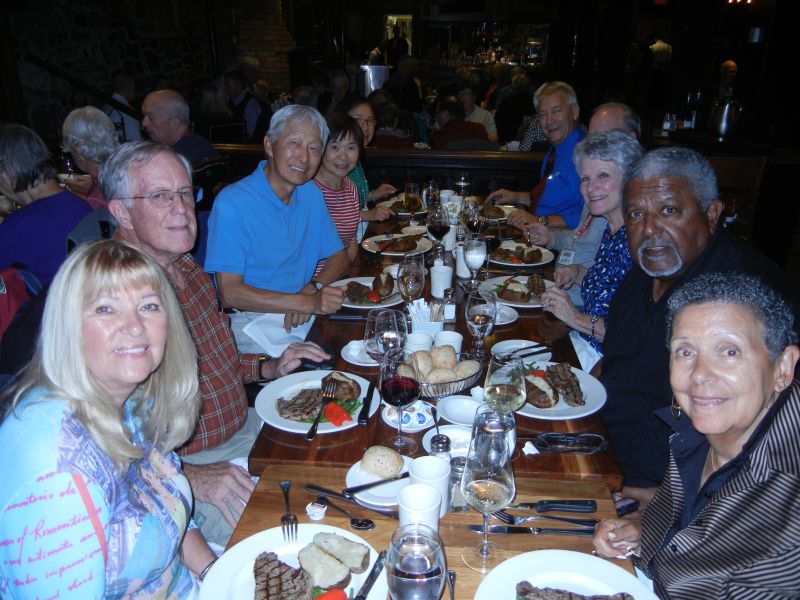 Farewell Dinner at the Vieux-Port Steakhouse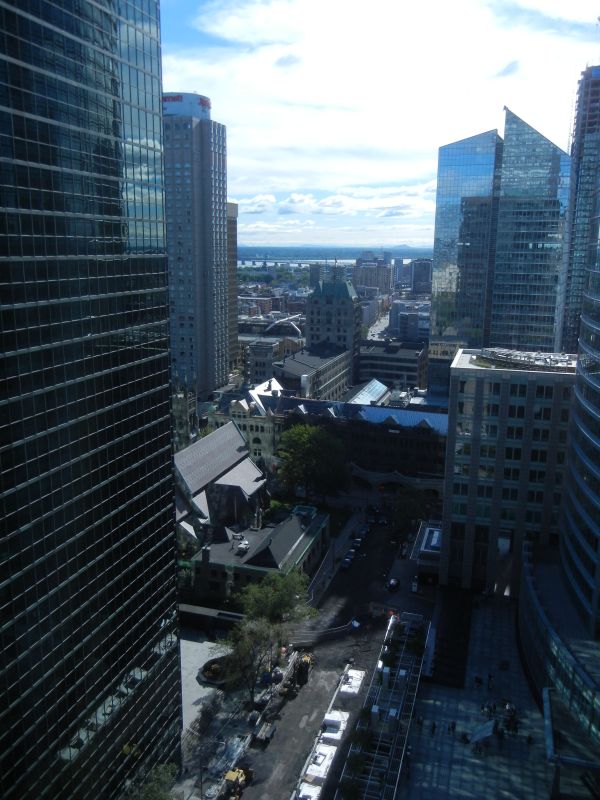 Sunshine, just in time for our departure


End of Tour One
Toronto, Ottawa, Quebec City and Montreal
Second Tour, Added to the First, Starts Here
Nova Scotia, New Brunswick, Prince Edward Island, Cape Bretton Island


Day 1
Saturday, September 22nd
Depart from Toronto, enroute to Halifax, Nova Scotia, a 1 1/2 hour flight
Evening Orientation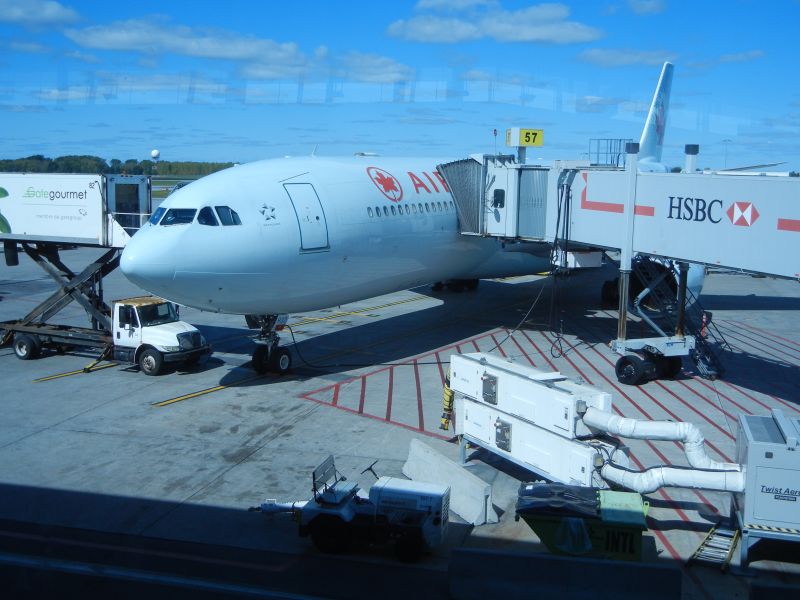 Our Air Canada plane to Halifax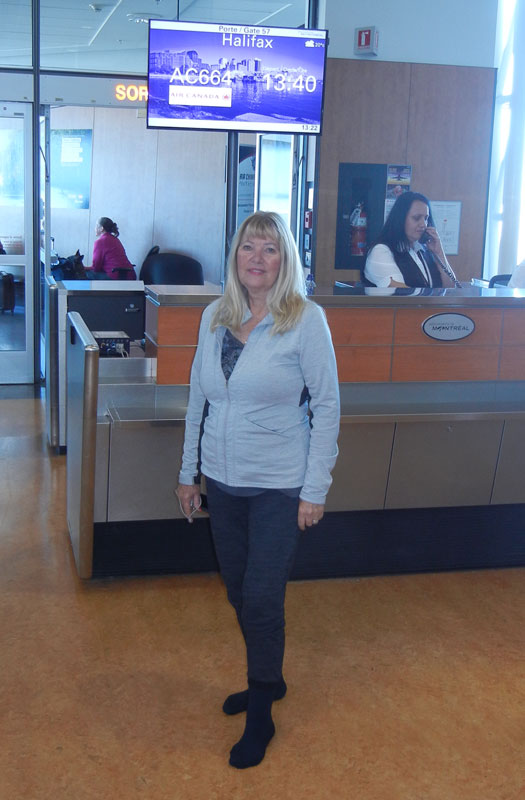 Alone again.
Off to Halifax, Nova Scotia, and a new group

Departing Montreal for Halifax

Air Canada bumped us up to Premium Economy
The Coach section was so full they couldn't seat us together
Another couple was seated twenty empty seats away.
Arriving Halifax


Day 2
Sunday, September 23rd
Bay of Fundy
Hopewell Rocks
Prince Edward Island
Charlottetown
Welcome Dinner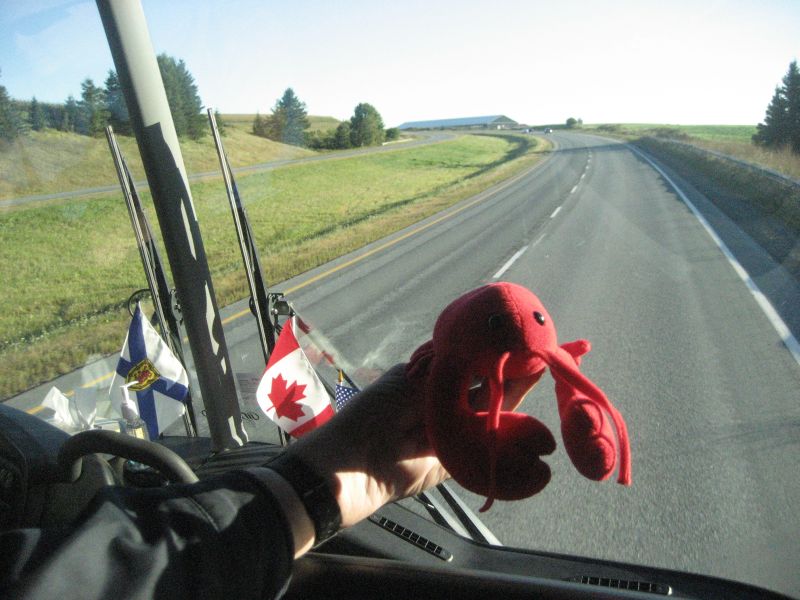 A New Tour and a New Mascot, Lucy the Lobster

Our first morning coffee stop
Lobsters were for sale in the light house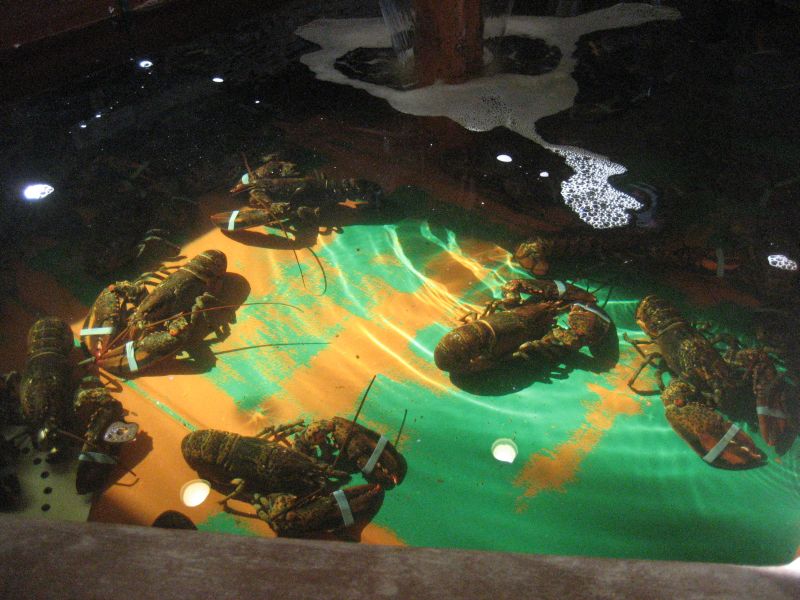 Lobsters in Hand-Cuffs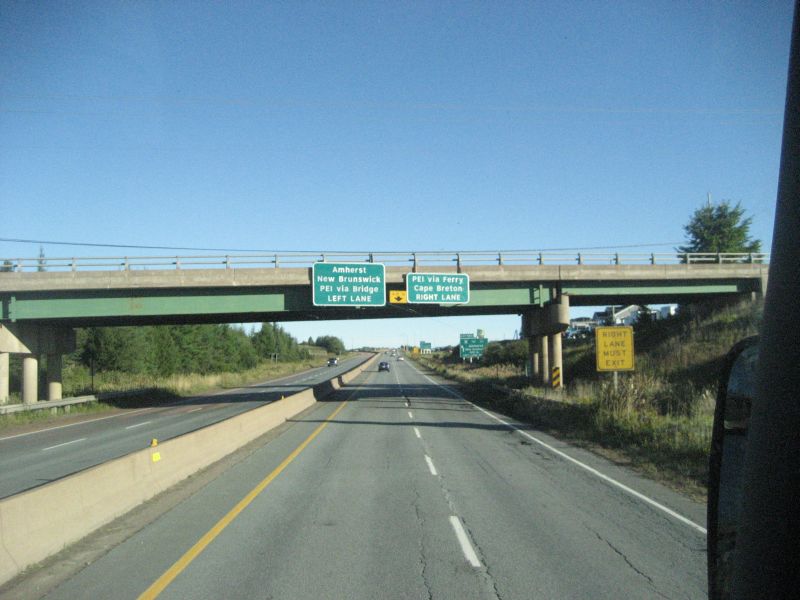 Heading for New Brunswick

No sign of Fall Foliage

Provincial Flag of New Brunswick

Lunch overlooking the muddy Bay of Fundy
Clam Chowder and Pastrami with chips.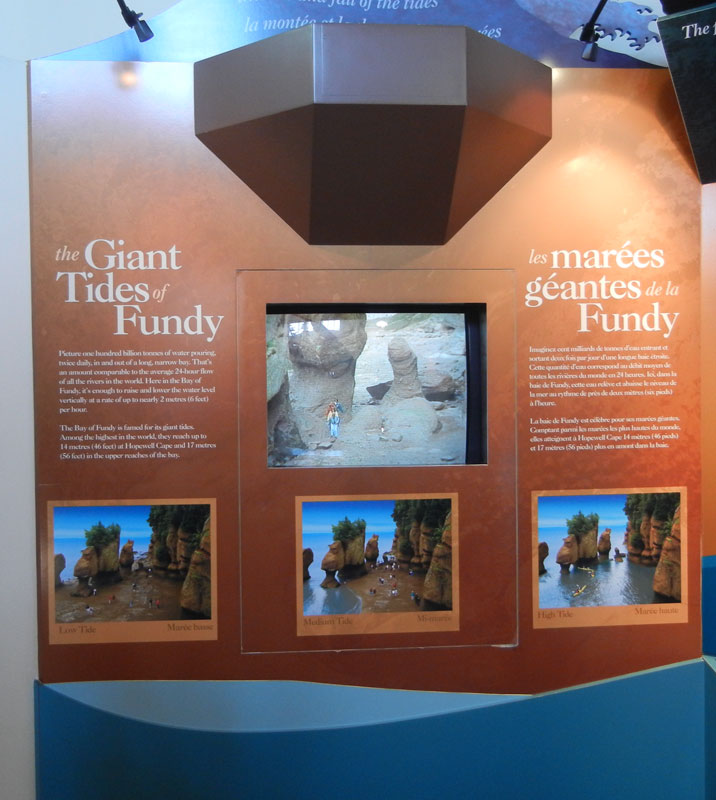 The Bay of Fundy has some of the highest tides in the world.

At New Brunswick's Hopewell Rocks, these eroded "flowerpot formations" stand
in deep water or on dry land, depending on the time of day

Although the tides vary from day to day, the high tide can be as high as 16 metres (52 ft)
giving the Hopewell Rocks one of the highest average tides in the world.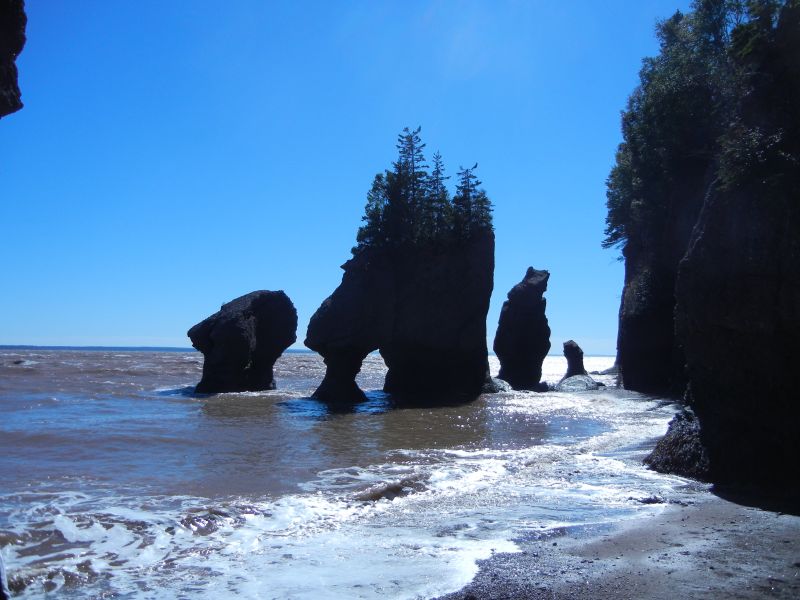 We arrived at the perfect time. The tide was halfway out and the water level was dropping quickly
It required good timing to walk around the rock at the right without having a wave hit your shoes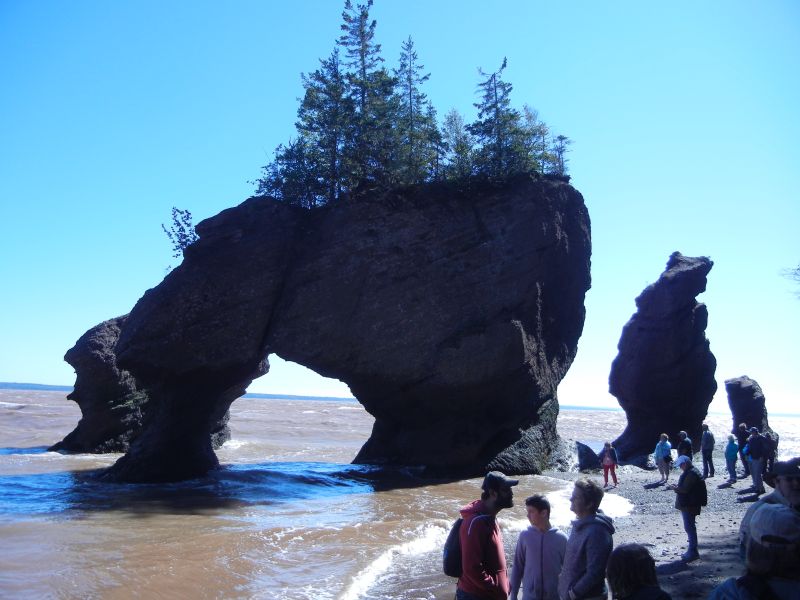 Walking on the Ocean Floor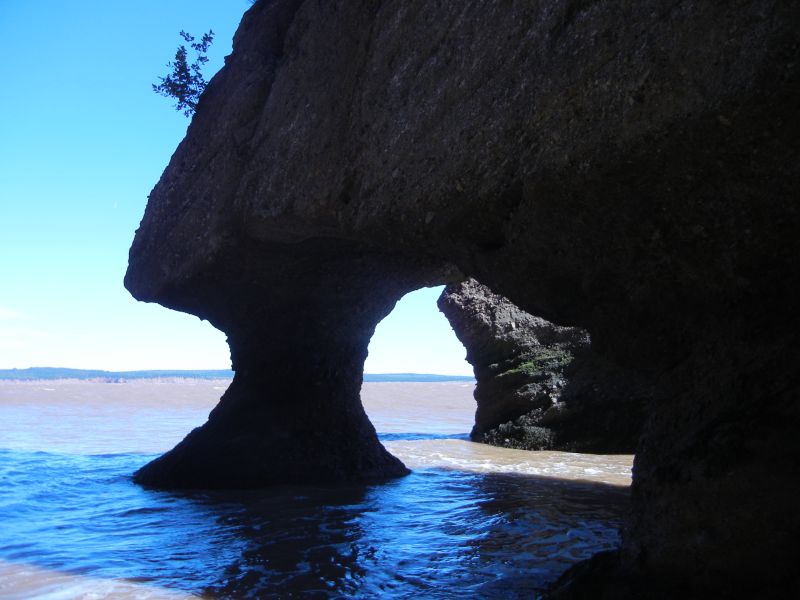 The tides and swift current affect the base of the rocks more than the top

100 steps get you down and the same 100 take you back up.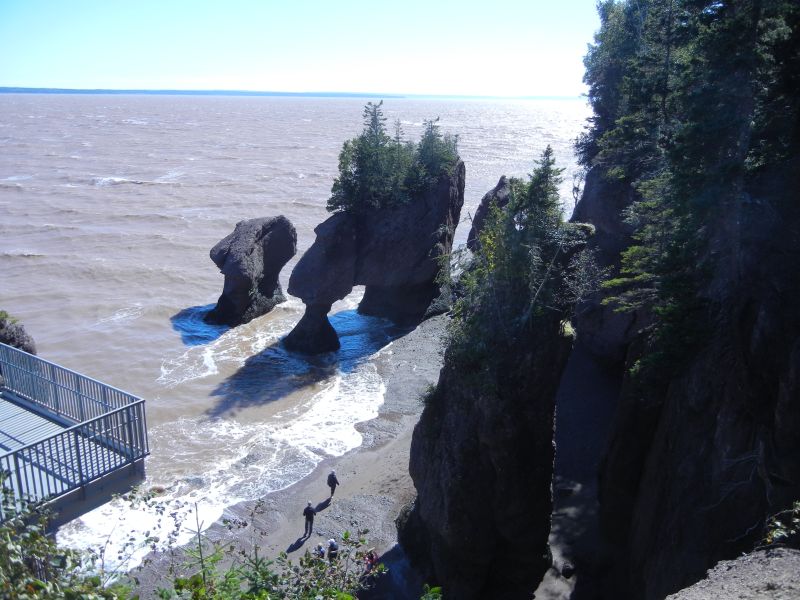 When we arrived a half hour earlier, the area where the people are walking was under water
Now there is twenty feet of dry space and no chance of soaked shoes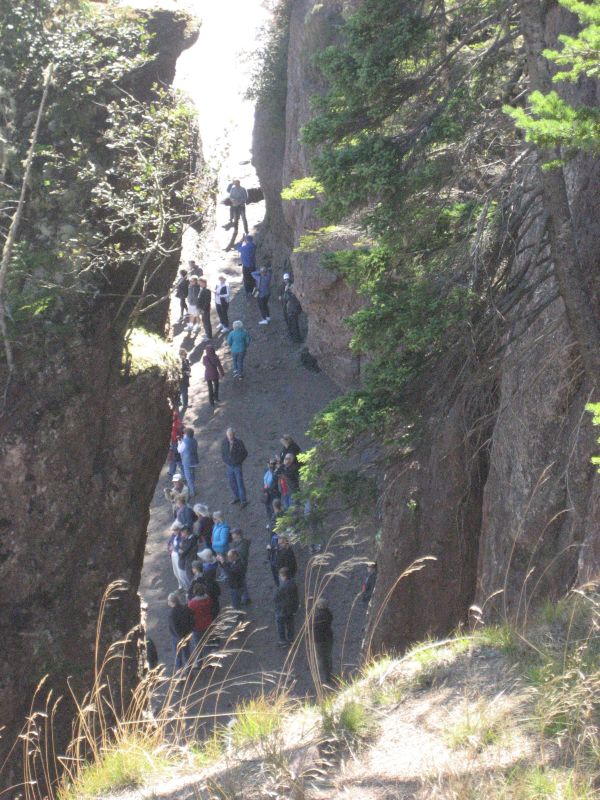 Where in the World is Waldo?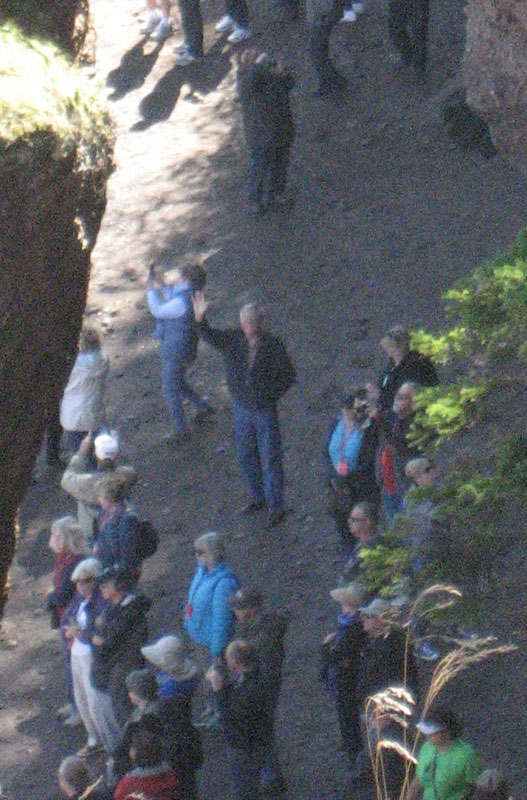 There He Is !!


Click on the link below to see a time-lapse video made
by Kevin Snair, the Park Ranger who led our group

Hopewell Rocks
Heading for the bridge to Prince Edward Island

The Confederation Bridge to Prince Edward Island
Tolls only apply when leaving Prince Edward Island. The toll rates are
$47.00 for a two-axle automobile and $8.00 for each additional axle.

The Confederation Bridge spans the Northumberland Strait, linking Prince Edward Island with
mainland New Brunswick, Canada. Construction took place from October 1993 to May 1997
and cost C$ 1.3 billion. The 12.9-kilometre (8 mile) bridge opened on May 31, 1997.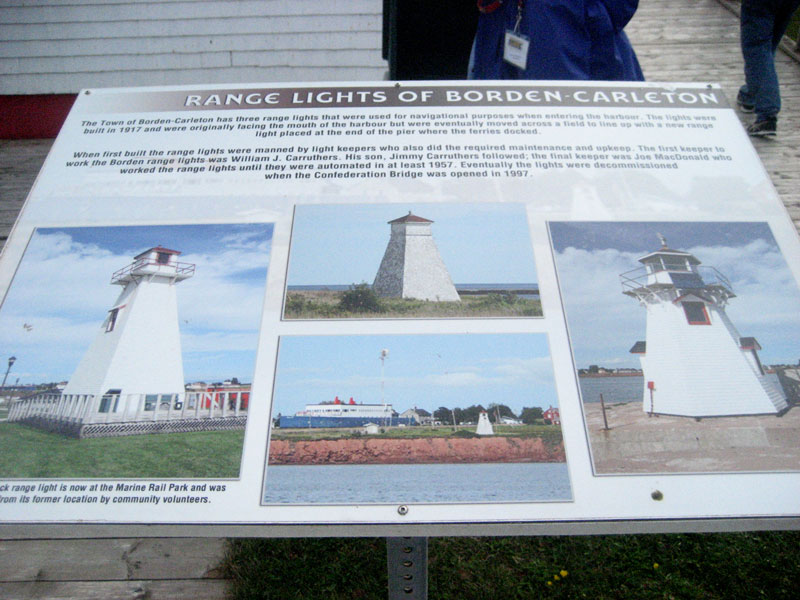 Anne of Green Gables is Famous Here

Sunset, Prince Edward Island

Welcome Dinner Restaurant, Charlottetown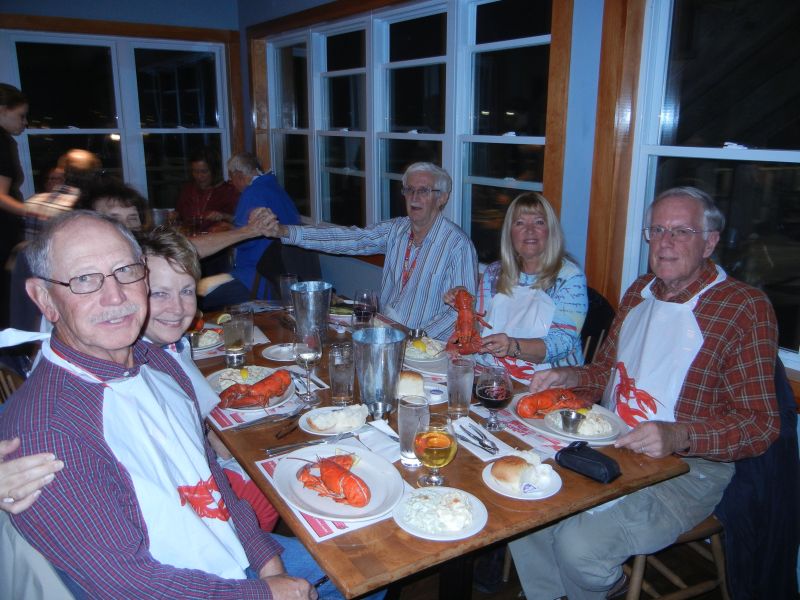 Welcome Dinner


Day 3
Monday, September 24th
Anne of Green Gables Museum
Cavendish
Lunch at Leisure

Rolling countryside, north shore, Prince Edward Island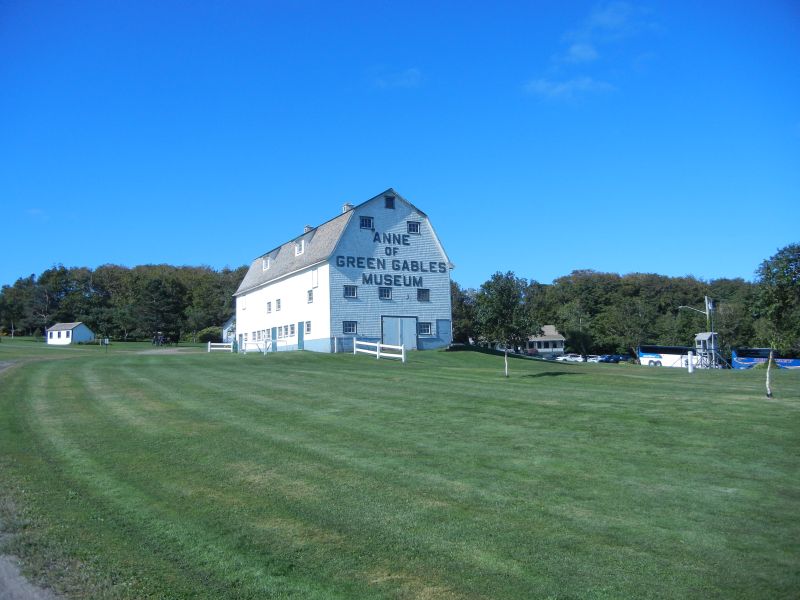 We have watched many episodes of "Anne with an E" on Netflix

Welcome to Anne's House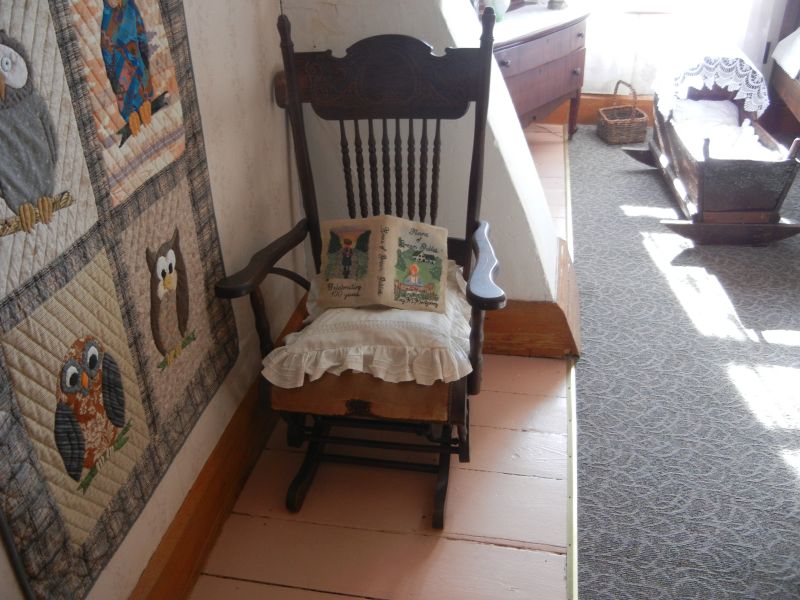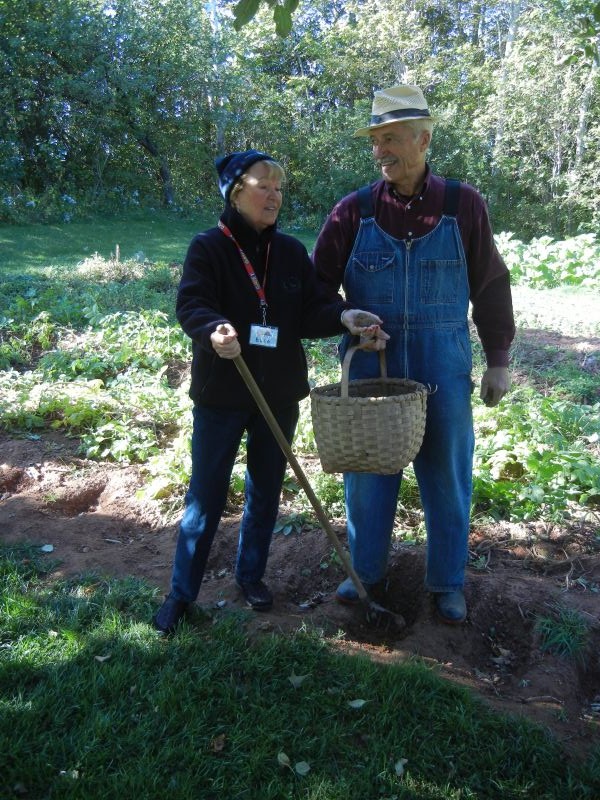 Make a little hole first, then bury the little spud

Potatoes get planted here every 15 minutes every tourist day

Horse and Buggy Ride at Anne's House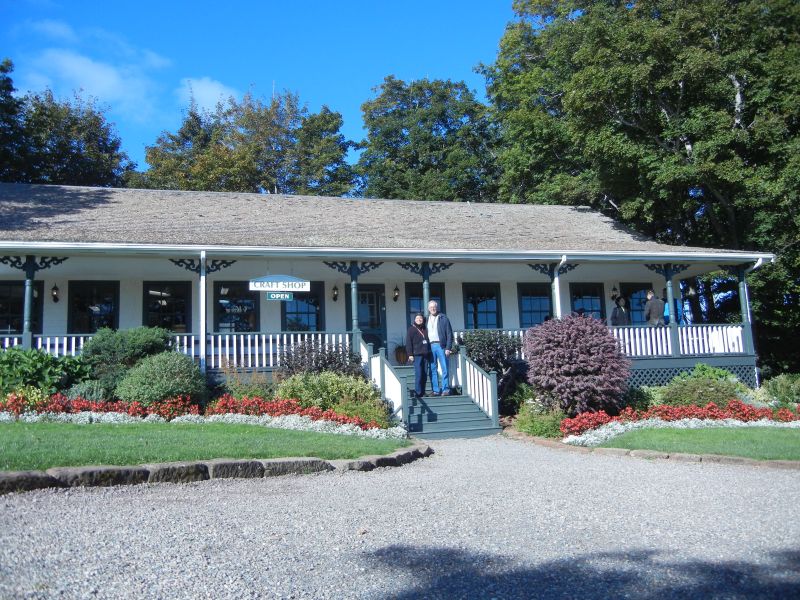 Every attraction has a gift shop at the end

Cavendish is a resort area on the northern shore of Prince Edward Island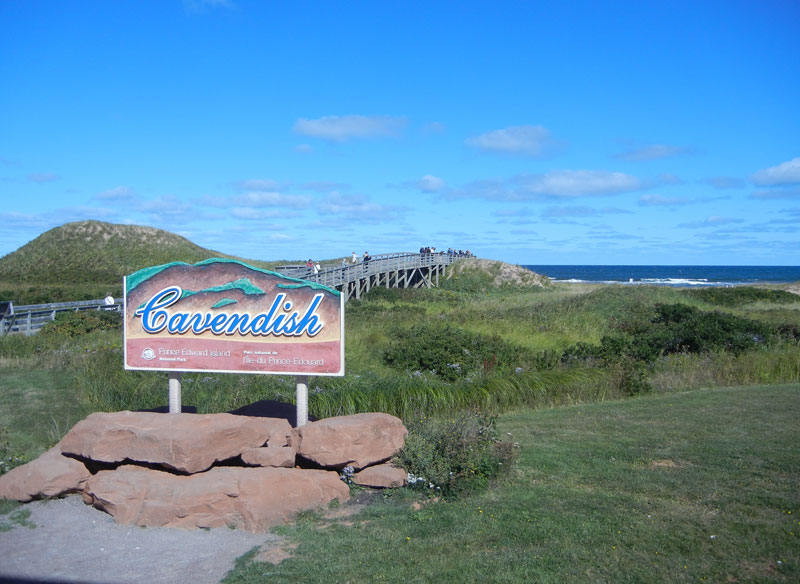 On the road to Charlottetown

Lunch at Leisure - Charlottetown

With the fire department next door, our hotel is safe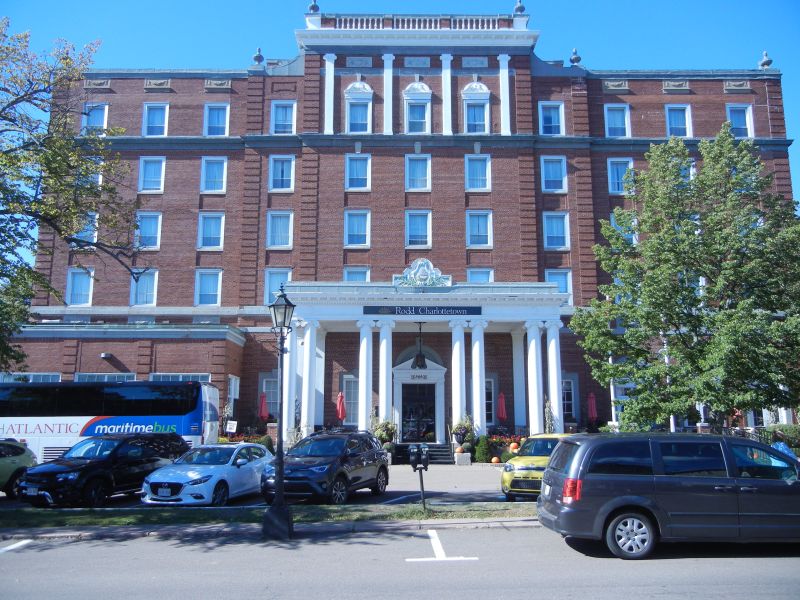 The elegant Rodd Hotel - Charlottetown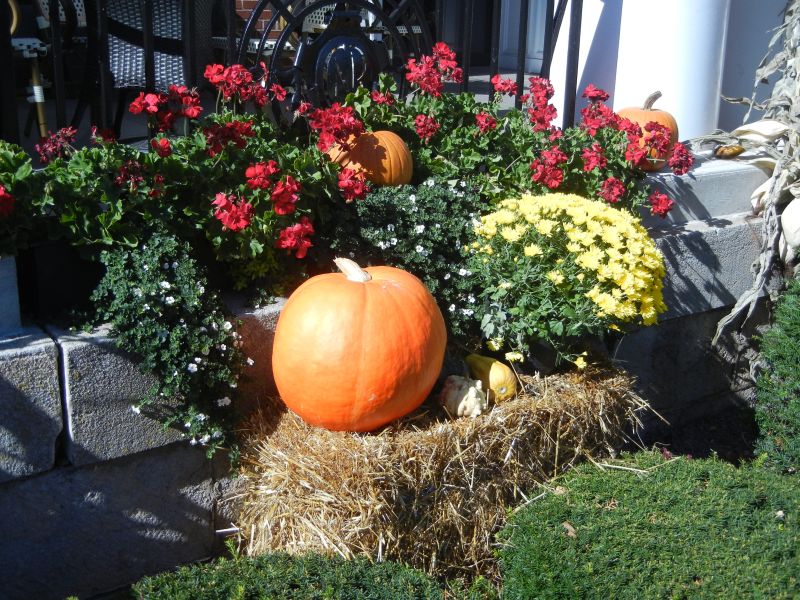 Hotel Decorations

Three O'Clock in the afternoon is another good time for ice cream
The local favorite is Cow's Ice Cream


Day 4
Tuesday, September 25th
Ferry to Nova Scotia
Cape Breton
Alexander Graham Bell Museum
Cruise Bras d'Or Lake
Bald Eagle Feeding

Next stop, Cape Breton Island

But first we must board the ferry to Nova Scotia

This huge trailer is being pulled behind another identical load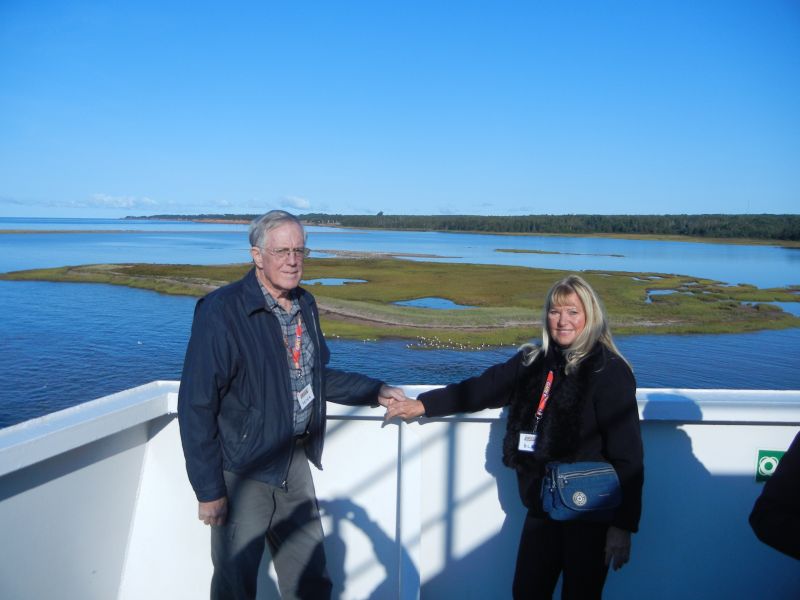 The Accidental Tourista leave Prince Edward Island for Nova Scotia

Our New Friends, Toby and Doc, from Arizona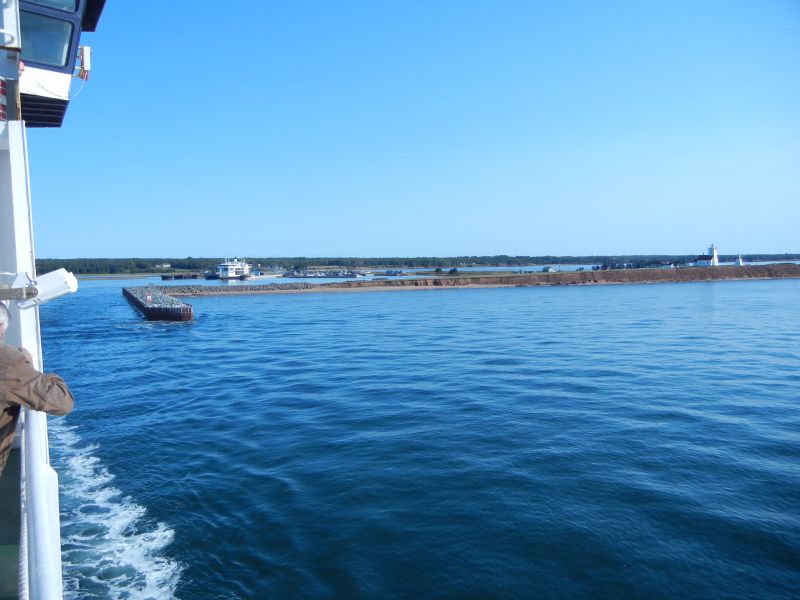 The Confederation Bridge got us from Nova Scotia to Prince Edward Island
The ferry will take us back to Nova Scotia
From there we take the Canso Causeway to Cape Breton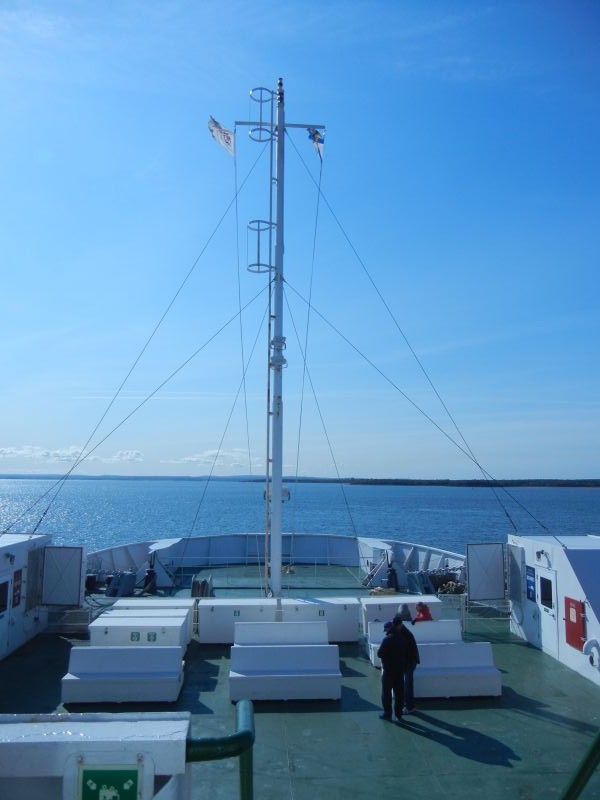 Keeping a sharp eye out for icebergs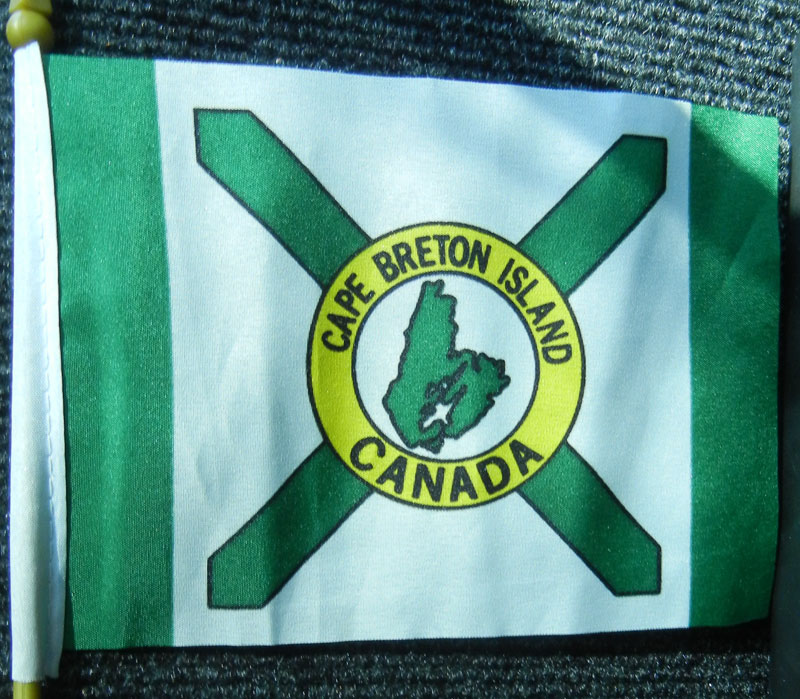 Cape Breton Island Provincial Flag

Entrance to the Alexander Graham Bell Museum
Baddeck, Cape Breton Island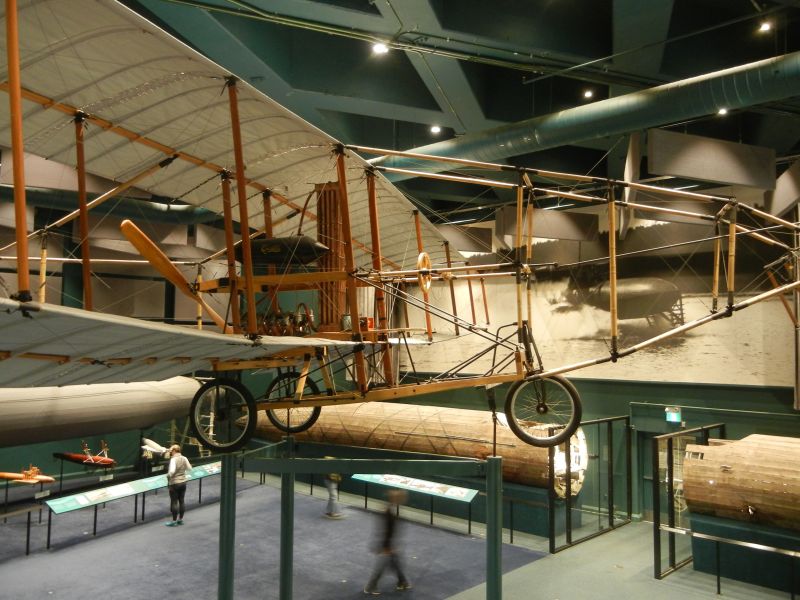 An aeronautical experiment

Bell's experimental HD-4 hydrofoil. Designed for anti-submarine duty,
it held the world's marine speed record for several years.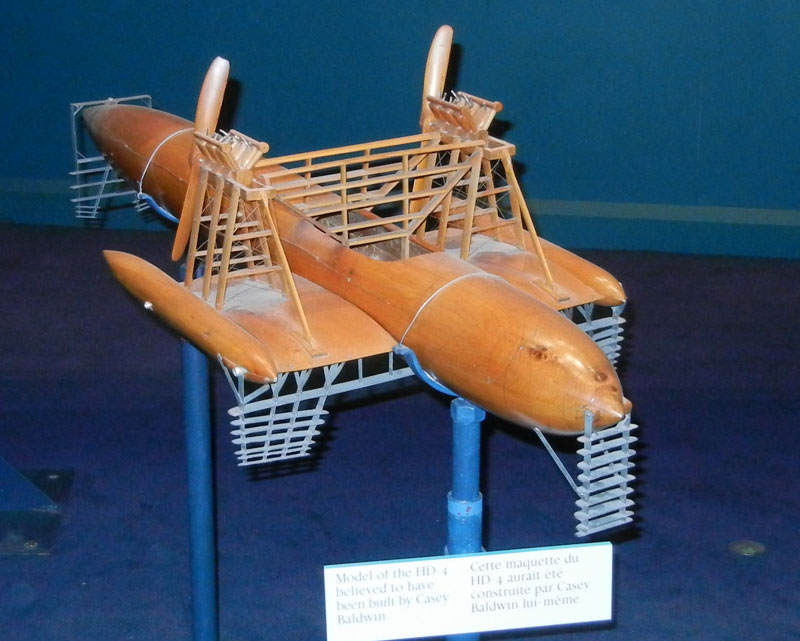 A scale model of the HD-4

Boarding the Sunset Sail on the Bras d'Or Lake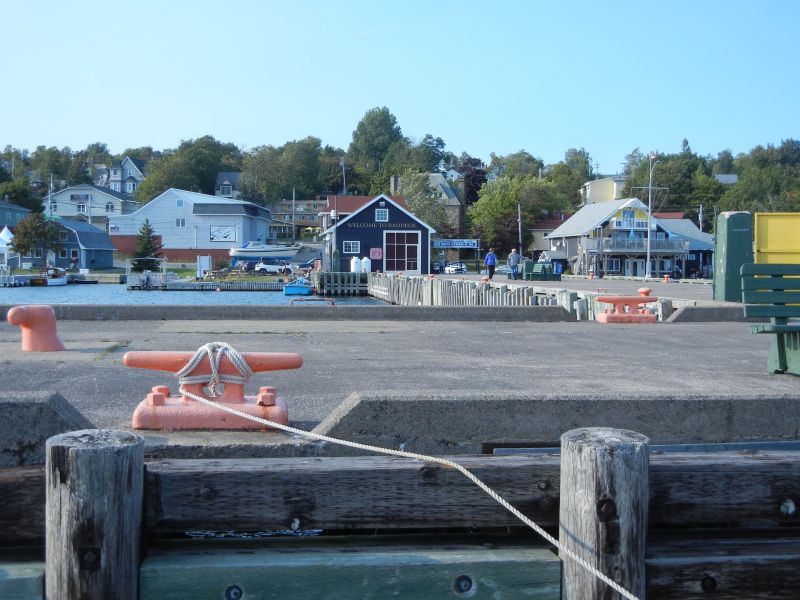 Bye, Bye, Baddeck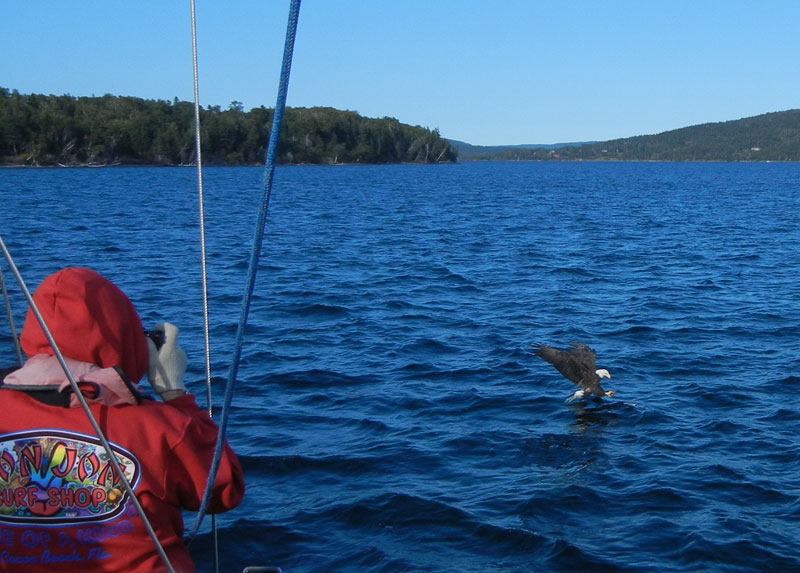 Bald Eagle flew from it's nest on the island at left
to retrieve a frozen chicken tossed into the water
A thousand chickens are served every season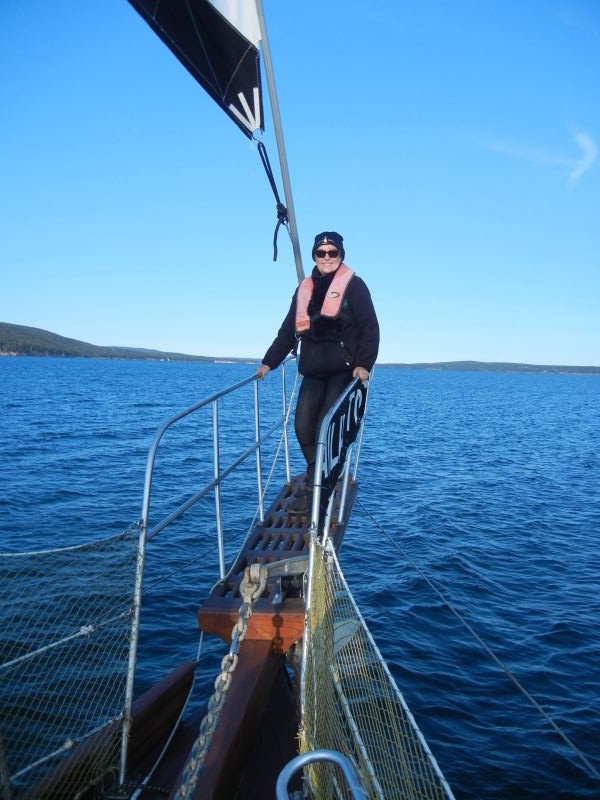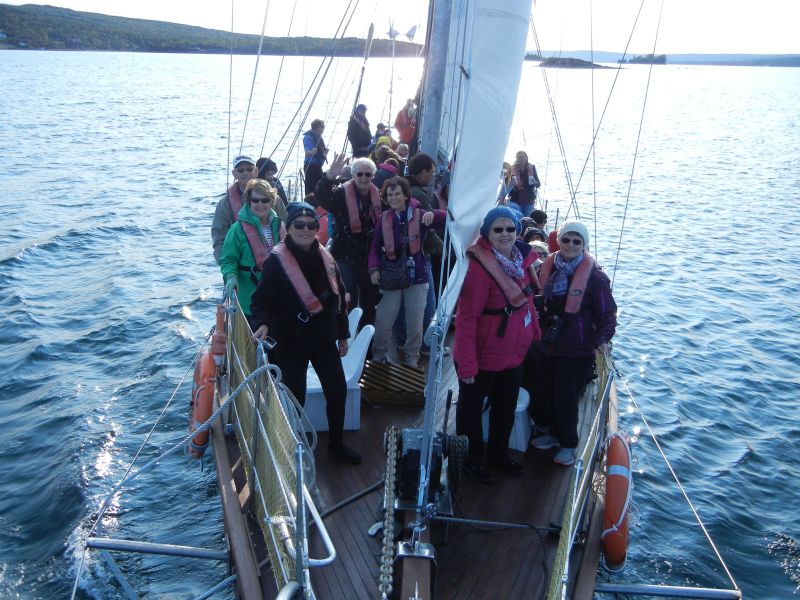 Our only group photo


Day 5
Wednesday, September 26th
Cabot Trail
Cape Breton Island
Chetticamp
Picnic Lunch

Eglise Saint-Pierre, Chetticamp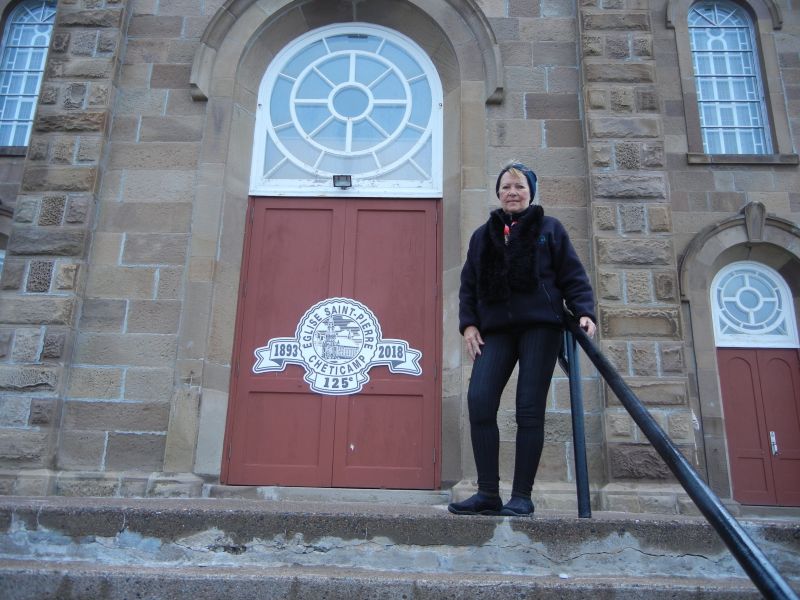 Eglise Saint-Pierre, Chetticamp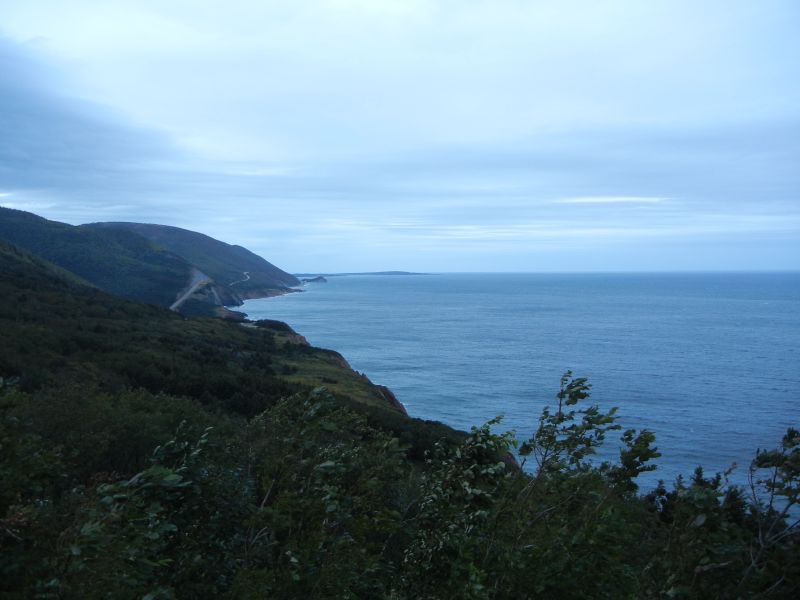 The north coast of Cape Breton Island

Sortilege Canadian Whiskey with Maple Syrup Liquor treat after picnic lunch
as our bus driver, Brad, looks enviously at the array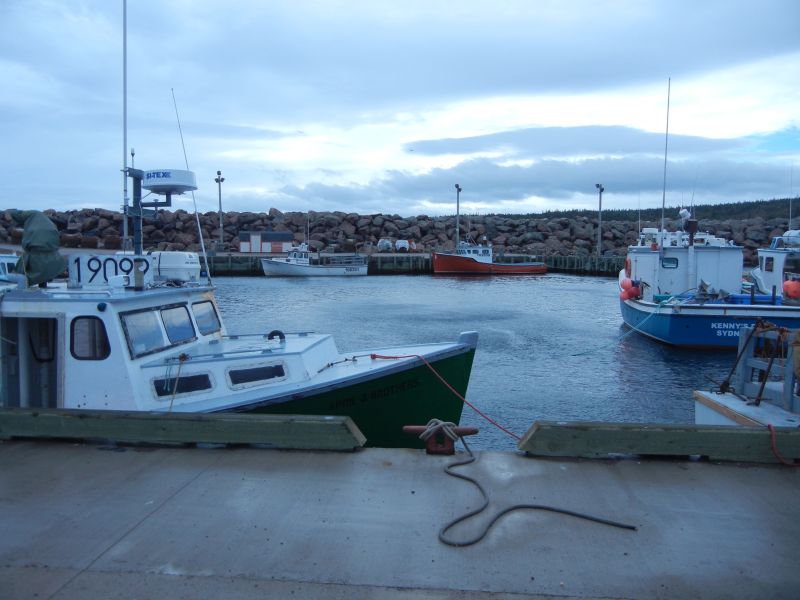 On the way back to Baddeck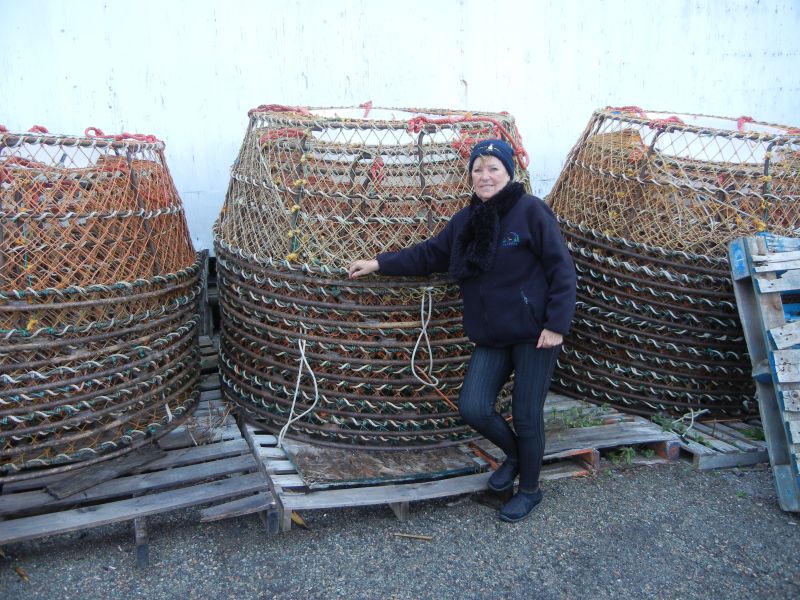 What do you catch with these?

Salmon for Elsita, Steak for Pedro

Mike Hall fiddling at the Baddeck Gathering Ceilidh
The Gaelic word is pronounced "kay-lee"

Day 6
Thursday, September 27th
Lunch at Leisure
Halifax Maritime Museum
Afternoon Harbor Walk
Maud Lewis Exhibit at the Art Museum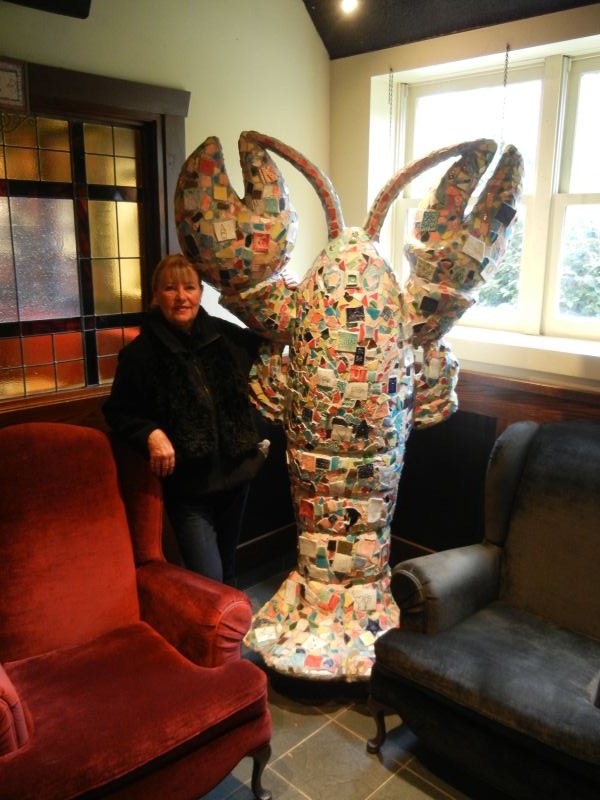 Now back in Halifax, Elsa's new BFF in the Waterfront Warehouse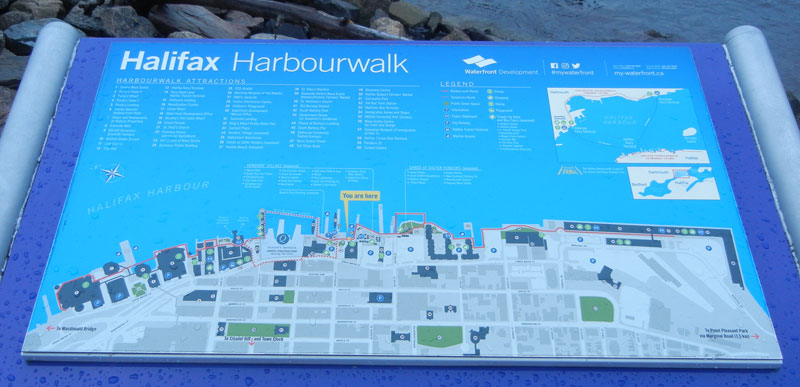 A walking tour of the waterfront

Our friend, Robin, wanted us to bring a Royal Canadian Mounted Policeman home for her
This was the best we could do...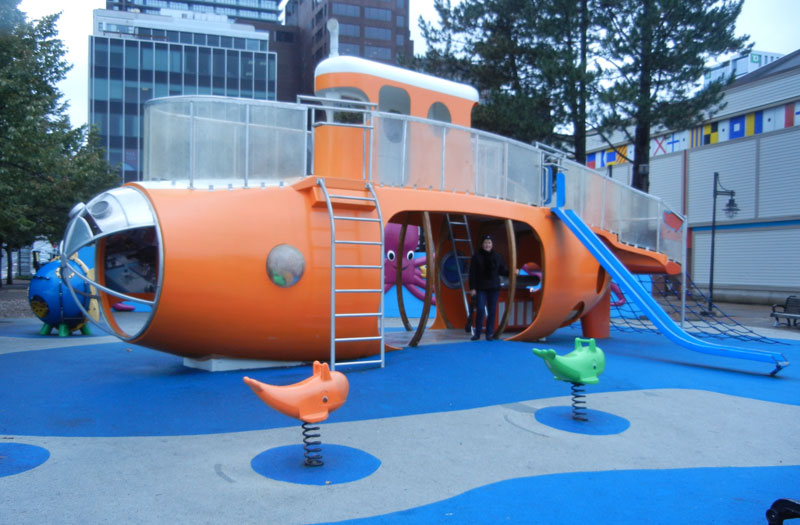 Captain Nemo and the Leaky Submarine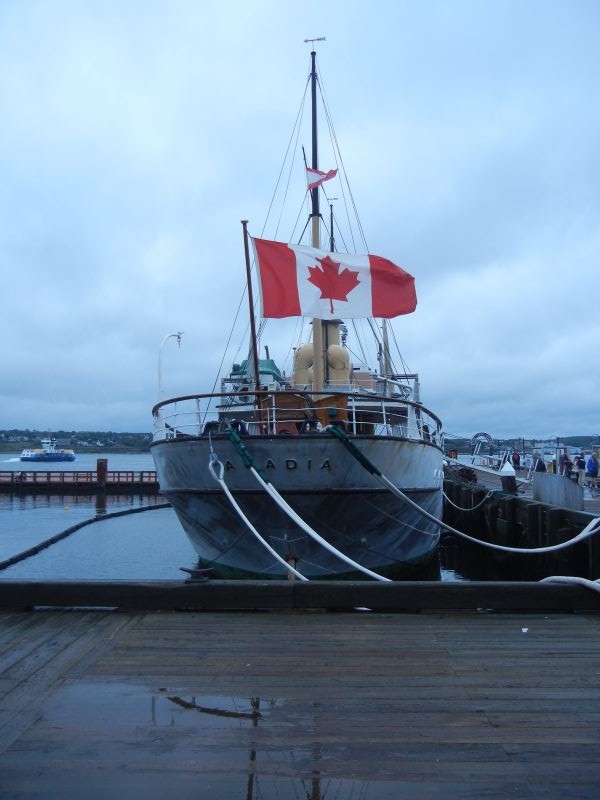 The Fairlawn Cemetery
The Titanic began her maiden voyage on April 10th, 1912 with 2200 passengers and crew members aboard
Four days later, she hit an iceberg off the coast of Newfoundland and sank at 2:30 AM
700 survivors were taken to New York. 328 victims were recovered.
Many were buried at sea; 209 were taken to Halifax, the nearest major port.

The numbers on the gravestones were assigned in the order the bodies were found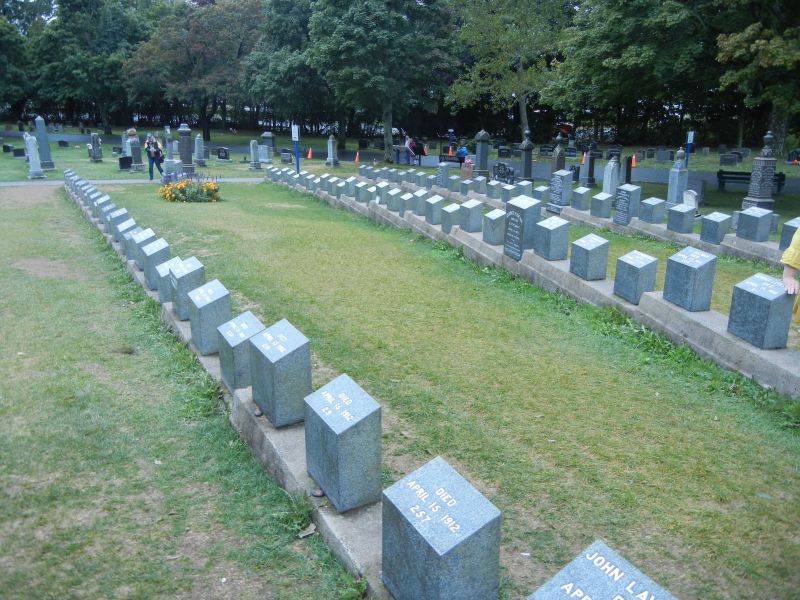 Bridge to Dartmouth, across the bay

Halifax Public Garden

Guard on duty at the Citadel

The view from the Citadel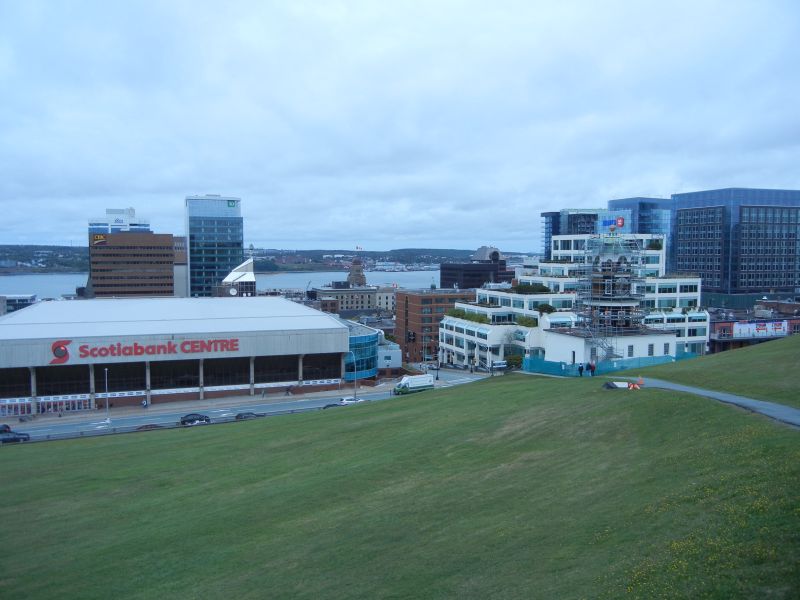 The Halifax Maritime Museum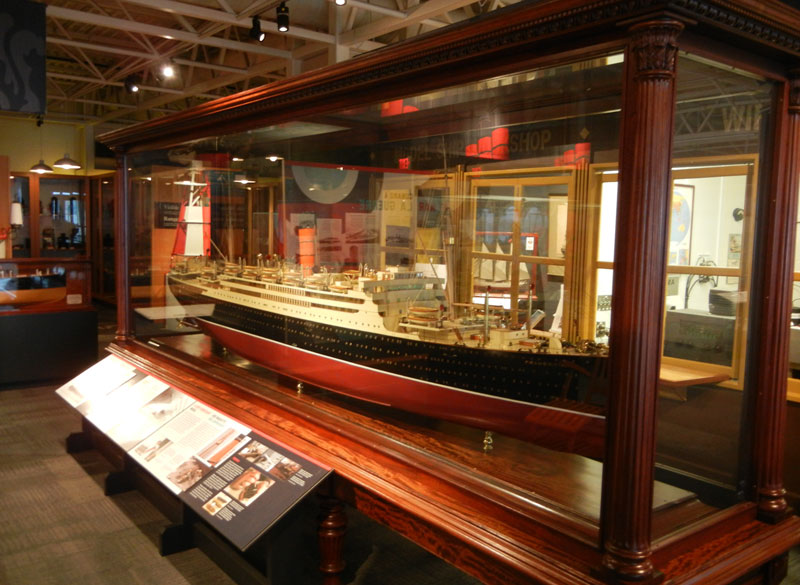 Detailed model from the Halifax Maritime Museum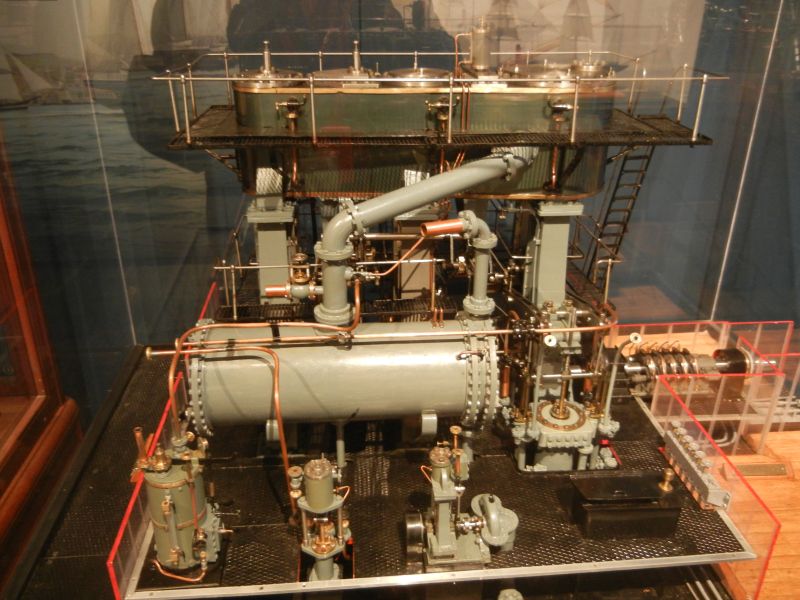 Model Steam Engine, about 2 feet tall

Mark IX World War II 21 inch Torpedo delivered 800 pounds of explosives

The 4-cylinder radial engine ran on shale oil

Counter-rotating propellers


The Art Gallery of Nova Scotia

Maud Lewis began her artistic career by selling hand-drawn and painted Christmas cards.
She lived with her husband, Everett, in a one-room house with a sleeping loft a few miles west of Digby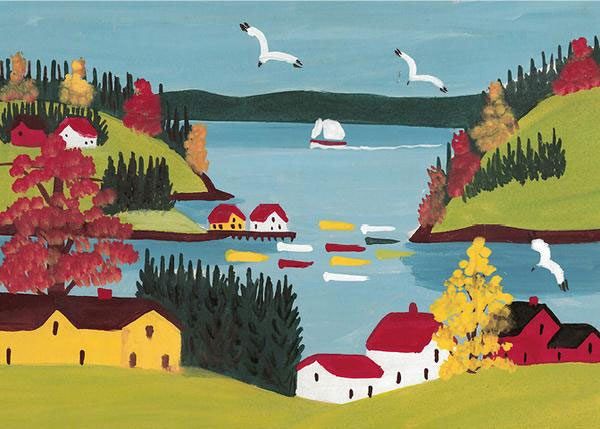 She achieved national recognition in 1964 and 1965. Several books, plays and films have
since been produced about her. Lewis remains one of Canada's best-known folk artists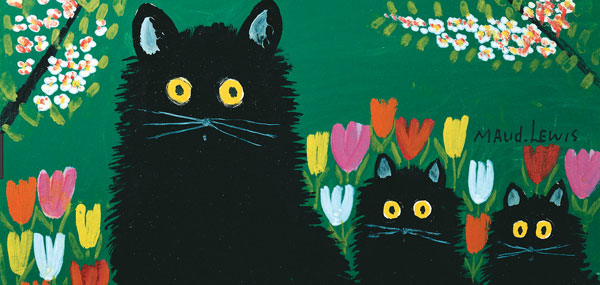 Maud suffered from juvenile rheumatoid arthritis, which reduced her mobility, especially
in her hands, affecting the size and detail of her work, but not the popularity.

After their deaths, the house was sold to the Province of Nova Scotia and transferred
to the care of Art Gallery of Nova Scotia in Halifax.The AGNS restored the house
and installed it as the Maud Lewis House as part of a permanent exhibit.

Lewis was a prolific artist and painted on more or less every available surface
in their tiny home: walls, doors, breadboxes, and even the stove

Only in the last three or four years of Lewis' life did her paintings begin to sell for seven to ten dollars.
She achieved national attention as a folk artist following an article in the Toronto-based Star
Weekly in 1964. In 1965, she was featured on CBC-TV's Telescope. Her arthritis limited her
ability to complete many of the orders that had come from her national recognition.


Day 7
Peggy's Cove
City Tour Halifax
Halifax Garden
Halifax Citadel
Farewell Dinner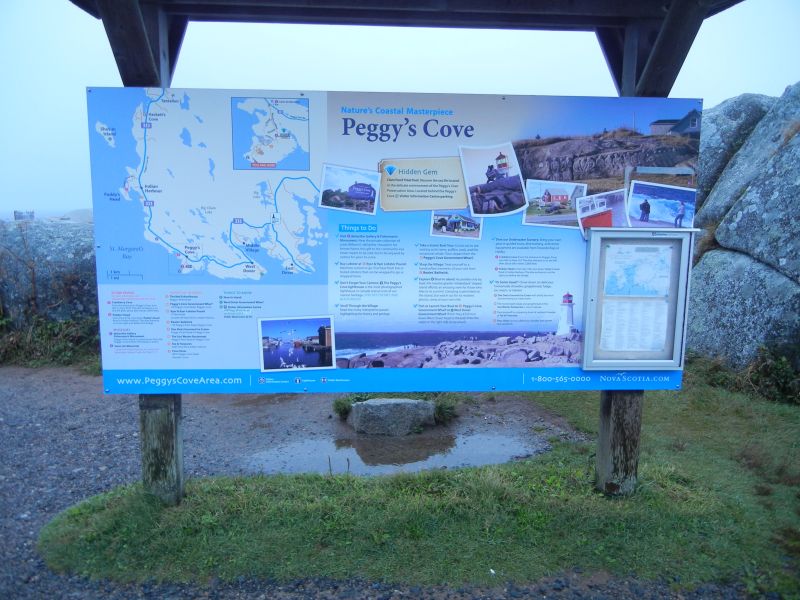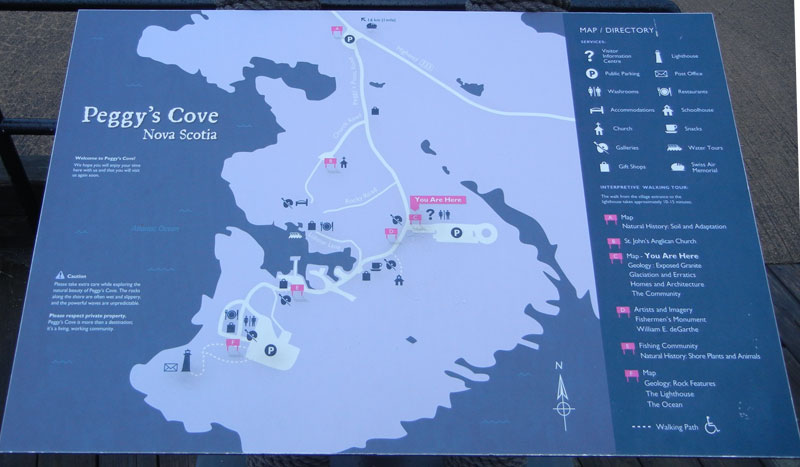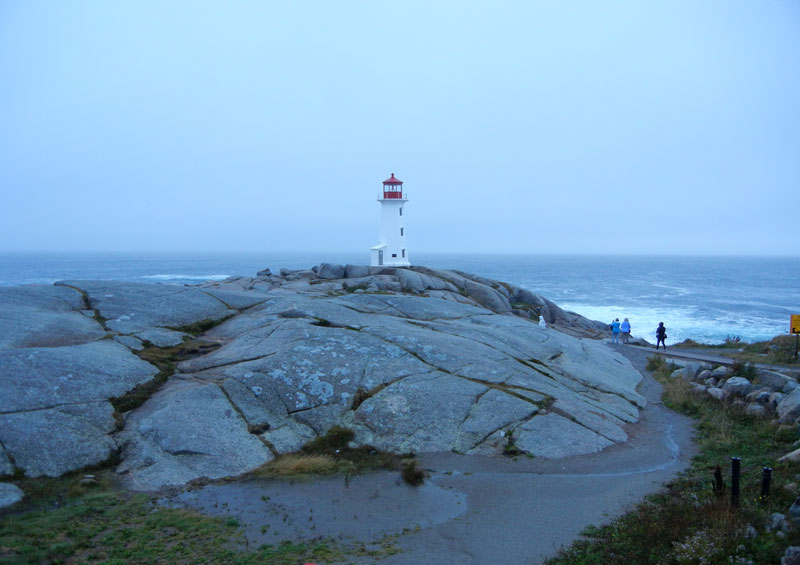 The most-photographed lighthouse in the world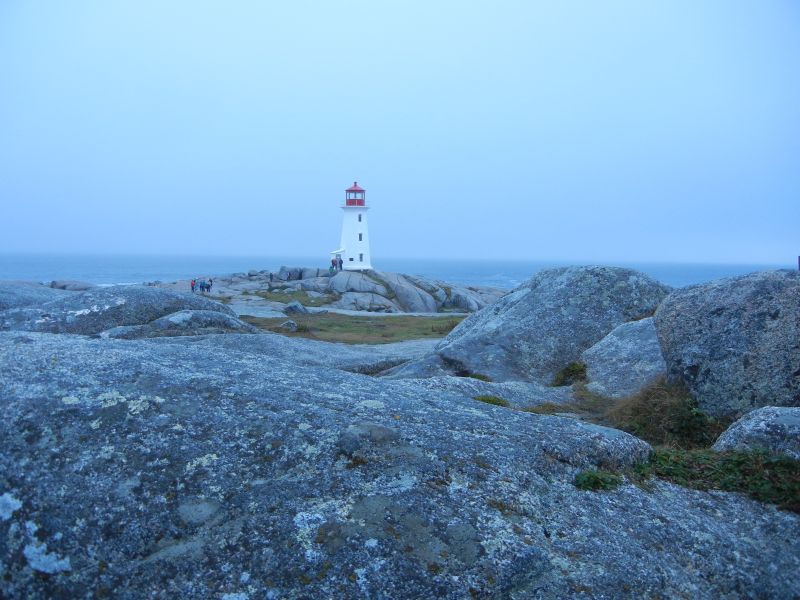 The wind at Peggy's Cove was a hair-raising experience

This means you are on your own if you are swept away by a wave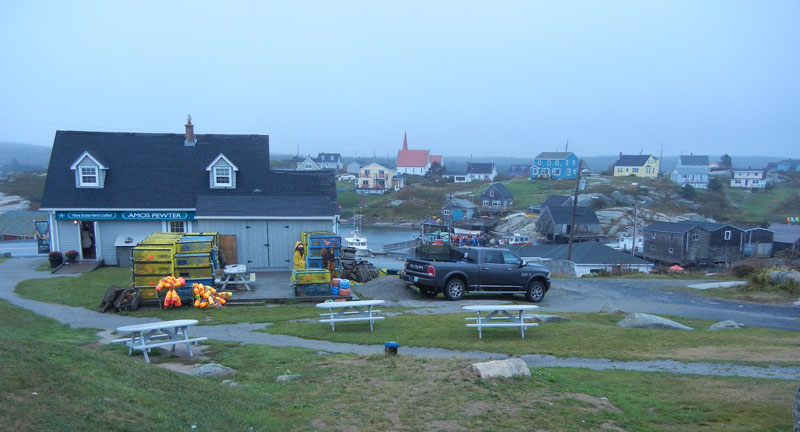 An inflatable life raft was being demonstrated on the dock

Elsa's New Boyfriend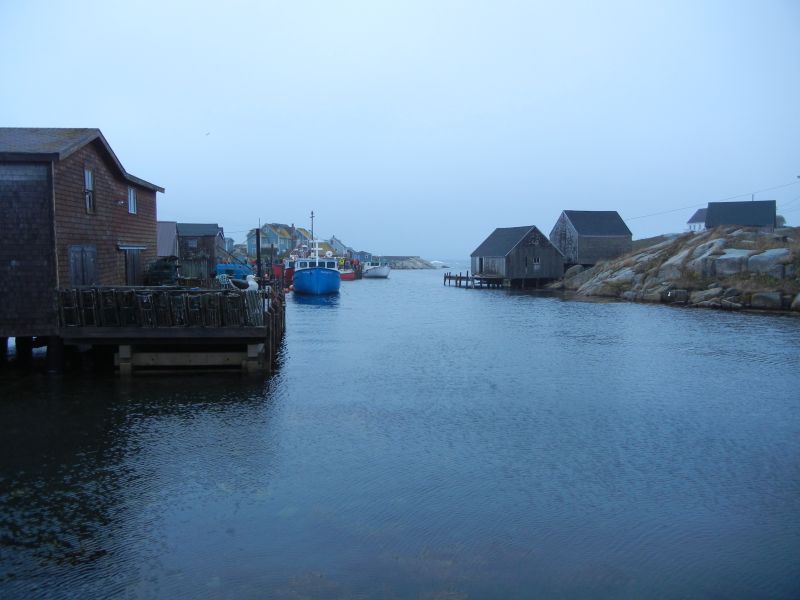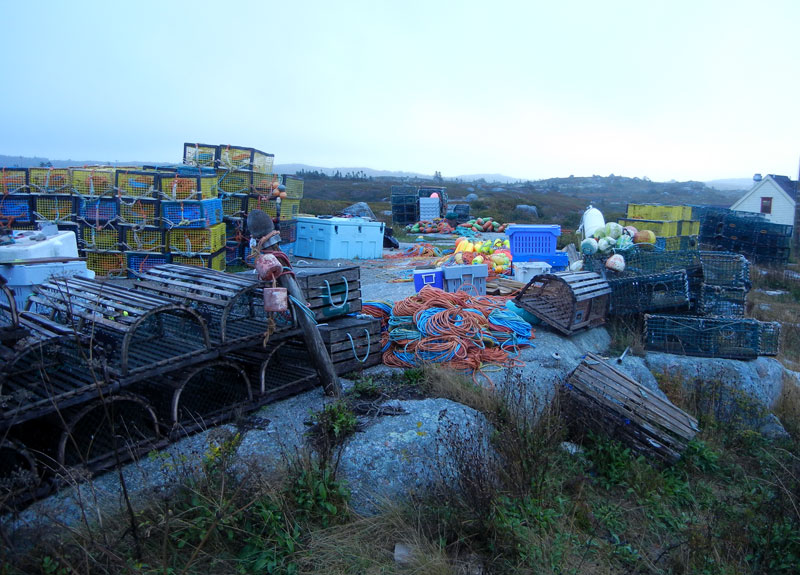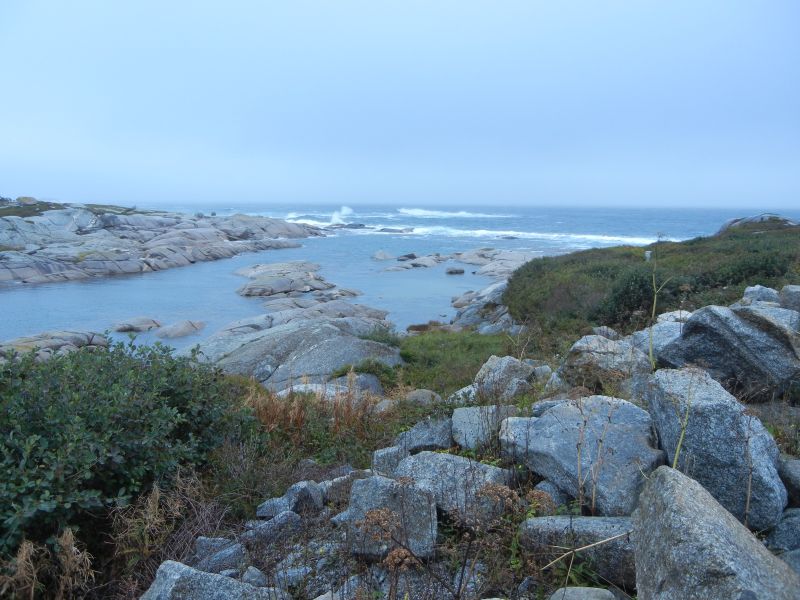 Lucky for us, lobsters never figure out how to crawl out of the traps.

Take the picture quickly, I need my umbrella again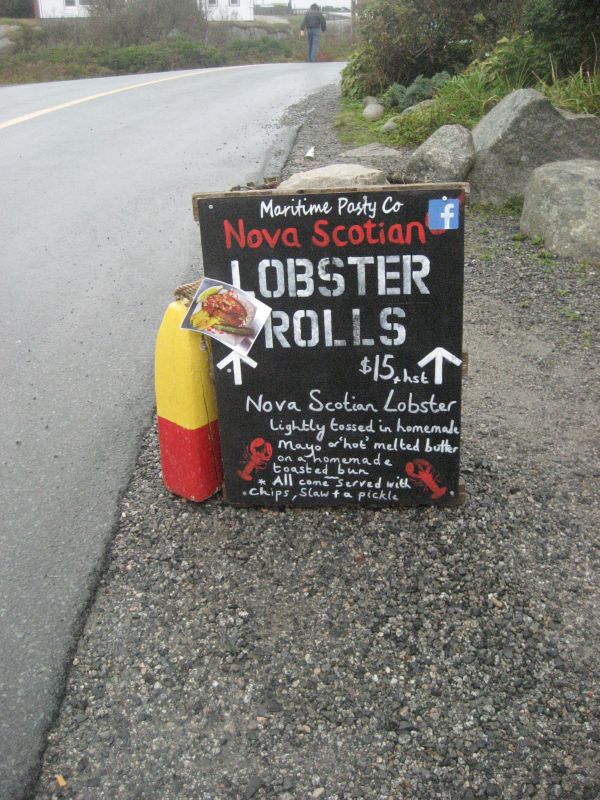 William E. deGarthe carved this "lasting monument to Nova Scotian fishermen" on
a 30-metre (100-feet) long granite outcropping situated behind his house in Peggy's Cove along the
South Shore. The sculpture depicts 32 fishermen, their wives and children, St. Elmo with wings
spread, and the legendary Peggy of Peggy's Cove

Our tour of the Acadian Maple Syrup factory.

It won't fit in my suitcase


Lunch on Our Own in Halifax
Our Epicurean Adventure begins with two plastic bags
Mussels for Pedro and Shrimp for Elsita

Looks Easy at First...

What have I gotten myself into?

Was it More Work than it was Worth?
I'm a mess and still hungry after peeling 2 pounds of shrimp


Farewell Dinner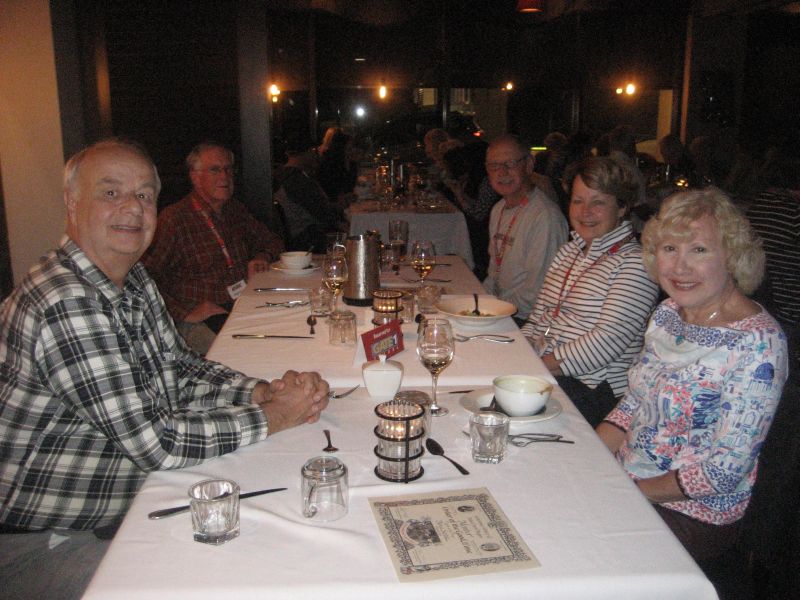 Farewell Dinner in Halifax

With 40 new friends...

...and no new enemies

A Toast to an interesting 8 days traveling 2000 km by bus around
Nova Scotia, New Brunswick, Prince Edward Island and Cape Bretton

On the left, our Most Gracious Tour Director, Heather Patenaude
who lives near Halifax with her family


Day 8
Saturday, September 29th
Depart for Home
Halifax to Toronto to Los Angeles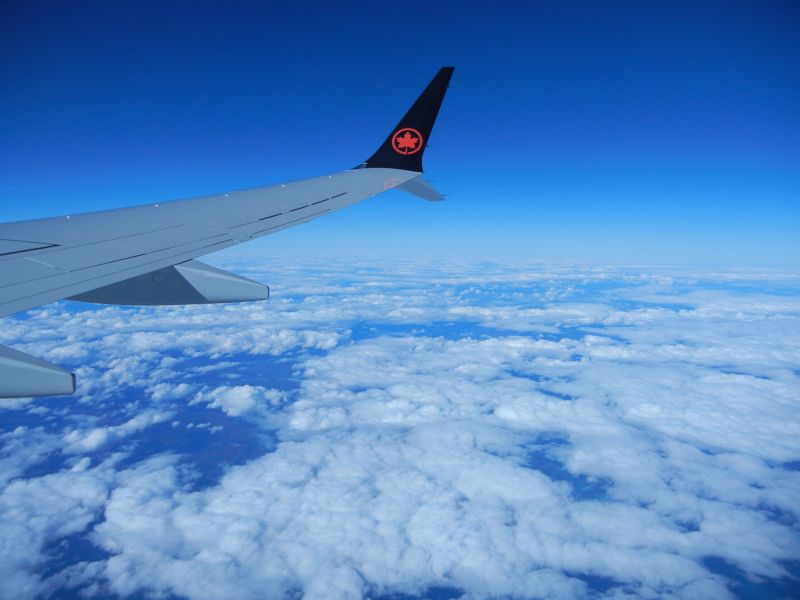 Leaving Halifax for Toronto, homeward bound

Toronto in the distance

Tour One - Toronto, Ottawa, Quebec City, Montreal
The order was chosen to provide the best airline access

Tour Two - Nova Scotia, New Brunswick, Prince Edward Island, Cape Breton Island