A 90th Birthday Party for Elsa's Mom
Gibraltar and Morocco for a Week
July and August, 2014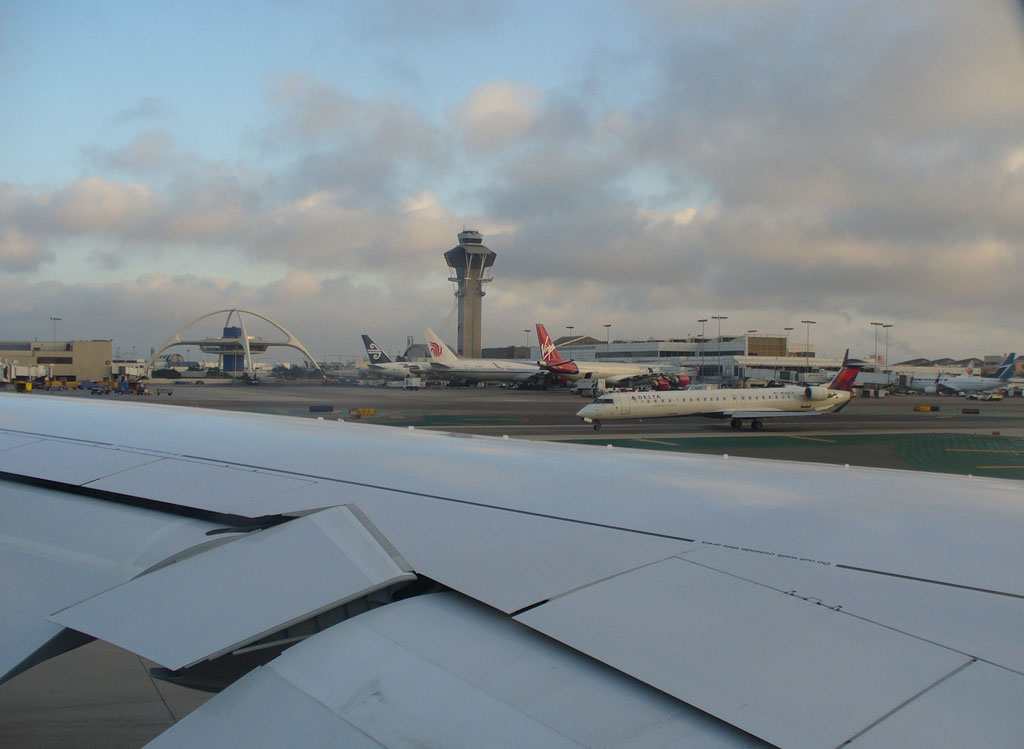 Departing Los Angeles at a civilized hour, 7:00 PM

Settling in for 11 hours in the air

Maggie's Welcome Dinner

After Dinner, Maggie left for Germany's Soccer Win Over Argentina

Surprise !! Elsa is here !!

It has been two years

Off to Lunch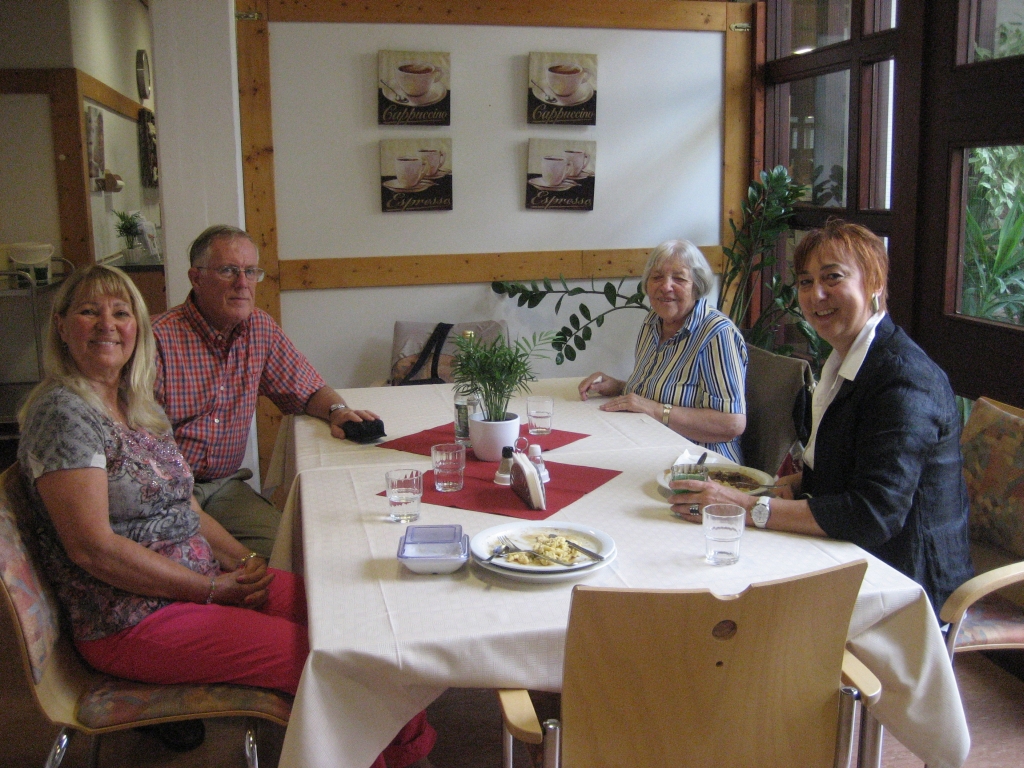 Lunch at Mama's Home with the manager, Frau Uhlig

Welcome Home with Silvia and Joachim

New Chinese Restaurant features Zebra and Kanguru

Yummi Schokolade over Ice Cream

Fans get ready for Andrea Berg

15,000 Attend her 9th Open Air Concert in Ansbach

Germany's Top Hit Singer, Andrea Berg

"Atlantis" is the Theme This Year

Special lunch with our bankers, Herr Sautter and Herr Mugele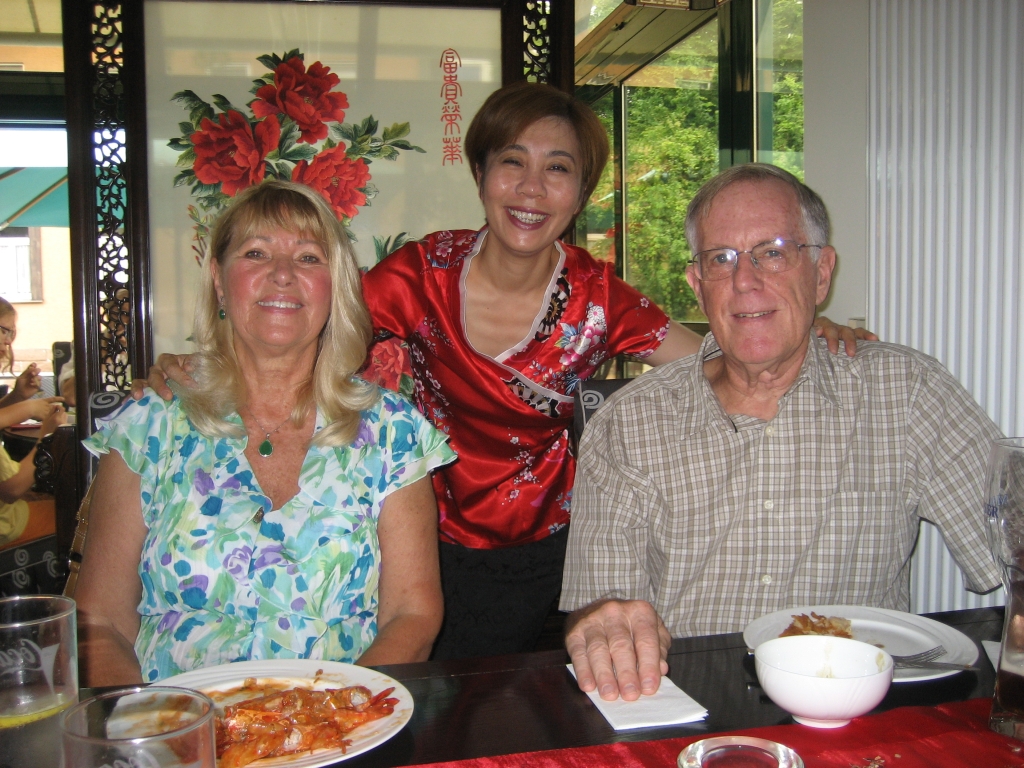 Lunch at long-time friend Jinny's Chinese

Lake Monrepos, where we were engaged 12 years ago

Feeding Friedolin pieces of old bread that Maggie saved

Lunch with Alex and Fabia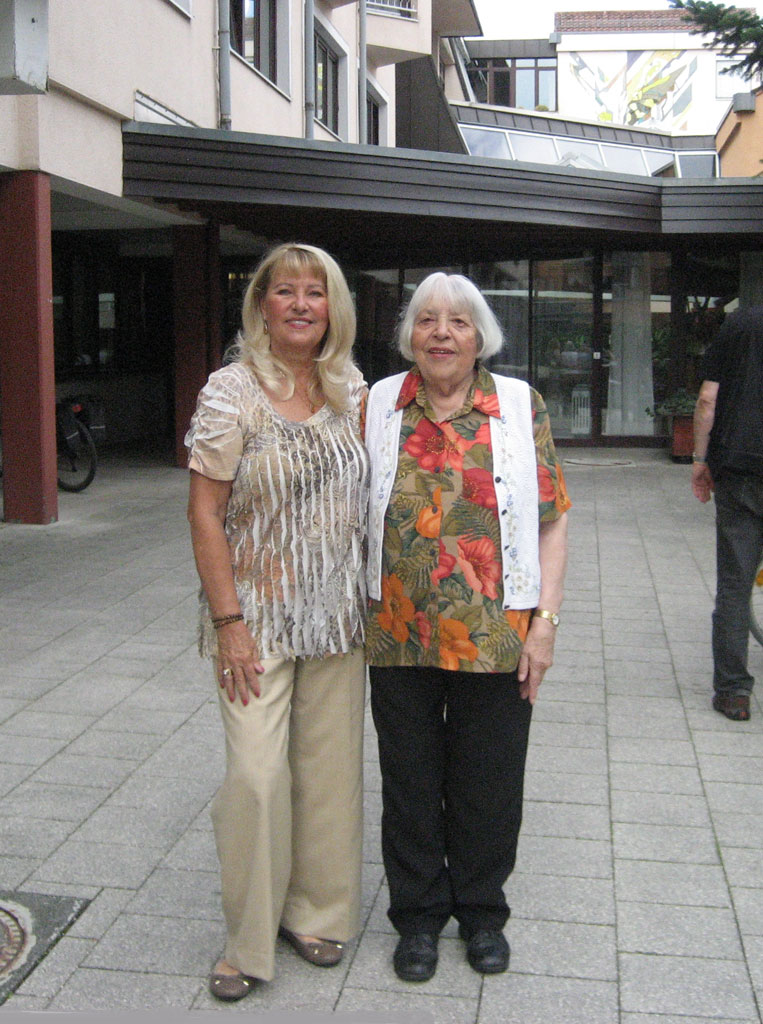 Are you ready for your 90th Birthday Party?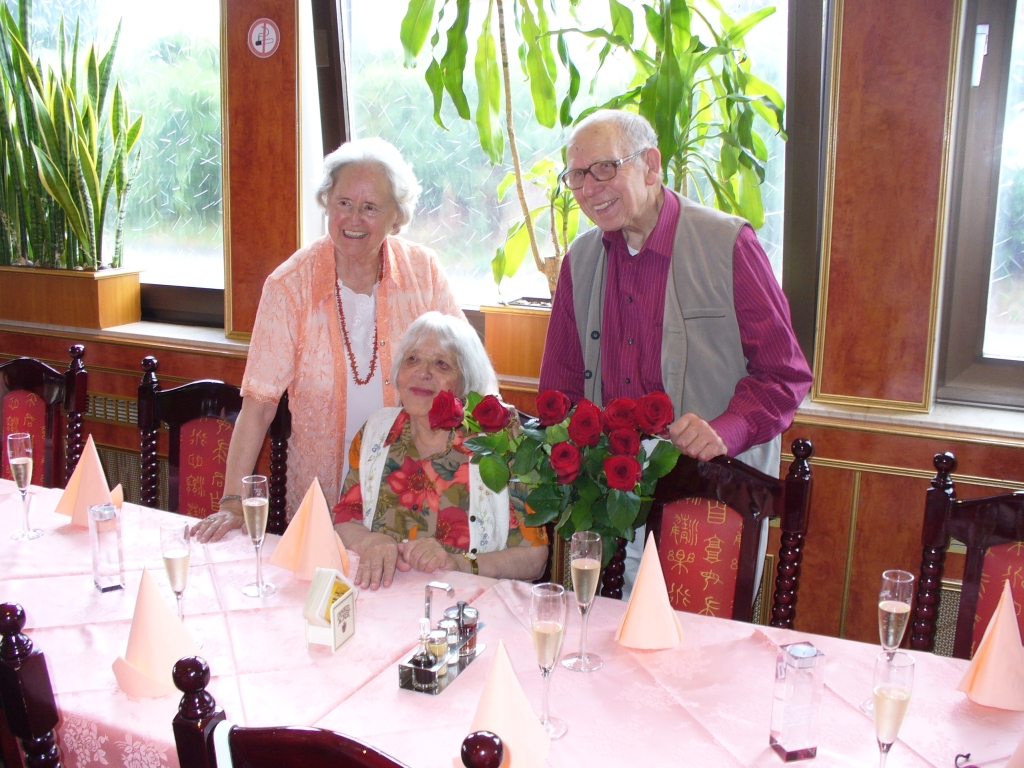 Brigitte and Charlie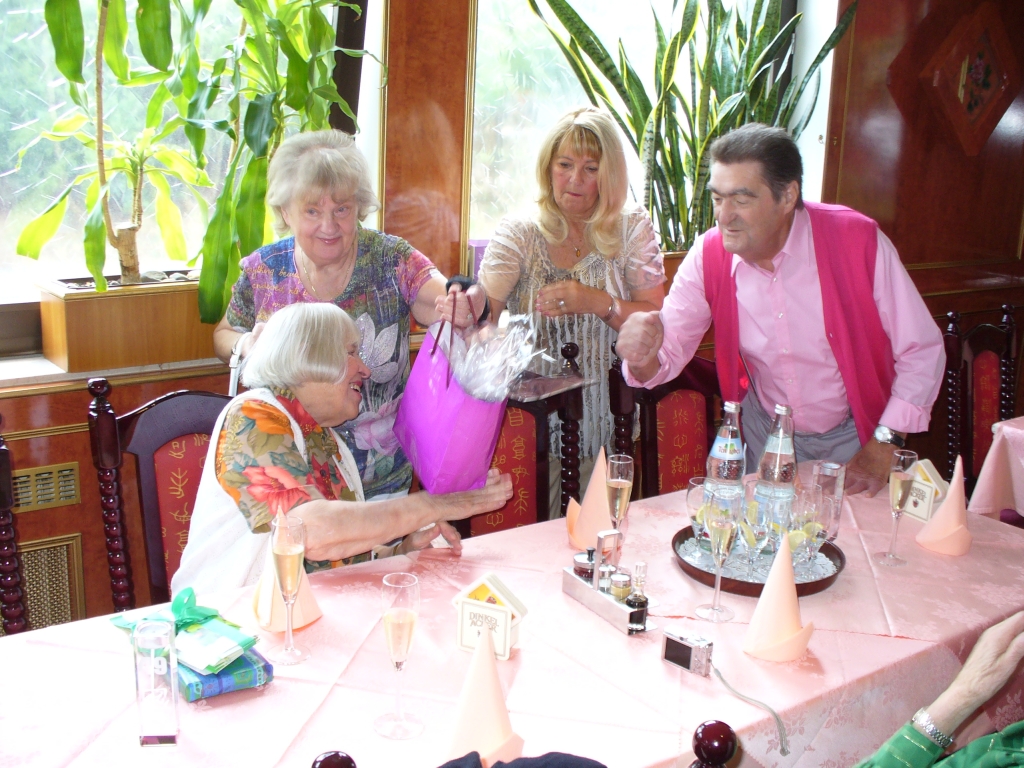 Heidi and Erich

The Family

Frau Bollinger, Frau Härtter and Elsita

The restaurant brought out a special candle that popped open

When the big flame went out, the candles appeared

Moma gets her wish... all the candles went out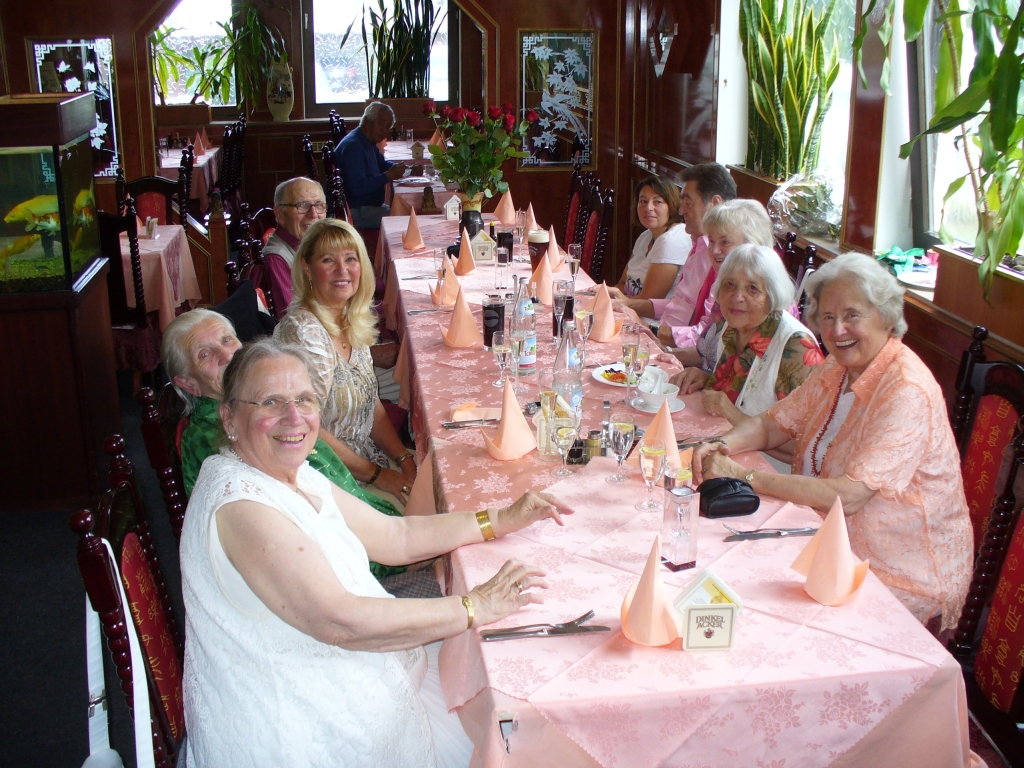 The guests are ready for the buffet

Hohenasperg - A German Prison
15 minutes to go up the hill, 15 years to come down

Walls around the Prison

Overlooking Asperg, with Stuttgart 20 km in the distance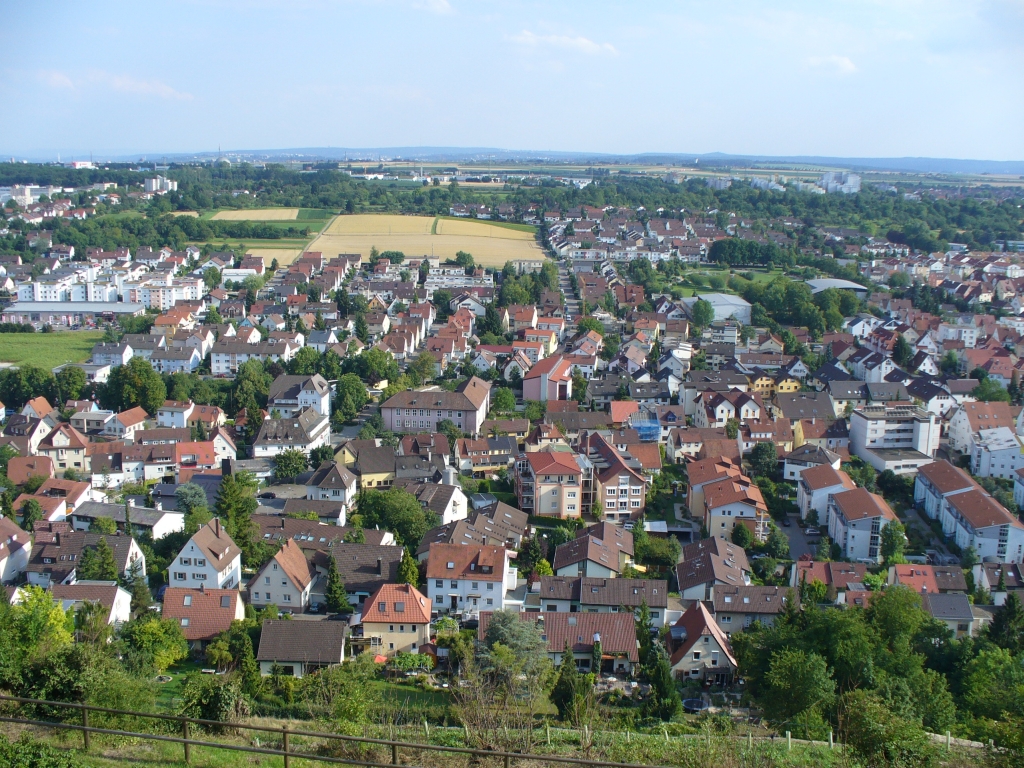 Asperg, 3 km from home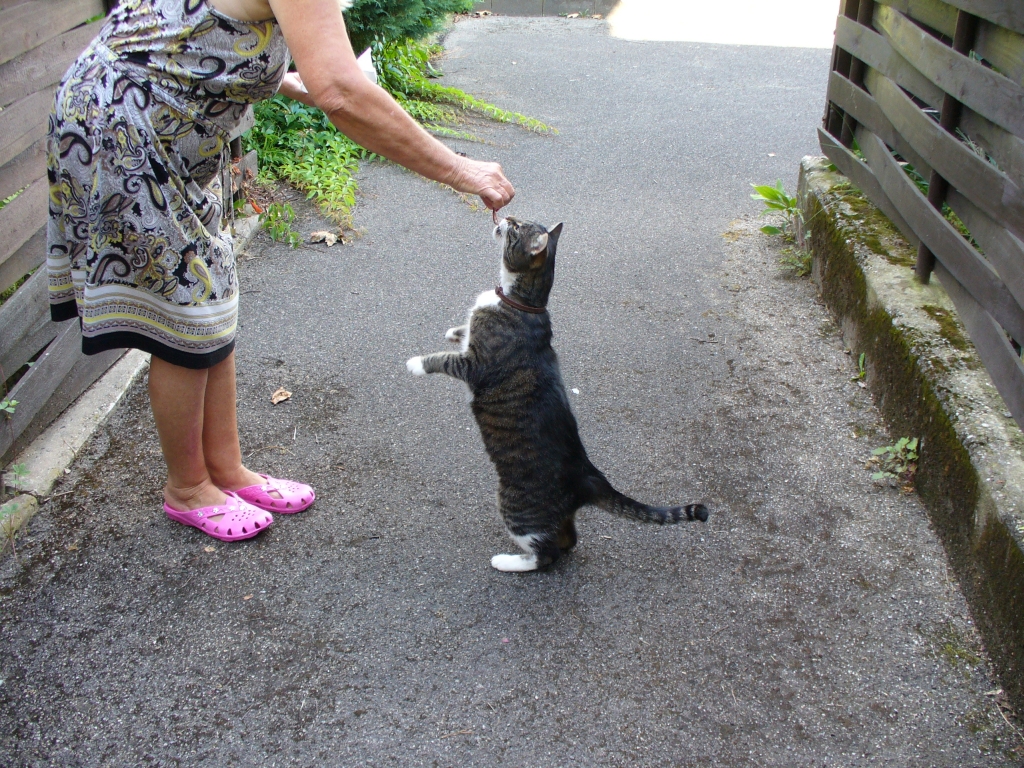 This nightly visitor was always ready for a treat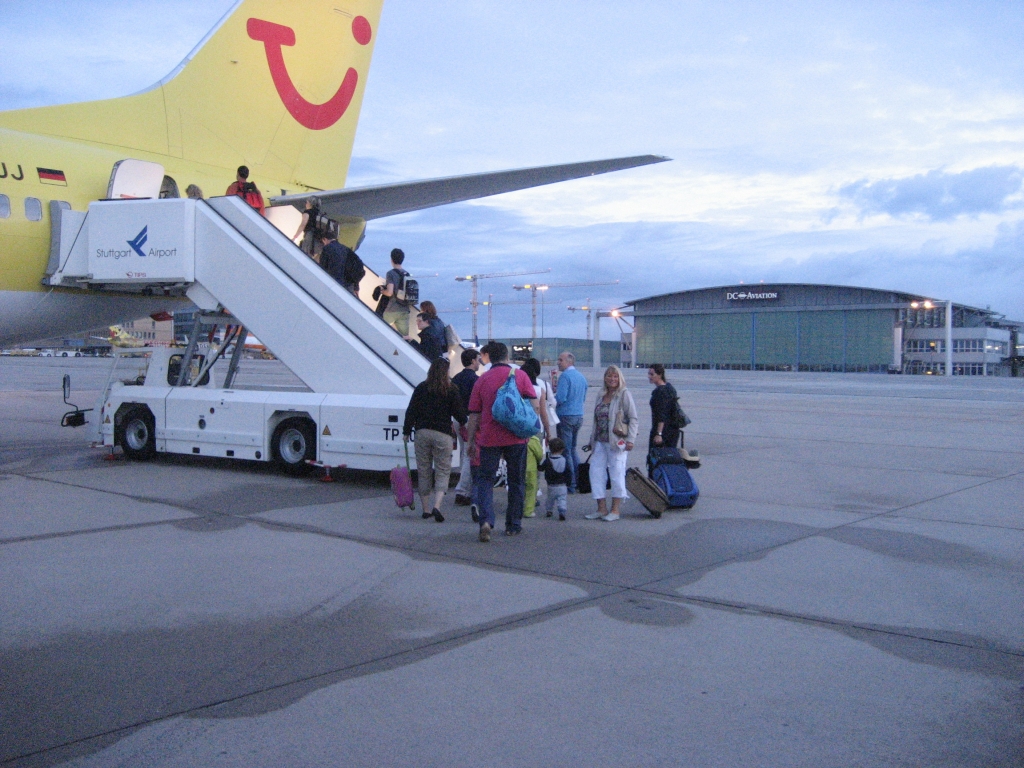 Depart Stuttgart at 6:00 AM for Jerez, Spain - 2 Hours

Departing Stuttgart

Racing our shadow, landing Jerez, Spain

On the Road, Again, to Algeciras, Spain

First Glimpse of The Rock

Our hotel is near the Port

City to the Left, Port to the Right

We'll park on the Spanish side of the Border and walk into Gibraltar

It looks close, but it was a good walk in the heat

Due to Spanish rules, only planes from England can operate here

After the runway is clear, gates open and people can cross

You are Here... how do they know that?

An auditorium in a cave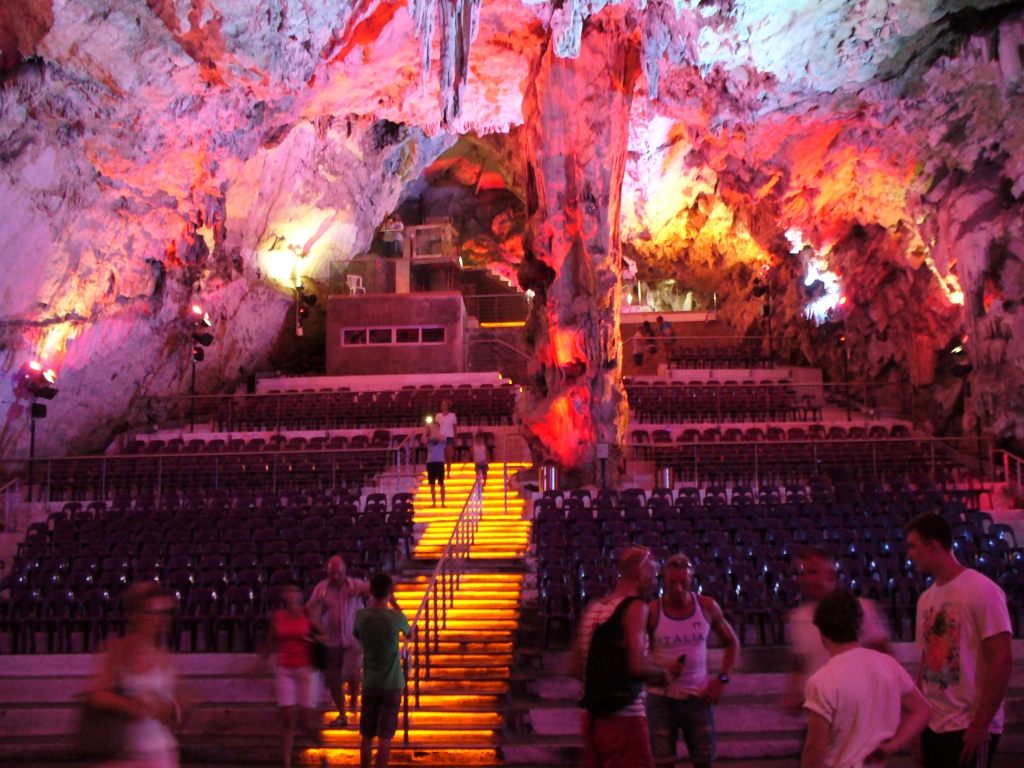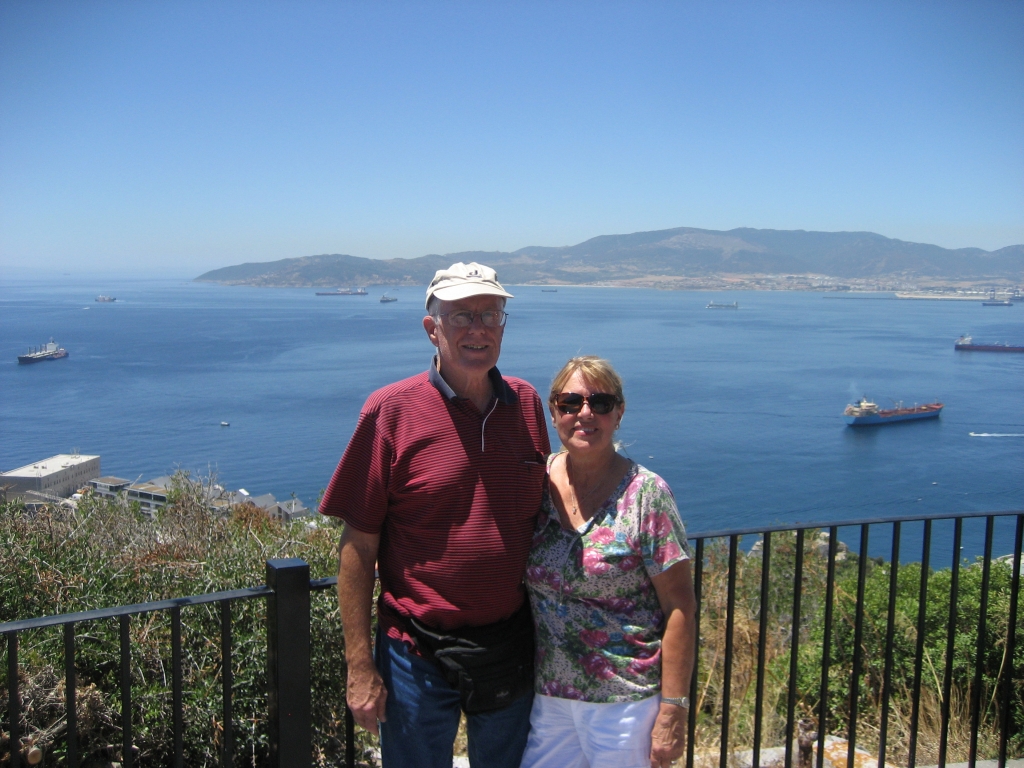 The Accidental Tourists in Gibraltar

Elsa, Look Out Behind You !!

Guide, Douglas, on the right, knows which monkeys are gentle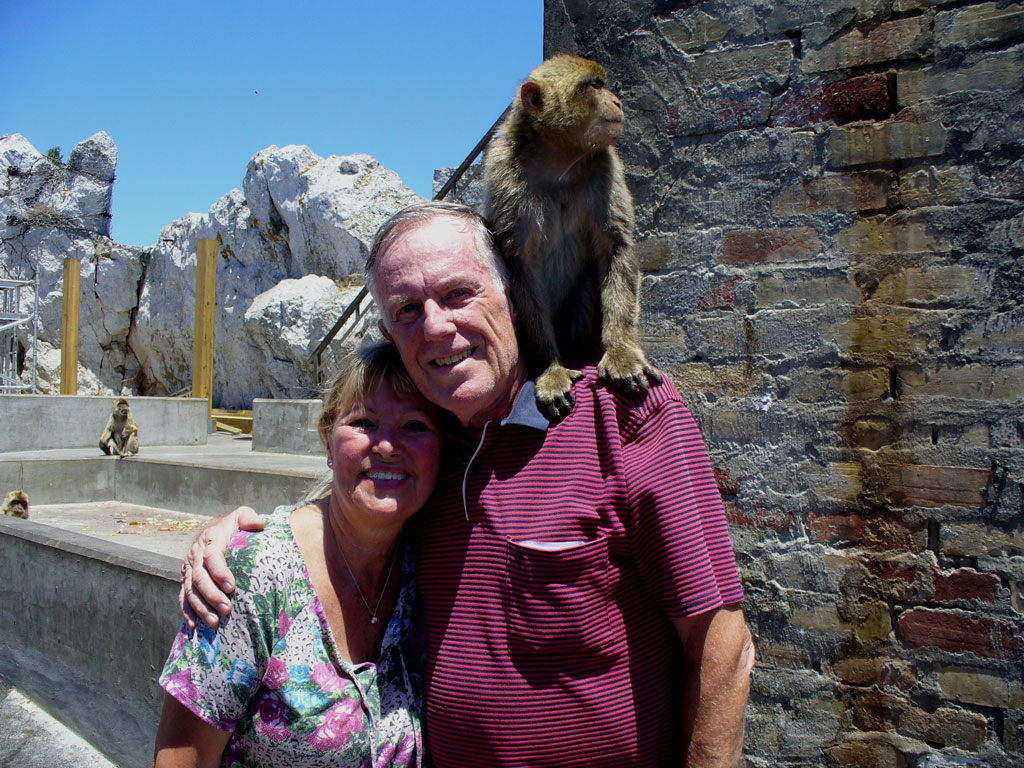 I've got a monkey on my back

Some of the Monkeys are friendly, some will bite.
Should I pet this one or not?

Don't pet mothers holding little babies !!

The Mediterranian Sea as seen from the Rock of Gibraltar

The coast of Africa, on the horizon, right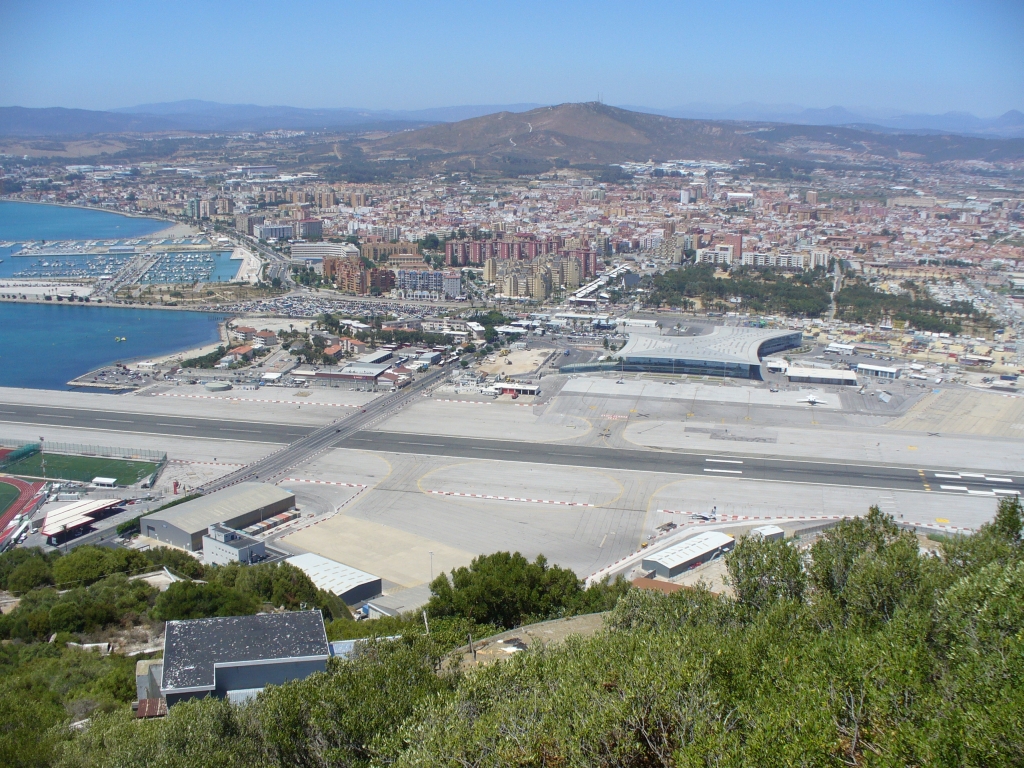 The road crossing the runway with La Linea (The Line), Spain, on the far side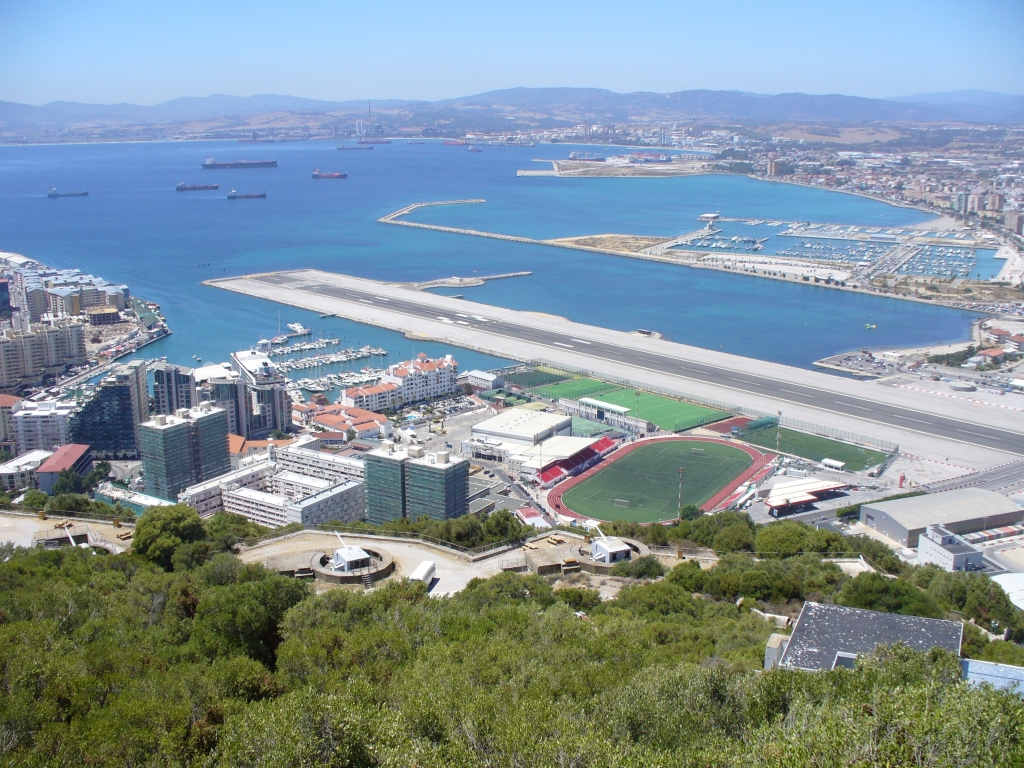 Oceanfront apartments with no extra charge for airport noise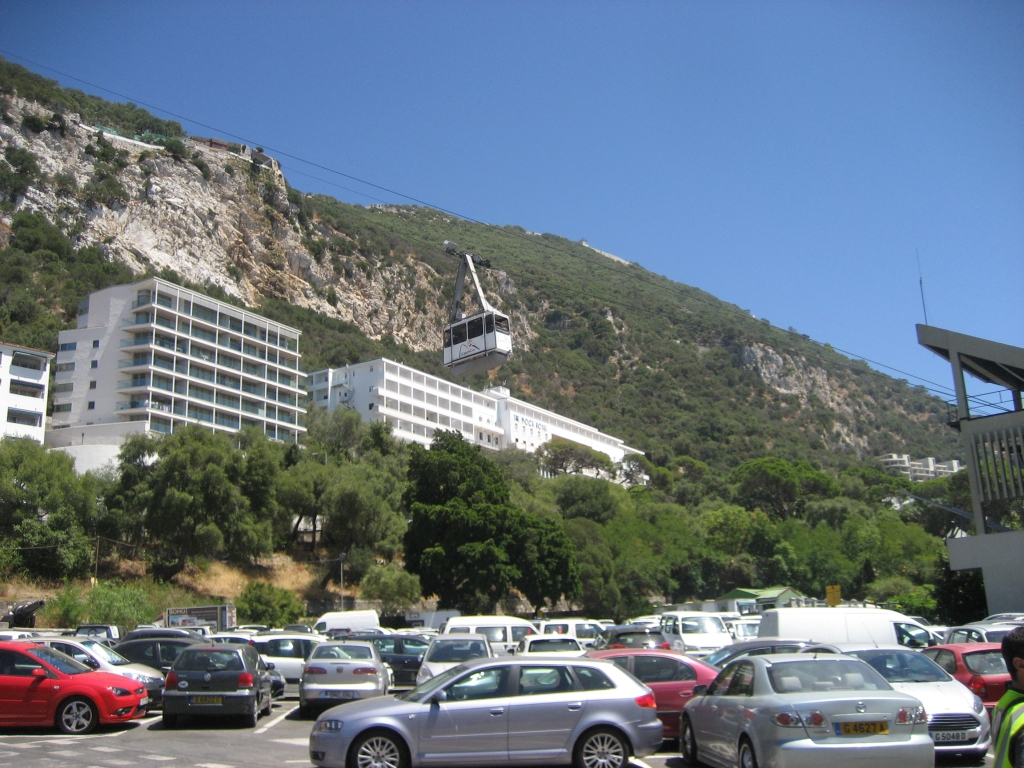 Cable Car to the Top

Cargo operations in Algeciras run all night

Boarding the Ferry to Tangier, Morocco

We rented this boat for 90 minutes

The Harbor Pilot leaves our boat and heads for the next

Our last view of "The Rock" as we head into a fog bank

Arabic reads from right to left... does that help?

52 kilometers (31 miles) to Tangier

Entering the new city of Tangier

Our hotel is in the old city, at the top of the hill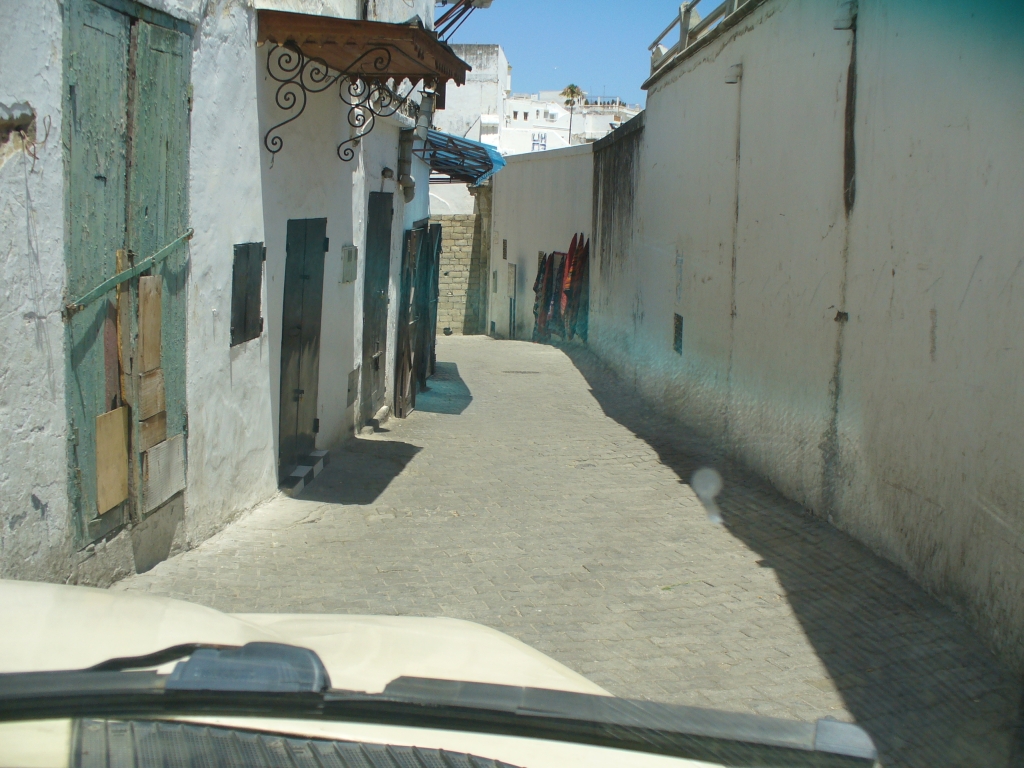 Just wide enough for a Mercedes taxi

Our humble home in Tangier for one night

Our guide for the day attached himself to us as we left the hotel
Standing in the doorway, he is waiting for us to enter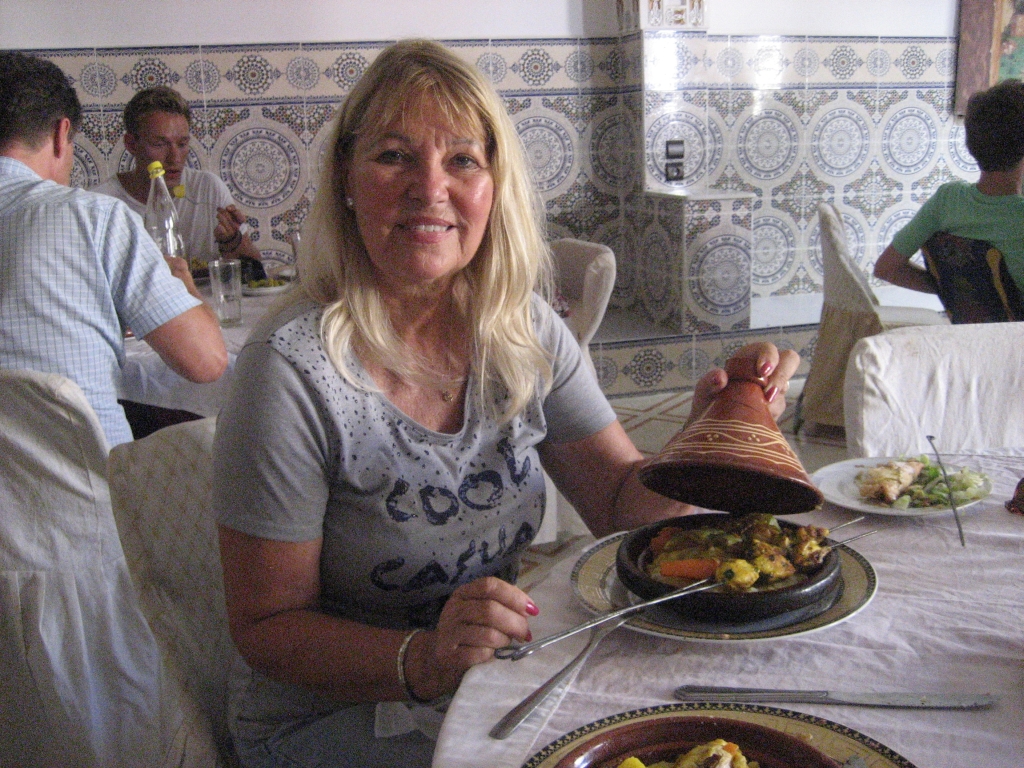 Our first Moroccan meal, Couscous and Shish Kebab

Egg delivery service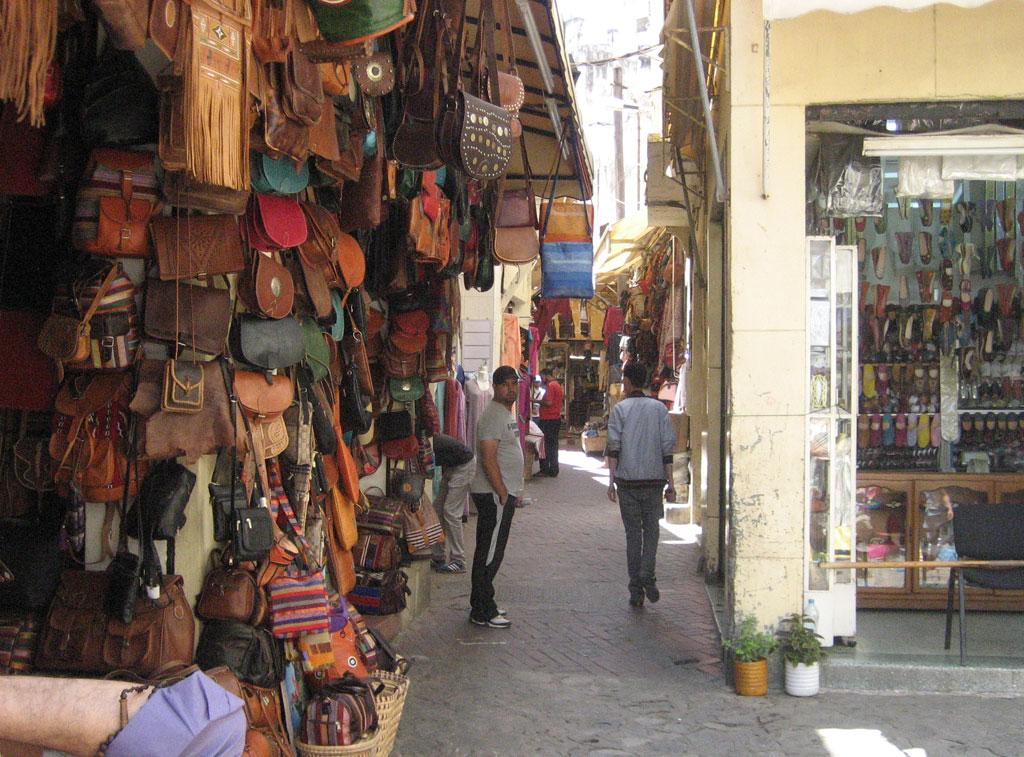 Bags, anyone?

Giving Ali my shopping list

Silk Caftan - Do I look the Part?

I'm wearing my Moroccan Disguise

One of many hungry street cats we fed until they passed out

No Oven at home, Taking Dough to the Bakery

Jewelry repaired, While You Wait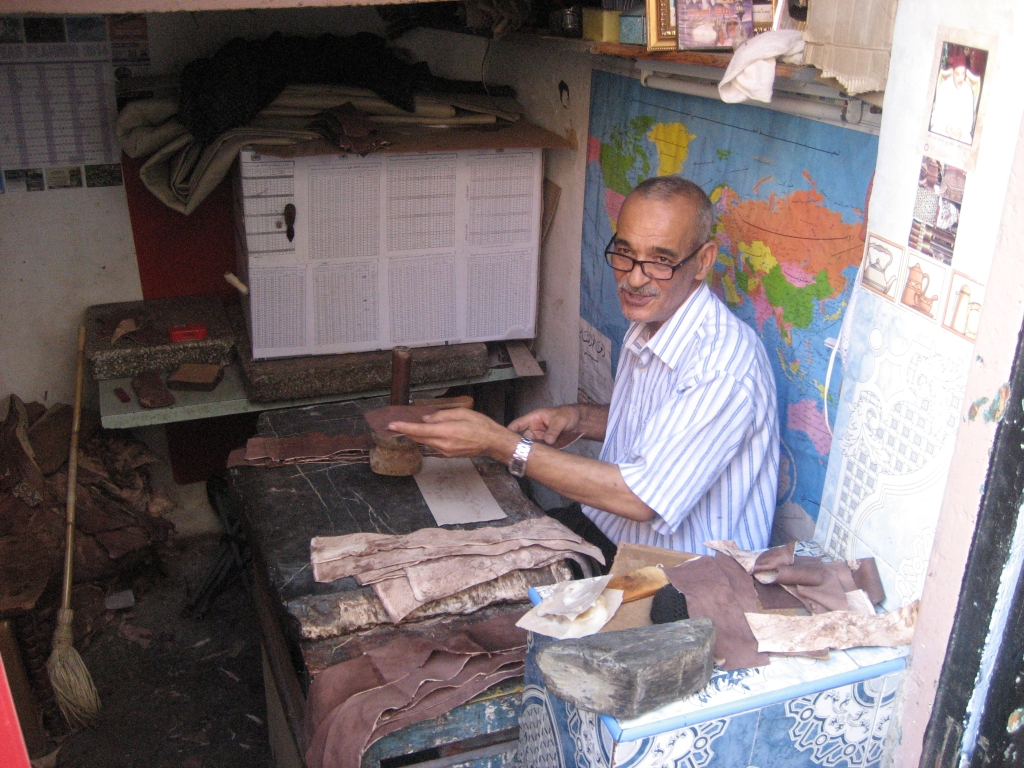 Hole in the Wall Leather Shop

Happy Hour after a Tough Day at the Casbah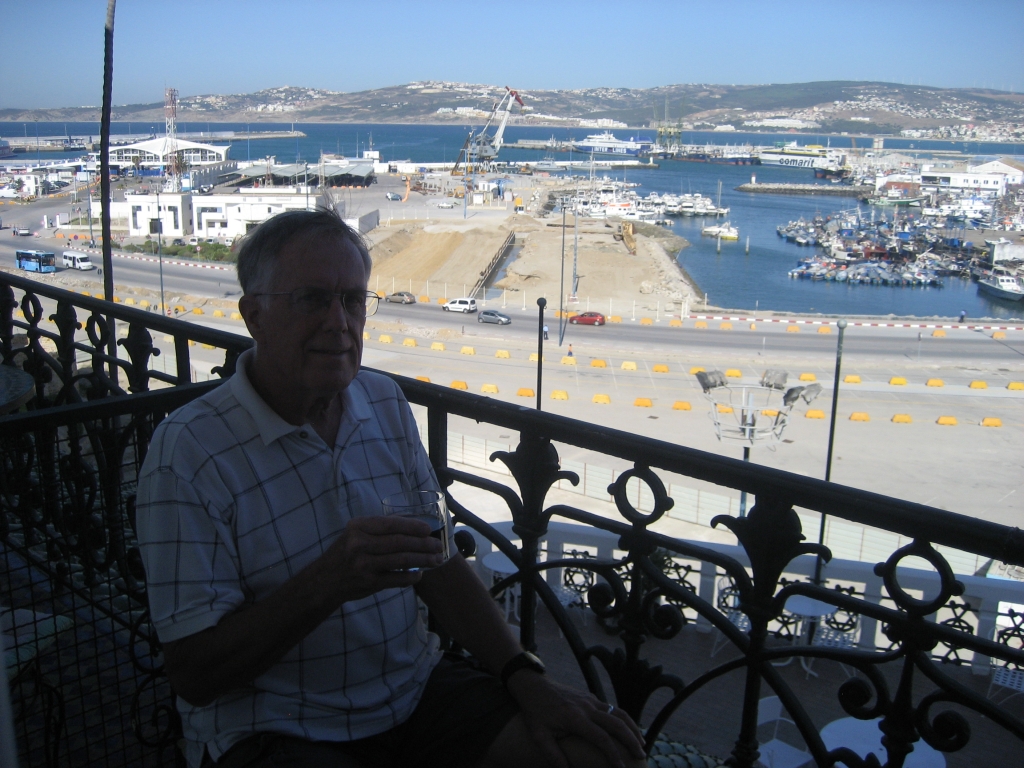 New port has grown up around the old city

A short walk down the hill for Dinner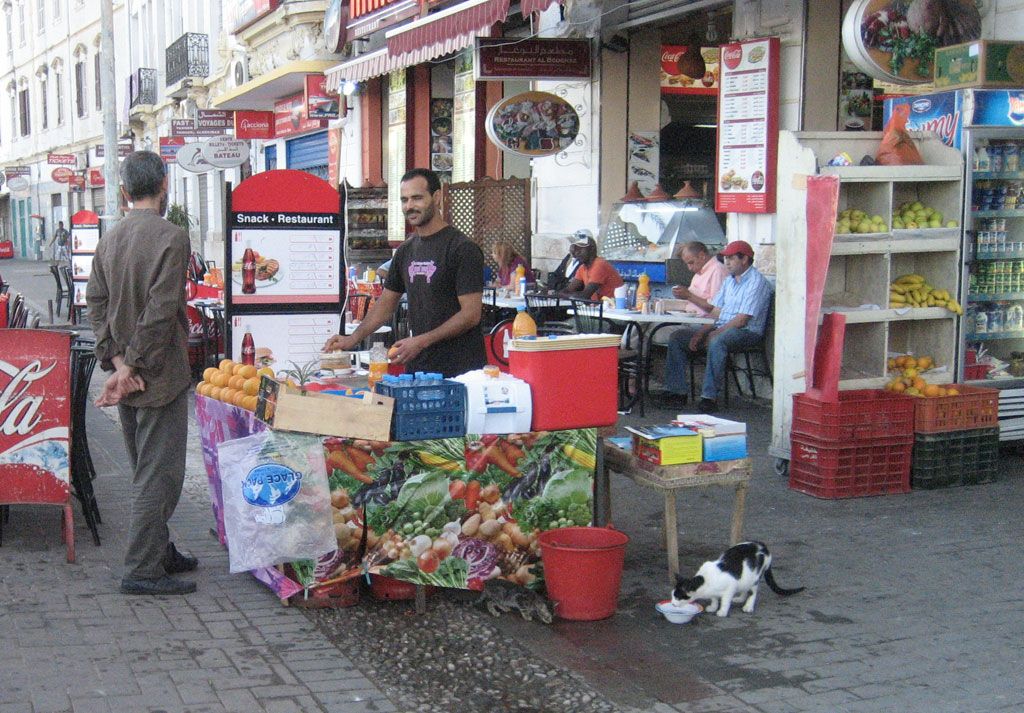 People have to Pay. Cats eat for Free.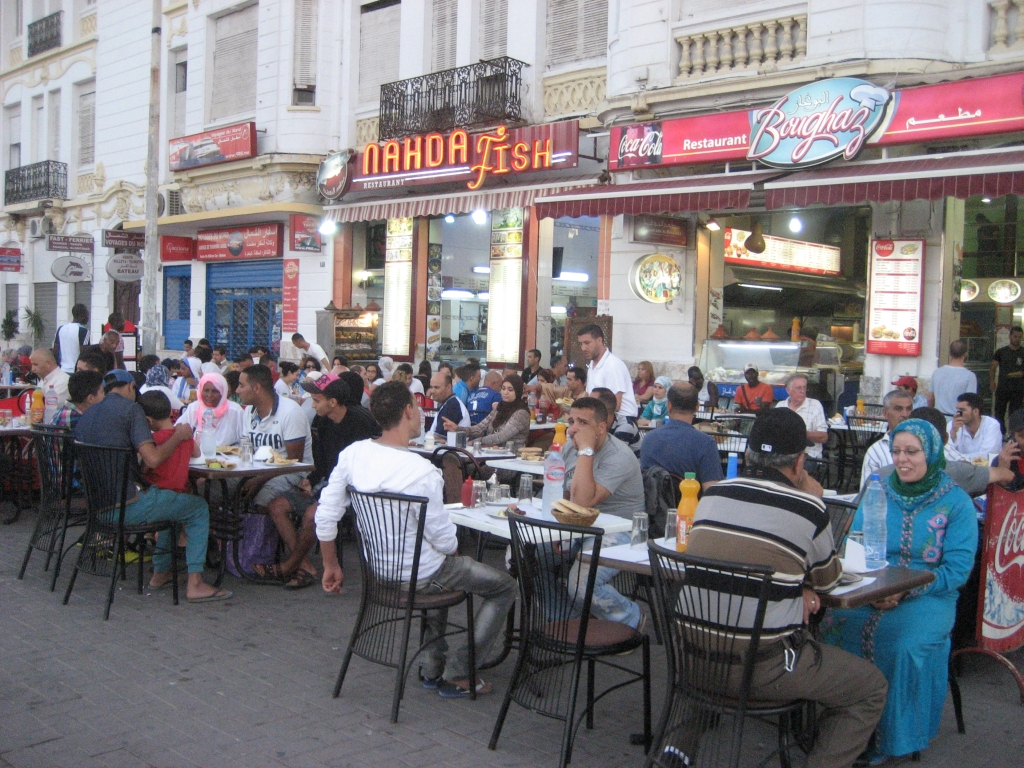 Waiting for Dinner - Peter in back, right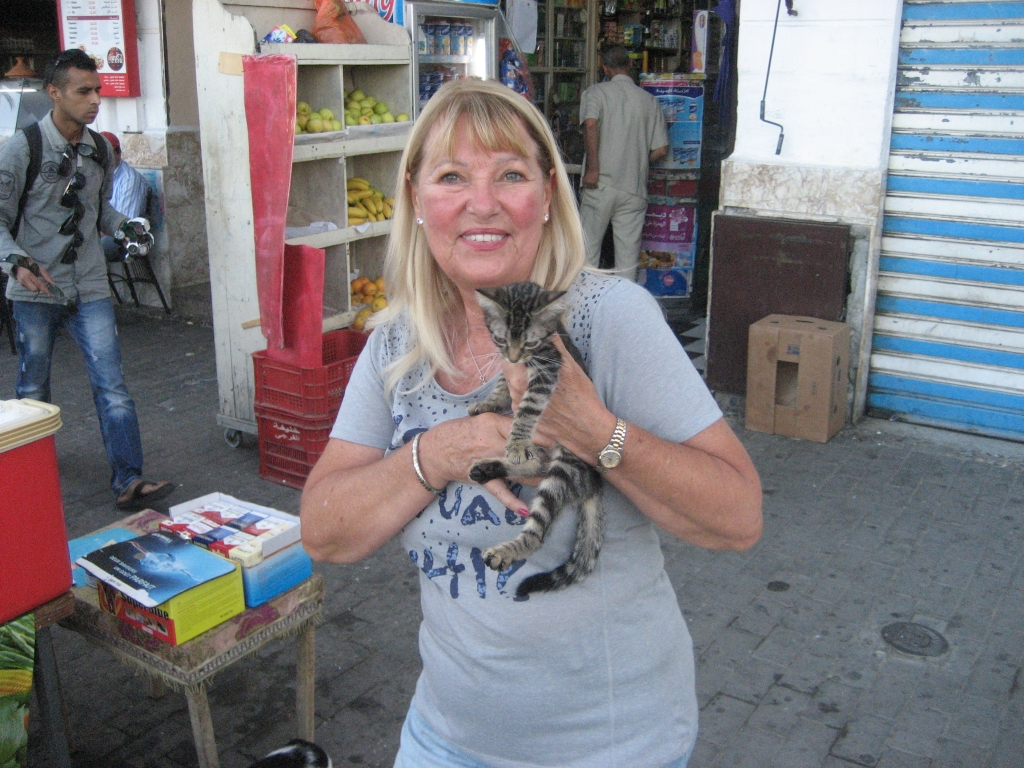 Can I take him home?

We stuffed this one full of Pastrami and had some left over for hungry cats on the way home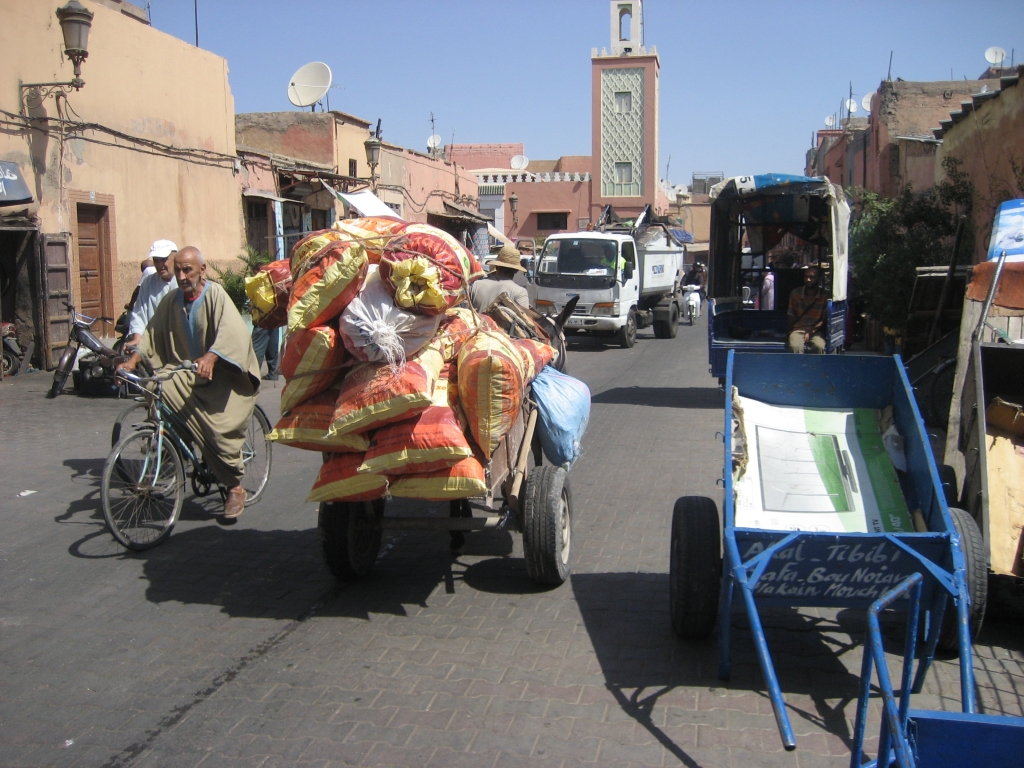 The streets are always busy

Another Lucky Customer at the Bike Repair Shop

Our train from Tangier to Marrakech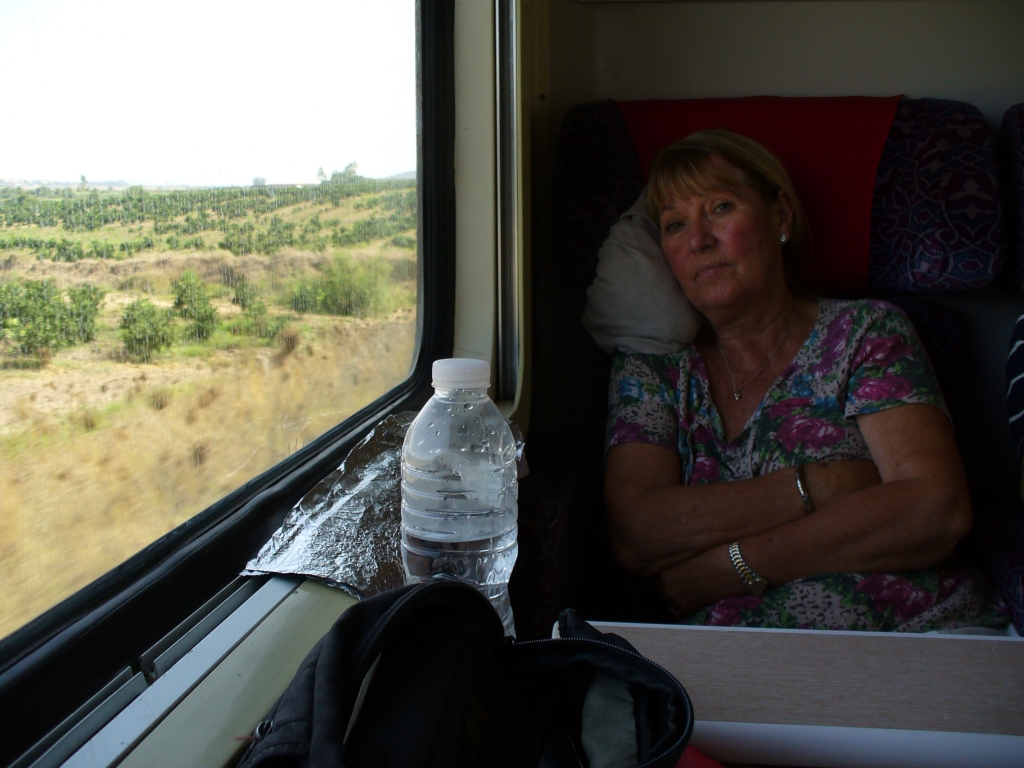 Two hours gone and 9 more to go
Far too long, even in First Class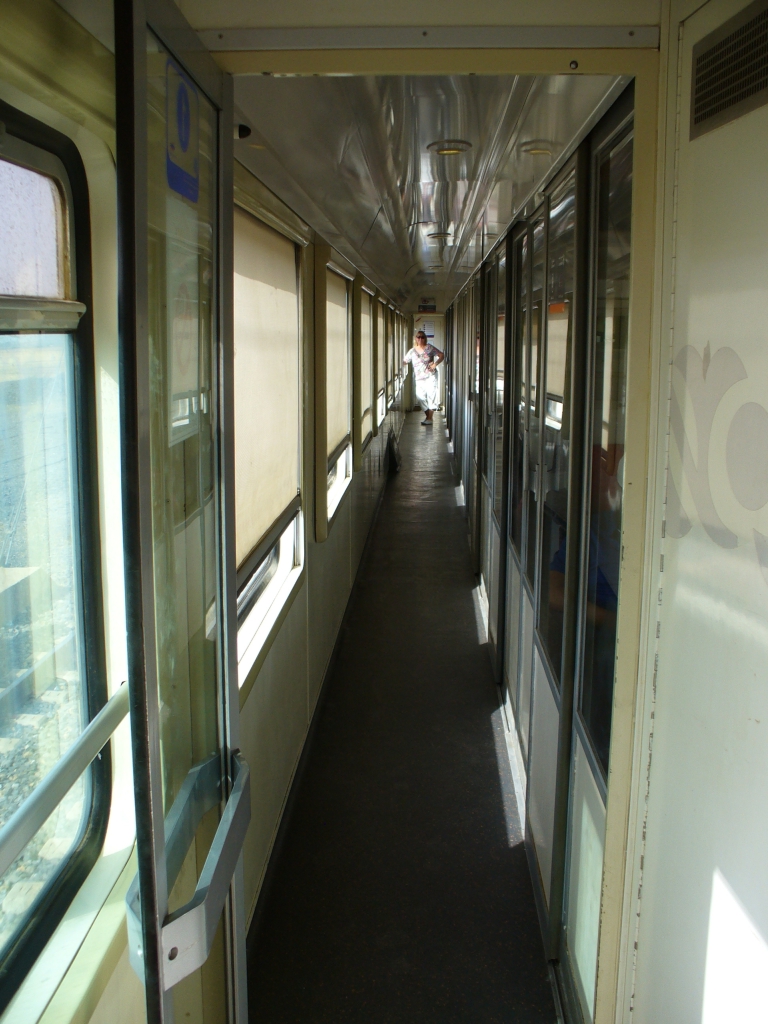 The train was clean and comfortable, but packed full

Moroccan Beef on the Hoof

Local taxi service meets people leaving the train

Off to Rabatt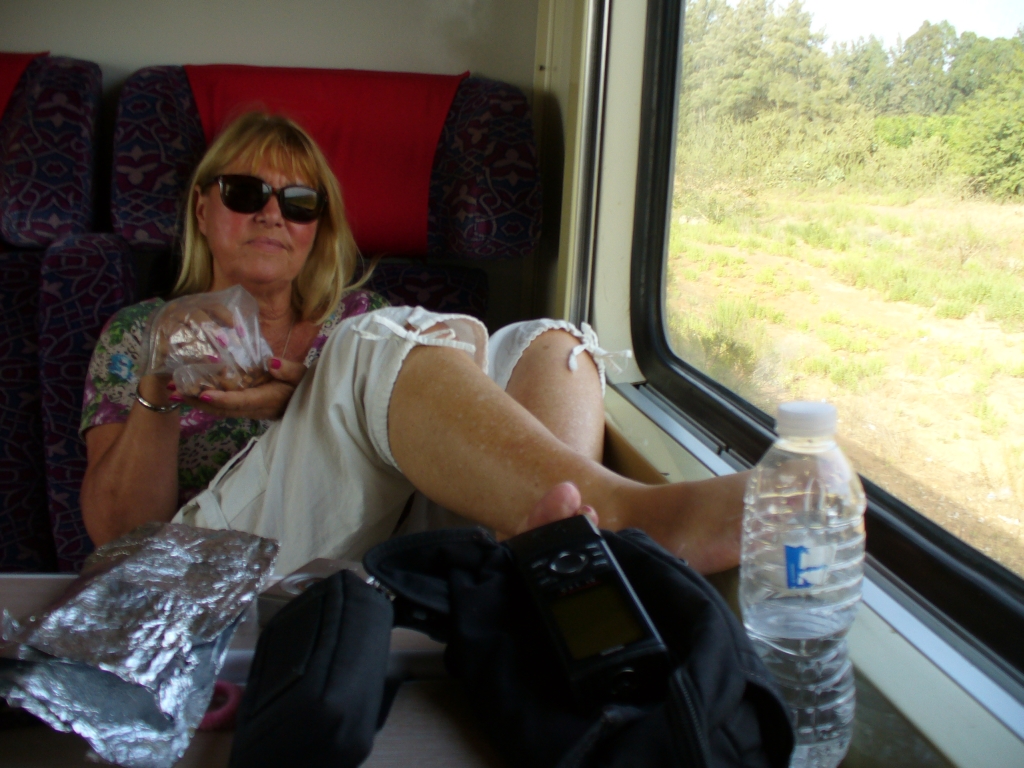 Nine hours gone and two more to go
No food service on the train during Ramadan in July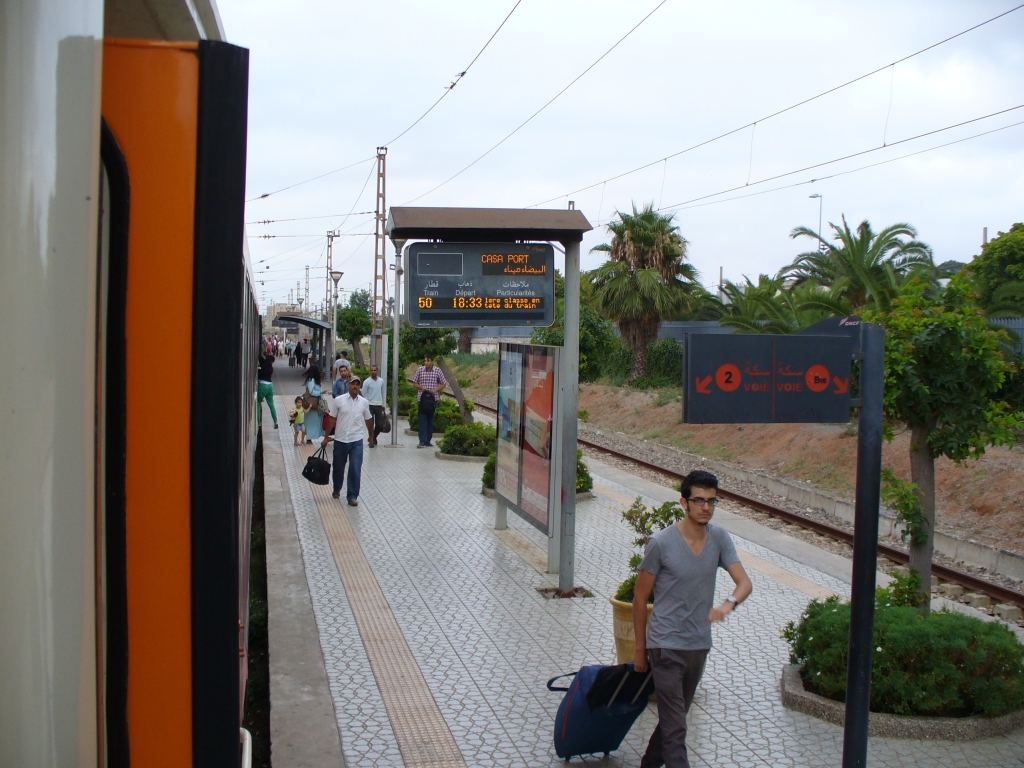 We changed trains in Casablanca

Finally, Marrakech at 11:00 PM

Moma cat and her litter

Our City Tour Chariot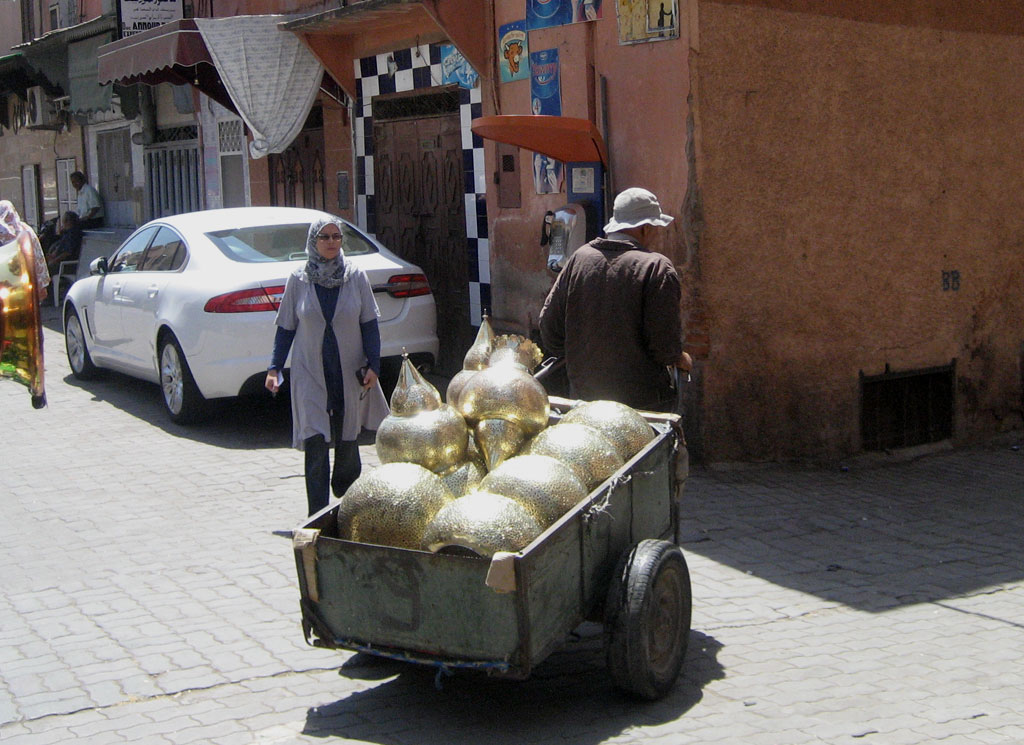 Human power is always available

Clay Soup Bowls for 10 Dirham - One Dollar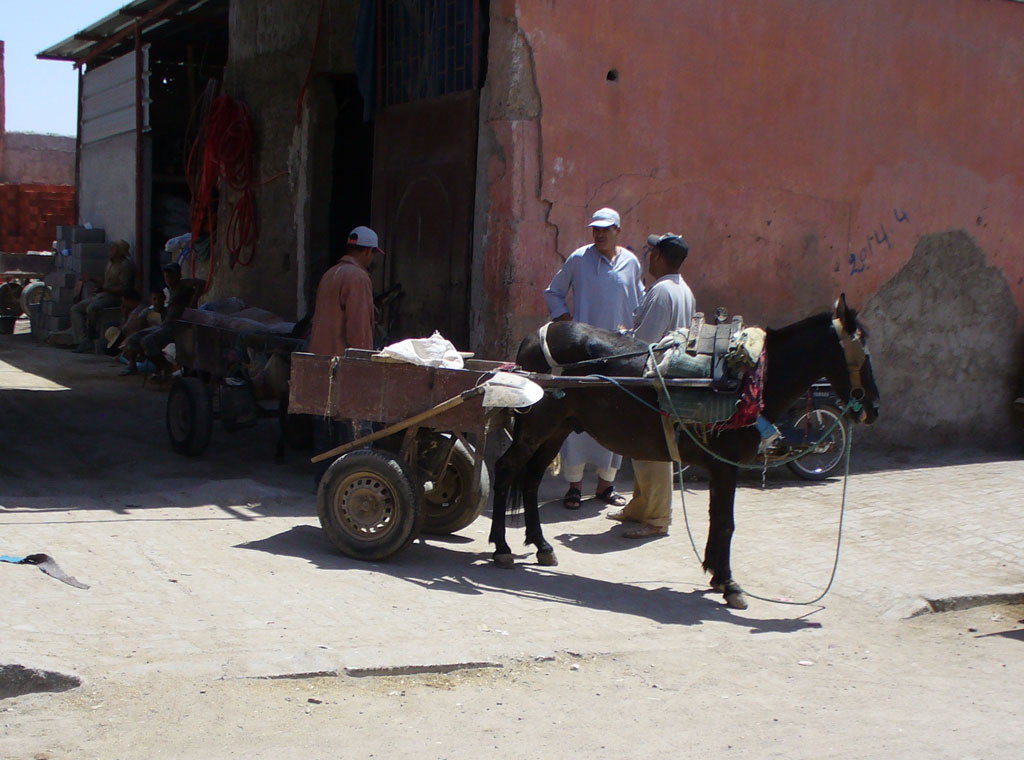 Donkey doing what donkeys do best... waiting

Chairs and stools for sale for a parade the next day

Rolling gas service for motorcycles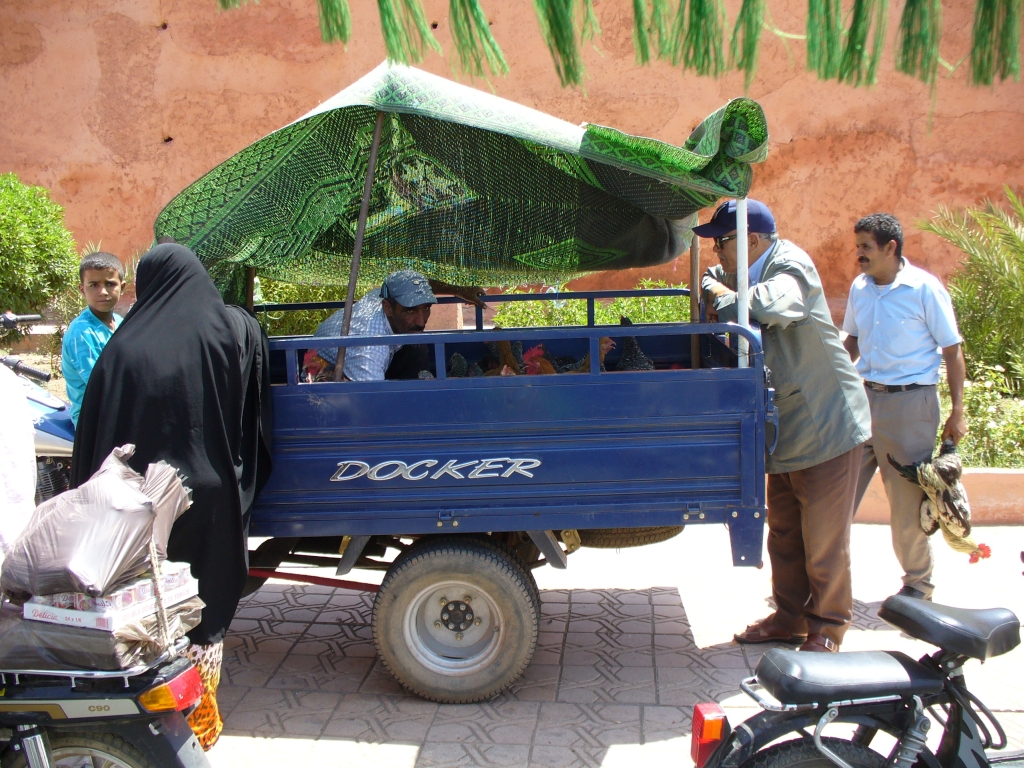 These chickens are fresher than anything Foster Farms can offer

Our carriage driver bids us goodbye

Low-Tech Storks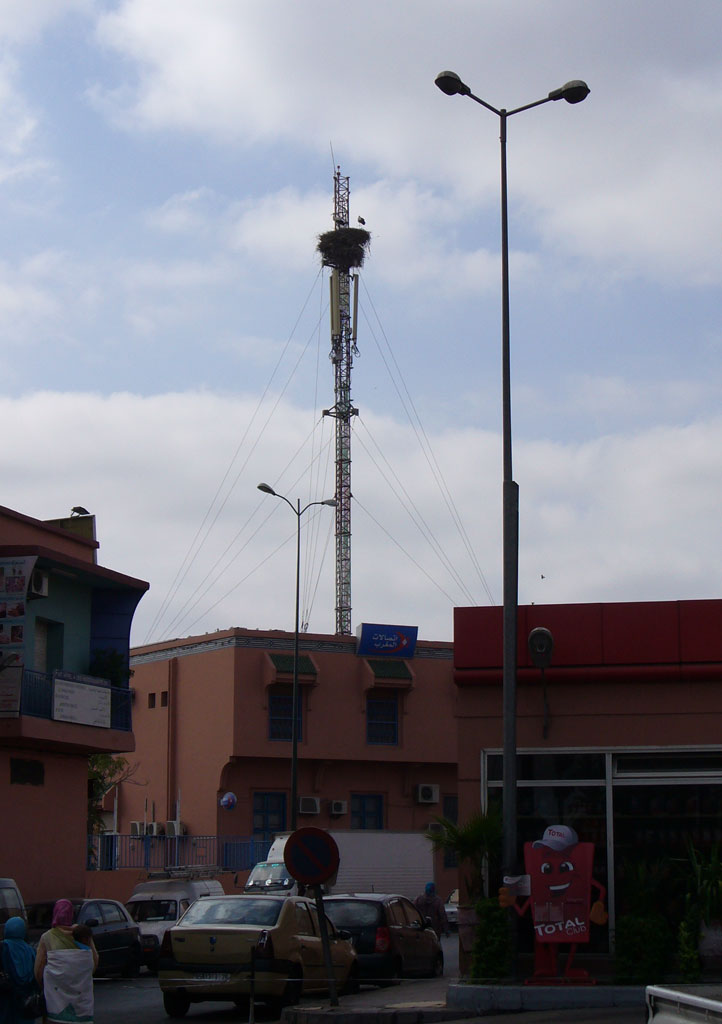 High-Tech Storks

Lunch at a roof-top terrace

Cats make themselves at home wherever there is food

"No, No, I don't Want It !!"

Food vendors fill the plaza in the evening

Pick what you want and they'll cook it and bring it to your table

Jus d' Oranges, 4 Dirham (40 cents) for a fresh-squeezed glass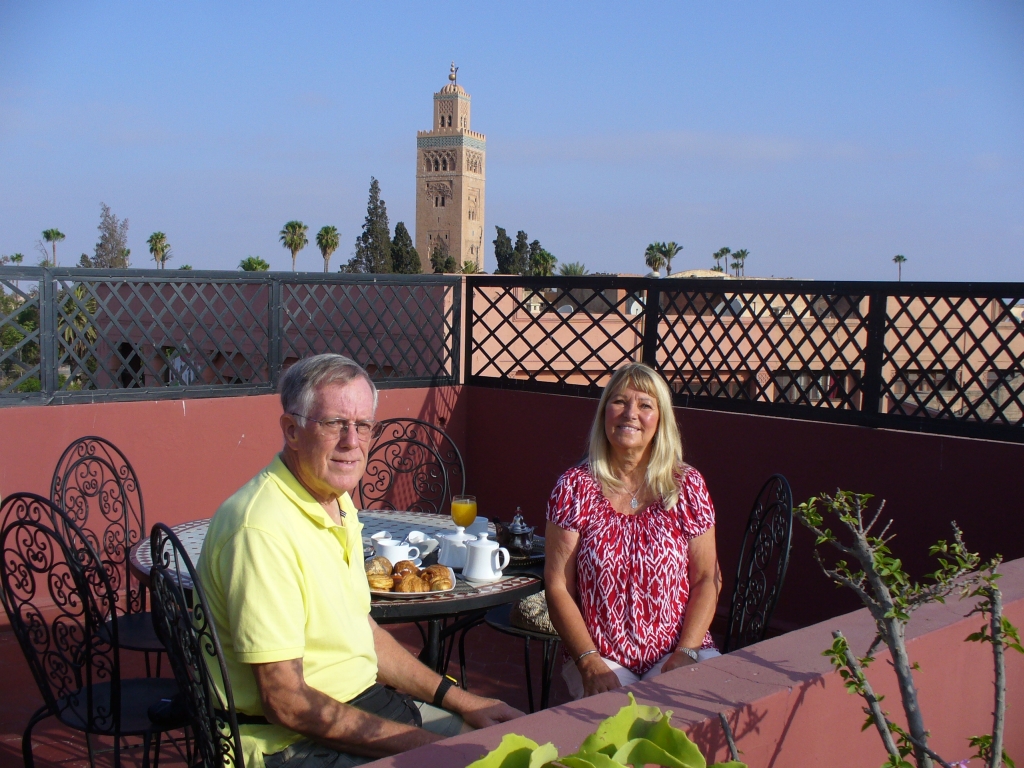 Breakfast on our roof-top terrace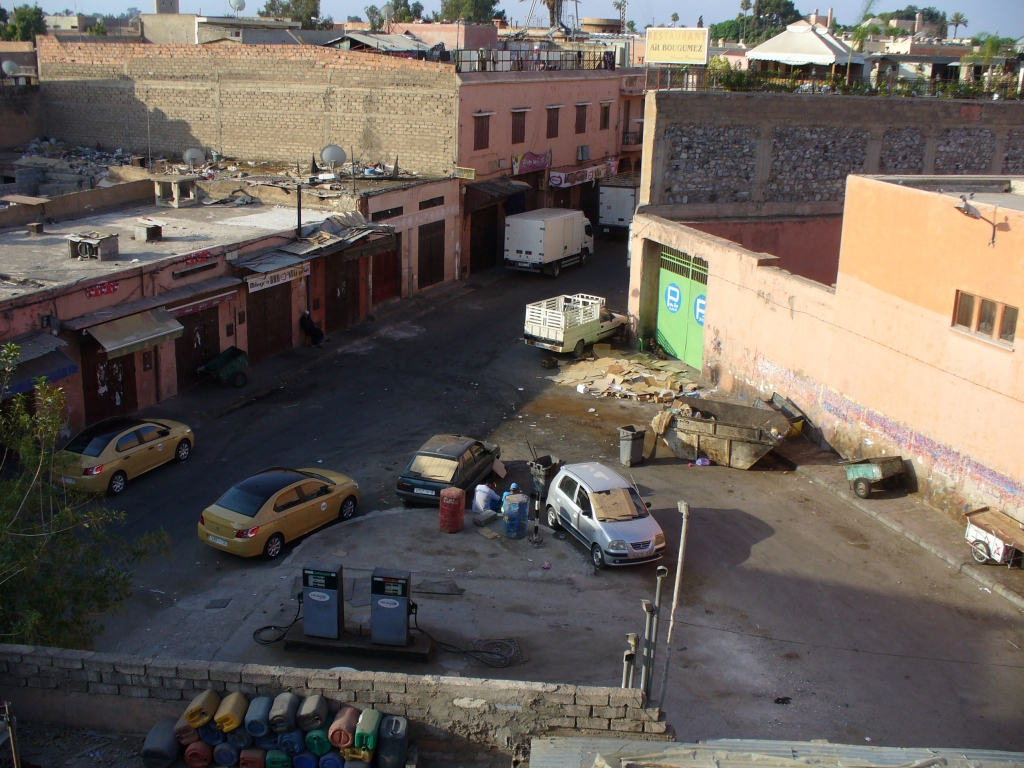 The view to the rear of the hotel

Gathering to visit the cemetery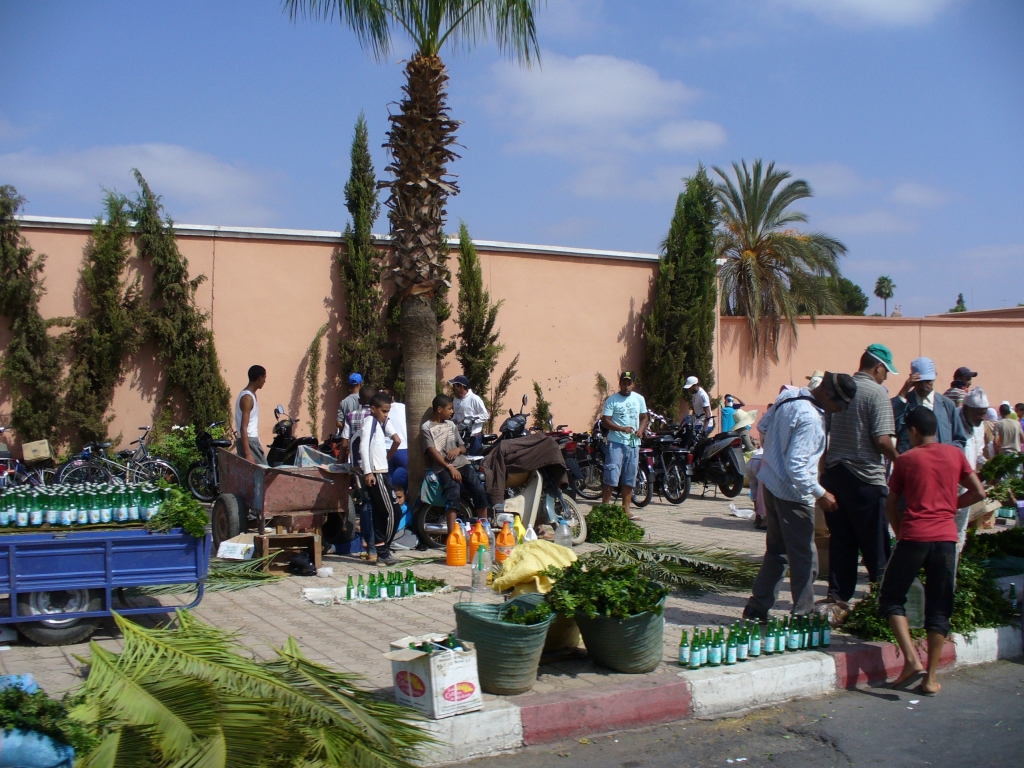 Get your Cemetery Specials here

The suburbs of Marrakech, picking up passengers for a tour

We head into the Berber area in the Atlas mountains 60 km south of Marrakech

Visiting a typical home

Elsa's new Best Friend, a resident of the typical home

Our tour guide and his aunt, the owner of the typical home

On the way to the mountains

There is skiing at 2600 meters at Africa's highest ski resort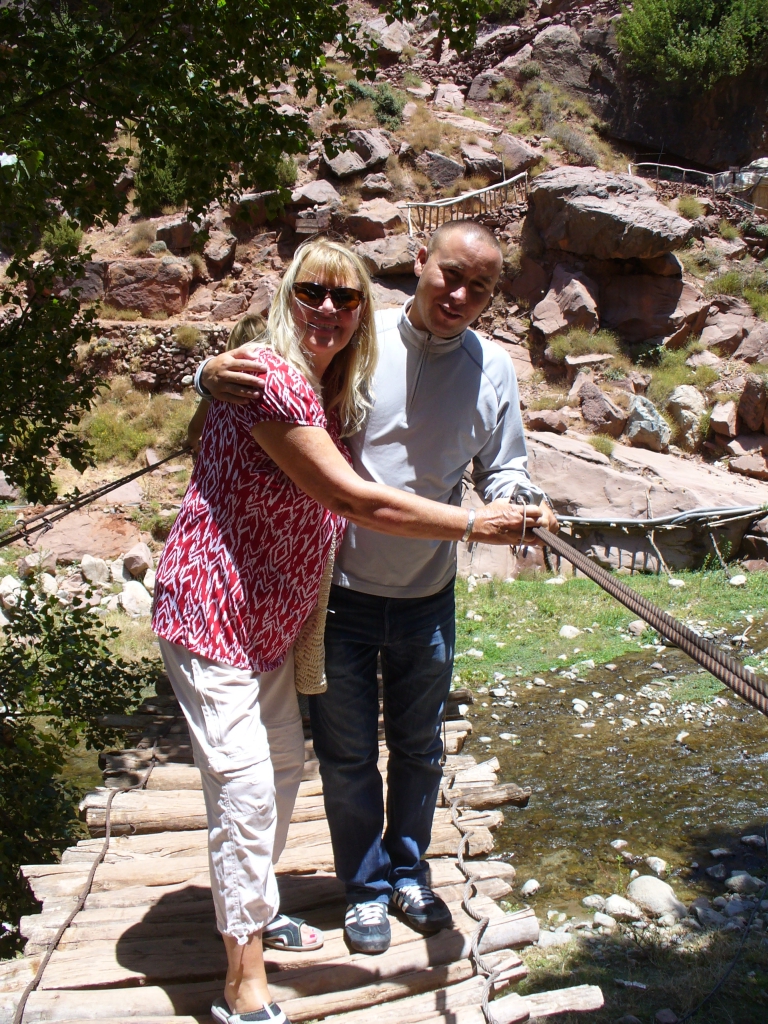 I'll show you the proper way to cross a rope bridge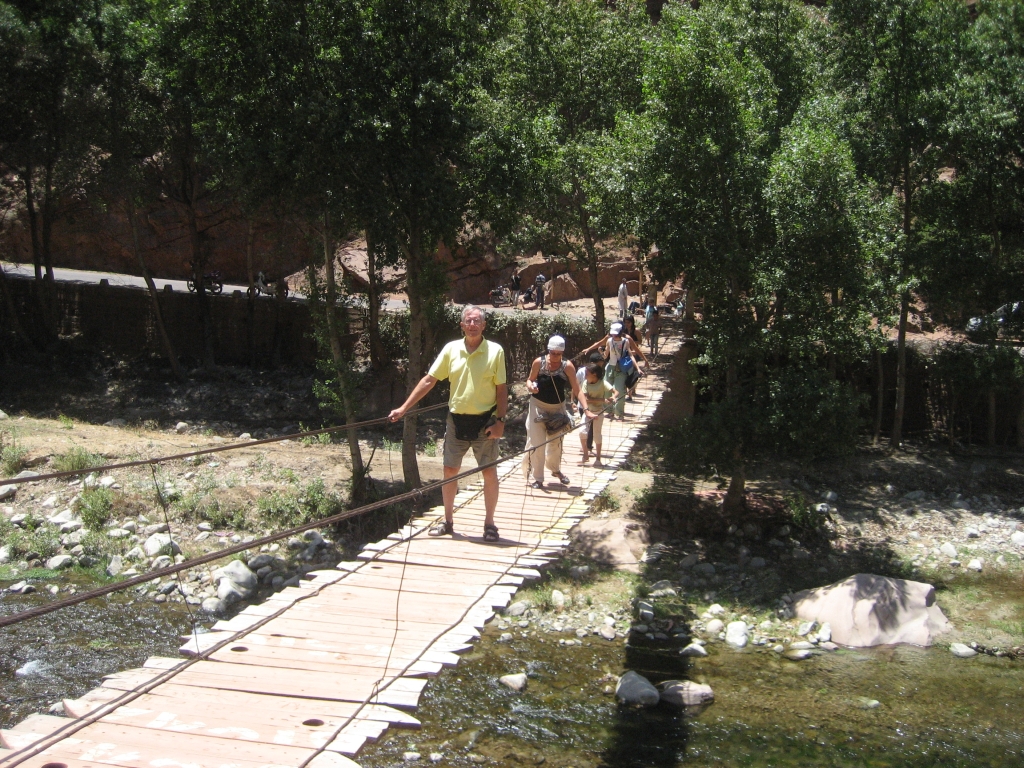 Stop wiggling and wobbling, would you, please?

Turning the bicycle wheel drives the blower adding air to the coals

Mister Fixit tries his hand at metal-working

The Atlas Mountains. No snow today.

You can cool your heels while you eat at this restaurant

We choose to eat on the patio in the shade

"Hello, It's me and I'm hungry"

Team 2 is ready when Team 1 drops out

Beginning an hour hike to the waterfall

A vendor along the way, drilling stone by hand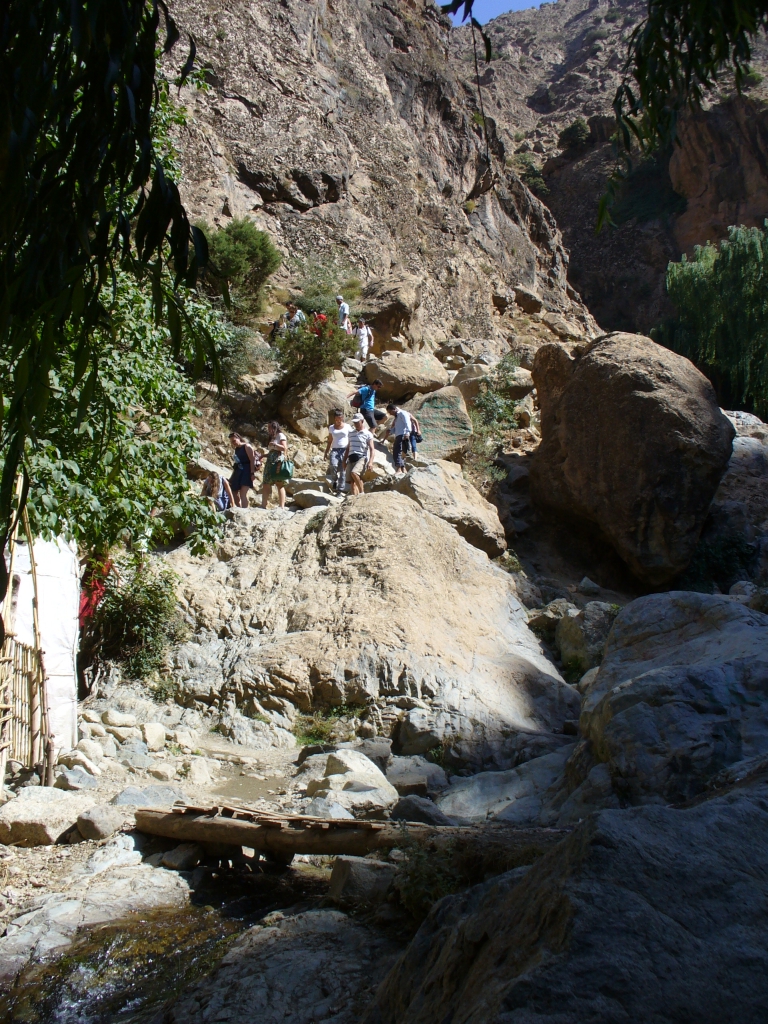 Just another ten minutes... you're almost there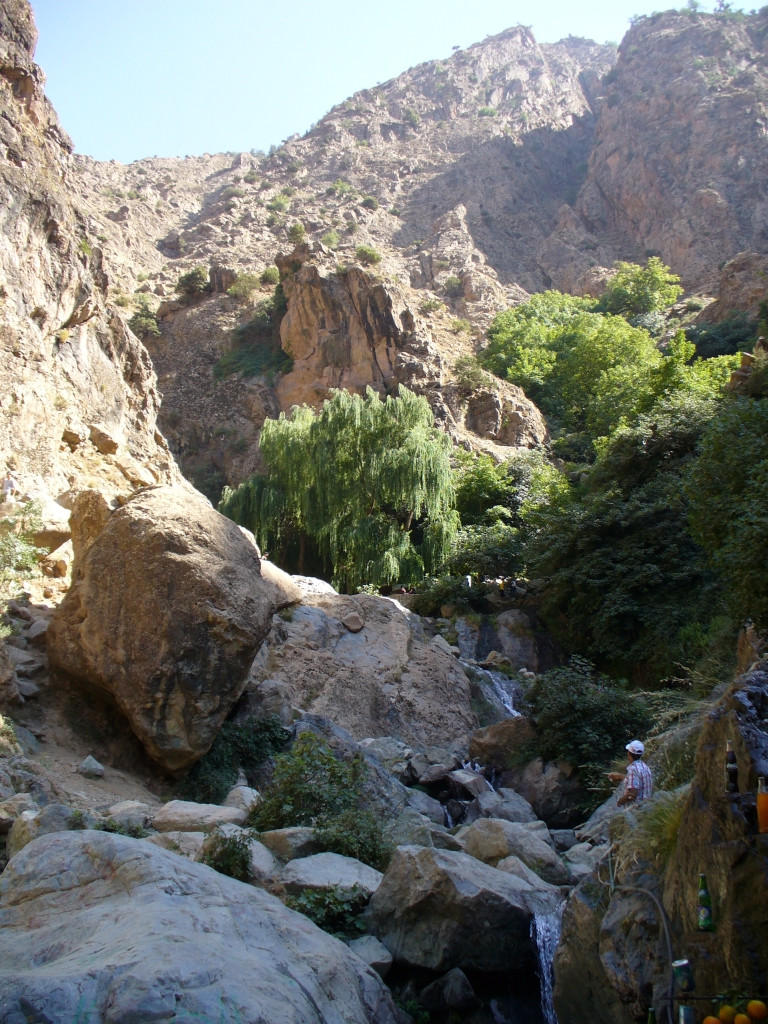 "I thought you said only ten minutes more"

"You can make it"

The goal of an hour hike - the waterfall
Elsa stayed back at the stream where we had lunch

Stream water cools drinks in this "Berber Refrigerator"

Water, water, everywhere

Elsa's Dream - A Camel Ride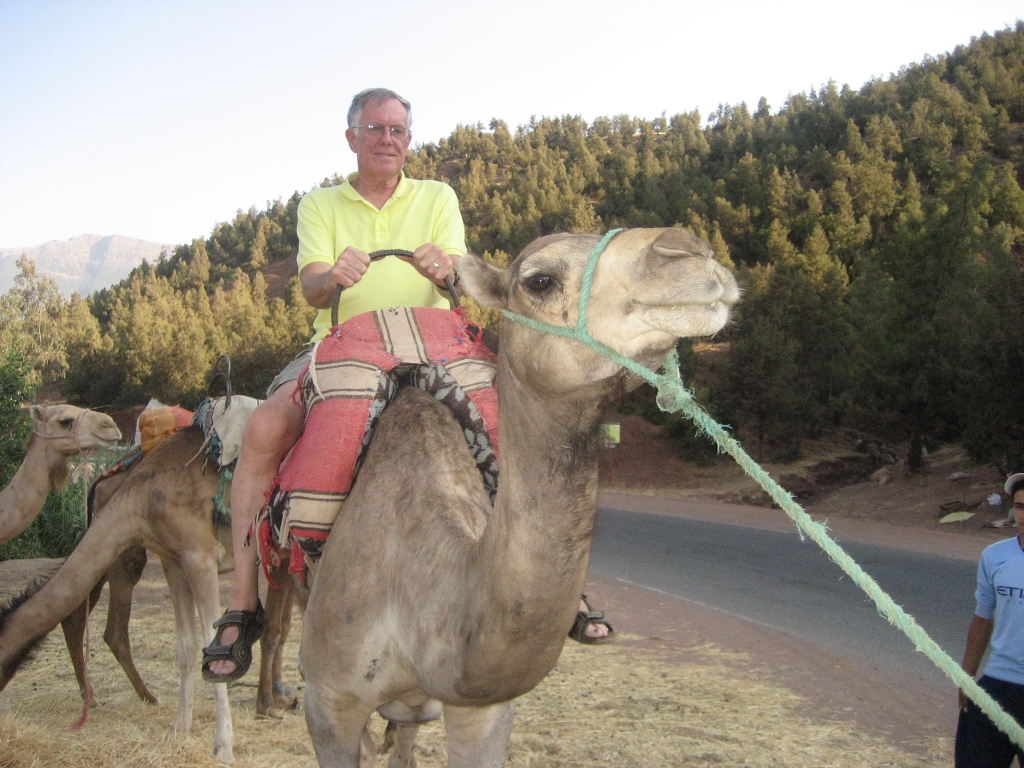 Ready When You Are

Our camel ride in Dubai was 15 seconds
This one was a more respectable 15 minutes

The maid did her best to make us feel welcome

Elsa greets the maid and the chef in the main room of the hotel

We visited with the Cigarette Salesman, left, and his companions, in front of our hotel every night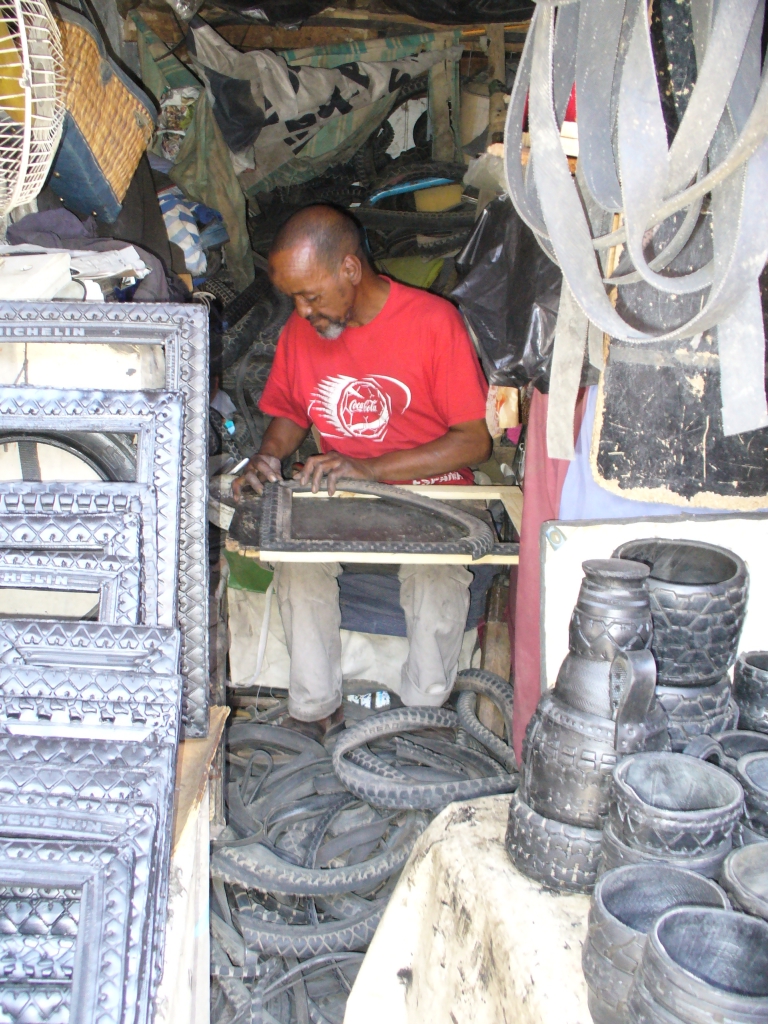 Making Picture Frames and Mugs from used Tires

Bread Delivery, Marrakech Style

Walking street leading to Main Square at the far end

Taxi service passing vendors in the main square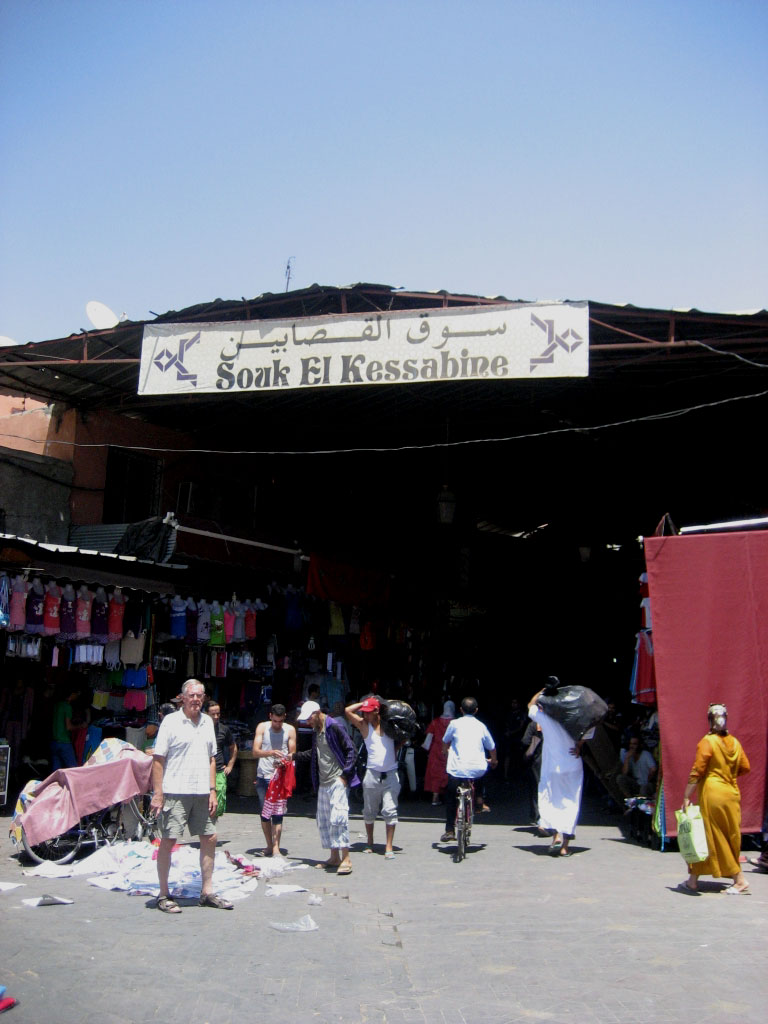 Leaving the square, into a shopping area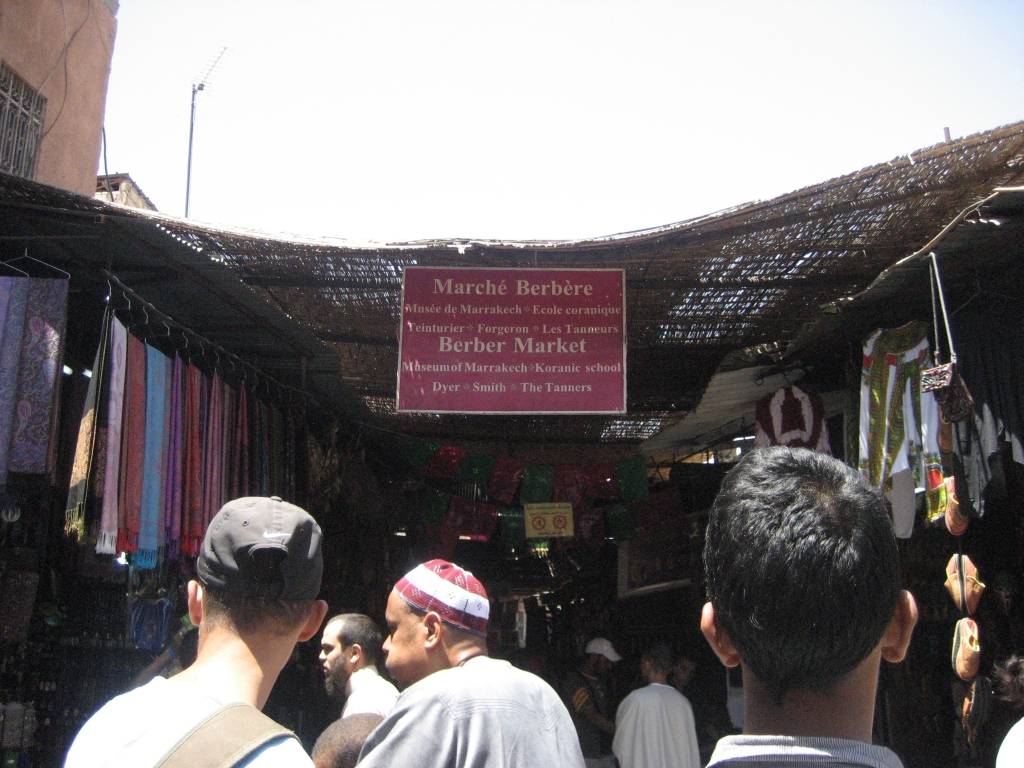 A fellow offered to show us where animal hides were prepared
"It's only 2 minutes," then after 5 minutes, "It's only 3 minutes"
We arrived after walking 15 minutes.
Pits where animal hides are prepared

Fresh Peppermint for Tea at a leather shop

The walk to the leather shop was so long and the streets so convoluted
we needed two motorcycle riders to bring us back to the Main Square

A Day in the Life, Marrakech

Entry to the Fantasia Dinner Show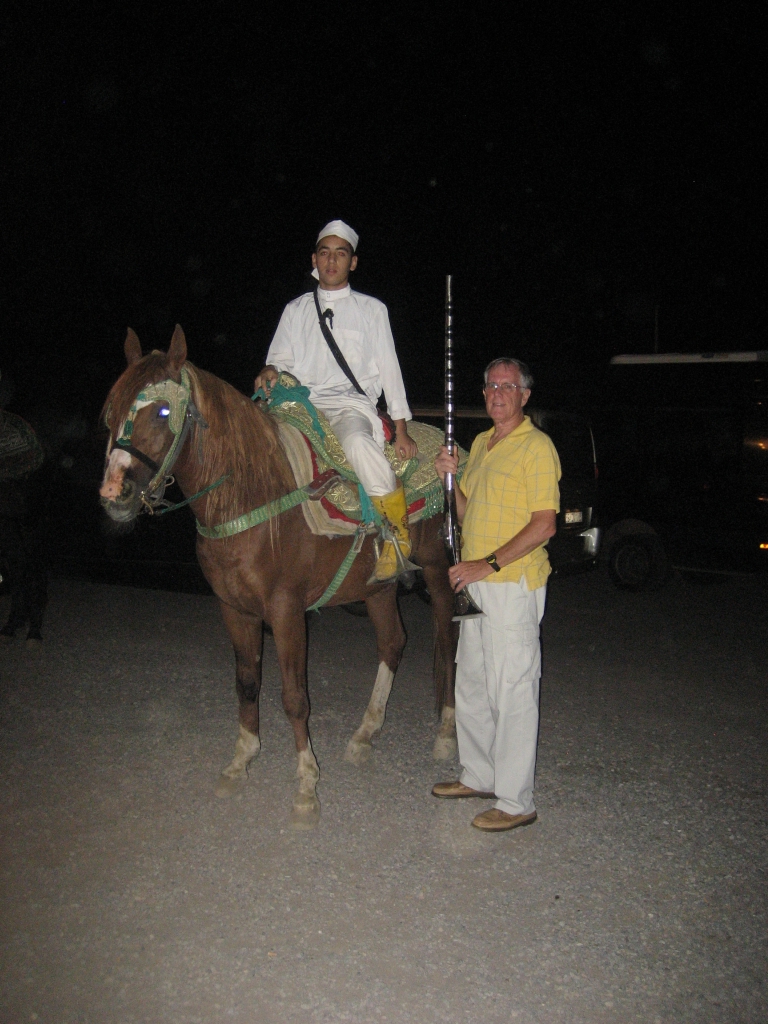 If I shoot straight up, will the bullet come straight back down?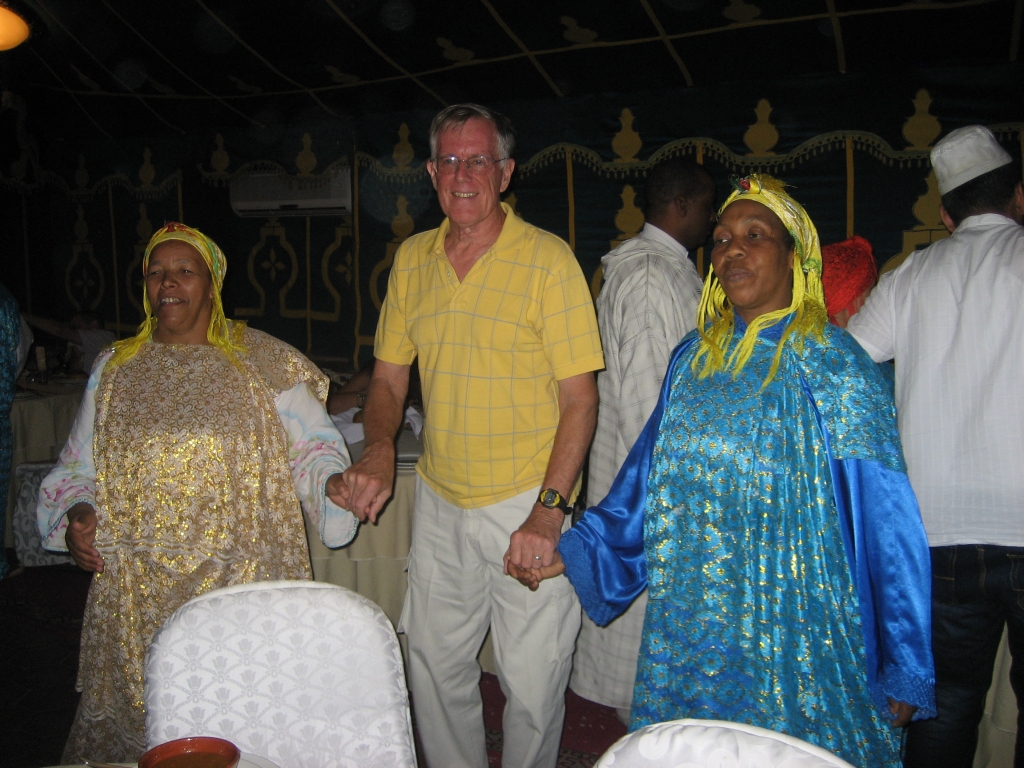 Practicing for the "African Idol" show

Dinner is served

Our desert was enough fruit for an army

Arena where horsemen performed

Final March

Ramadan is over so now we can leave for Barcelona, Spain... at 1:00 AM, a 2 hour flight

Departing Barcelona at sunrise, 2 more hours to Frankfurt, Germany

After 11 hours on the road, only 90 minutes more from Frankfurt to Stuttgart via train

Home at last after 7 Days

Herr Dietz started in 1939 and is still going strong

I waited three weeks for my favorite lunch at Metzger Dietz

Charlie and I visited the new Posche Museum in Stuttgart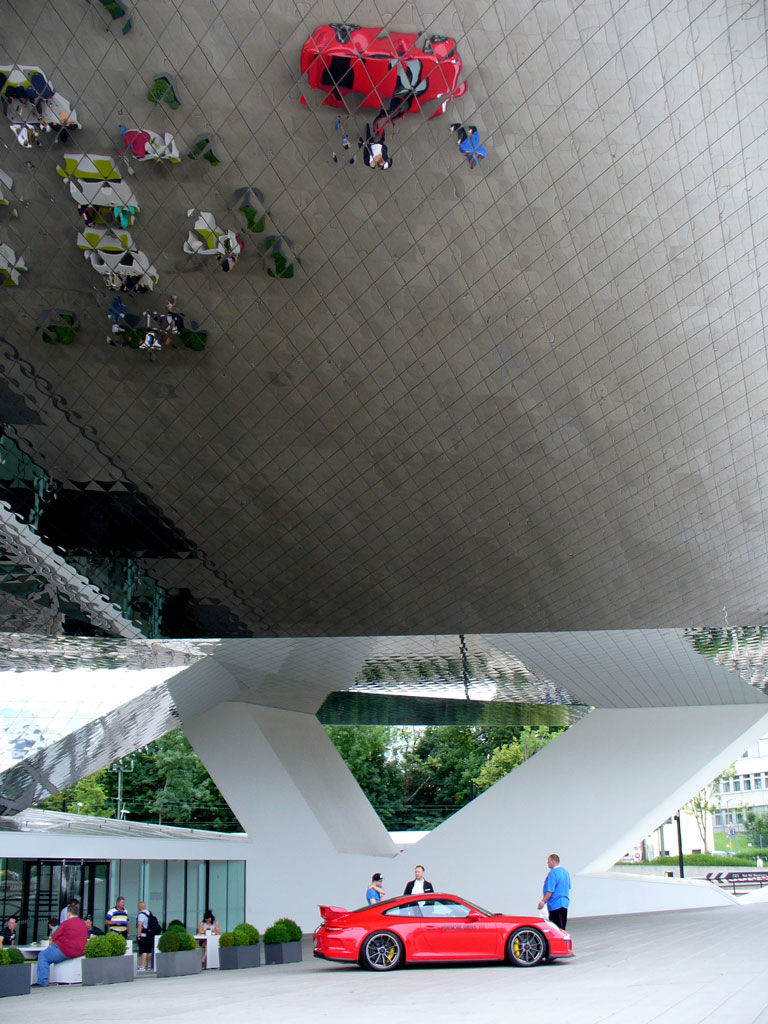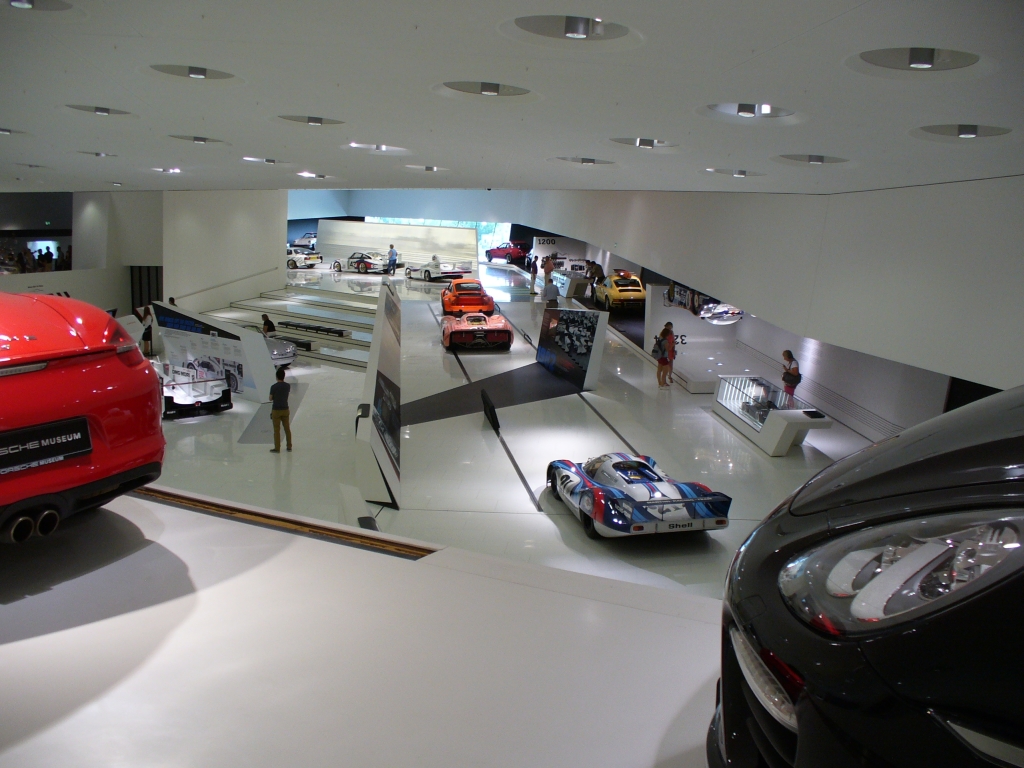 Maggie's neighbor, Peter, with his electric trains, filling one bedroom

Coffee and Cake...

with Eddie and Heidi Loibl and Sinfonie in the basket

Class Reunion table for years 1946 and 1947
No, I didn't recognize anyone after 50 years.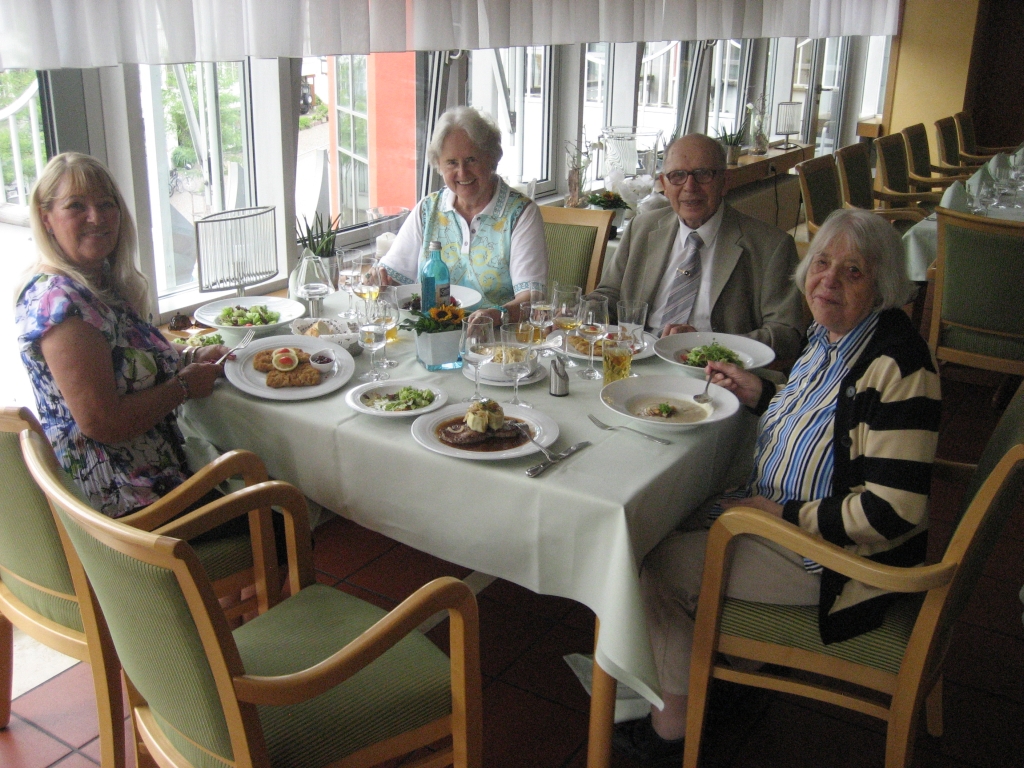 Elegant Lunch with Brigitte and Charlie at the Kronenstube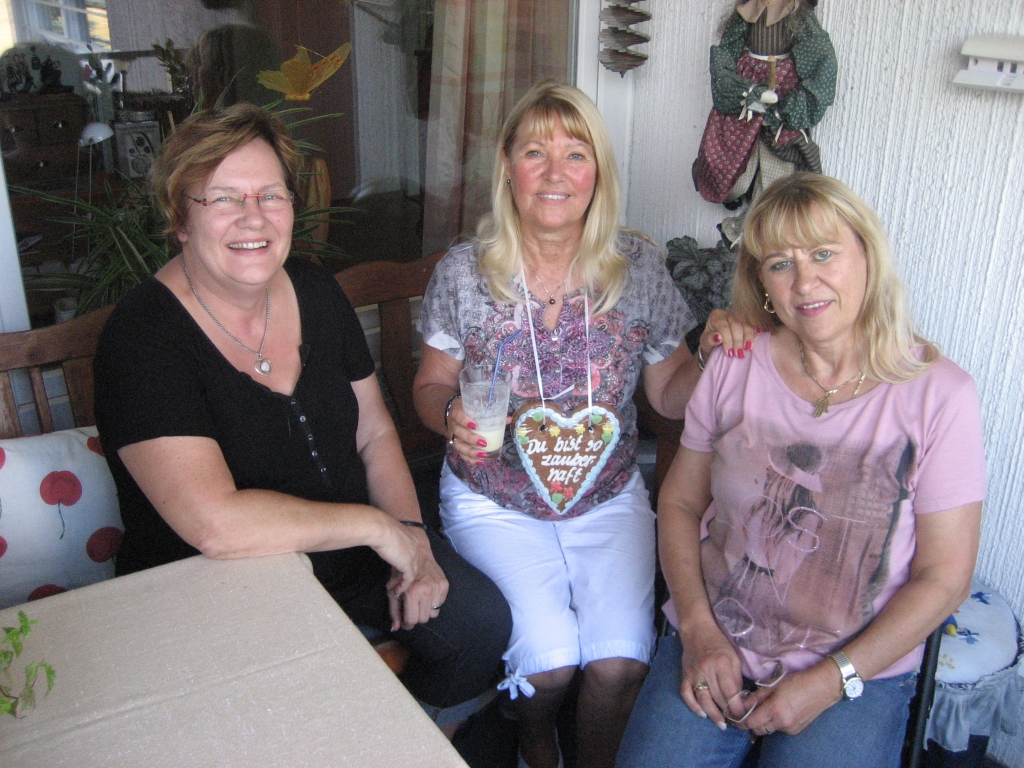 Visiting with Connie, Maggie's friend

Maggie's friends, Jürgen and Andrea

Lunch at the SchellenHof

Rose, Tanta Hedi, Elsita and Günter

Fiftieth Farewell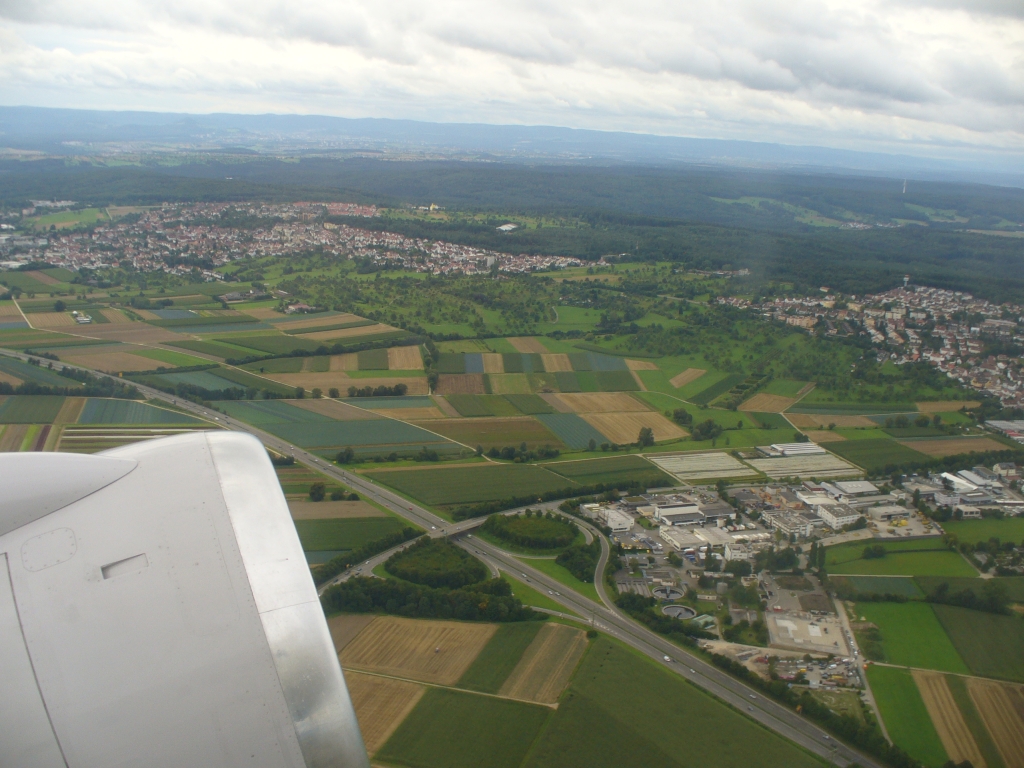 Heading home, departing Stuttgart for Newark, New Jersey

Touchdown at Los Angeles International after 4 weeks in Germany