Germany 2021
August 16th to September 8th
On 5000 Calories per Day
Our good Friends, Claudene and Fred , are taking us to LAX Airport.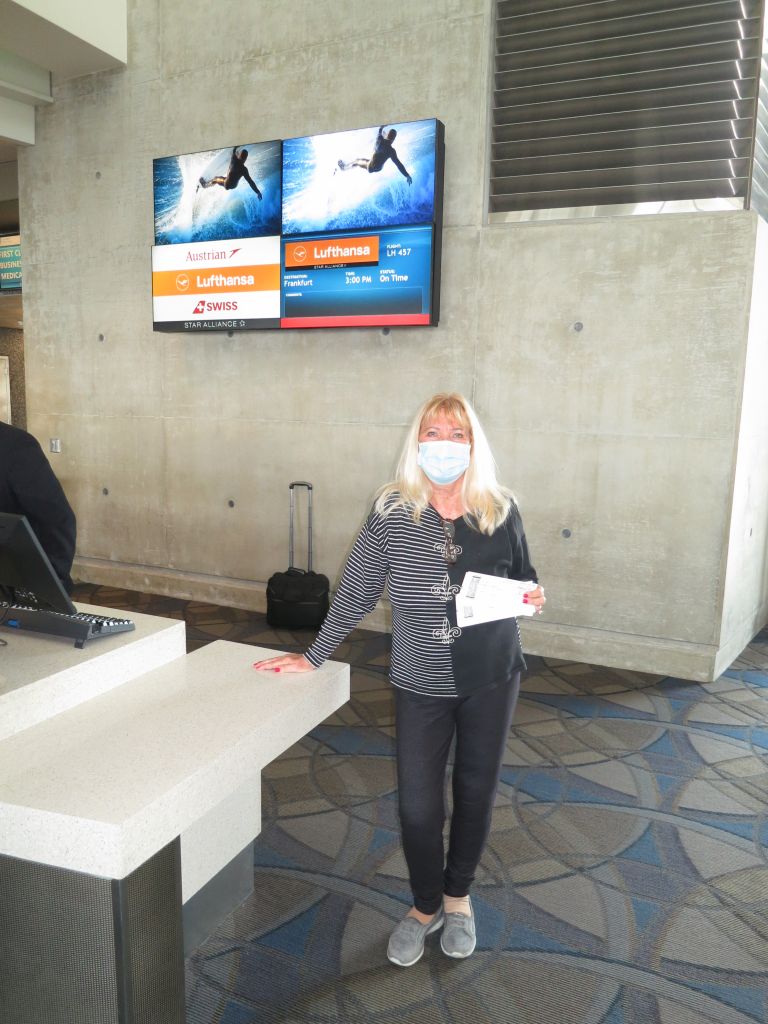 Boarding passes at hand, we are good to go to Frankfurt and then on to Stuttgart after a 3-1/2 hour layover that used to be two hours before the pandemic.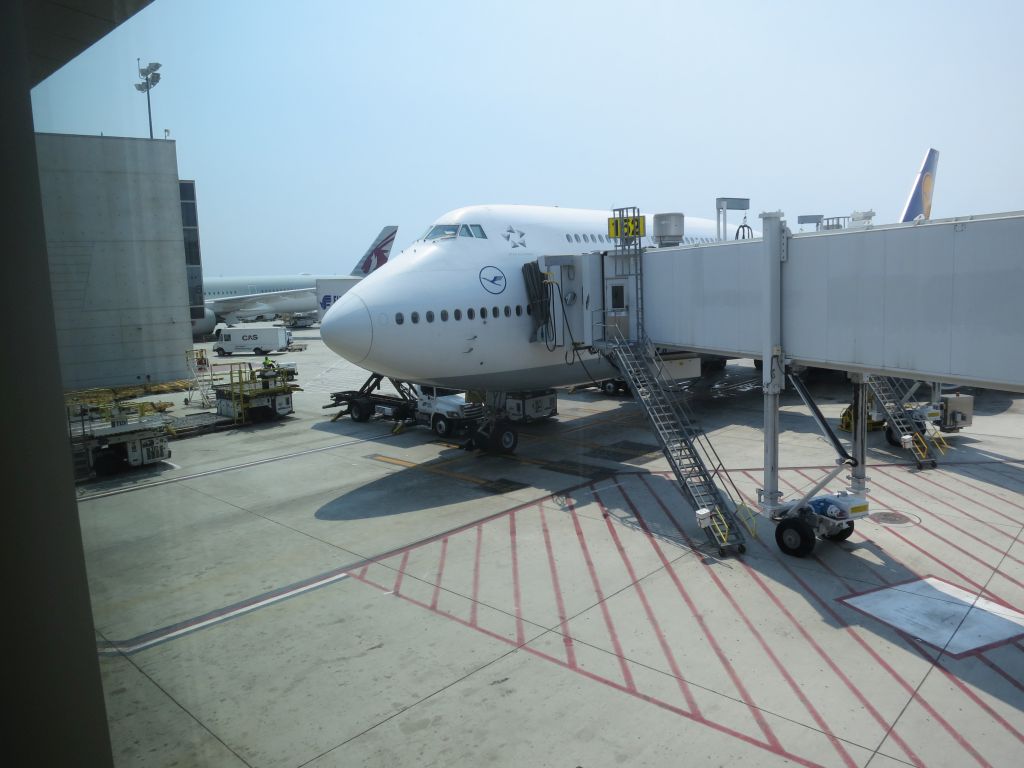 Lufthansa flight LH457, Los Angeles to Frankfurt is waiting for us to board.

We are in Business Class, getting organized with all our Pillows and Blankets.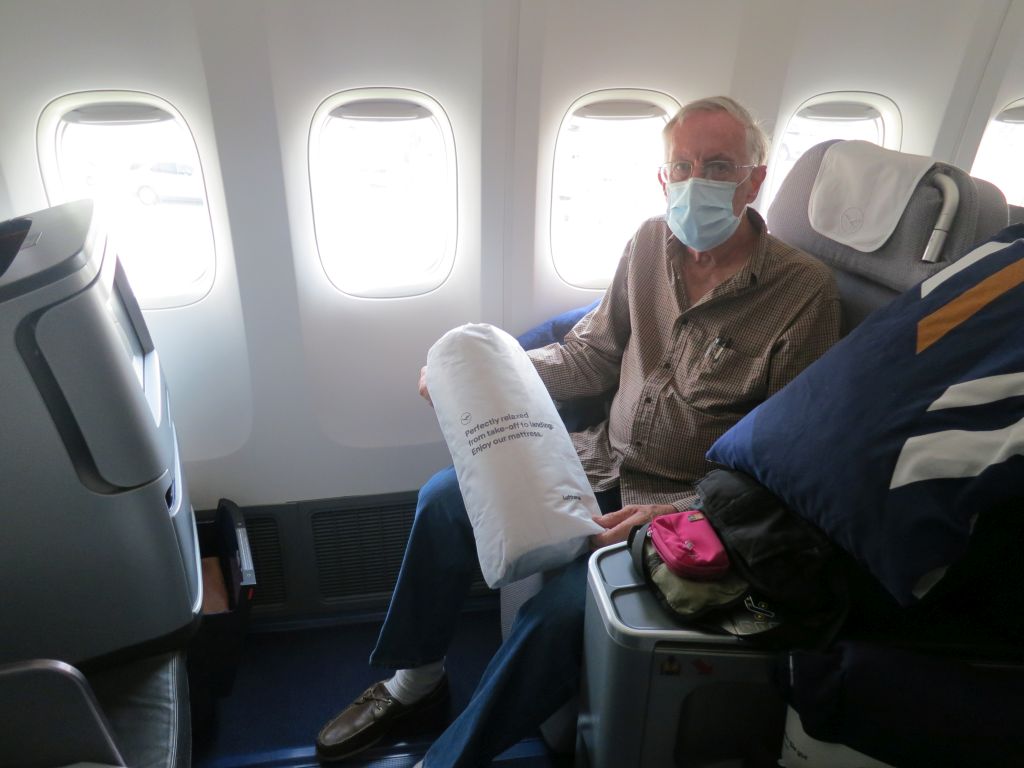 Peter has his bed covers in hand.

Oh sooo comfy !! Are we ready to go to sleep ?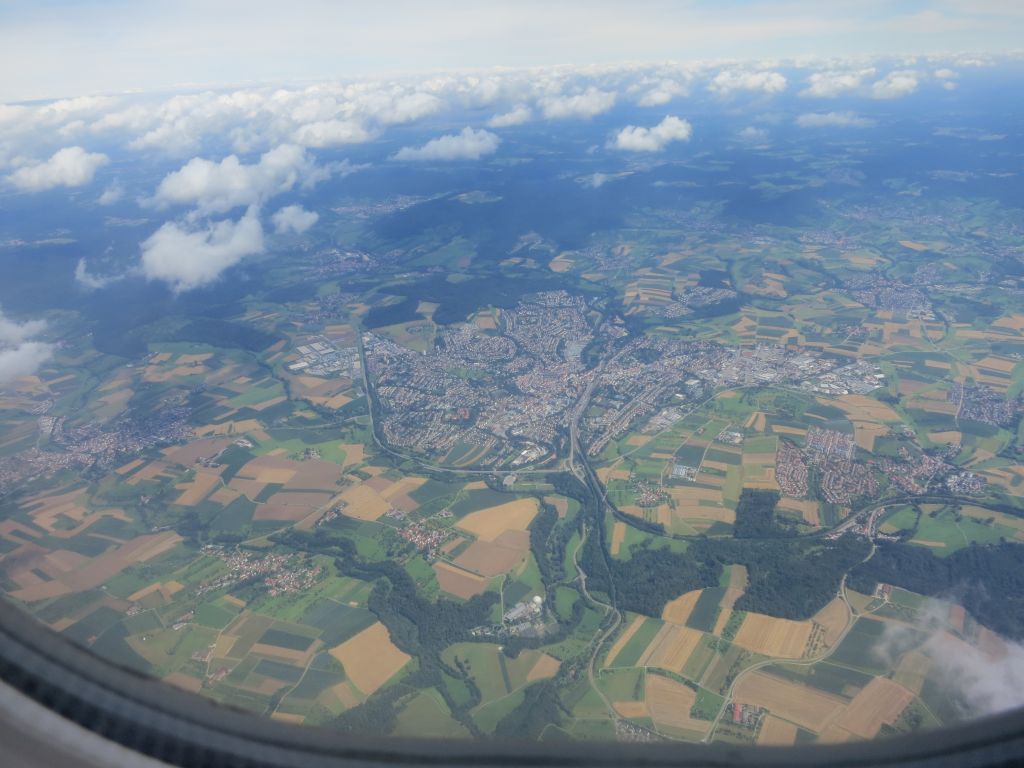 11 hours later, we are looking down on Germany.

Arriving in Stuttgart after a 40-minute flight. It would have been a two-hour drive.

Here we are, finally, after 20 hours, door-to-door.

We are outside, looking for Sister Maggie.

As always , she greets me with my beloved Sow's Ear.. laugh !!
she calls the butcher to save her a fresh one as they kill a Pig every week.

The High rise up the road is Maggie's new Condo she bought and moved into last January.

The building has 17 floors and she lives on the 14th floor , the one with all the stuff on the balcony.

Maggie's spectacular view from the 14th floor

The dining room view.

Rainbow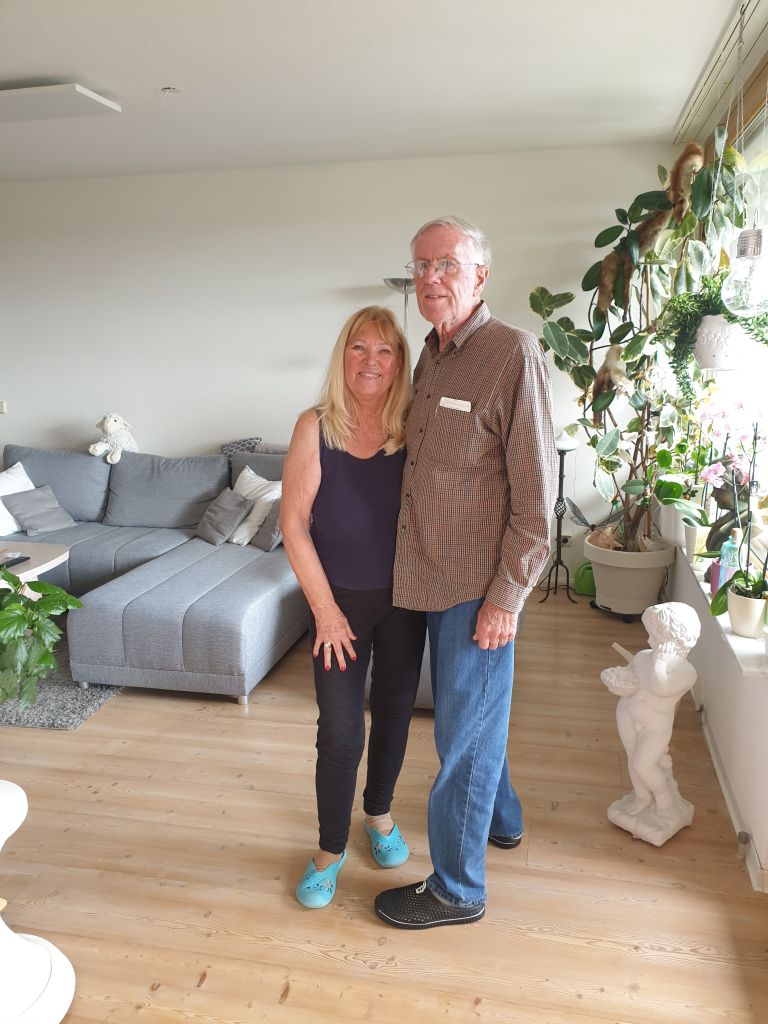 We are in her Living room.

Our much loved Lentils with Spaetzle and a sausage is delicious.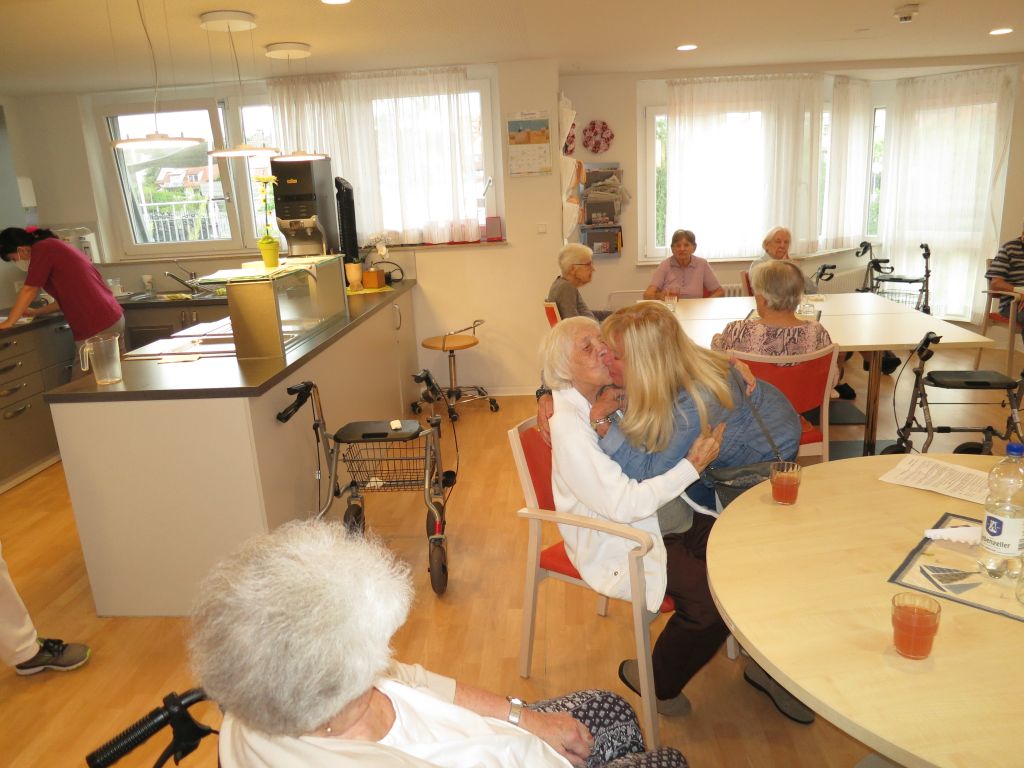 Visiting Mama in her Senior home dining room at almost lunchtime after not seeing her for 2 years.

Back in her room visiting.

I told Mama, say hi to your son, Peter and she said " I don't have Son", but I told her you always called him " my dear Son Peter " !!

A office visit with Maggie's dear friend, Sabine, who is in the medical field.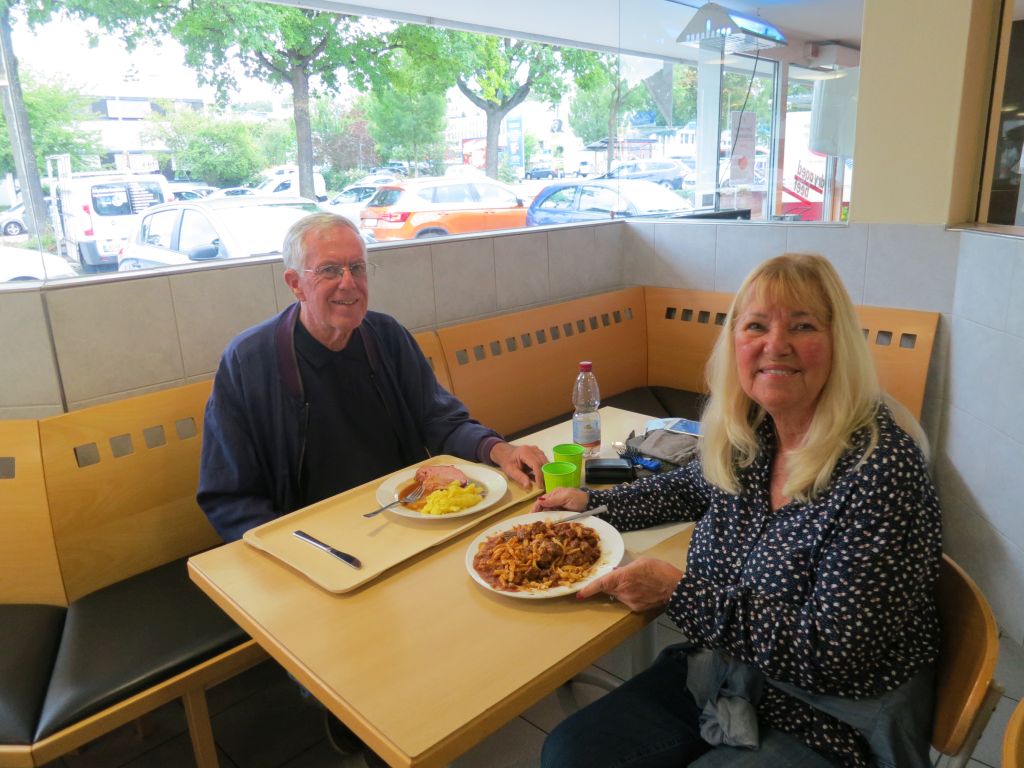 Peters favorite restaurant Metzger Dietz-Butcher Dietz " where all the workers from the area line up at 11:30 for a buffet lunch served to you.
Peter has his favorite Veal Loaf and Potatoes Salad and me Gulash with Spaetzle.

Another visit to Mama and a nice day to go on the rooftop terrasse.

Lunch with Herr Sautter at Suedwest Bank our Account Manager.

We are stuffed and Happy !!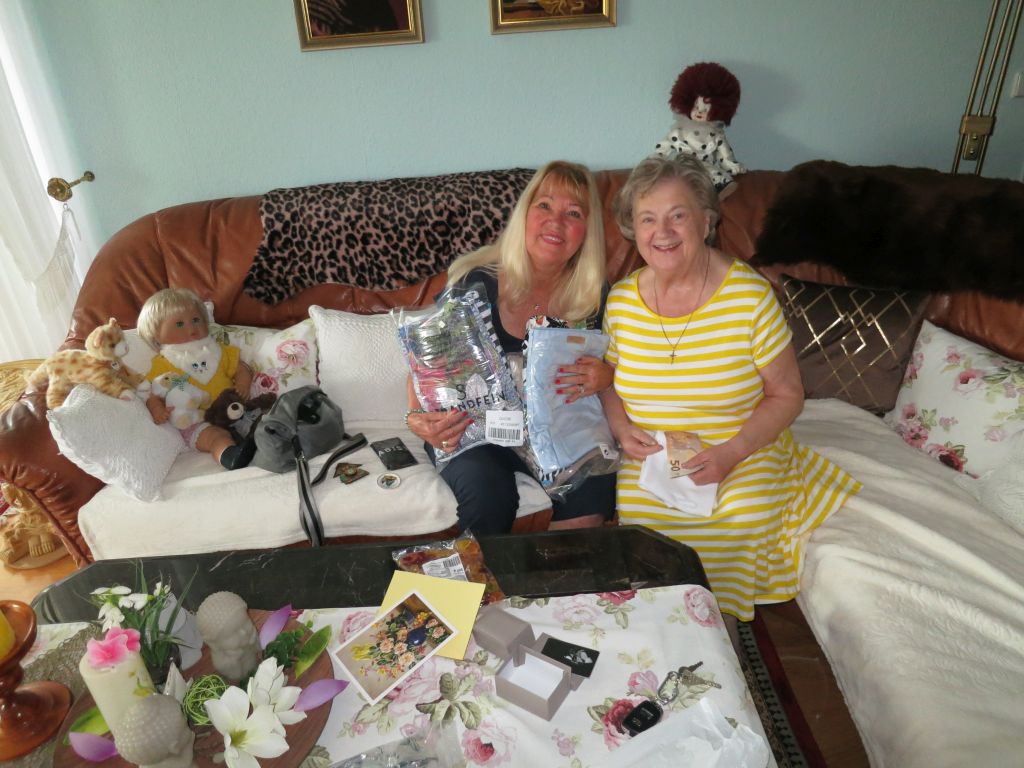 Visiting our best Friend Heidi who is loading me up with beautiful clothes at every visit.

Her balcony is loaded with different Vegetable and Peter is harvesting her Cherry tomatoes to take home.

Another visit with Heidi at our local Ice Creme Parlor for a scoop of my beloved Hazelnut.

Lunch with my grade school friend Rose, formerly a neighbor, and her husband, Andreas.

Breakfast the same every morning Maggie goes' to the baker and buys our beloved fresh Pretzels that I spread with butter and either Veal Loaf or Ham.

A very rare time we let Maggie fix dinner since we are always out with friends , Schnitzel and Fries in her new cooker without oil.

Maggie's view of our home town Bietigheim
20Km in the distance to Stuttgart TV Tower, a destination for tourists

Sabine and Sven took us to an old historical Restaurant called Flaemmle in Neipperg,a 30 minute drivee.

A list of all the specialty's such as our Schwaebischer Beef Roast with Onions and Spaetzle.

We are enjoying our delicious Lunch

Flaemmle Restaurant.

A visit to the Ice creme Parlor with our good Friends Silvia and Achim who were our neighbors and she is also a Ham Radio operator.

They are babysitting this Dog. The shirt is from Heidi

A drive to the next town Besigheim which is also Wine area.

The grapes are ready to harvest the end of Oktober.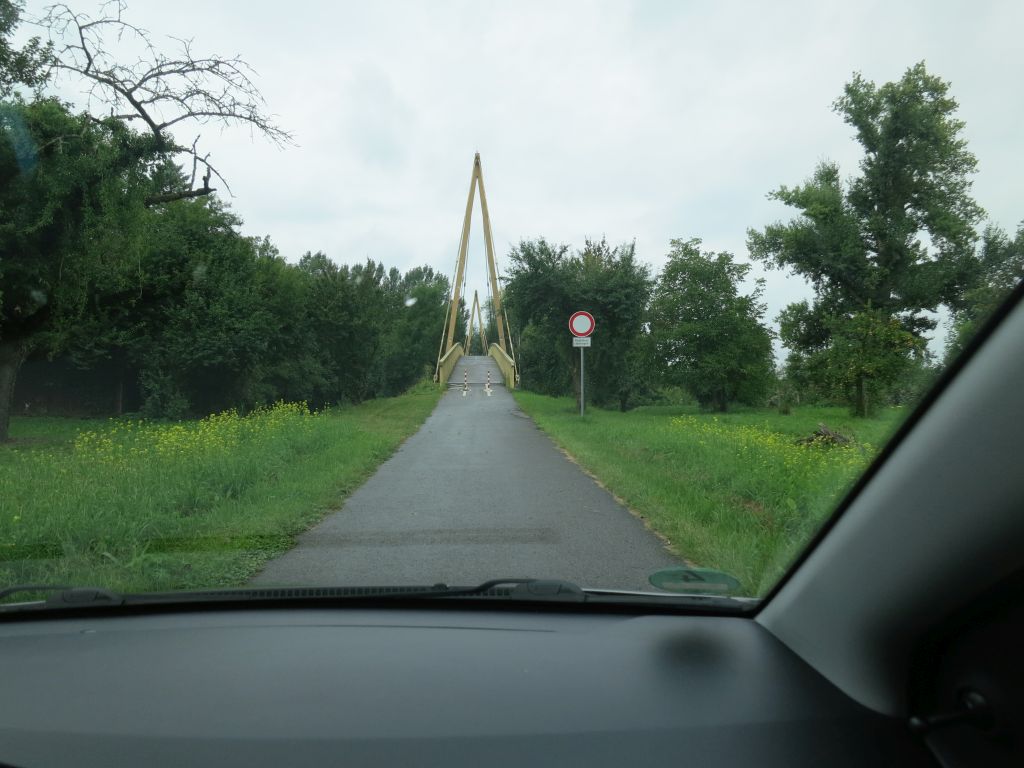 The walking bridge over the Neckar.

The rain stopped long enough to take this Pix's of our walk over the bridge. The shirt is from Heidi.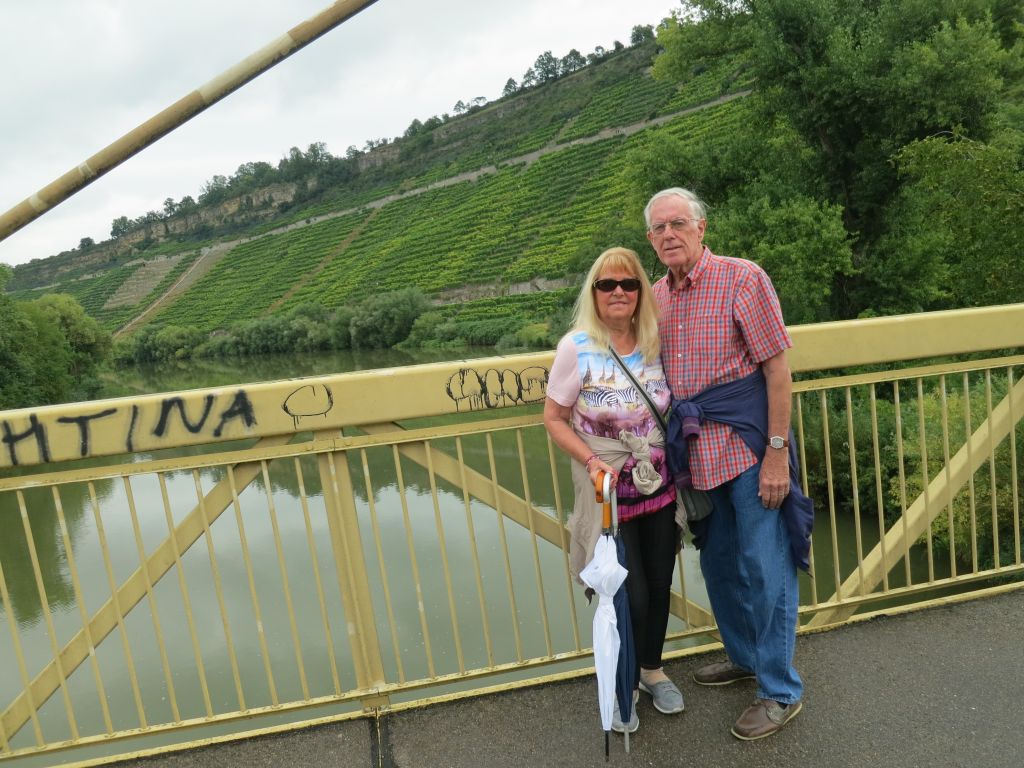 The rocks on top of the vineyard used to be a castle.

Maggie surprised us with some Champagne.

She told us we had to wait for a Taxi to pick us up which we questioned because you could not drive there.

Surprise our Water Taxi is here !!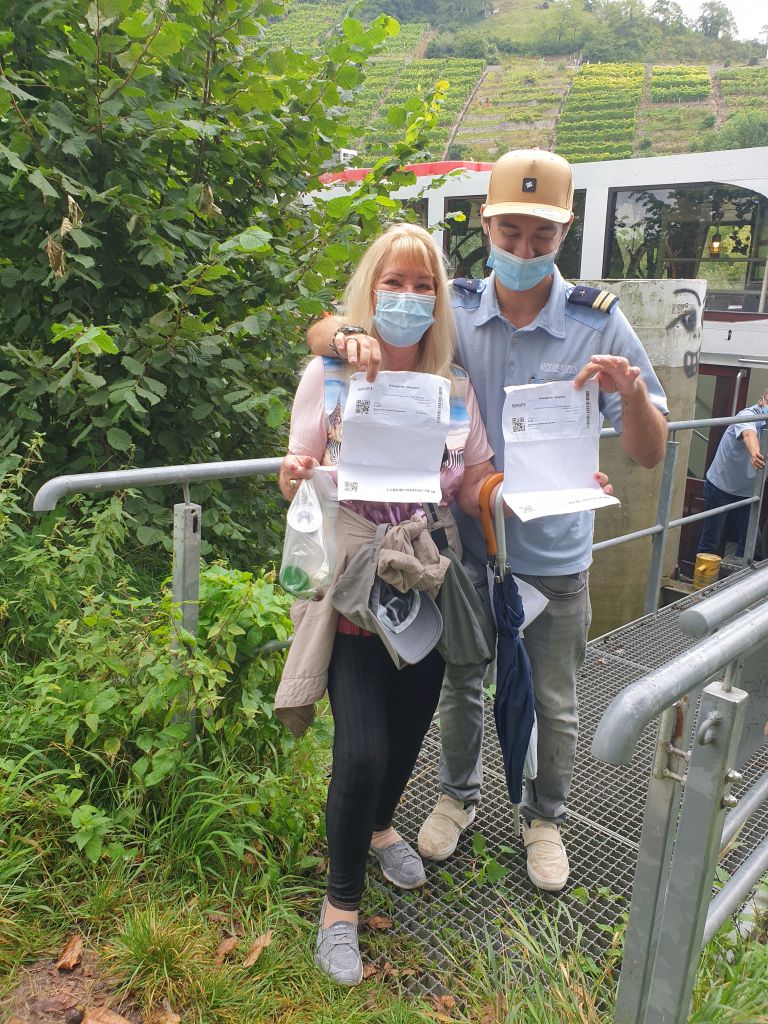 Our boarding Tickets, but we didn't have a our vaccination cards with us and were denied entrance, shame on me for not having them in my purse.

Another view of the Vineyards and remnants of a Castle and the Neckar river which runs into the Rhine near Frankfurt.

Four days later, the Vine Queen came to pick us up.

The same ticket taker greeted us with a smile on his face as he remembered sending us away the last time.

It was 4 days later and still raining but then for the last 2 weeks we had nice sunny days.

Inside the Ship.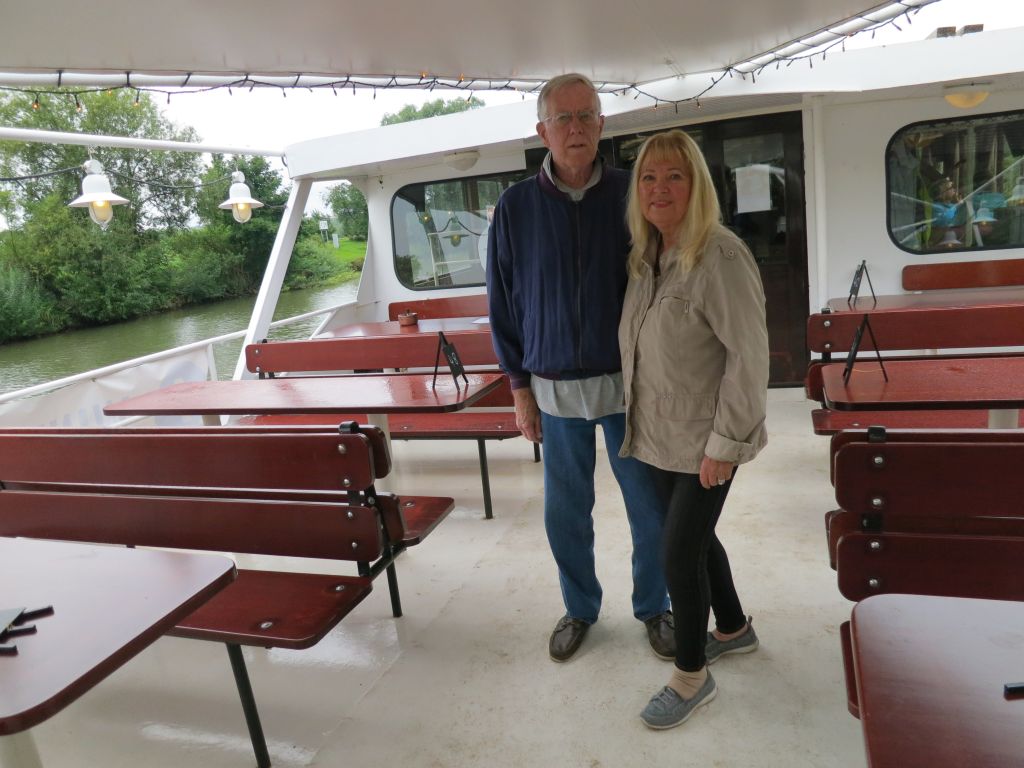 On the wet deck.

Our view for the next hour.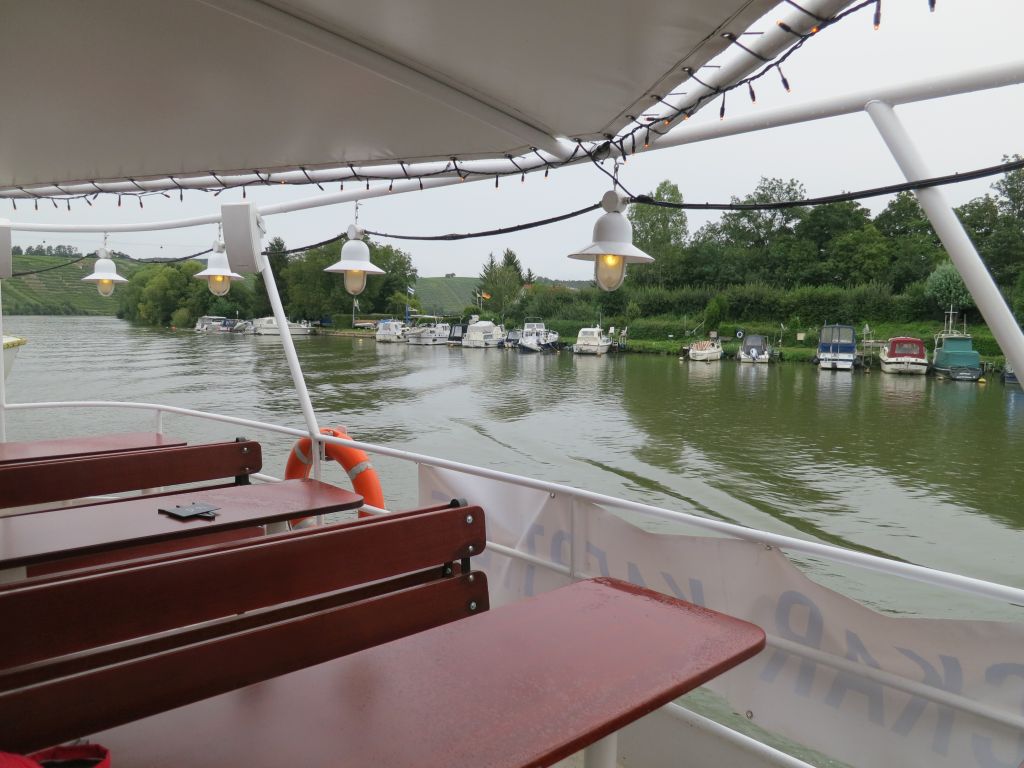 A variety of docked boats on the Neckar.

Asking the fisherman if the Fish are biting ?

I am the 12 years older Sister.

Back on land in Besigheim in the Old City-Alt Stadt we are having lunch at the Hirsch.

As all the meals another very delicious one.

Anyone like a bite?

This is still in the old city, the house that Obamas Great Grandparents lived in 1729.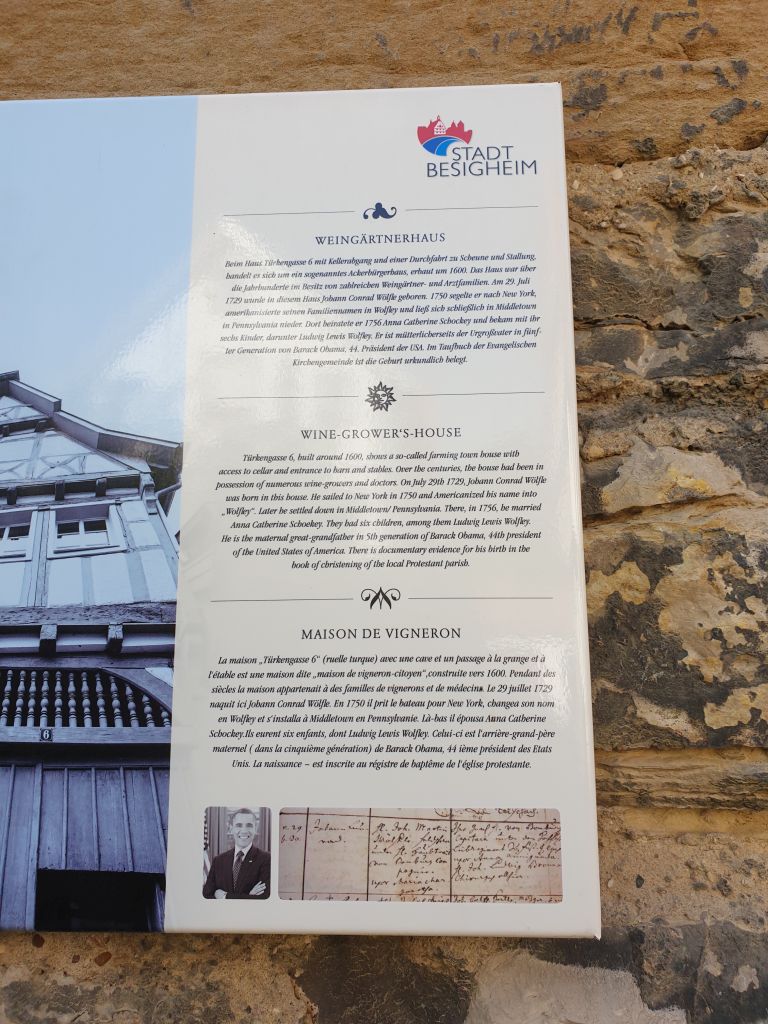 This house was constructed in 1600 as a farm house with barns, stables and cellars, owned by many different vine growers and doctors.

The old city.

Book Store with 3 gable house.

Our girls day out alone having lunch in hometown Kronencentrum Hotel Roof top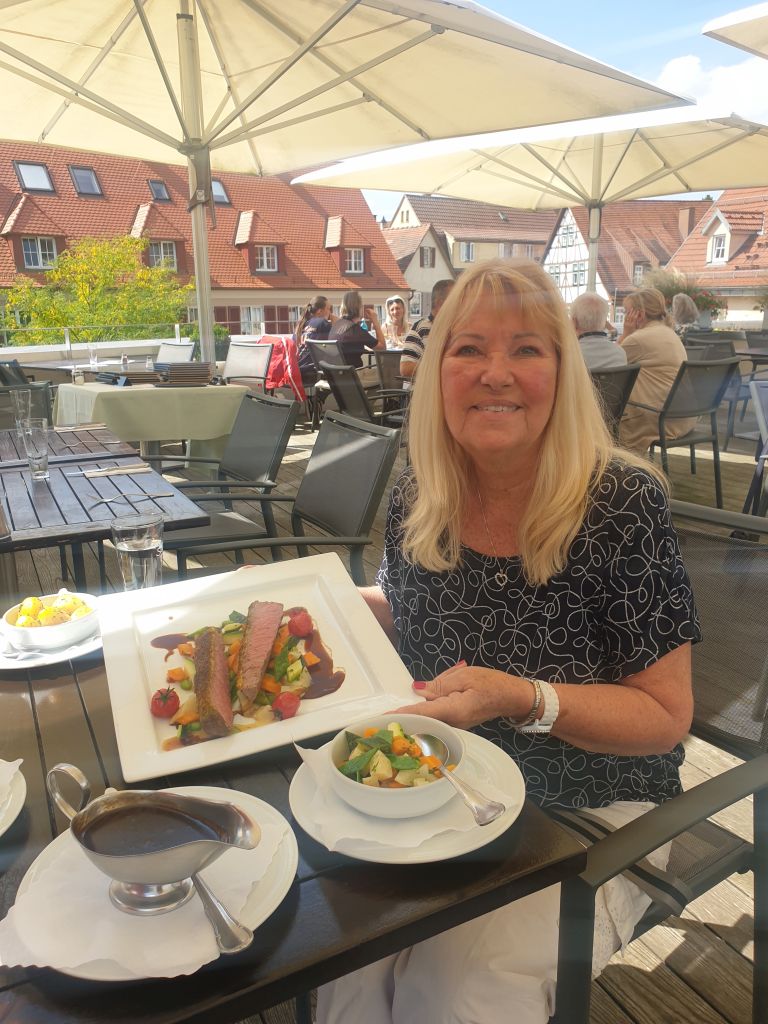 Delicious Lamb Steak

Another Hazelnut Ice creme after lunch and a walk around the old city.

The Bobbsie Twins.
My Sister bought several matching T shirts for us to wear before we came.

Lunch at Maggie's Friends Renate and Eberhards house.
Kurt, the man next to Peter, is Renate's cousin and lived in Chicago for many years
He decided to retire in his home town a few years ago and speaks perfect English which was good for Peter.

Another visit to Mama who is in not so good shape today.

Lunch at the Chinese Buffet Restaurant with Heidi Kaspar.
Peter's shirt, the one people offered to buy off his back, was a gift from Heidi.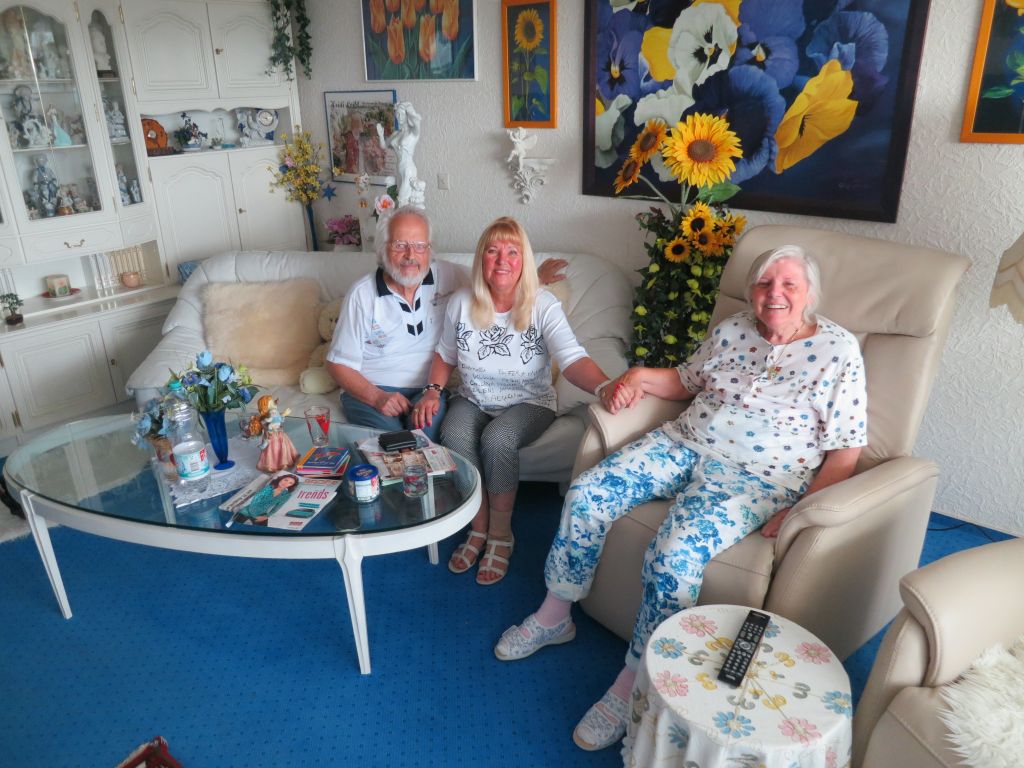 A visit to our good Friends Eddie and Heidi Loibl who live in Maggie's building 4 stories below.
Heidi used to be a famous Singer in Germany and Eddie still has his Program on the radio every week with Heidi singing our old folks songs.

Peters shirt is from Heidi. Kaspar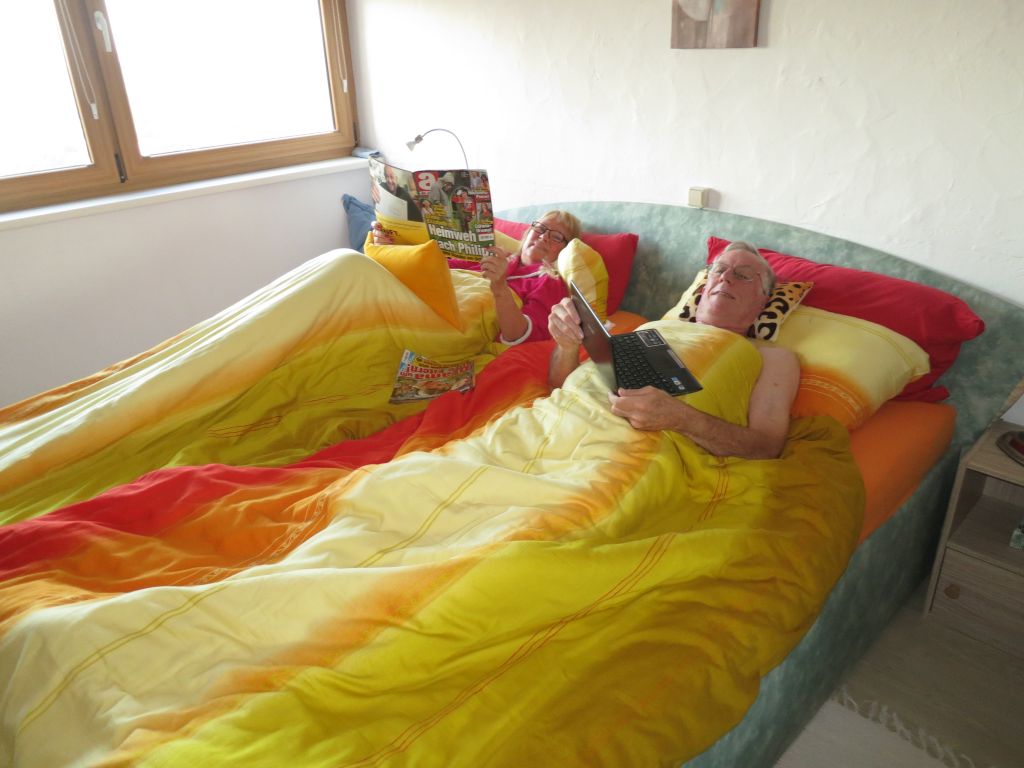 With the 9 hours time change we would wake up early and Peter looked at his Laptop and I was reading the tabloids of gossip of Germany stars.
Maggie borrowed a big stack from a friend. She was just calling us to Breakfast.

Kurt, Peters new friend, invited him for a day together and they had lunch at a Biergarten.

A visit to Kurt's Church .

This distinctive style is called "fachwerk."

Kurt plays the Organ every Sunday at his Church.

Maggie picked another new to us restaurant 30 minutes away which served delicious meals.

We are trying hard to pay with meals for all the clothes we have received from Heidi over the years.
Peter's shirt is another gift from her

This is the view of the town below we enjoyed while eating here.
The restaurant has been open since 1949.

Our drive through the Farmlands.

Lunch at Maggie's friends Conny and Thomas house with homemade Potatoes, Cucumber, Pasta and tomato Salads.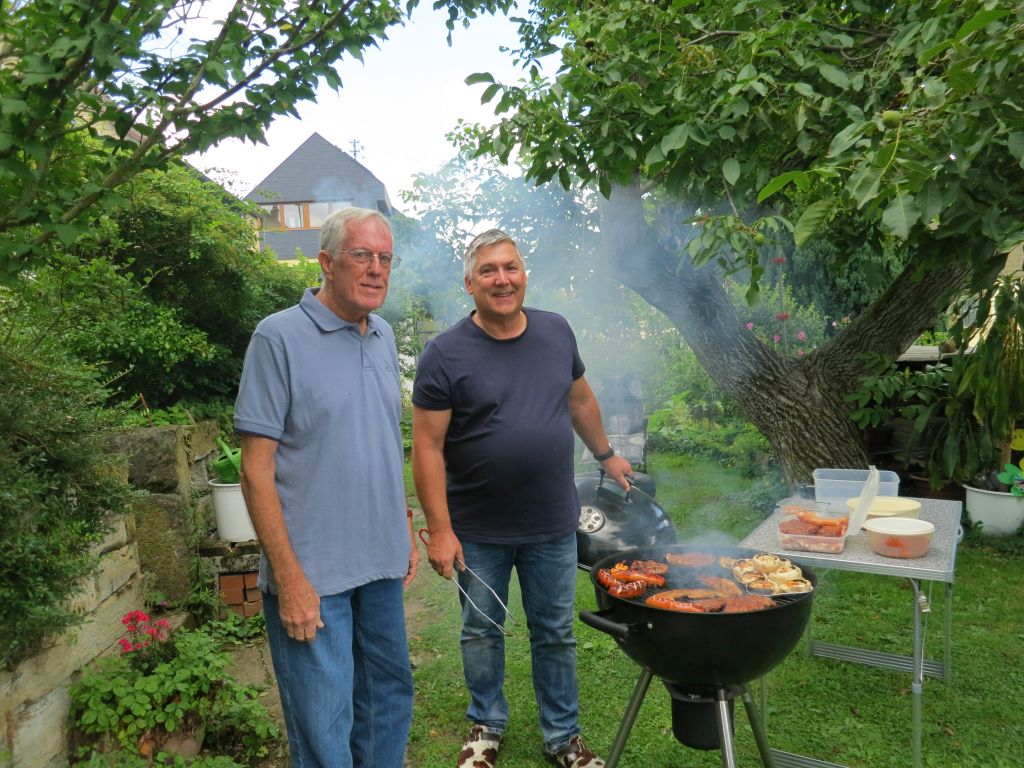 Peter supervising Thomas grilling a variety of Meats.

Lunch is served, Chef Conny with Maggie told us.

Another longtime friend, Evi, joined us for lunch.

Homemade Raspberry and German chocolate cakes for dessert.

A Champagne toast.

A visit to Sabine and Sven's house for dinner

Sabine with son, Jonathan, cooked a feast on the grill.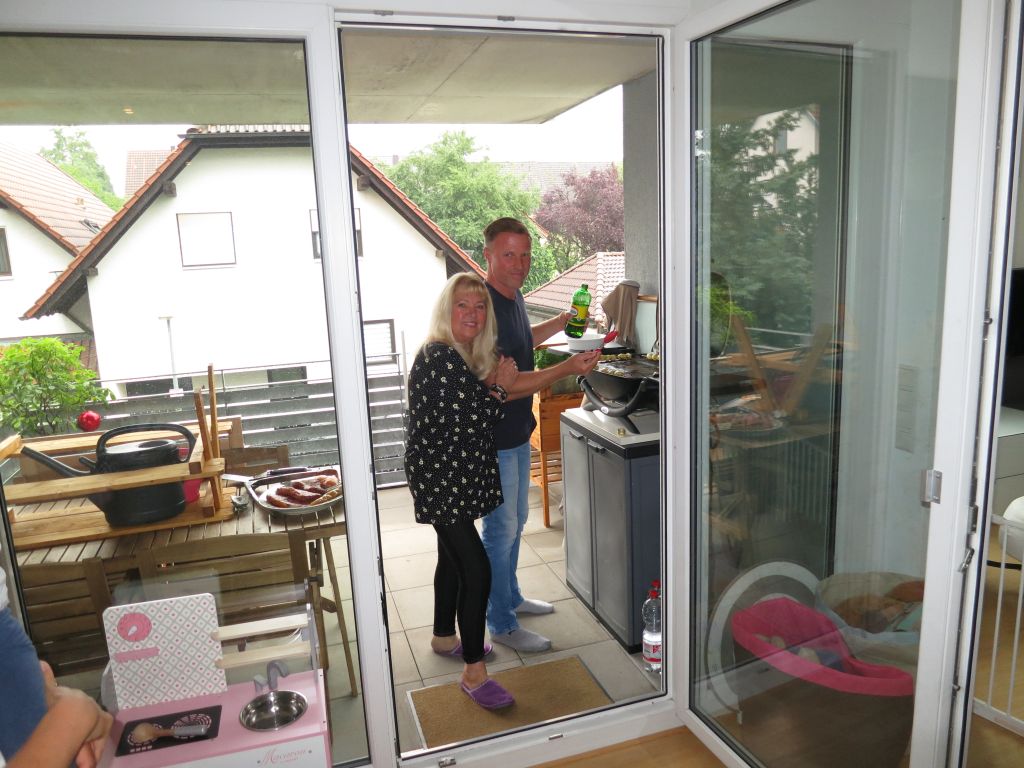 A visit to my Nephew Alex, Maggie's Son 45 Minutes drive away for a Barbecue Steak Lunch.
They visited us here 7 years ago this month for 3 weeks while Fabia was 6 months Pregnant with Paul.
They drove with my Mercedes 2000 miles to Northern California and by Yosemite, Death Valley and Las Vegas.

Emily is 2-1/2 years old and Paul 6 starting 1st grade in 2 weeks.

Fabia, Alex's wife and Mom.
Peters shirt is another from Heidi Kaspar.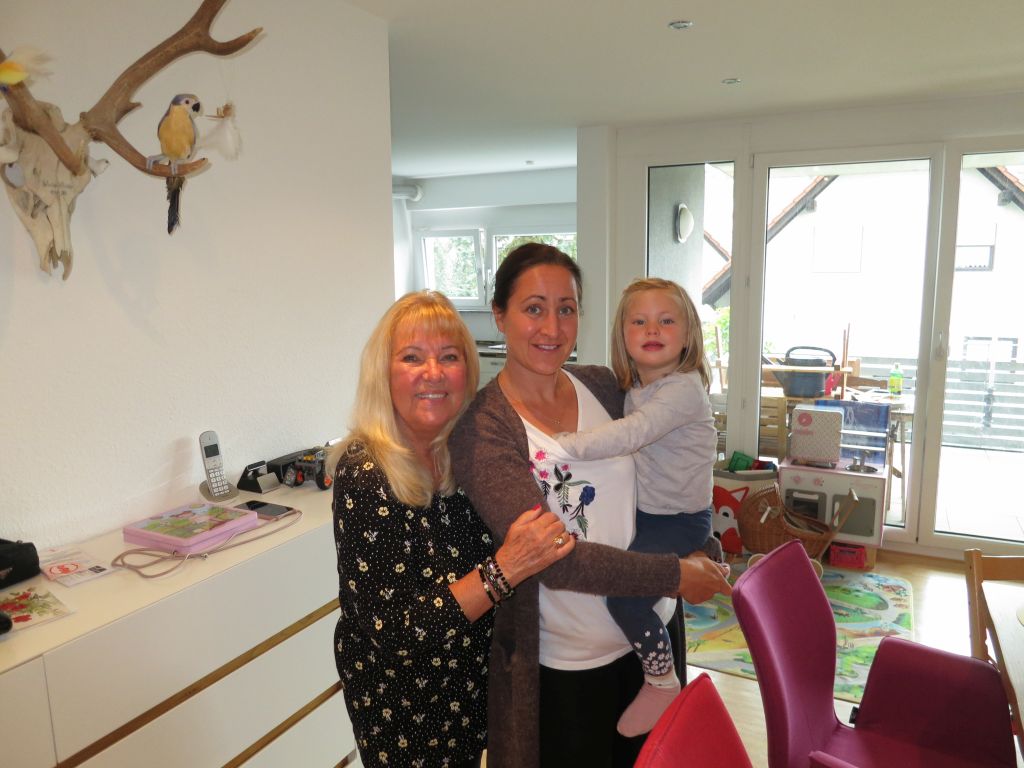 It's time for Farewell.

Lunch at Heidi's home with Bread and Potatoes Knoedels-Dumplings and Meat typical in Munich where Heidi is from.
This time, it's Elsa who is wearing clothes from Heidi.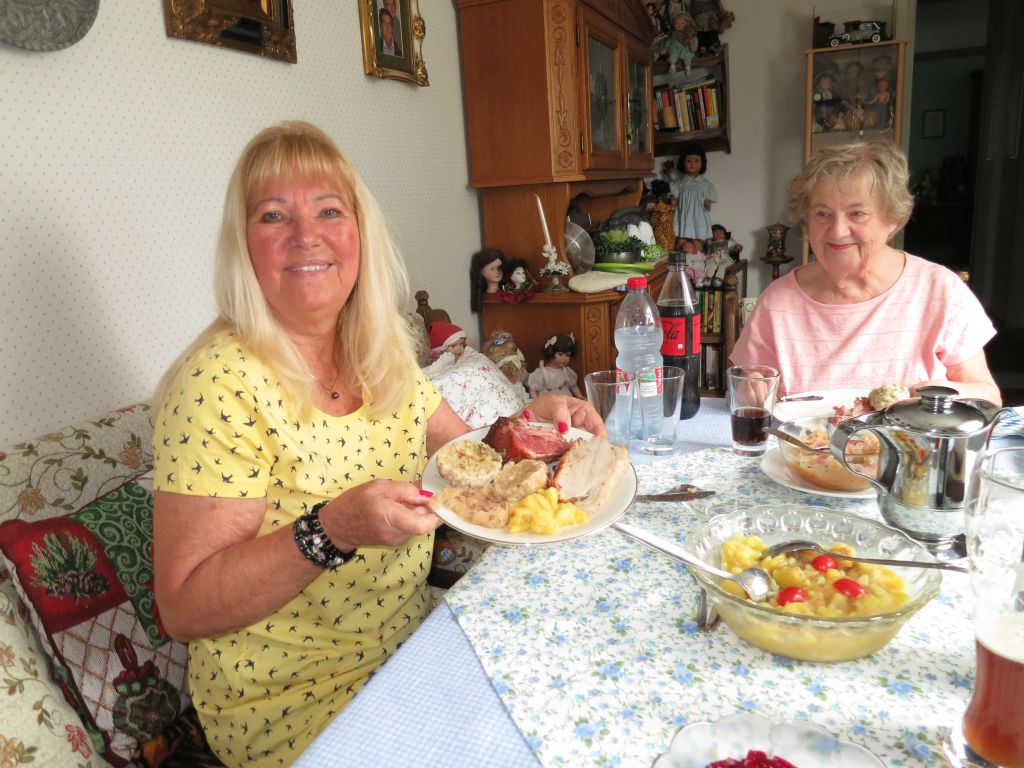 Quite delicious!! She cooked all morning

Homemade Chocolate Mouse cake with Berries and Eggnog. Peters shirt is also from Heidi.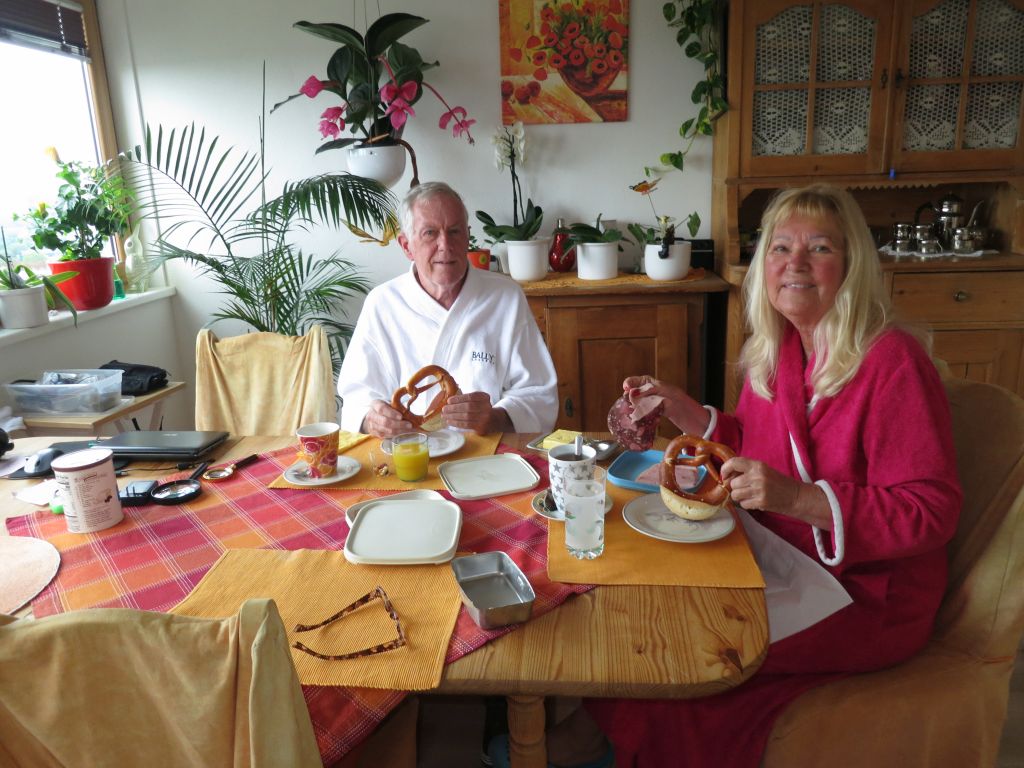 Another delicious Breakfast to start the day at 8AM.

Sister is working in her office on the Computer.

Another breakfast call with a chocolate treat for me, Gold Honey and Peter Big Love.

As every visit Maggie cooks Strudels which is not sweet, it is served with Goulash, because it needs the sauce over the dough.

She is pouring melted butter over the rolled out dough then put it on top of peeled and cubed Potatoes to steam.

The Strudels are steaming in the pot.

Its' cooked and finished .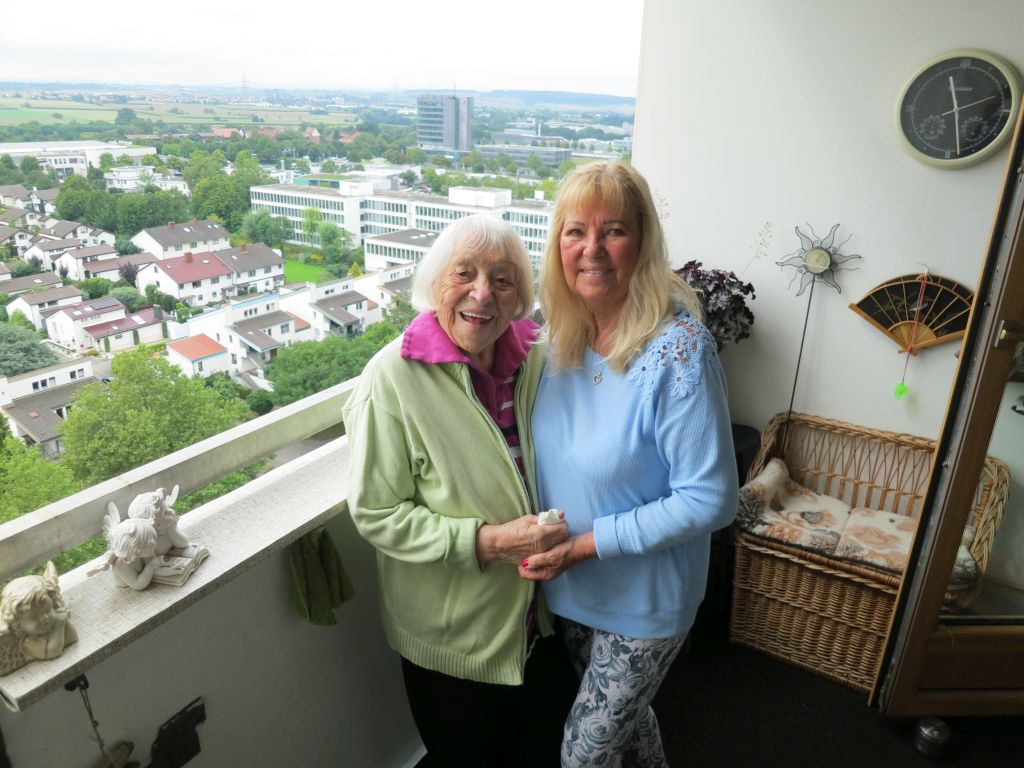 We picked up Mom for her first visit to Maggie's new home.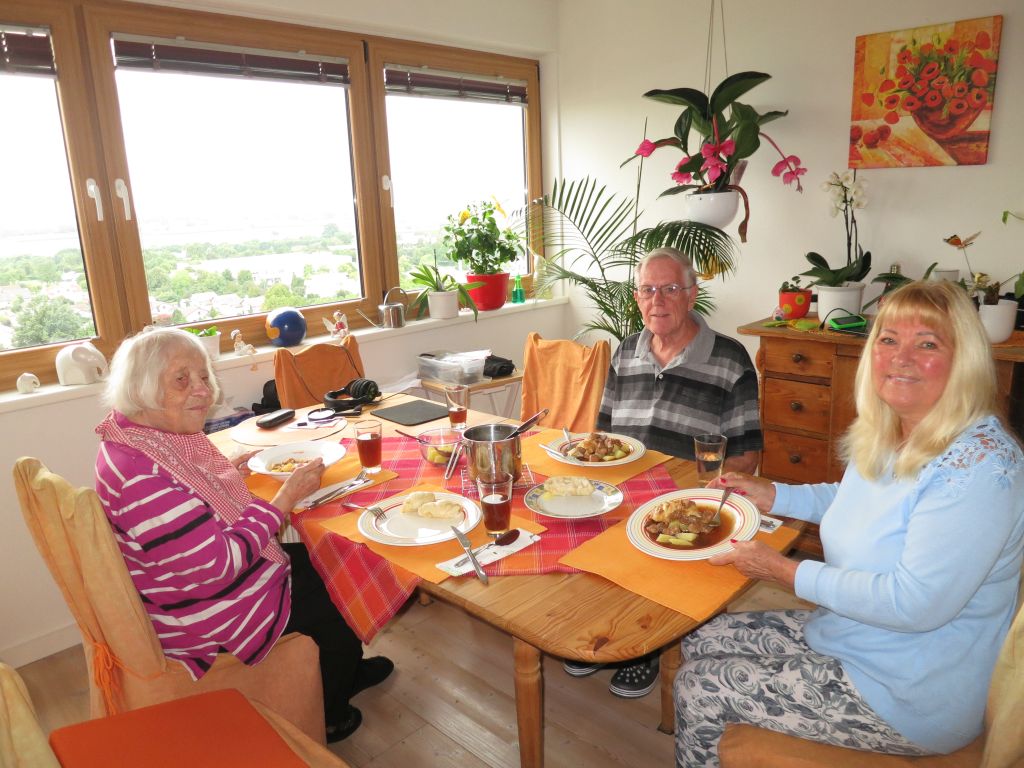 The feast is delicious.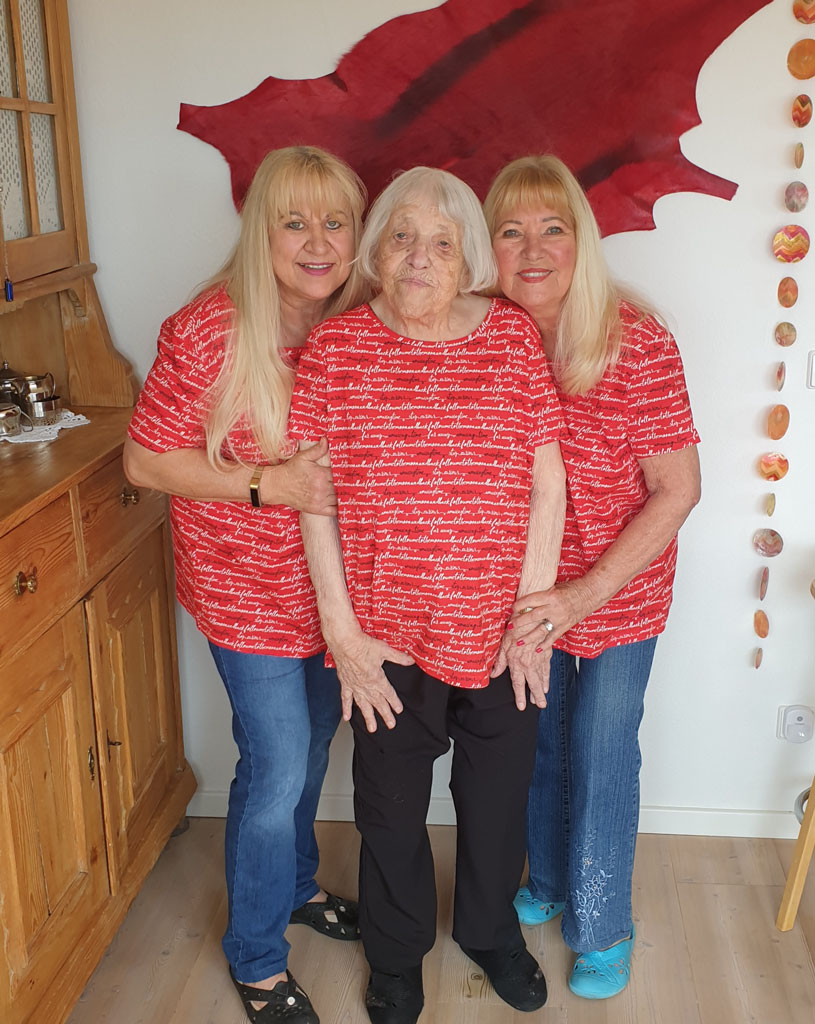 Maggie bought the T Shirts before we came and so here are "The Triplets"!

The cabinet is full of sweets from which Peter chooses his nightly treat.

Lunch with Guenter and Rose who are friends from my childhood. His Mom died this year at 92 , she was Maggie's Godmother.

A visit to Lake Monrepo, 3 miles from home.

We are ready to paddle the Lake.

The Church that was visited by Kaiser Wilhelm in the 1400's.

This was Kaiser Wilhelm's summer castle, 15 km from his main castle in Stuttgart.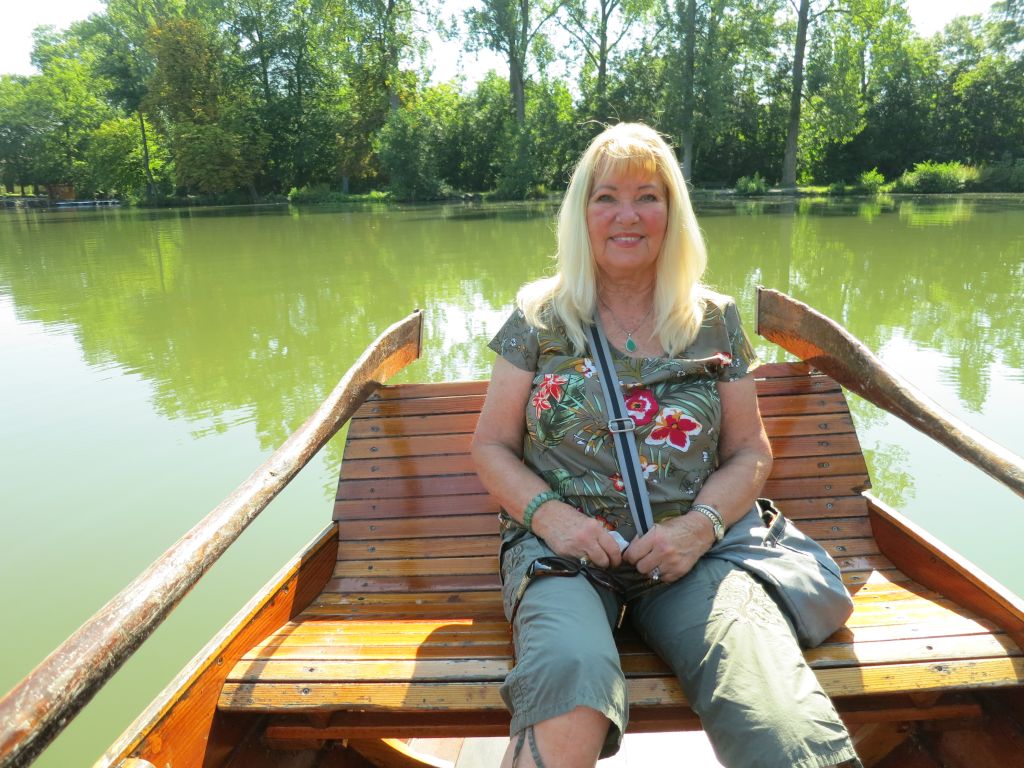 In the year 2002, I visited Germany with Elsa. In late June, after a week of waiting for clear weather, we went to Monrepos and rented a rowboat.
Out in the middle of the lake, with Elsa sitting between her mother and father, I got down on my knees and asked her to

" Marry me and join me in all my adventures."

She accepted.

The adventures began with a trip to Cancun, Cozumel and Cuba. A year-and-a-half drive through all of South America followed, with island-hopping in the
Caribbean by Cessna for seven weeks, a safari in Africa, throwing confetti down on Times Square in New York City on New Year's Eve, trips to India and Nepal
and a Princess cruise around Alaska. And that isn't even half the list.

What more could I have asked for?

Twenty years later, we returned to Monrepos. I insisted on renting another rowboat. Out in the middle of the lake, I got down on my knees, this time to say

"Thank you, Elsa, for joining me in all my adventures. You have made my life complete."

An opportunity like this to express your gratitude happens only once in a lifetime.

Almost back on land where the Paddle boats are for the lazy ones.

We told the owner our story and he said he was here then as we paid him 7 Euros for our time.

It' a short walk to The Monrepos Restaurant, next to the Hotel.

Champagne was ordered at no less the 80 Euros and we toasted to 20 more years.
The people on the other side of the fence are bikers and hikers eating fast food.

As you can see, the portions in a fancy restaurant are a lot smaller , but it was good !!

Since we didn't finish the Champagne, we took it home with us.
The shirt is new, bought for him by Heidi Kaspar

Another clear day and a great view towards Stuttgart.

Maggie cooked us Schnitzel and Fries for Dinner.

They finished off the Champagne.

Peter's jobis to count out the vitamins for morning and nights.

A visit to our old house Peter and I bought in 2003 and lived in it for 10 years.
We moved my parents out of their 400 year old 2 story home which was remodeled, to the bottom floor.
We came every summer to live in the top, the 3rd story another 4 rooms Peter had his Ham Radio equipment .
10 yrs. later when Papa died at 90 in his sleep and the house was too big for Mama alone we put her in a senior home and sold the place.
The mailman-or lady visited with me.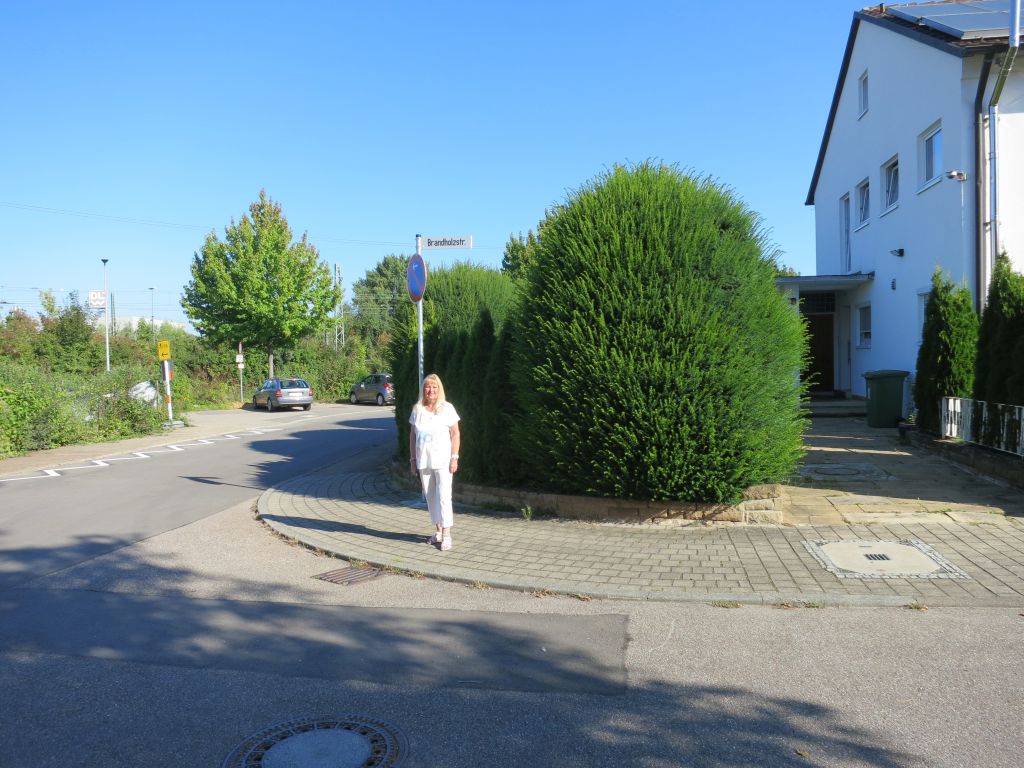 The building on the left was a 1 bedroom unit Papa used as a workshop and the new owner rented it out.
The garage is around the corner.

Next door on the right we visited our old neighbors the Hartkorn's.

Our former next-door neighbor, Herr Eckel, giving us home-grown raspberries.

Alex took us after work to the Lehmgrube Restaurant for Dinner, which is next door to Mamas home.

Heidi is with us at our favorite Restaurant, Linde, where we always go for lunch.
They specialize in wild game such as deer and boar which I ate.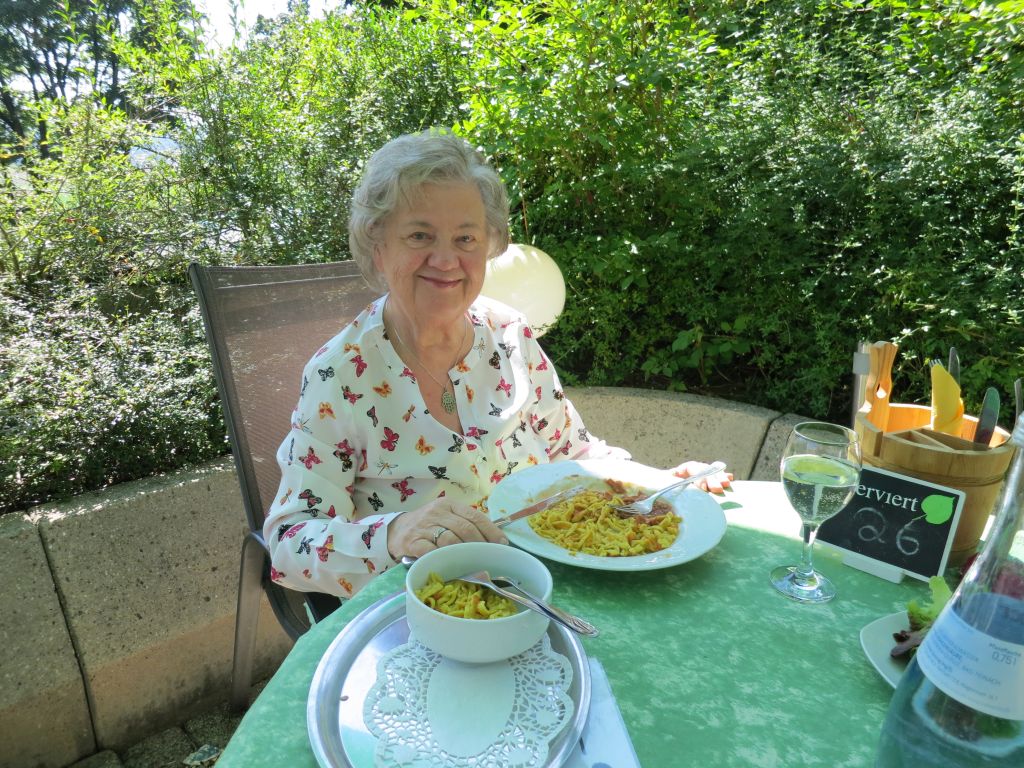 Peter is wearing one of his new shirts bought by Heidi.

We are in the Olymp shirt store for the second time this week where Heidi bought Peter a second shirt.
He is wearing the one from two days ago.
Heidi worked for over 30 years at the Olymp factory and after she retired, she is still on the Board of Directors.
When her husband Erik died 5 years ago, she mailed Peter 30 shirts which he has all worn proudly.
Peter is a member of American Legion and volunteers there every month. He wore one of his Olymp shirts there and a man offered him $50 for it.
Peter declined. He then offered $80, but Peter said he would not sell it for any amount of money!

A Champagne Toast with Renate and her husband, Eberhard, and their friends at a winery.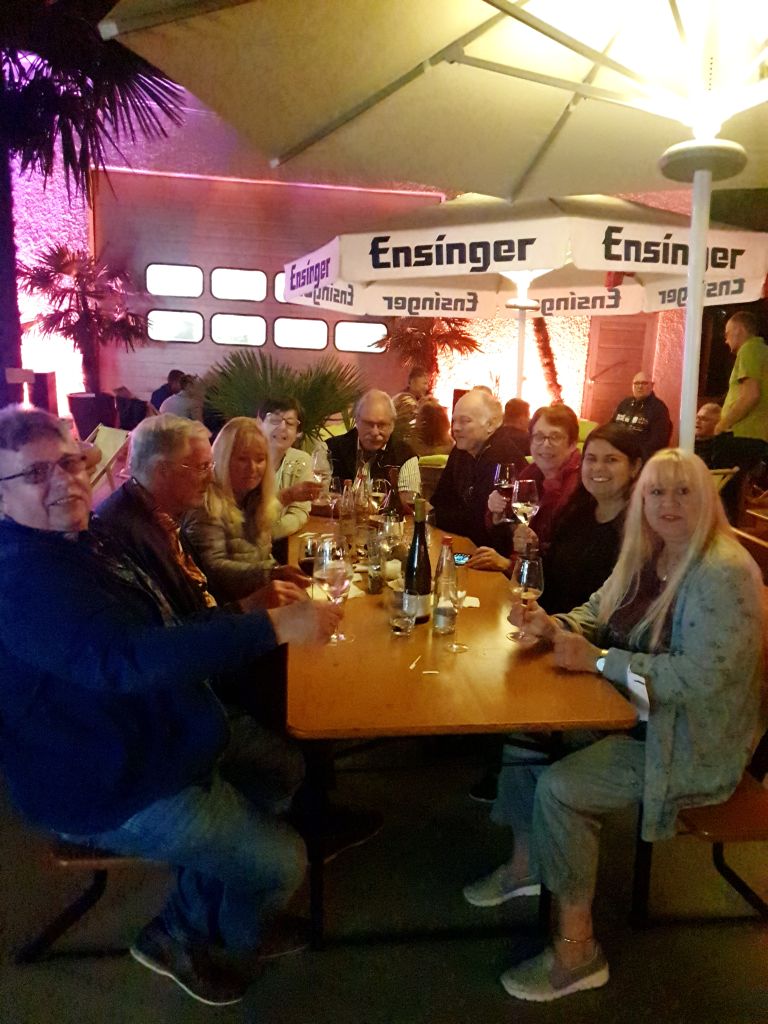 Several bottles of white and red wine were consumed.

Since Renate knew the owner, she gave us a private tour of the Kratzer Winery.
These granite barrels are used to age special wines.

Modern stainlee-steel equipment.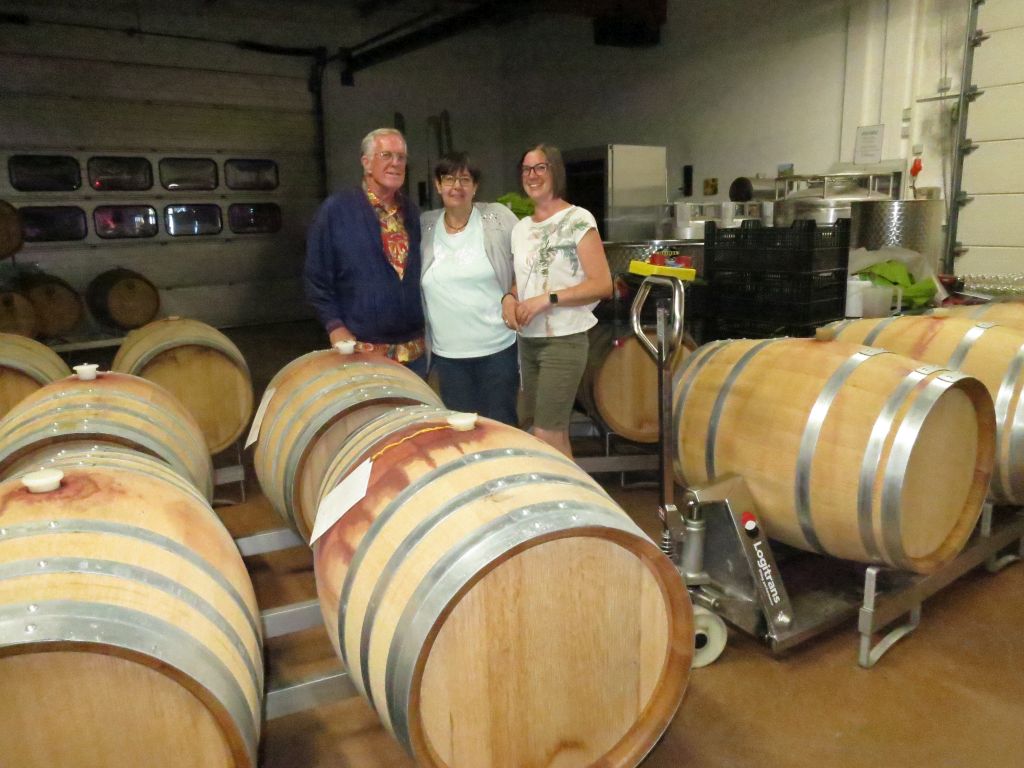 The owner with us.

A present for us, a white and red Bottle of Wine

The Grapes are not ripe until the end of October.,

Maggie drove us to this tour-bus-worthy destination

The Restaurant Wartberg is at the top of the stairs, then to the left.

The view of Heilbronn from our table.

Peter is wearing a new shirt from Heidi Kaspar

It looks like a Feast and Plenty leftovers.

Wow !! lets dig in !!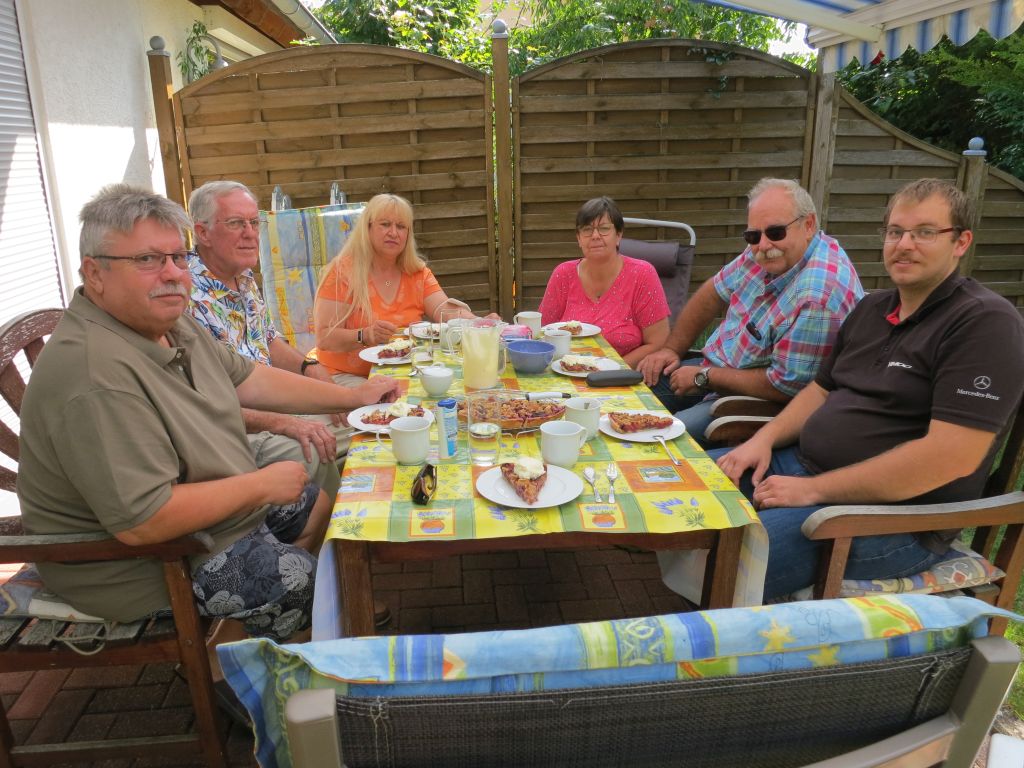 After that big lunch we were invited by Renate's Cousin sitting next to Peter who baked this Plum Cake himself.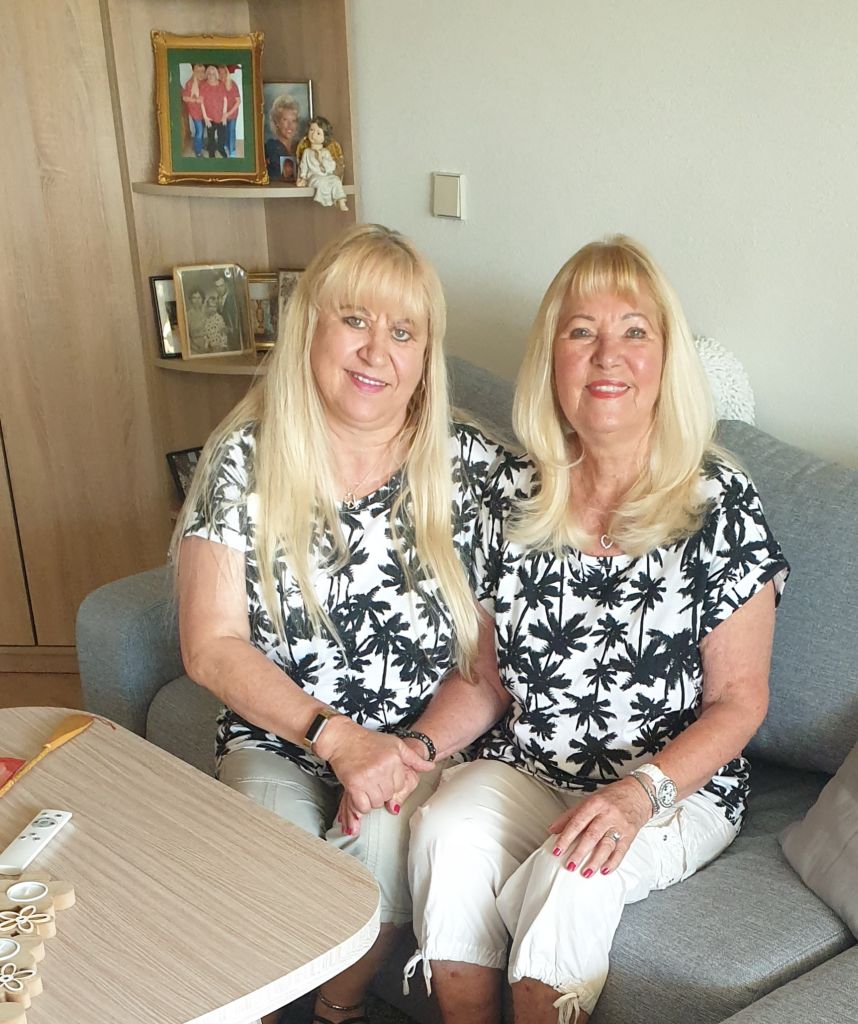 The Bobbsie Twins.
Behind Maggie is a picture of Mama and Papa and Maggie.

Lunch at our friend Jenny's Chinese Restaurant 20 minutes away.

Peter's sign says " Ich habe hunger - (I am Hungry)

Maggie baked a special cake called "Bee Sting" for Jinny's birthday

A delicious Buffet is waiting behind us !!

My Plate is tooo small !!

Flsa's plate is loaded with her favorite Shrimps and enough for Peter since she always peel them for him.
He is too lazy !!

Its' Farewell time, the day before our early morning flight.

It never gets easier to say goodbye which I have been doing since the 57 years I am in the US.

When Maggie says "smile for the Picture" Mama always laughs !!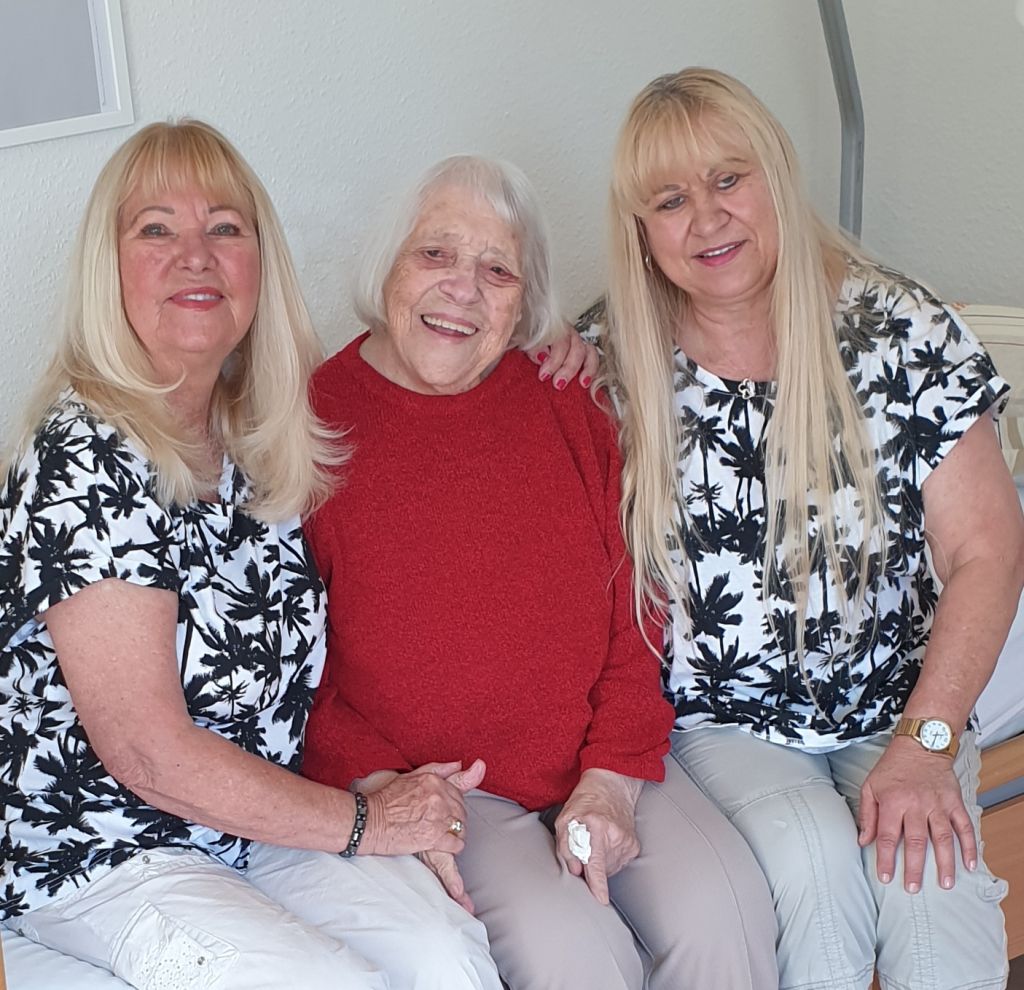 A very sad goodbye time.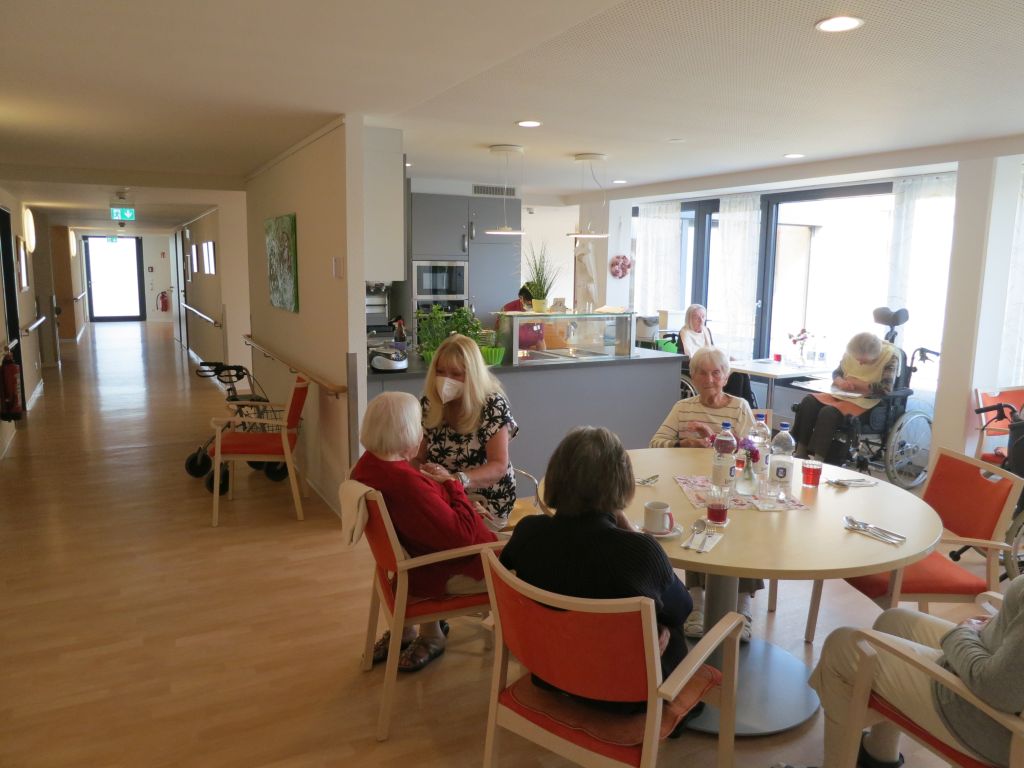 We walked Mama to the Dining room waiting for lunch.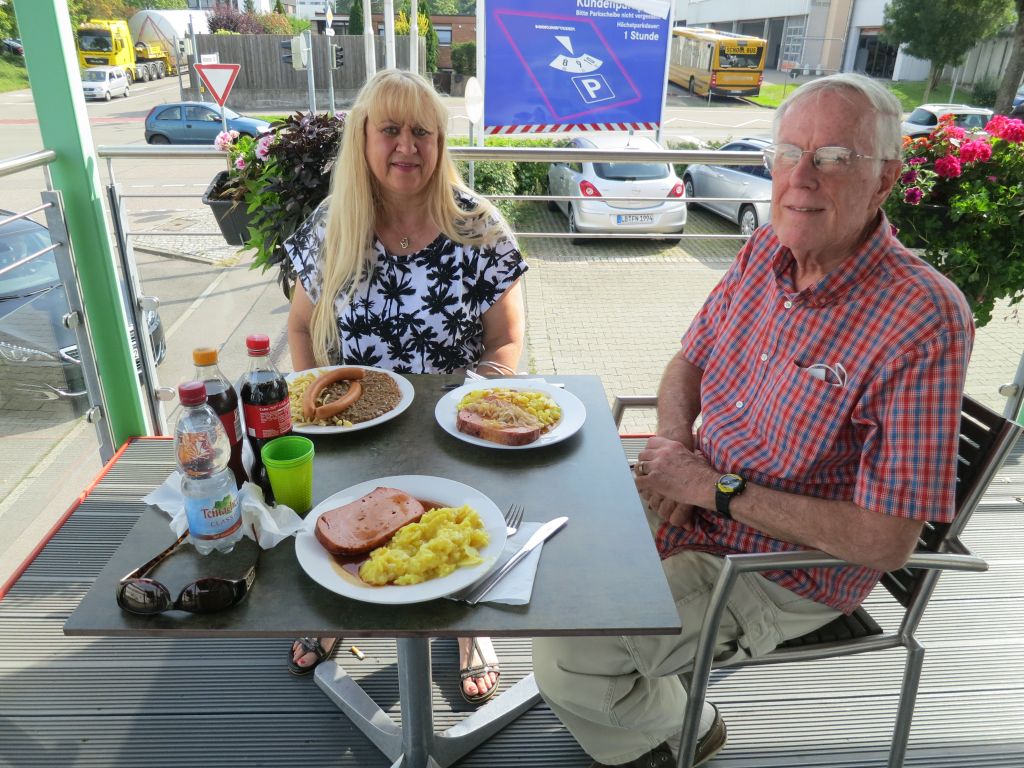 Our last lunch was requested to be at Butcher Dietz for Peters favorite Veal Loaf and Potatoes salad. Maggie has Lentils and Spaetzle with Sausages.

Maggie's Friend and work college ,Susanna, brought us her SUV to be able to fit all our Suitcases in.

147 Our last happy toast our Bacardi Cola.

Maggie surprised me with 12 Snails, my favorite for farewell dinner.

Chicken fried without fat, Potatoes and mushrooms for Peter

On September 8th at 3AM, we were loaded with one added suitcase for all the extra clothes we got for presents.

Showing our negative Covid lab test results. Without them we would not be allowed to board.

Another sad farewell with Sisterlein.

Entering the TSA checkpoint.

We are ready to Board for our 6AM flight to Frankfurt.

Lufthansa flight LH456, FRA to LAX, is ready for boarding.

The yellow arrows on this panel between our seats allow you to turn your seat into a nice bed...
if you can figure out which symbol to press before the flight is over.

We are over Frankfurt and on our way home.