Vacation in Japan - March, 2017
Tokyo to Kyoto
with Points in Between
Day One, Tuesday, March 7th
All Nippon Airways preps a 777-300ER for us and 250 new friends

Elsa checks for availability of an in-flight ice-pack for her shoulder
after TSA insisted a doctor's request was needed to take hers on the plane
I took her gel-packs back to check-in and they traveled as luggage
Thanks, ANA !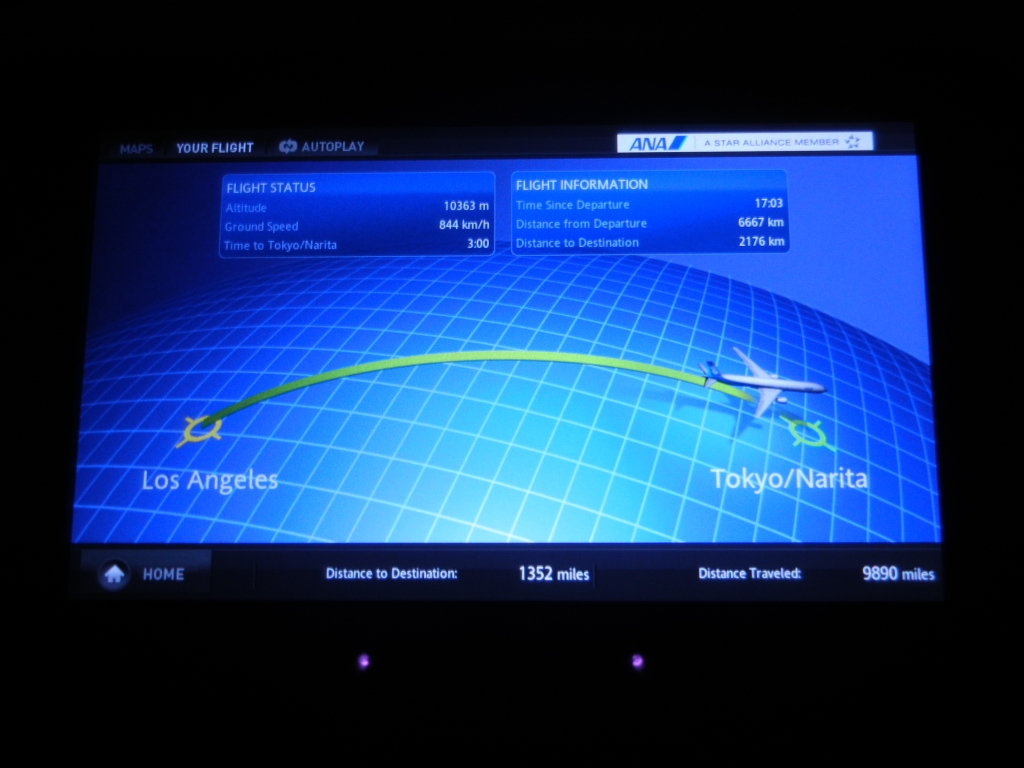 Time since departure = 17 hours? No, only 11 hours for the whole trip
Distance traveled = 9890 miles? No, the whole trip is only 4750 nm.
Good information is hard to find... In any case, we arrived on time

The view from our hotel room in Tokyo


Day 3, Thursday - One day lost crossing the dateline

View from the top floor dining room at breakfast time
Yes, that's Mount Fuji on the horizon 60 miles away

Looking over the rainbow Bridge to the center of Tokyo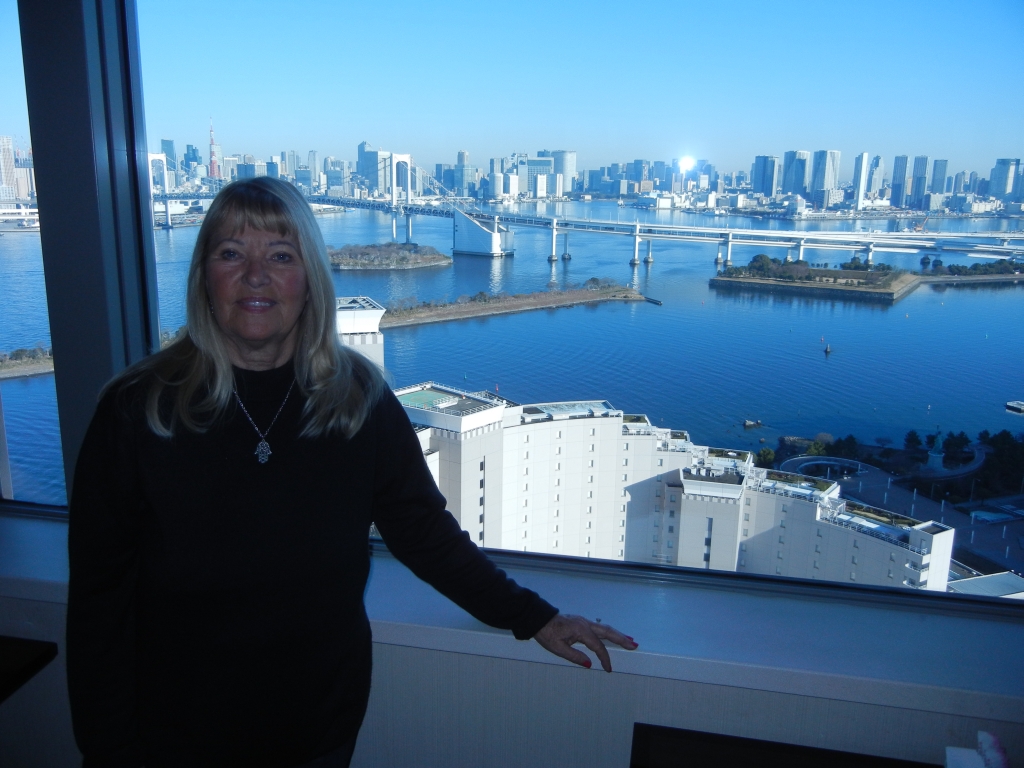 The breakfast view for our four days in Tokyo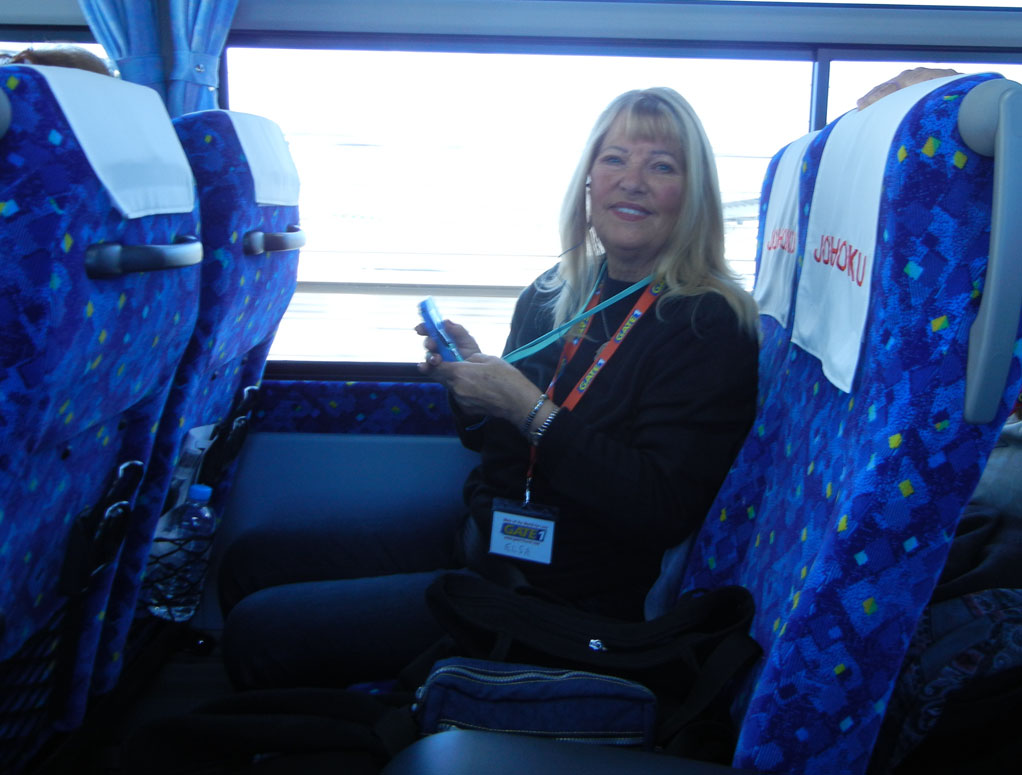 Heading for the first stop of the day...
everybody got a little radio receiver so they could hear our guide, Etsuko

First stop was the Tsukiji Fish Market, the world's largest.

We don't know what they are, but there were lots of them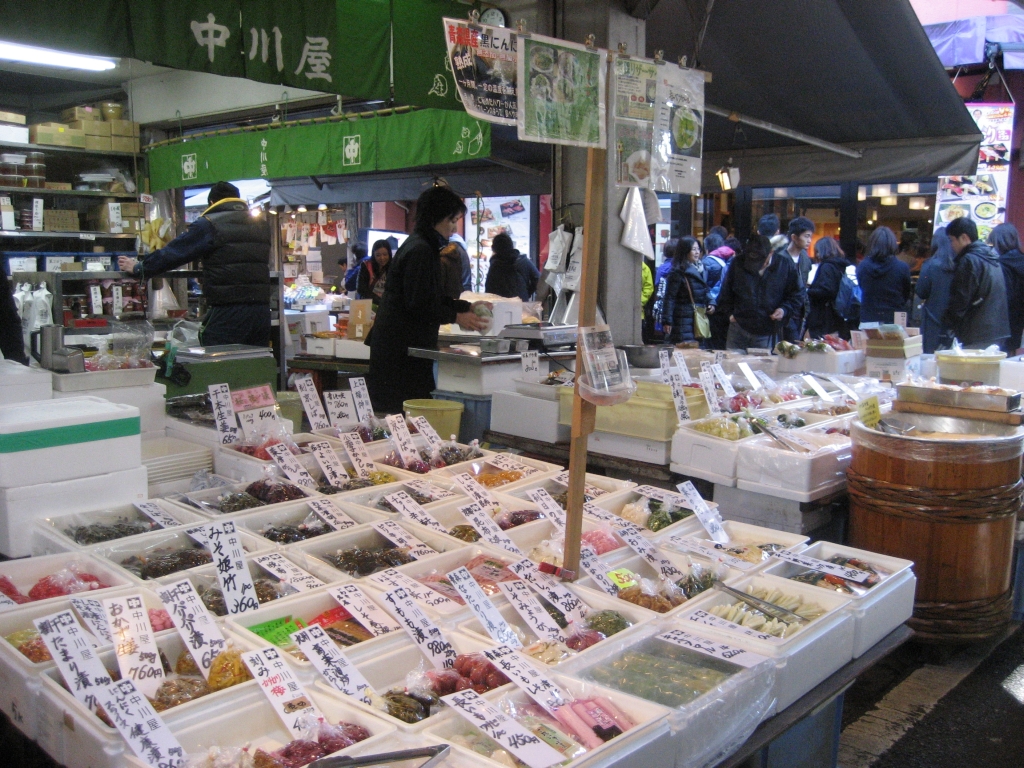 Fish Market

Lots of Smoked Eels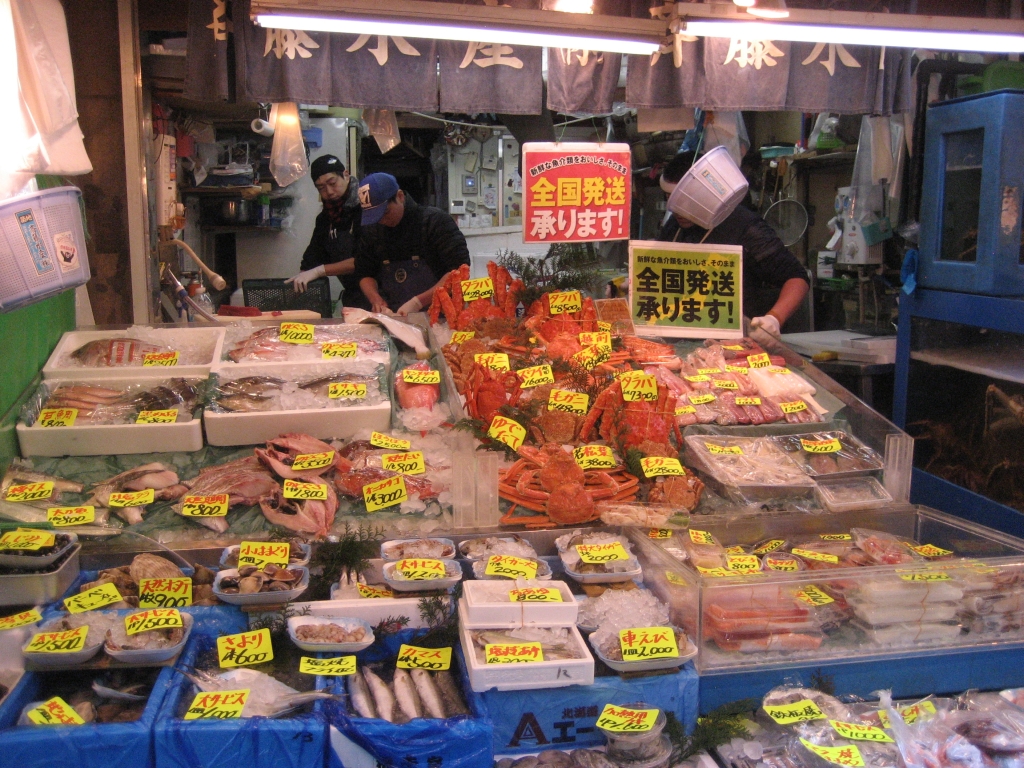 Too many varieties of fish to name

Crab bites Tuna on the Nose

Sushi Plate prices in Yen
Divide by 100 to get approximate US Dollar price
Top left Special is 4800Yen/100 = $48.00 !!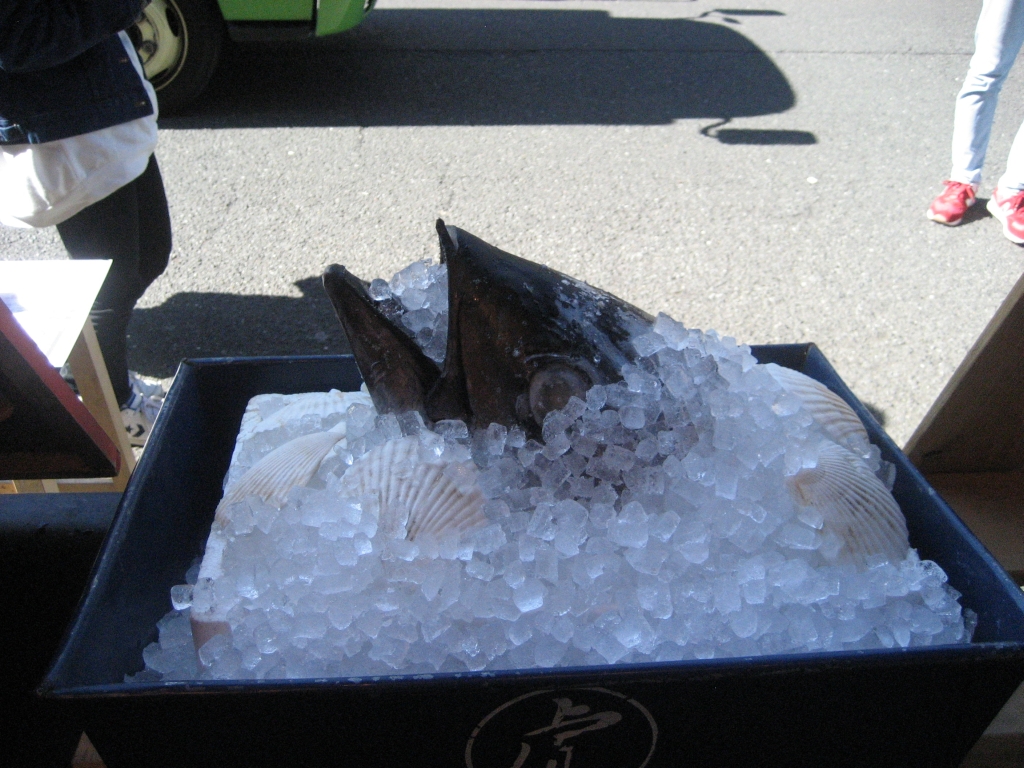 Fish heads, fish heads
Roly-poly fish heads
Fish heads, fish heads
Eat them up, yumÖ

Walking in Tokyo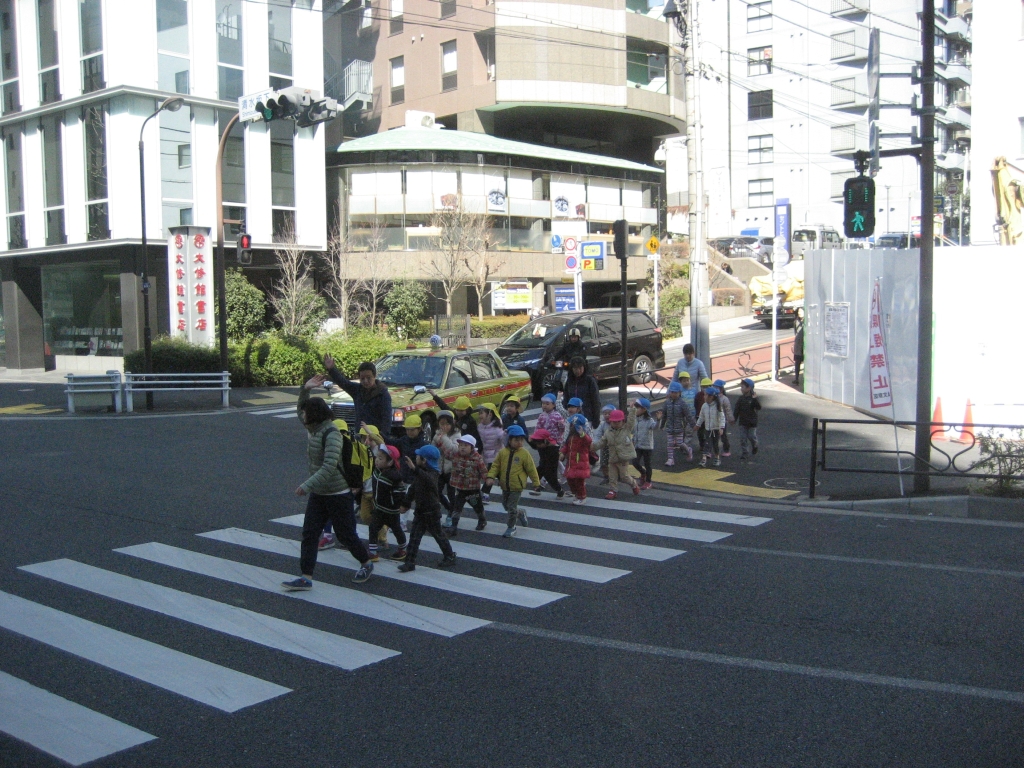 Kindergarten Class going for an Outing

Origami Class
With Instructor at the whiteboard, diligent students practice proper paper folds
while bored student in the back makes paper airplanes

When the final stage of training begins, and the students are now called maiko, rather than minarai.
Maiko (literally "dance girl") are apprentice geisha. This training can last for up to 5 years.

Major Tourist Trinket shopping on the way to the Asakusa Kannon Temple in the background.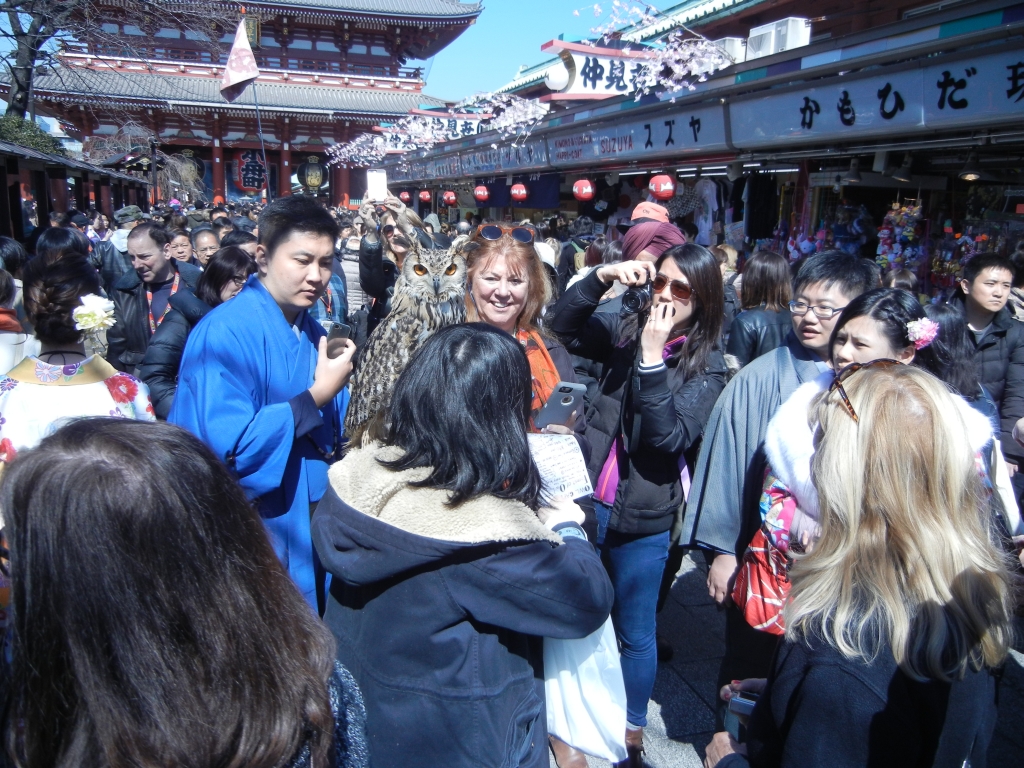 Advertising for the Owl Cafe

A Proud Bird

Training in Smartphone Use and Etiquette is Essential for a Maiko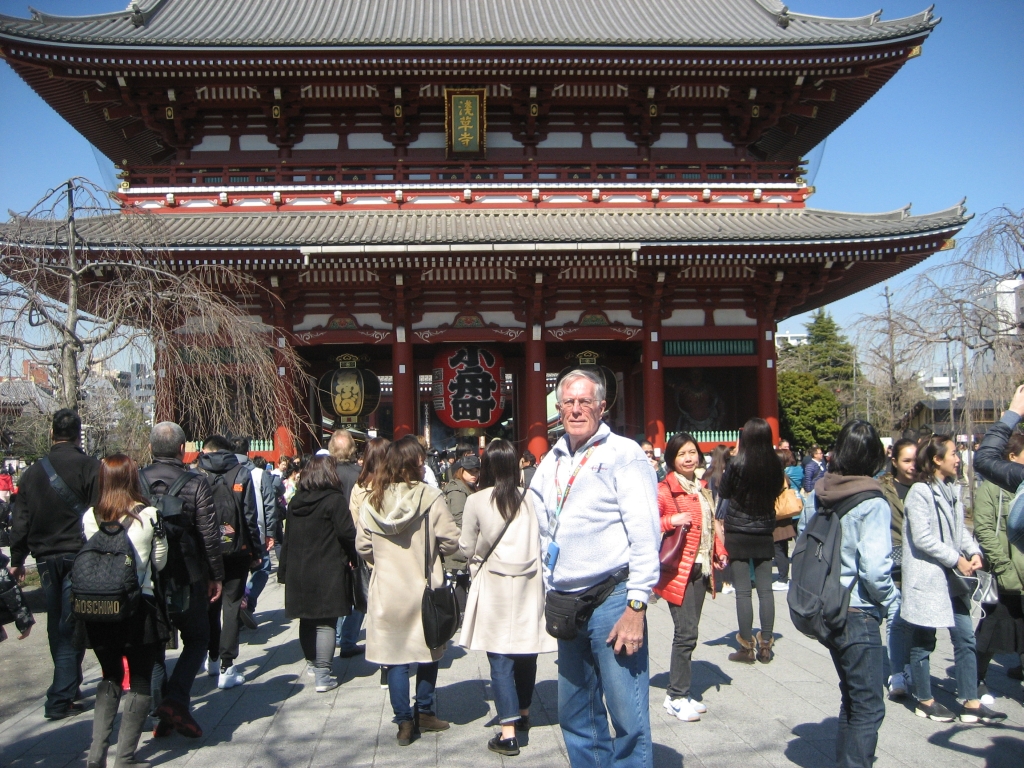 If this is Tuesday, what Temple is this?

The Sensoji Kannon temple is dedicated to Guanyin, the Buddhist Goddess of Mercy
It is Tokyo's oldest temple, and one of its most significant.
The temple is the most widely visited spiritual site in the world with over 30 million visitors annually.

Harvey, brushing up on his photobomb technique

If the smoke blows on you, you will be cured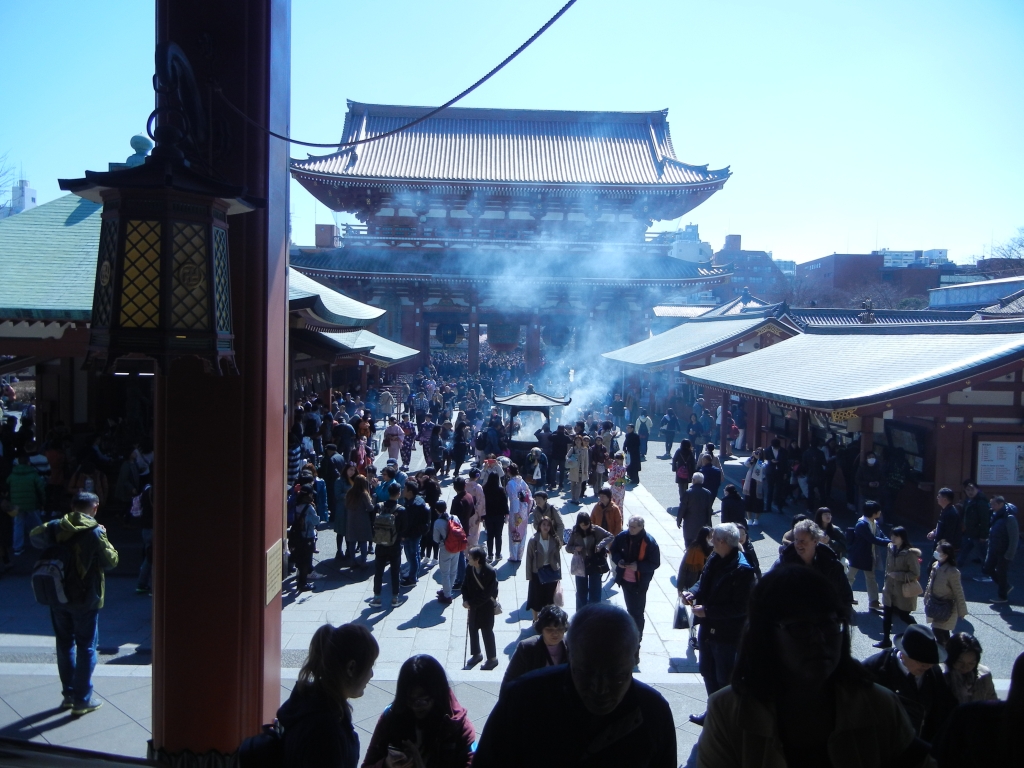 Hey, I was cheated... my shoulder still hurts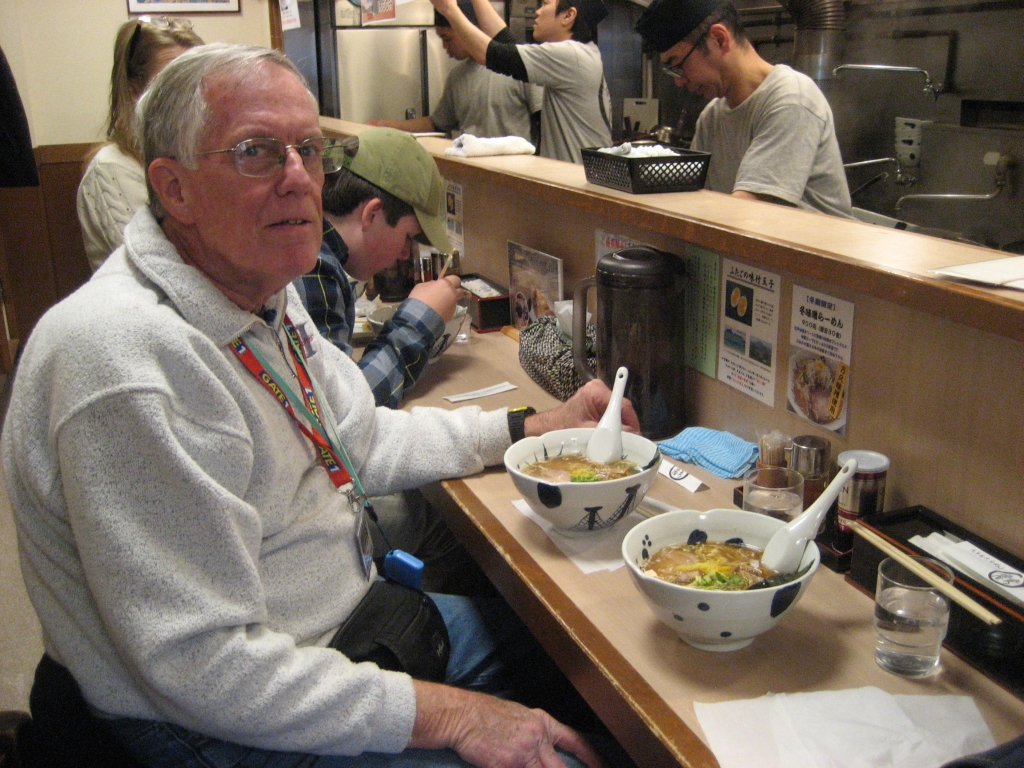 Good Food, found using Good Luck for one of our "Lunch on Your Own" meals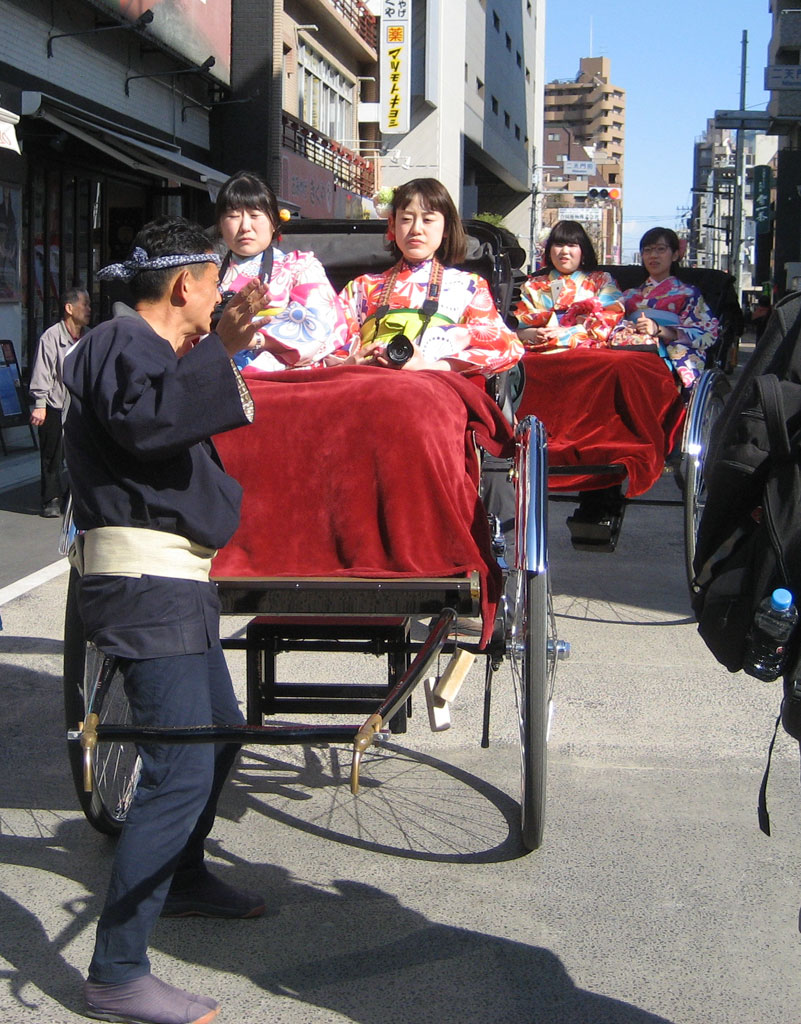 What do you mean by "My GPS isn't Working?"

Cat on a Leash?

Barrels of Sake wrapped in Straw

Offered as an honor to Emperor Meiji and Empress Shoken
and a prayer for the continuous prosperity of the sake industry

The Wine Industry wanted into the picture, too

Entrance to the Meiji Shrine
Guests enter to the left or right side of the arch, never the middle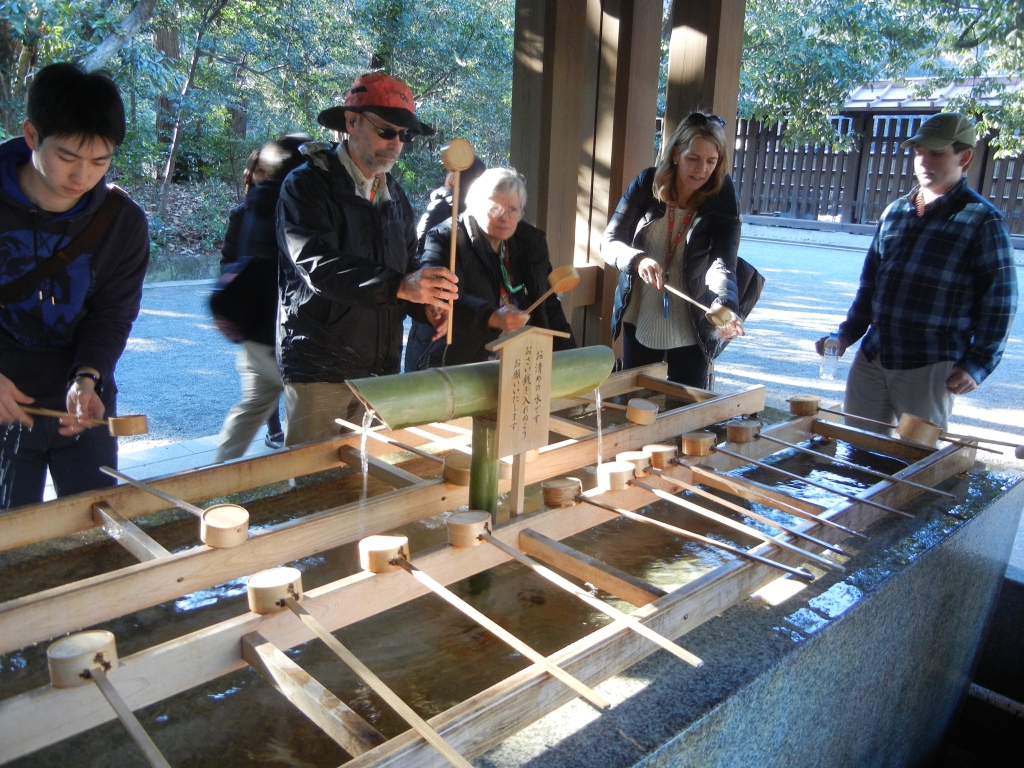 Visitor purify themselves by scooping water and rinsing their hands
then letting water flow down the handle to purify the scoop for the next visitor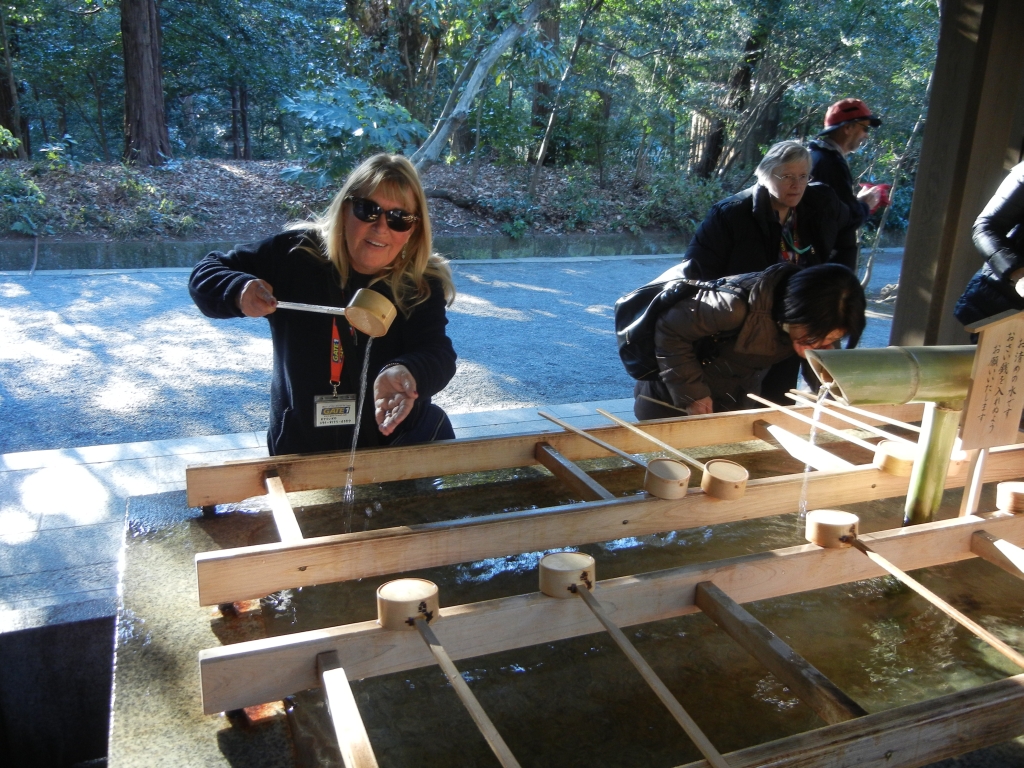 Pouring water into your own hand isn't as easy as it might seem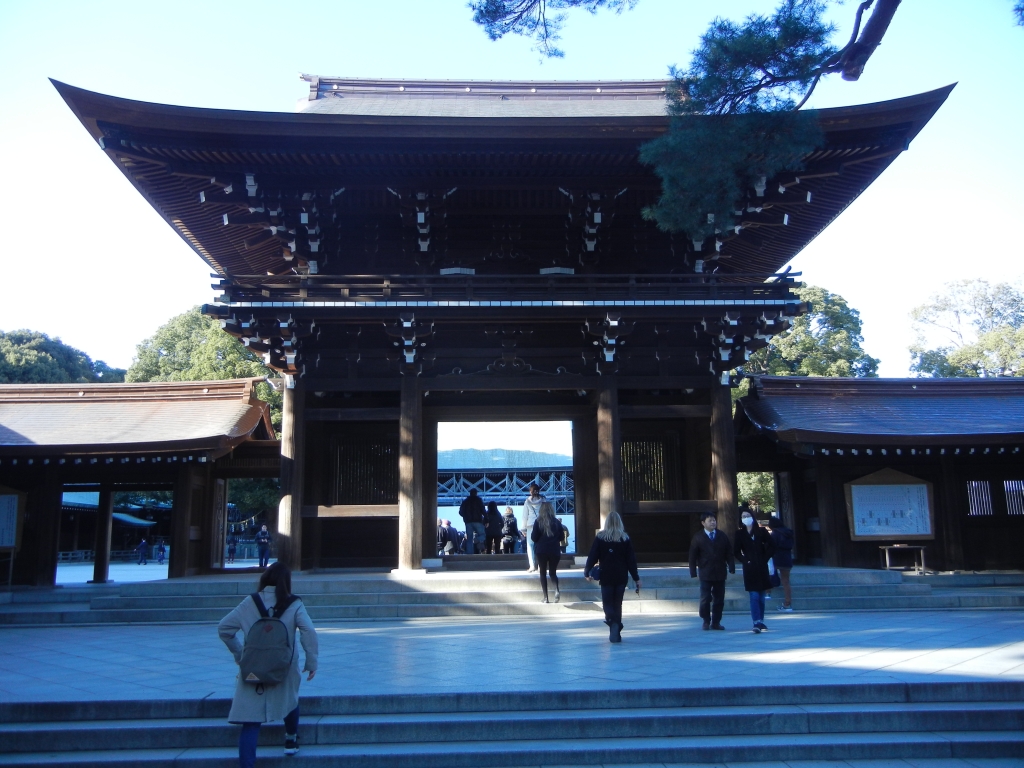 The Meiji Shrine

Sushi dinner in the hotel... where we discover how expensive Japan really is.
In America, we get two pieces of tuna for $4.00. Here, it's one piece for $6.00


Day 4, Friday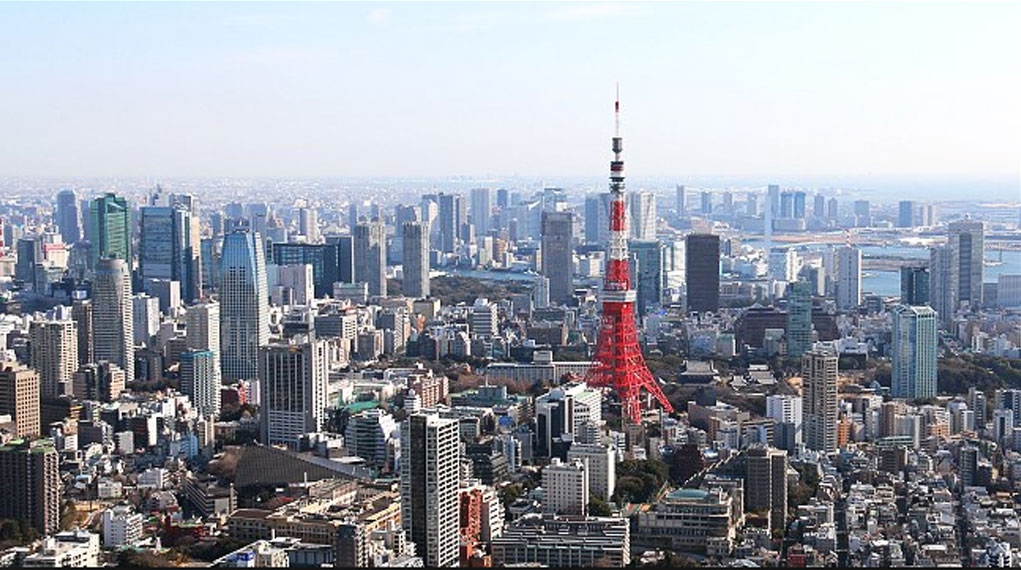 Tokyo Tower is the first stop the next morning. It's 333 meters high in the center of Tokyo
Completed in 1958, it was Japan's tallest structure until 2012.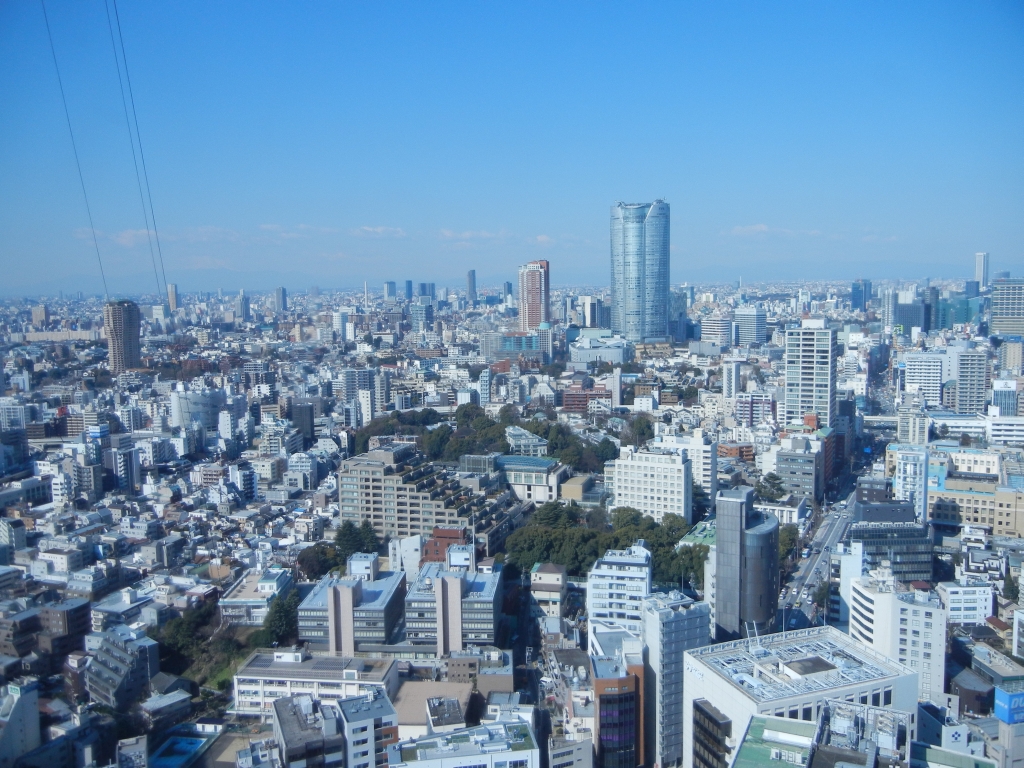 Notice the absence of construction cranes
The city isn't growing like other parts of the world

In spite of how closely spaced the buildings are and how many people live in Tokyo (12 million),
we were never caught in traffic on city streets or the freeways.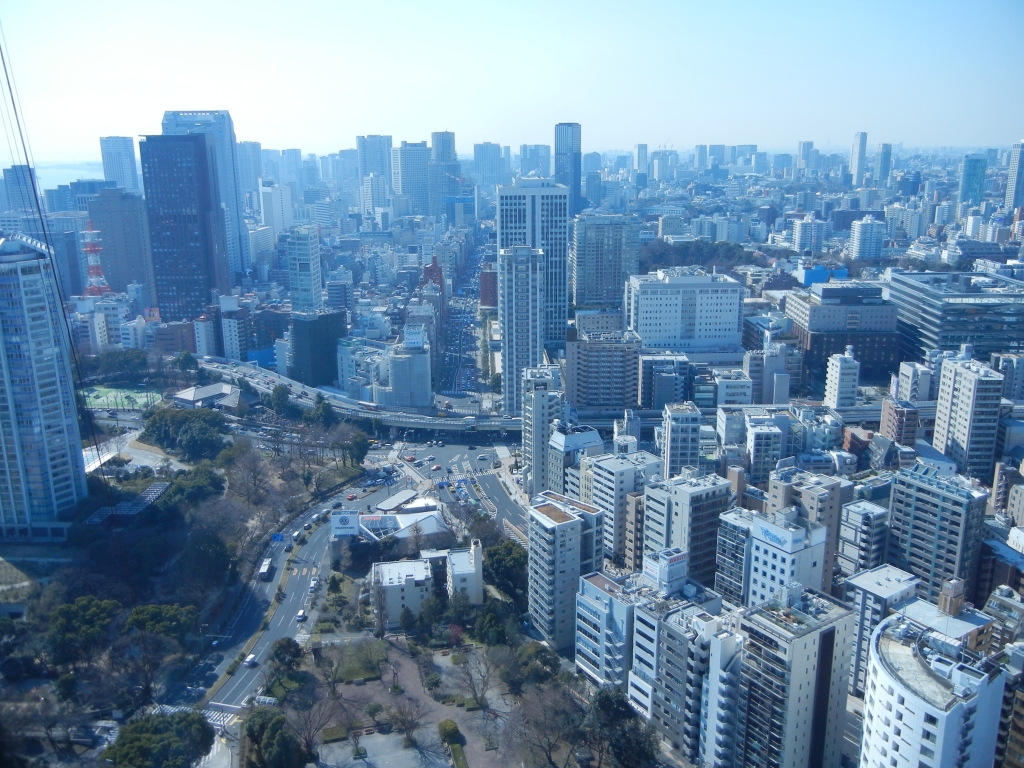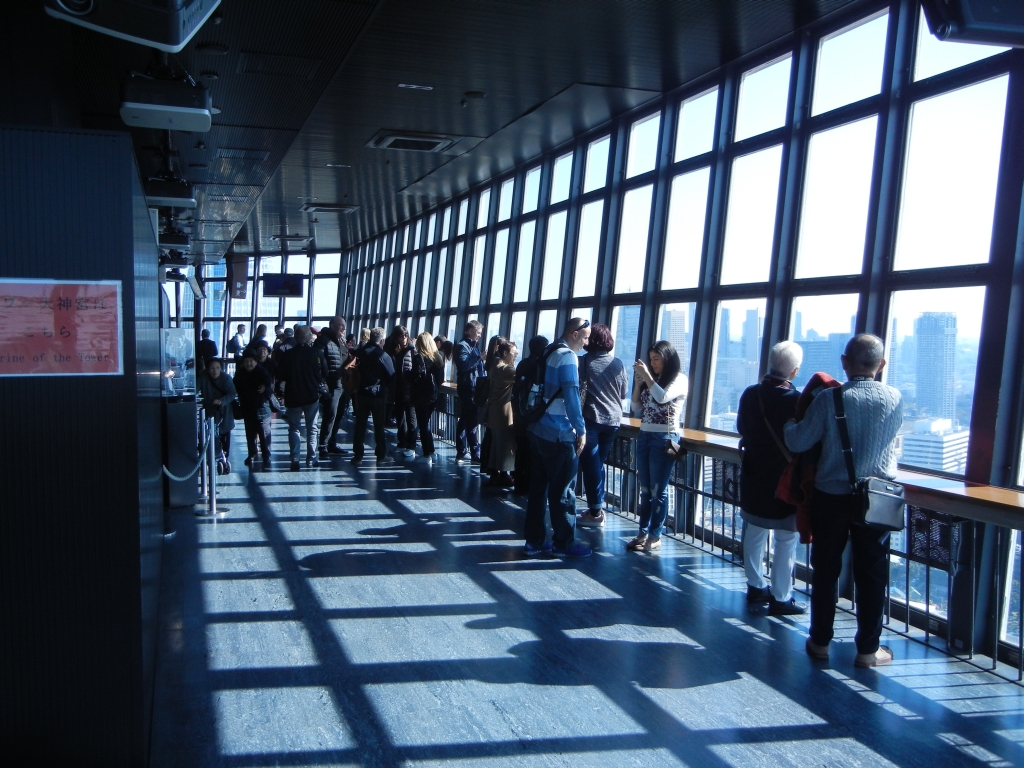 Walk around for a 360 degree view of Tokyo

The base of the Tokyo Tower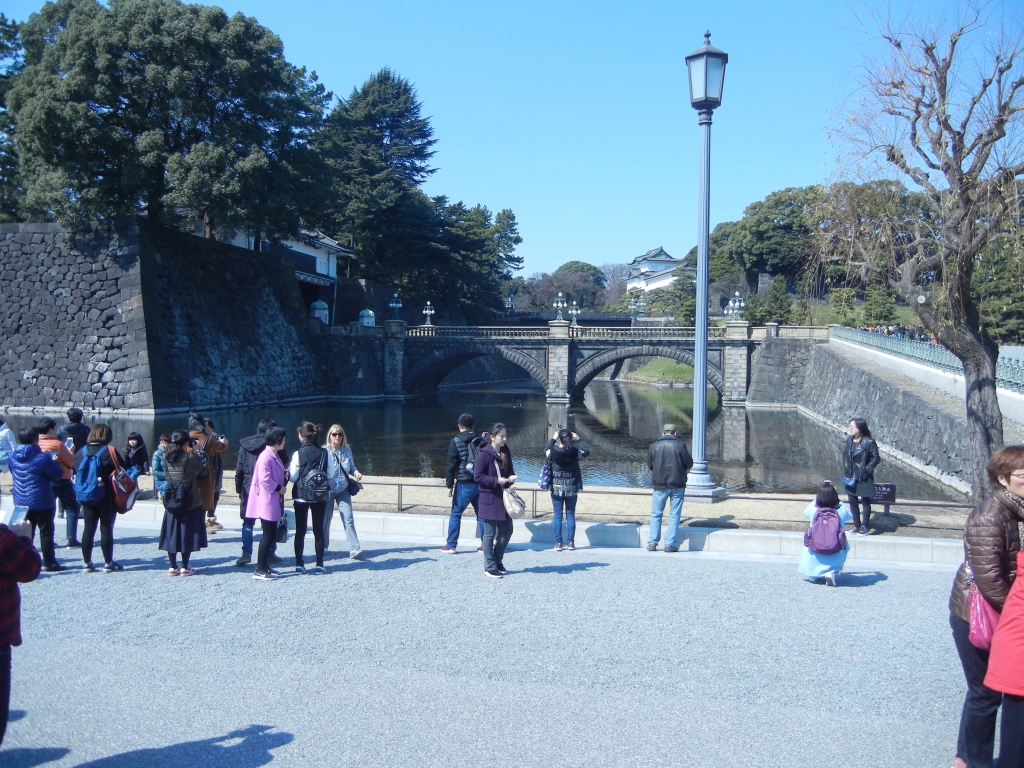 As close as we could get to the palace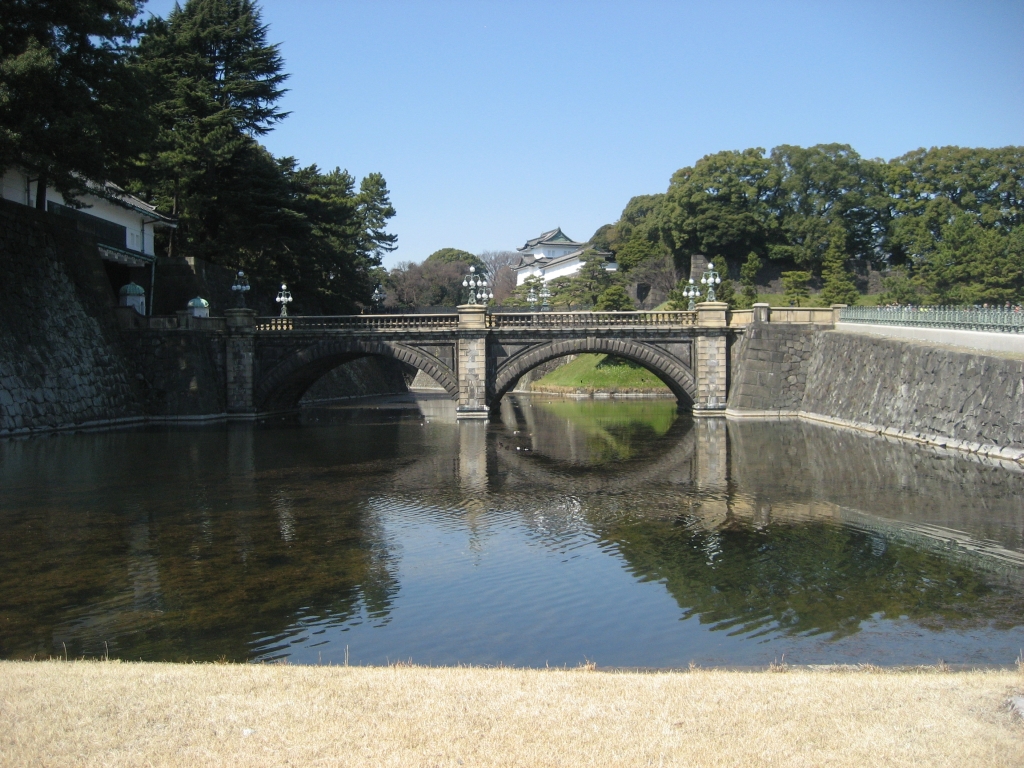 The Imperial Palace in the center of Tokyo
The residence of Japan's Imperial Family

Start of Sushi School
Instructor on the left and Guide, Etsuko, on the right

We didn't get to keep the nice jackets

Master Sushi Chef displays his technique
Before sending us back to our tables for Sushi School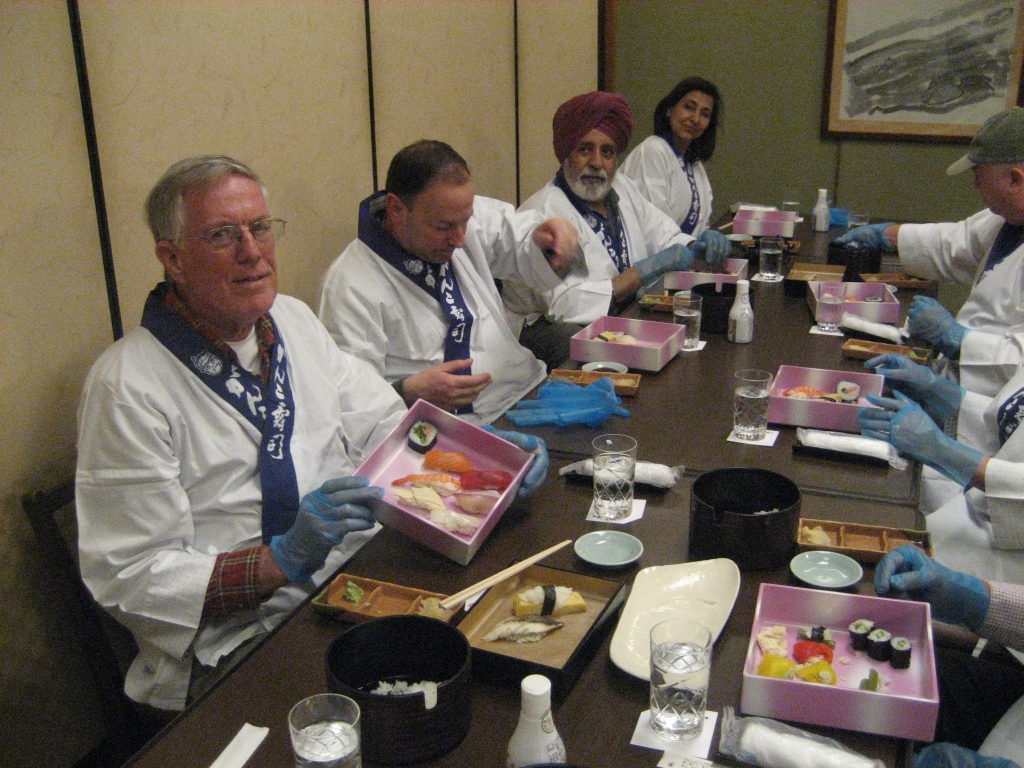 The sushi we made was actually pretty good

We each made six pieces of sushi on our own from a tray of fish and a bowl of rice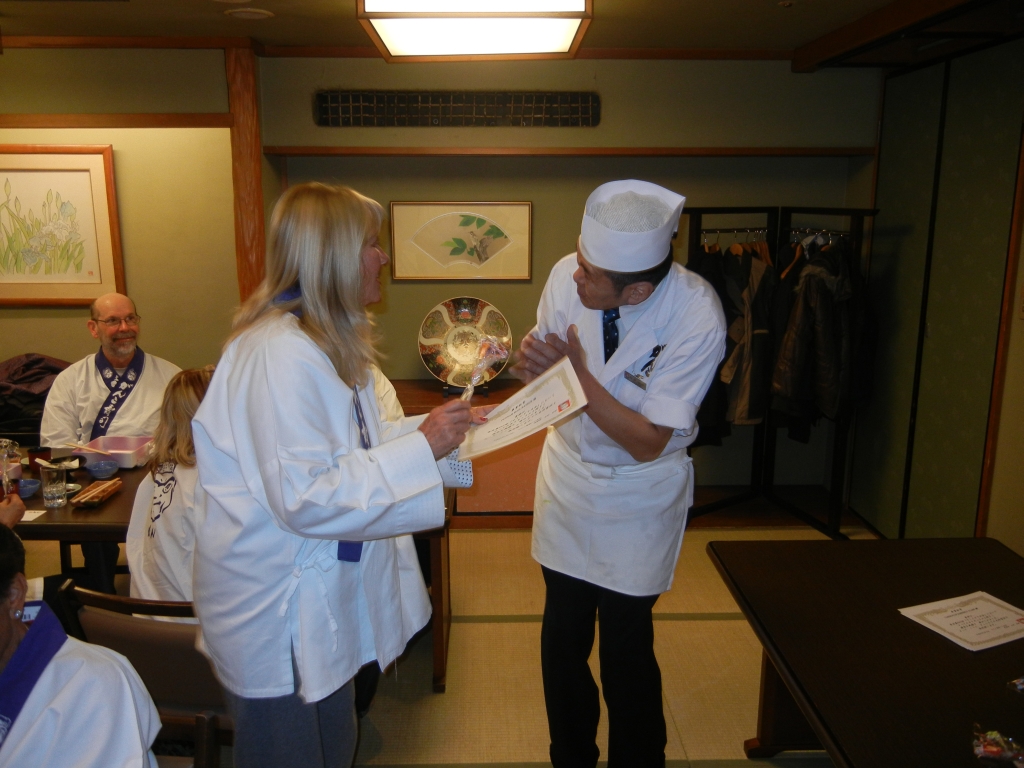 Elsa receives her diploma showing she graduated from Sushi School

Pedro is a Shushi Chef, too

Our honorable guide, Etsuko, dropping us off for two hours of shopping in the expensive Ginza District
We went to have a bowl of ice cream instead of helping the Japanese economy.

We end the day at Akihabara, the center of Tokyo's electronic sales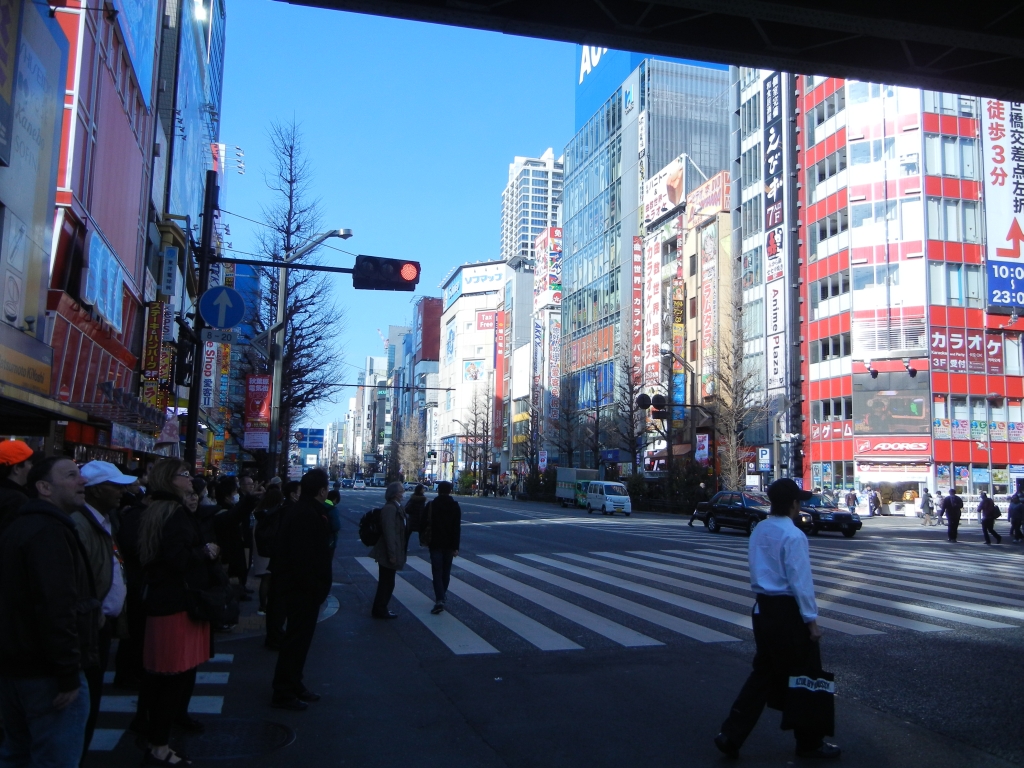 We got only 5 minutes of free time to explore, a major disappointment.

The pitcher of beer was really $28 dollars, not the $20 we thought


Day 5, Saturday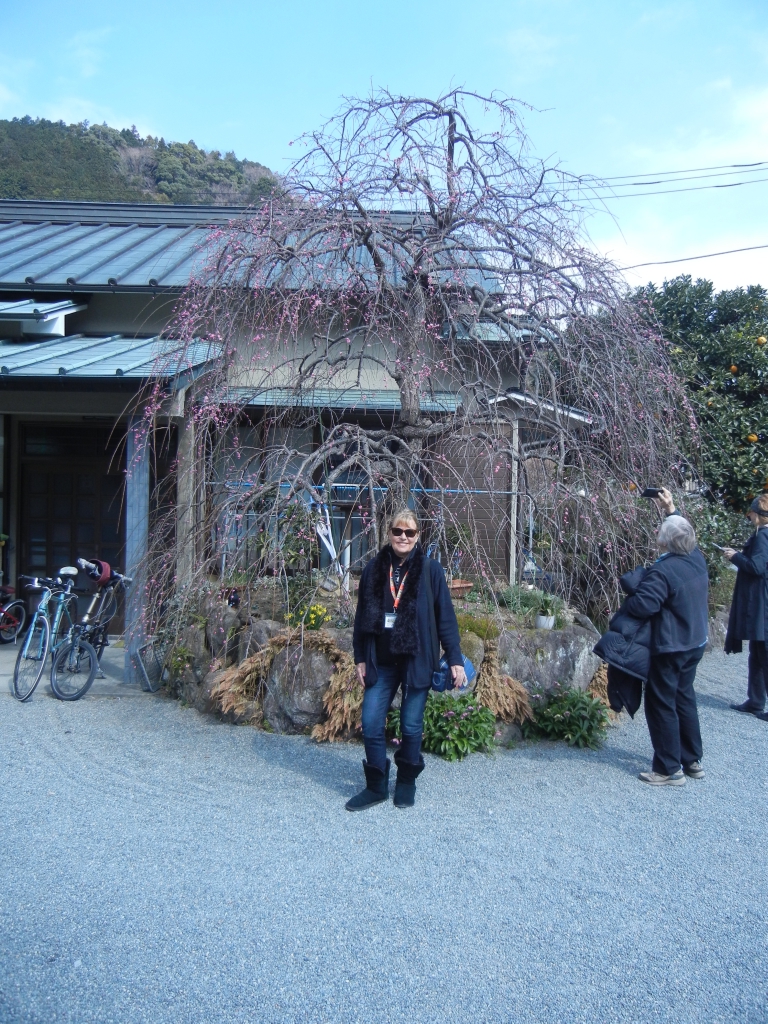 A real cherry tree, not the park full of hundreds that Elsa hoped to see

Our bus driver while we were in Tokyo for four days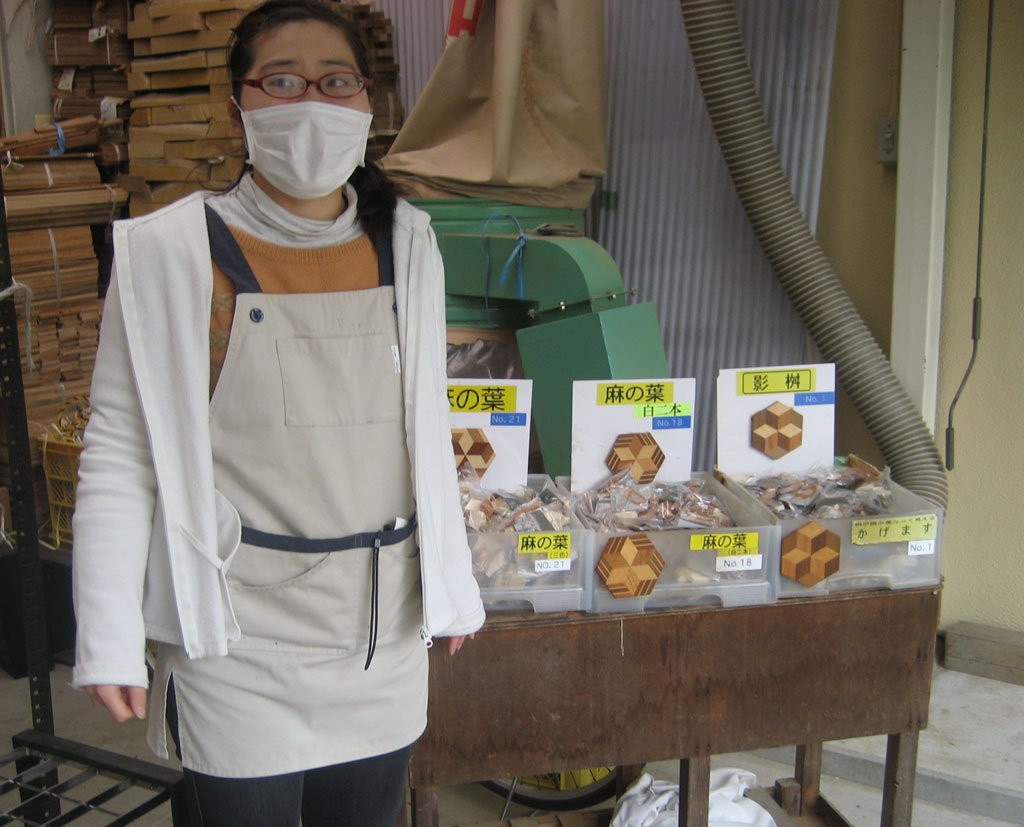 Welcome to Woodshop 101
Pick a bag of wood pieces to glue together to make a coaster

Arrange some little wood squares and glue them together
How hard can that be?

See, this is how it's supposed to look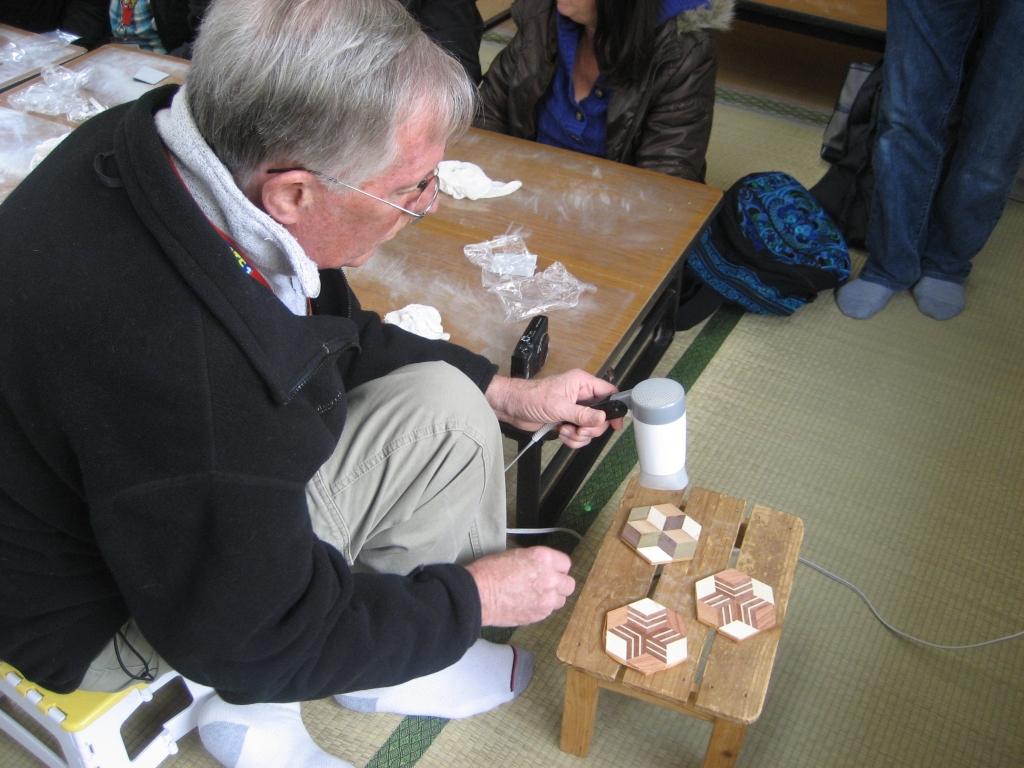 You don't notice the errors in placement until after the glue dries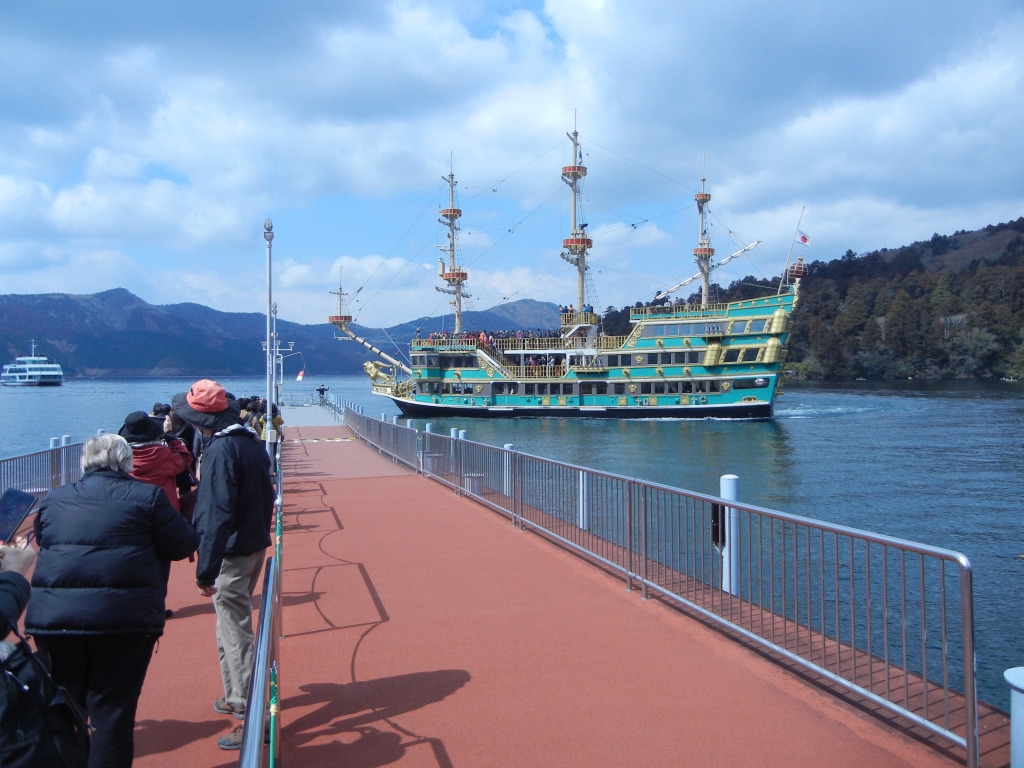 This pirate ship will take us across Lake Ashi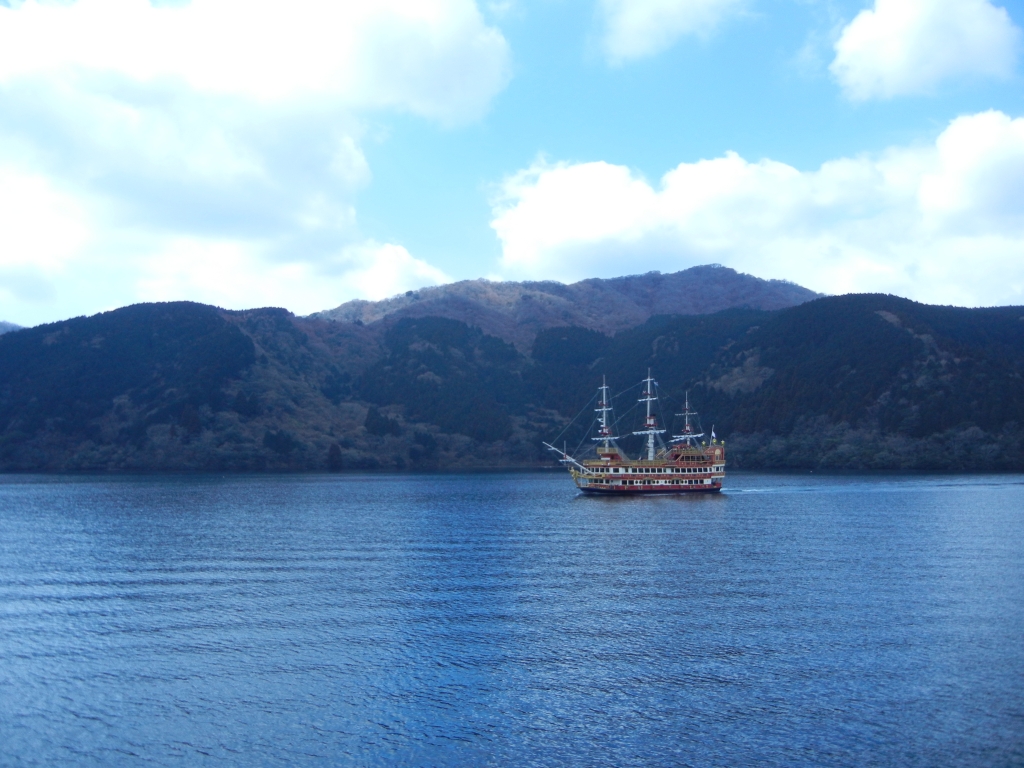 Another ship going back for more tourists

to the Mount Komagatake Ropeway up to the Owakudani Valley geothermal area.

It's still winter here in Hakone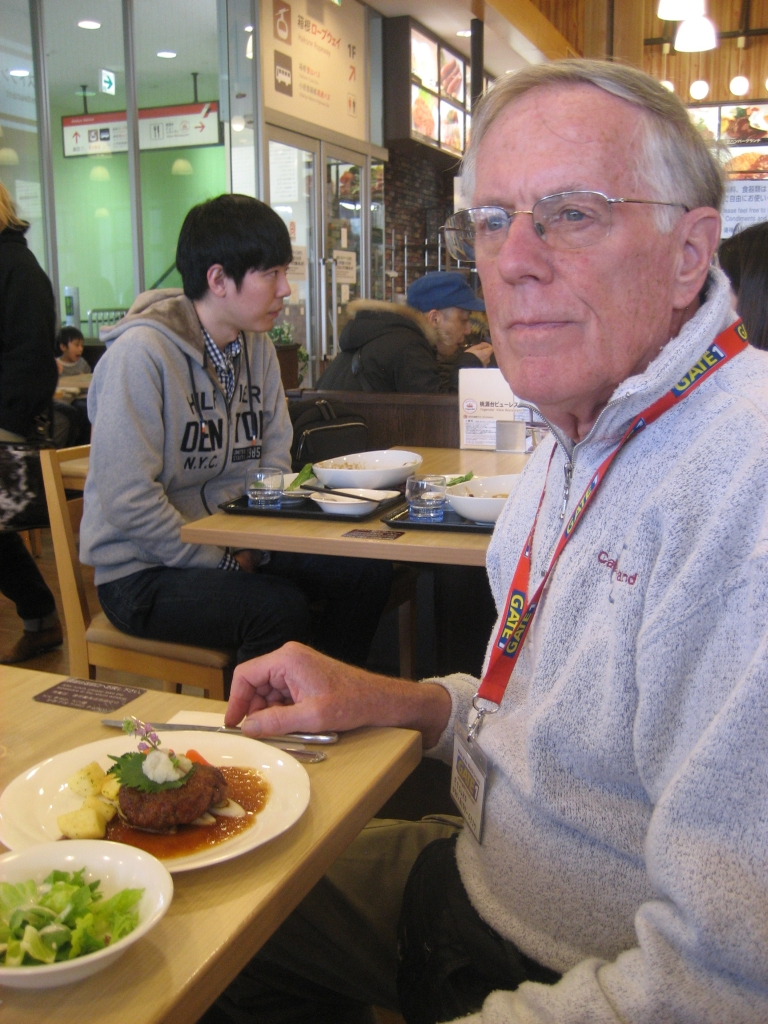 Lunch on our own, but only one restaurant around.
I had a juicy hamburger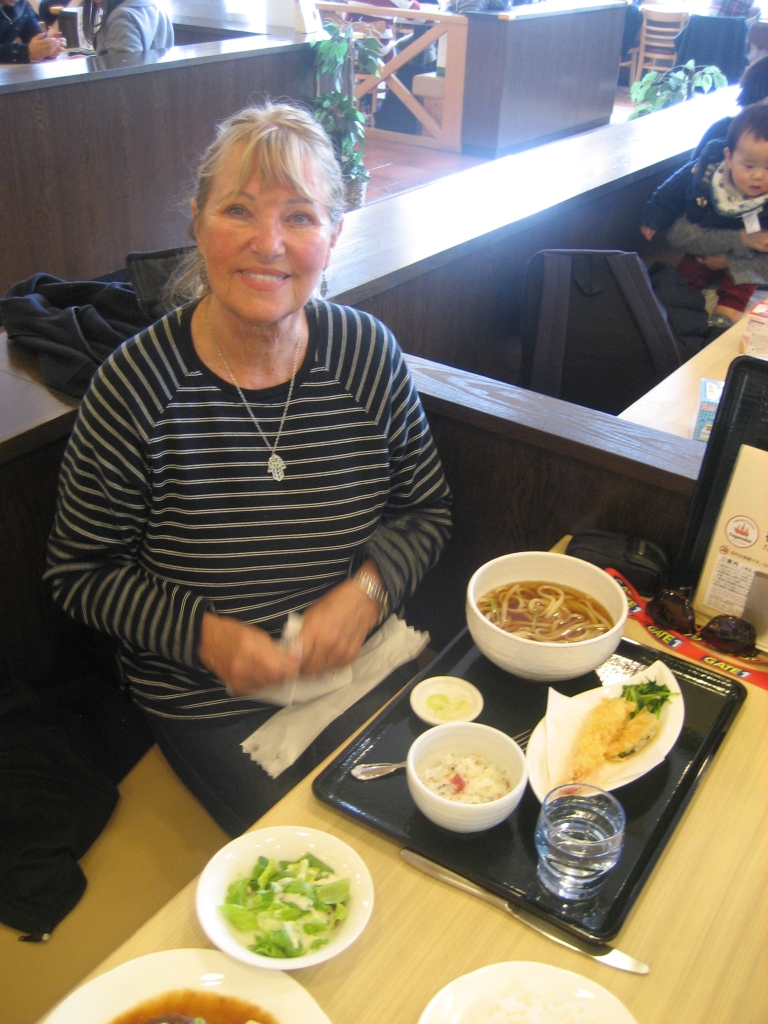 Food always brings a sparkle to Elsa's eyes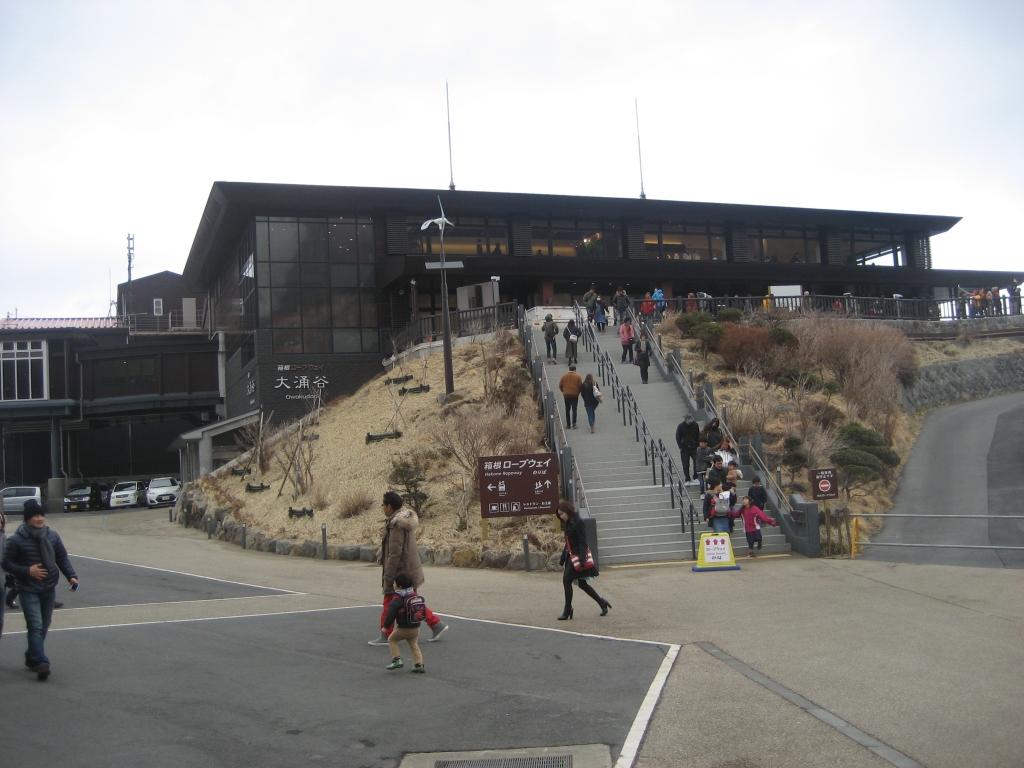 Geothermal Museum in Hakone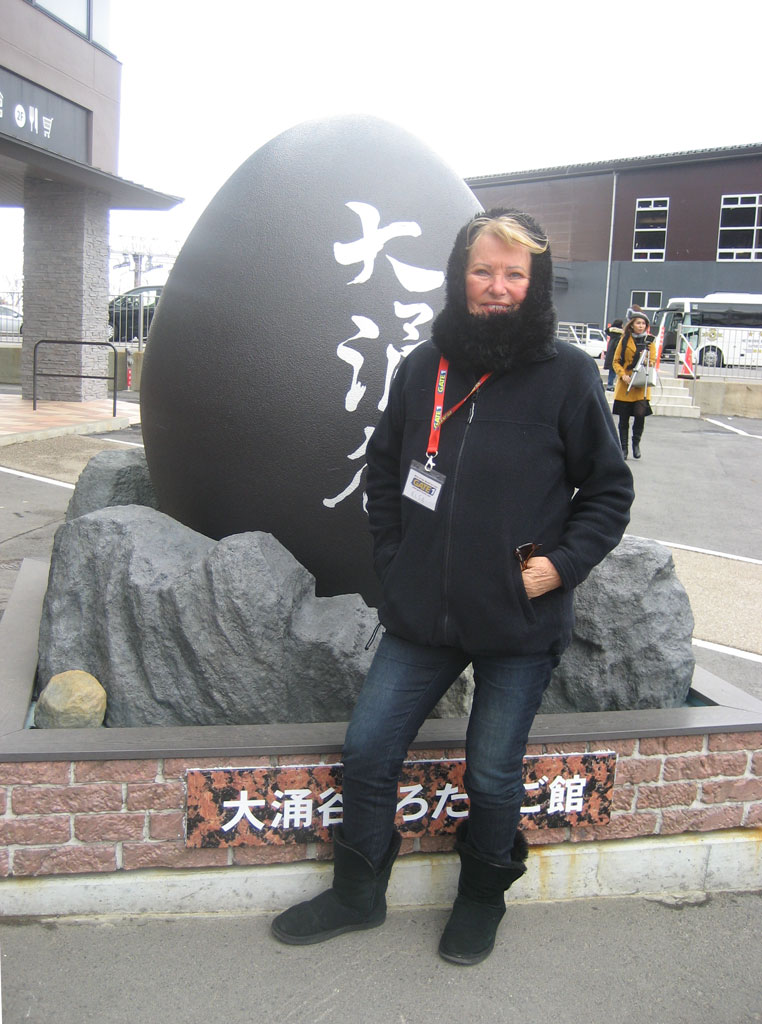 The World's Biggest Stone Easter Egg
Tourists buy real eggs, turned black by cooking in the sulfur water
They are said to prolong your life by seven years

Carrying cement in cattle?

Driving to the Mt. Fuji lookout point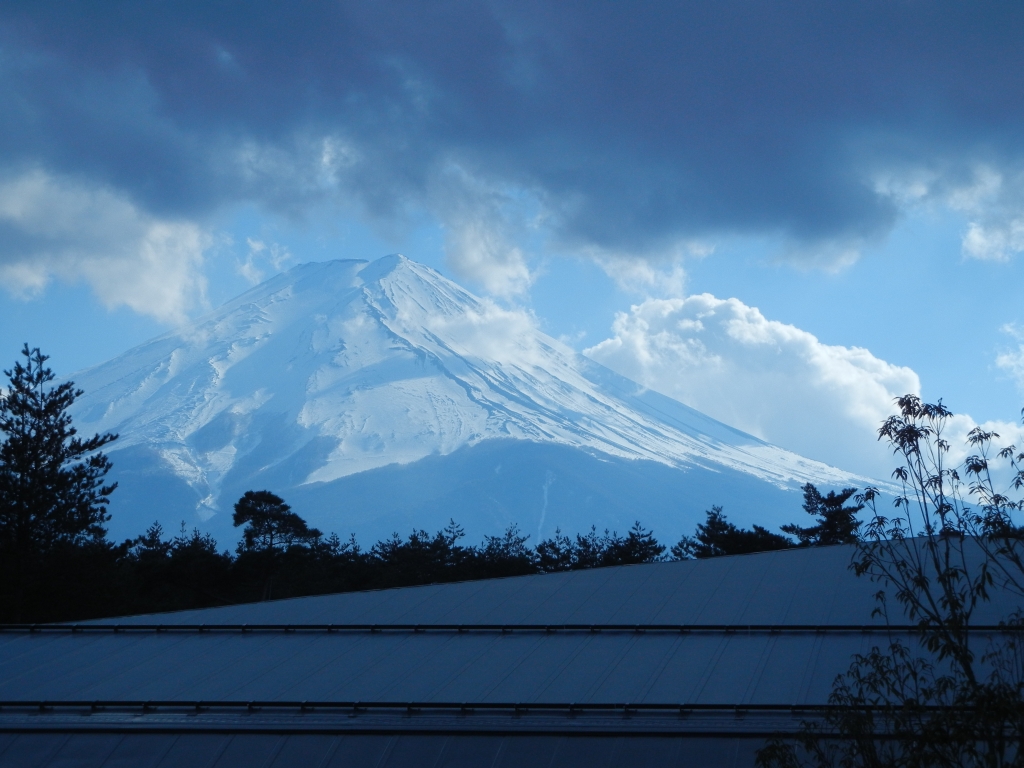 It was cloudy until we arrived at the lookout

The Accidental Tourists arrive at Mt. Fuji

Mt. Fuji is an active volcano 100 km (60 miles) southwest of Tokyo. Itís the countryís tallest peak, at 3,776 meters (12, 389 feet).
A pilgrimage site for centuries, itís considered one of Japanís 3 sacred mountains, and summit hikes remain a popular activity.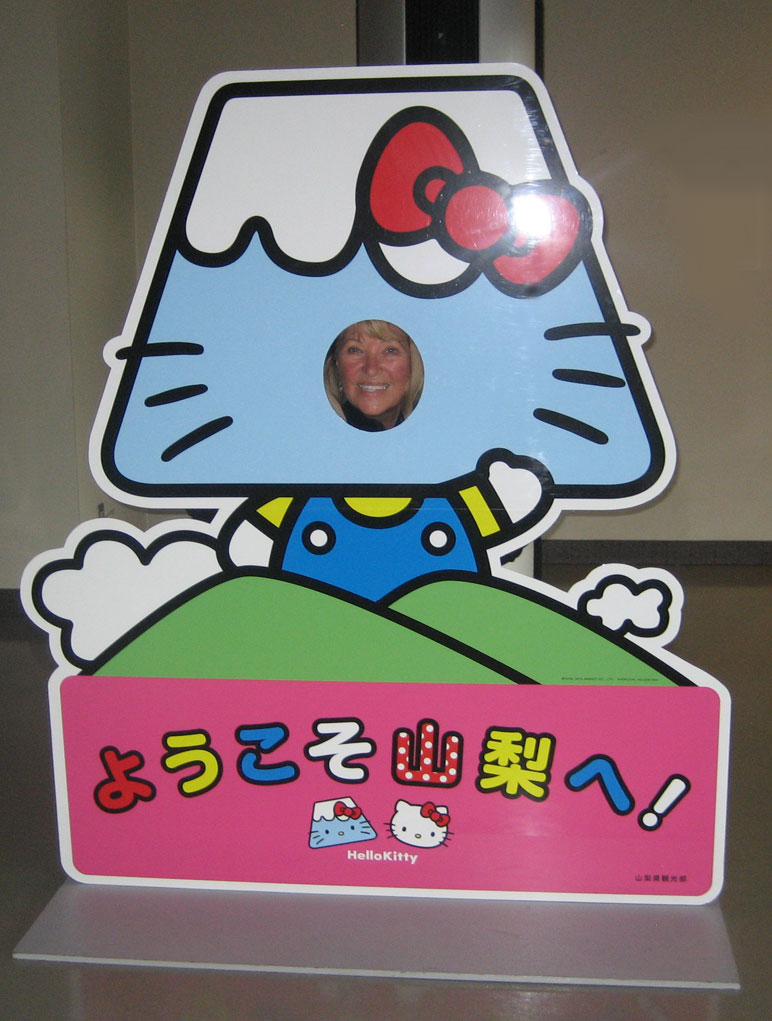 Hello Kitty is a very Japanese Thing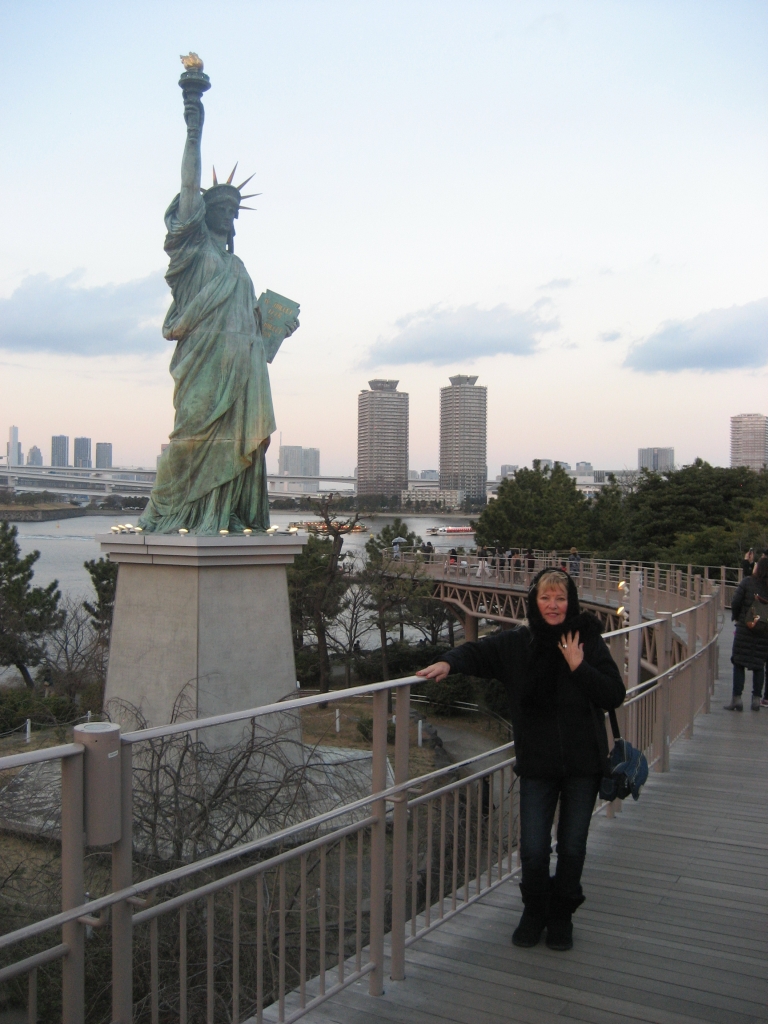 It's Not New York, but it is Cold

Tokyo, from the shopping center outside our hotel

Our hotel, the Grand Nikko


Day 6, Sunday

Leaving Tokyo... waiting for the Bullet Train with all we were allowed to bring onboard for two nights
Our big suitcases were sent ahead by other means

We're headed for Kanazawa

The nose cones open, allowing the trains to be coupled together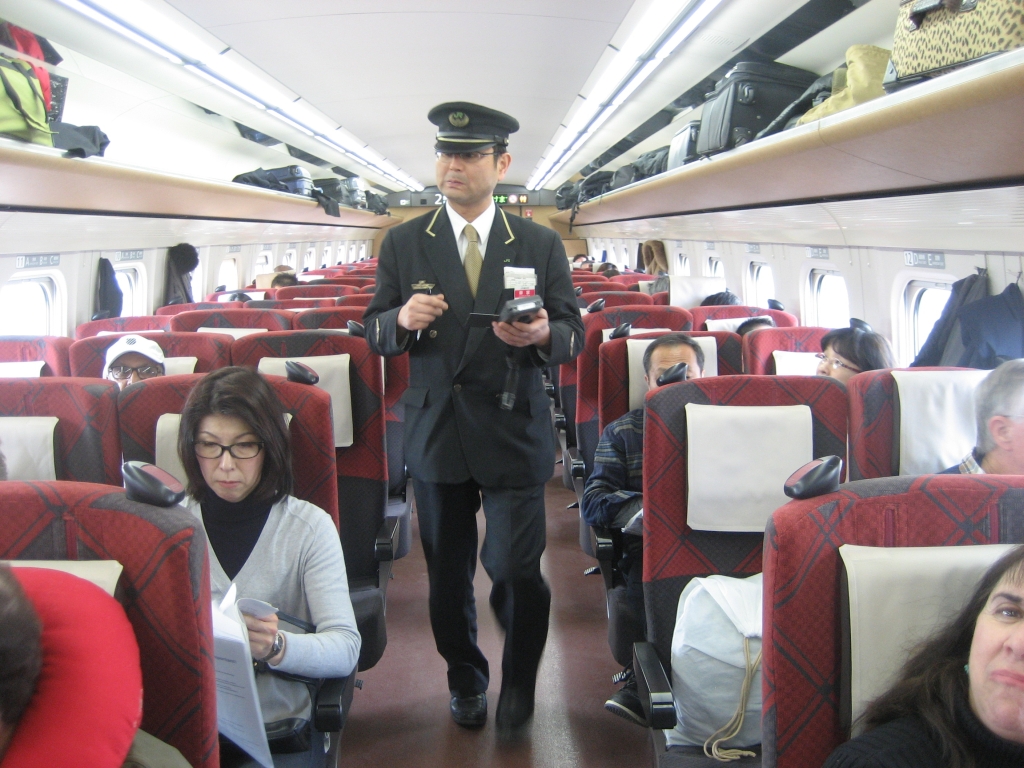 Tickets, Please

On the bullet train

Watching the countryside fly by at bullet speed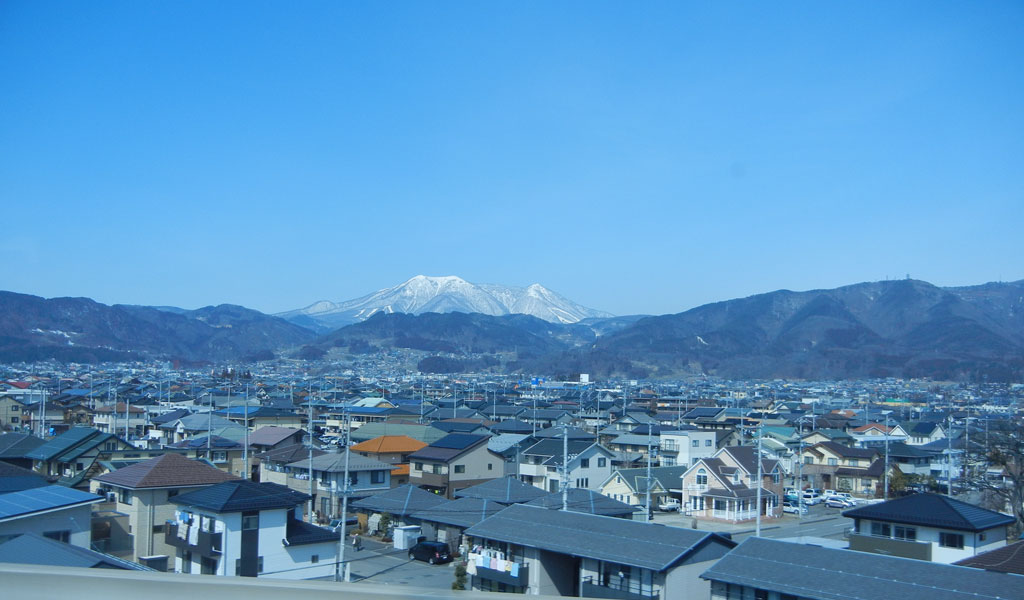 Not much yard for these houses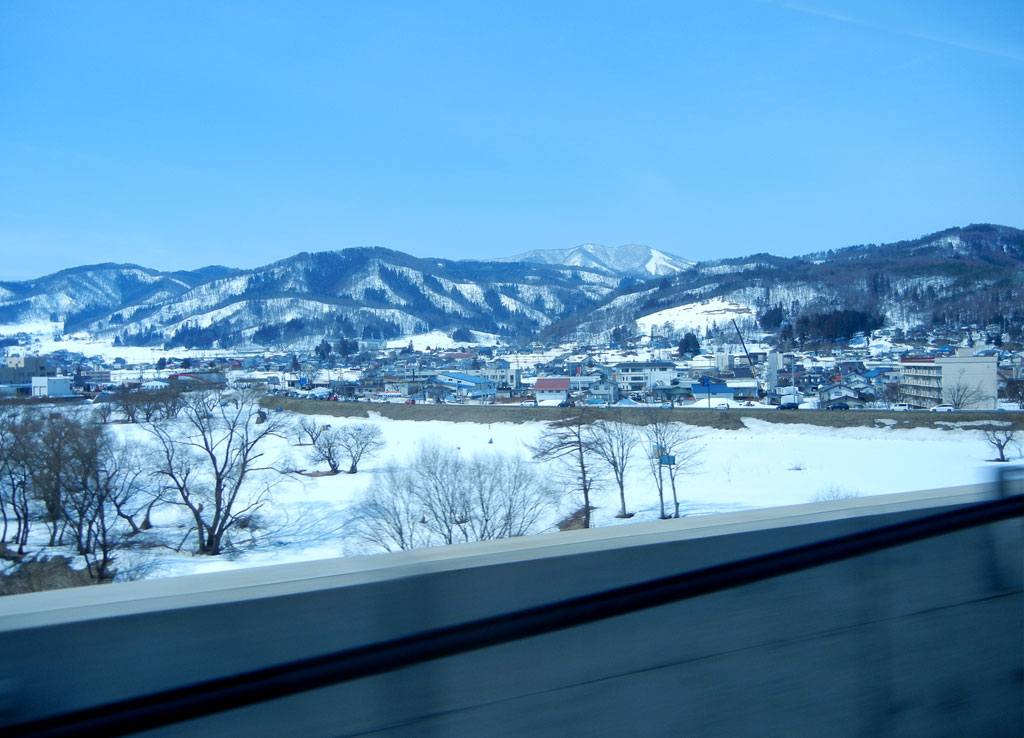 Still plenty of snow in the mountains

Fruit and Vegetables were very expensive
Two Tomatoes, $10.00, One Cantalope, $10.00

Assortment of Fruits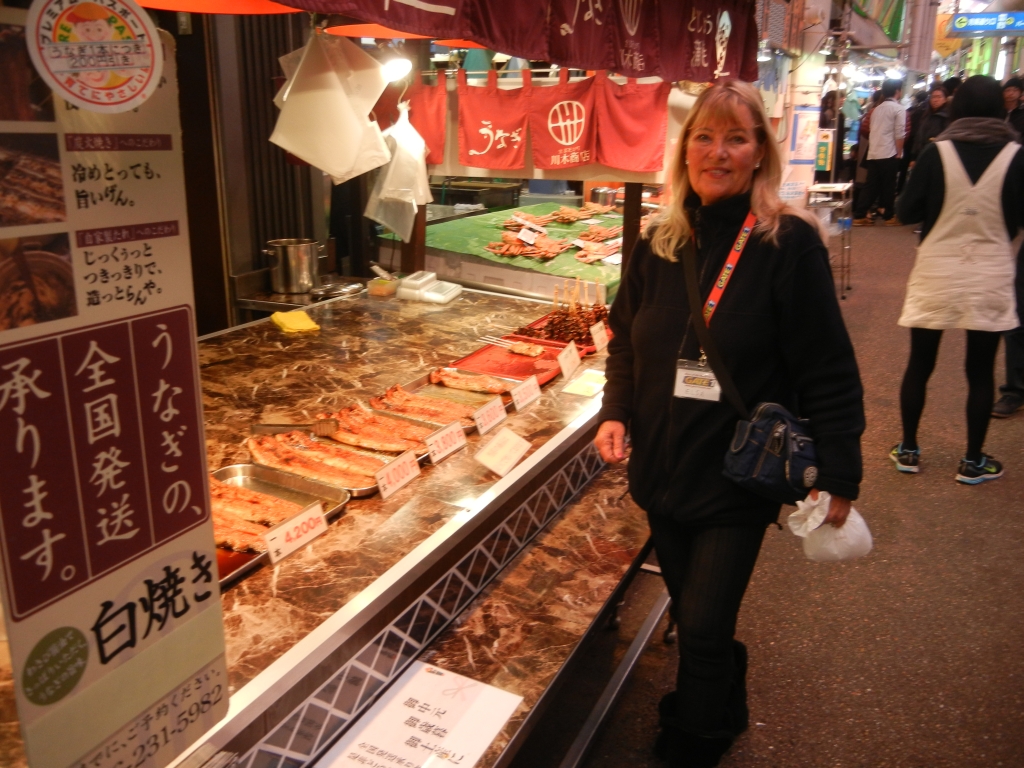 Elsa got ice in the market to soothe her aching shoulder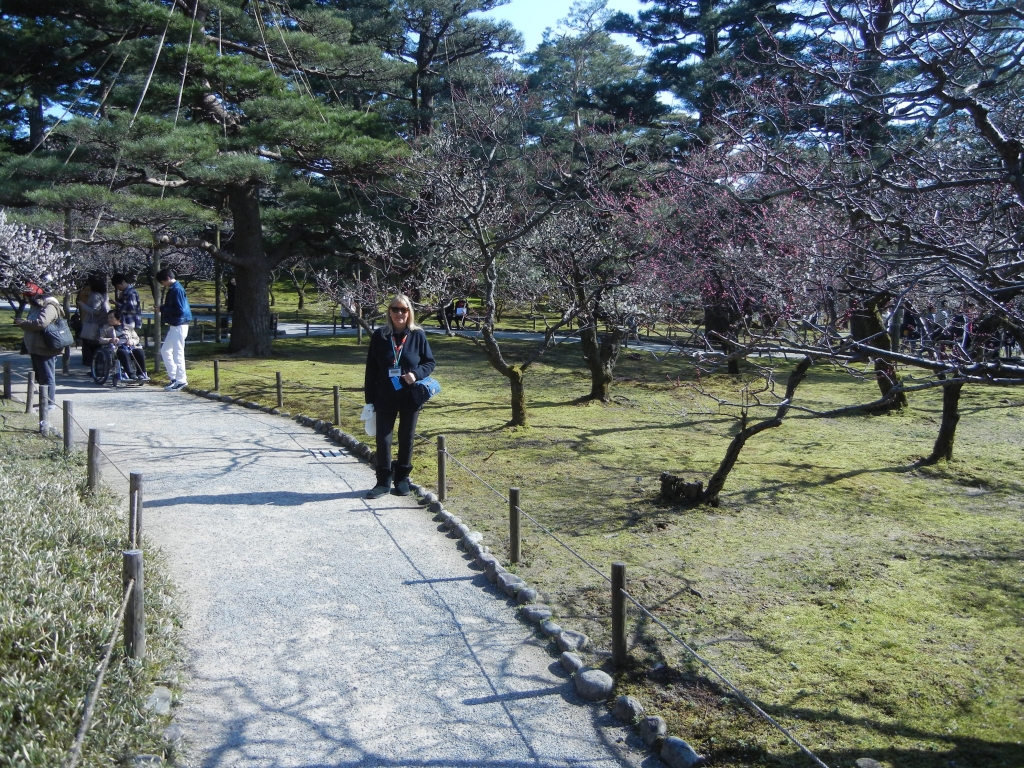 A few more cherry blossoms in the Kenroku-en Garden

One of the country's most elite gardens

R2-D2's little Brother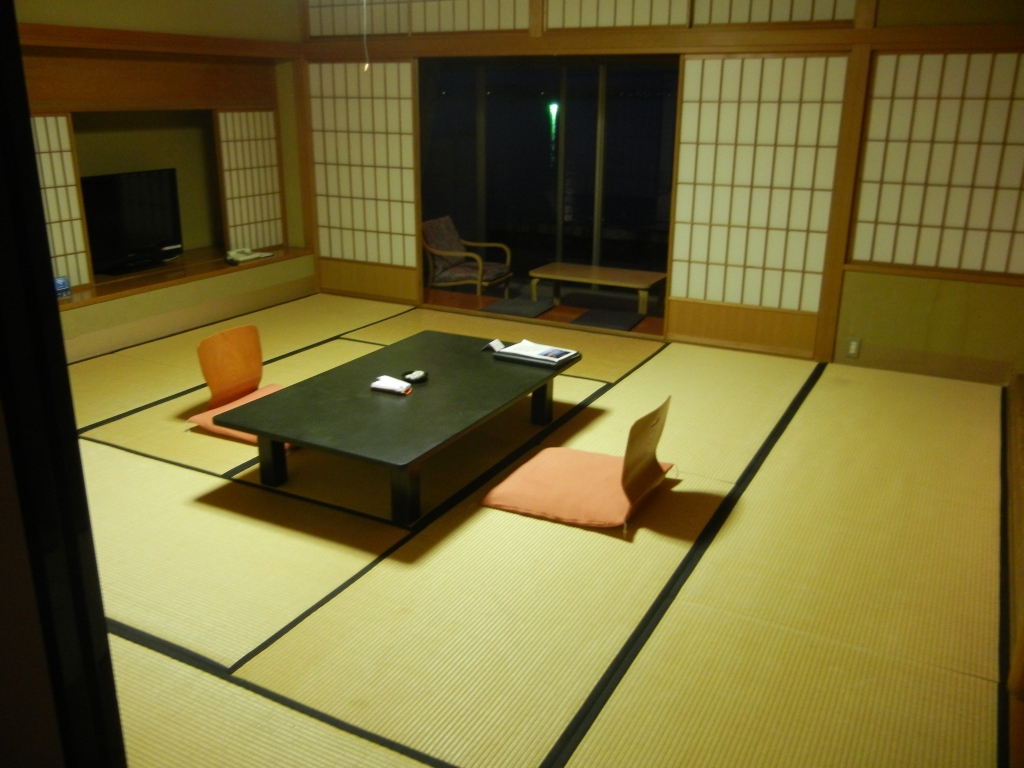 In Kagaosen, we find the real Japan
The main room of our Ryokan (Inn), to be our bedroom for the night
The tatami mats look like they might be a bit uncomfortable for sleeping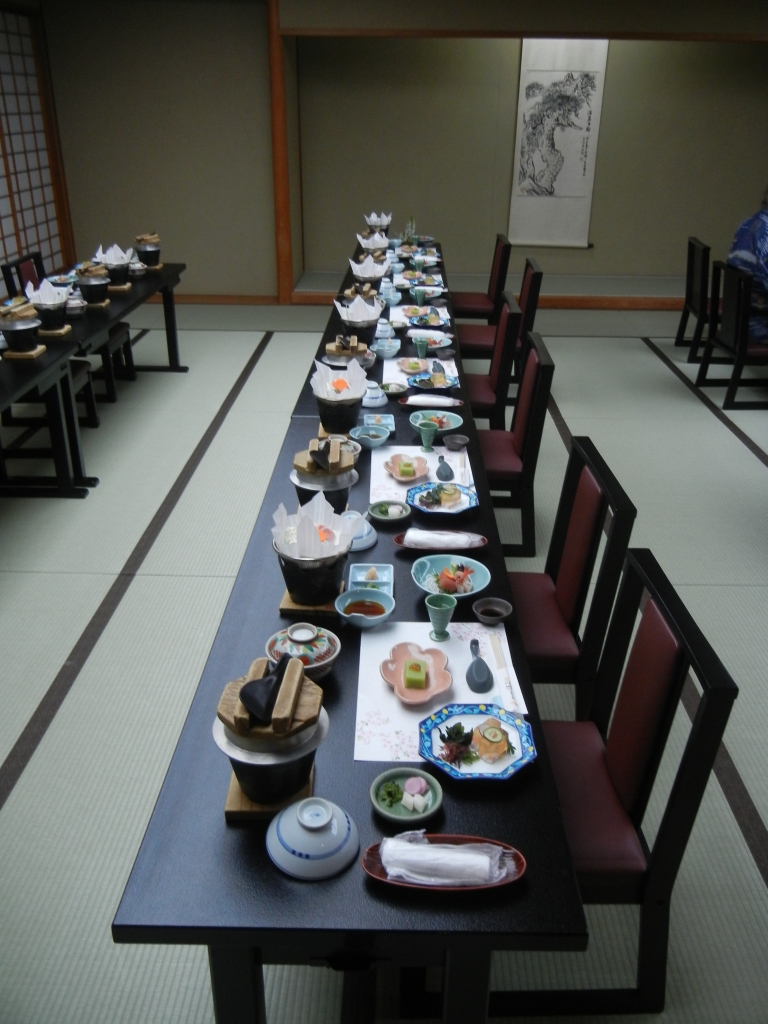 A full course Kaiseki Dinner awaits

Wearing our yukata, Pedro takes a little nap before dinner

Elegant is the word for it.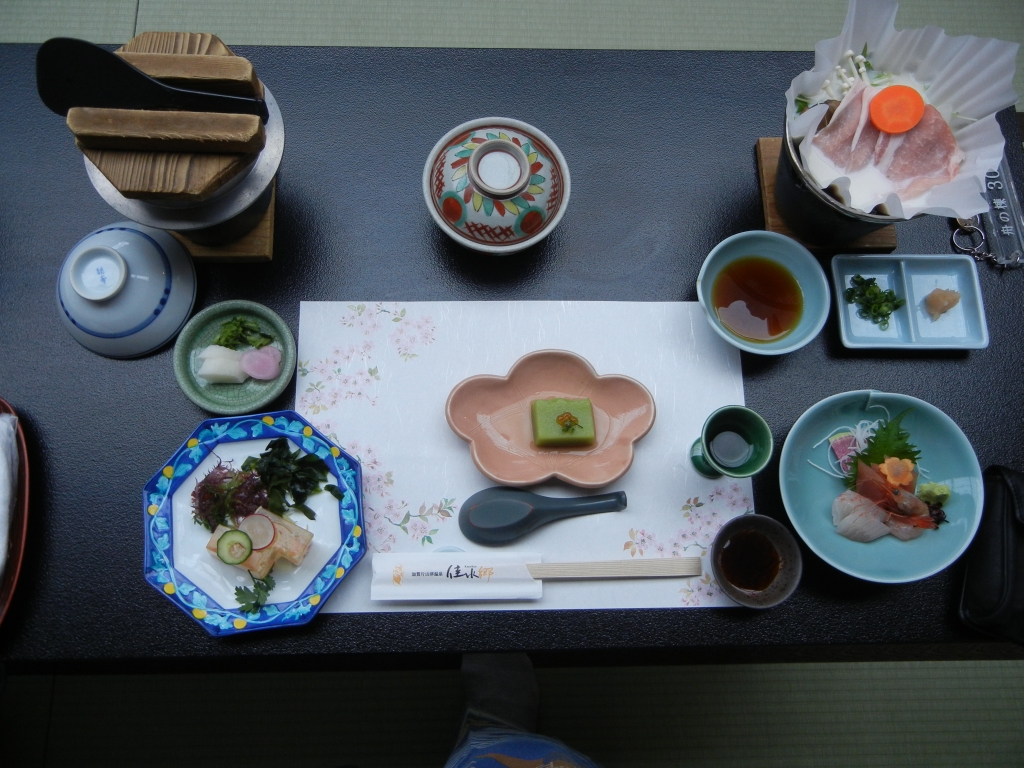 Does anyone know what we are eating here?

I know this one is a shrimp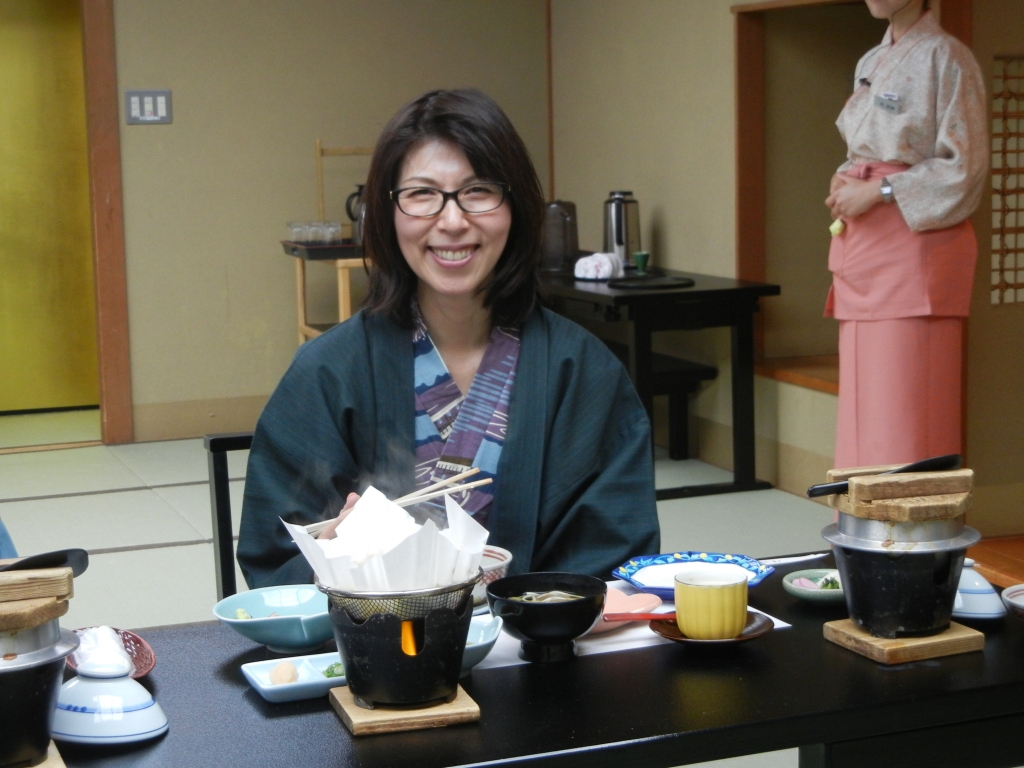 Etsuko liked to be called Eko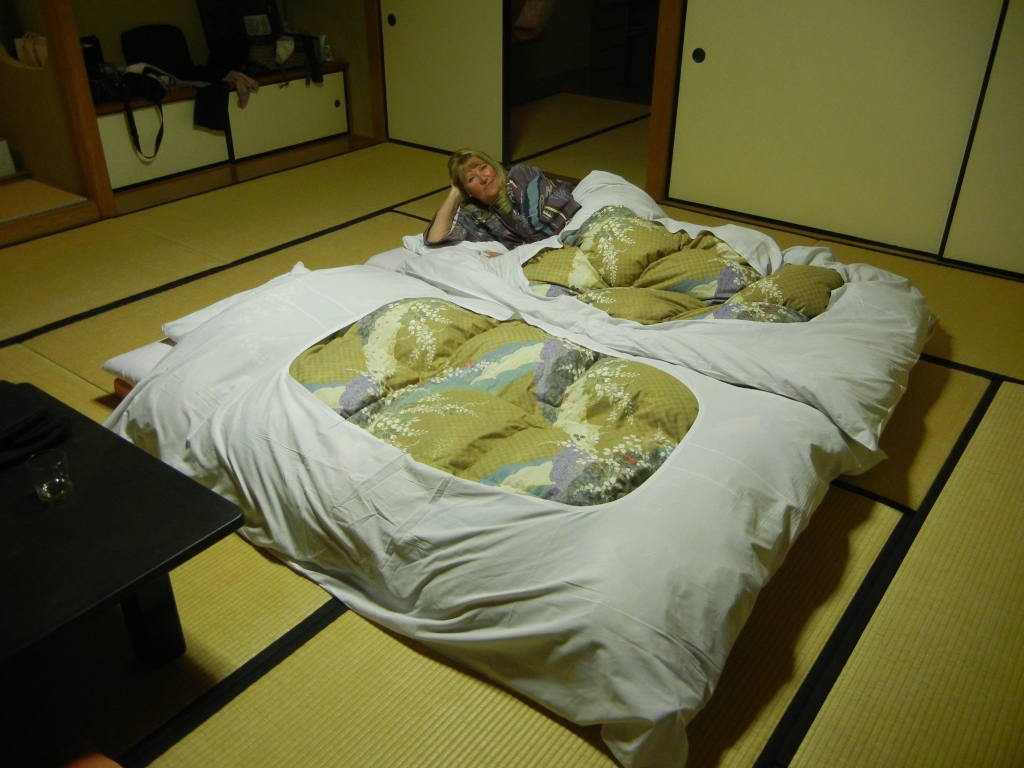 Things are looking up...
Our futon mats were laid out for us while we were having dinner


Day 7, Monday

Breakfast at the Ryokan

Balcony overlooking the lake outside our room

Driving on the Wrong side of the road is encouraged

One of many tunnels

It looks like Switzerland with Japanese houses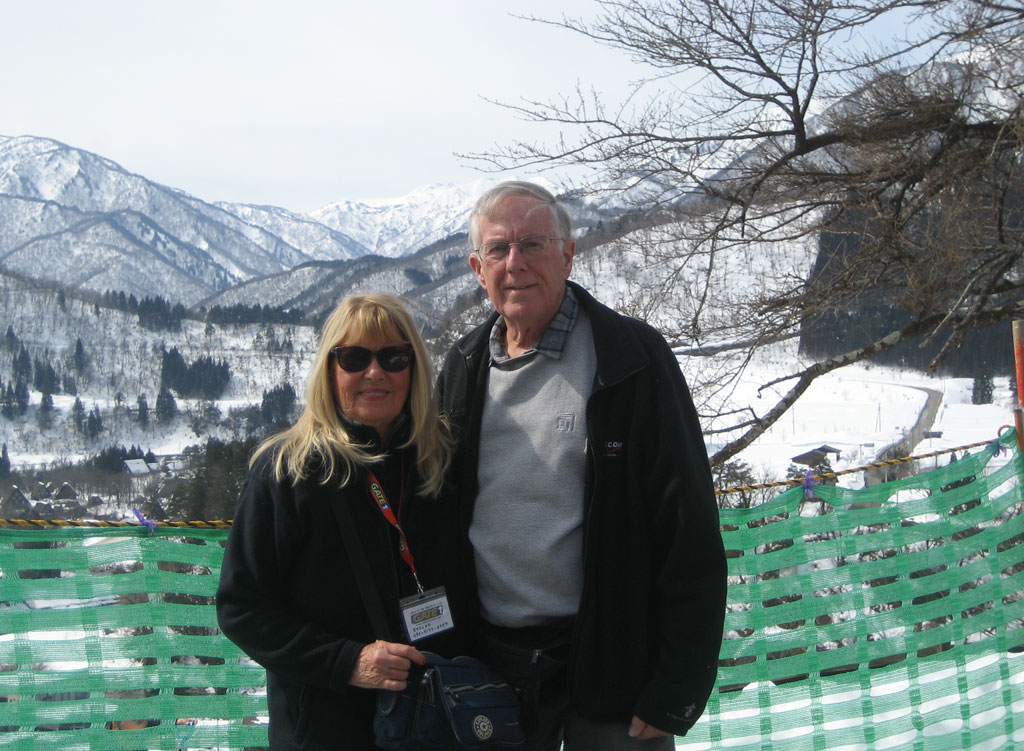 The Accidental Tourists Find Snow in the Winter in Japan !
Who Knew?

There's still plenty of snow up in the mountains

I Accept the Challenge

Thatched Roof gassho-zukuri (praying hands) Farmhouses in Shirakawa-go

Takayama's Old Town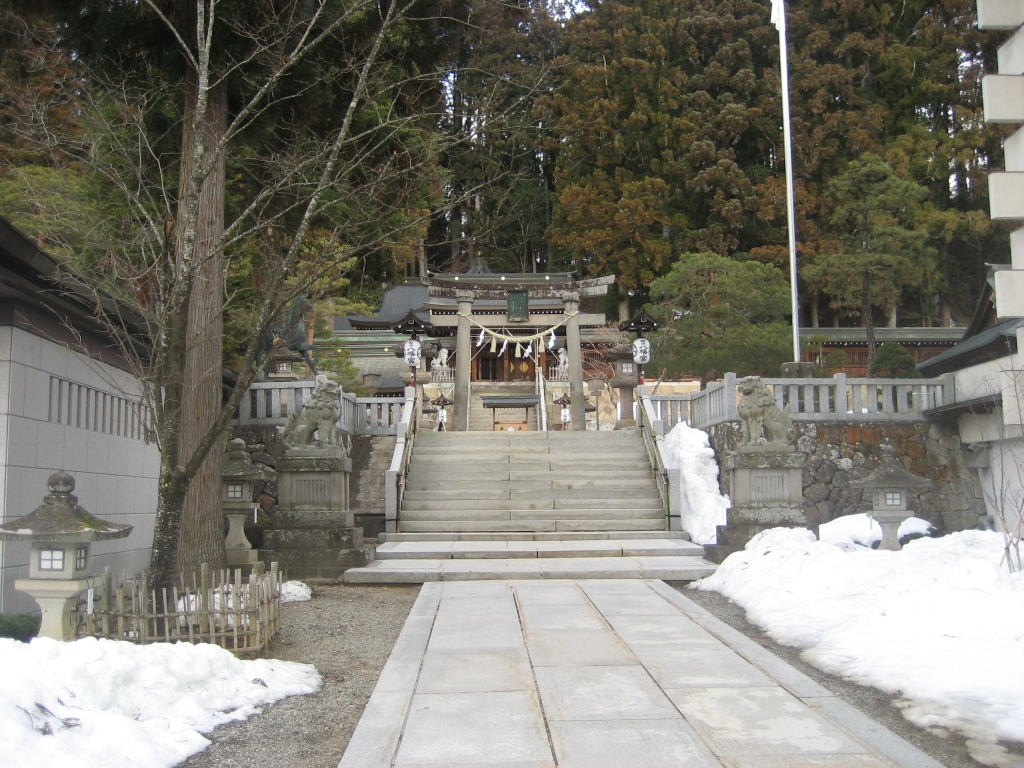 Takayama Jinya Museum of Parade Floats

The wooden floats are brought out only for major festivals

Model Villages in the Museum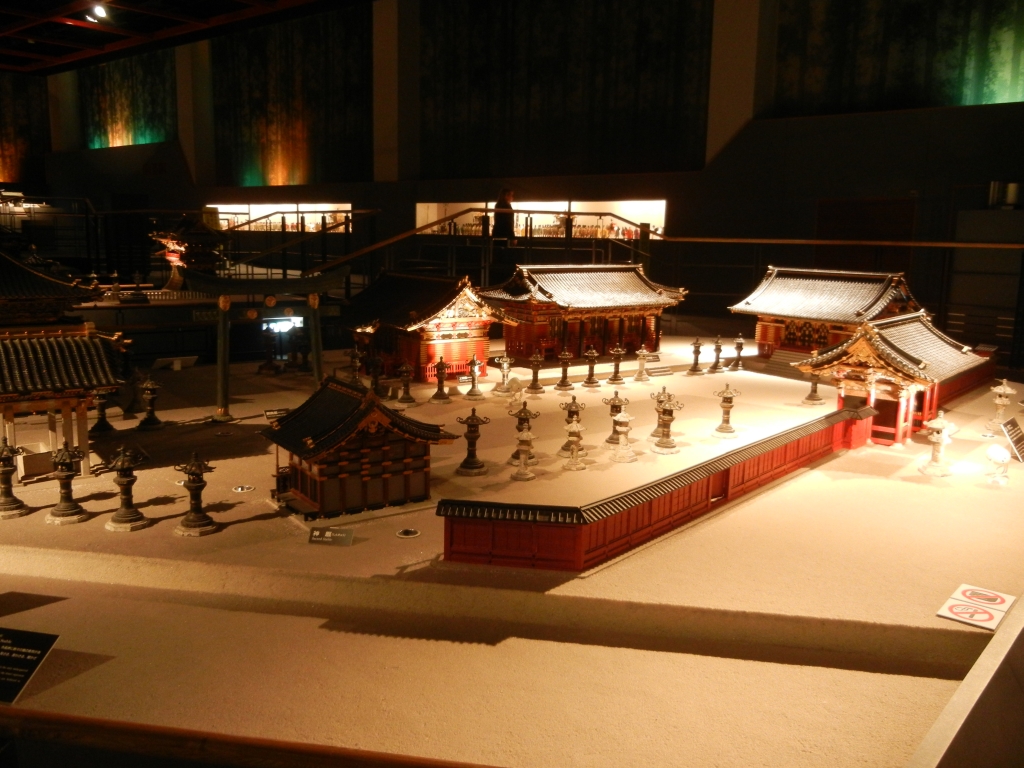 Day 8, Tuesday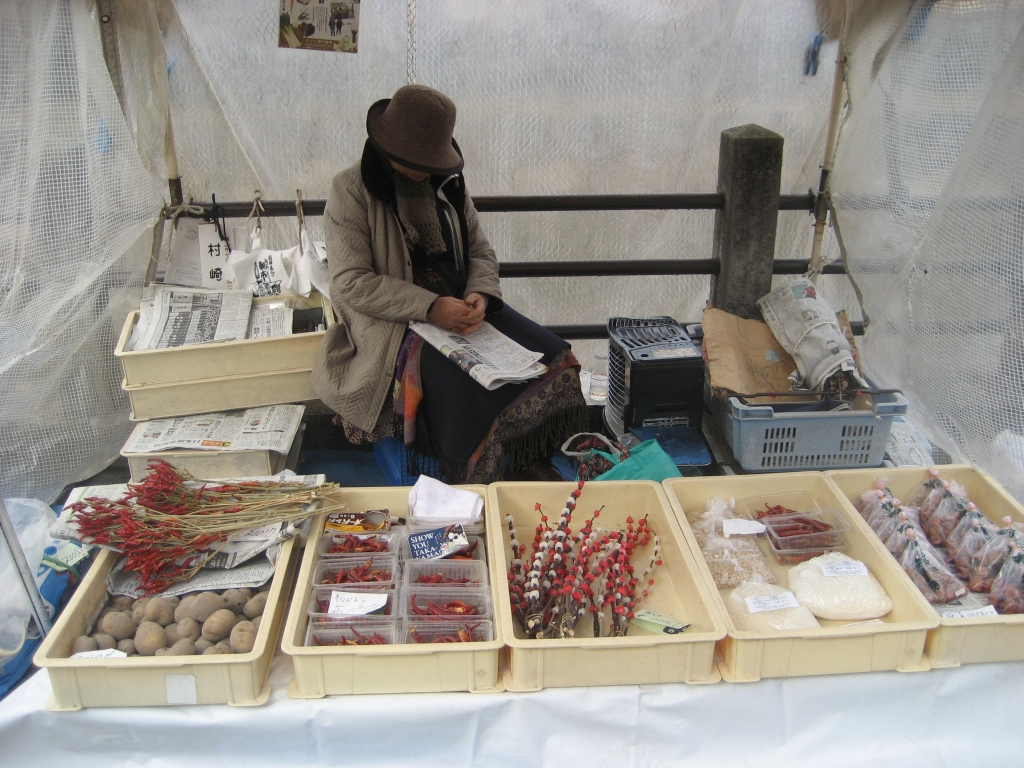 Street Vendor, taking a mid-morning nap, Takayama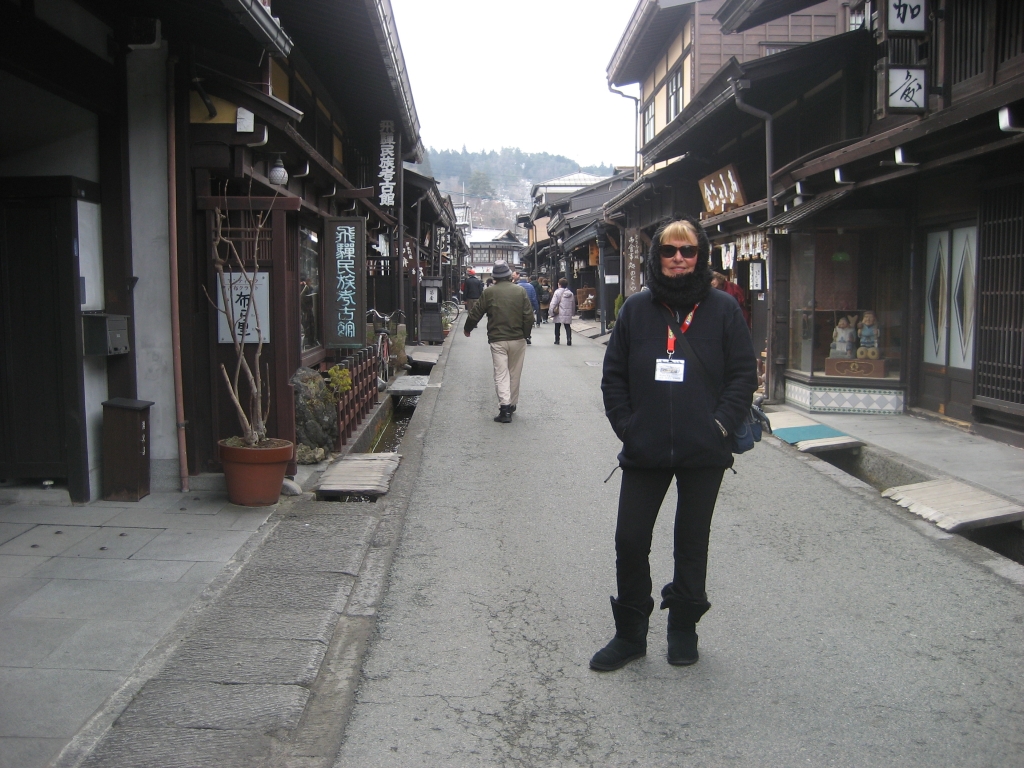 Takayama Sanno-machi Historic District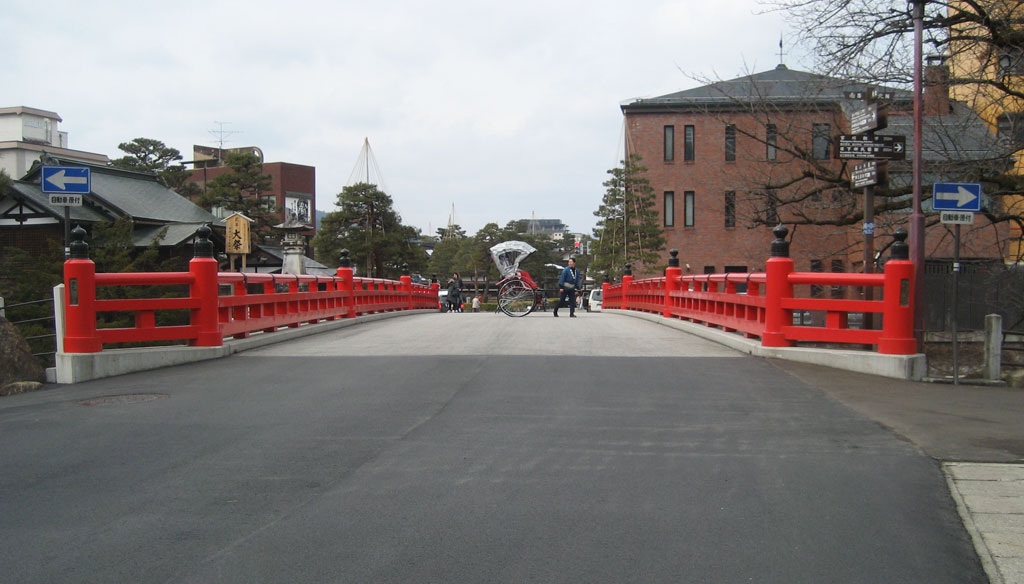 Chicken, beef and pork is cooked over individual small ovens

Boarding in Nagoya, bound for Kyoto

Dinner just outside the hotel... reasonably priced sushi


Day 9, Wednesday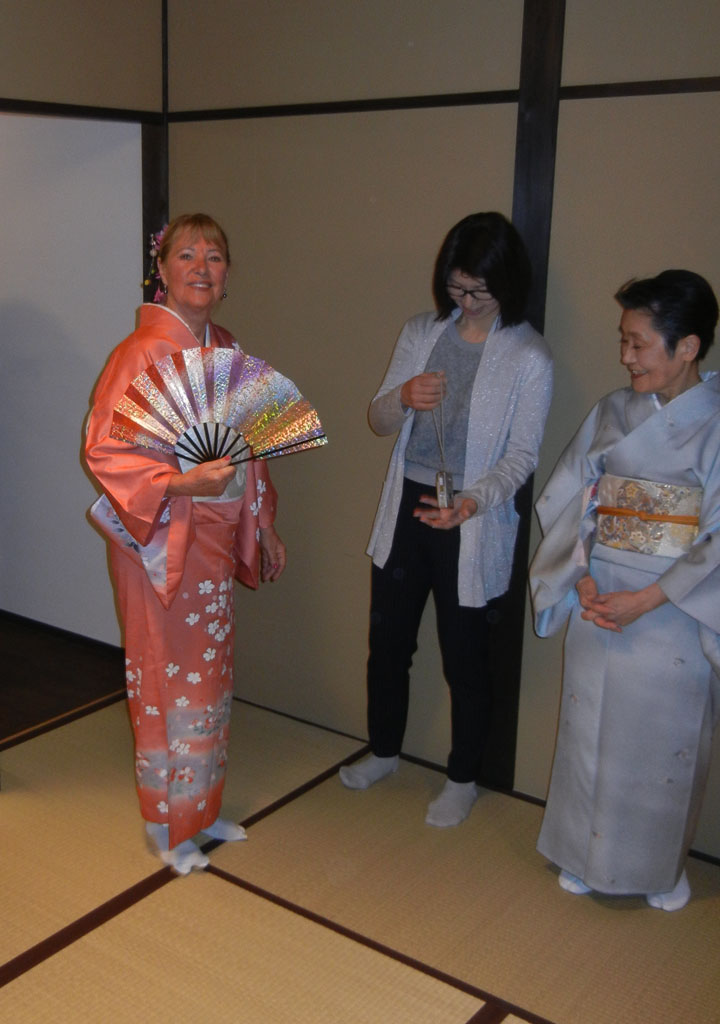 Elsita makes a grand entrance during Kimono demonstration

This Kimono thing is serious business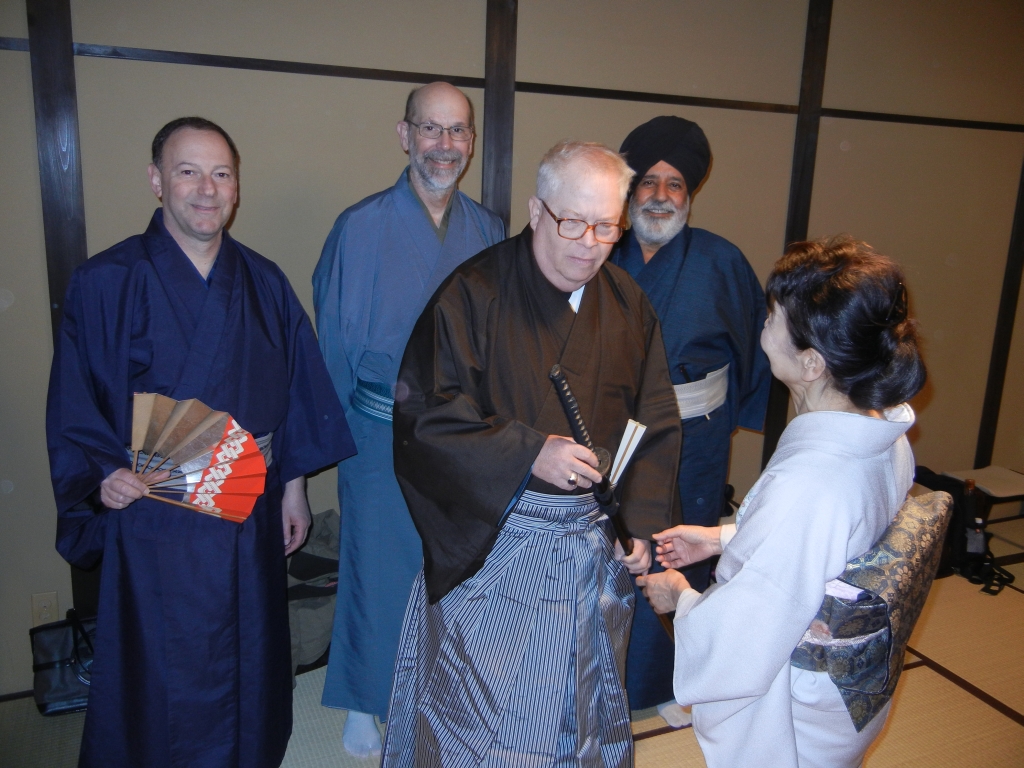 Harvey, known also as Samuri-san, and his band of warriors

Instant Geisha assortment gathered from many countries

Kimono School Graduation Ceremony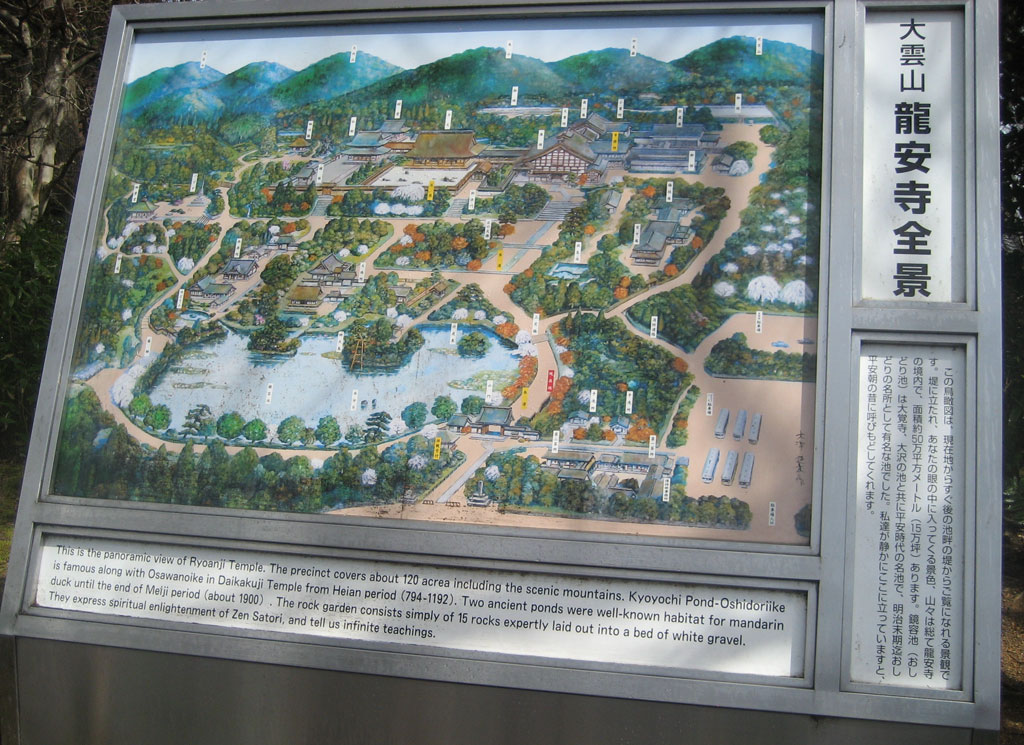 Map of the Ryoanji Temple

The Kinkaku-ji Temple, the Golden Pavilion, a UNESCO World Heritage Site

Praying for better weather at the Ryoanji Temple

We came a long way to see Cherry Blossoms

Very Popular Tourist Spot

Elsa got a little ice cream cone. I wanted the big vanilla one

The very popular Hello Kitty doll was calling to Elsa

Returning to the hotel during the evening rsuh hour
Traffic always moved without delays

Back at our Hotel

We wander from the hotel for dinner on our own, stopping in front of the train station

Another adventure in Fine Dining on our own

The waitresses have never seen foreigners in this place


Day 10, Thursday

A cherry tree, waiting for us to leave, so it can start to bloom

Another Purification Station

The Heian Shinto Shrine Main Gate with the Main Hall in the background

The Heian Shinto Shrine is listed as an important cultural property of Japan.

You are here. How do they know that?

The Japanese-style garden takes up about half the land area and was created over a 20-year period.

Species otherwise rare in Japan such as the Yellow pond turtle and the Japanese pond turtle live around the ponds.

The Bullet Trains are visible from our hotel elevator

The lobby waiting area was dominated by a giant lamp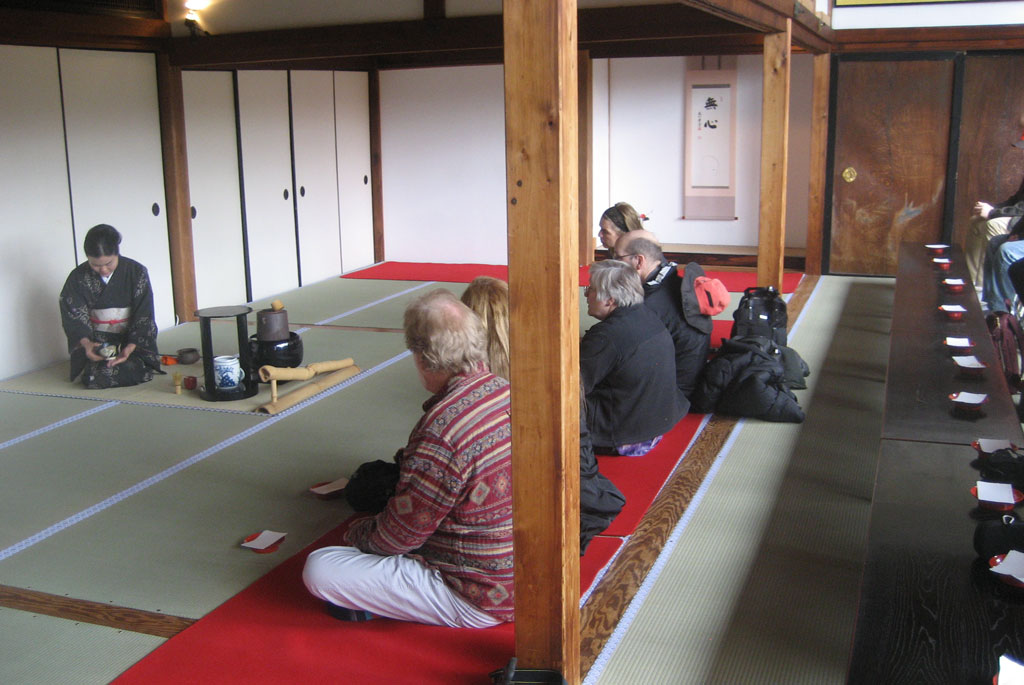 Introduction to the Tea Ceremony

Have a Lock that doesn't Lock or a Key that doesn't Key?
Call this mobile locksmith driving his "Key Ambulance" in Kyoto

Lunch provided by the tour operator, Gate 1 Travel

High Style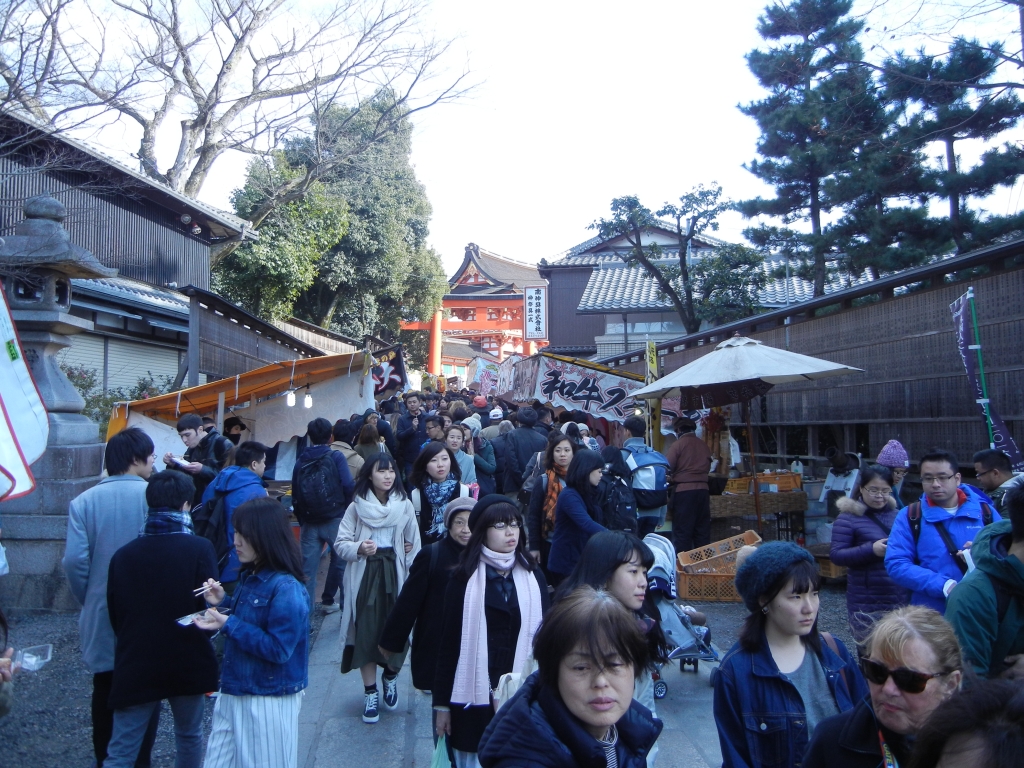 The path leading up to the Fushimi Inari Shrine was crowded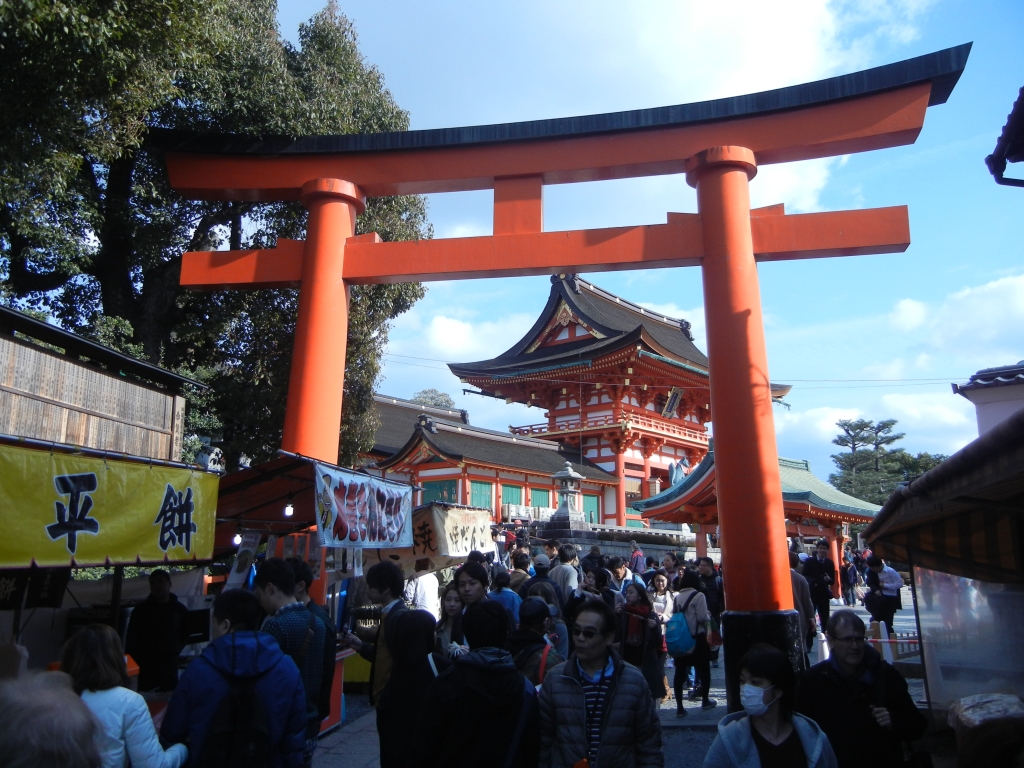 The building in the background is the Romon Gate at the shrine's entrance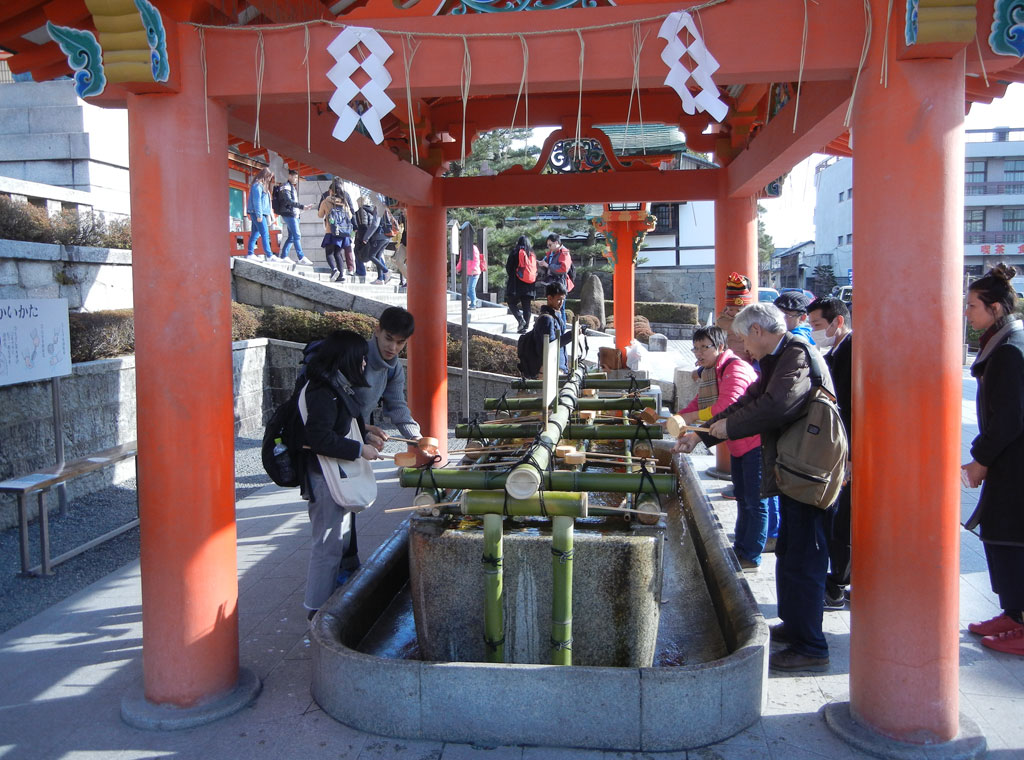 Please be Purified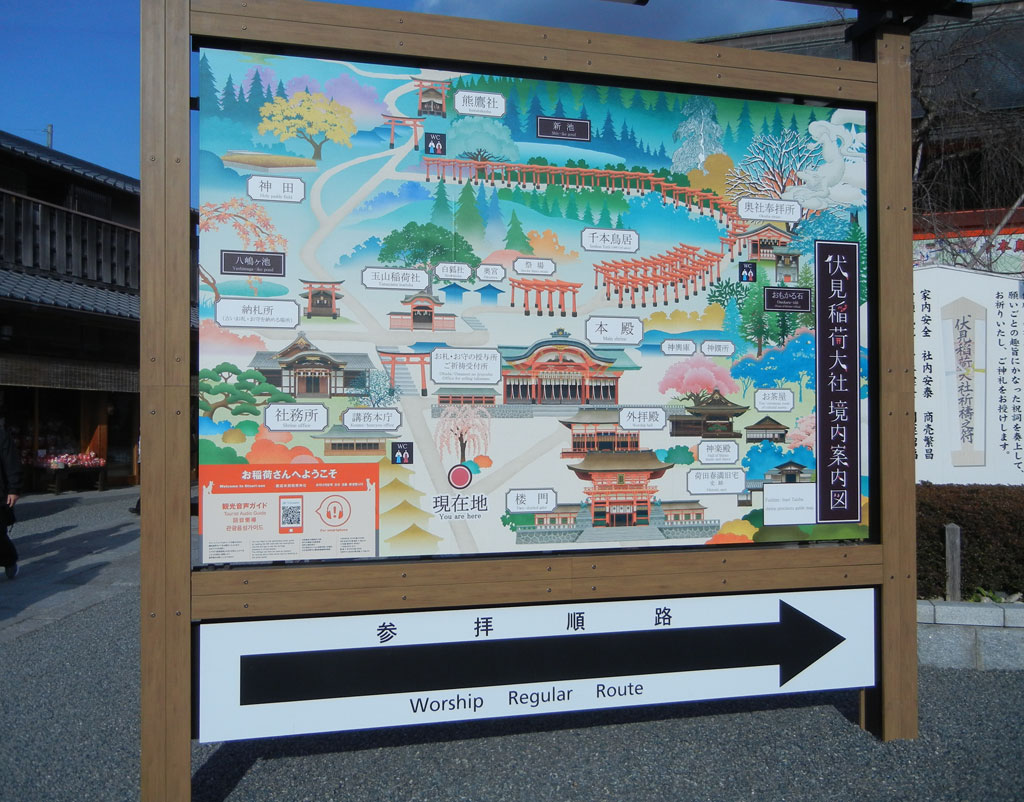 Worship Regular Route

Fushimi Inari is the most important of several thousands of shrines dedicated to Inari, the Shinto god of rice.
Kitsune (Foxes) are thought to be Inari's messengers, resulting in many fox statues across the shrine grounds.

Fushimi Inari Shrine is an important Shinto shrine famous for its thousands of torii gates, which straddle a network of trails behind its main buildings.
The trails lead into the wooded forest of the sacred Mount Inari, which stands at 233 meters and belongs to the shrine grounds.

The inner shrine is reachable by a path lined with thousands of torii.

You can count on finding food vendors at busy locations.

Can you pick out the Foreigner Girl?
That's right... the short one...

A Time Traveler lost in a Pachinko Palace
When I last played Pachinko 40 years ago, the game consisted of a wood board with nails hammered in
There were a few machines in the train station, arranged to encourage you to give up pocket change on the way to the train
All you could hear then was the tinkling sound of the little metal ball cascading down the bed of nails
Now, it looks like Las Vegas with flashing LED lights and electronic sounds
The Good Ole Days are gone forever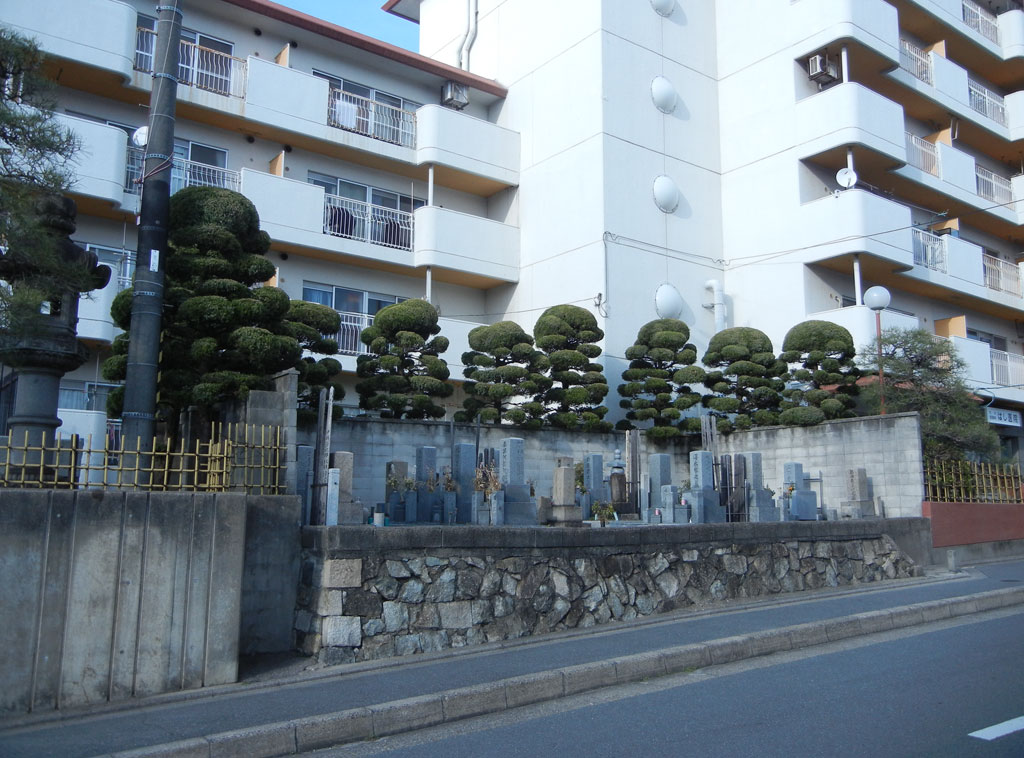 A small Cemetery in the middle of the city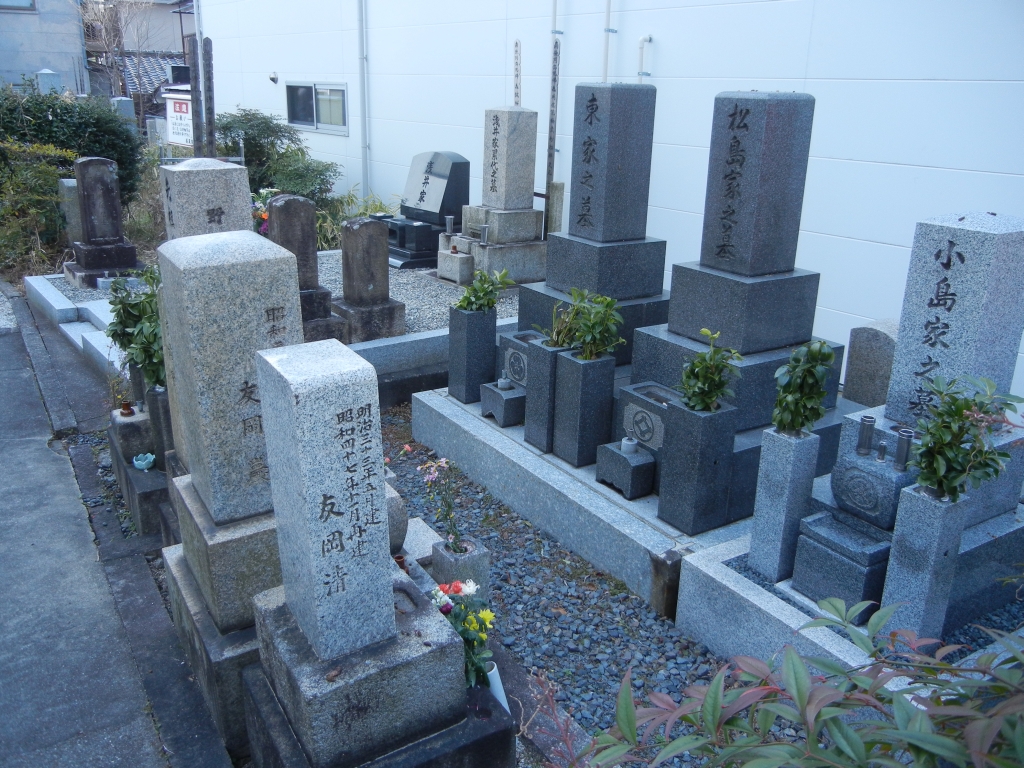 Day 11, Friday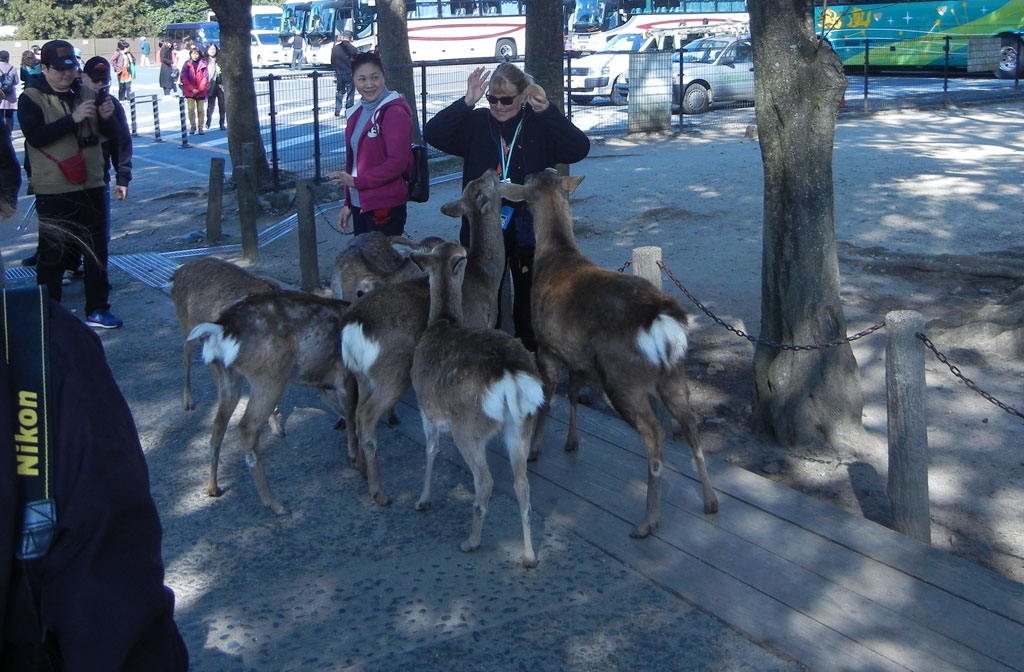 Deer park in Nara. Over 1000 tame deer expect food from tourists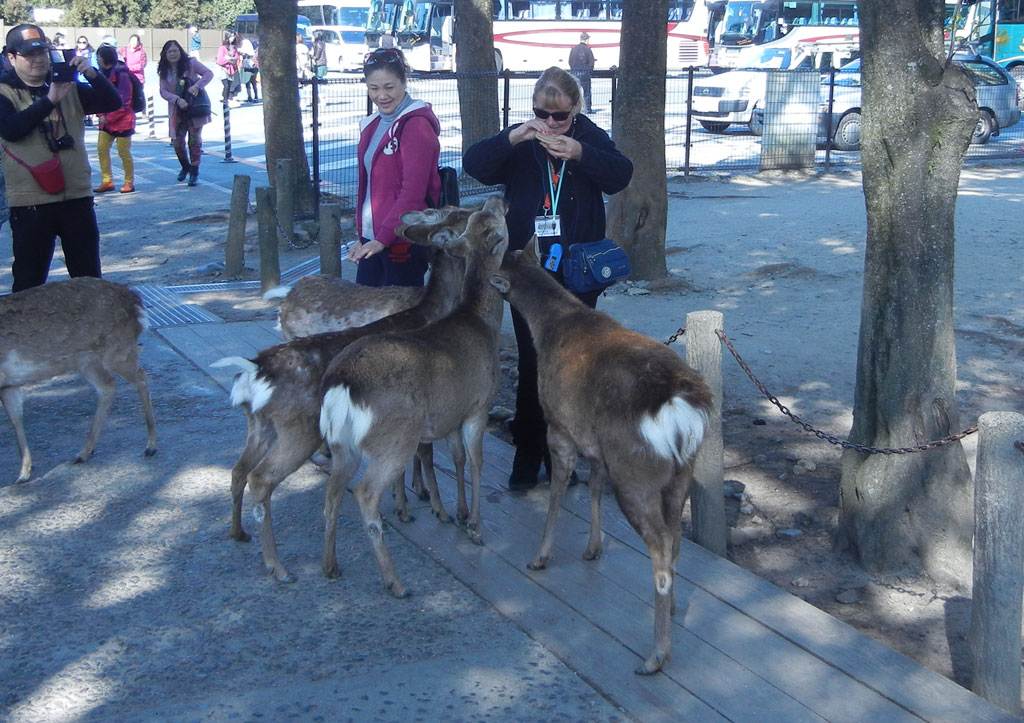 Stop biting my pants. I have food for you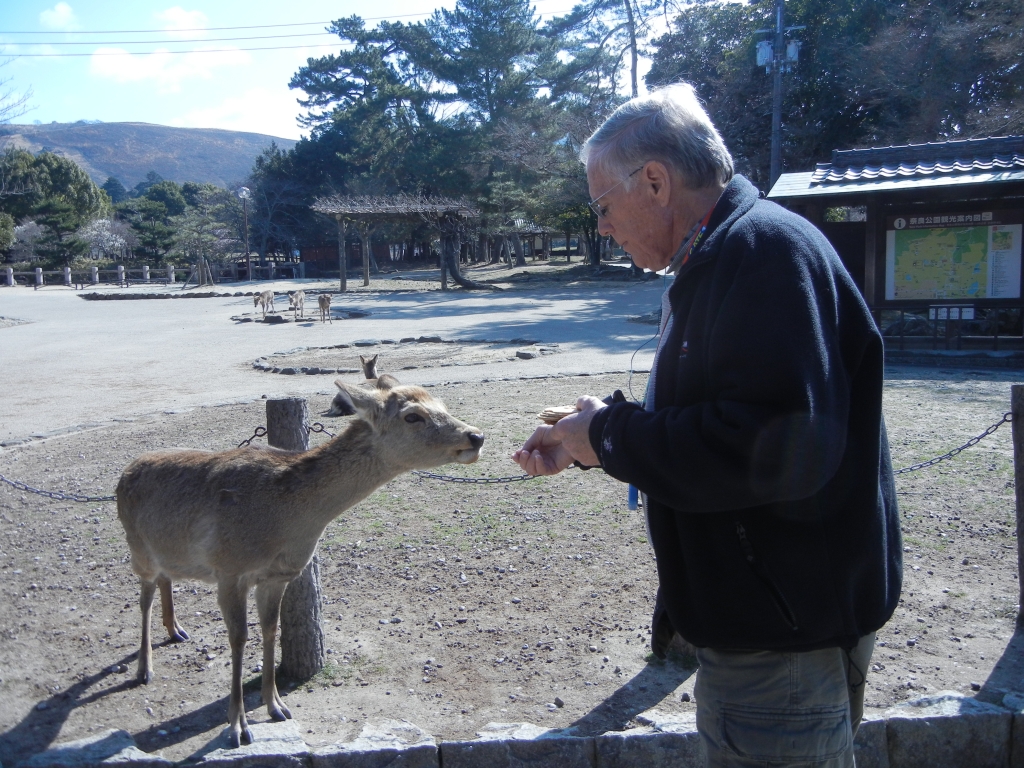 One at a time, they are tame enough. When more gather, they get aggressive

We survived the deer attack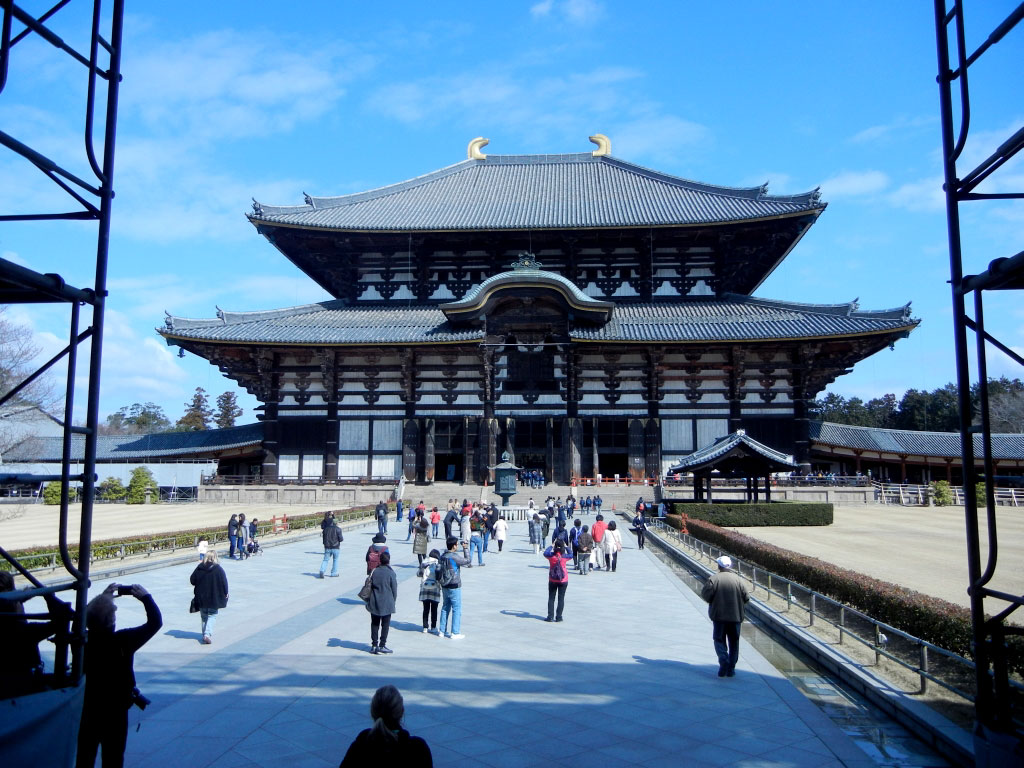 Todai-ji Temple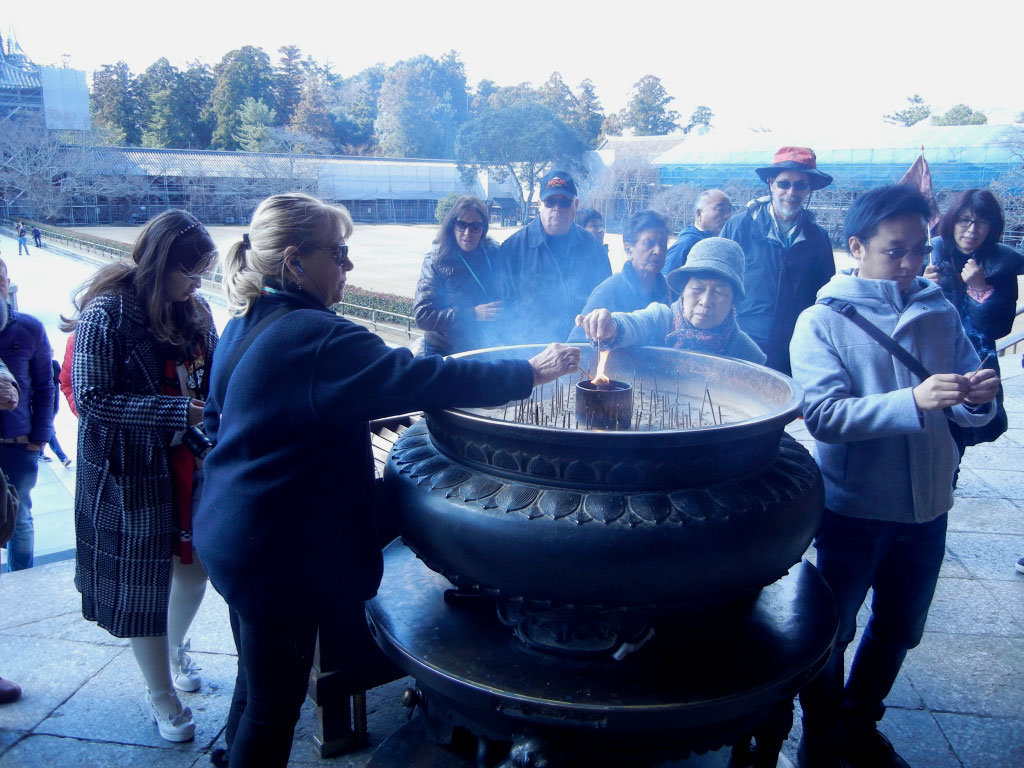 I hope my wish comes true

The smoke treatment hasn't started working yet

Daibutsu (Great Budda) stands over 50 feet high

Budda's Right Hand Man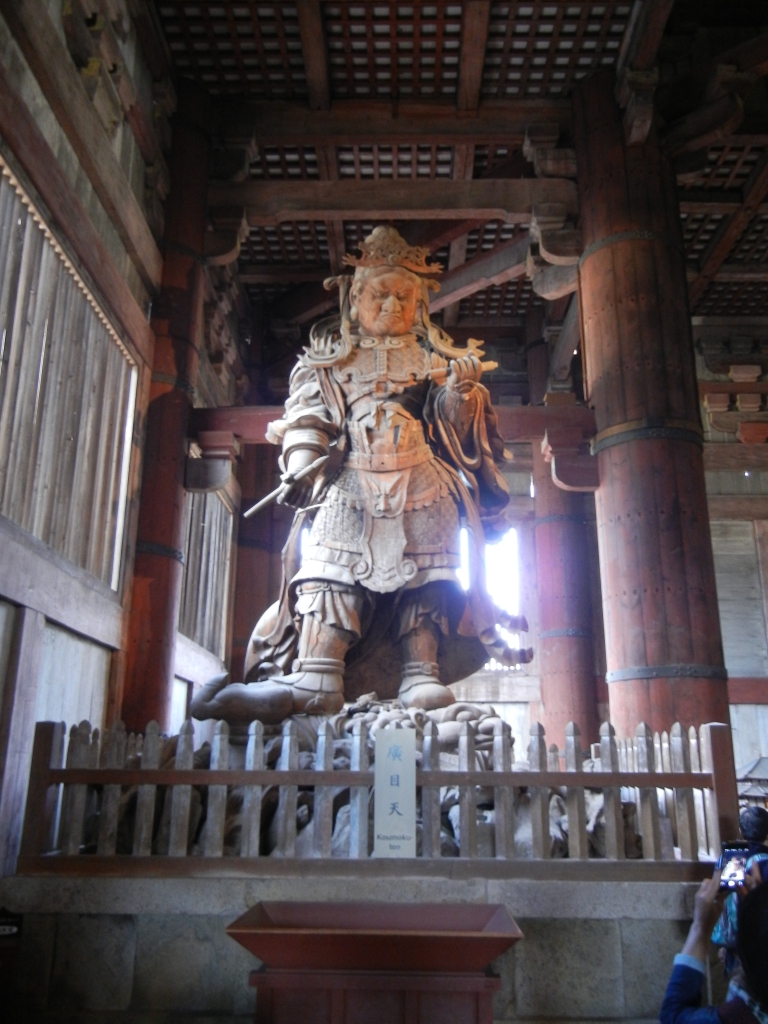 Budda's Left Hand Man

Wandering a side street, looking for a lunch spot
We found one where the owner spoke no English, Spanish or German
We put our last 2000 Yen on the table and got service with the help of another patron

After lunch, we found an interesting self-serve food market

Japanese language lesson on the bus
wasure gataki furusato
A song for children, translates to "Oh, how I miss my Old Country Home."

After our Farewell Dinner, a Maiko (Geisha in training) Girl joined us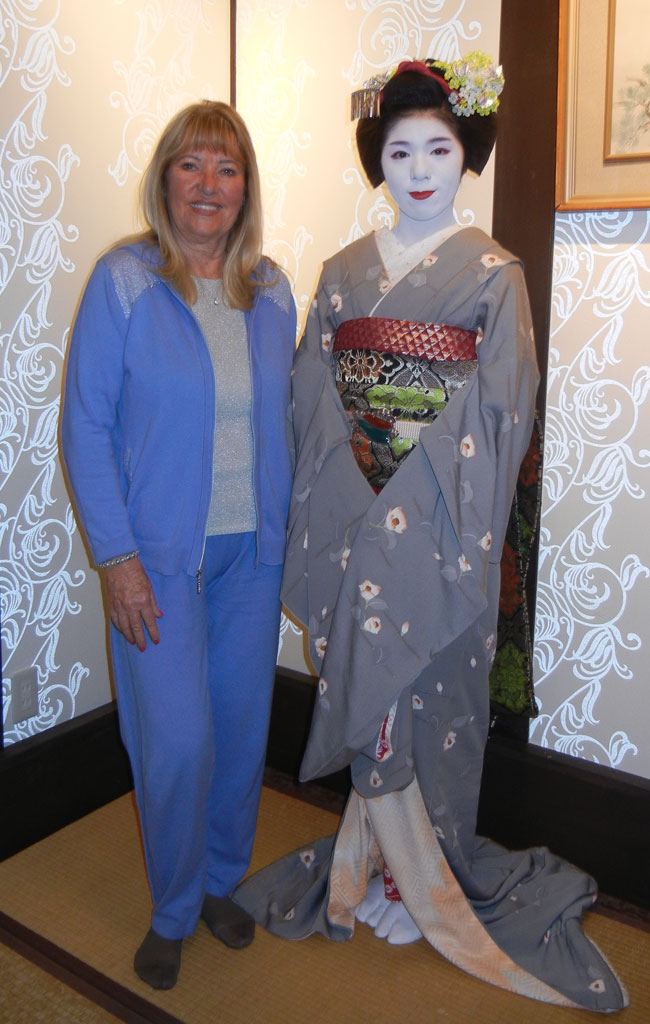 Can I become a Geisha, too?

Etsuko and Geisha at our Farewell Dinner

Our Merry Band at the end of the tour


Day 12, Saturday

Walking through the Kyoto train station, seeking lunch the next day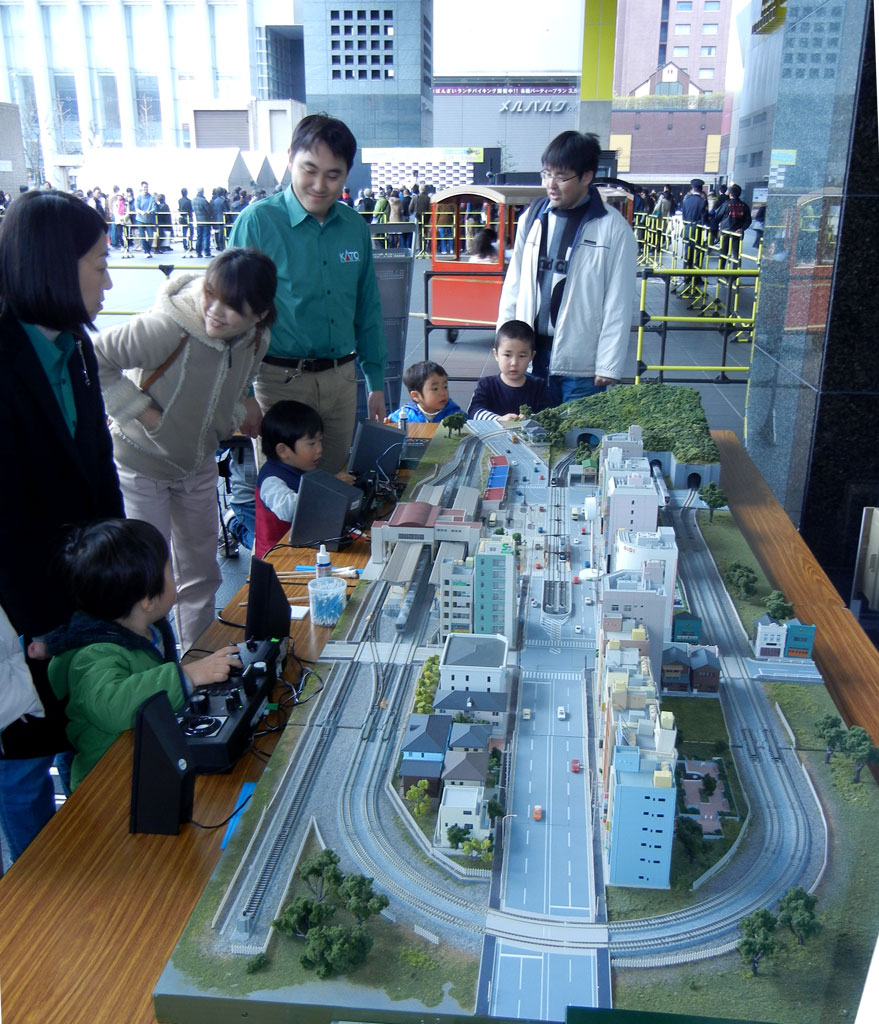 Model railroad, N guage, set up for kids in front of the train station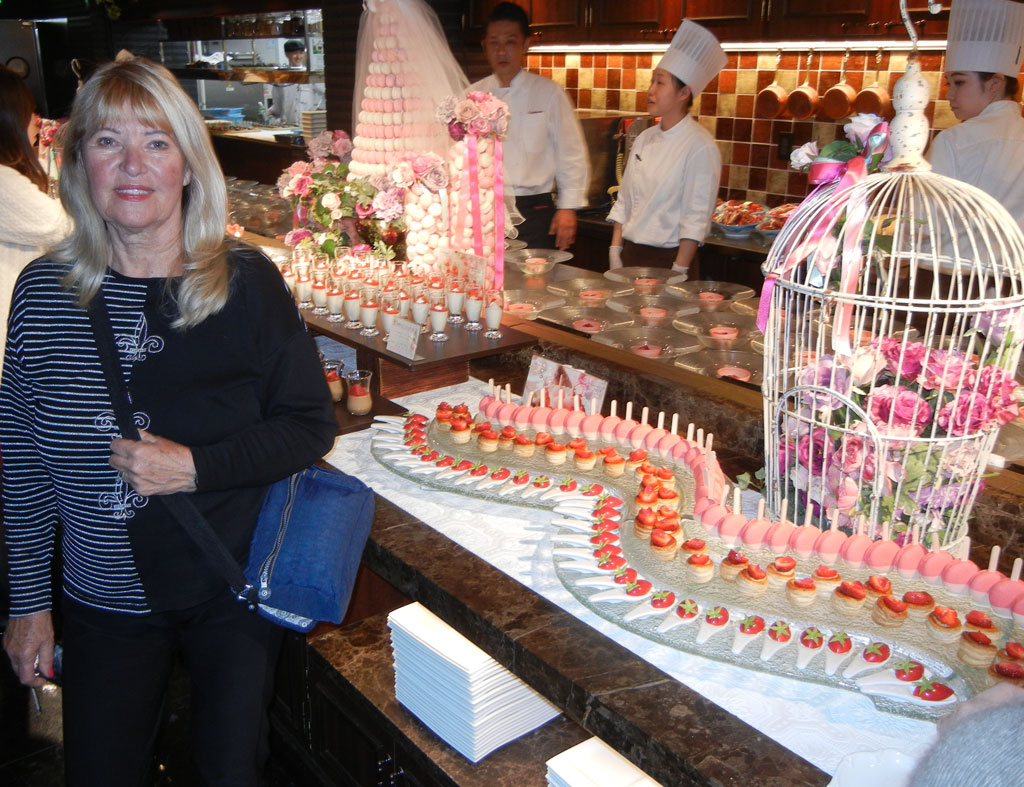 Back at the hotel in Kyoto, waiting for our 4:00 PM ride to the airport in Osaka
Today is Strawberry Day at the restaurant adjacent to the lobby
Kyoto has no airport, as too many temples would be destroyed to provide the space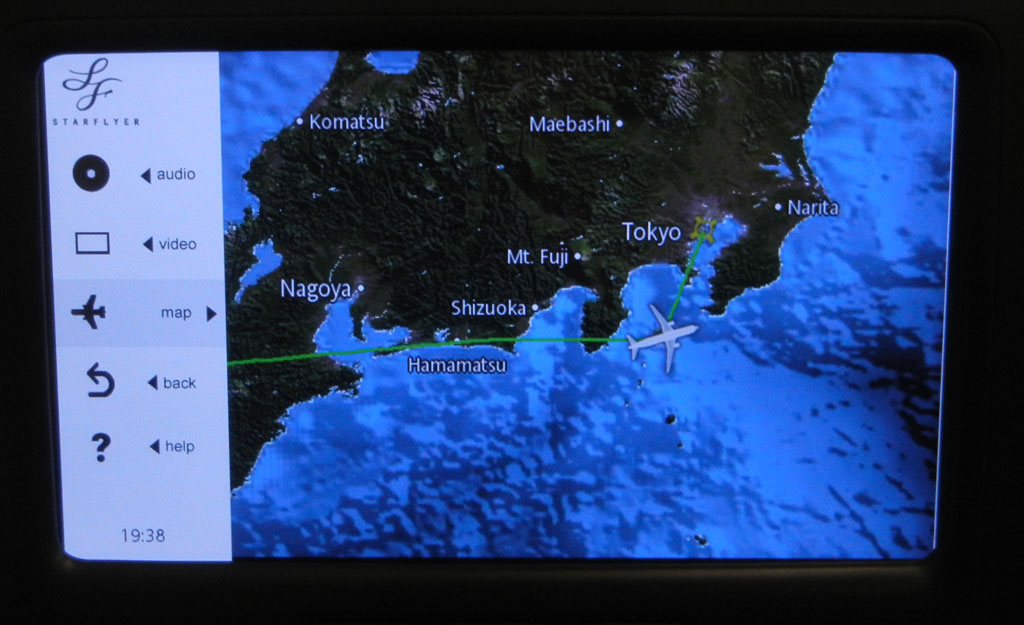 Arriving at Tokyo Haneda for our mid-night flight to Los Angeles
We arrived in Los Angeles before we left Japan, thanks to crossing the date-line again

Our route with the number of nights we spent at each location


The End