On Safari in Africa
Our 18 Day Adventure
Kenya and Tanzania
August and September, 2012
Off to the Airport in Style... No Shuttle This Time

Emirates Air, getting ready for a 15 hour flight to Dubai
Then, after overnight stop, 5 more hours to Nairobi

Arrival in Nairobi, Kenya, after an overnight in Dubai

Our New Home, The InterContinental Hotel, Nairobi

Feeding Time at the Giraffe Farm in Nairobi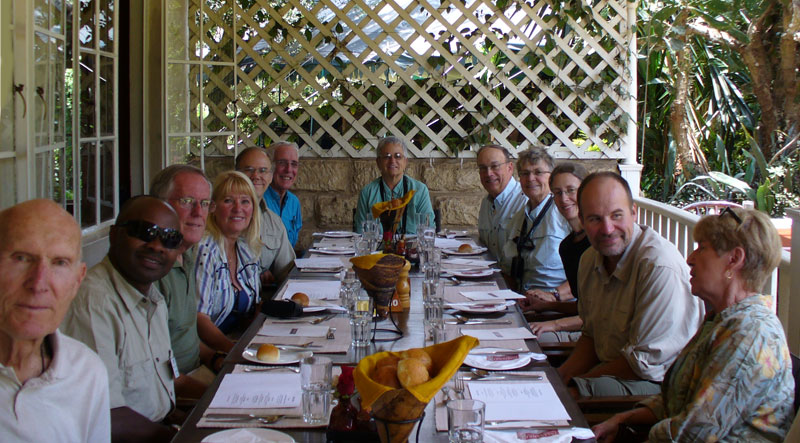 Our ten travel companions
Tom, Augustine (Group Leader), Pedro, Elsita, Mark, Frank, Mary, George, Barbara, Heather, Michael, Kathy
Ken was just missed on the right.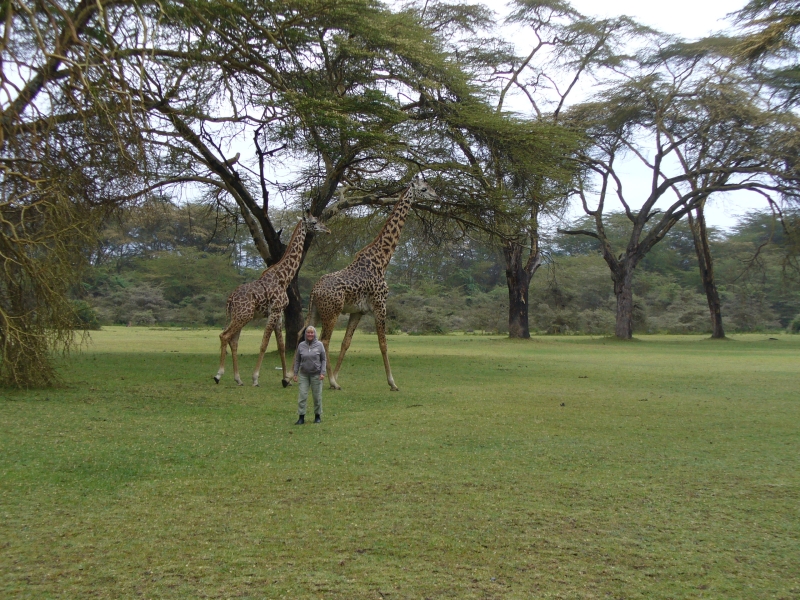 In the back yard at the first safari lodge, Lake Naivasha

Giraffe, left, Wife, right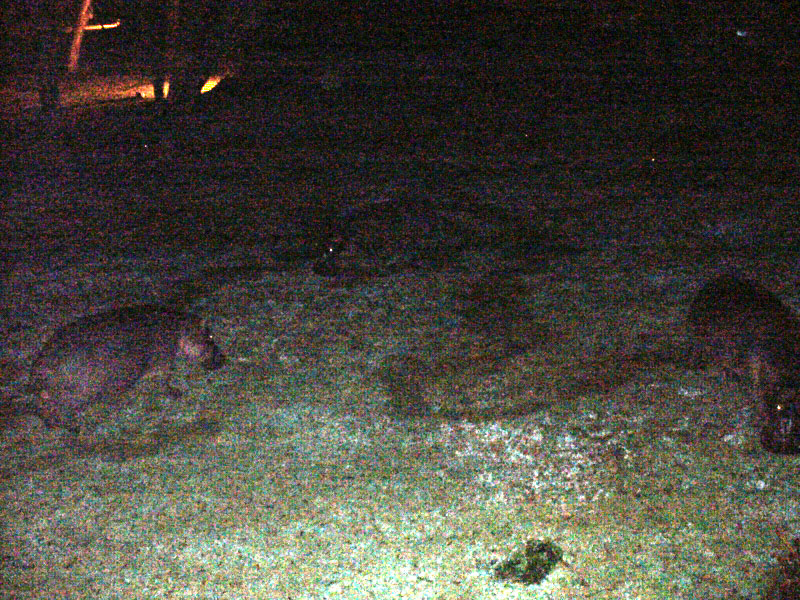 Hippo visit at 3:00AM.
Three were noisily chomping the grass directly below our balcony.
Three more are farther back, visible only by reflections from their eyes.

Three hippos wandering back to the Lake, 3:00 AM.

Riding the wild hippo

48.7 nm South of the Equator
High altitude kept temperatures pleasant

Leaving Lake Naivasha

Stork, Lake Nakuru

It's About a Mile on the Left... You Can't Miss It

Our first sighting of lions

Cape Buffalos Meet to Beat the Heat

Patience, My Ass... I'm Going To Kill Something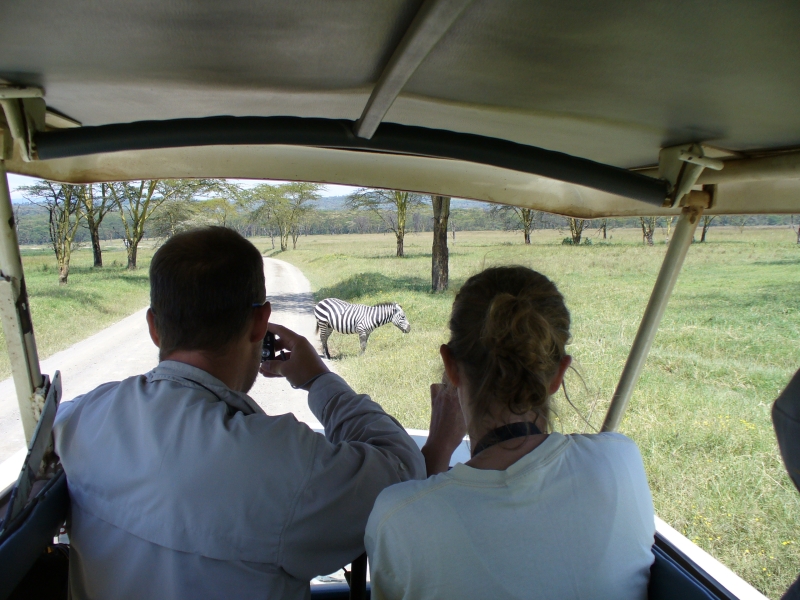 Heather and Michael Take Careful Aim at a Zebra

See Those Guys in the Car ?? Moon 'em !

More Birds than Beasts

Hippo

Don't Argue with a Rhino Bigger Than Your Car

Yea, You! You Talkin' To Me ?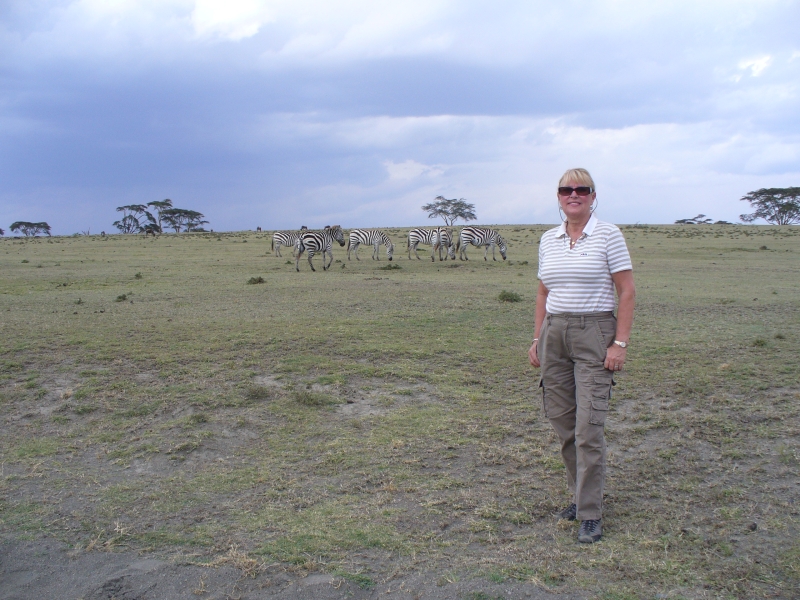 Elsa, wearing her Zebra disguise

My New House. Small, but Location, Location, Location !

On the road back to Nairobi

Climbing out of the Great Rift Valley

"Burudika na Coke Baridi" is Swahili for "enjoy Coke cold."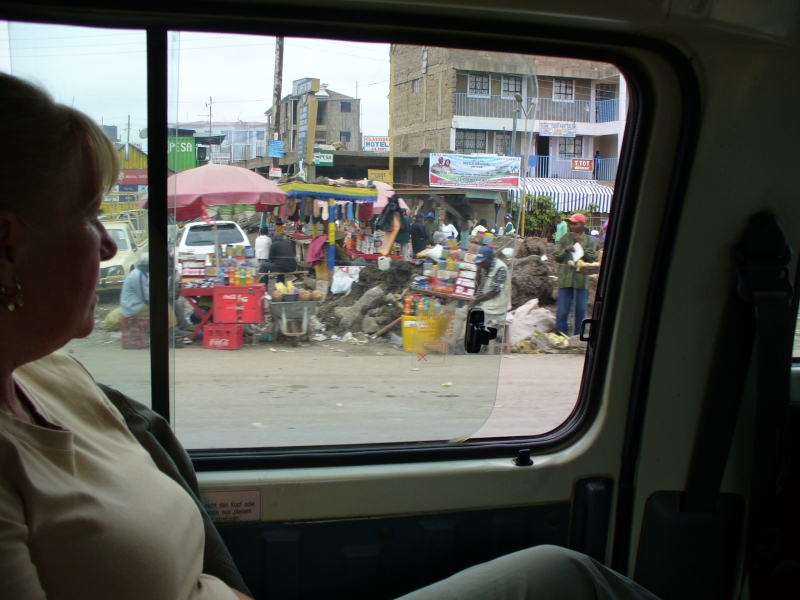 Roadside business on the way to Amboseli

Roadside market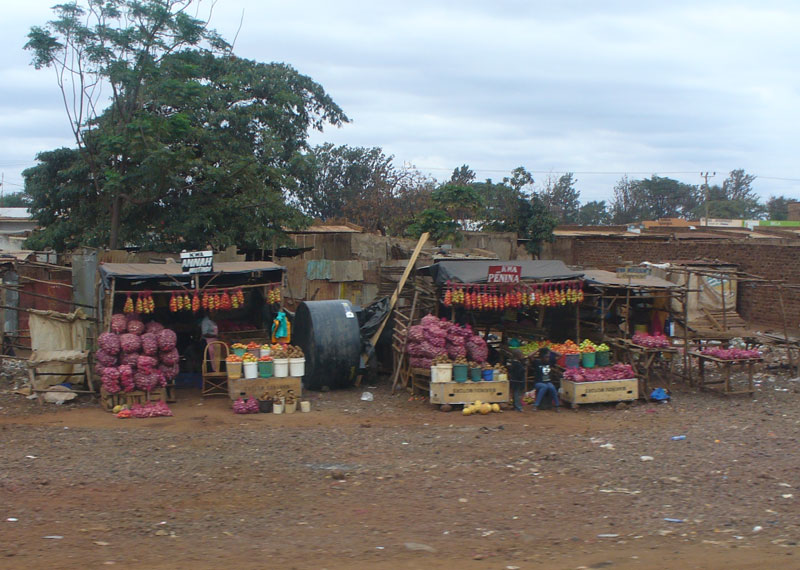 Bus stop in front of the New Grand Regency Hotel

Driving on the Left Side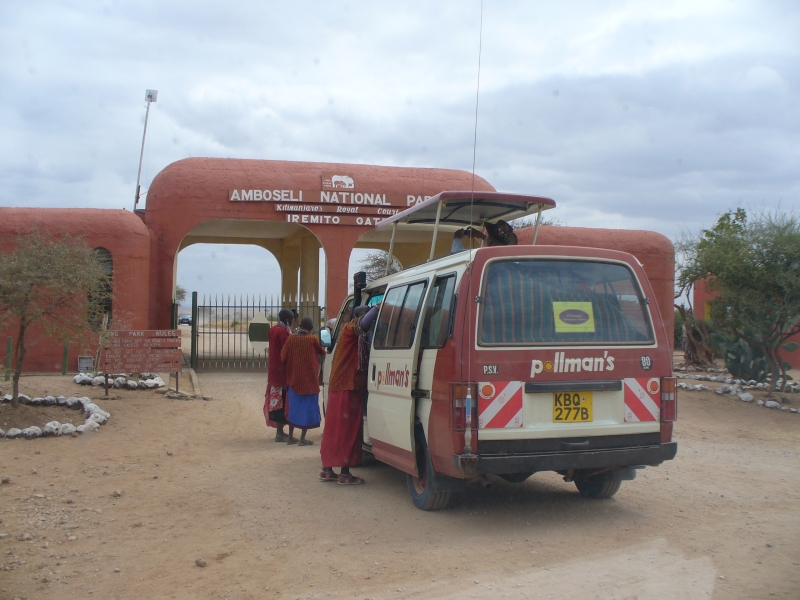 Amboseli National Park

Vendors are aggressive

Elephant giving bird a ride.

Amboseli Primary School

Introduction to the Village by the Chief

School is out for Summer Vacation

Short walk to the Village

Good-sized Lions were here last night

Maasai Village, walled with piles of sticks

Villagers approaching to meet us.

Learning a few native dance steps

George, getting high on the contents of that bottle.

Inside the Maasai Village
Houses made with a wooden frame and plastered with elephant dung

Starting a fire with only two pieces of wood

The Boy Scouts could learn a few tricks here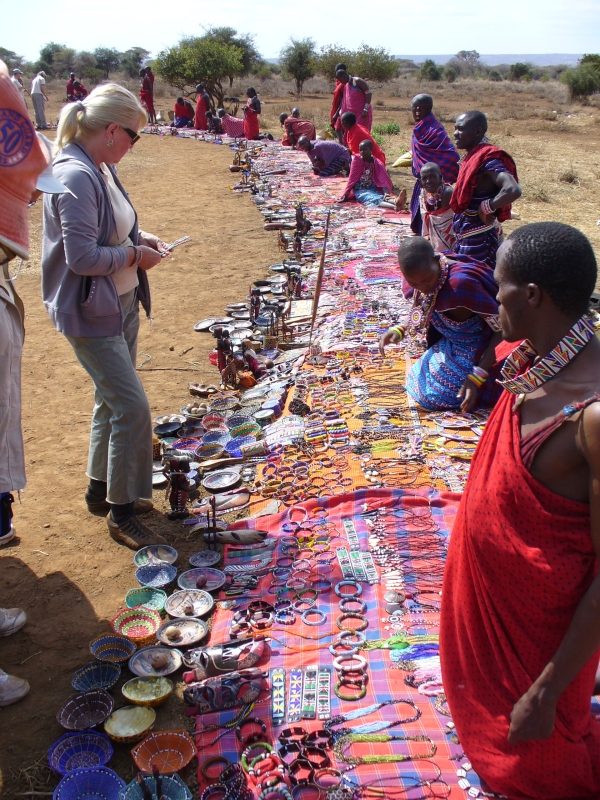 Crafts arranged for purchase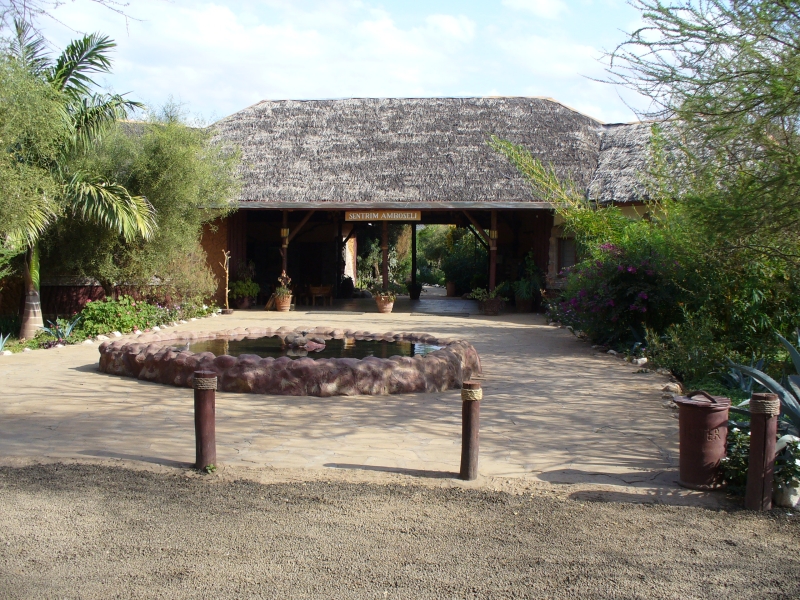 Sentrim Amboseli Lodge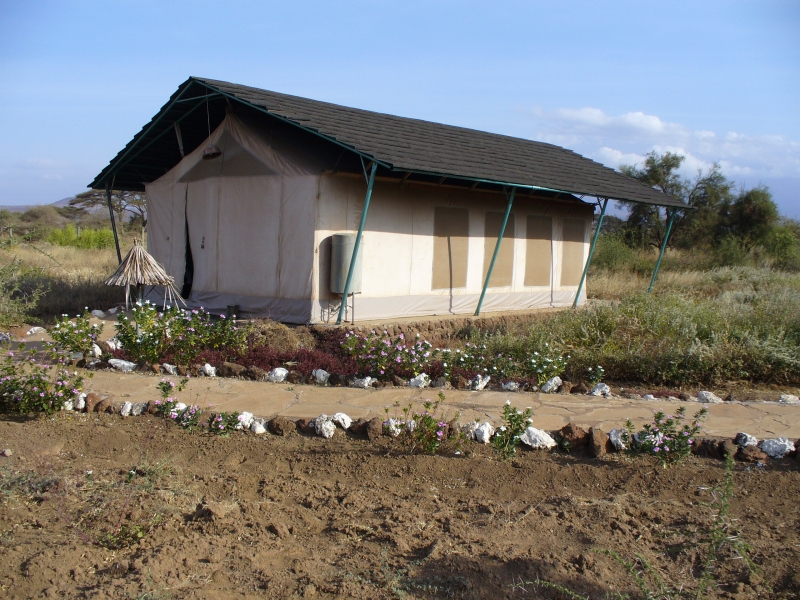 Our fine tented cabin.

With a view of Mt. Kilimanjaro

At 19,341 feet, Kilimanjaro is the highest mountain in Africa

Elsa scores the front seat

Heather, Michael, Kathy, Heron (Driver), Elsa, Pedro and, finally, Ken

Each asked for a dollar after this picture was taken
so I am obligated to put it on display.
At the Kenya side of the border crossing into Tanzania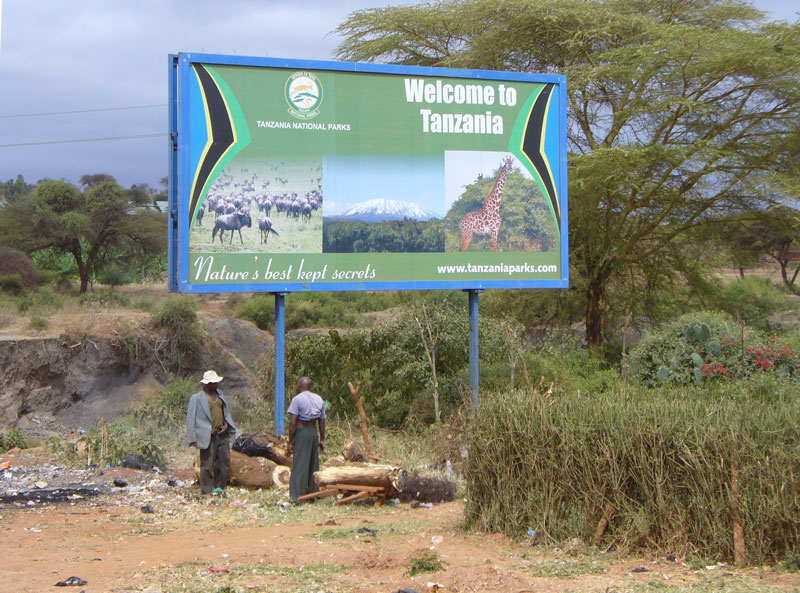 Tanzania or Bust
Kilimanjaro is really in Tanzania, even though it is easily seen from Kenya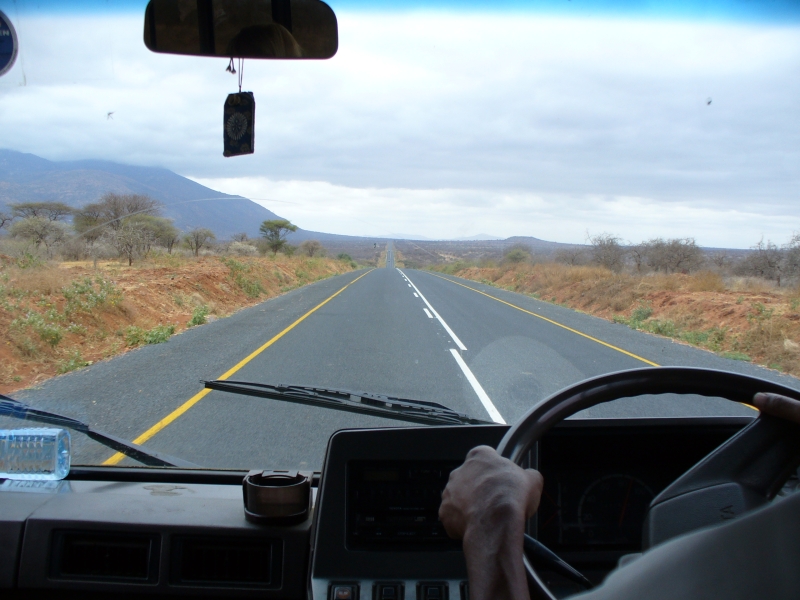 The road to Arusha, center of safari activity in Tanzania

Tom Cat, supervising a glass-blowing demonstration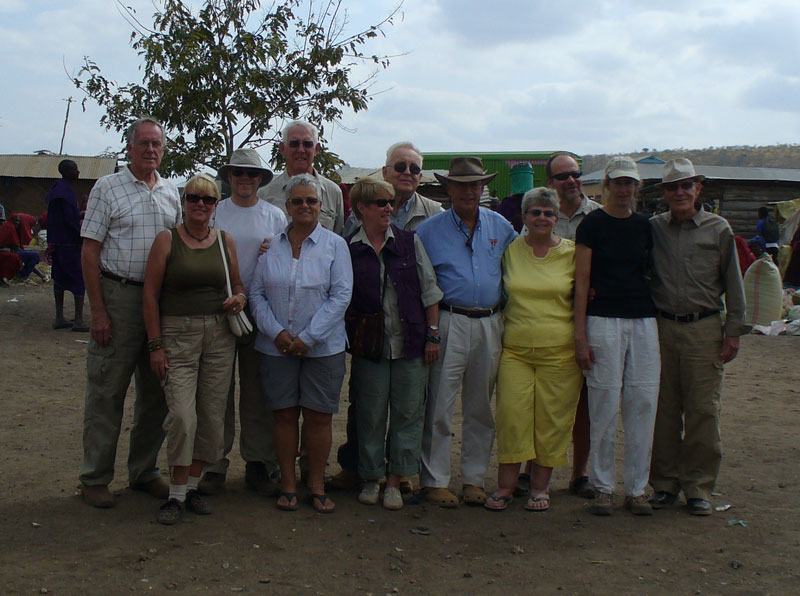 The entire group of twelve intrepid travelers
Peter, Elsa, Mark, Frank, Mary, Kathy, Ken, George, Barbara, Michael, Heather,Tom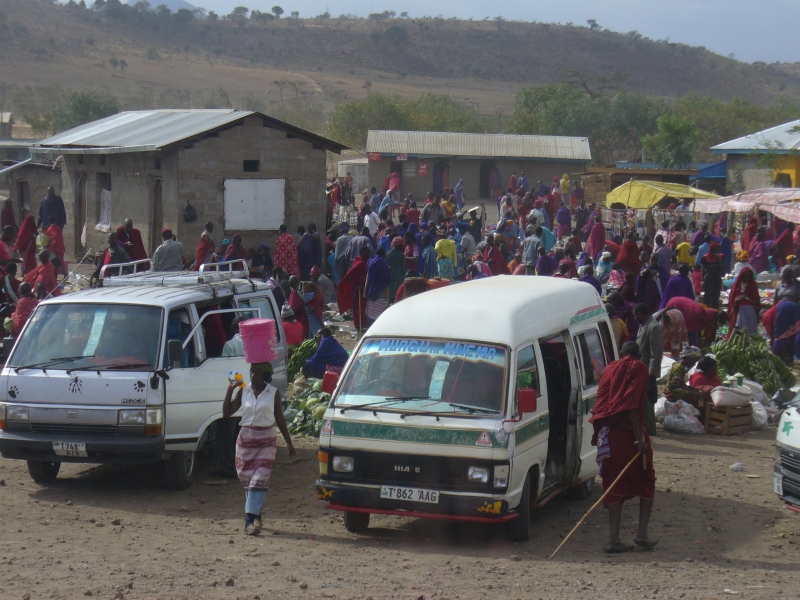 Driving away from a Maasai market where photographers were unwelcome

Young boys, after circumcision, in warrior initiation dress

The Baobab Tree
Mature trees are usually hollow, providing living space for animals and humans

Entrance to Tarangire National Pak, 7km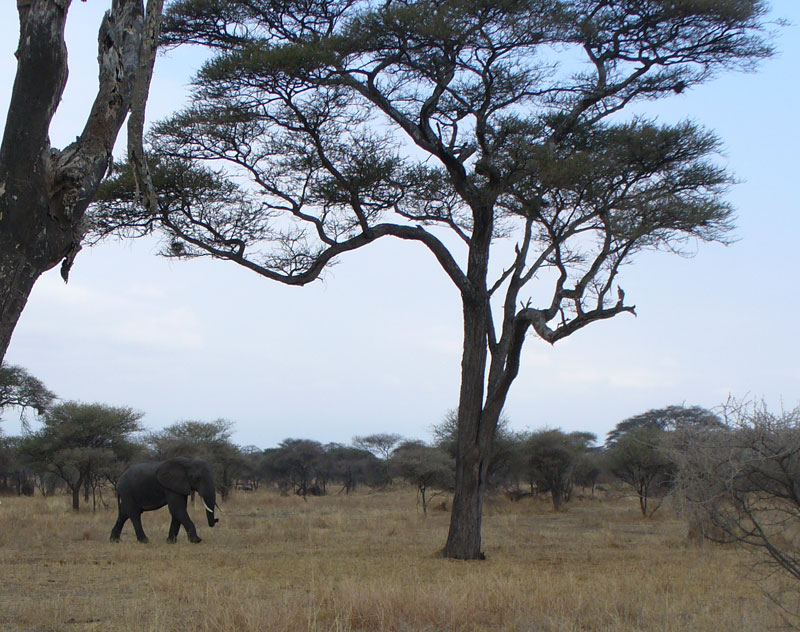 One elephant...

... just leads to another

Zebras, relaxing after a hard day at the office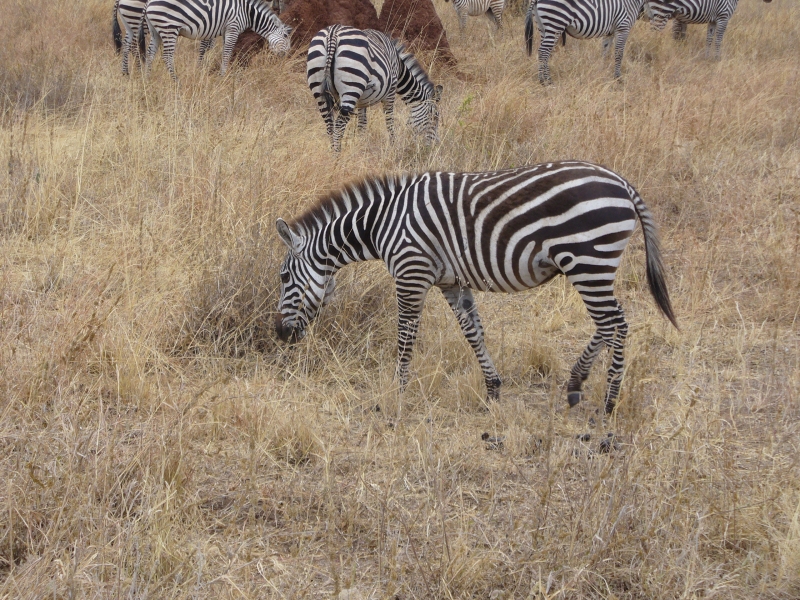 Zebras

Zebras

And more Zebras

Vultures feasting on a carcass...

... left by this sleeping lion

Feasting ourselves on a box lunch

Note the baby clinging to the belly of the first monkey

Baboons carry their young, too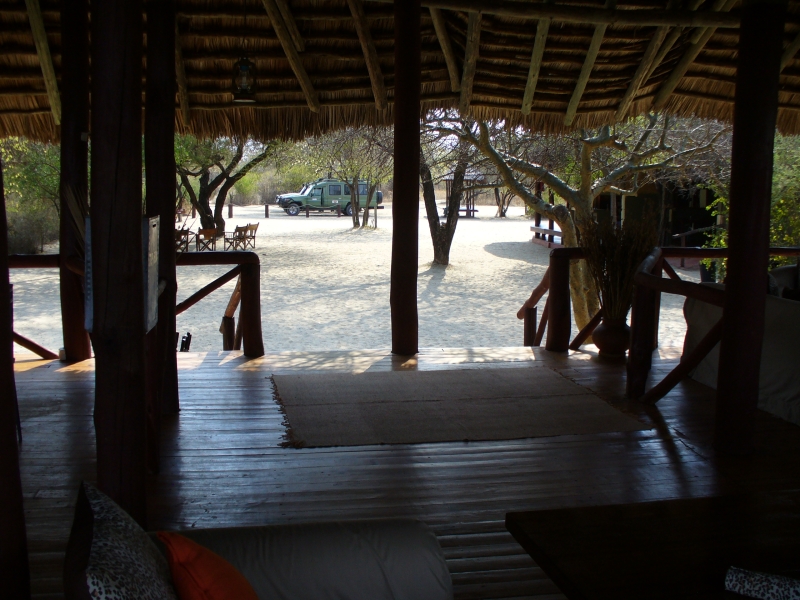 Lake Burunge Tented Camp Reception Area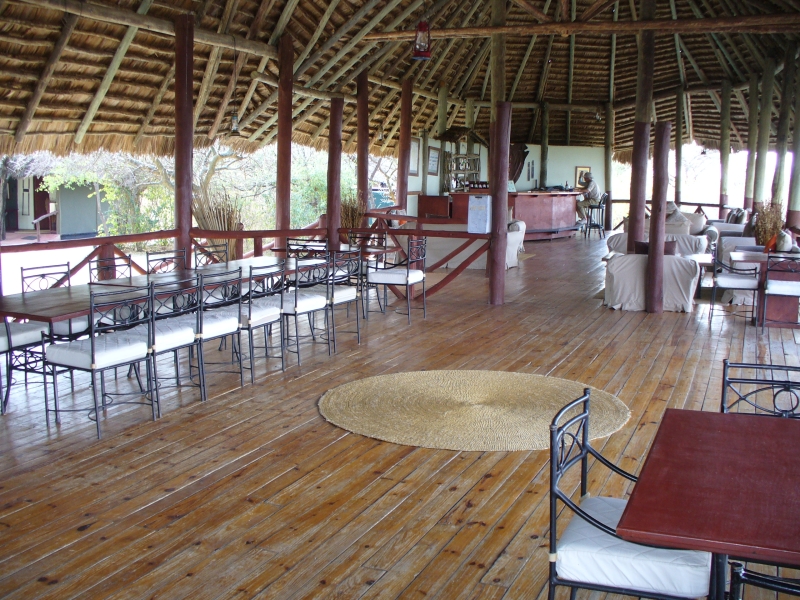 Dining Area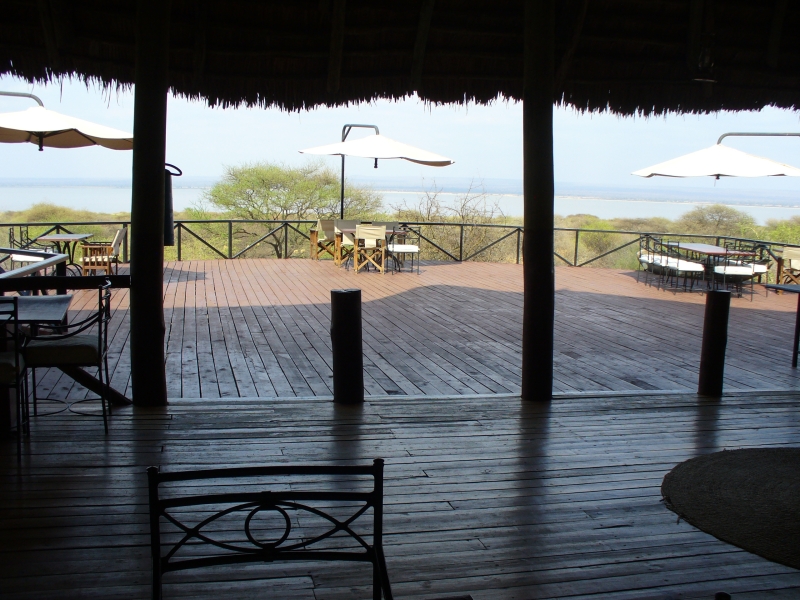 View to the Lake

Another fine tented cabin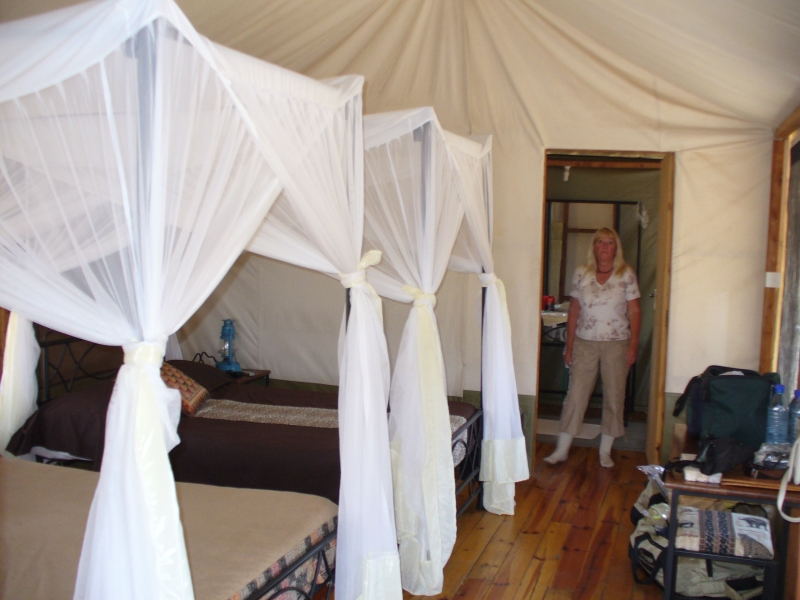 Mosquito netting over the bed was quite common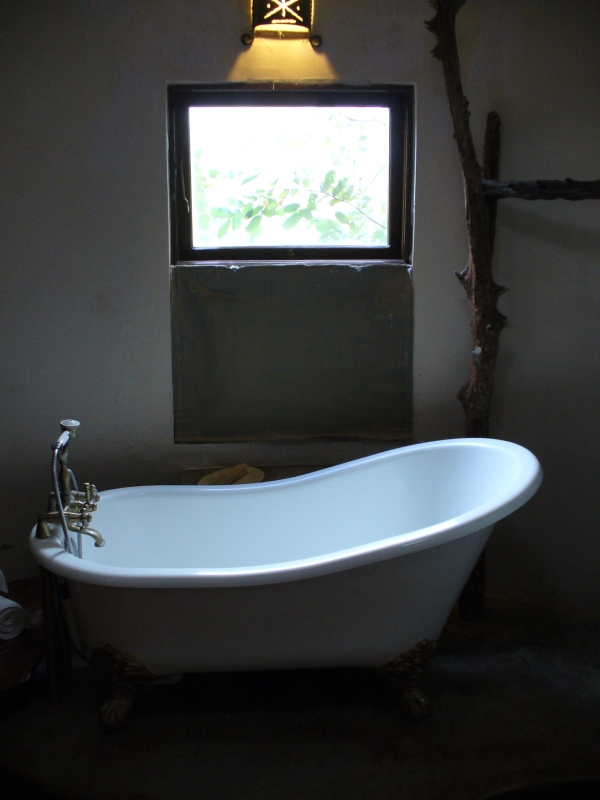 "Watch Nature from the Comfort of Your Bath"
The brochure writer must think you have a long neck

Not one of the Big Five
Not even one of the Little Five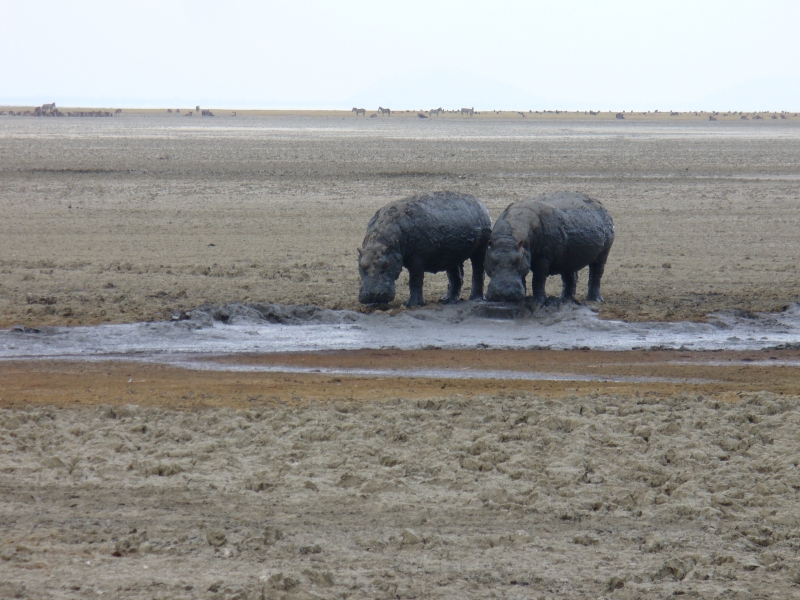 Two Hippos in search of Mud

Hippo Heaven

Flamingo Heaven

Tloma Mountain Lodge and Coffee Plantation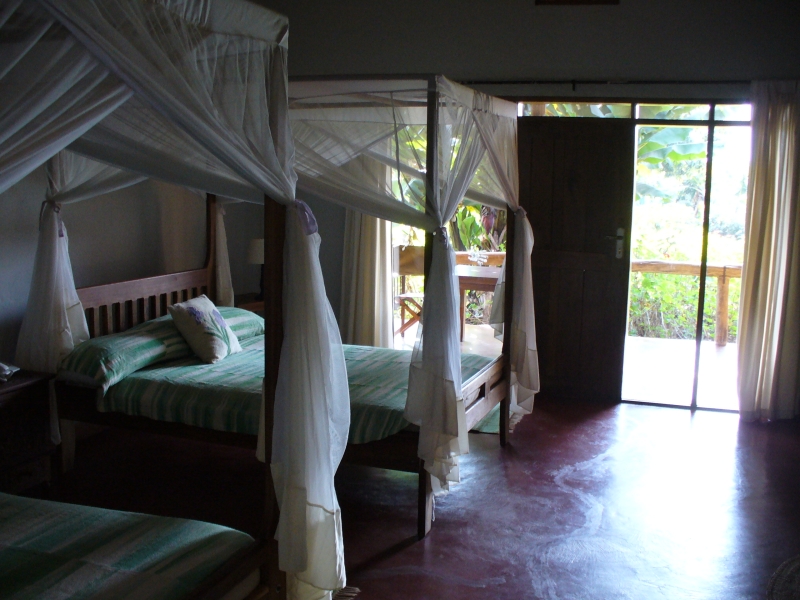 More mosquito nets

Some of these beans were imported to America

Mountains moved to make bricks

After mixing clay and water by foot, two bricks at a time are molded in the wooden form
After drying a few days, they are piled in stacks and baked by a fire built inside the stack

Wedding dress made from goat skin
Shown in traditional home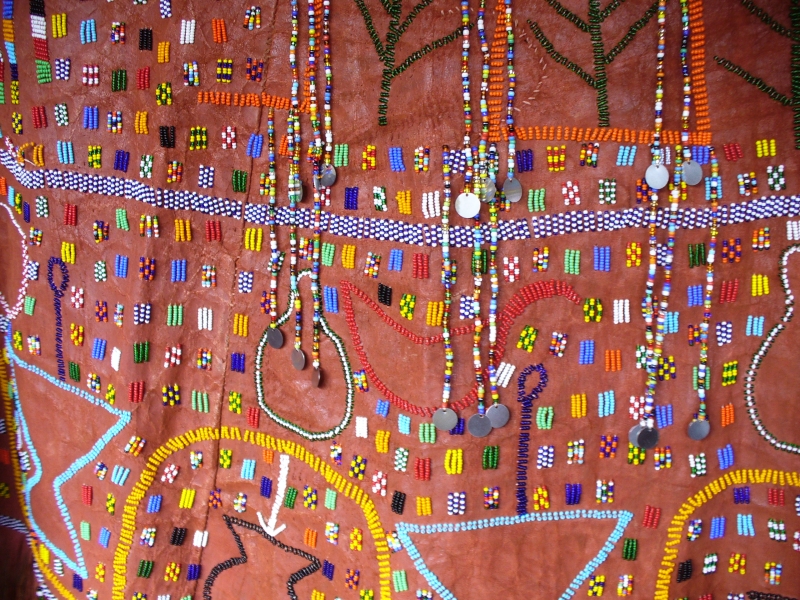 Intricate design made with small beads

A bountiful harvest in front of new, more modern home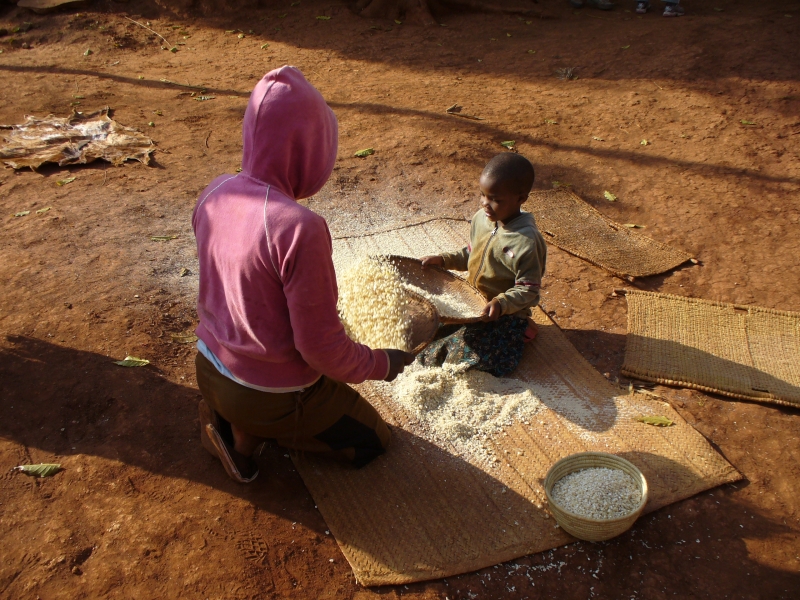 Now the work begins

Entrance to Ngorongoro Conservation Area

Clouds dropping into the Ngorongoro Crater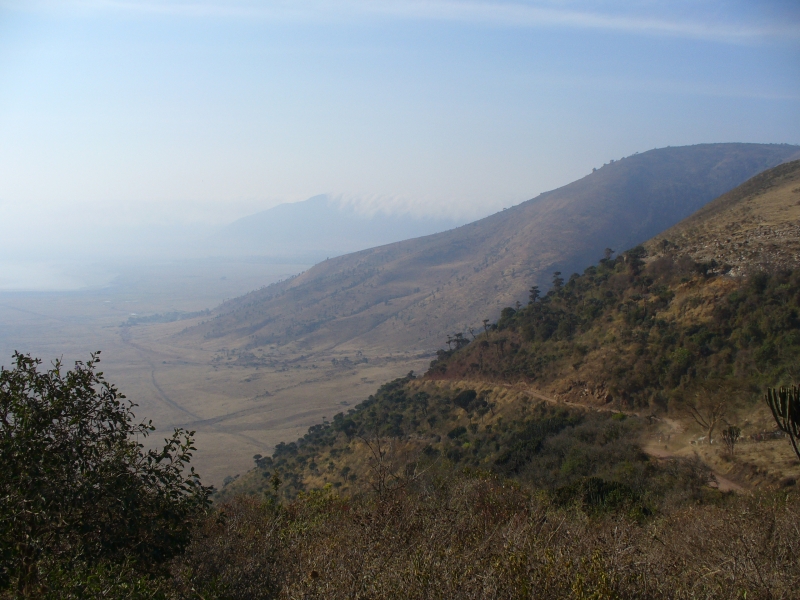 The road leading down into the crater

The crater rim is now 2000 feet above us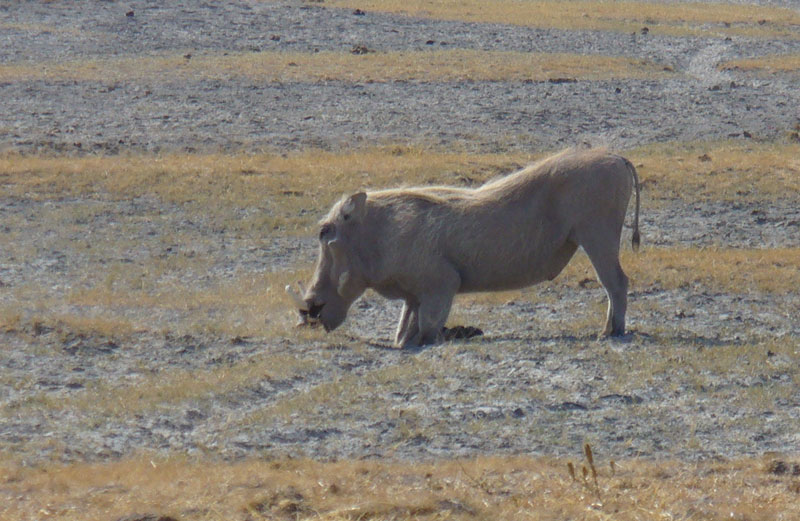 Warthog in typical kneeling root-eating posture

Wildebeest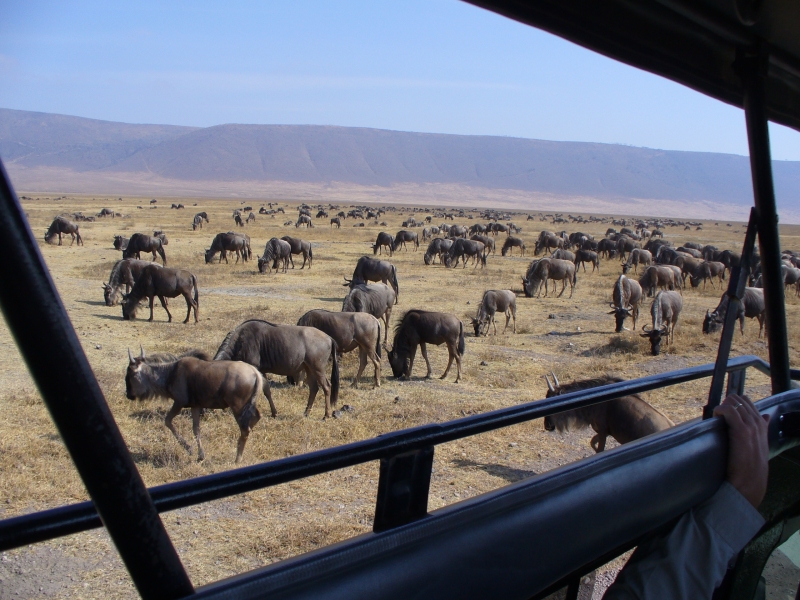 The plural is Wildebeesties

The wildebeest has been called a "spare parts" animal because it has the head of a buffalo,
the eyes of a grasshopper, the body of an antelope and the tale of a horse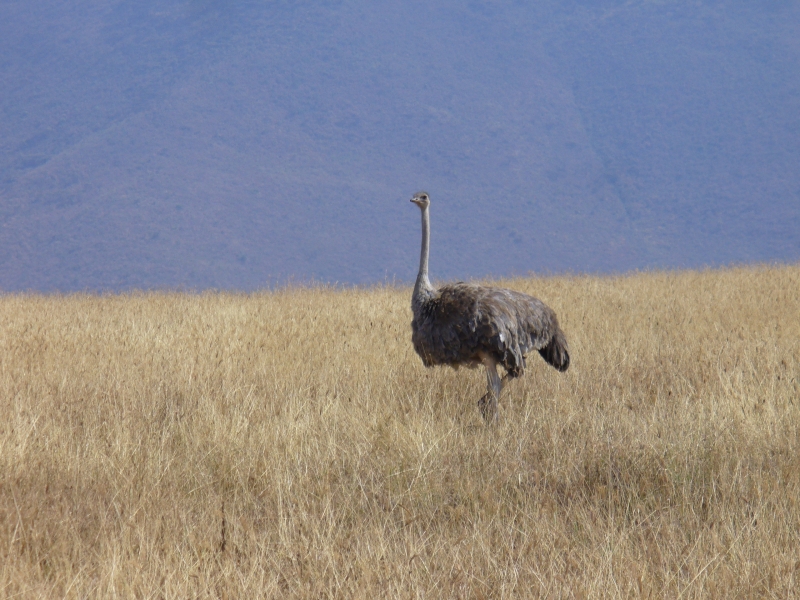 One of many ostriches, mostly seen alone

"Hey, you zebras, get out of my yard"

Hyena, not laughing

Male lion waiting for his Wife to fix lunch

Back up on the crater rim

Oldupai Gorge in the Great Rift Valley is known as "The Cradle of Mankind"
One of the most important prehistoric sites in the world, it was
instrumental in furthering the understanding of early human evolution
This site was occupied by Homo habilis approximately 1.9 million years ago,
Homo erectus 1.2 million years ago and Homo sapiens 17,000 years ago.

Herding goats in the gorge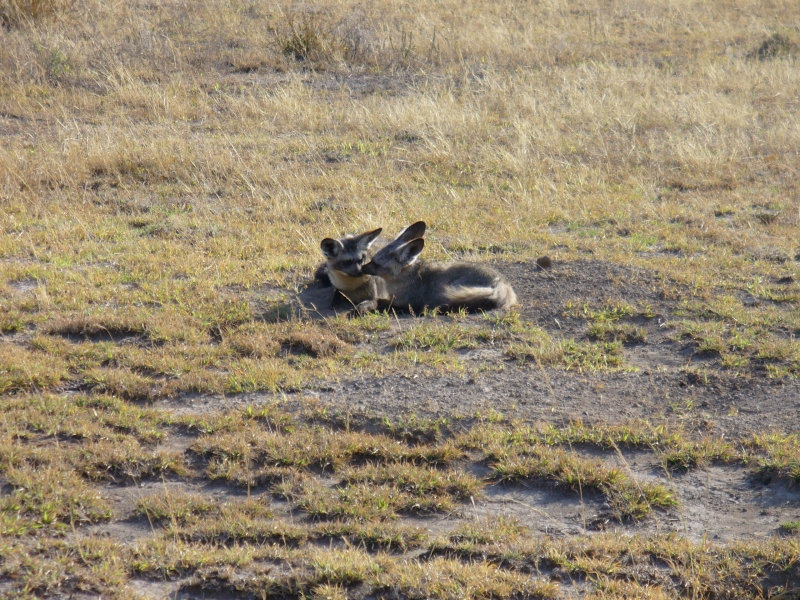 Bat Eared Fox

Home, Home on the Range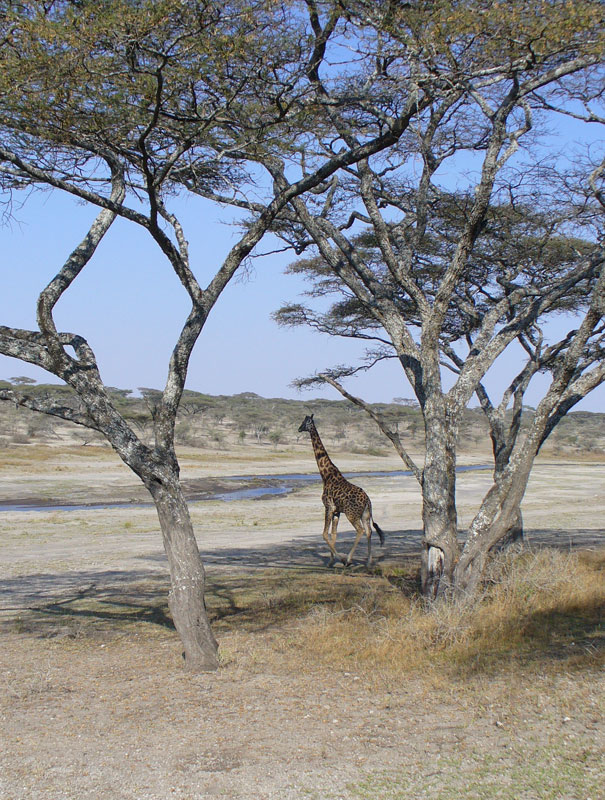 Just like the San Diego Zoo

Elsa wanted to meet "Elsa the Lioness"
an orphaned lion cub from the 1966 movie, "Born Free"

She got her wish. These are her own pictures

Heading for a shady spot for an afternoon nap

Just "lion" around...

Masek Tented Lodge, Ngorongoro

Welcome Home

A fancy bathroom for a tent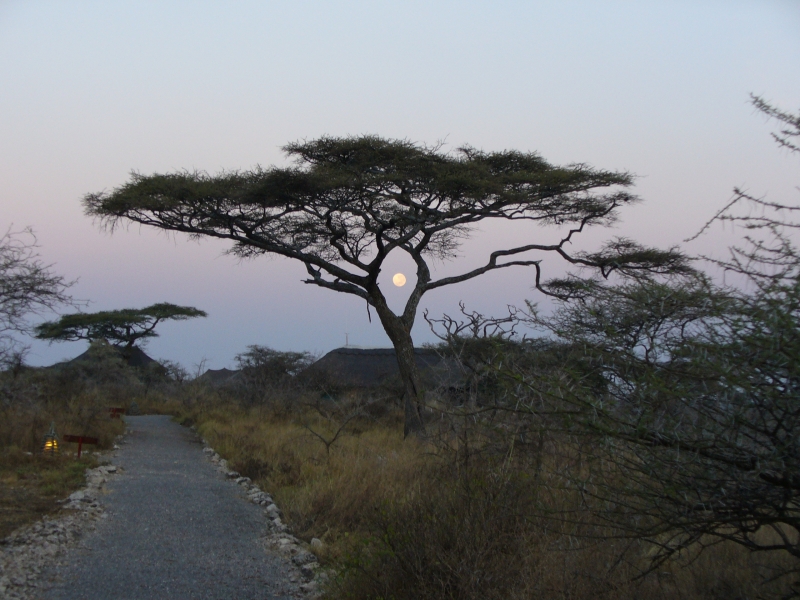 Moonrise

Turn left where the bank used to be...
... where they're going to build a gas station..

Elephant's Front Yard, Serengeti Plain

Elephants on Parade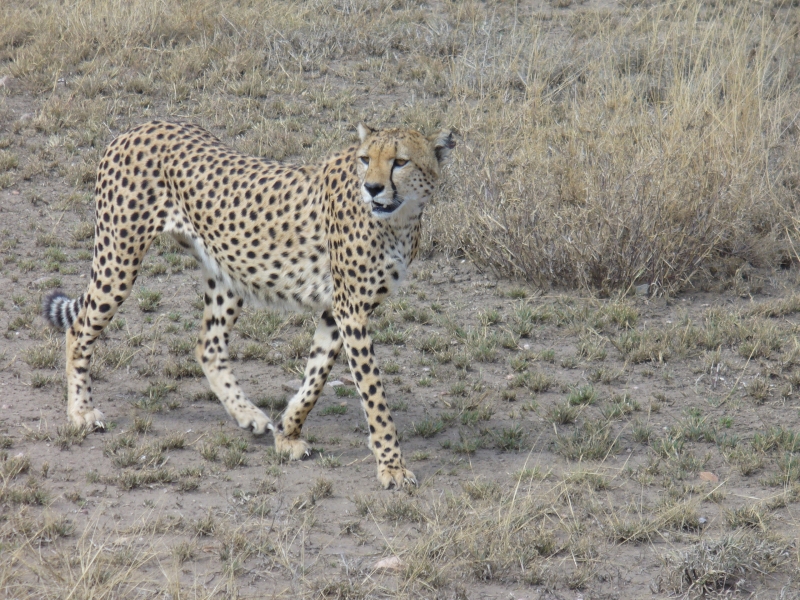 Cheetah

Why did the Cheetah cross the road?

To get to his girlfriend on the other side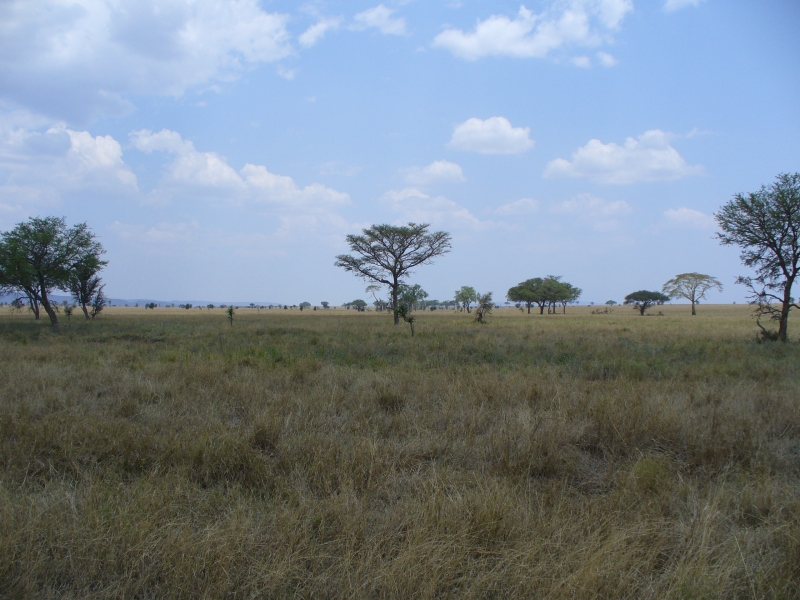 Can you spot the leopard in the tree?

Time for an afternoon nap

Leopards are the hardest of the "Big Five" to spot
and create quite a commotion when one appears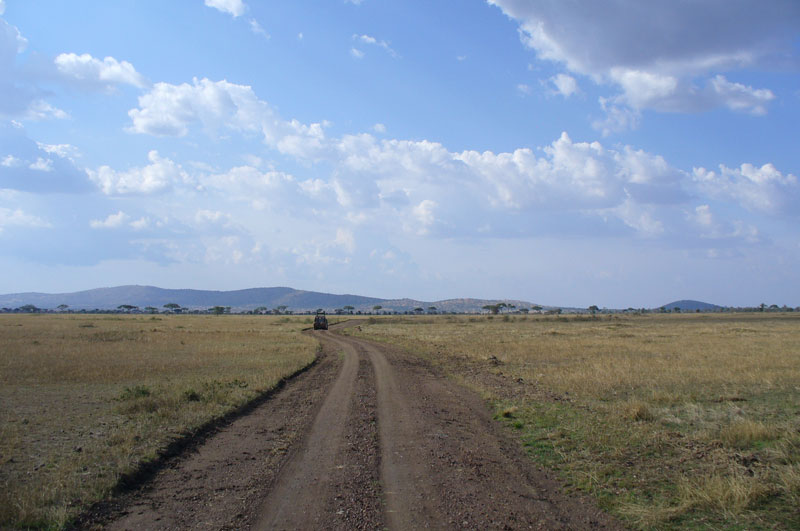 The drieway to the Mbalageti Lodge is 10 miles long

Baboons preparing for night in the tree-tops

The Serengeti Plain as seen from the dining room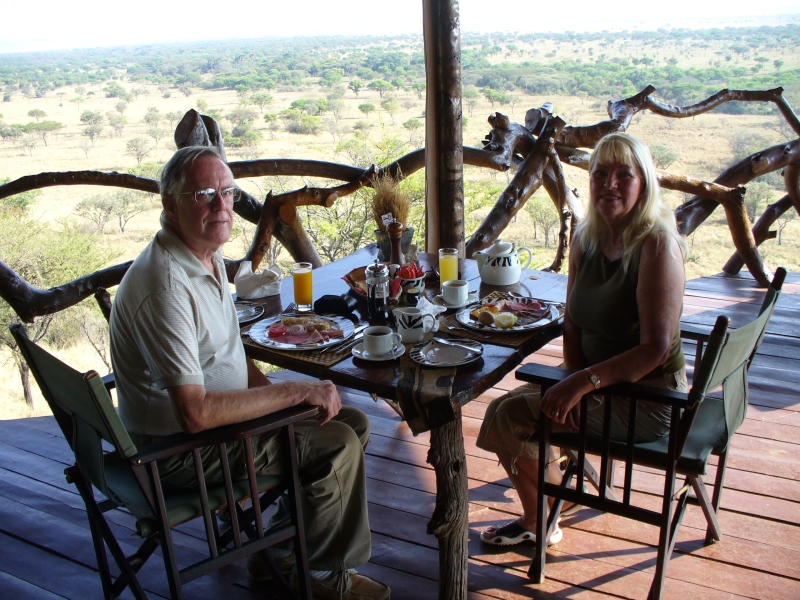 Breakfast overlooking the Serengeti Plain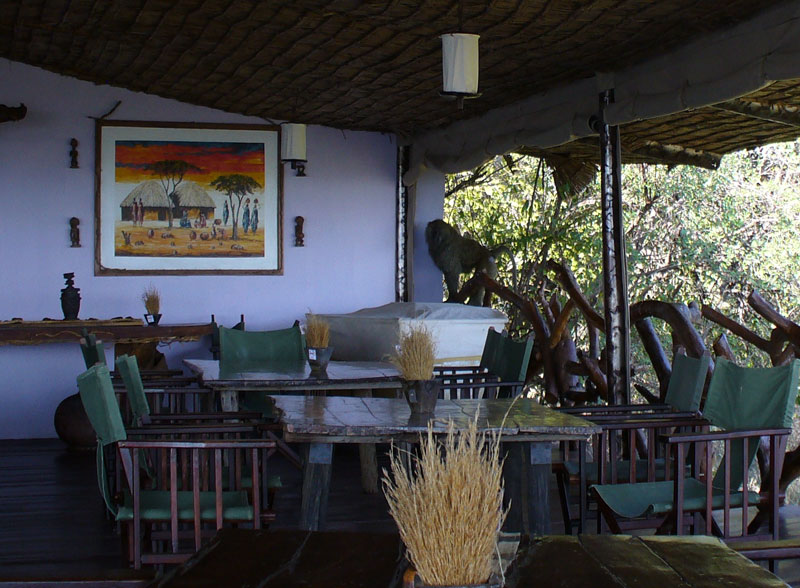 Baboon, about to join us for breakfast
He ran along the railing, jumped to the floor by our table
and lunged for the bread basket. Missing that, he grabbed all
of the small packages of sugar and made a quick departure
before Elsa could shake his hand and give him a big hug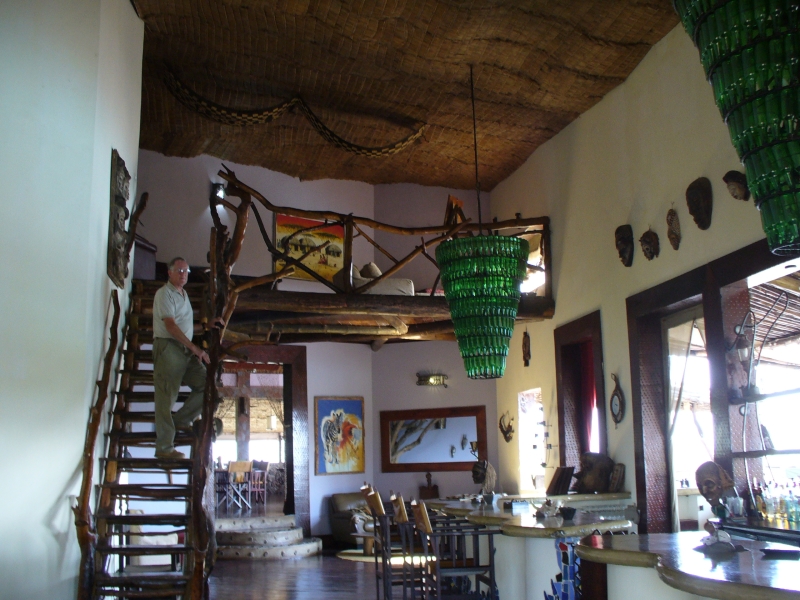 Chandelier, made from green-glass bottles

Chef's Surprise

Cape Buffalo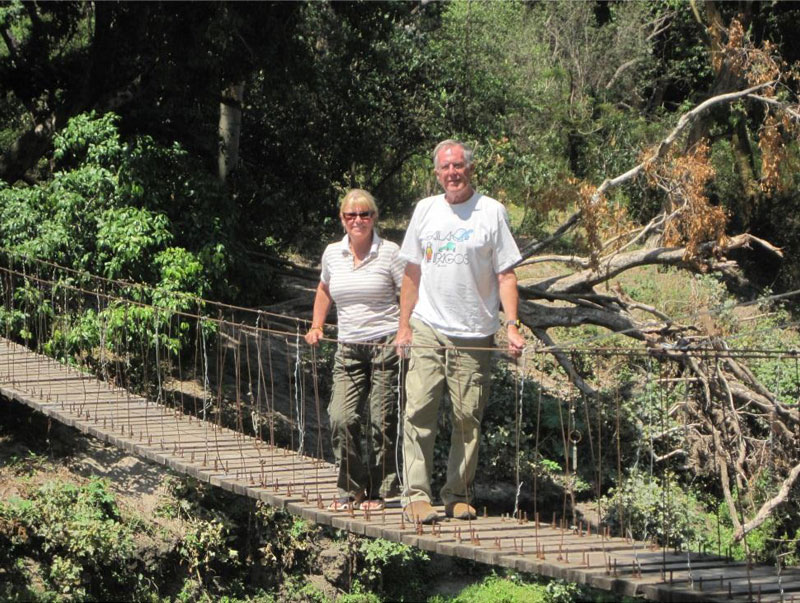 Suspension foot-bridge
The river below is full of crocodiles

Giraffe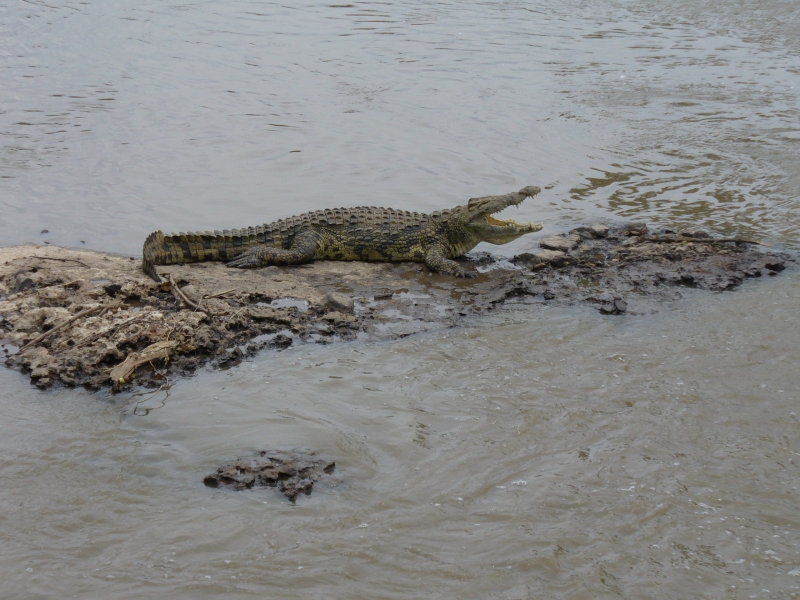 Crocodile, sunning his tongue

Sunrise, Serengeti

Twenty elephants marching to breakfast

Waiting at the Seronera Airport, with Sumawe, our driver,
for the one-hour flight to Arusha

Which way to Arusha ?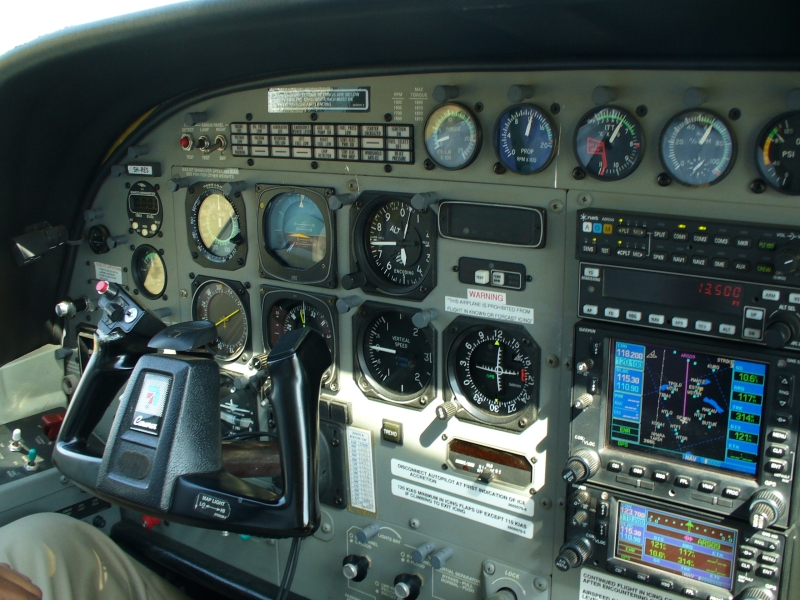 Nicely equipped Cessna Caravan

The Serengeti plain from the Serengeti plane.

Approach to Arusha International Airport

On the ground, Arusha, having defied Death one more time

Leaving Arusha, heading to the Kenya border

Trinket sellers at the border

Shopping cemter on the way to Nairobi

View of Nairobi from the top of the Intercontinental Hotel



After a walking tour of the government buildings of Nairobi
we had a delicious Farewell Dinner and were dropped off at the airport
at 9:00 PM for the very long journey home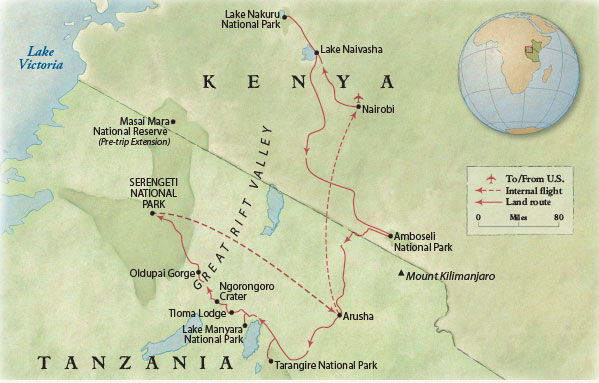 All in all, a very good trip conducted by Overseas Adventure Travel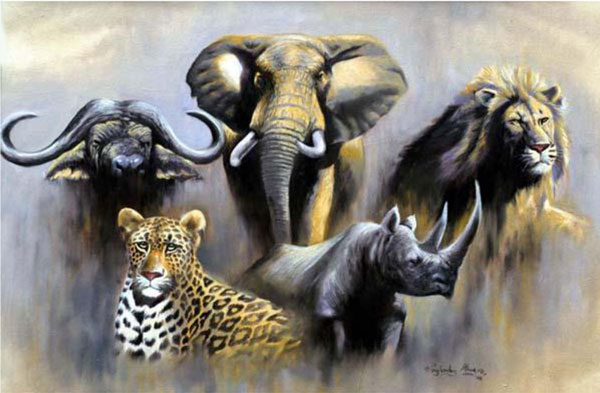 The Big Five
The list is based on the difficulty to hunt on foot
The goal for a photo-safari is too see each one, which we did
Cape Buffalo, Elephant, Lion
Leopard, Rhino


Part Two - Destination Dubai
Coming Real Soon Now