Pedro y Elsita
Departing for Points Unknown
April, 2004
April 19th
We departed Dena's house in Lake Forest at 9:30 AM, after a quick trip to the Battery Expert to confirm that having the Jeep battery go dead the day before was an anomally, not a feature. Stopped at the Baja Travel Club in San Diego to get Mexican Tourist Cards and auto insurance. It's an AAA-like service that allows you to avoid having to run around to the embassy and the bank downtown. Got my Mexican Amateur Radio license (XE2/NI6E) in Tijuana at 2 PM, just as the office closed, then on to Puerto Nuevo for a lobster lunch. Elsa's favorite place was closed on Monday, but there was no problem finding a replacement. Stayed at the Hotel Coral in Ensenada the first night. Nice, quiet room looking out over the marina, only days before the Newport to Ensenada Race crowd reduced the quality of life there to near zero.
The Accidental Tourists head south, April, 2004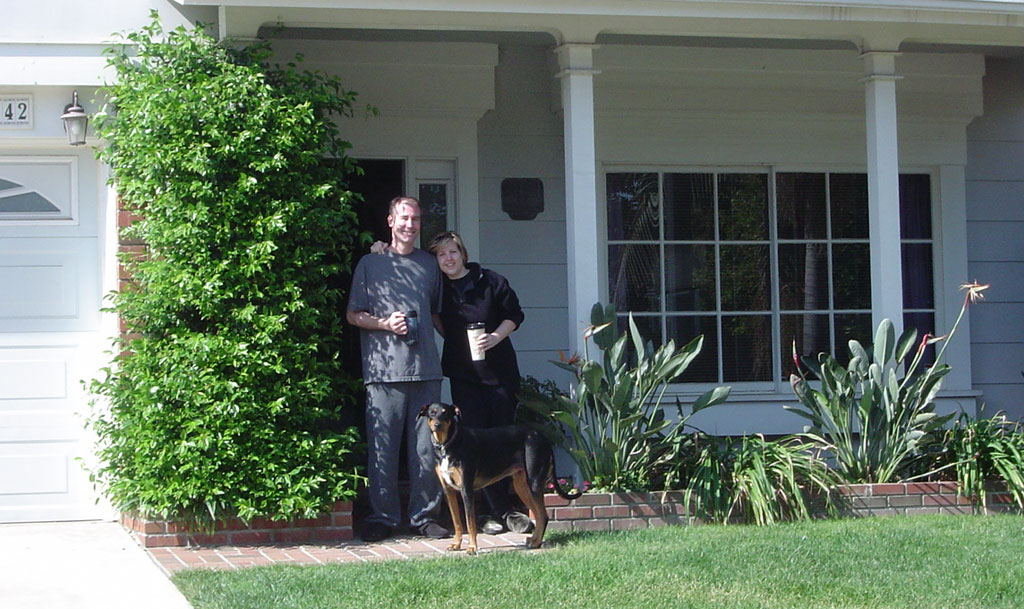 Goodbye to Dena and Mike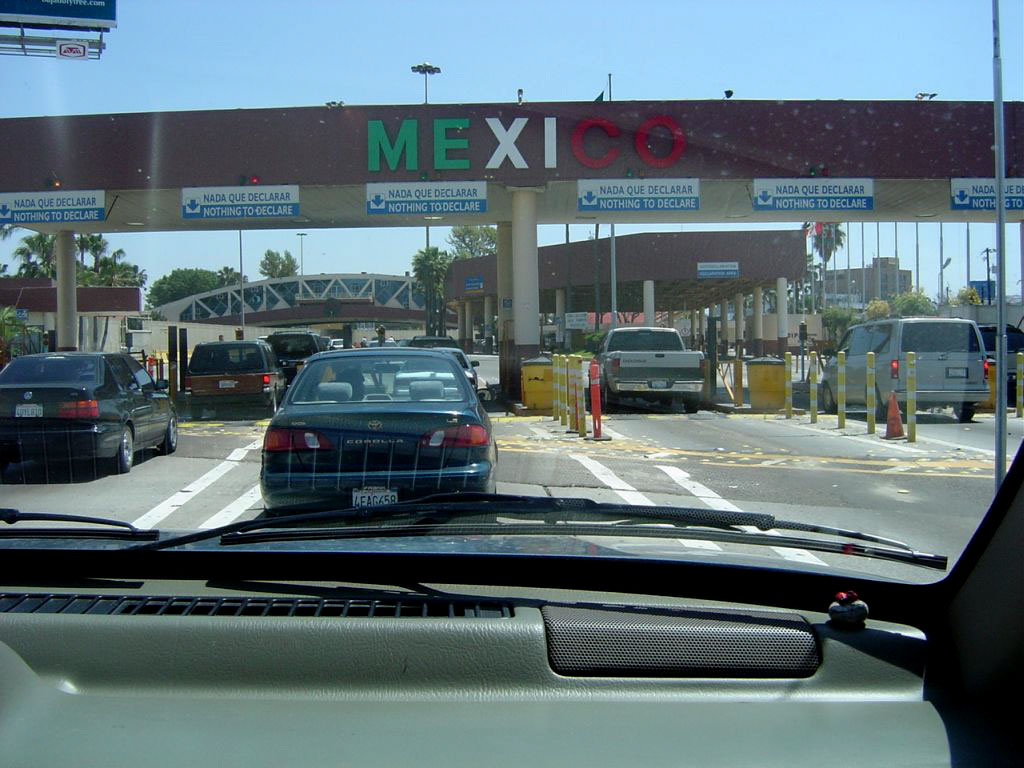 Hello, Mexico
April 20th
Visited the Port Captain's office in Ensenada and got our Tourist Cards stamped, making us "official Mexicans." It took a while to convince the bank in Ensenada to give us change for $700.00 in US currency. They just sat there and looked at the huge pile of pesos.
On to San Quintin, where it was very windy and dusty. Stopped for lunch and quickly left for El Rosario, where we fueled for the trek through the desert. The vegetation changes abruptly as you head away from the Pacific coast and into the mountains. Saguaro cactus first appears there, along with the Curio, which supposedly appears at only two places in the world, but nobody knows where the other place is.
Stopped at the hotel at Catavina, perched among giant boulders and cactus plants. The lady at the desk wanted $84.00 US, which got Elsa started; she wouldn't settle for more than $50, saying we were the only guests (true, at 3:00 PM) and they should rather have that than nothing. They countered with $75 US, and we finally got another 20% discount to $67.00. In the end, it was all priced in pesos on the credit card, so we probably paid what they originally asked, not knowing the actual exchange rate.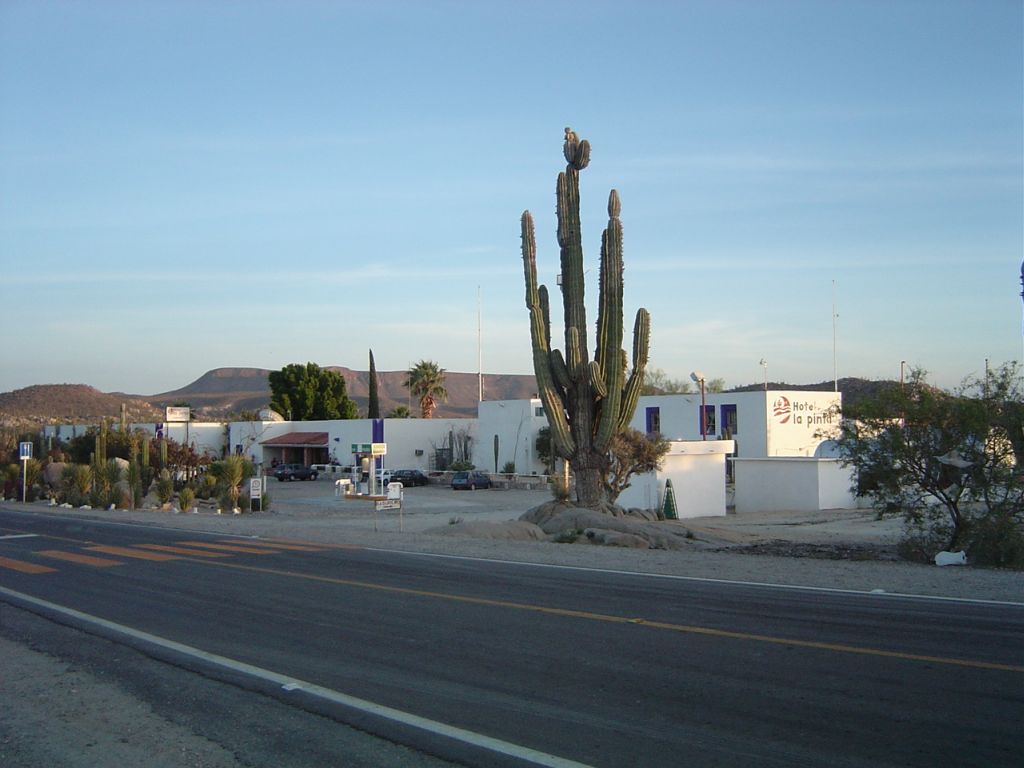 Hotel la Pinta
April 21st
Glad we didn't press on to Guerrero Negro yesterday. Got there in time for lunch. Chilly, foggy and windy, just like the weather we left along the coast in California. Continued to Mulege for the evening. Found a little old lady shopping a the Mexican Mini-mart who said she knew of a nice hotel and would be more than happy to lead us to it. It turns out she had been living there for about 6 years... It was only $35 US, so we didn't complain when half the slats fell out of the bed in the morning, rendering it unusable.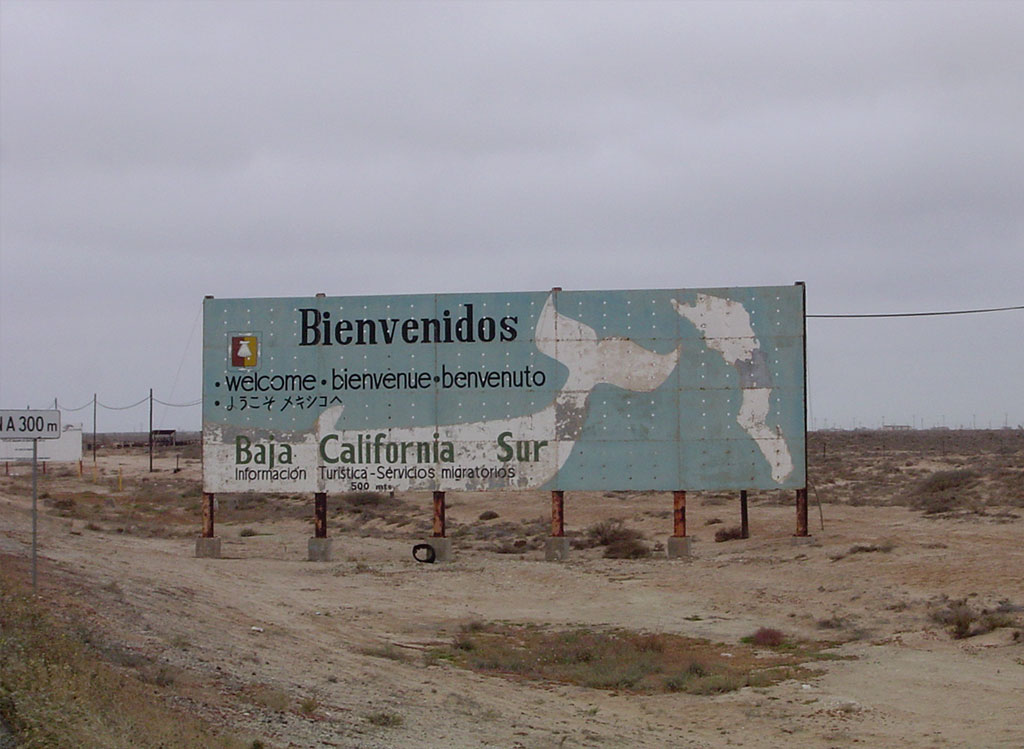 Estado Libre y Soberano de Baja California Sur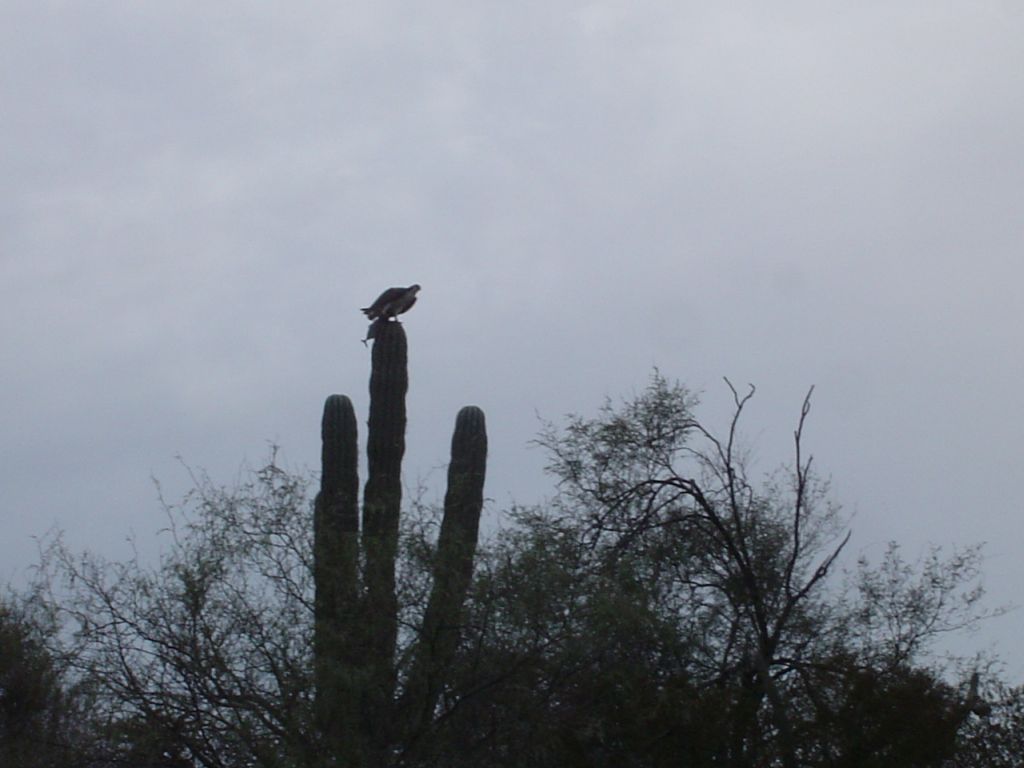 April 22nd
Got stopped for speeding just south of Mulege... doing 120 in an 80 zone... Km/Hr that is. Elsa told the guy she was beating on me to pick up the pace, so it was actually her fault. A few "por favors" and a small bottle of schnaps later, and we were on the road again. The highway winds along close to the Sea of Cortez for many miles. Many vans and campers were on the beach, with tents and kayaks. The water looked clean, warm and inviting. Even the cactus plants were having a better time of it, with more vegetation at their feet.
Stopped for lunch at an isolated palapa a few miles south of Santa Rita. Took a quick trip to the "banos" which consisted of a few large pieces of sheet metal wrapped around some sticks at the edge of a ten-foot deep hole. A few loose boards and a tail-gate from a Datsun pickup kept you from falling in as you stepped up to the hole roughly cut in a plank. No seat, no paper, no nothing, not even a roof. Chickens were running under the de-boned cars in the back yard and the scrawny dogs raised one eyelid as we passed. That set the tone for the shoe leather served for lunch. A very pleasant Mexican woman and her husband served us and the Ocotillo cactus was in bloom, so it was a pleasant stop.
Ended at the Marina Hotel in LaPaz, a mini Hotel Coral, where 500 kids were encamped for a water-polo meet. They couldn't stay out of the pool, directly below our 5th floor window, and they couldn't keep quiet either. An altogether unpleasant evening, except for the moon and Venus together, drifting in and out of the clouds just after sunset
April 23rd
Arrived in Todos Santos, a world-famous wide spot in the road between LaPaz and Cabo, just before lunch. It's an artist and writer's colony, unchanged since I last visited in 1991. Same paintings on the walls, same everything. Not recommended.
Cabo San Lucas, however, is vibrant and bustling. With two cruise ships in town, there was a lot of activity on the street, but it wasn't crowded, spring break having ended a week or so earlier. Had lunch at a sports bar on the main drag with 43 TV screens and 17 satellite feeds. Got ABC, CBS, NBC, CNN, Weather Channel, FOX news, etc, all at once, a high-speed data refresh. We were re-inserted into the 21st century in only 15 minutes.
A chance stop at the Internet shop on Avenue Miguel Hidalgo (just south of Pancho's restaurant - Juan Castaneda is the man to see for computer problems) led us to the hotel Los Milagros where we stayed three nights. It was just two blocks from the heart of Cabo's street scene, yet private, quiet, and inexpensive, an exquisite find.
April 24th
We started the day doing the very thing we said we'd never do again... take in a time-share presentation in exchange for a panoply of gifts. That Gustavo has a silver tongue... For our hour investment we got a bottle of tequila, a Mexican blanket, a ride on a glass-bottom boat out to the Cabo Arch with a stop at Lover's Beach and a $55 certificate for dinner at the Shrimp Factory.
The water was truly rough on the Pacific side of the short beach that connected the Cabo marina with the Pacific Ocean. Waves reached at least 20 feet up on the rocks when they broke. Getting off the glass-bottomed boat on the sheltered side wasn't so easy; we waited out several waves before Elsa could be lifted off the boat.
Nobody at the Shrimp Factory could explain why a kilo of large shrimp cost $55.00, while a kilo of medium shrimp cost only $39.00. A kilo is a kilo is 2.2 pounds. We took the medium route with two margaritas and gave the waiter the difference in our certificate as a tip. Everybody was as happy as a clam, except for the shrimp.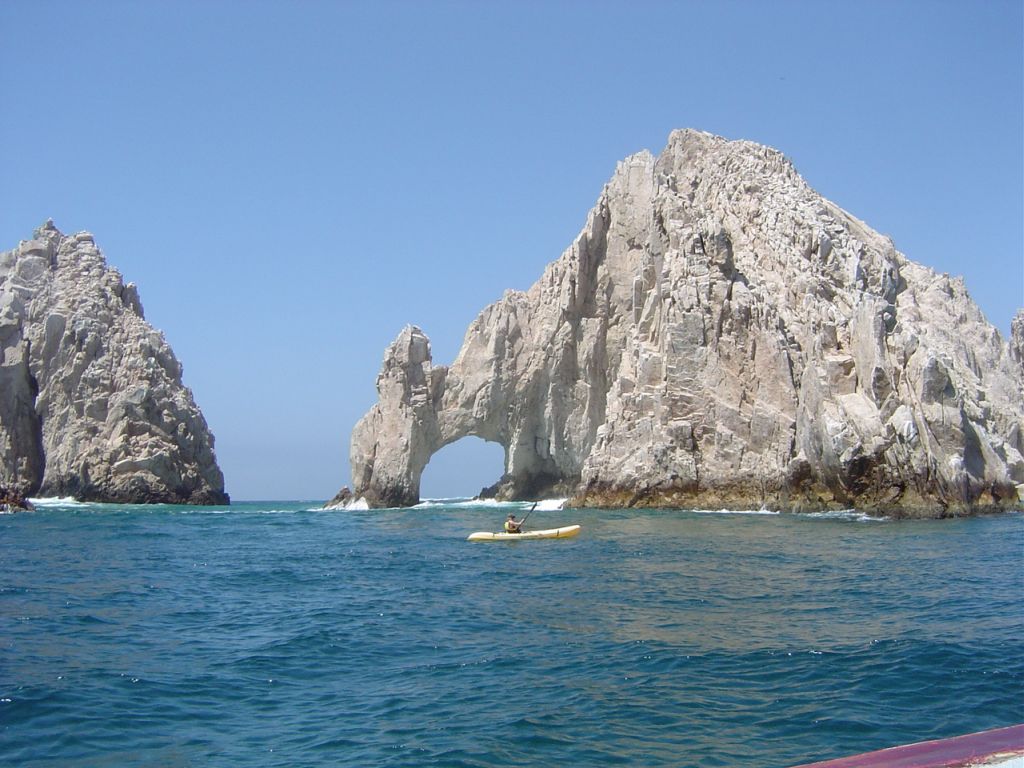 Is your life insurance paid up?