Costa Rica
June, 2004
June 13th
The road south from Limon runs for 20 miles along the coast, which could have had white sand beaches and waving palms, but it has black sand and trash instead. Green and yellow rivers run out of the jungle, draining into the sea, causing it to look green and yellow. I was expecting turquoise and blue.
Always alert for radio antennae, I spotted a large commercial installation along the road. Pulling into the driveway, we were greeted by Marvin Campbell, Chief Engineer for the Worldwide University Network of Costa Rica, who gave us a tour of his 5-transmitter shortwave broadcasting station. Transmitter number 2, named "Tio Garwin" transmits religious material 24 hours per day on 9725 KHz. Senorita Shirley, Big Bob, Don Olav and Sir Walter transmit on 5030, 6150, 7375, 11870 and 13750 KHz at various times during the day, beaming mostly to Cuba and South America.
http://www.drgenescott.org/12_info.htm
The guide-book describes Cahuita as "nothing more than two parallel dirt streets crossed by four rutted streets overgrown with grass." The following nine pages describe every hot-dog stand and $4.00 per night (per person) flop-house in town. Swimming at the adjacent national beach was said to be good as long as you don't take anything of value with you and you go into the water one at a time, lest thy belongings wander into the jungle.
Manzanillo, at the very end of the road, has a store and a volleyball net. It gets four pages...
The Villa Palmas hotel at Punta Uva did provide a room that allowed us to walk out the door and be right on the beach, with clean sand and clean water. I snorkeled around for a while and saw lots of sand and some rocks. There was more marine life in the swimming pool.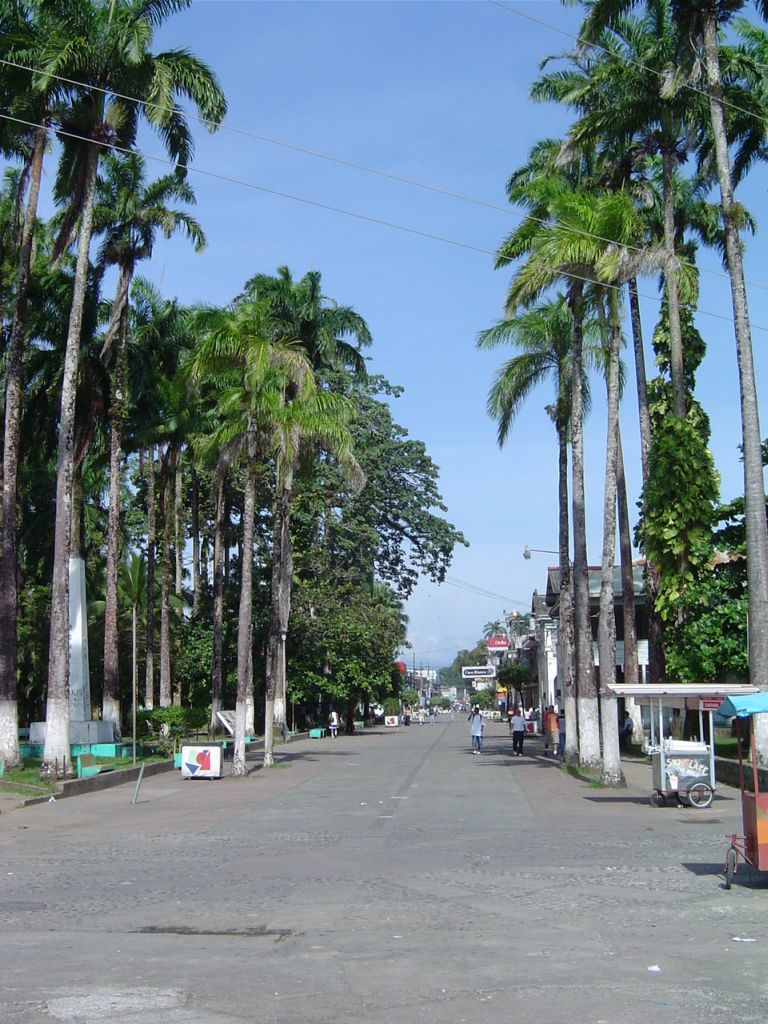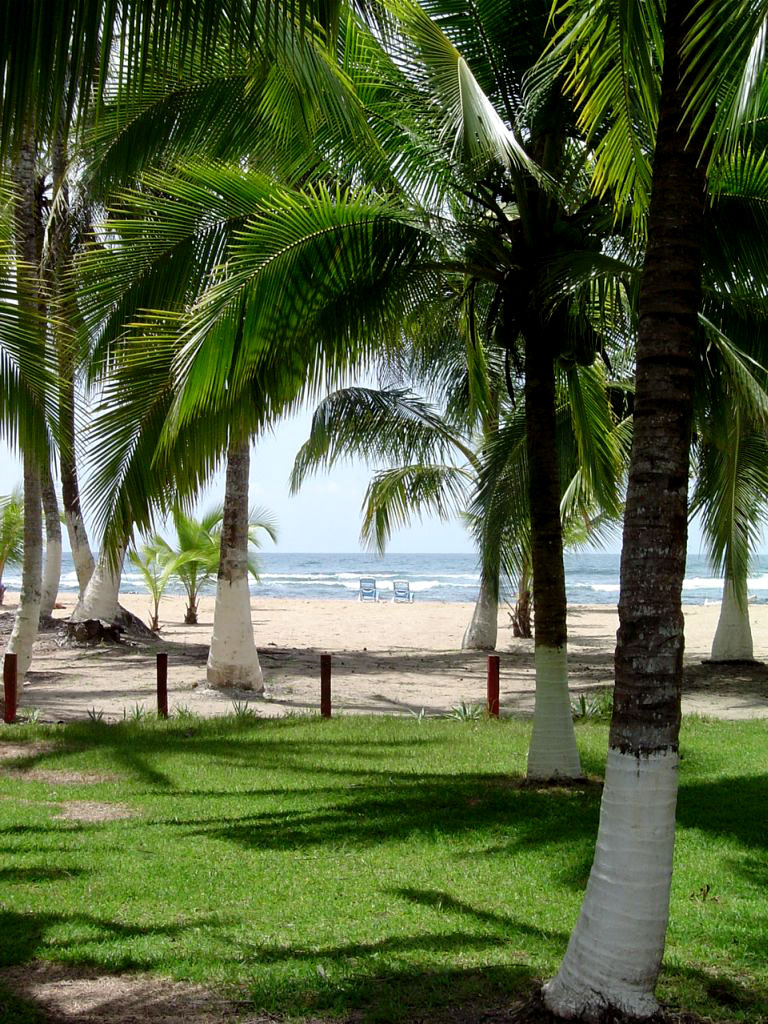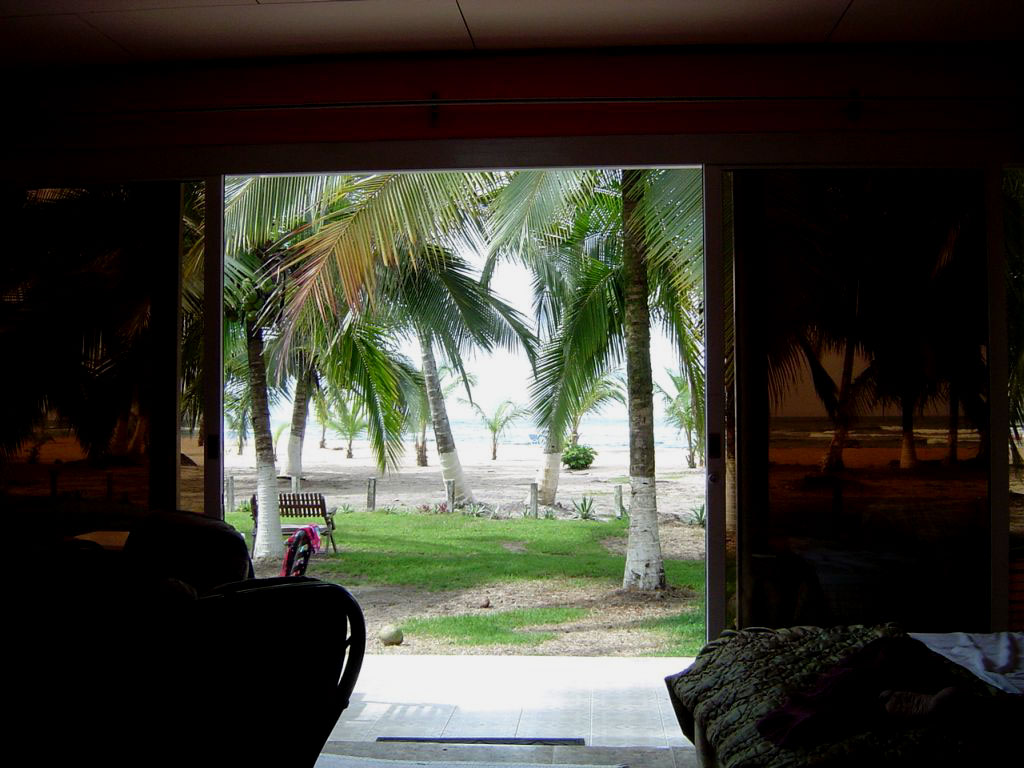 Villa Palmas hotel at Punta Uva
June 14th
San Jose, Costa Rico
I keep hoping that some pearl will appear as the next oyster is opened, but it hasn't happened. San Jose was Costa Rica's last chance at redemption and it failed, miserably. The street are narrow and crowded, pedestrians, vendors and hawkers flow out into the street, buildings threaten to crumble on you and motorcycles and honking taxis stink up the air. If anything can be said in it's defense, it's that the weather is cool at more than 3000 feet above sea level.
We figured the Best Western Downtown Hotel, just six blocks from the center of town would provide a convenient base for our operations. Elsa, feeling a little dilapidated, was looking forward to a trip to a beauty salon and a chiropractor to put her muscles back where they belonged. I wanted to find a dentist to get my teeth cleaned and get the car serviced. The area around the hotel was so full of unsavory-looking characters I couldn't get her out of the car to inspect the place. I was disappointed, too, considering the time and effort it took to negotiate the maze to find it.
The search did come to and end, as it always does, for better or for worse. This time the hotel was better, but the Internet connection was worse. We checked into a room and went to the business center to get connected. It couldn't accommodate laptops, only their own computers, contrary to what the desk clerk said. We could, however, rent a "HomePNA to Ethernet converter" for $17 per day. Since some rooms had been wired to accept the box, and others hadn't, we were forced to change rooms, our luck being what it is. Now we are on-line full-time.
Elsa found a German lady, Renate, at the Guest Services desk who could help with her appointments, so she is close to Nirvana.
June 15th
The phone book had a Jeep logo and a phone number, but no address. Renate gave them a call and got directions that were, like most others, full of inconsistencies and ambiguities. It turned out to be an upscale operation attached to the Mercedes dealership, allowing them to charge $88.00 for a grease job and an oil change.
We trudged on to a local shopping mall, braving unmarked and poorly marked freeway exits and missing several turns, assured they had an Internet telephone service like the one that served so well in Nicaragua. Naturally, the place had gone out of business. We bought an International phone card, but it wasn't like the one we got the day before, with a chip, that plugs into the front of a phone. You must scratch the back of this card, revealing a number to dial to begin the call. No wonder it didn't work when we stuck it in the slot. But wait, there's more... You can't complete an International call without knowing the secret code that goes between the number on the card and the number you want to talk to. More phone calls and aggravation were required to sort that out. Elsa isn't big on aggravation.
One more Jeep license plate
June 16th
Elsa visited a German chiropractor, chosen by Renate, who felt so sad about her disappointment with Costa Rica that he offered to spend Saturday showing us the beauty of the area.
When she told him we were looking for a new home, he suggested looking in the central highlands where the weather is actually quite pleasant and away from the shore it is hot and humid. He noted that there are two tiers of pricing, one for locals and another for gringos at twice that. He has been here long enough to have gotten himself out of former group, via the school of hard knocks.
The Mercado Central provided a "tipico" lunch at a "soda" or lunch counter, a beef soup called "olla de carne." Actually, it's a huge plate of beef and vegetables with a bowl of broth and another of rice. Had we known how big it was going to be, we would have ordered only one to share. The market covers a city block with rabbit-warren stalls selling meat, fish, veggies, clothes, trinkets and prepared food.
Costa Rica's licensing bureau for ham radio operators helped me write a letter in Spanish, requesting permission to operate. With that and a copy of my American licence, I was granted operating privileges with call sign TI2/NI6E on the spot, at no cost.
Elsa's Angel, Renate, from Lake Constance, Germany
June 17th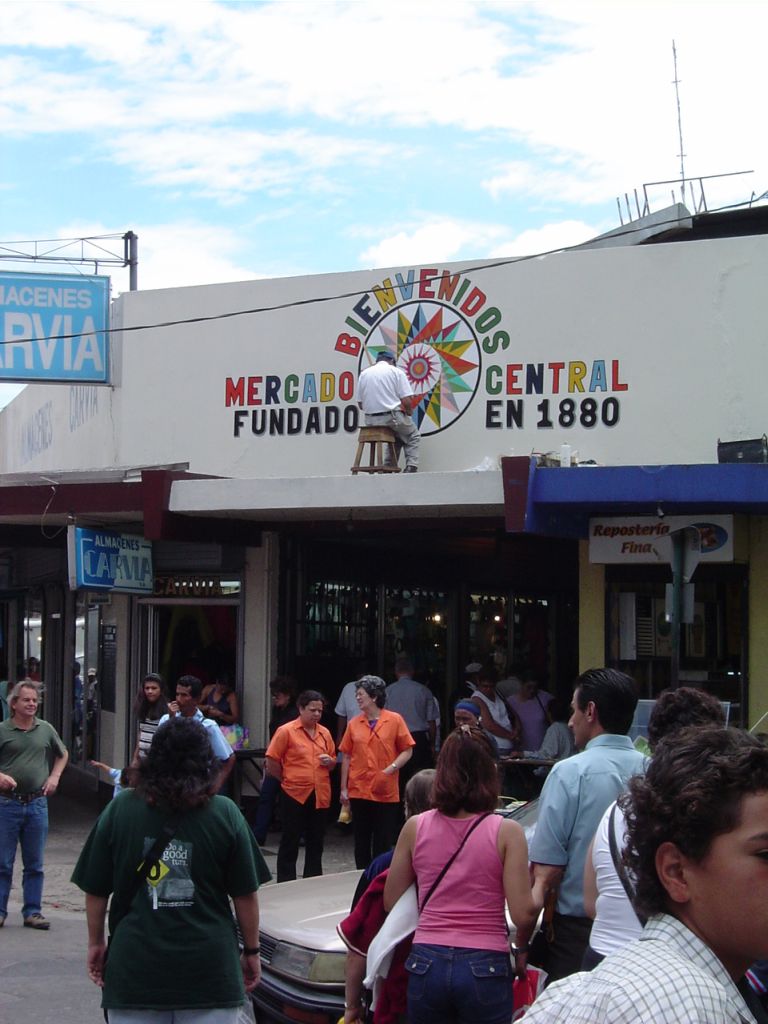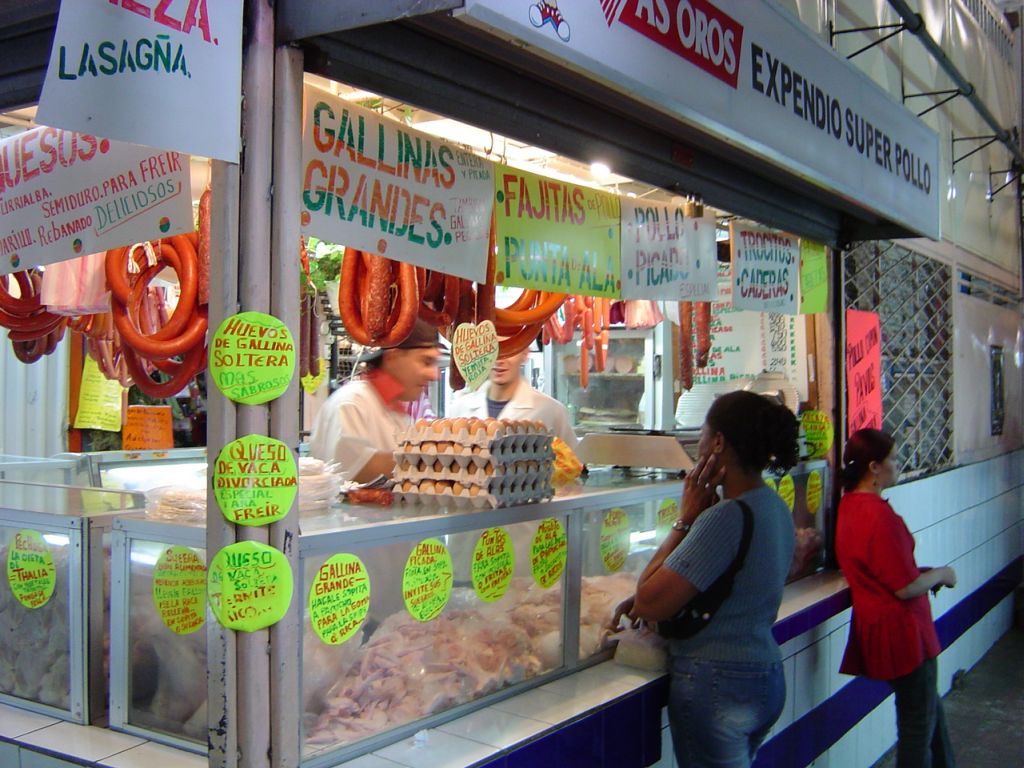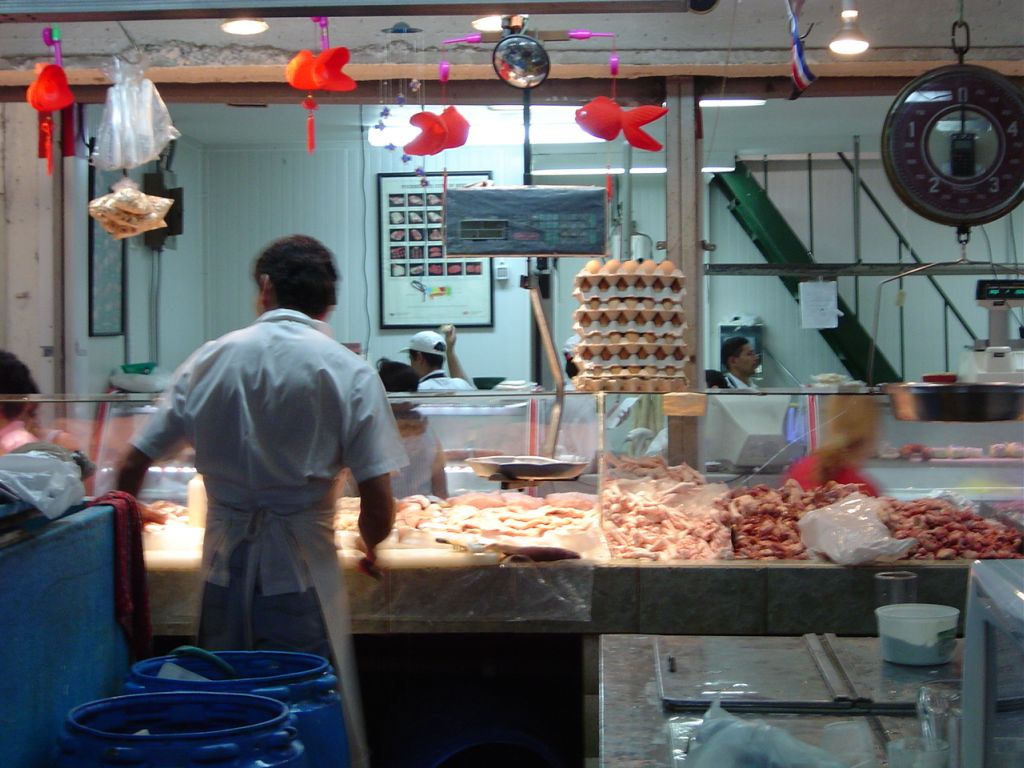 June 18th
Airport Tour Day... the business cards I received as a ferry pilot for Southern Cross Aviation opened a lot of doors at both the main International Airport and the Tobias Bolanos general aviation airport; I was welcomed as a long-lost brother. It seems it would be easy to drop into the aviation scene in Costa Rica. The busy season, from December 1st to Easter, requires a lot of charter flying in good weather over beautiful country... and an avionics shop is desperately needed. One now flys to Guatemala City for radio service (460 nm) or sends the radios to Miami for repair.
Mike, Elsa's chiropractor, and his wife, Luz, joined us for dinner at a restaurant where waiters walk around with skewers of meat, cutting off pieces as you desire.
Cessna Skywagon
Mike Hannes is the chiropractor located by Renate in the hotel.
Mike and his wife, Luz, treated us royally, starting with a fine dinner
June 19th
Mike and Luz picked us up at the hotel for a day of seeing San Jose as one who lives here sees it. They took us to their home, which they had purchased less than a year ago. A semi-circular driveway starts at one electric gate for entry and continues under a porch to another for exit. On a large lot with fruit trees in the back yard, it's ringed with a high fence with razor-wire at the top to discourage midnight visitors. The hills south of their home are steep, but that didn't stop developers from putting in multitudes of condos and single homes perched on the hillside. A common theme of all the places we saw was security, with tv-cameras pointed at the entrance walkway, gates, guards, fences and barbed wire.
Mike is from southern Germany, near Elsa's home town. Luz is from Columbia
We are still in touch with Mike who is now retired and living in Medellin, Columbia, his wife's home.
You won't find a nicer home in California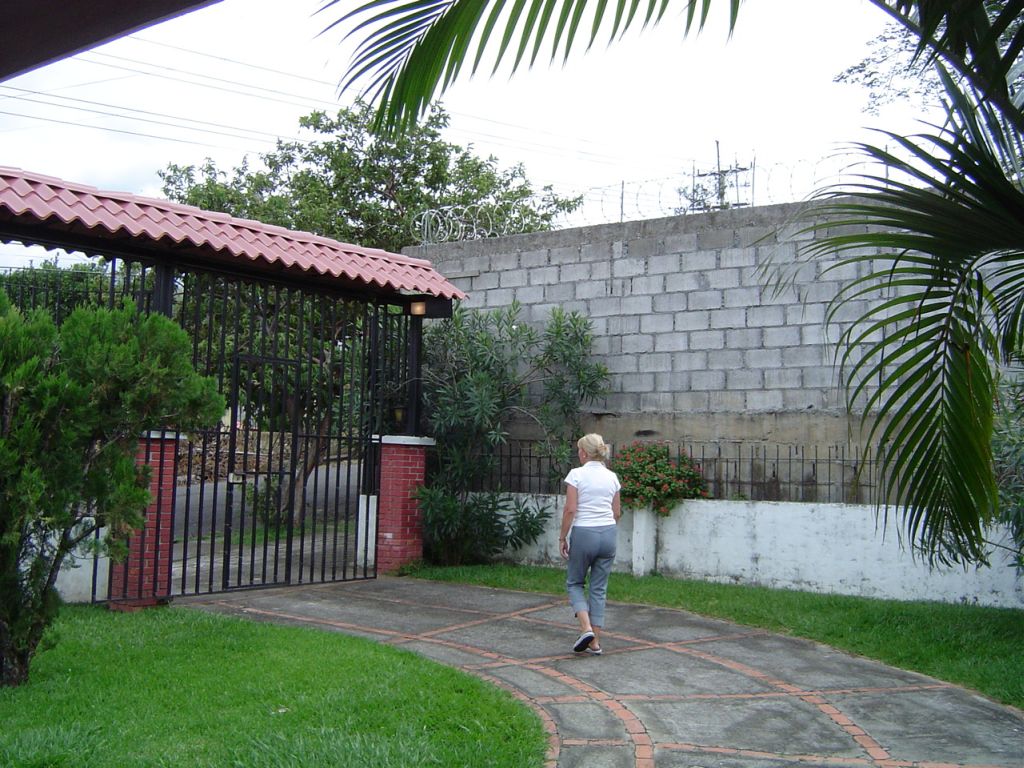 The circular driveway allows a car to come into the courtyard
through the first gate and leave through the second gate