Thailand, Cambodia and Vietnam
Elsa's Badly Needed Vacation
February and March, 2014
We make a loop through Thailand, Cambodia and Vietnam

China Airlines, not to be confused with Air China, on the ramp at LAX. Next stop, Taipei, Taiwan, in 14 hours.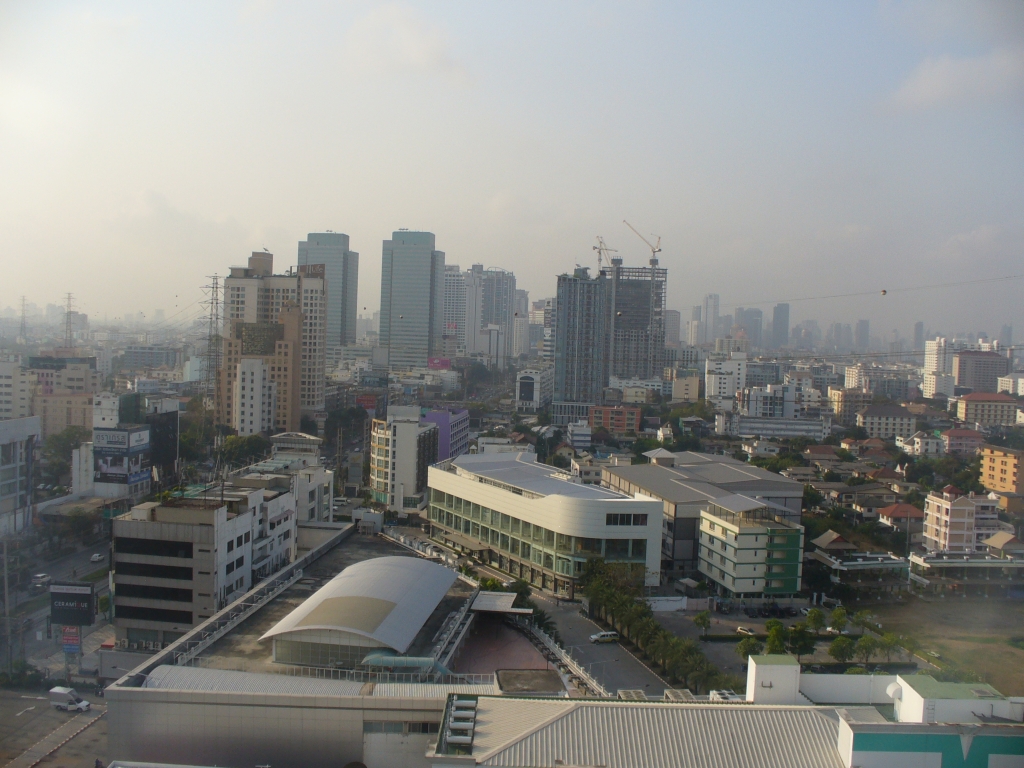 After a midnight plane change in Taiwan, only 4 more hours to Bangkok, Thailand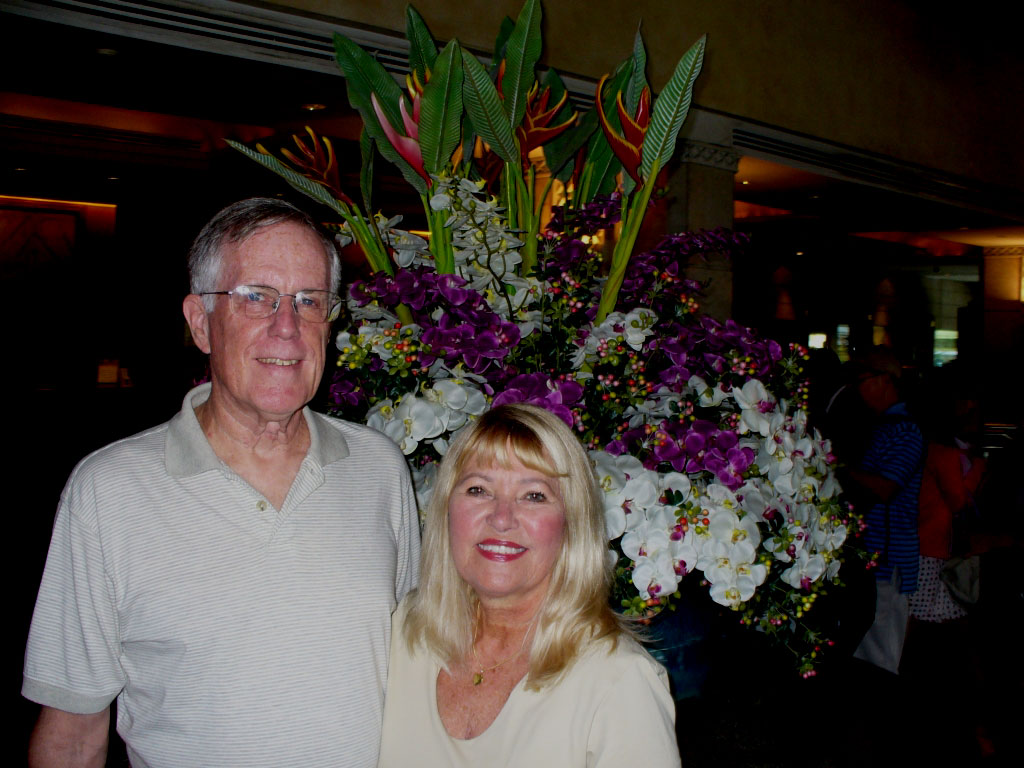 Weary Travelers appear Good as New, after a day's rest

Bustling Bangkok awaits Us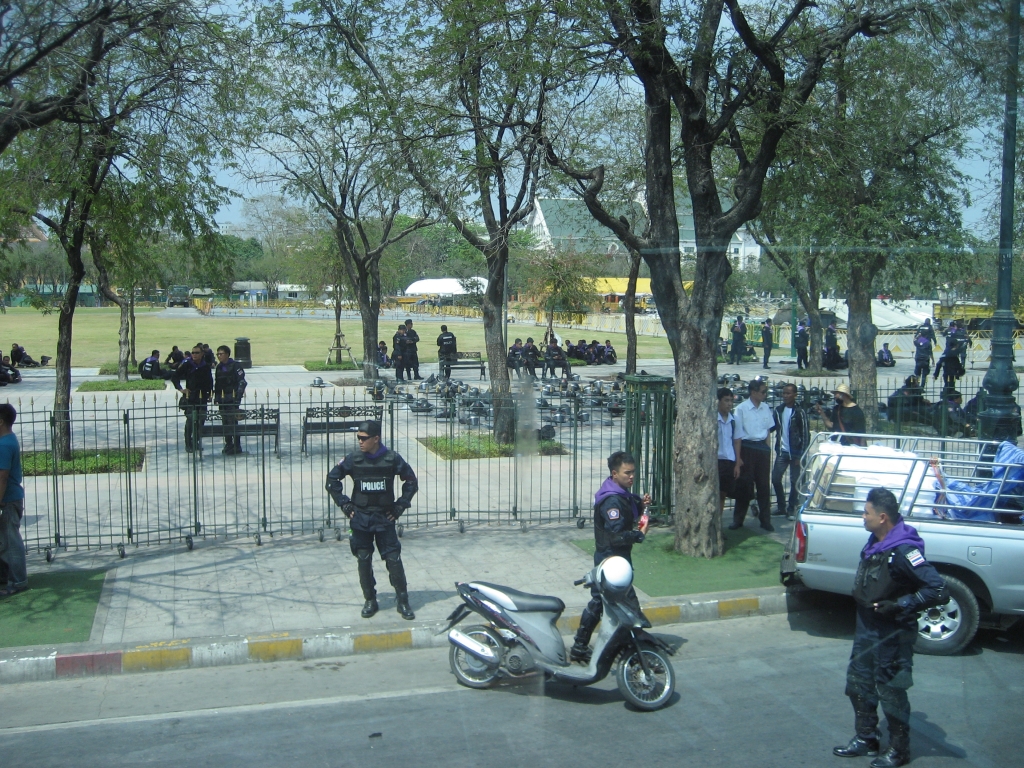 Police, called in to quell the "Rice Riots"
The Government promised rice prices they couldn't deliver

All the white vans are Police Vehicles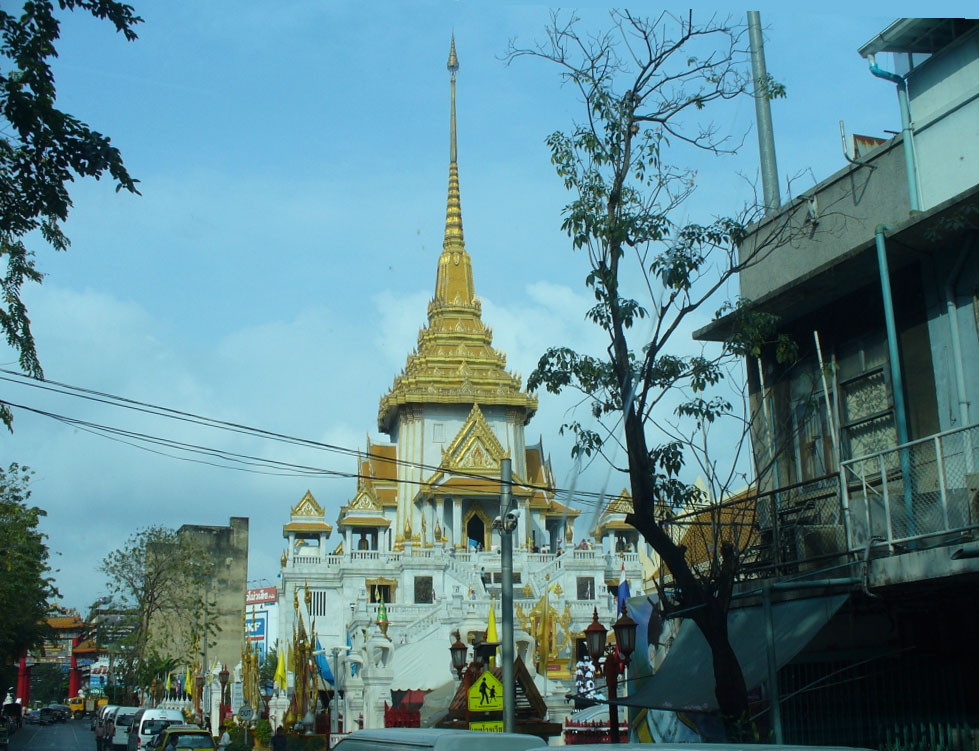 Temple Number One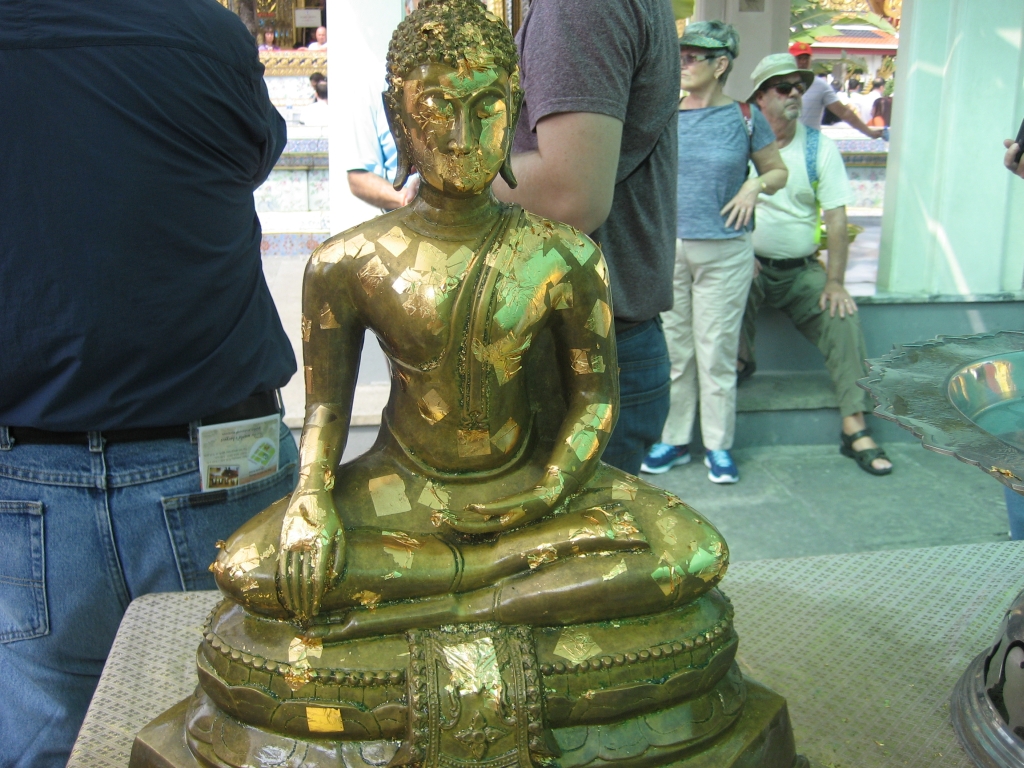 From Star Wars, C-3PO, protocol droid, under patchwork repairs

Roadside Flower Market

Temples Number 2 to 1000. The Imperial Palace

You must be properly dressed to enter, or borrow a sarong
No shorts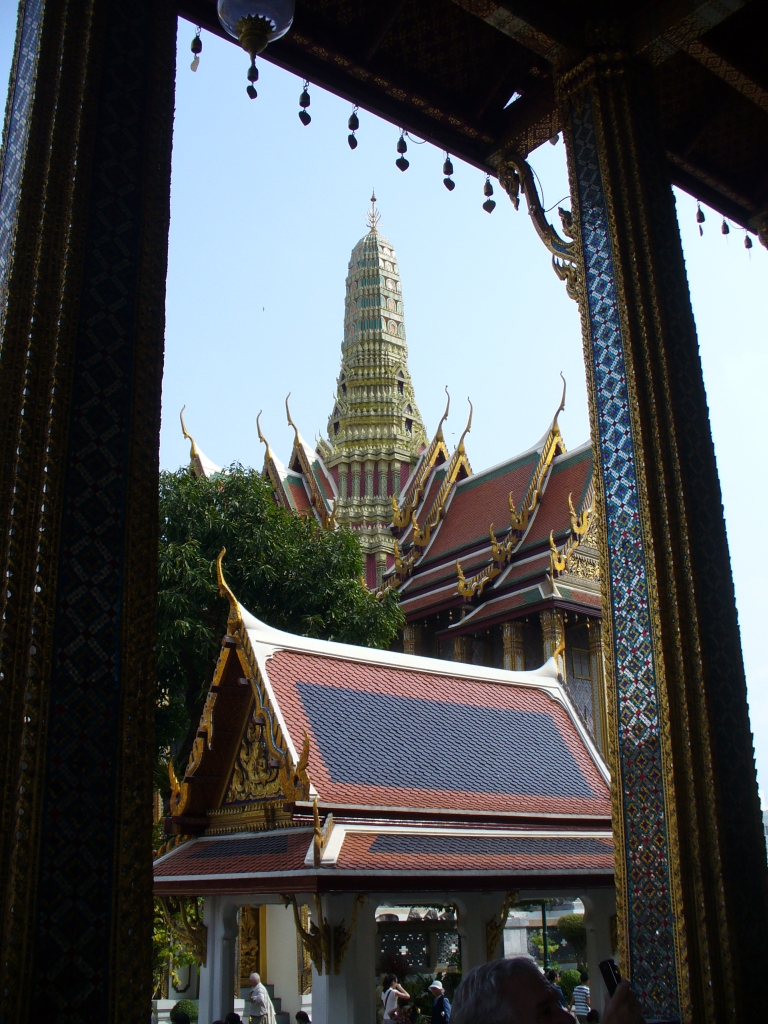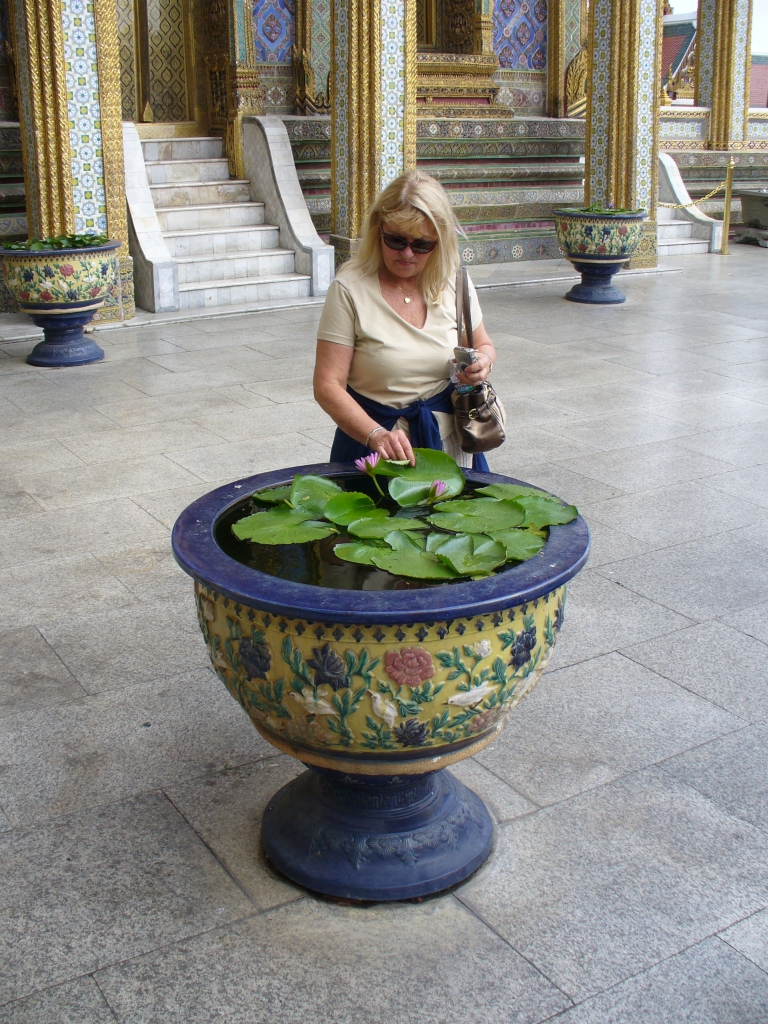 Testing the Water Lilies
Yes, They Are Real.
No, You Can't Take Them Home
Everything is Covered with Gold Leaf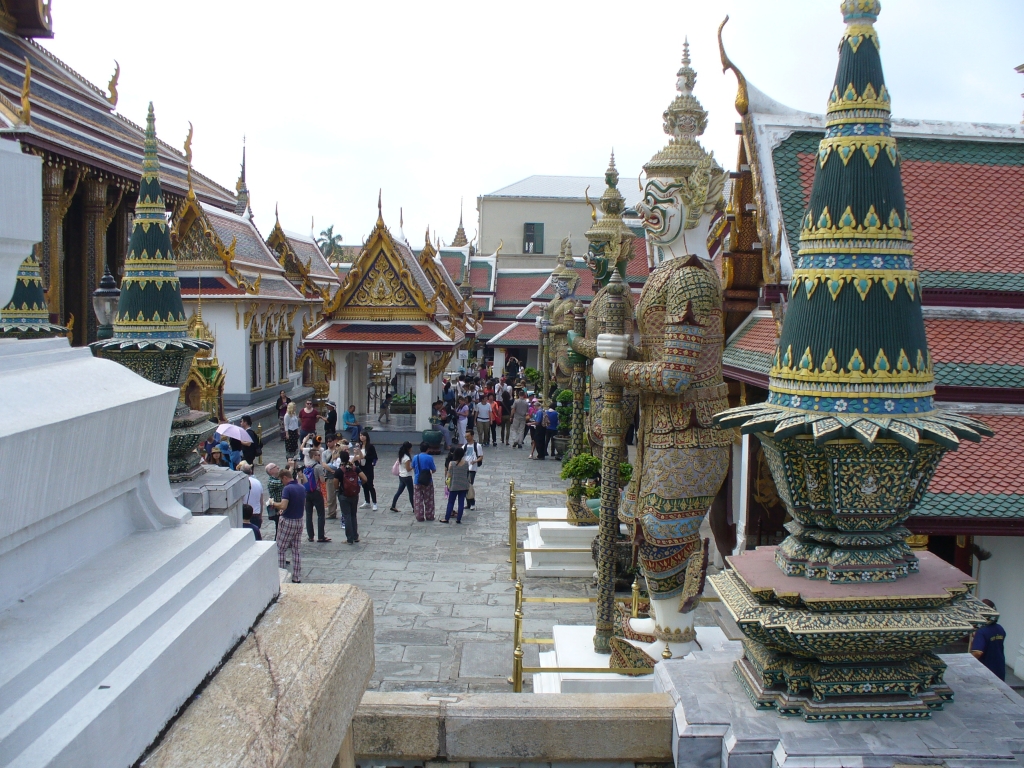 The Figures Look Small

But They're Not

European Lower Floors, Oriental Upper Floors

Dinner Cruise Boat Docking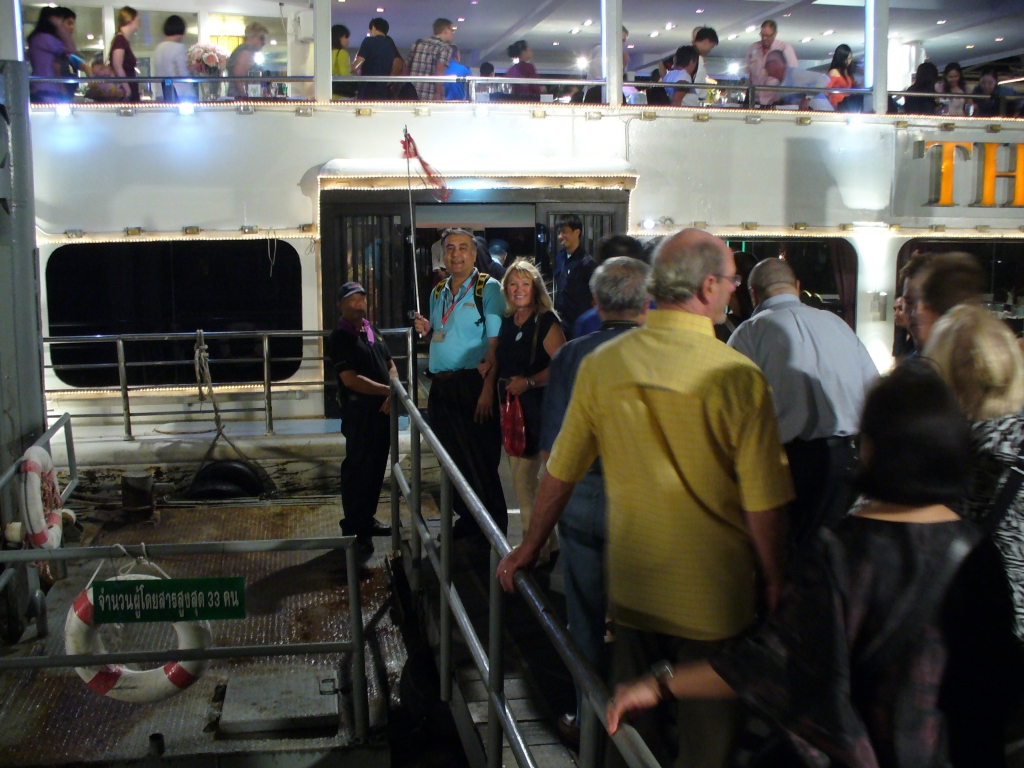 Boarding for the Dinner Cruise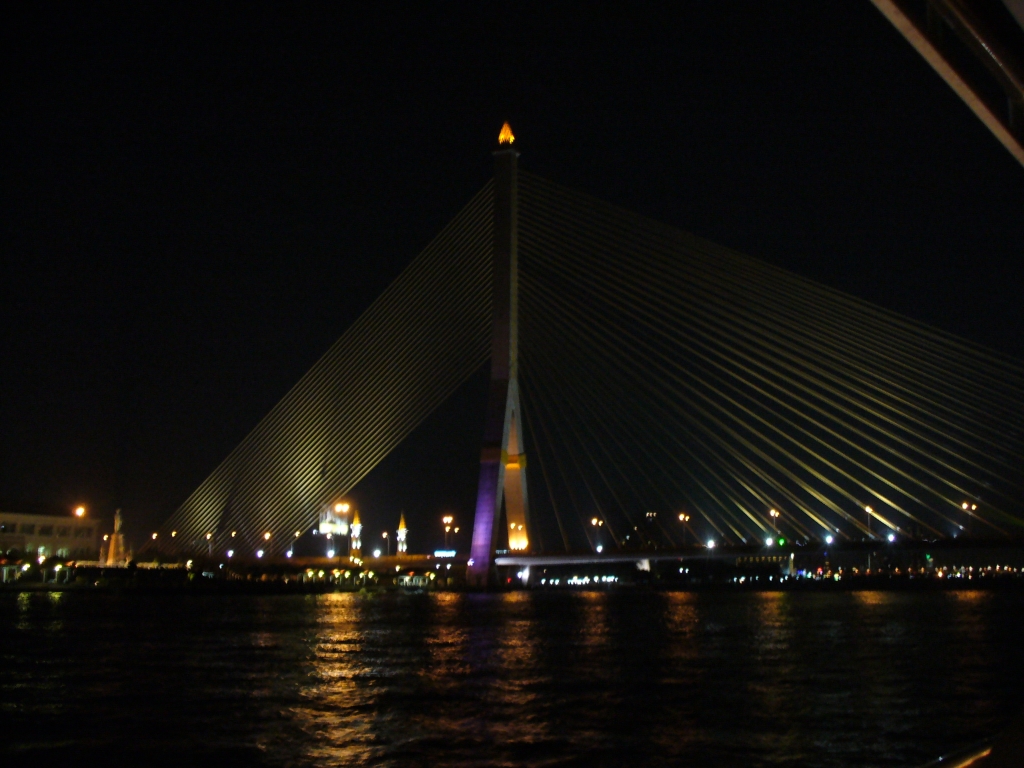 On the River

Waiting for Dinner to Start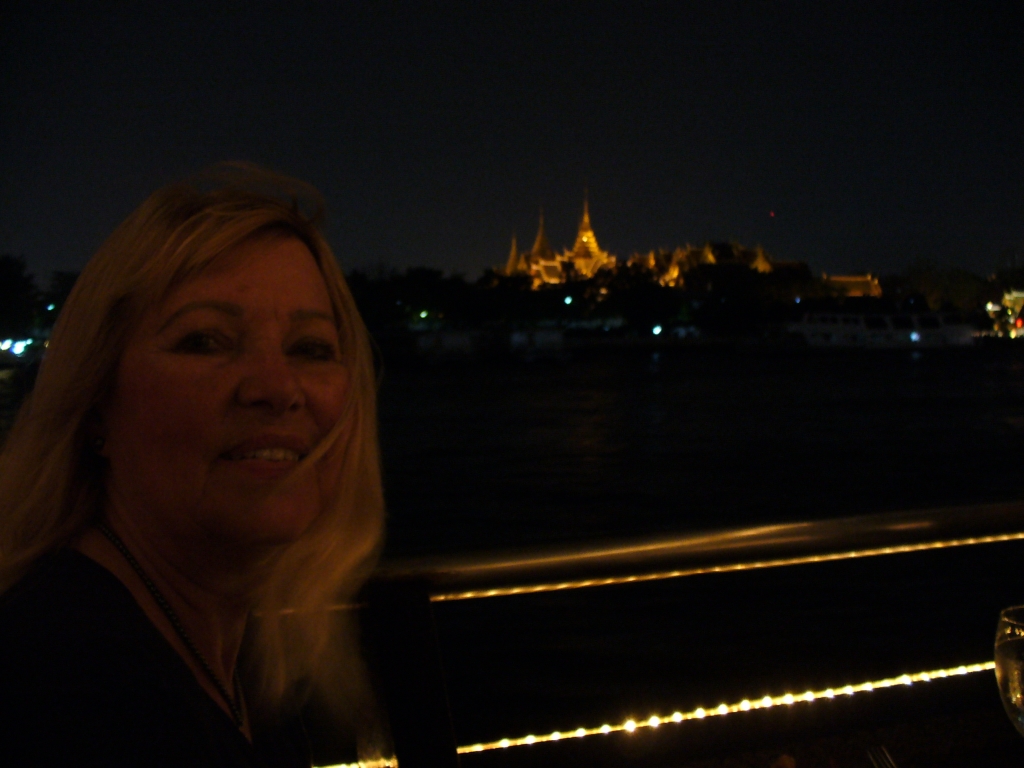 Imperial Garden from the River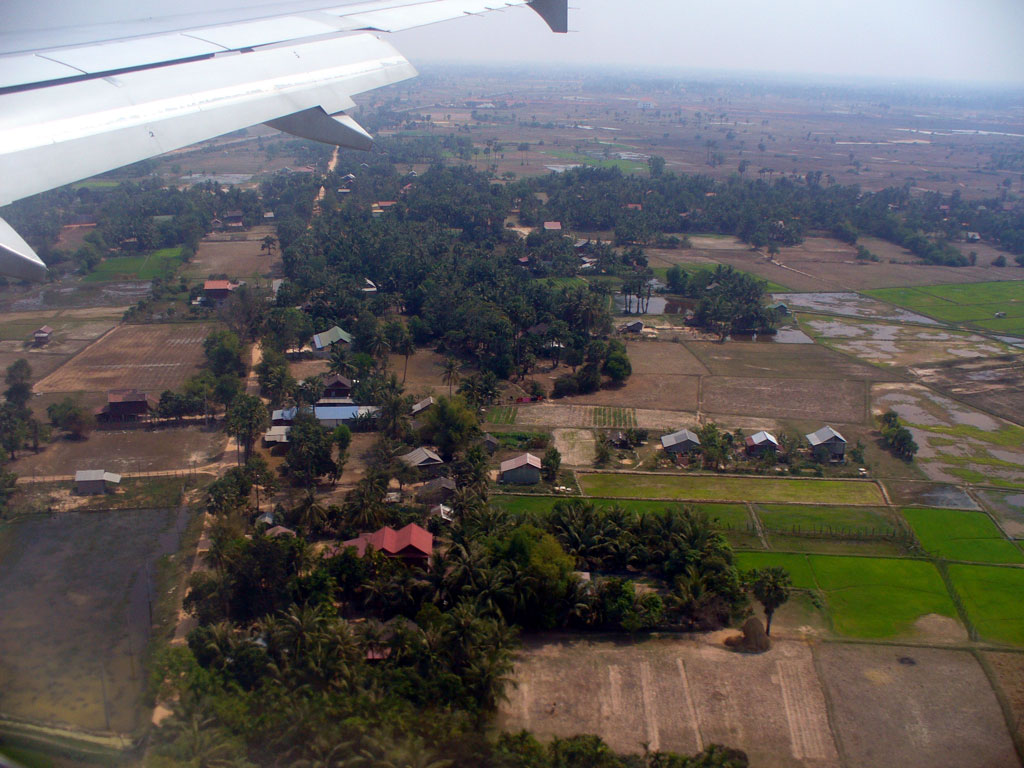 Landing Siem Riep, Cambodia

We Found Your Lost Baggage...

Our Fine Hotel, Siem Riep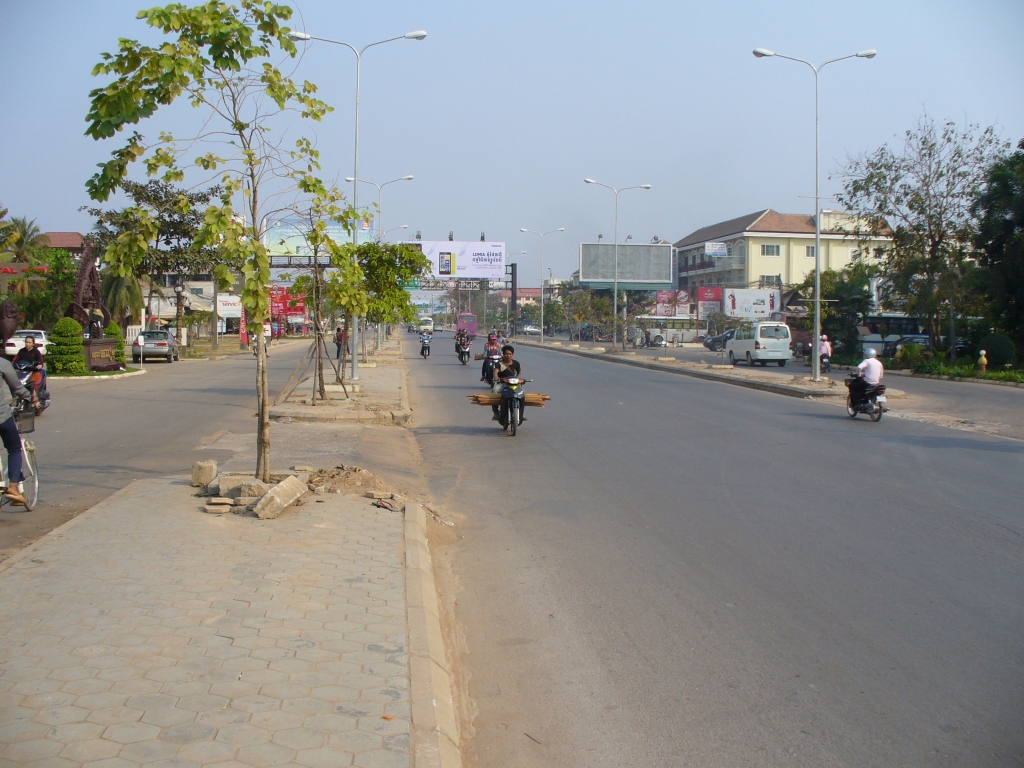 Main Street in Front of Our Fine Hotel, Siem Riep

Shops adjacent to Our Fine Hotel, Siem Riep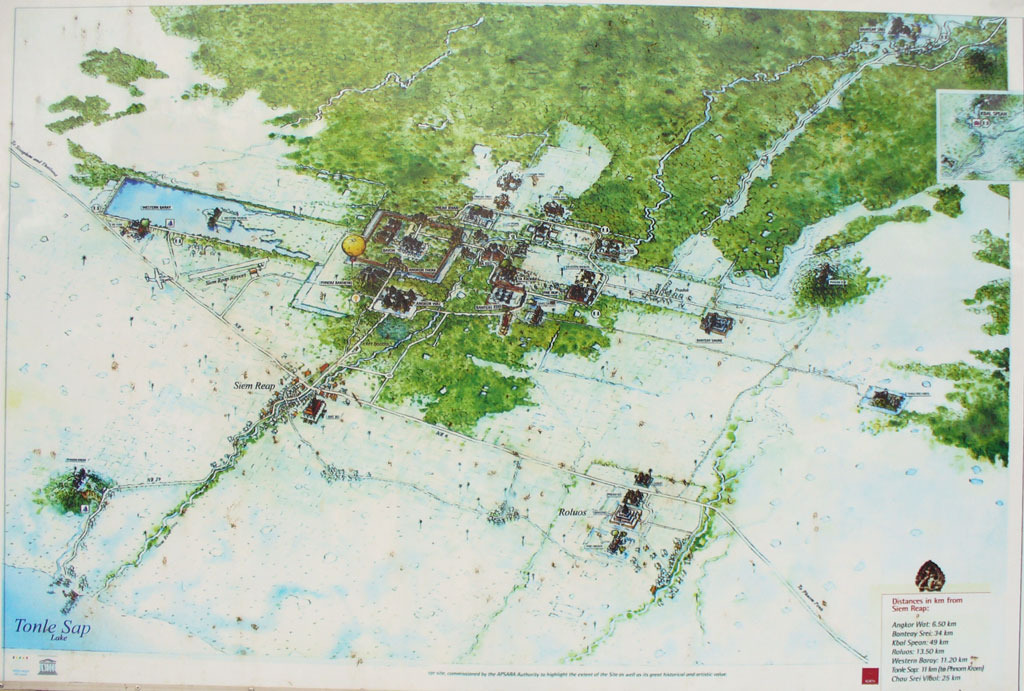 Angkor Wat is Many Temples spread over a large area.
The City of Siem Riep is marked at center, left
The Airport is above, left of the city.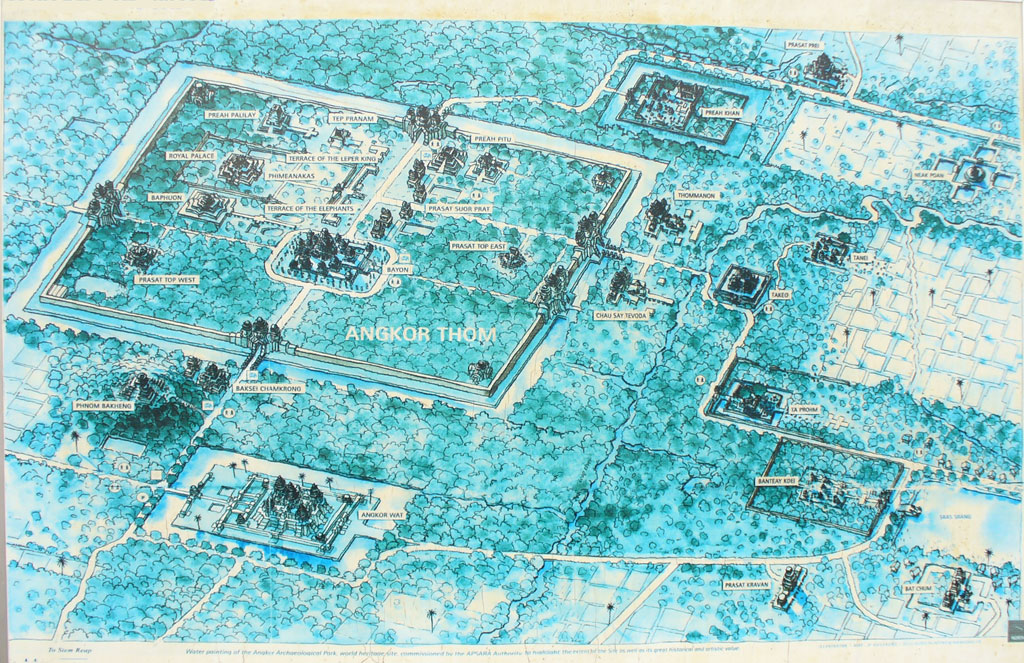 Close-up map of main temples

How nice the Ta Prohm Temple is going to look...

How nice it looks now

Jungle growth has devastated the buildings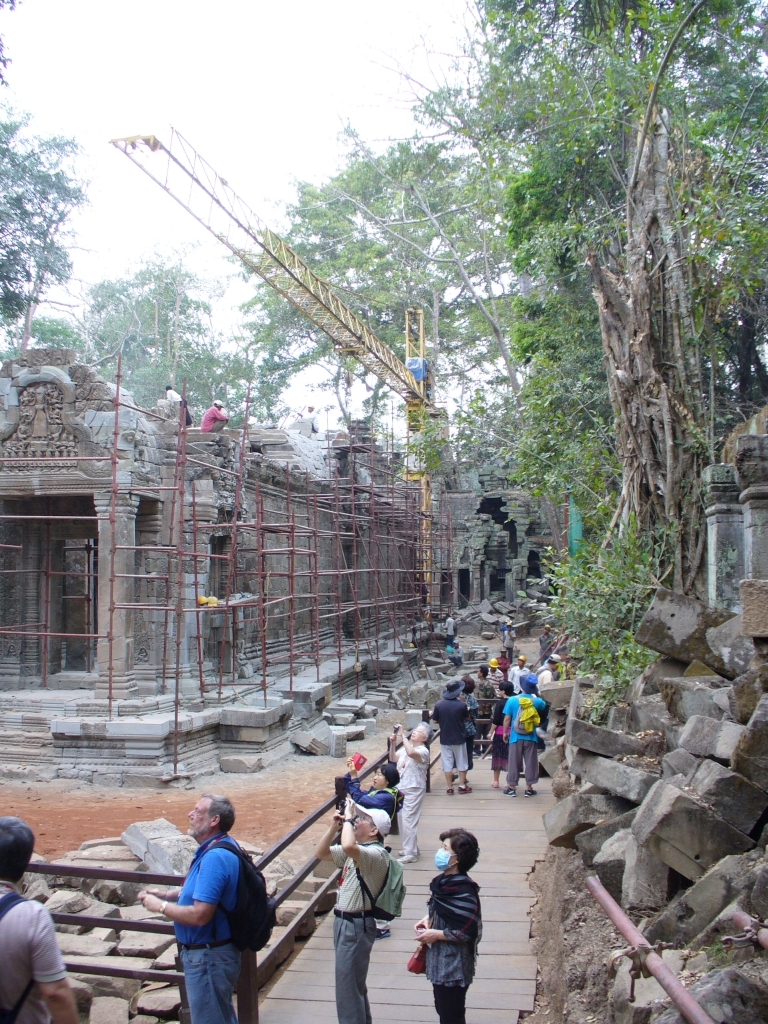 Ongoing restoration will take many years

Attack of the Killer Tree

You get to stand here for only 10 seconds

Gate of Four Faces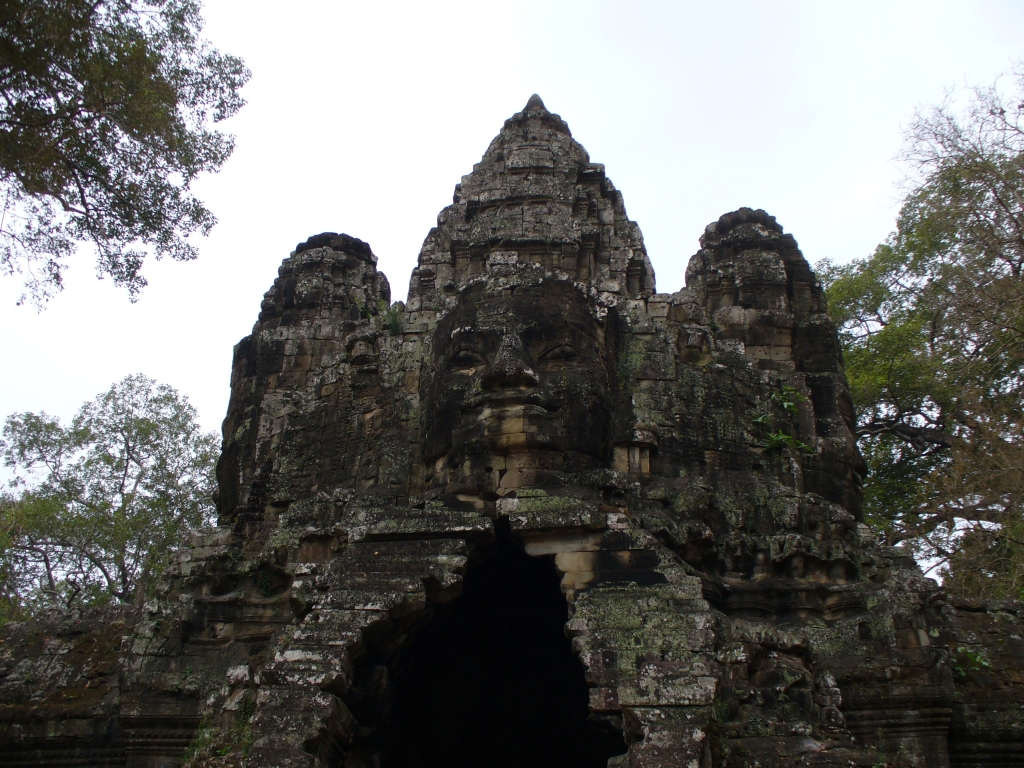 Bayon Temple

Elephant Ride

Wall Carvings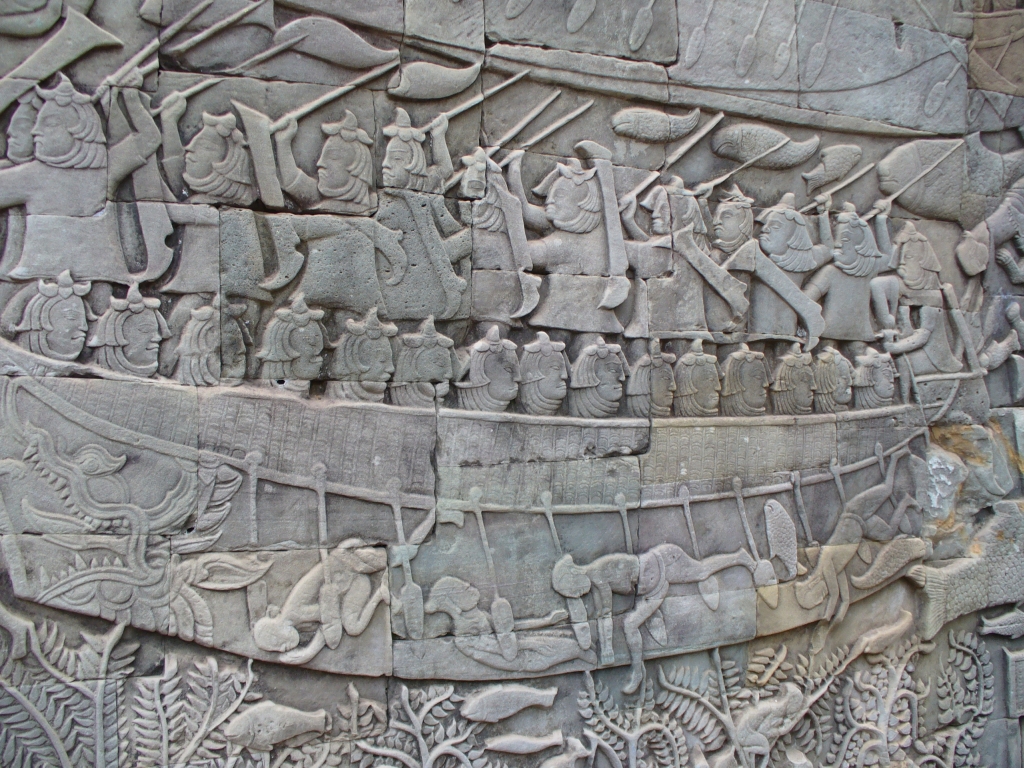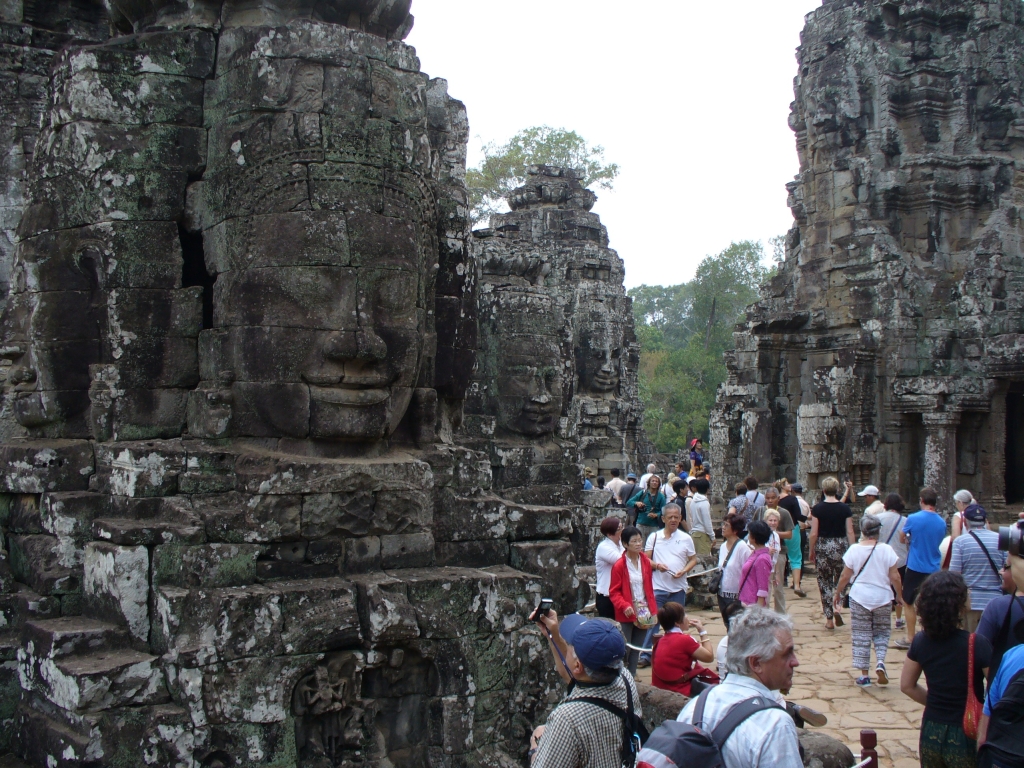 More Reconstruction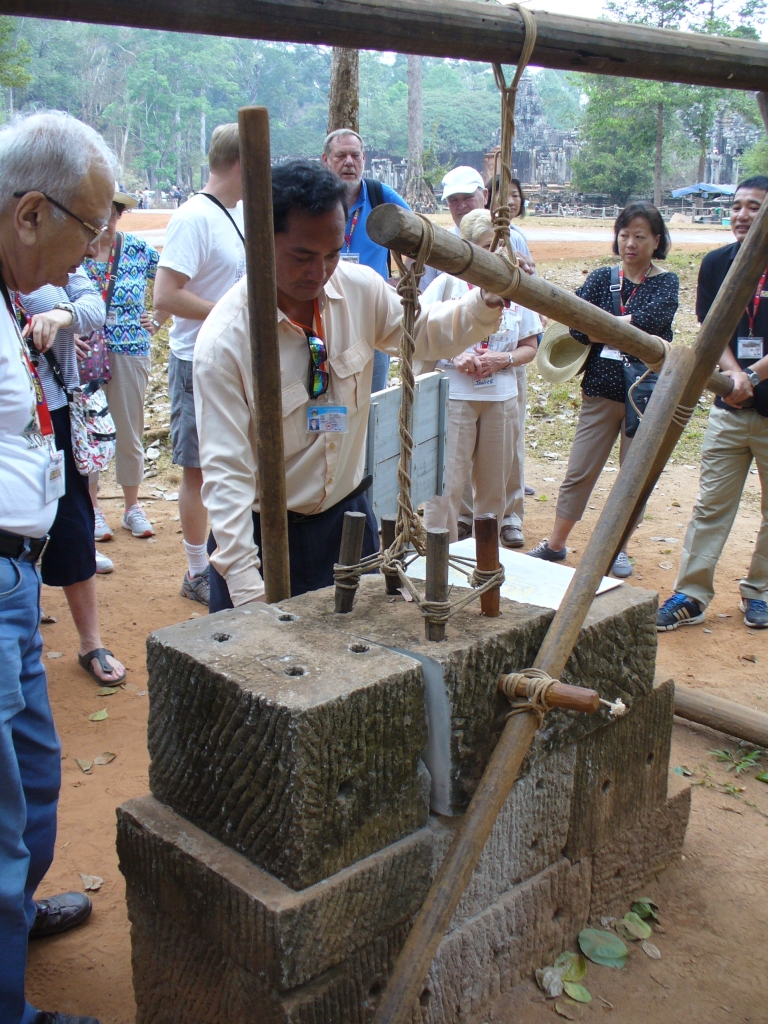 How the Original Blocks were Moved into Place

Of the 32 travelers, these were the nicest.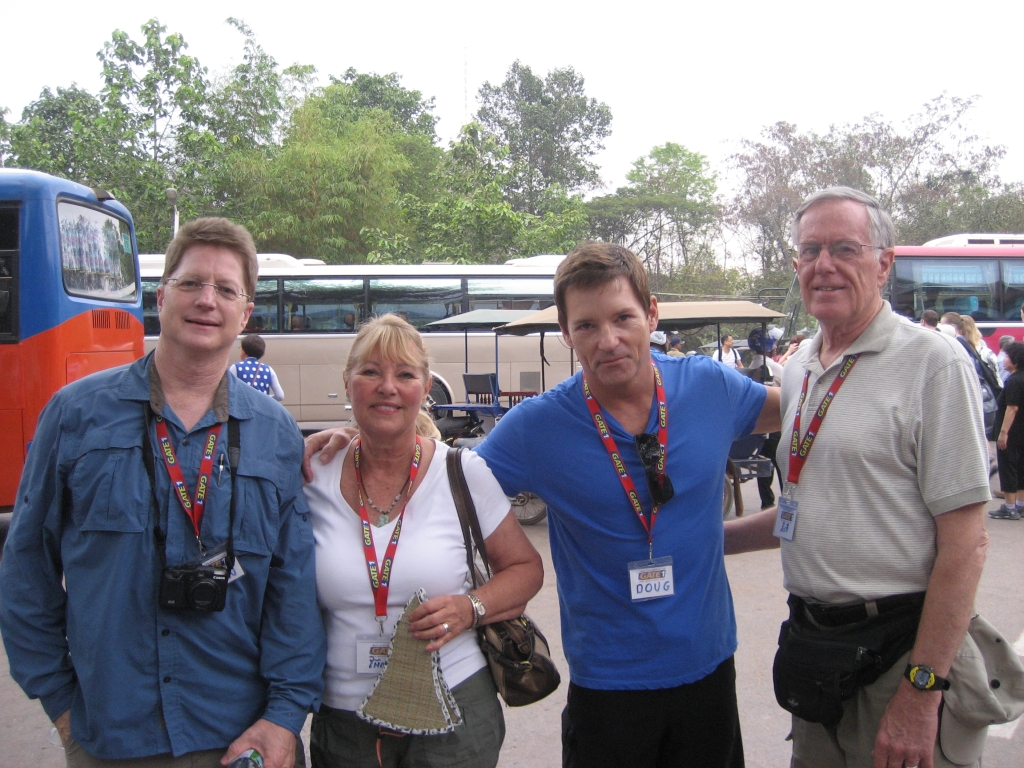 Our New Friends, John and Doug from San Diego

Blondina from California, Traveling in Disguise, Angkor Wat

The Accidental Tourists Visit Angkor Wat

Inside Angkor Wat

Inside Angkor Wat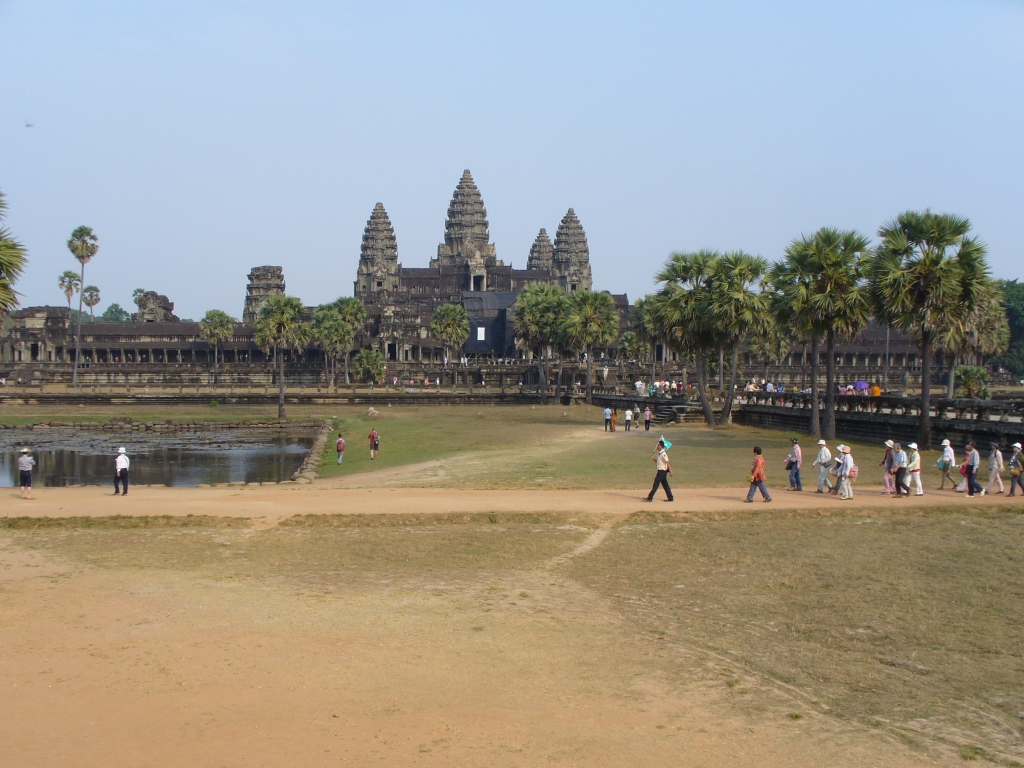 View from the Library Window

Who are all these tacky people?

Almost Empty Corridor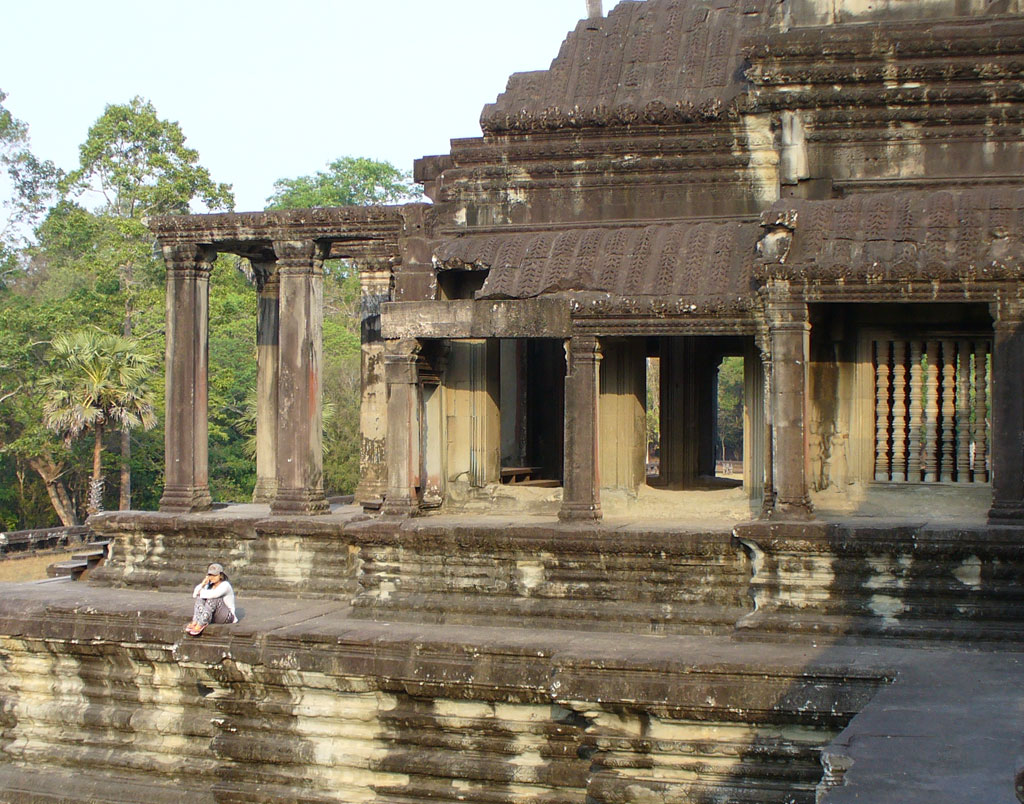 Cell phone time, Angkor Wat

Inner Courtyard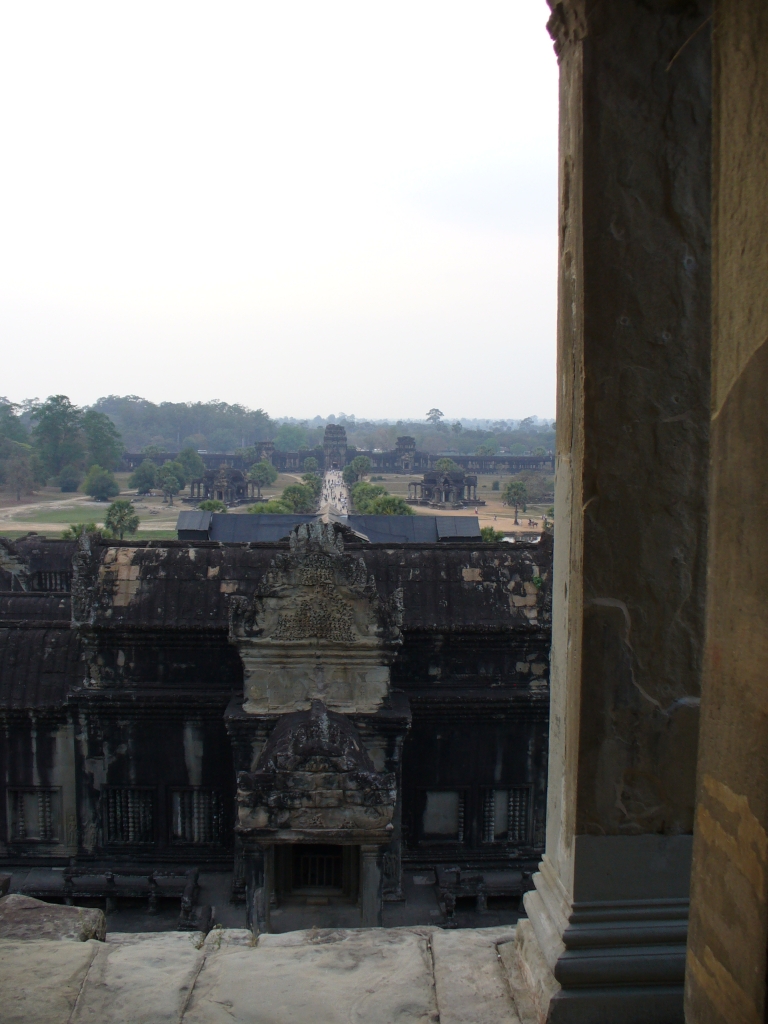 In the distance, Main Entrance, Angkor Wat

Steep Stairs from Upper Level

Cambodian Country Road

And Off We Go... for a Water Buffalo Ride

Chicks and ducks and geese better scurry
When I take you out in the surrey with the buffalo up front

Cambodian Country Home

Water Buffalo Gas Station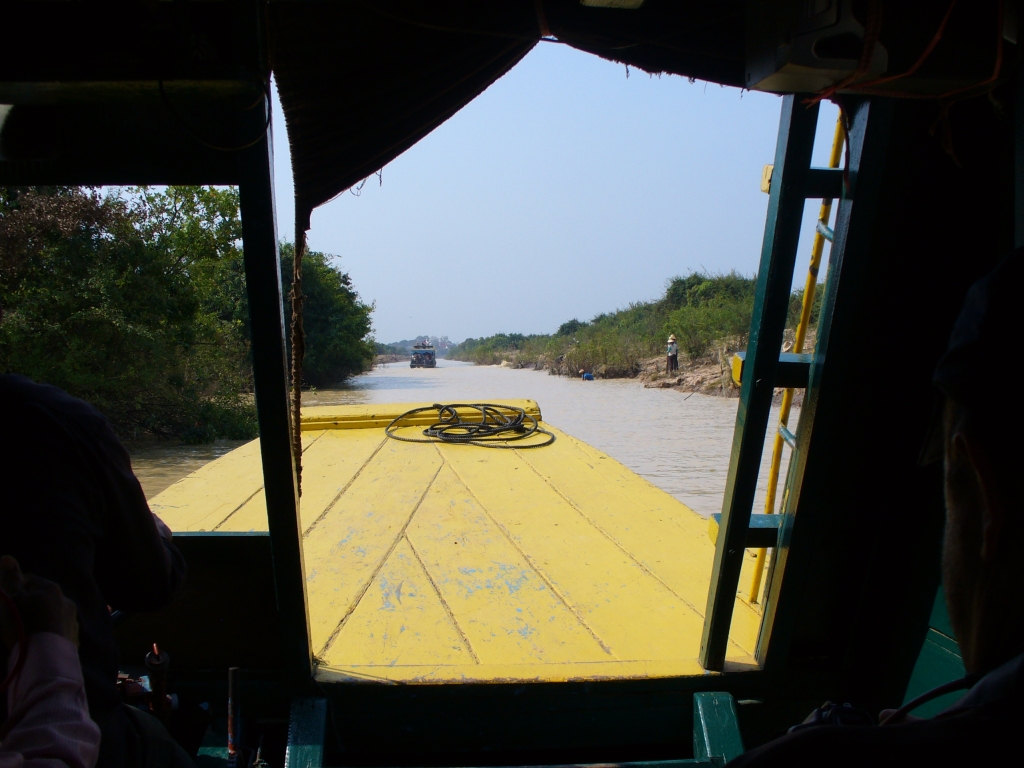 Start of Boat Visit to Floating Village on Lake Tonle Sap

Floating House

Floating Homes

Floating Grocery Store

Floating Kids going to Floating School

School is Out

Off to Saigon

Center of Saigon from our Hotel

Motorcycles Outnumber Cars

This Will Kill You
And it Will Hurt a Lot
The Whole Time You Are Dying

Opera House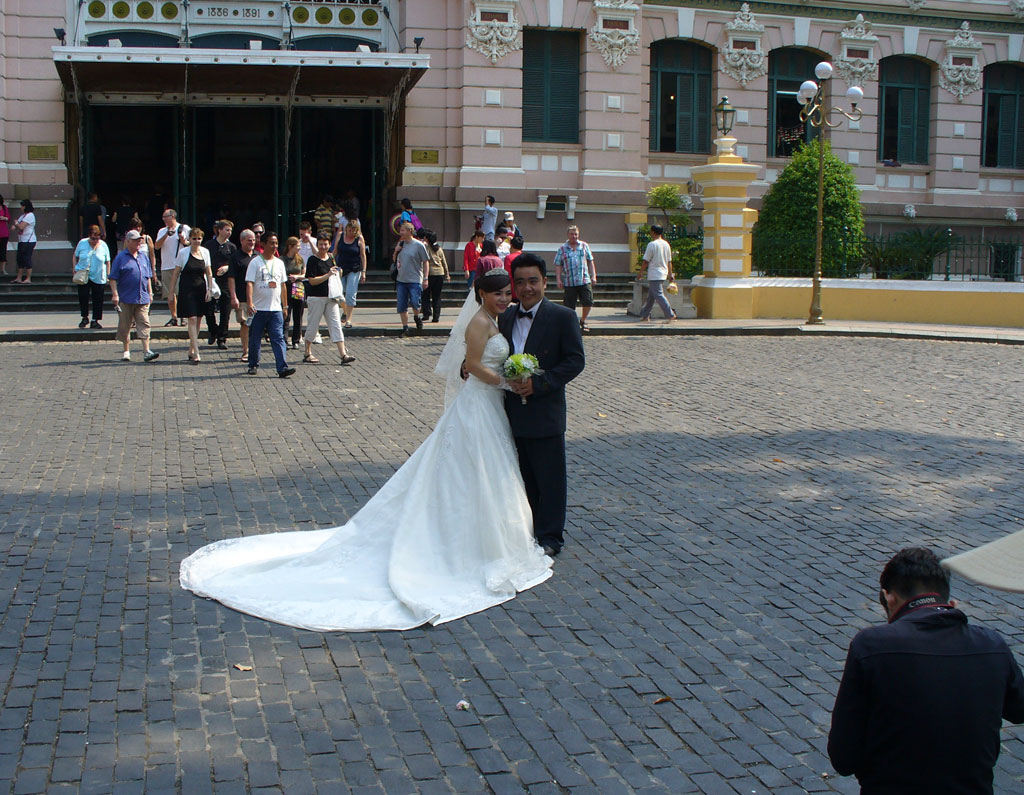 Wedding Album Pictures

Curiously, the Cu Chi Tunnel Entrance
Is large and well lighted
The Tunnels are very small and dark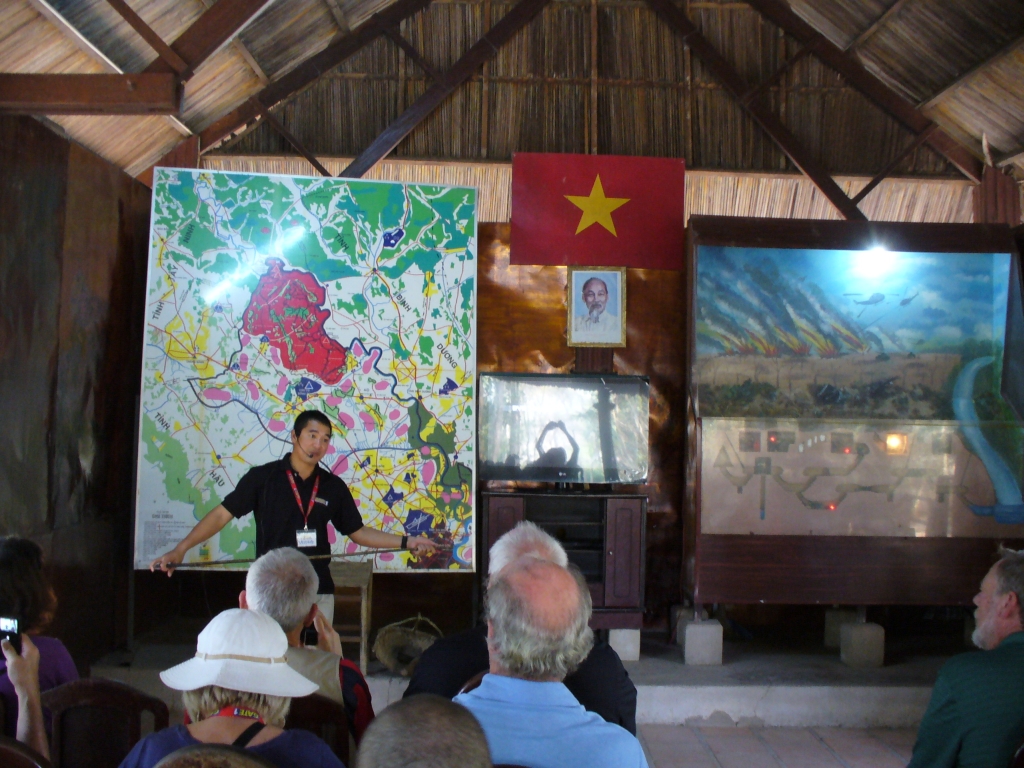 Rex, describing Life in the Tunnels where 18,000 people lived during the day
on three levels, 10, 20 and 30 feet below the surface
All day, every day, for years

A disguised Entrance to a Tunnel

Our Esteemed Tunnel Evaluator decides the enlarged Vistor's Tunnel is too Small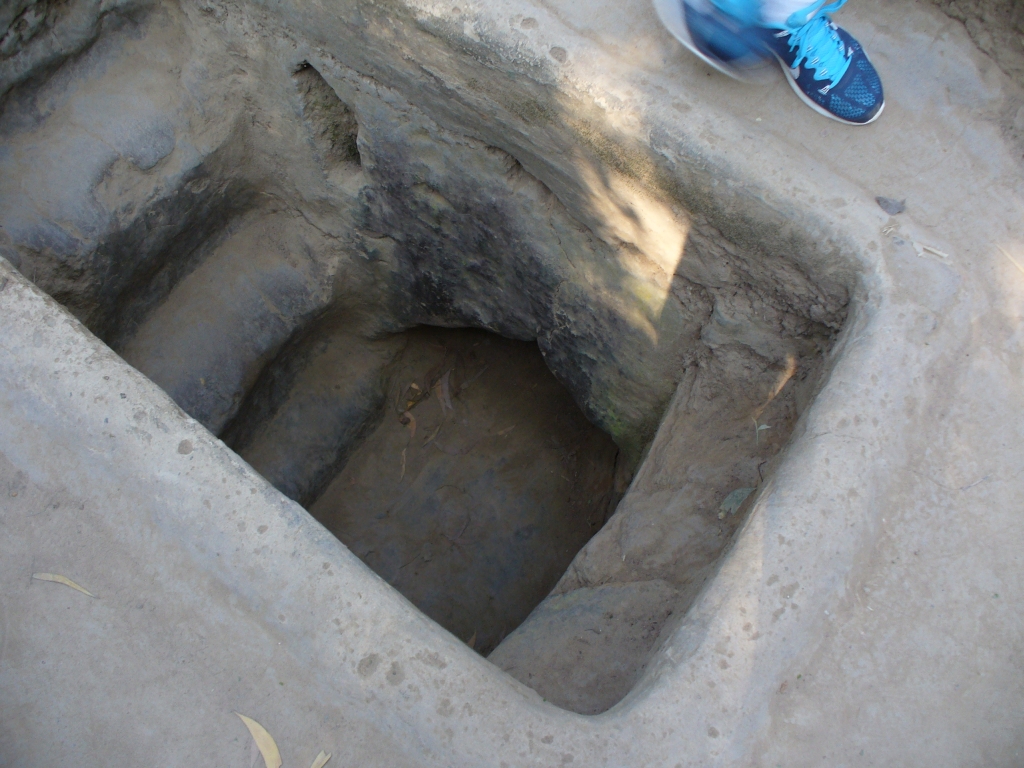 The Real Tunnels were much Smaller

On the road to Saigon

In Saigon

Preparing for Sunday Morning Motorcycle Ride through the streets of Saigon

On the Road, Again with tour leader Le Quoc Voung, known as Rex

"You Got a Helmet?" Peter Fonda, Easy Rider, 1969

Off to Da Nang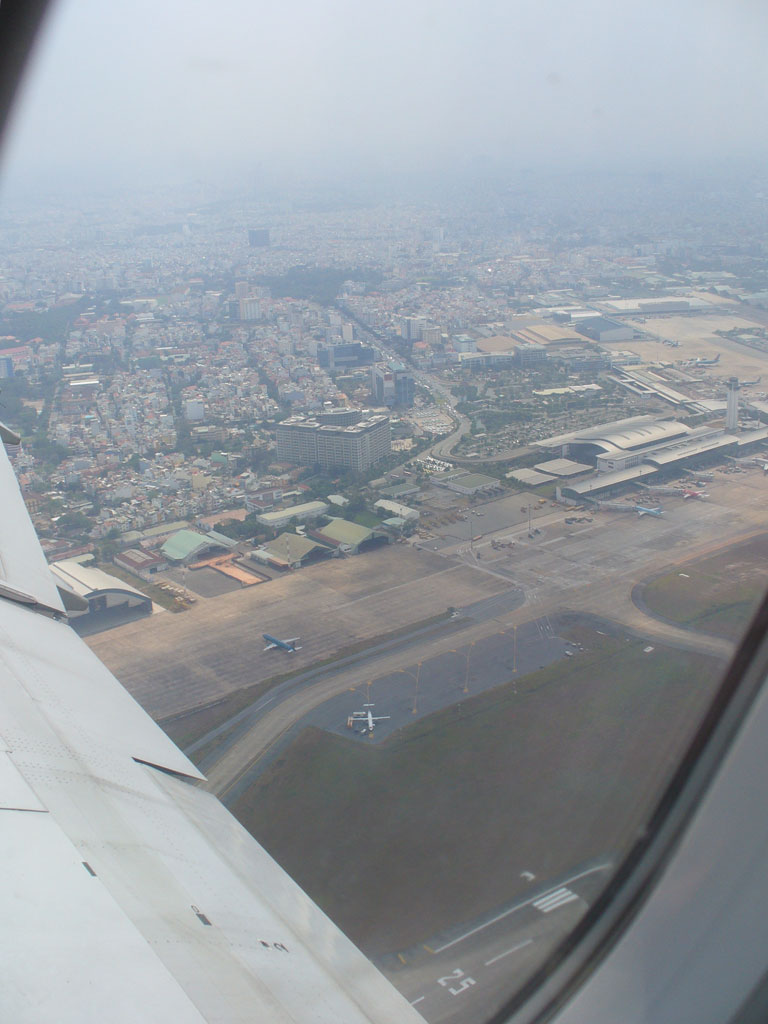 So Long, Saigon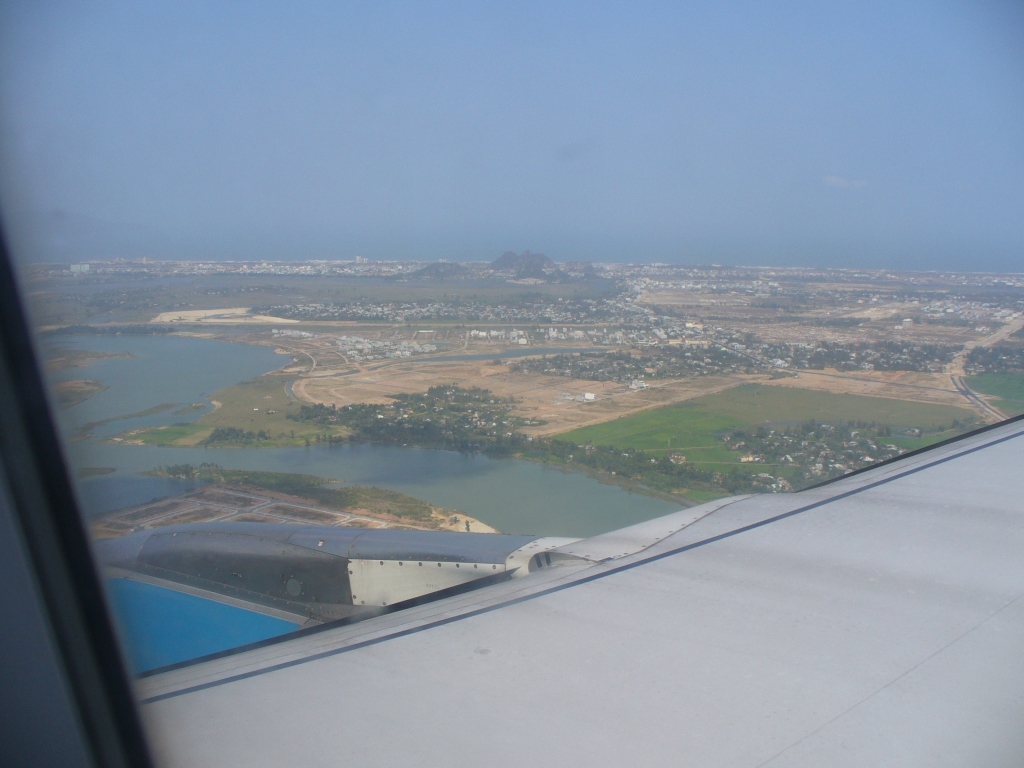 In the Distance, China Beach

My Khe beach was nicknamed "China Beach" by
American and Australian soldiers during the Vietnam War

Hoi An Temple
Red Coils are burning incense

Prayer Time

Posing for Wedding Pictures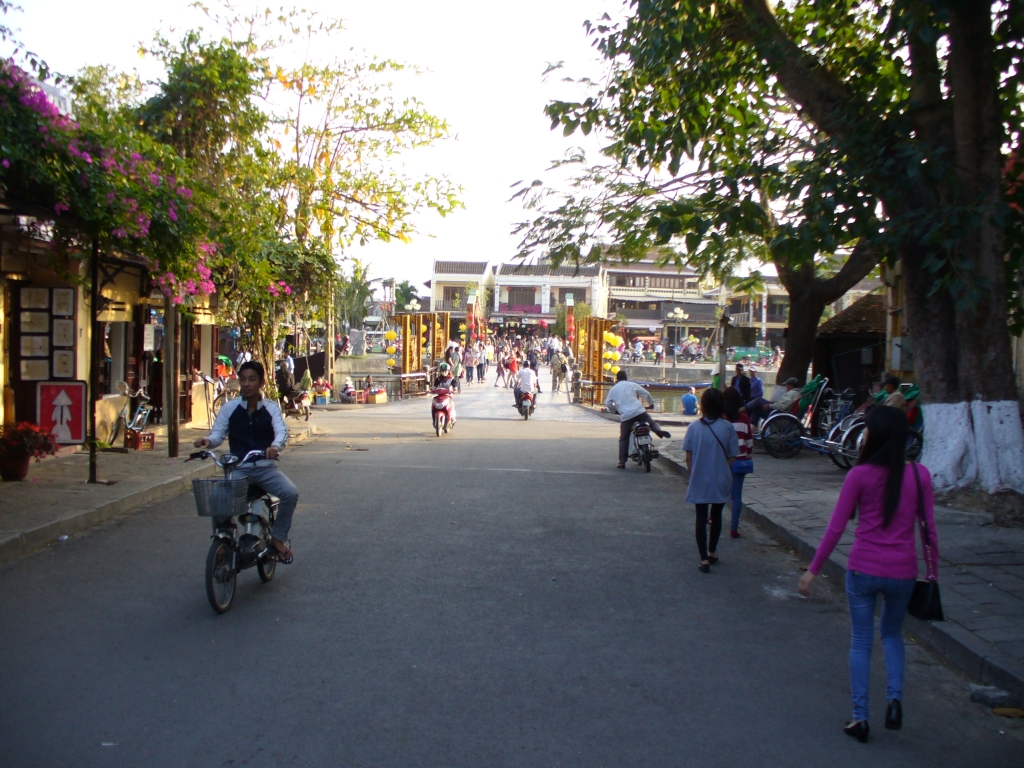 Hoi An

Famous for Lanterns

Dinner served along the river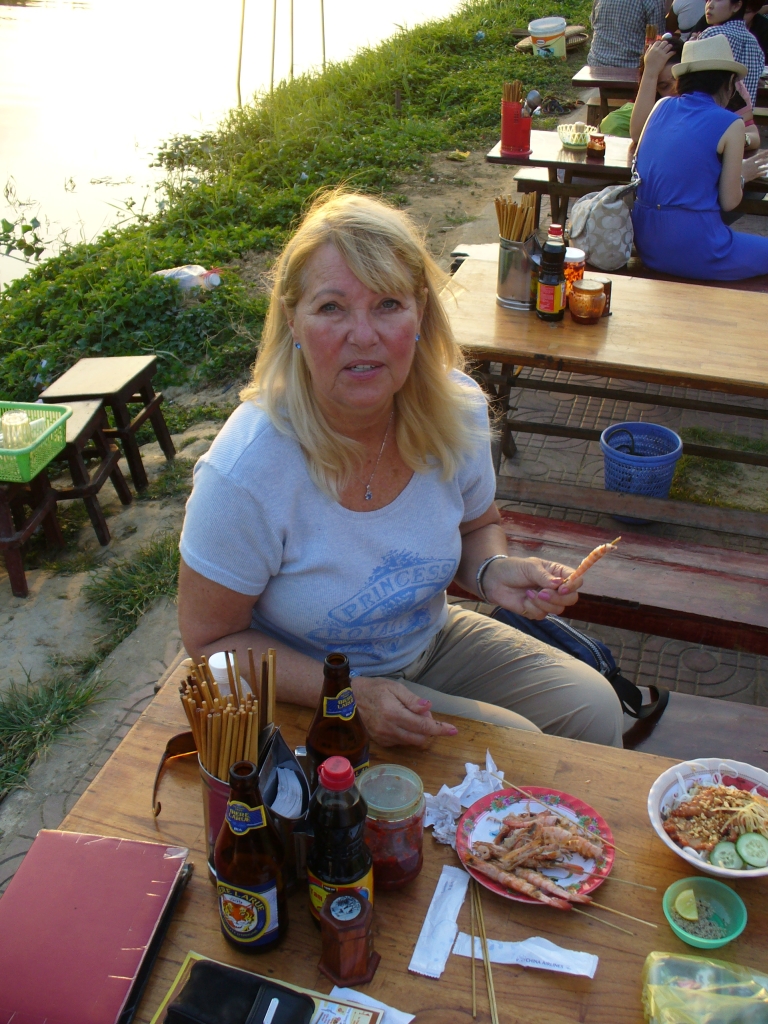 Fresh Shrimp

Dinner with Happy Budha, "The Judge"

Hoi An

Boarding for boat ride

Makes One think of Lido Island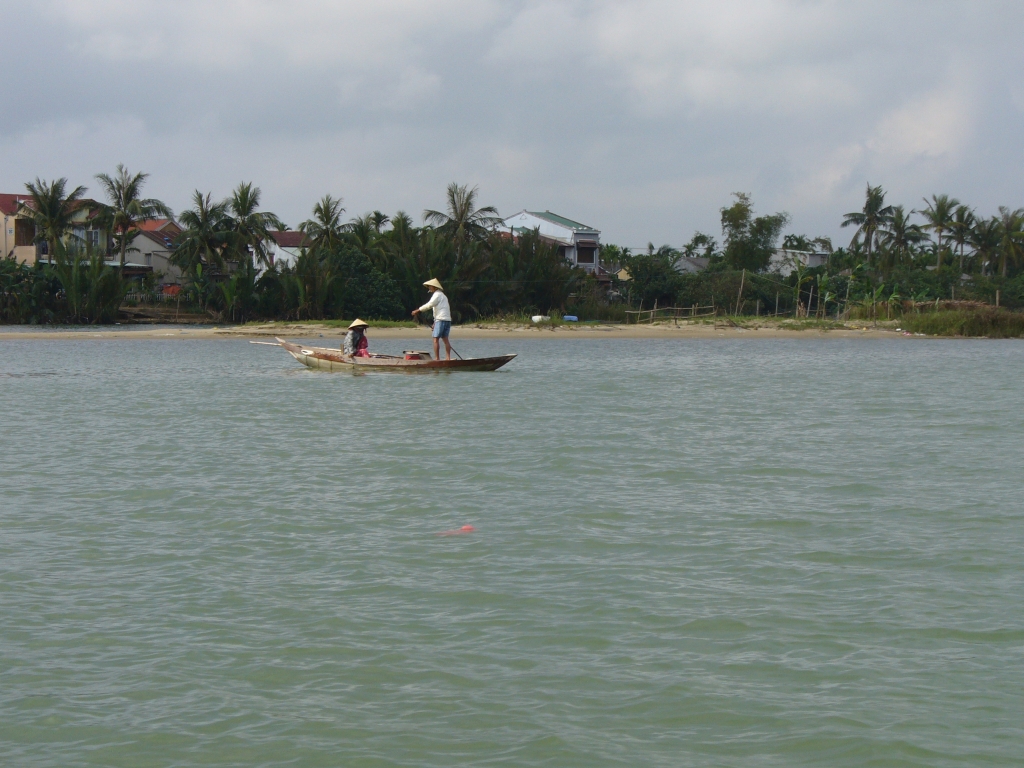 Well, Maybe Not

Fishing nets are lowered into the water, then raised with trapped fish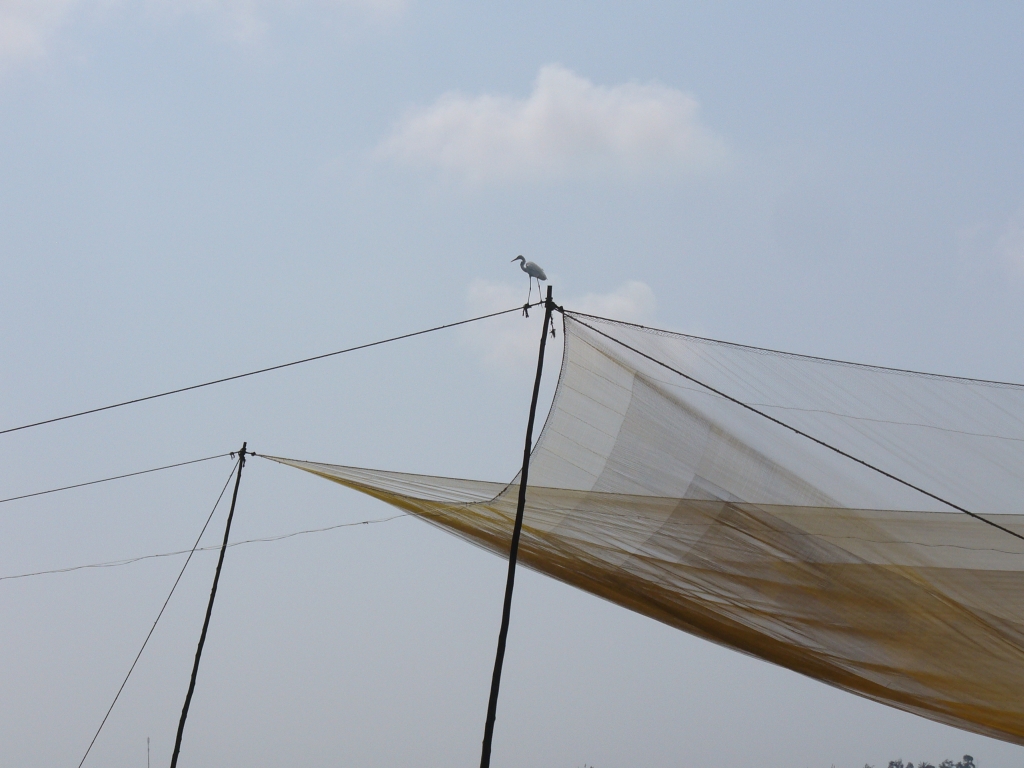 Waiting for a Free Lunch

Why use a table when the floor is so convenient?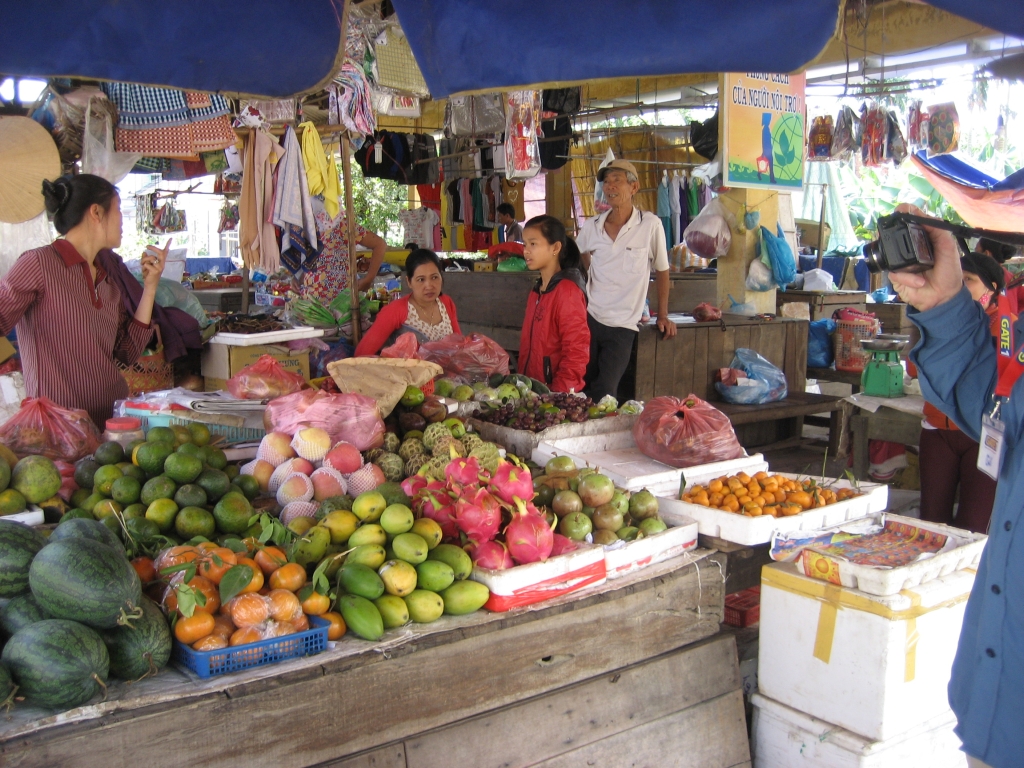 Grocery Market

Hoi An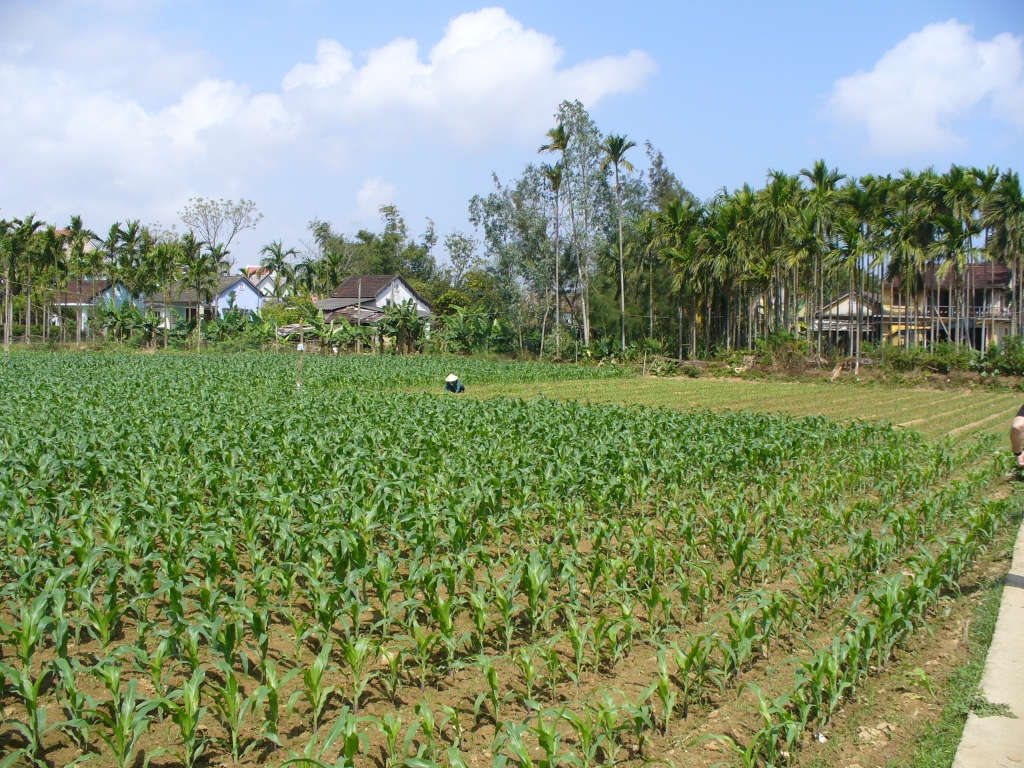 Hoi An

Boat Building, Hoi An

Cutting Timbers, Boat Yard, Hoi An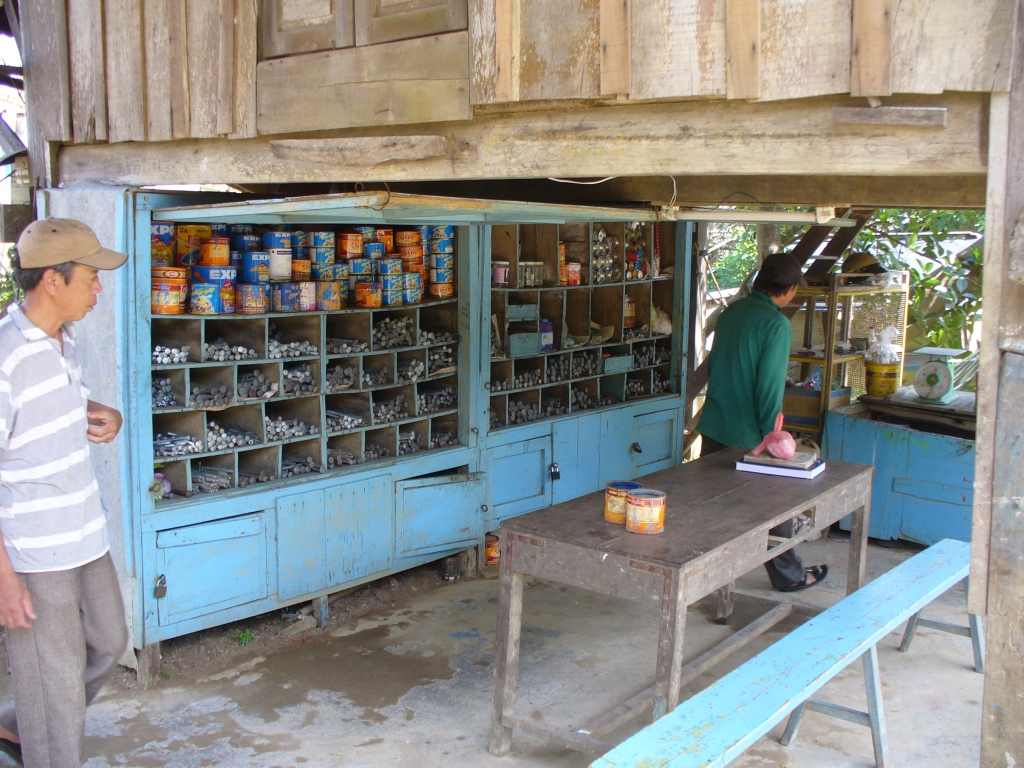 Good Supply of Wooden Boat Fasteners

This Explains Everything

Lunch from the Surrounding Garden

What we ate came from here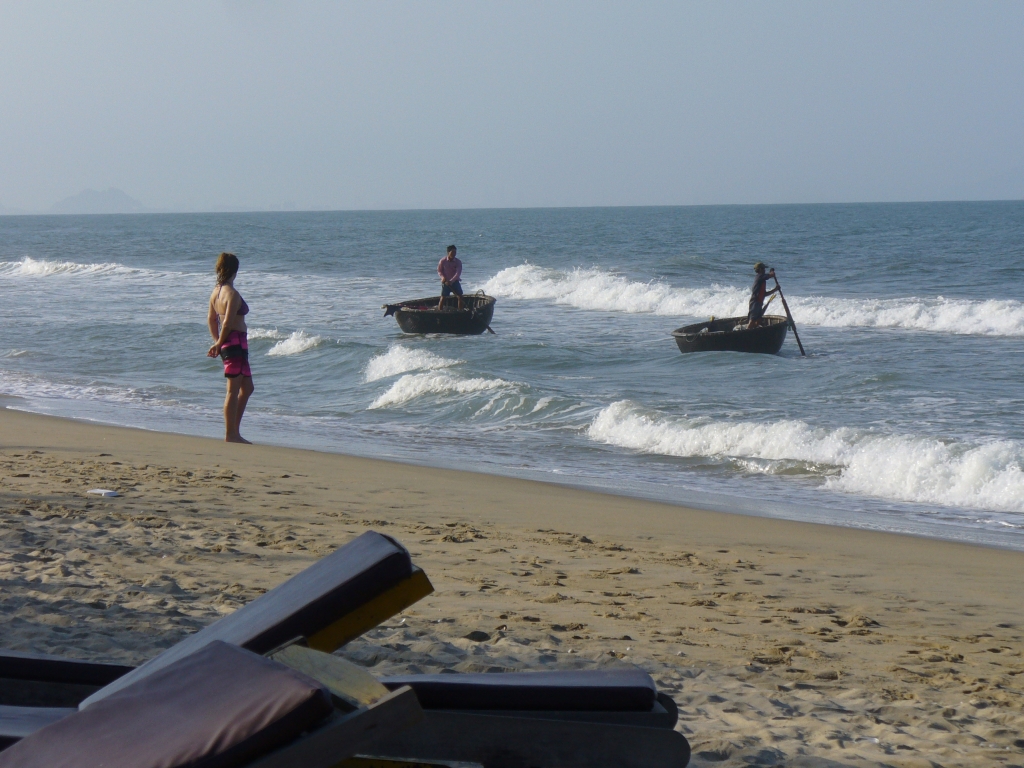 Basket Boats are for Fishing

Setting Sun

Dinner in Hoi An

Lanterns For Sale

Experienced Sales Lady, Trinket Division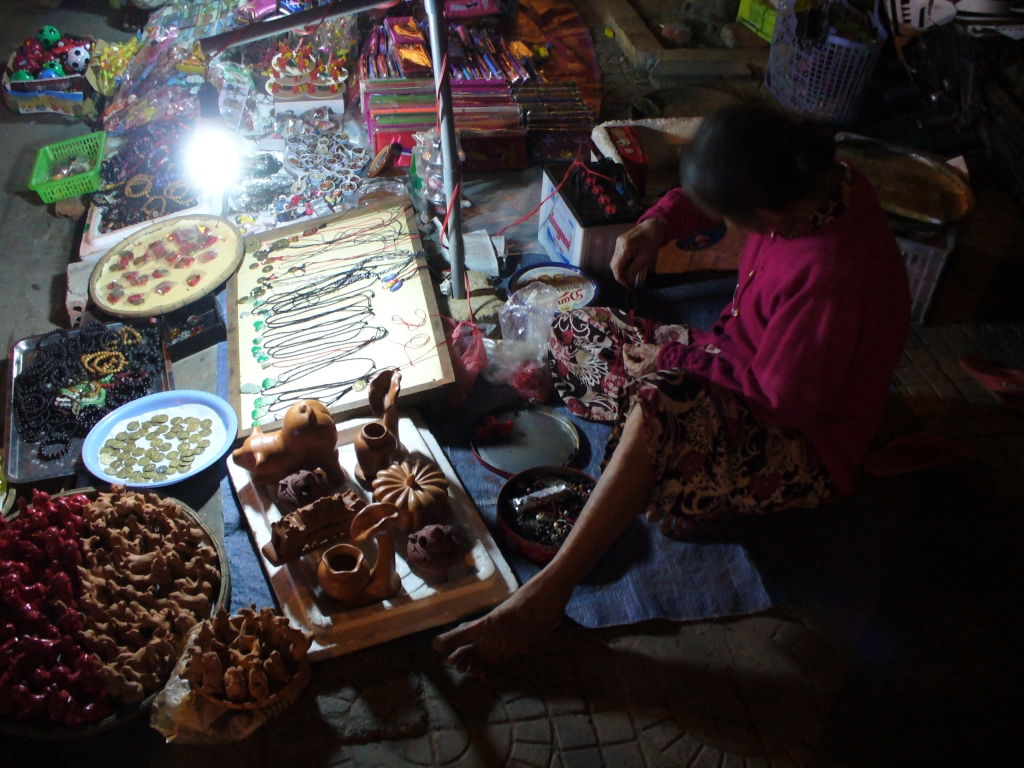 Trinkets Made, While You Wait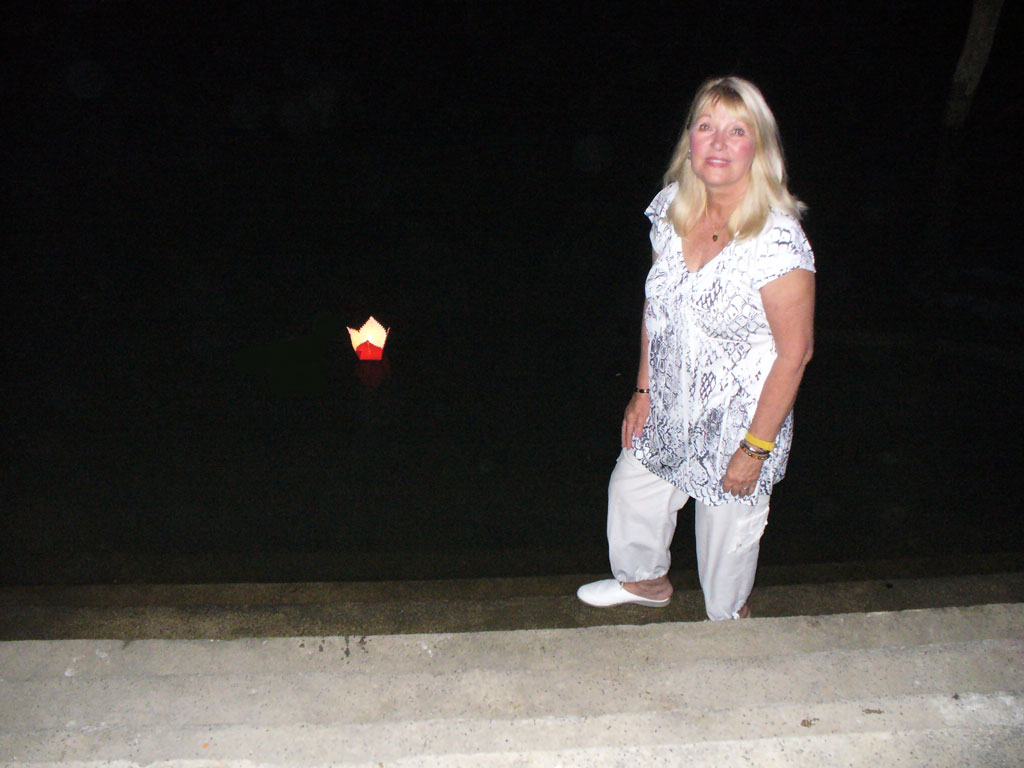 Launching Floating Candle in the River in memory of Father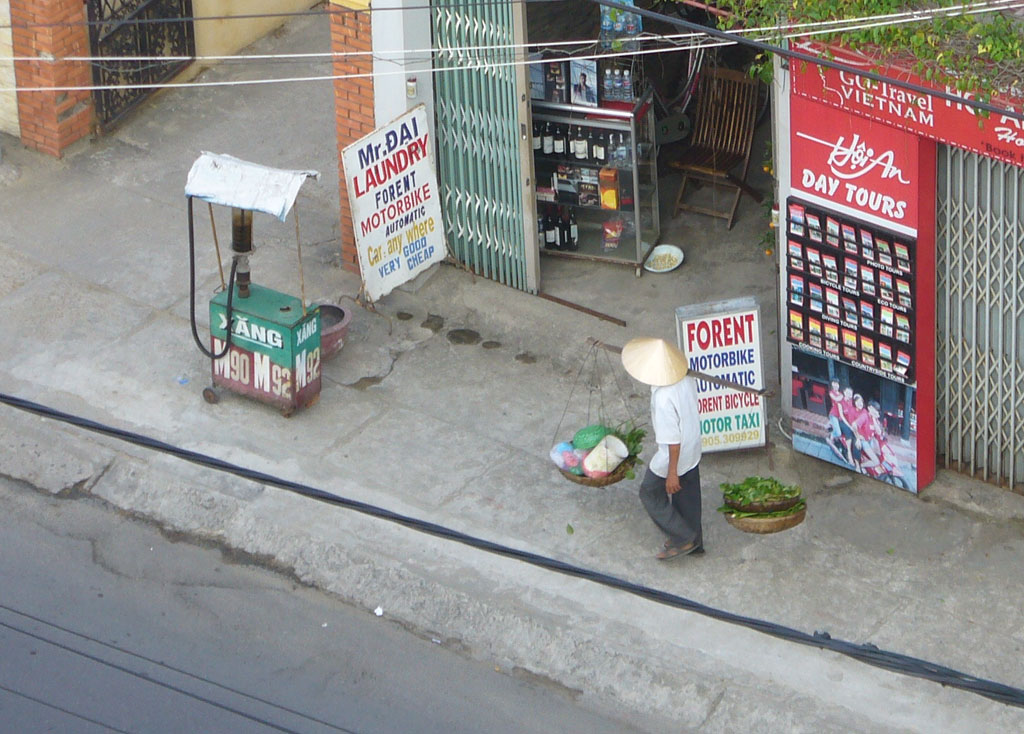 I Owe, I Owe, So Off to Work I Go
Box marked "M90 M92" is a gas station pump for motorcycles

Looking toward the City, from the Hotel

Looking toward the Beach, from the Hotel

On the Road to Hue, Elsa practices being Buddha

Trunks pointing Up is Good Luck
Also seen on Elsa's pants

Basket Boats, Passing China Beach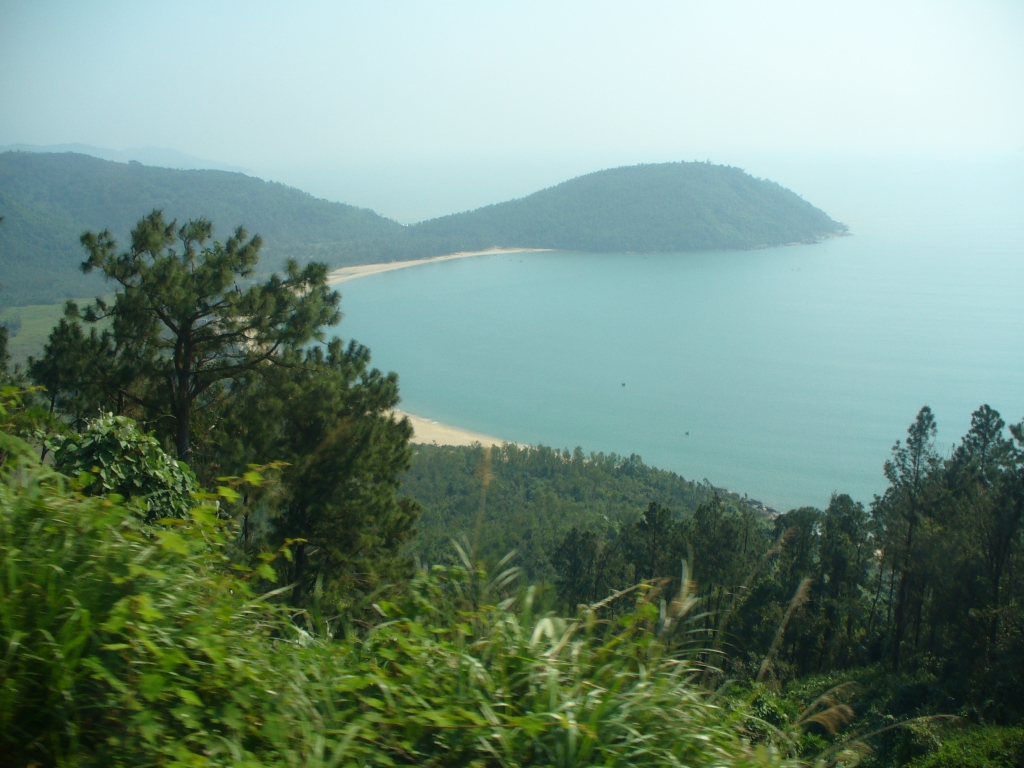 Terrain Changes as we Drive North of Da Nang

Our Hotel in Hue

Street Scene, Hue

Entrance to the Citadel

In the Imperial City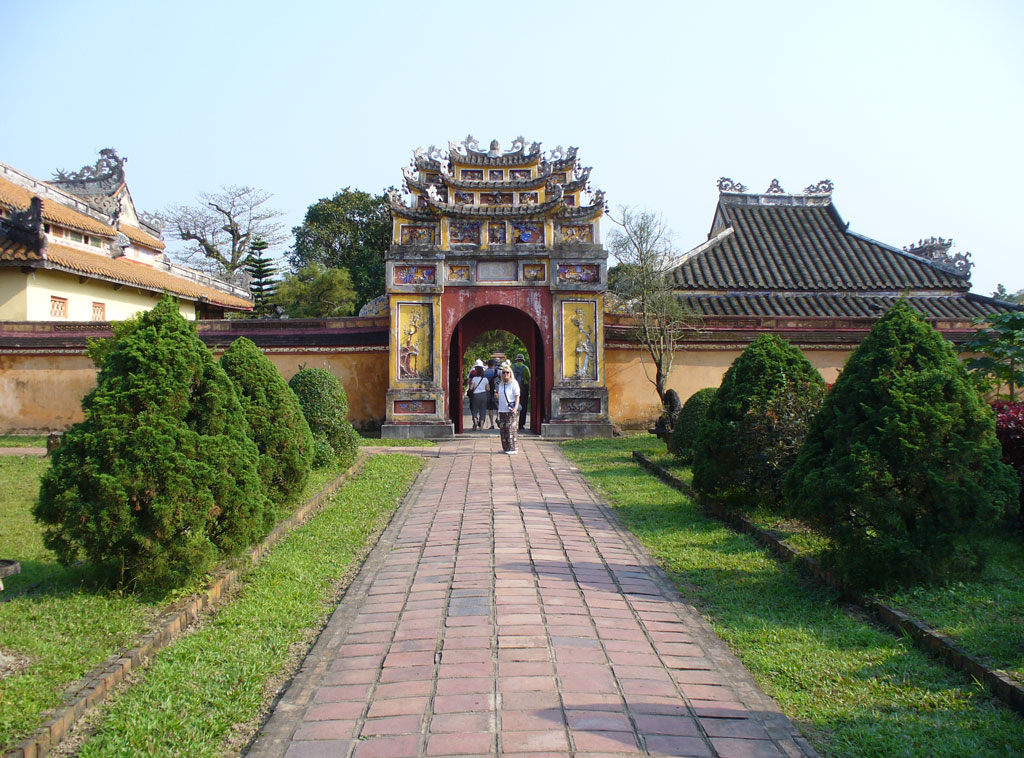 In the Imperial City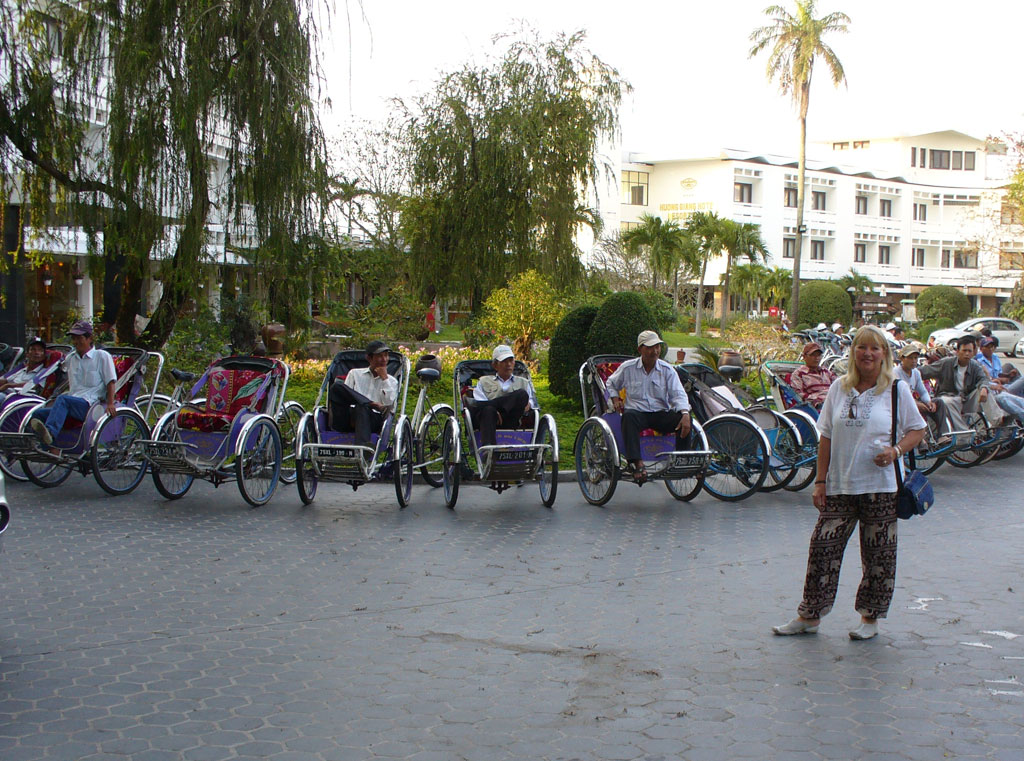 Our Pedi-Cabs Await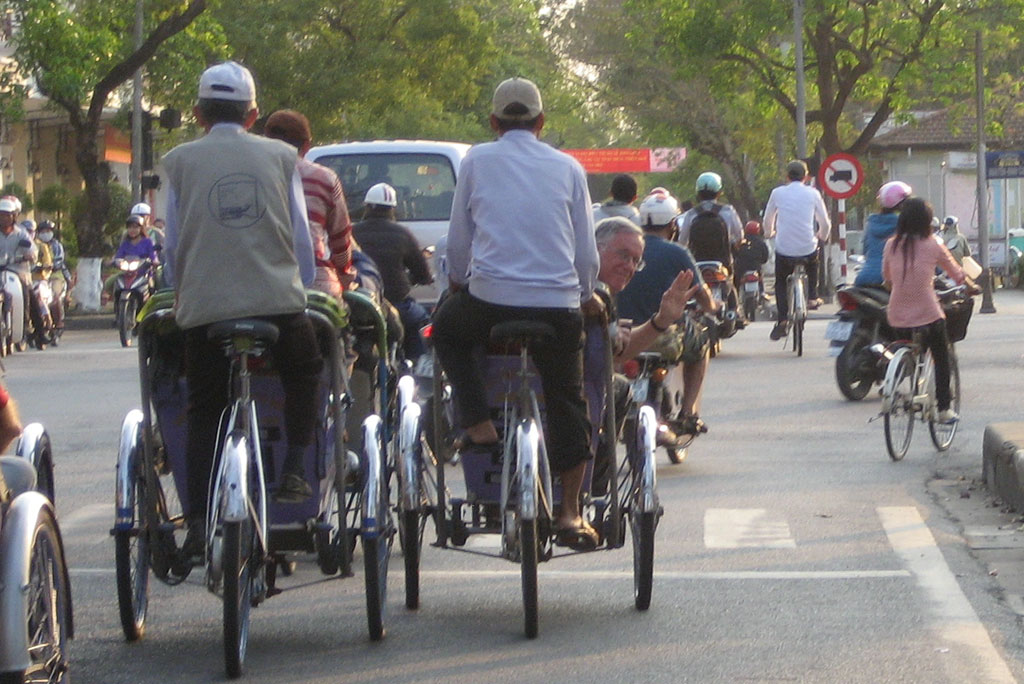 Pedi-cab

Pedi-Cab Ride to Dinner

Our Dinner Guests

Another Dinner Guest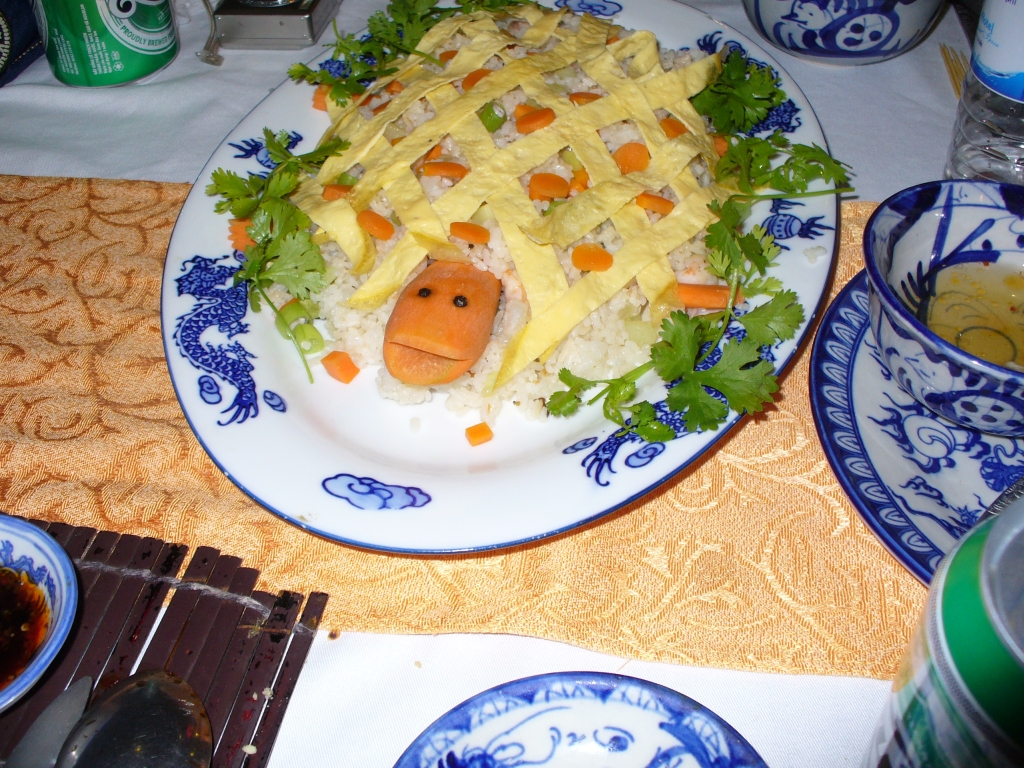 Dinner

Incense bringing Good Luck to a Bus

Dragon Boat Ride

We visit a Vietnamese family at a stop along the way.

Hondas repaired, while you wait

Did you want one hair cut or all of them?

Lunch is Over

Dog in background, keeping safe distance from stew pot

A nice neighborhood

Making little masks to cover your nose and mouth, across the street

Village Meat and Fish

Dragon Boat Ride, continued

Dragon Boat parking places are limited

Inside the Citadel in Hue
This Russian Mig-21 was used to shoot down American Imperialists

Captured American Cessna A-37 "Dragonfly" Light Attack Aircraft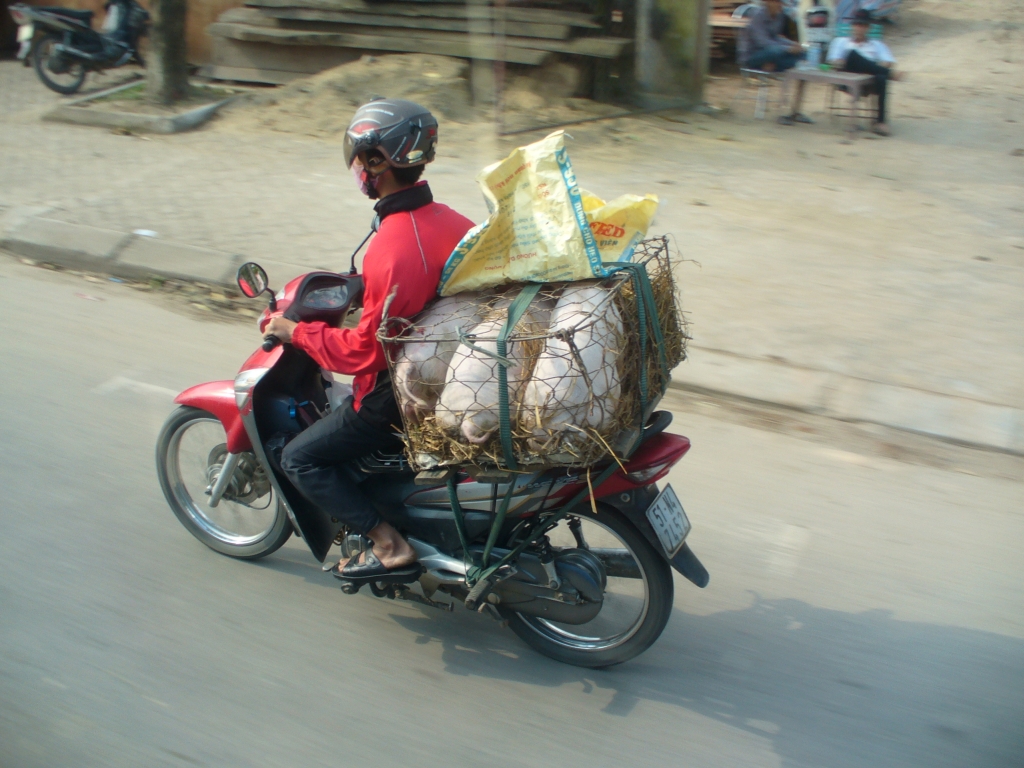 These little pigs are going to market

Rice field, on the way to the airport

Approaching Hanoi

Always foggy, rice fieds, enroute Ha Long Bay

From our hotel, Ha Long Bay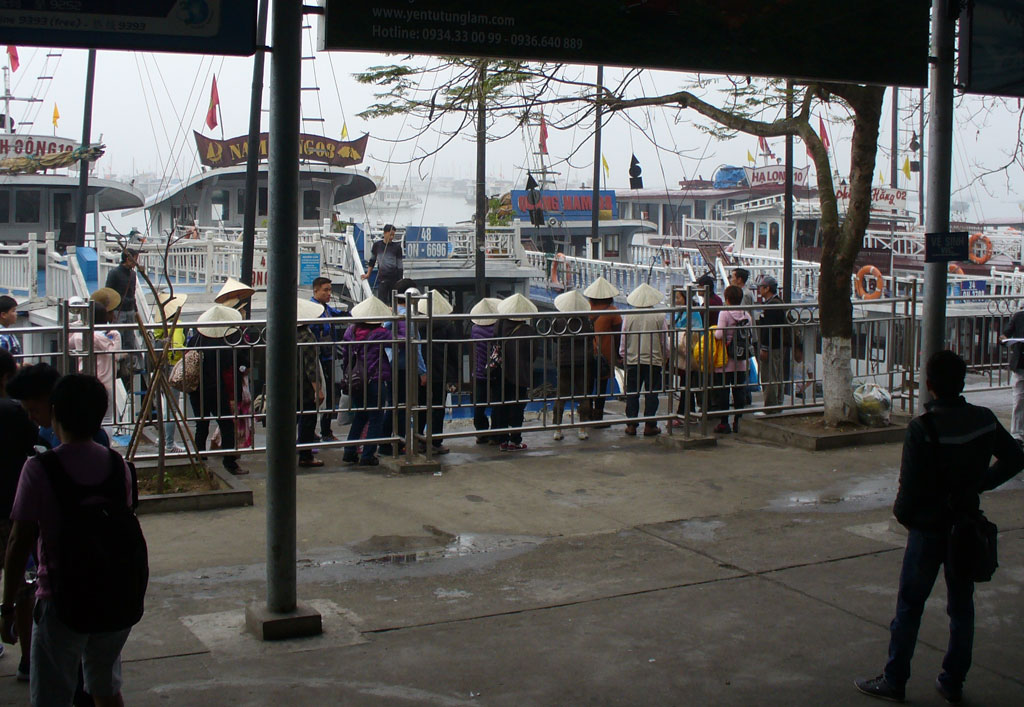 Queueing for boats, Ha Long Bay

Boat owners live onbord

Vendors board our boat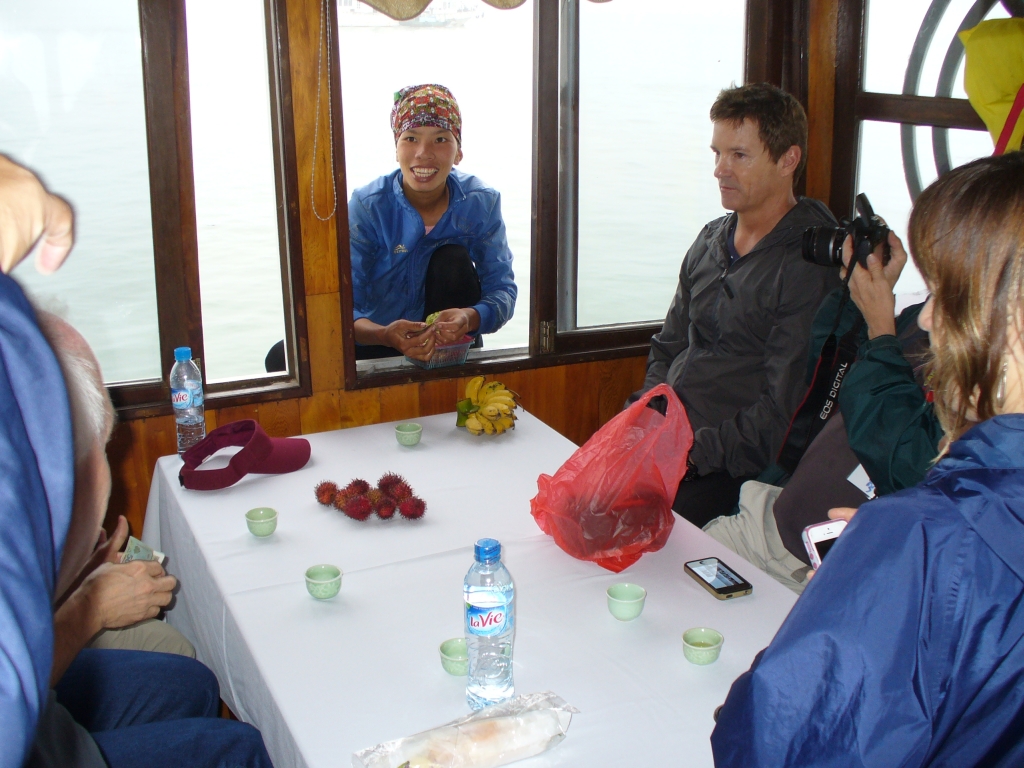 Selling fruit

Foggy Ha Long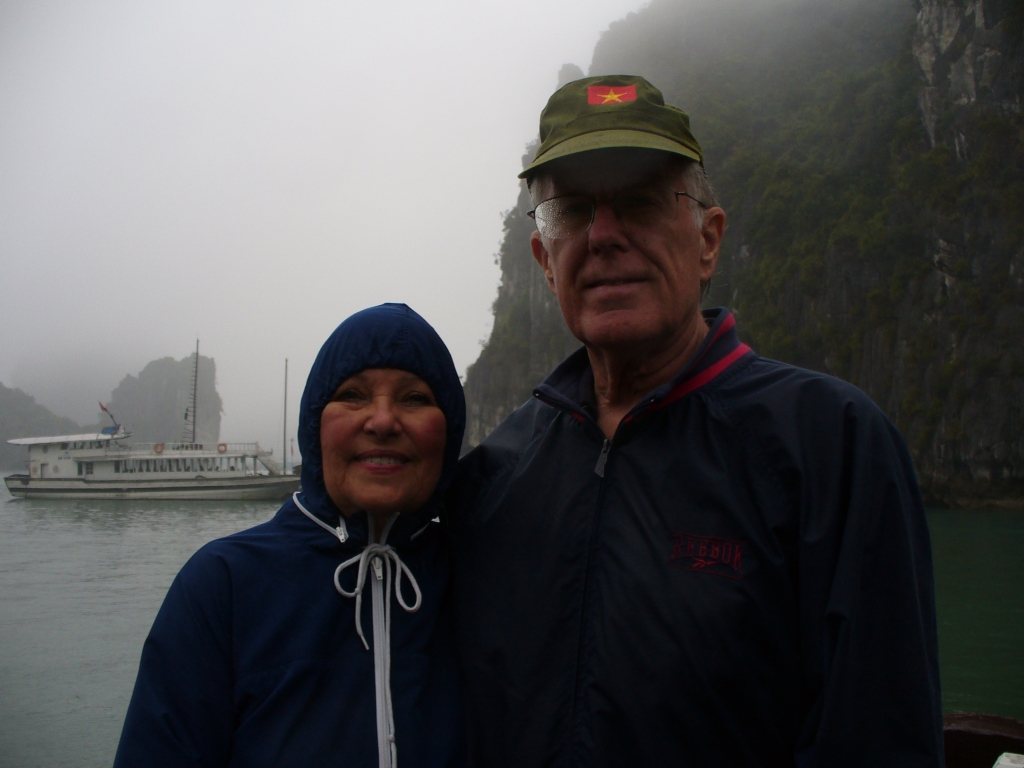 The Accidental Tourists, enjoying Ha Long Bay
We were lucky. Trips the day before and the day after were cancelled due to fog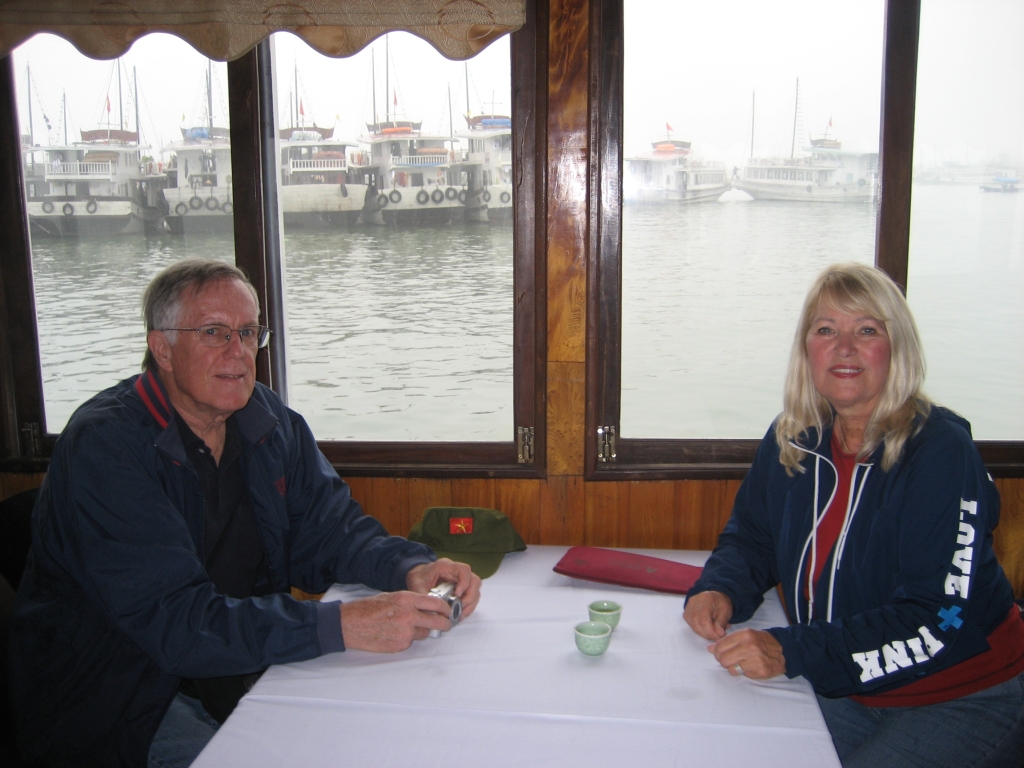 It was nicer inside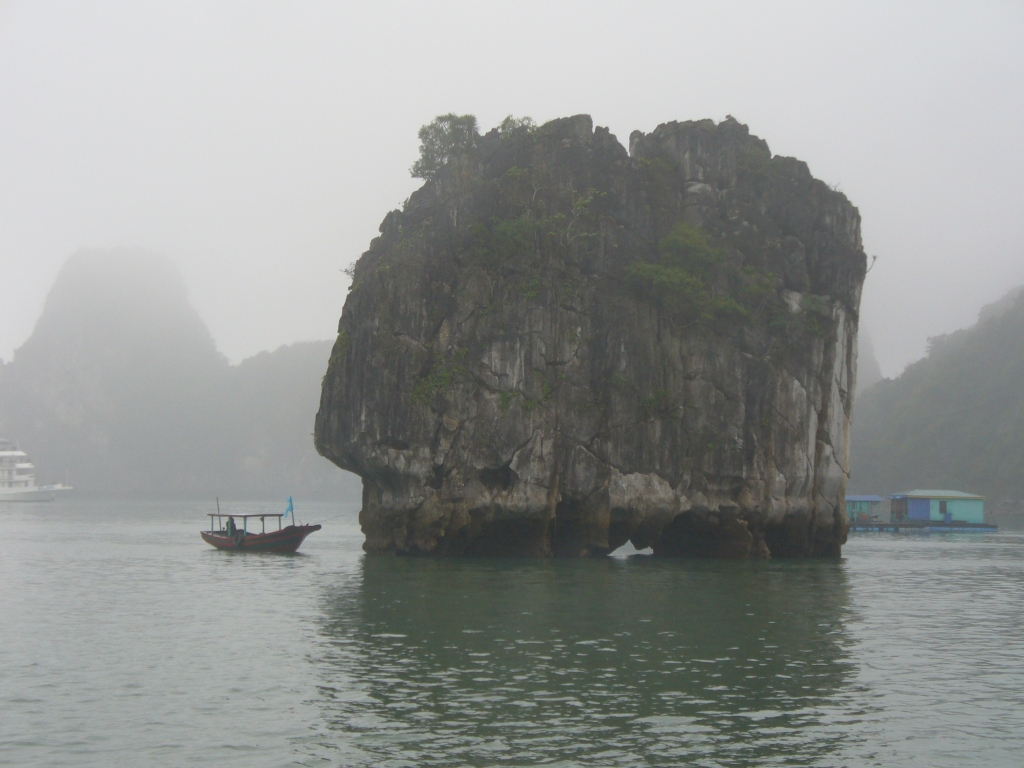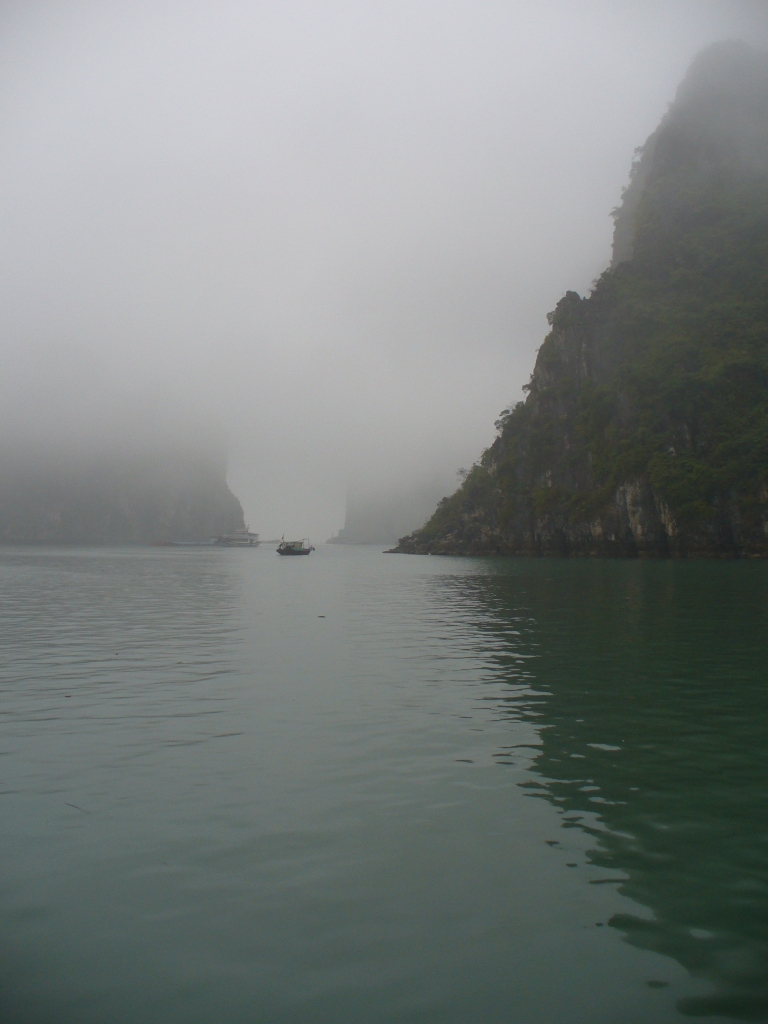 Miss Sai Gon Ha Long

What it's supposed to look like

What it did look like

Cave Tour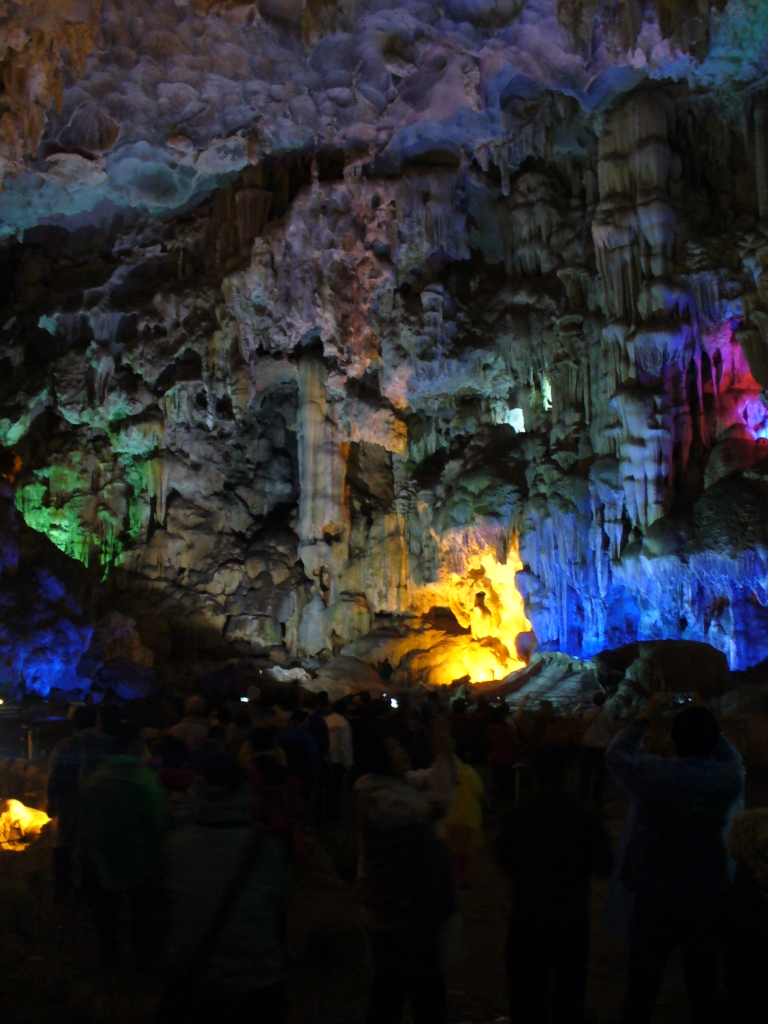 Penguin Trash Can inside Cave

Vietnamese Starbucks, across the street from our hotel, Hanoi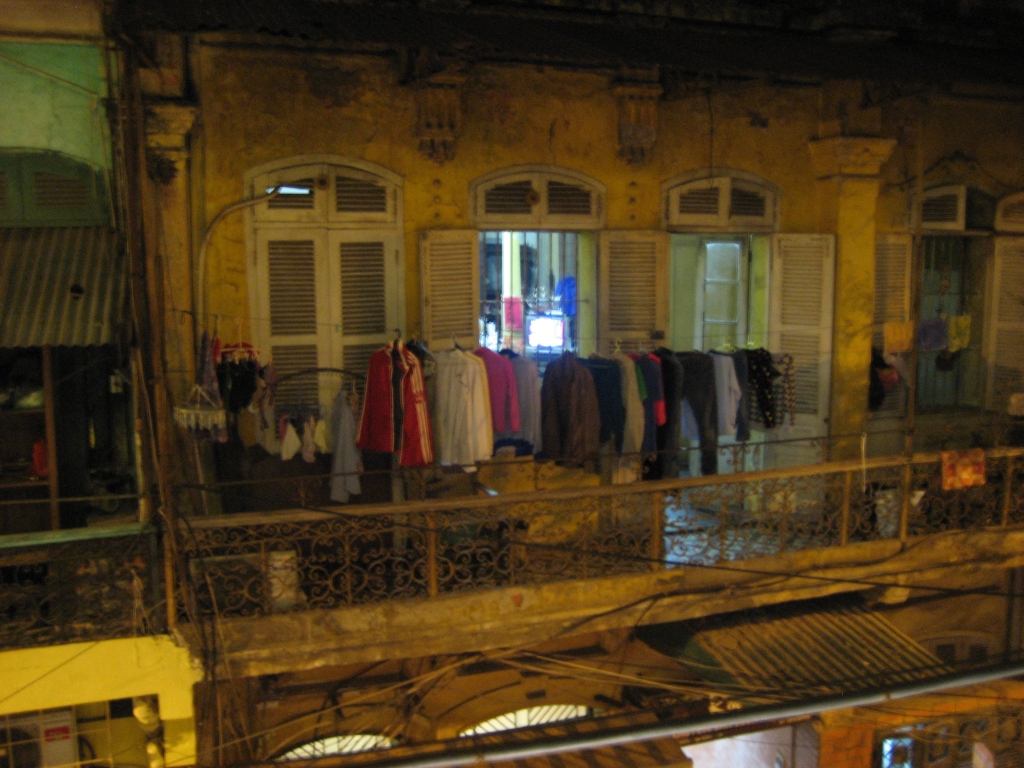 Apartments above Starbucks with outdoor closets

Street scene, Hanoi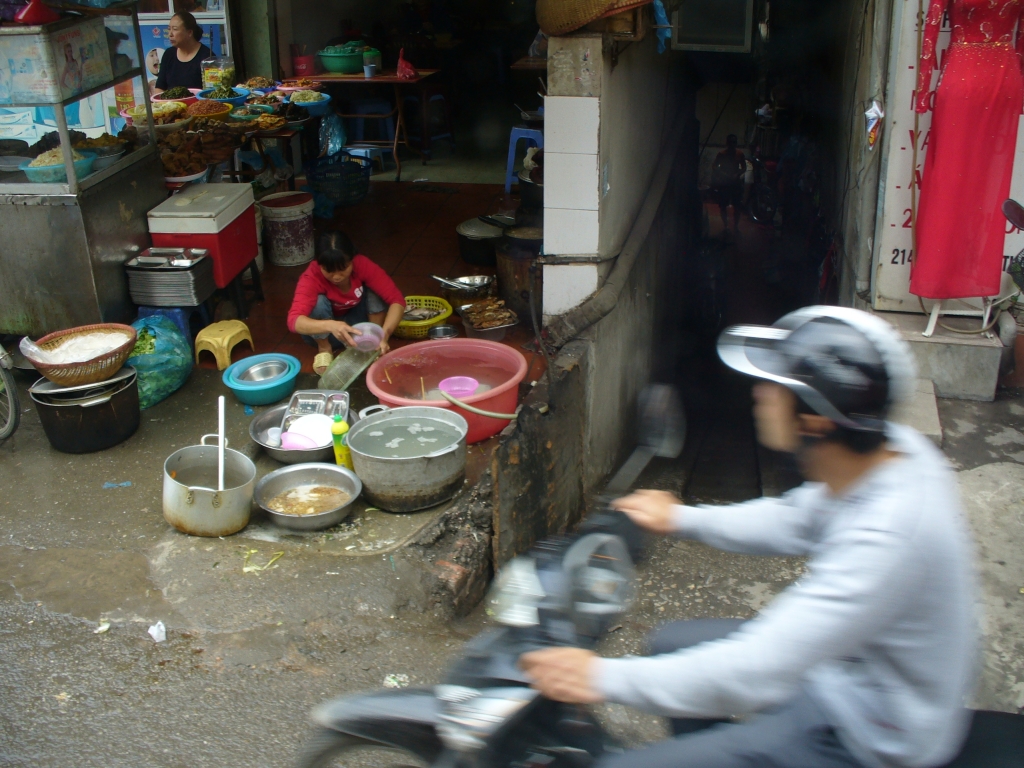 Main road frontage is the most valuable property
Nobody wants beachfront or mountain top land

Along Embassy Row, Hanoi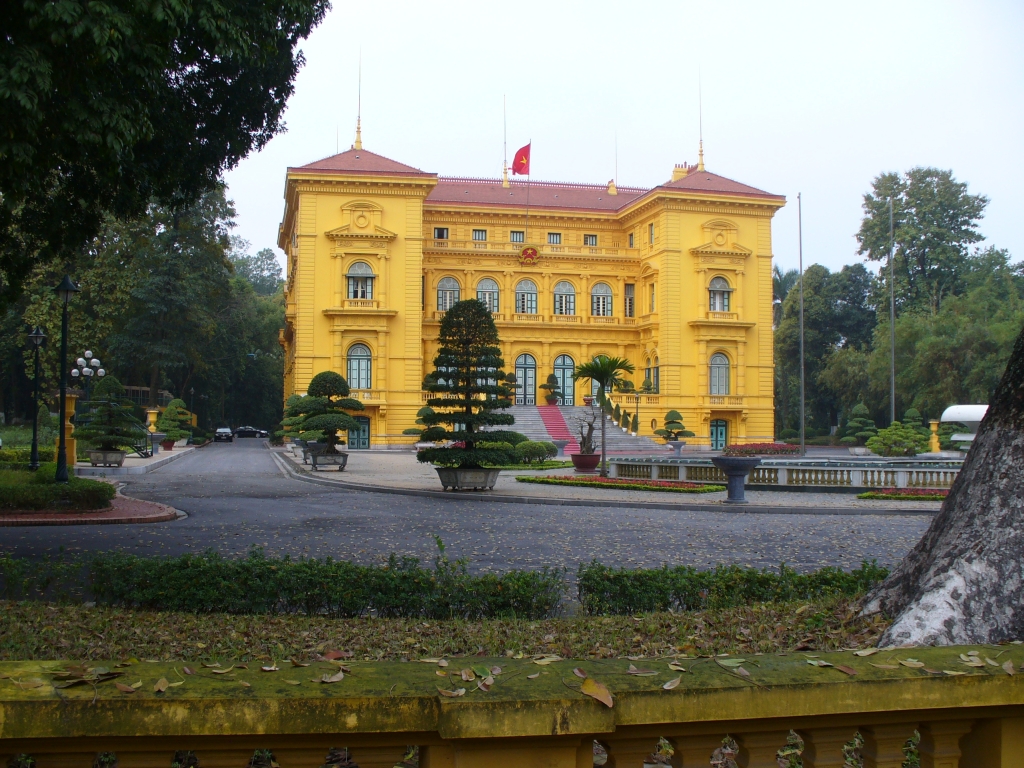 Presidential Palace, Hanoi

Tomb of Ho Chi Minh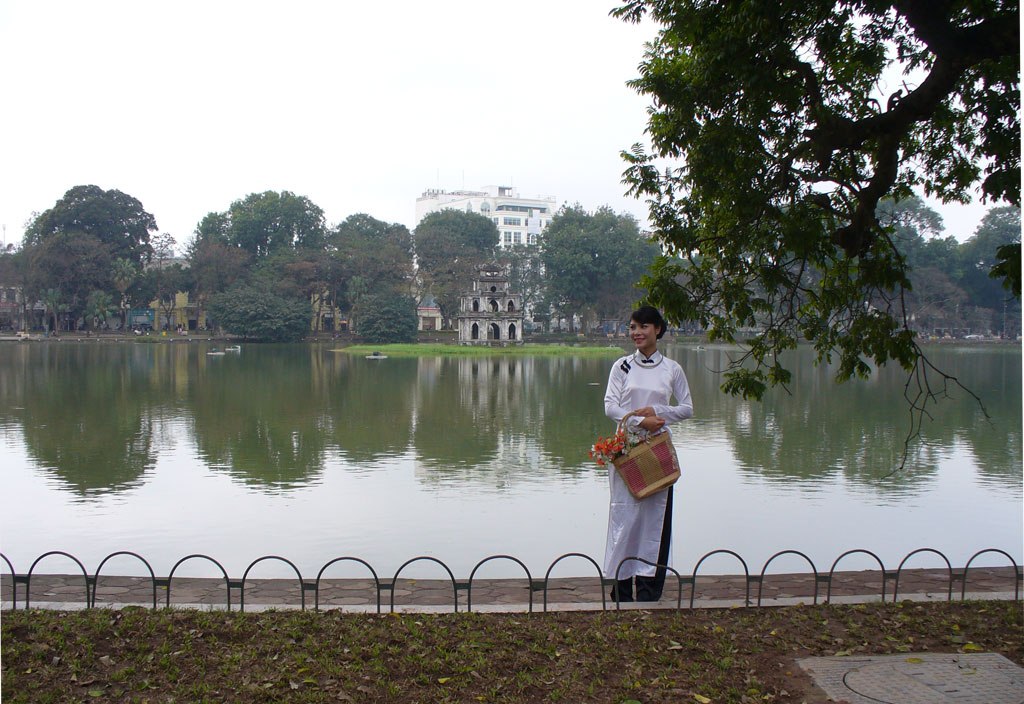 Posing for Wedding Pictures

Chaos, viewed from the City View Restaurant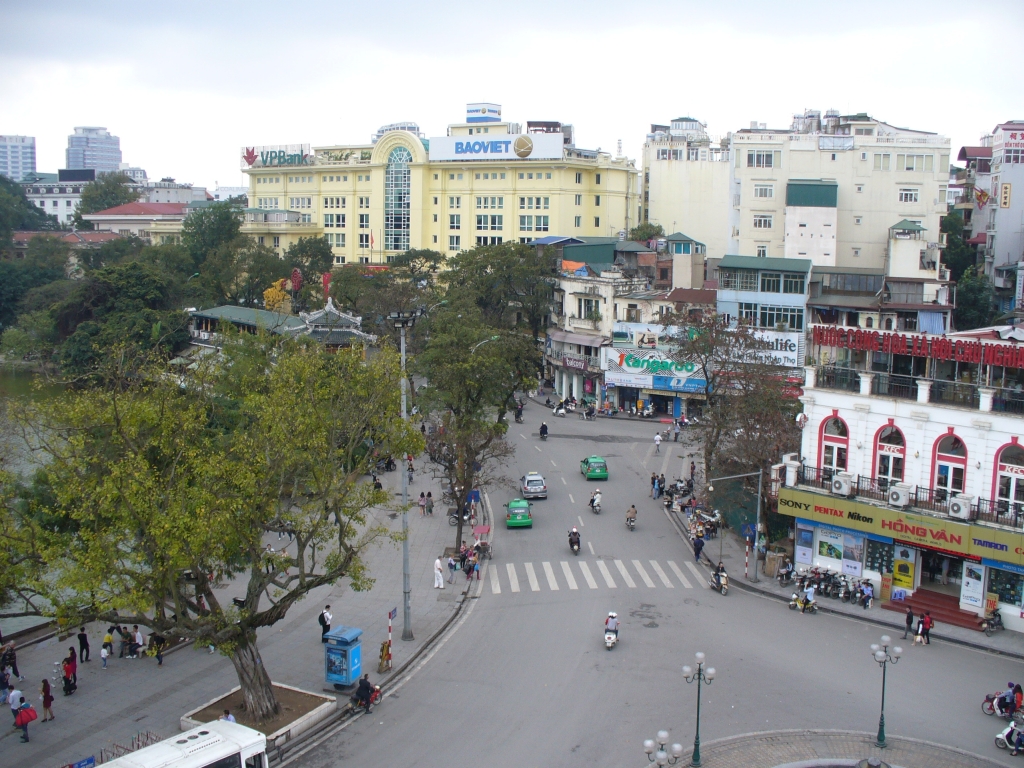 More chaos from above

The Best-selling Coffee in Vietnam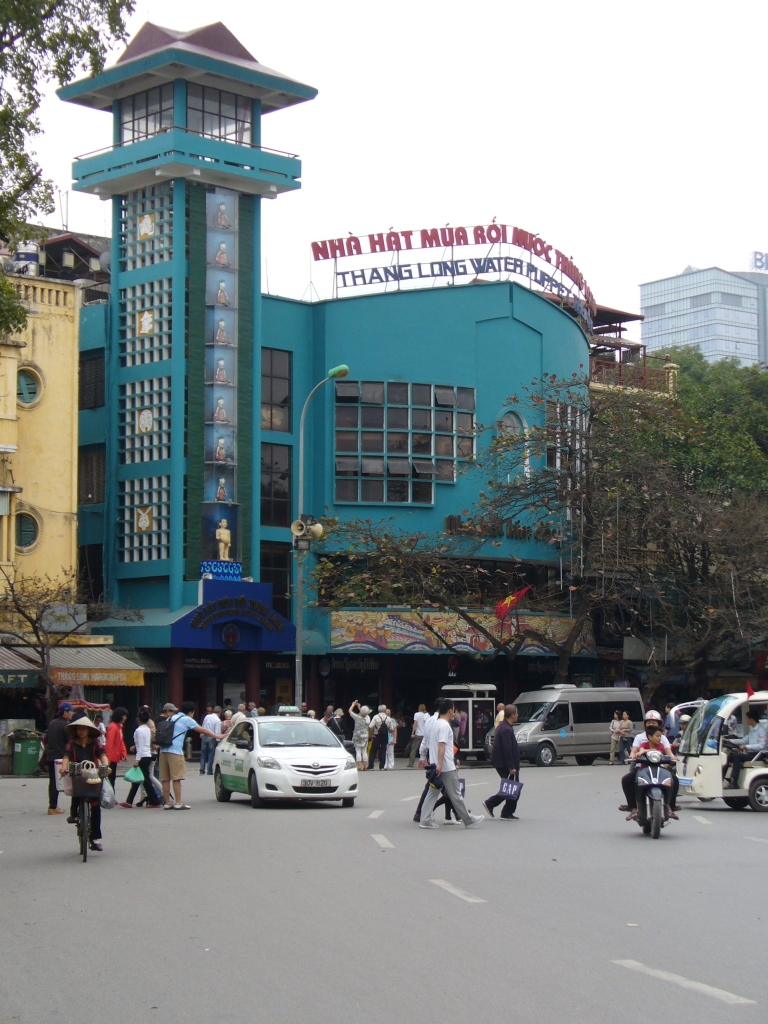 Water Puppet Theater

Puppets are moved by rods under the water

One-cylinder diesel farm tractor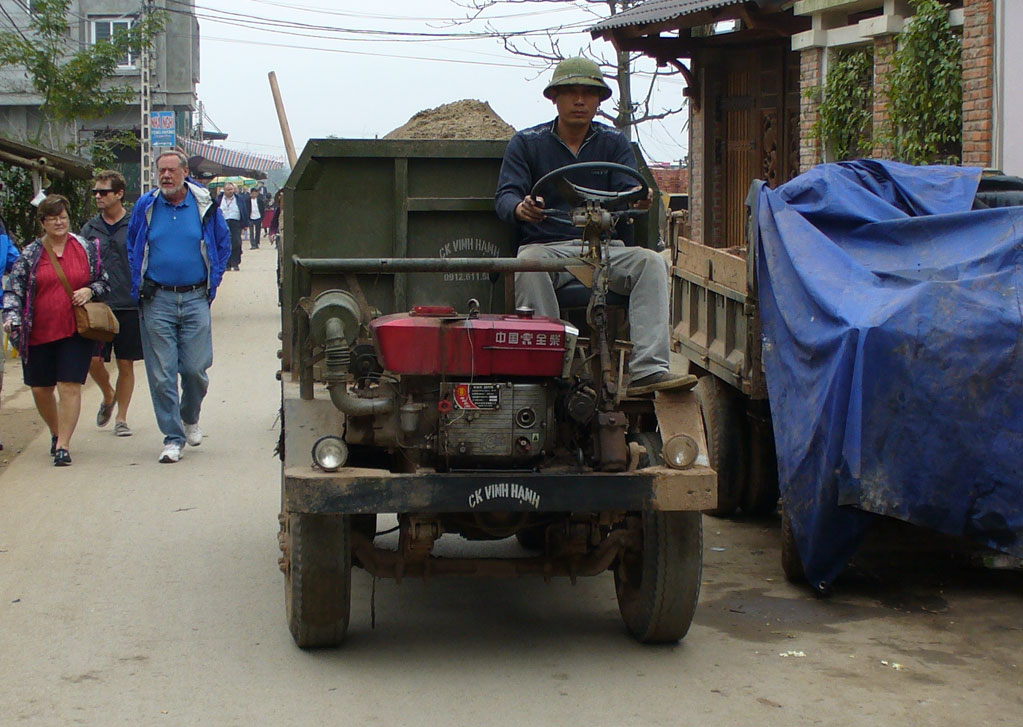 A very popular item...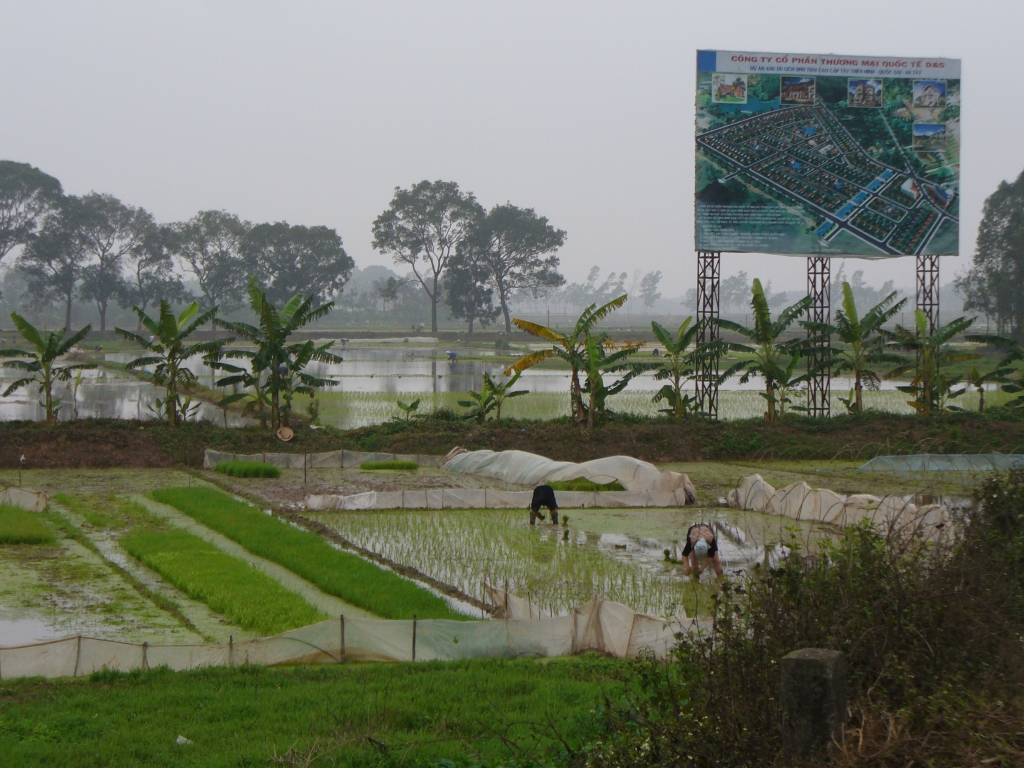 Today a Rice Paddy, Tomorrow a Condo Project

Finally, someone shorter than Elsa, only 78 years old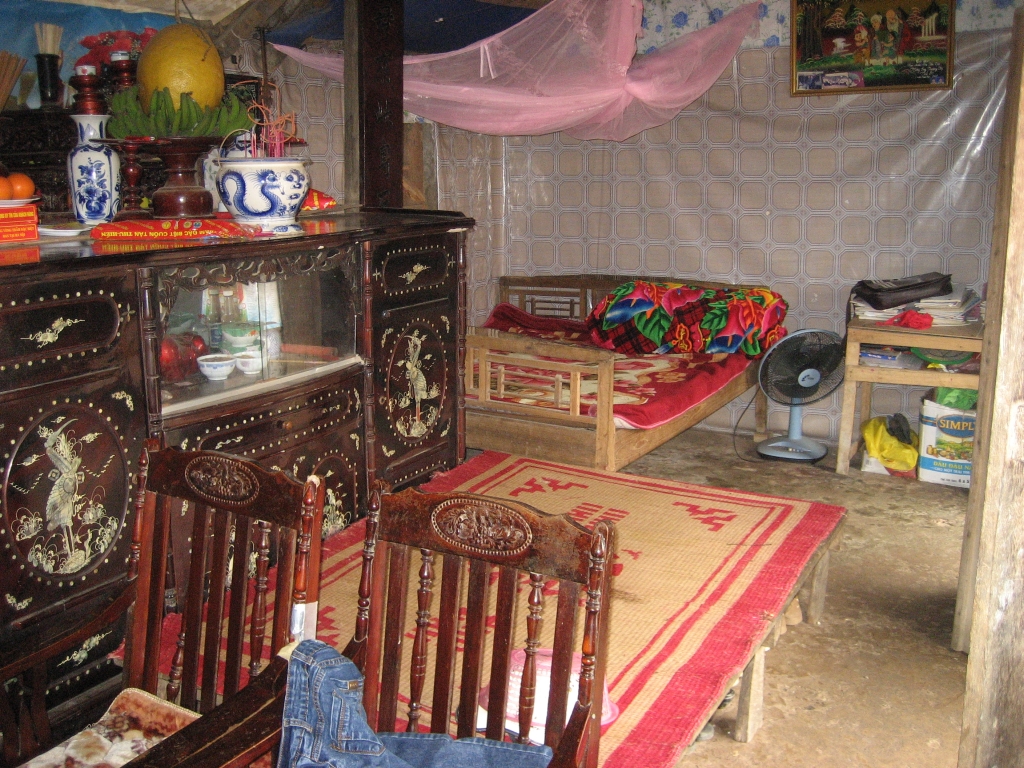 Many homes are open on one side

One-person Noodle Factory, Fancy Footwork Required

A survivng section of the original "Hanoi Hilton"

Corner of the original "Hanoi Hilton"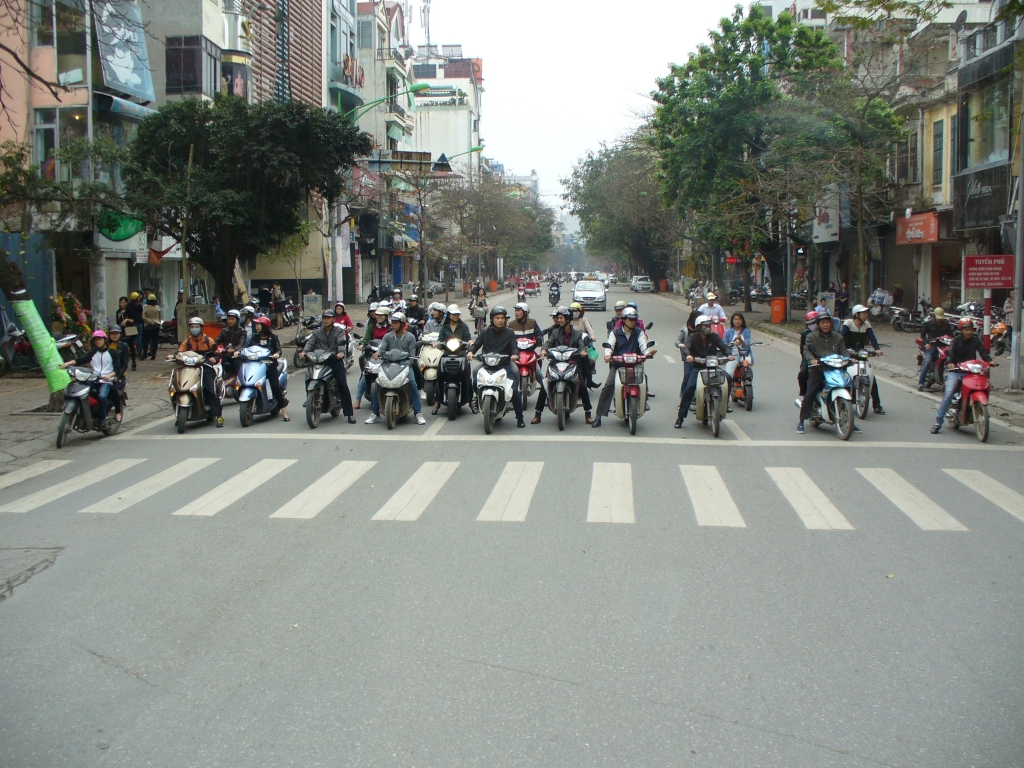 Bikes easily outnumber cars in Hanoi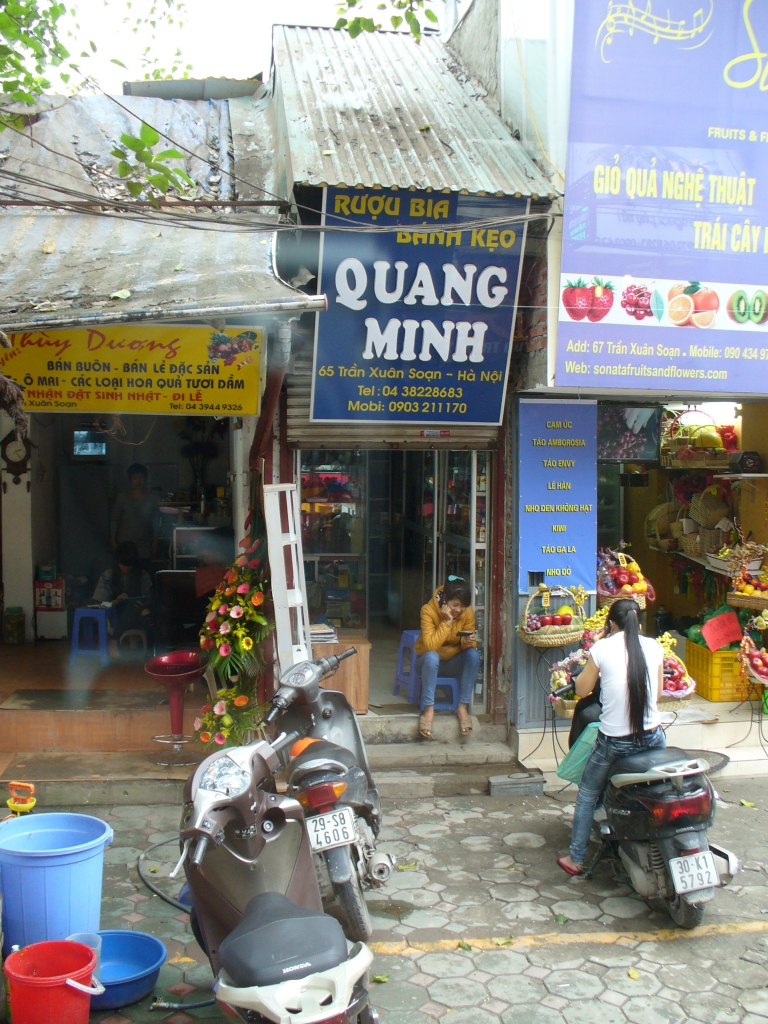 Four feet is plenty of width for a store

China Airlines to Los Angeles

China Airlines is based in Taiwan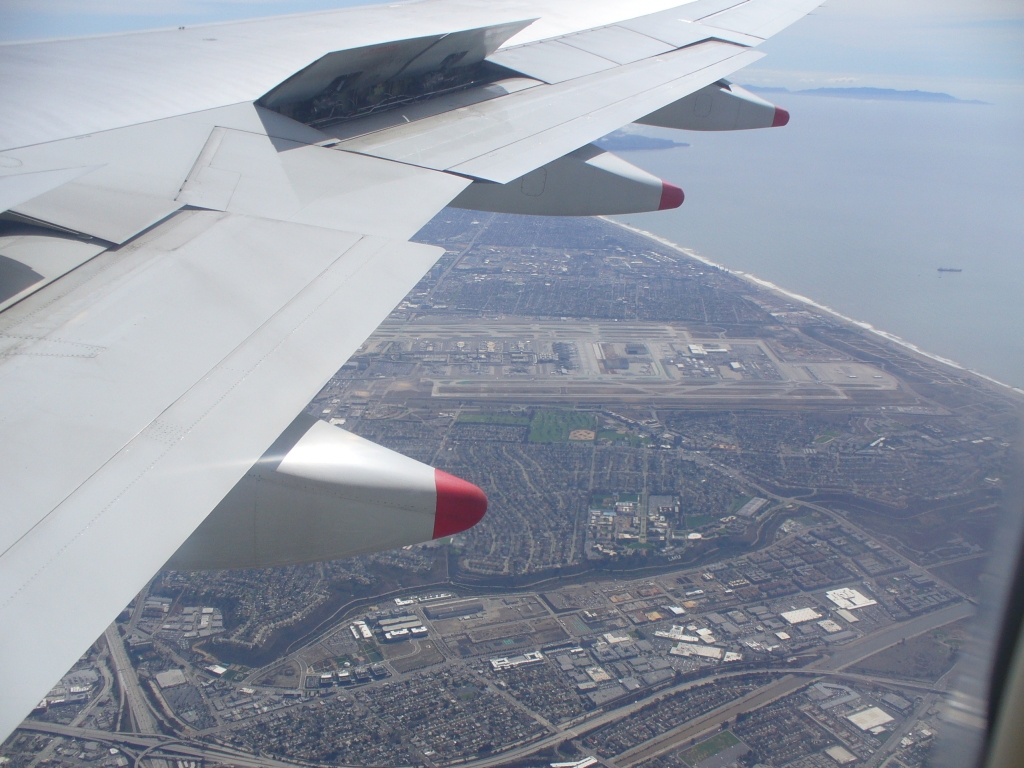 Over Los Angeles International Airport

You're Welcome